Photos by Mark Weber (World Challenge)
---
GT CLASS
The 'Mayor of Mosport' ruled once again, as Ron Fellows of Mississauga, ON captured Sunday's World Challenge GT race in the Victoria Day Speedfest Presented by Optima Batteries at Mosport International Raceway.
Starting second in the No. 2 Carlisle Companies/Cragar Wheels Chevrolet Corvette, Fellows stalked and eventually moved past polesitter and early leader Randy Pobst of Gainesville, GA, to take a 2.441-second win, averaging 103.972 mph in the 30-lap, 73.77-mile contest.
Fellows missed Saturday's opening half of the Mosport World Challenge doubleheader due to a race commitment at Mazda Raceway Laguna Seca, but was able to place his Corvette second on the grid to Pobst"s No. 6 K-Pax Racing Volvo S60. At the standing start, Pobst's all-wheel drive vehicle rocketed away and third-starting Kuno Wittmer of Montreal, QC, jumped to second in his No. 13 Dodge Motorsports Viper.
Wittmer would not hold Fellows back for long, as the hometown hero moved past his countryman in Turn 10 and set his sights on Pobst. Fellows ran down the leader, turning a record fastest race lap of 1:23.828 (105.602 mph) in the process. On lap 15, Fellows and Pobst went side-by-side down the front stretch and through Turn One. The pair split the Touring Car of Eric Meyer between Turns One and Two and Fellows had the inside line for the downhill second corner, solidifying the lead. The move earned Fellows the Invisible Glass Clean Pass of the Race.
From there, Fellows slowly pulled out a gap on Pobst to capture his fourth World Challenge win and third at Mosport International Raceway. Fellows most difficult part of the weekend may have been making his complex connections on red-eye flights from San Francisco to Calgary to Toronto all in one night.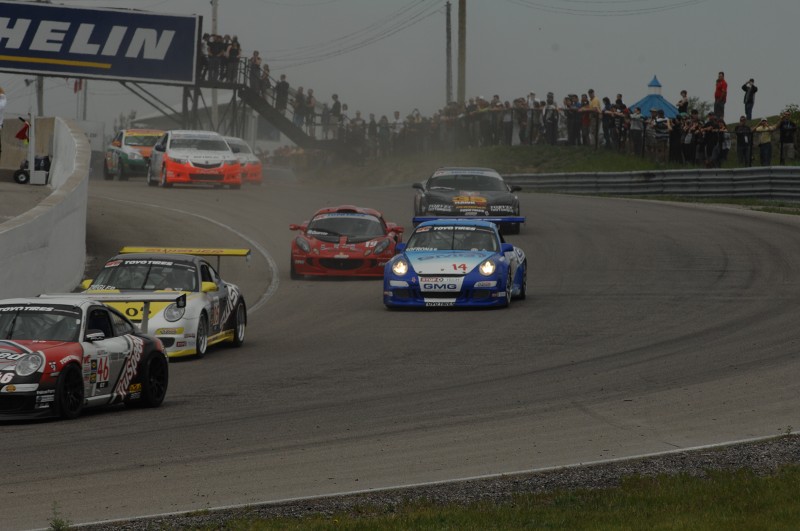 GTS CLASS
John Heinricy of Holly, MI, once again proved his skill behind the wheel of a General Motors product during Sunday's World Challenge GTS race. For the second-consecutive race in the GTS class, Heinricy started second in the No. 35 Torvec/Phoenix/Hawk Chevrolet Corvette, but brought the car home in a dominating win. Heinricy got the holeshot on polesitter Tyler McQuarrie, of Walnut Creek, CA, and never looked back, cruising to a 14.201-second victory.
McQuarrie ran second early in the No. 19 LPL/DRS/Switcars/LCS/Dayco/M&T Lotus Exige S, but dropped back to third behind the No. 43 Acura/RealTime Racing Acura TSX of Peter Cunningham after his car began to lose power. On lap 24, the car's issues seem to cure themselves and McQuarrie worked his way past the five-time Champion for good to take the runner-up position.
Cunningham's third place finish extended his Championship lead over Nick Esayian, who finished fourth in the No. 34 Acura/RealTime Racing Acura TSX. Cunningham holds a 67-point advantage over Esayian. McQuarrie is now third in the Championship, with 359 points. Acura maintains a commanding Manufacturers Championship in the GTS Category.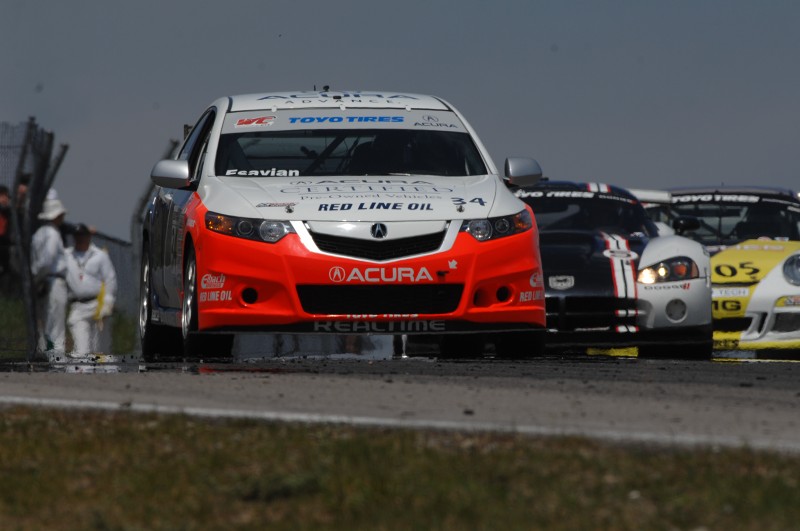 TC CLASS
Driver Robert Stout of Brownsburg, IN, battled for a hard-fought win during Sunday's World Challenge Touring Car race, part of the Victoria Day Speedfest Presented by Optima Batteries at Mosport International Raceway.
For the second-straight day, the Touring Car class put on a nose-to-tail race battle in which point leader Stout came out on top to record his second-career victory.
Polesitter and Round Four winner Chip Herr, of Lititz, Pa., led from the standing start in the No. 50 Irish Mike's Racing Volkswagen Jetta GLI, but he was never far ahead of Stout"s No. 18 DG-Spec/Scion/TRD/Lucas Oil Scion tC and the No. 22 Track Pro/Emich VW Volkswagen GTI of Denver, Colorado's Robb Holland.
Stout and Holland traded second place a number of times but never fell off Herr's back bumper. On lap 24, Herr was balked in Turn Five—the same corner in which he took the lead from Stout on Saturday—and Stout was able to move to the point.
Despite numerous attempts over the last several laps by both Herr and Holland, 18-year-old Stout held on for the win by 0.507-second. Stout earned the MTM Special Ops Move of the Race for his multiple passes throughout the contest.
"This Scion really had some troubles yesterday in the race, but in qualifying this morning we came out really strong," Stout said. "Early on, we were battling for second, and I was really bumping and grinding to get that position. It was a dogfight trying to catch Chip [Herr], and once we did, it was a battle all the way. The GT traffic gave me an opening with a couple of laps to go, and he just couldn't find a spot to get back around me. It was a very tough race."
Herr held on for second, and Holland, who turned a record fast lap of 1:35.865 (92.342 mph) in the race, finished a career-best third.
Greg Shaffer finished fourth in the No. 49 Irish Mike's Racing Volkswagen Jetta GLI and Eric Meyer completed the top five in the No. 32 XOWii/Samaritan's Feet/Delvira Mazda RX-8.
Stout's win extended his Touring Car Drivers' Championship point lead to 131 points over Meyer (587 to 456). Brett Sandberg is third, with 301, followed by Todd Buras (264) and Dan Gardner (263). Scion leads the Touring Car Manufacturers' Championship by five points, 40 to 35 over Volkswagen. Mazda is third, with 18, followed by Honda, with 13.
---
Race 1 May 22 - Pobst, Heinricy and Herr Win World Challenge One At Mosport

Randy Pobst, of Gainesville, Ga., scored his 24th career World Challenge win in his 100th start, taking the GT class win at Mosport International Raceway, part of the Victoria Day Speedfest presented by Optima Batteries. John Heinricy, of Holly, Mich., and Chip Herr, of Lilitz, Pa., earned the GTS and Touring Car wins, respectively.

Pobst led flag-to-flag in the No. 6 K-Pax Racing Volvo S60 to claim the win by 2.532-seconds, moving him into third place on the all-time win chart.

Pobst, teammate Andy Pilgrim, of Boca Raton, Fla., and Montreal's Kuno Wittmer gapped the rest of the 30-car field early in the race. When Pilgrim"s No. 8 K-Pax Racing Volvo S60 fell off the pace and out of the race with mechanical difficulties on lap 14, it left Pobst and Wittmer all alone.

Despite Wittmer's local knowledge of his home-country track, Pobst was able to hold off the No. 13 Dodge Viper and finish with his second win of the season. Pobst covered the 30-lap, 73.77-mile race in 42-minutes, 33.309-seconds for an average speed of 104.011 mph. Pobst also turned the fastest lap of the race with a 1:23.859 (105.563 mph), faster than the existing Mosport race record.

"I'm lucky to be part of this effort," Pobst said. "It's been quite an effort to develop this car. This weekend we learned a lot, making some suspension changes to help the handling. To come to a place like Mosport and be competitive is really a pleasure.

"I was helped by Andy [Pilgrim] and Kuno [Wittmer] battling at the beginning of the race. The traffic situations were really tough. I think most drivers were making an effort to do their best. The most exciting part of the race for me was when I put a pretty nice pass on a Porsche in Turn Nine, and I don't think he ever knew I was there—even though I was ahead of him—and ran into the side of me pretty hard.

"From then on, I was hearing all sorts of noises and coming around those fast corners wondering if one of the tires was going to let go. But the Toyos held up and the Volvo held up and we brought it home. I'm very happy for the K-Pax team and owner Jim Haughey."

After beginning the standing start from the second row in third position behind the two K-Pax Volvos, Wittmer chased Pobst throughout the race, and while looking for a win, was satisfied with the final result.

"The Dodge Motorsports Viper stayed really consistent," Wittmer said. "The Volvos were quick off the start and I tried to hang on to Andy [Pilgrim]. I was able to draft up to him and unfortunately he had a problem. It's disappointing when a guy you're having a good race with drops out. I was looking forward to trying to put a good pass on him at some point.

"When Andy dropped out, I set my sights on Randy. It was two-tenths here and two-tenths there and then maybe lose a tenth here or there. It was tough out there and it was hot. With 10 to go, some of the power steering fluid started to leak and it was a little tough to drive the car into the high-speed corners, like two. It took more effort and we lost a little time.

"I feel pretty good. We're sitting second in points which meets our goal—our objective right now at this stage of the season. We still have a lot of work to do, and we have another race tomorrow, so we'll put our heads down and do some more work."

Third place was inherited by Patrick Lindsey, of Santa Barbara, Calif., in the No. 57 Horton/Sloan Securities Porsche 911 GT3 when Pilgrim dropped out with a transmission cooler leak. For the final 10 laps, Lindsey fought to hold off defending Mosport race winner Jason Daskalos in the No. 5 Daskalos Developments Dodge Viper.

Despite repeated attempts and a last-corner desperation attempt by Daskalos to take third place, Lindsey earned his first career GT class podium finish.

"I had to fend off Jason Daskalos for a few laps there at the start," Lindsey said. "Unfortunately, we came together at 5B. He had a really fast racecar. I think he got the short end of the stick from our contact. I feel bad for him.

"I had a really pretty boring race until Jason drove back up to our car. It was a good race. It's a great track. We're really happy to be here racing, especially on Victoria Day weekend."

Daskalos fought back to fourth after falling back to as low as ninth, earning the Invisible Glass Clean Pass of the Race for his move by Dino Crescentini on the outside of Turn Eight. Crescentini, of Manhattan Beach, Calif., finished fifth in the No. 4 Centric Parts/Stoptech/GMG Porsche 911 GT3.

Jeff Courtney (No. 99 Kenda Tire Dodge Viper), Tony Gaples (No. 29 Kleinschmidt/Blackdog Racing Chevrolet Corvette) and Rob Morgan (No. 46 TruSpeed Motorsports/Querencia Porsche 911 GT3) finished sixth through eighth respectively.

Toronto-native Fred Roberts (No. 89 Direct Energy Home Services Dodge Viper) earned his best career finish and strengthened his lead in the GameStreamer GT Rookie of the Year standings.

Tony Rivera (No. 97 Nissan/Brass Monkey Racing Nissan GT-R) finished tenth, and earned the Optima Batteries Best Standing Start award for advancing two positions on lap one.

With the win, Pobst has reclaimed the Drivers' Championship lead with 421 points through four of 12 rounds. Wittmer remains in second (400), followed by Crescentini (372), Pilgrim (334) and James Sofronas (290).

Volvo (27 points) now owns a slim lead in the Manufacturers' Championship, followed by Porsche (26) and Dodge (21).

In the GTS class, Heinricy and his No. 35 Torvec/Phoenix/Hawk Chevrolet Corvette pulled away from championship leader, polesitter Peter Cunningham, and slowly stretched his lead throughout the race, earning his sixth career World Challenge win with a 22.099-second margin of victory.

Heinricy, making his first World Challenge start since a July race at Portland International Raceway in 2005, turned the fastest GTS lap of the race with a time of 1:30.763 (97.533 mph).

"This is really a testament to the Corvettes that Joe Aquilante and his team put together," Heinricy said. "These are very stock cars but they make dynamite race cars. To run with the stock brakes with the help of Hawk pads and SKF with the wheel bearings really helped us out to make it through the race. Really, the opportunity was helped by Torvec and the isotorque differential I've been working with them on. I think the differential really helped keep the tires underneath the car today.

"The car was perfect the whole race. It really ran good."

Cunningham, of Milwaukee, Wis., and Tyler McQuarrie, who won the Round Three contest at Long Beach, battled for second for nearly the entire 30 laps. McQuarrie's No. 19 LPL/DRS/Switcars/LCS/Dayco/M&T Lotus Exige S was in front for the first six laps, before Cunningham took second place from the Walnut Creek, Calif. driver with a pass entering turn eight at the end of the long backstraight. On lap 24, McQuarrie worked back past Cunningham's No. 43 Acura/RealTime Racing Acura TSX and, despite sliding sideways through a number of Mosport's fast corners, the drifting star-turned-road racer earned the runner-up finish.

McQuarrie was presented the MTM Special Ops Move of the Race for recovering to finish second.

Cunningham finished third, followed by teammate Nick Esayian in the No. 34 Acura/RealTime Racing Acura TSX.

Cunningham remains in the Drivers' Championship lead, holding a 57-point gap over Esayian. Acura has a commanding lead in the GTS Manufacturers' Championship.

The tightest race of the three classes came in the Touring Car battle, where the Scion tC machines of Robert Stout, of Brownsburg, Ind., and Tom Lepper, of Benecia, Calif., and the Irish Mike's Racing Volkswagen Jetta GLIs of Herr and Greg Shaffer, of Harrisonburg, Va., looked poised for a four car battle early.

Polesitter Stout pulled out to an early lead in the No. 18 DG-Spec/Scion/TRD/Lucas Oil Scion tC, gapping the other three drivers through the first 12 laps. An off-course excursion by Shaffer in the No. 49 Irish Mike's Racing machine sent him to pit lane to check for damage.

That left Herr, in the No. 50 Irish Mike's Racing Volkswagen Jetta GLI, and Lepper, in the No. 36 DG Spec/Scion/TRD/Lepper & Associates Scion tC, to chase down Stout. Together, they caught the 18-year-old Touring Car Championship leader and, after hounding him for a handful of laps in a three-car nose-to-tail train, left themselves in position to strike.

When Stout ran wide in Turn Five, both Herr and Lepper got by and immediately pulled away from Stout. Lepper remained in Herr's tire tracks for the remaining 12 laps, but couldn't complete a pass for the lead.

At the finish, Herr was ahead of Lepper by just 0.224-second. The win was the third for Irish Mike's Racing after Todd Buras' sweep of St. Petersburg, and the seventh career World Challenge win for Herr in his first start of the season.

"I was worried what was going to happen in front of us, starting with the Touring Cars at the back of the field," Herr, who started fourth, said. "We funneled into Turn One and I fell back to fifth. I just put my head down—I knew it was going to be a 50-minute race.

"When you're in fifth, you just don't know what's going to happen. My teammate slid off. Robert [Stout] just went wide in 5B. I don't know if he looked in his mirror, but he just went over the table-top and went a car width wide. I took my regular line and went by and I'm sure Tom did the same.

"Mike Flynn has worked hard to develop these Volkswagens and I feel like I had the easy job today to just jump in the car and drive. It was a great day."

Herr's advancement of six positions overall earned the Sunoco Hard Charger award for the race.

Lepper's runner-up finish was his first World Challenge podium in five career starts.

Eric Meyer, driving the No. 32 XOWii/Samaritan's Feet/Delvira Mazda RX-8, managed to catch and pass Stout on the final lap of the race for his second-consecutive podium finish.

Stout finished fourth, followed by Robb Holland in the No. 22 Track Pro/Emich VW Volkswagen GTI.

Including bonus points for pole positon and most laps led, Stout (460 points) was able to stretch his lead in the Touring Car Drivers' Championship over Eric Meyer (376). Scion (31 points) now leads the Touring Car Manufacturers' Championship by four points over Volkswagen, ahead of Mazda (16) and Honda (13).