With only days before the 2019 Pikes Peak International Hill Climb (PPIHC) takes place on June 30, ENEOS-sponsored driver and 2011 Formula DRIFT Champion, Daijiro Yoshihara, is making every effort to successfully complete his first attempt at the world's most famous 12.42-mile uphill competition.
For ENEOS – a division of JXTG Nippon Oil & Energy – it's also a historic first for its motorsports program, which currently includes Formula DRIFT, Americas Rallycross, NASCAR K&N Pro Series, NASCAR Gander Outdoors Truck Series, NTT IndyCar Series and MotoGP. The company is lending its support to the #86 ENEOS / Evasive Motorsports / Turn 14 Distribution Toyota 86. As the name suggests, the Pikes Peak assault is being prepared by Evasive Motorsports from Santa Fe Springs, CA.
Although it may only take 10 minutes to cross the finish line, it can take a lifetime to reach that point. For Dai, it is the culmination of a racing career that has seen him become a Champion in the Formula DRIFT series, as well as a winner in Time Attack competitions, a performance driving instructor and much more. And all of this began in his youth when Dai worked in an ENEOS gas station, earning enough money to build his first competition car, and honing his skills by touge racing in his hometown.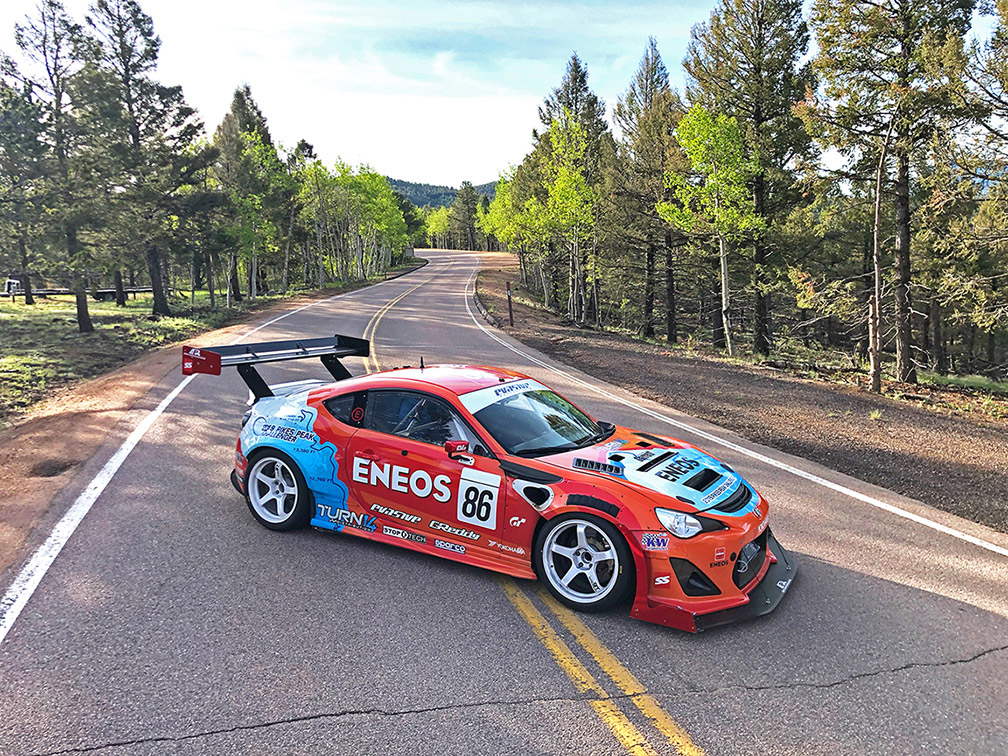 To prepare for Pikes Peak, Dai familiarized himself with the mountain course using the Assetto Corsa racing simulator. He also recently visited Pikes Peak and drove the roads in a Toyota 86 loaned by Colorado Springs Toyota. "I've driven the simulator so many times I already know the track in my head." Dai explained. "I needed to see the elevation, feel the road surface and its bumps, assess the banking in the turns. These elements are difficult to capture on a computer screen but I was able to piece it all together."
Much like last week's official PPIHC practice sessions, Dai didn't tackle the entire hill in one gulp. "I split the course into sections and drove each one four or five times to burn the turns into my memory. When you drive the entire hill, it's difficult to remember specific corners, but by breaking it down into smaller chunks you seem to remember it better," Dai told us.
For his 2019 PPHIC run, Dai needed a team with the experience to set up a car with the right balance of power, traction and aerodynamics. He chose Evasive Motorsports because they have competed on the event several times before, and their knowledge of the event will be invaluable.
The #86 ENEOS / Evasive Motorsports / Turn 14 Distribution Toyota 86 is an updated version of the car they used on previous Pikes Peak events. It's also the same car Dai has used at numerous Time Attack races over the years, so he's very comfortable behind the wheel.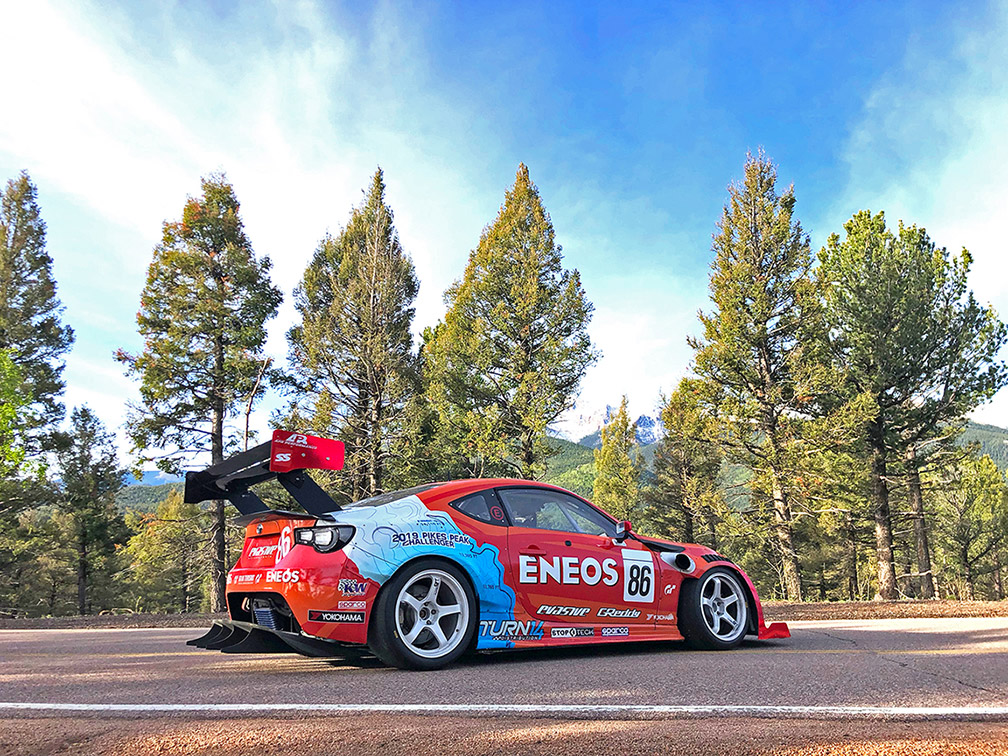 To ensure the Toyota 86 will be competitive in the PPIHC Time Attack 1 class, it's equipped a 900hp, 3.4-liter Toyota Supra 2JZ engine using ENEOS Racing Series motor oil and gear oils, which helps to increase power and reliability by reducing internal friction when compared to its competitors. ENEOS has used its decades of motorsport participation and victories to design lubricants that offer greater protection at high temperatures for extended periods, which is exactly what Dai's race car will need as it climbs the hill.
During final testing at Willow Springs, before the car was transported to Colorado, Mike Chang from Evasive Motorsports had Dai practice on the Horse Thief Mile. The track configuration has tight turns and he felt its stop-and-go nature would provide similar driving conditions to what Dai can expect on the mountain course.
"Testing went really well. By making a change to the turbocharger (a smaller Garrett GTX3582 Gen II was fitted), we were able to improve the drivability of the ENEOS / Evasive Motorsports / Turn 14 Distribution 86," Mike said.
During the test, Dai completed a series of 13-lap runs, which simulated a full PPIHC pass. During each run, the Evasive team was able to further tweak the #86 ENEOS race car's cooling system, fuel strategy, OS Giken differential settings and traction control settings. They also monitored the Yokohama Tire compound degradation and provided additional reinforcement to the rollcage plus minor adjustments to Dai's seating position. "We're as prepared as we can be," Mike told us. "This is a very specialized vehicle, which we know very well. We've been through every nut and bolt, and rebuilt every component we could. We're confident the car and driver are ready and can't wait to get out to Colorado to attack on the mountain itself!"
Speaking on behalf of ENEOS, Shinichi Handa, CMO of JX Nippon Oil & Energy USA said: "We're very excited to embark on this wonderful adventure at Pikes Peak. It's the first time our company has ever been involved in this historic race and we're delighted to be doing it with our long term partner, Daijiro Yoshihara, who has a tremendous history with our company dating back to his teenage years."
As he prepares for this week's qualifying sessions, the last word goes to Dai: "I followed Pikes Peak as a kid in Tokyo, and while I always dreamed of being there, it's crazy to think it's actually going to happen. In fact, our practice sessions went better than I could have imagined – the car ran perfectly and we were able to set competitive times despite running on used tires. We weren't trying to set any records but I was pushing hard and the car responded well. Now all we have to do is qualify and make it up the hill on race day!"
Stayed tuned for updates and news from the ENEOS / Evasive Motorsports / Turn14 Distribution Toyota 86 and its 2019 assault on the Pikes Peak International Hill Climb by following ENEOS on social media: facebook.com/eneosusa, instagram.com/eneosusa.