Photography courtesy of Clinched
---
The widebody movement up until now has been largely pushed onto the world from Japan by a few names you might recognize, like Rocket Bunny/Pandem, Liberty Walk, Varis, Ben Sopra, etc. A company that's made a recent splash in the scene of fenders and flares is Clinched, and you may not know it, but Clinched Flares has its roots in Russia, and they have aimed to do things differently than their Japanese counterparts.
In 2012 Andrey Kondukhov, owner of a plastics manufacturing company in Russia, was making some plans for his car. With a passion for the aesthetics of widened cars, he was looking into a kit for his own ride, but wasn't satisfied with the offerings, so he thought that maybe he could design and manufacture a set of flares at the office. From there, Clinched was born. Initially, dealing in flares only, mostly universal, the business took off, but Kondukhov knew that they could make their mark in the market of full-on application-specific widebody kits. Together with his business partner, and fellow car nut, Fedor Stetskevich, they sketched out the design for their first kit for the XE10 Lexus IS. Targeting a fairly popular car with no existing widebodies turned out to be a great idea because, as Kondukhov puts it, "it all snowballed from there." Now, Clinched adds kits to their roster every year.
Because Clinched's design and manufacturing happens on-location, one may think that if their platform is currently unsupported, they could just ask for a widebody kit to be made for their application. While Clinched is always open to suggestions, Kondukhov had this to say.
"The customer needs to understand a couple of things: A) all tooling costs will be the buyer's responsibility in case of a limited sales potential platform, and B) we need to like the platform, otherwise there will be limited passion and that will show in the final product," he says.
In 2017, Clinched had a tremendous year, launching their S550 Mustang kit, which promptly went viral, and having six of their kits on cars at SEMA in their first ever show! That success has prompted Clinched to move forward with a 2018 version of their Mustang design, and start development on a few platforms that they've teased to us: a Japanese sports car, an American muscle car, and an Italian exotic.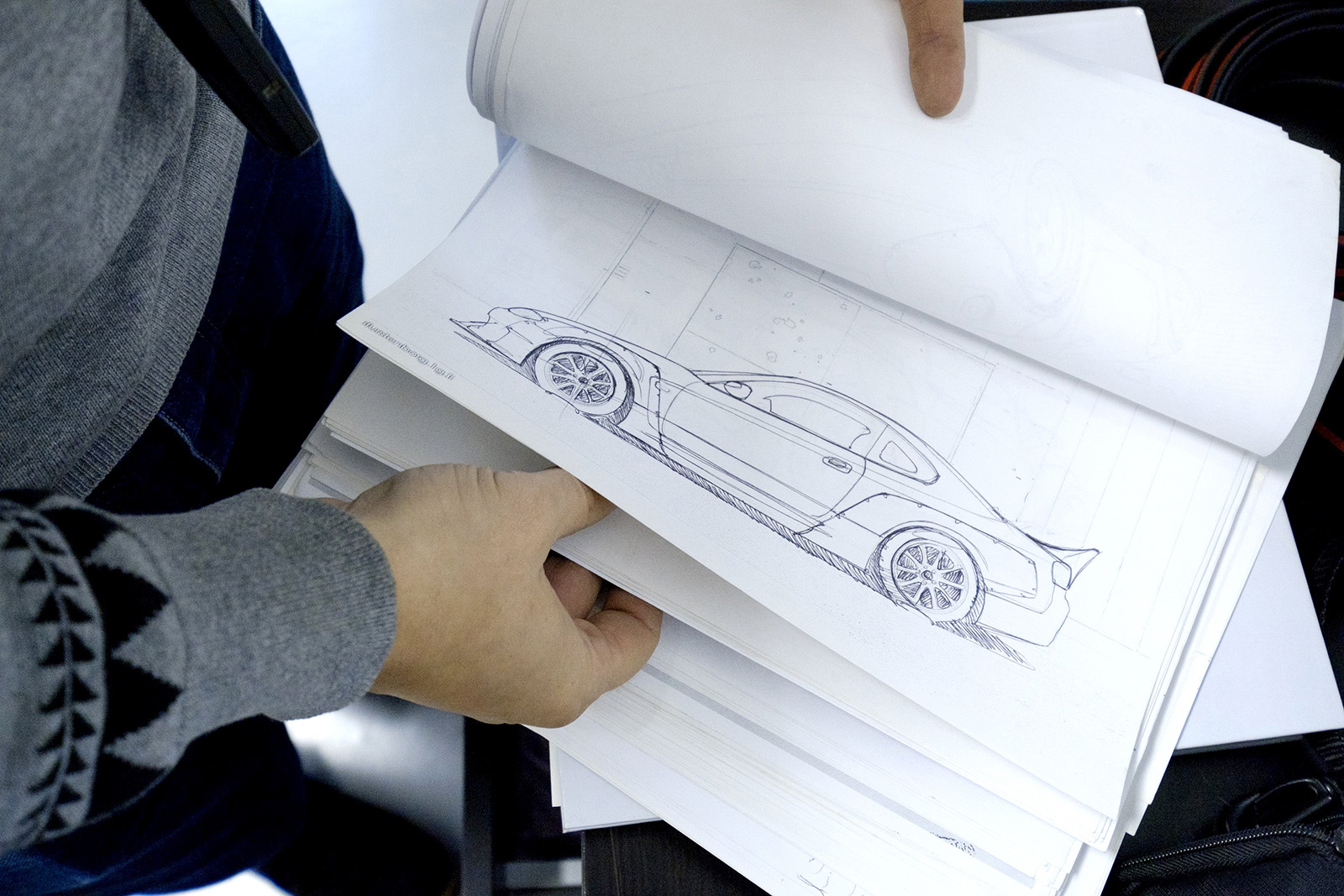 HOW A CLINCHED KIT IS CREATED, FROM START TO FINISH
ONE
Starting with internal ideas and suggestions, those are paired against market analysis and future predictions to choose what the new platform will be to design a kit for.
TWO
Kondukhov and Stetskevich sit down and start sketching – sometimes hand-drawn, and sometimes in Photoshop – and the resulting concept is discussed internally to tweak the design. "We're lucky to be on the same page when it comes to stylistic directions and we rarely have any arguments," Kondukhov laughs. "We get a lot of inspiration from general automotive history – visiting automotive museums and watching vintage racing footage. We're also big fans of Japanese automotive culture."
THREE
After the baseline concept sketches are done, the design makes its way to 3D modelling, where more tweaks and corrections are made. The final 3D kit is handed off to the engineering department, who overlaps the kit onto a 3D scan of the vehicle, which is done in-house or comes directly from the OEM.
"Our latest kit for the S550 Ford Mustang was designed based on the files received directly from Ford Motor Company," explains Kondukhov.
FOUR
The resulting final render of the car is then sent out to gauge market interest. If there are enough owners of the selected platform out there that can make the commitment, the kit moves ahead with production.
FIVE
Manufacturing takes place in-house, as that's the facility's bread and butter, and the kit is produced out of high-quality ABS plastic, which is the same material used in a lot of OEM styling and aero pieces. Certain kits, namely the Mustang, are available in dry carbon fiber as well.
"ABS plastic is more flexible, lighter and safer than FRP," says Kondukhov. "We have supplied quite a few local drift teams where our products withstood some heavy abuse!"
For more information, visit www.clinchedflares.com.
PHOTO GALLERY