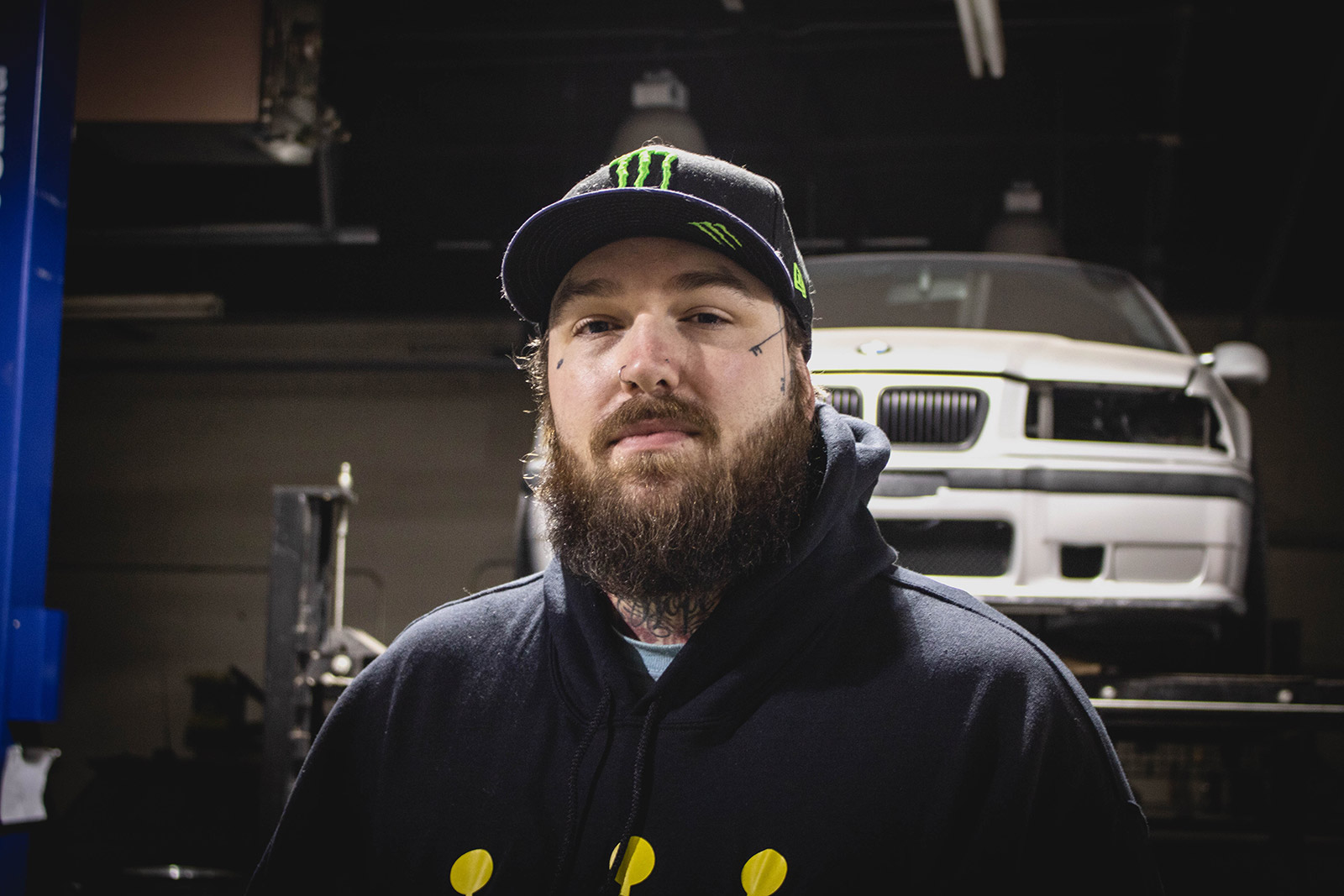 (Photo: Ian Lambert)
PASMAG: Why did you choose this vehicle / platform?
Ian Lambert: I always loved the look of it, but I didn't know too much about them because I was a Honda kid. Then a buddy who I looked up to, who had a beautiful Civic, ended up getting one. He wouldn't stop talking about it, so I got a lot more interested in them and what makes them rad. It just so happened that my sister used to work at a Hyundai dealership, so she convinced me to go take a look at one and drive it. Well, it was love at first boost.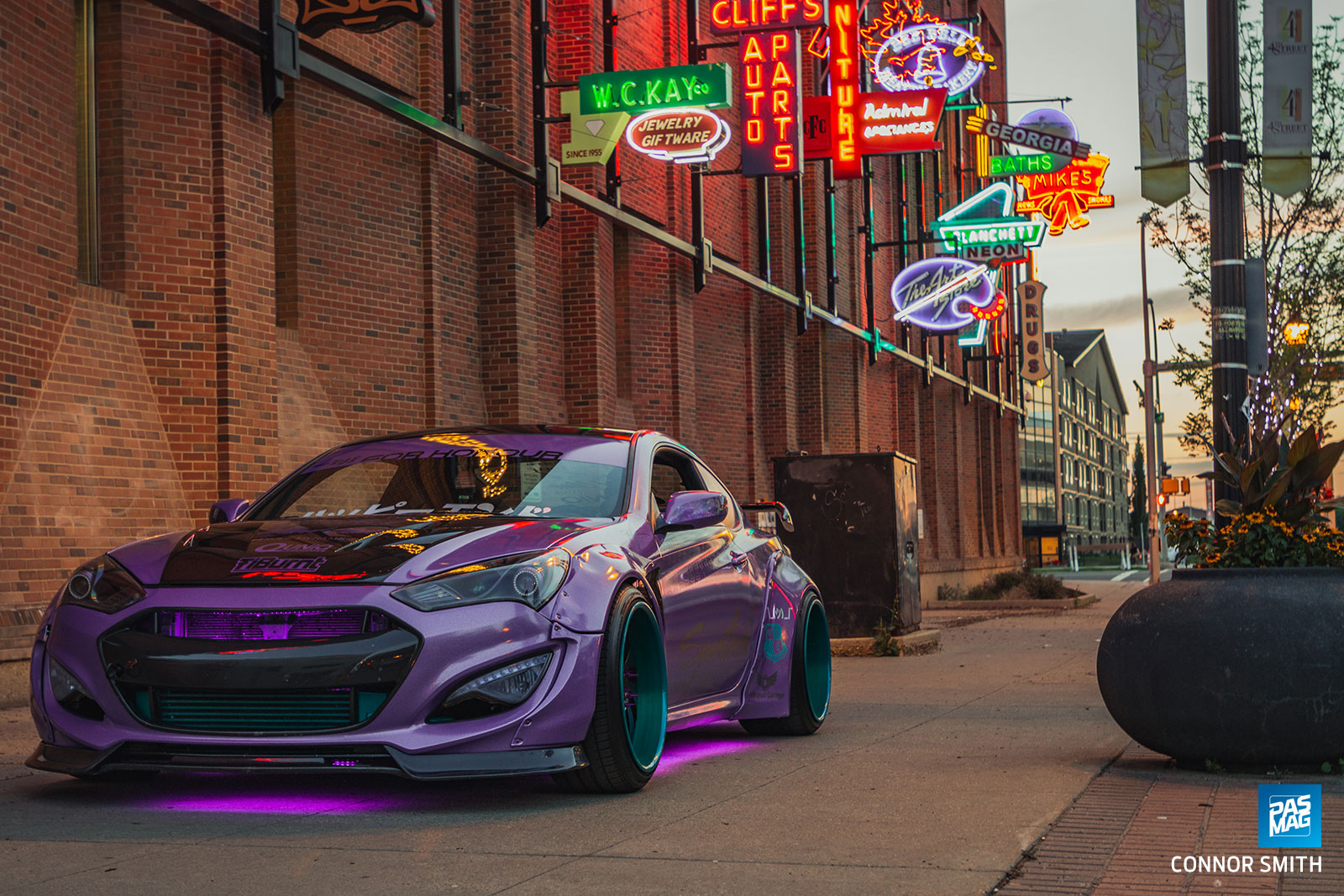 What got you into building in the first place?
I've always loved cars, but, as a kid, I never really learned anything about them. I did little things that I thought would be neat. Looking back, I was wrong (laughs). When I was 18, I got a part-time job at a performance shop, which started a very deep love for modifying.
What is your favorite aspect of the build?
The freedom! When I was doing my build, I didn't ask opinions about what would look good or what style I should do; I just took my vision and ran with it. I had an amazing team behind me to make it happen. A lot of the time, people had things to say, but it seems like they would always come around when I was done. I wanted to build something that makes people smile.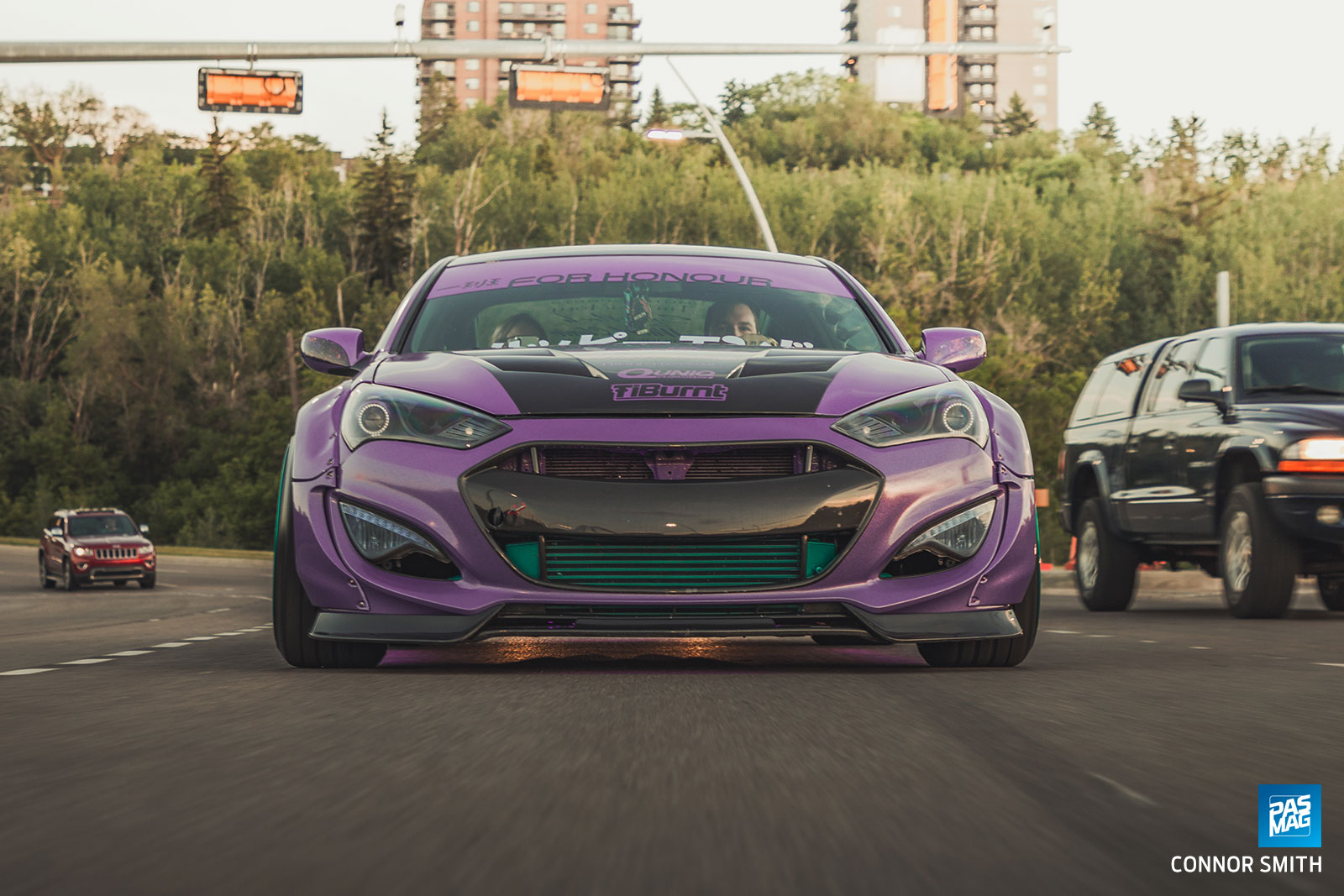 What influences or inspiration helped you over the course of your build?
The '80s. I love the aesthetics and the crazy out-there attitude with everything. Toss in a little bosozoku and we have a one-of-a-kind Korean coupe, built to bring smiles!
Is there anything personally or about the build that you would like readers to know?
Do what you love. Stay true to yourself and your vision - sometimes it will change, but that's okay. Don't let someone's opinion make you stray from what you love just because it's not their cup of tea. In the long run, you will be much happier with your build. Remember, it's your hard earned money put into it, not theirs.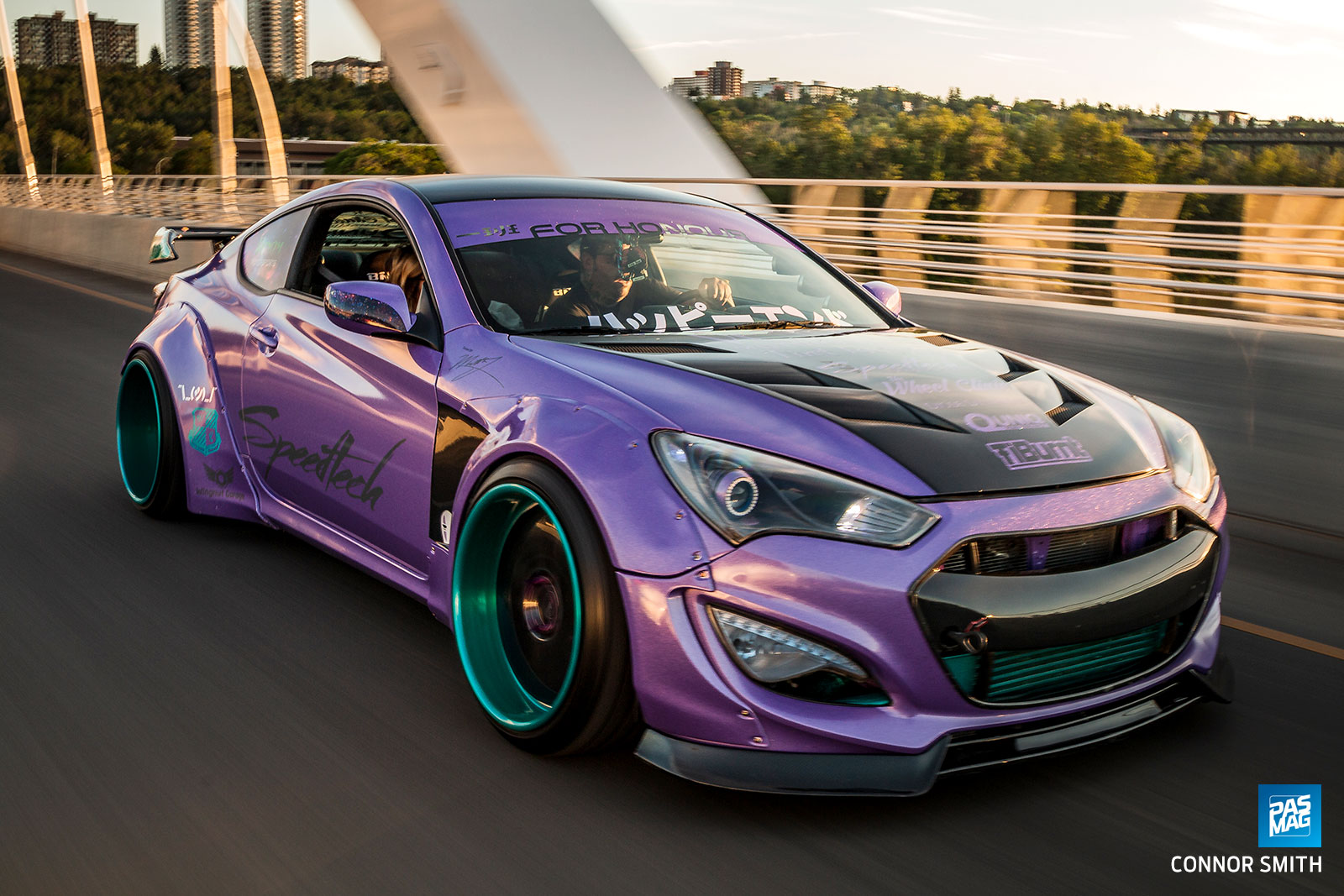 ESSENTIALS
Vehicle: 2014 Hyundai Genesis Coupe R-Spec
Owner: Ian Lambert
Location: Edmonton, AB
Engine: Hyundai Theta 2.0L turbocharged I-4
Built By: Speedtech Racing Development, Venom Motorsports, Sideshow Customs, Wheel Clinic
Club Affiliation: For Honour
Instagram: @honoured.bk2
Photographer: Conner Smith (@cjs.06)
ENGINE
JE forged pistons
K1 Technologies rods
ACL Race Series (rod bearings, main bearings)
ARP Studs
CPE rotated turbo Manifold
Garrett GTX2867R Gen2 dual ball bearing V-band turbo
845 Motorsport intercooler
Custom intercooler piping
JRC Performance intake manifold
Wheel Clinic powder coating (turbo, intercooler piping, intake manifold)
Tenebe velocity stack
DW 750-cc fuel injectors
Tial external wastegate
HKS blow-off valve
Koyorad radiator
Uniq Performance (fan shroud, fans)
Haltech ECU
Speedtech Racing Development (tubbed engine bay, partial wire tuck, battery relocation, custom ECU tune)
EXHAUST
Custom 3-inch o2 pipe
Uniq Performance 3-inch down-pipe
Solo Performance 3-inch exhaust system
DRIVETRAIN
Competition Clutch Stage 2 clutch kit
Megan Racing transmission mount
CHASSIS / SUSPENSION
K Sport Kontrol Pro coilovers
ISR (tension rods (f), lower control arms (f/r), upper traction arms (r), toe control arms (r), upper camber arms)
Uniq Performance (lower tie bar (f), lower subframe x-brace (f), middle lower subframe x-brace, lower chassis link bars (r), lower tie bar (r), upper tie bar (f))
WHEELS
Rotiform WRW 3-piece custom wheels - 20x13 -28et (f), 20x11 -25et (r)
326 Power lug nuts
EXTERIOR
VIS carbon fiber (hood, trunk, rear diffuser)
RMX carbon fiber fenders
G4Werkz Legatia V2 carbon fiber front lip
Remake widebody kit
326 Power wing paint by Sideshow Customs
Custom (headlights, fog lights, taillights)
Diode Dynamics RGB (headlight halo, headlight DRL, fog lights)
Avery Dennison Diamond Purple wrap
Wrap installation & custom accents by Derek Harvey
Tint Factory PPF'd front end
INTERIOR
Illest x Momo steering wheel
NRG quick release
Uniq Performance short shifter
Torque solution shifter bushings
Bride racing seats
Custom (headliner, wrapped dash)
Triple-gauge gauge pod (carbon fibre pillar pod, dash pod)
Likewise (Big Papa shift extender, Neil Diamond shift knob)
MOBILE ELECTRONICS
Pioneer NEX-4200 double-DIN multimedia receiver
Helix SPL 3000 (12-inch subwoofer, mono-channel amplifier)
Custom subwoofer enclosure
SPONSORS
Speedtech Racing Development
Venom Motorsports
The Wheel Clinic
The Tint Factory
Divine Shine
Happy Endings
Ti-Burnt
Uniq Performance
Wingnut Garage