Photos by Motegi Racing & Jordan Lenssen
---
Tanner Foust is now as recognizable for his work behind the wheel of a rallycross car as he is for the television hosting, drifting and stunt work that started his career. That's thanks, in large part, to Andreas Eriksson and the Olsbergs MSE squad – a team on the leading edge of a rallycross revolution that is reimagining motorsport – and has helped make international racing stars out of drivers like Foust, Brian Deegan and Ken Block.
"Andreas is definitely Mr. Rallycross," says Foust, who has competed around the world with the team since debuting in a Ford Fiesta at the 2009 X Games. "Even when we go to France to race with 120 cars competing, the OMSE team is known as one of the best in the world."
| | |
| --- | --- |
| | |
Olsbergs MSE was officially created as a focused motorsport company in 2009 when historic Swedish industrial company Olsbergs merged together with Eriksson's Motor Sport Evolution (MSE). Before that, the industrial giant Olsbergs was a frequent racing sponsor whose business holdings concentrated on foundry works, hydraulics and electronics, while Eriksson's MSE operation was the fun sideline in a portfolio of diverse companies and real estate holdings. Together, with Eriksson as CEO, they have become a force in motorsport, competing internationally in the European Rallycross Championship and the Global Rallycross Championship – in the U.S. and with X Games around the world. The company now has dual headquarters with operations in both Sweden and the United States, a tidy shop in Huntington Beach, Calif., that opened just last year.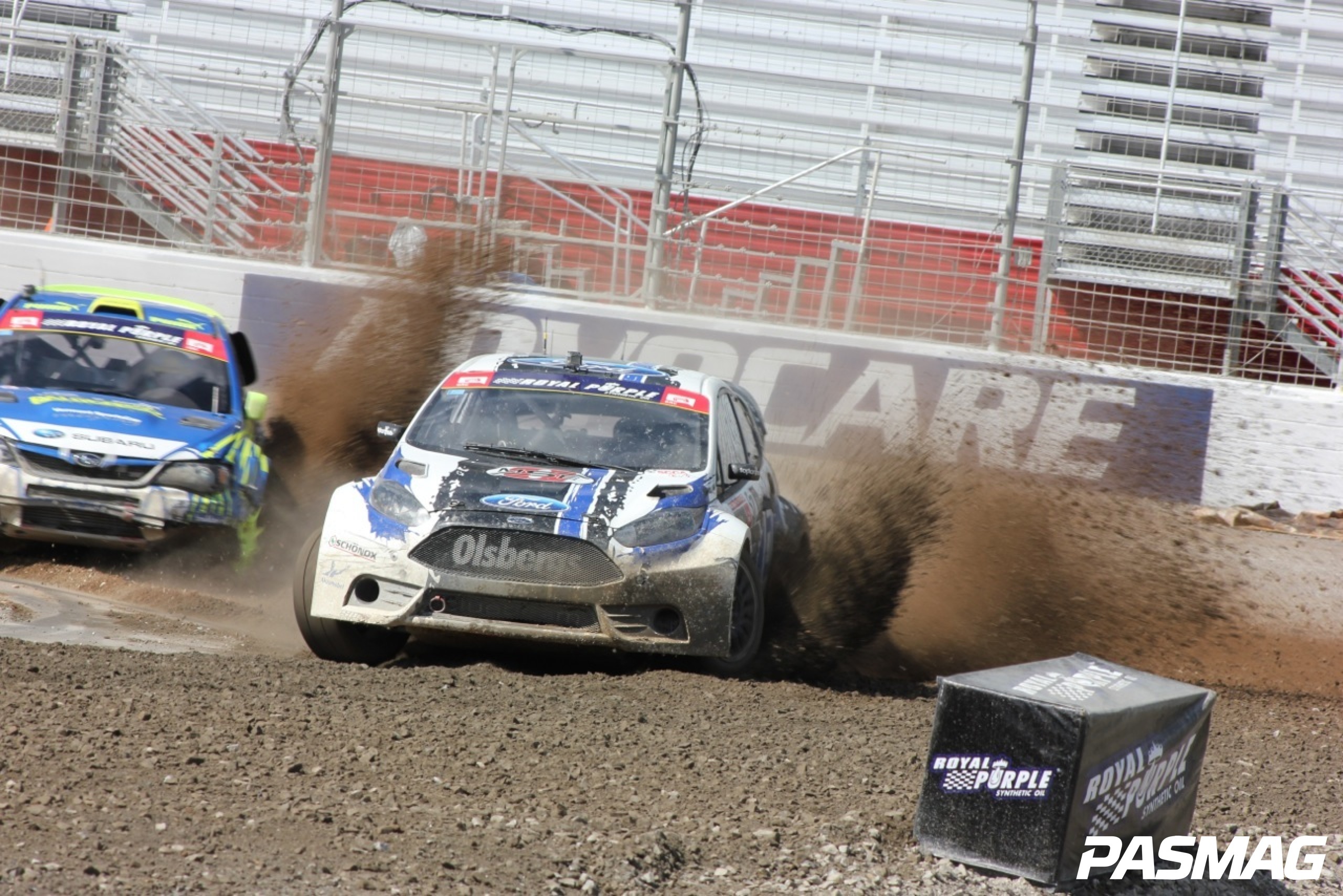 The team runs six top-spec, 600 horsepower, all-wheel drive cars in the 2013 GRC Supercars field, which was out at 18-strong at X Games Los Angeles this season. Four of them are in the top five of the points standings, including Foust, Deegan, championship leader Toomas "Topi" Heikkinen, and Swedish rally star Patrik Sandell. (The other is Block, a former Olsbergs MSE driver whose own Hoonigan Racing Team built and operates his Ford Fiesta).
On top of that, Olsbergs MSE has developed, and runs every one of the 10 purpose-built GRC Lites racers – a spec class that debuted at the start of the U.S. competition season this year as a development series. There are technicians and mechanics from all over the world on the team but a quick walk through the paddock on race weekend shows no shortage of Swedish talent imported from the homeland.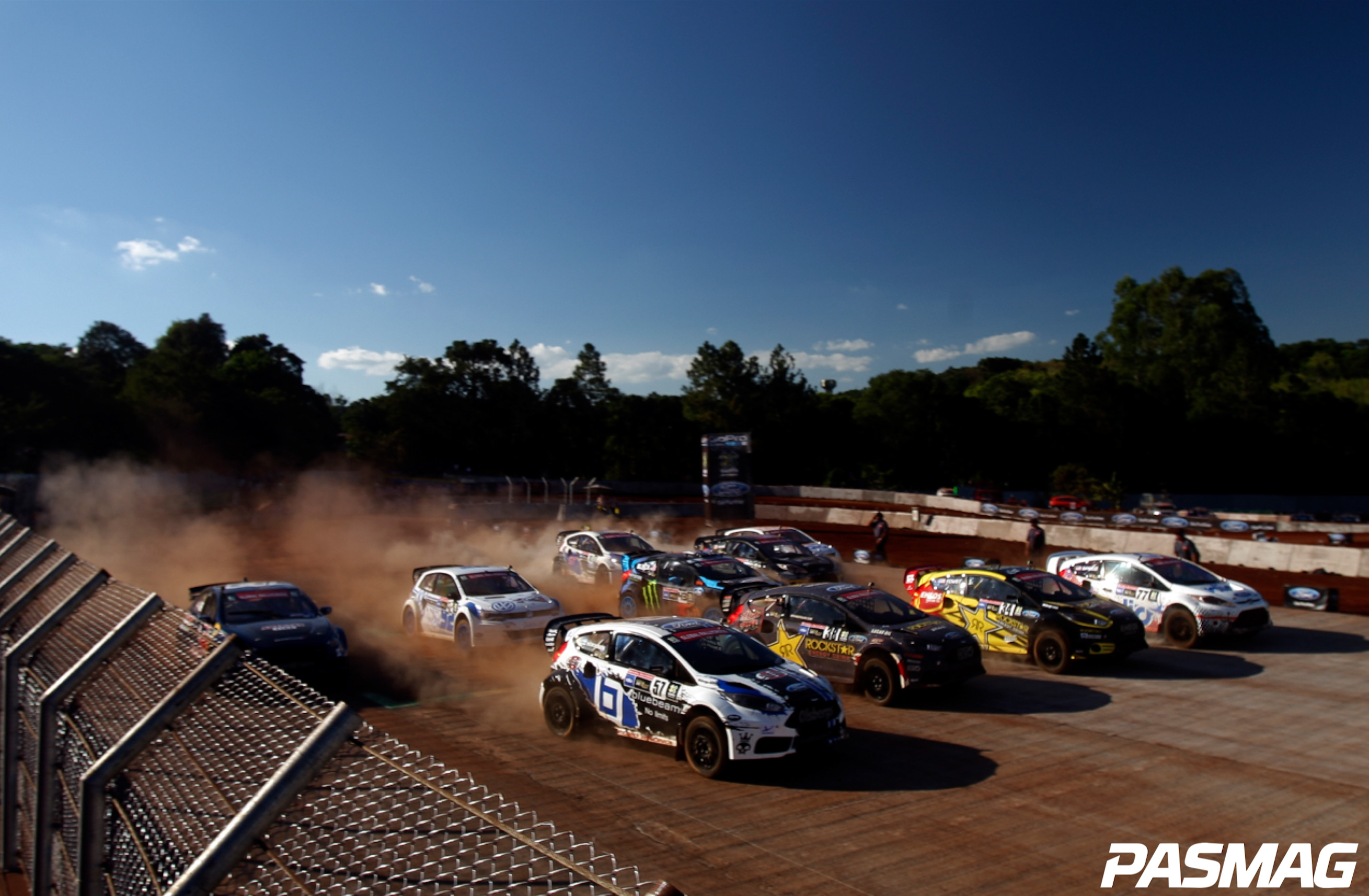 Even when the Global Rallycross Championship is racing in the heart of America's NASCAR country, the paddock has a decidedly international feel. It's more than Euro-style skinny jeans and fancy trainers – though there's some of that. It has become something of an insider's joke to note how many blondes there are: young men, lanky and blue-eyed, with tousled hair and rosy cheeks. And the language they're speaking isn't the clipped British lilt of Formula One, the wide Aussie vowels of V8 Supercars or the German of DTM. It's Swedish: the unlikely language of rallycross. "I understood about two words less when I started with OMSE four years ago than I do now," says Foust. "The mechanics taught me all the dirty words right off the bat and that's still what I remember."
| | |
| --- | --- |
| | |
On race weekends, Eriksson is omnipresent, somehow managing to be everywhere at once. At the start line, he's checking in with his drivers. In the spotter's stand on the roof of the grandstands, he's shouting out instructions on the radio. In the pits, he's flat on his back under a Ford Fiesta or GRC Lites racer. "Andreas has always been very passionate about winning, which is a very contagious thing," observes Foust. "It's a necessity for a team owner."
A former championship rally driver, Eriksson's first trip to the United States came in 2009 when he drove a Ford Fiesta as part of a factory backed two-car effort on the famed Pikes Peak International Hill Climb. Two-time World Rally Champion Marcus Grönholm drove the other car. "We did it because we could. Marcus was second (to Nobuhiro 'Monster' Tajima). I crashed twice," says Eriksson, adding: "That's an achievement in itself."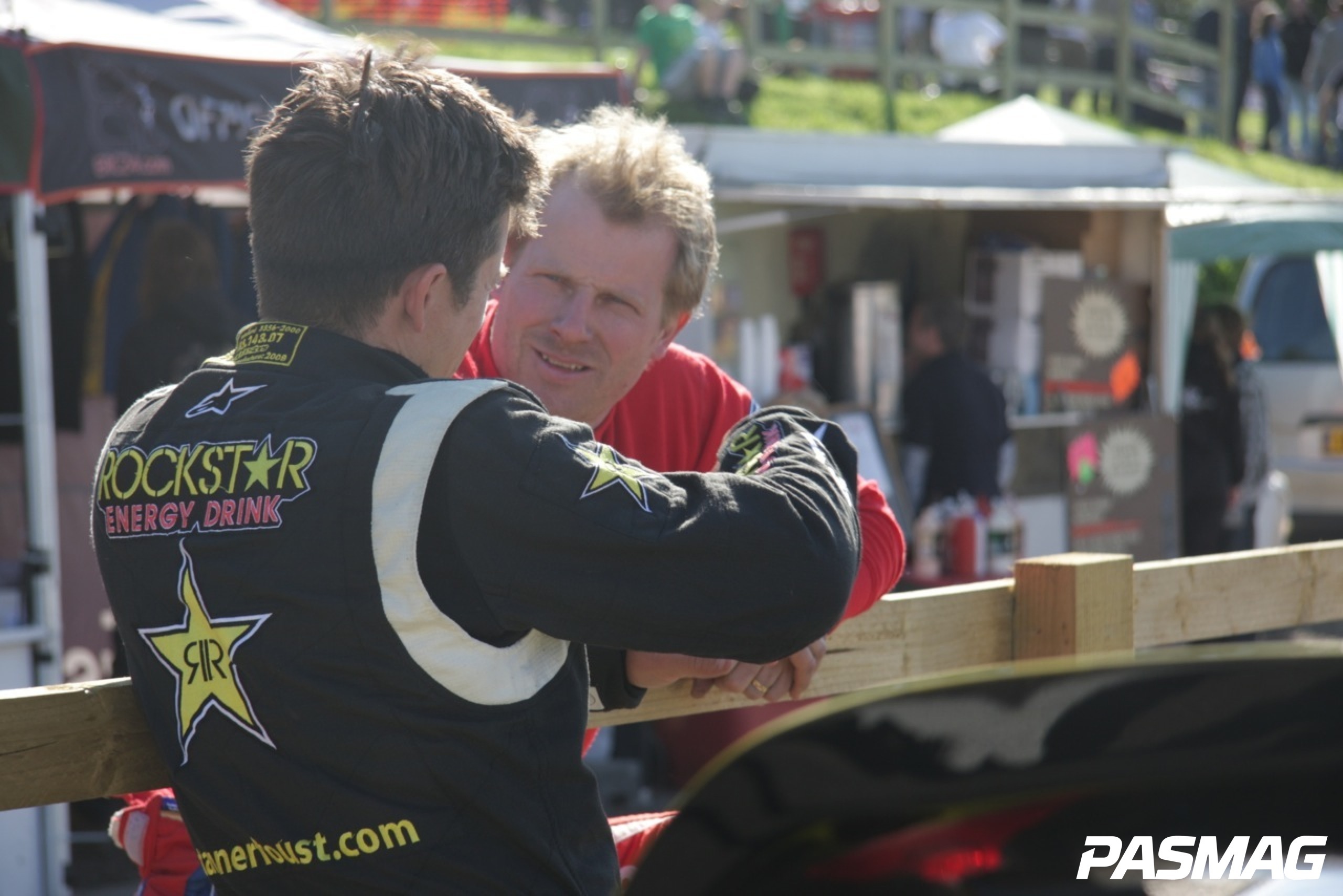 The nickname Eriksson brought to America on that first trip – "The Swedish Cowboy," an allusion to his quick-draw temperament and don't-give-a-damn swagger, is all but forgotten now that he's become such a fixture in the U.S. scene. But it remains apt because it describes what it takes to assume the kind of risks necessary to transform a personal passion project into a global force in motorsport. On an ESPN television broadcast recently, a NASCAR commentator likened Eriksson the Roger Penske or Rick Hendrick of rallycross.
Foust has been a steadfast partner as Olsbergs MSE and the sport of rallycross have grown together both in Europe and the United States. He and his agent first met with Eriksson and Ford during the lead-up to the 2009 Race to the Clouds campaign, proposing that the high-horsepower AWD Fiestas originally built for rallycross in Europe – a sport that didn't yet exist in the United States – would be the perfect vehicle for X Games. "We started pushing to let us use them at X Games and everybody said 'No,'" Foust recalls now.
But Ford was faced with a problem to which the X Games offered an interesting solution.
With the Fiesta set for the U.S. launch in 2010, Ford needed to figure out how to make the vehicle attractive in a country where bigger has always been better; and where small cars have a serious image problem as insipid little grocery getters. And so Ford eventually allowed the X Games run, as long as it didn't hurt the Pikes Peak effort – then seen as the primary marketing tool for proving the small car's mettle.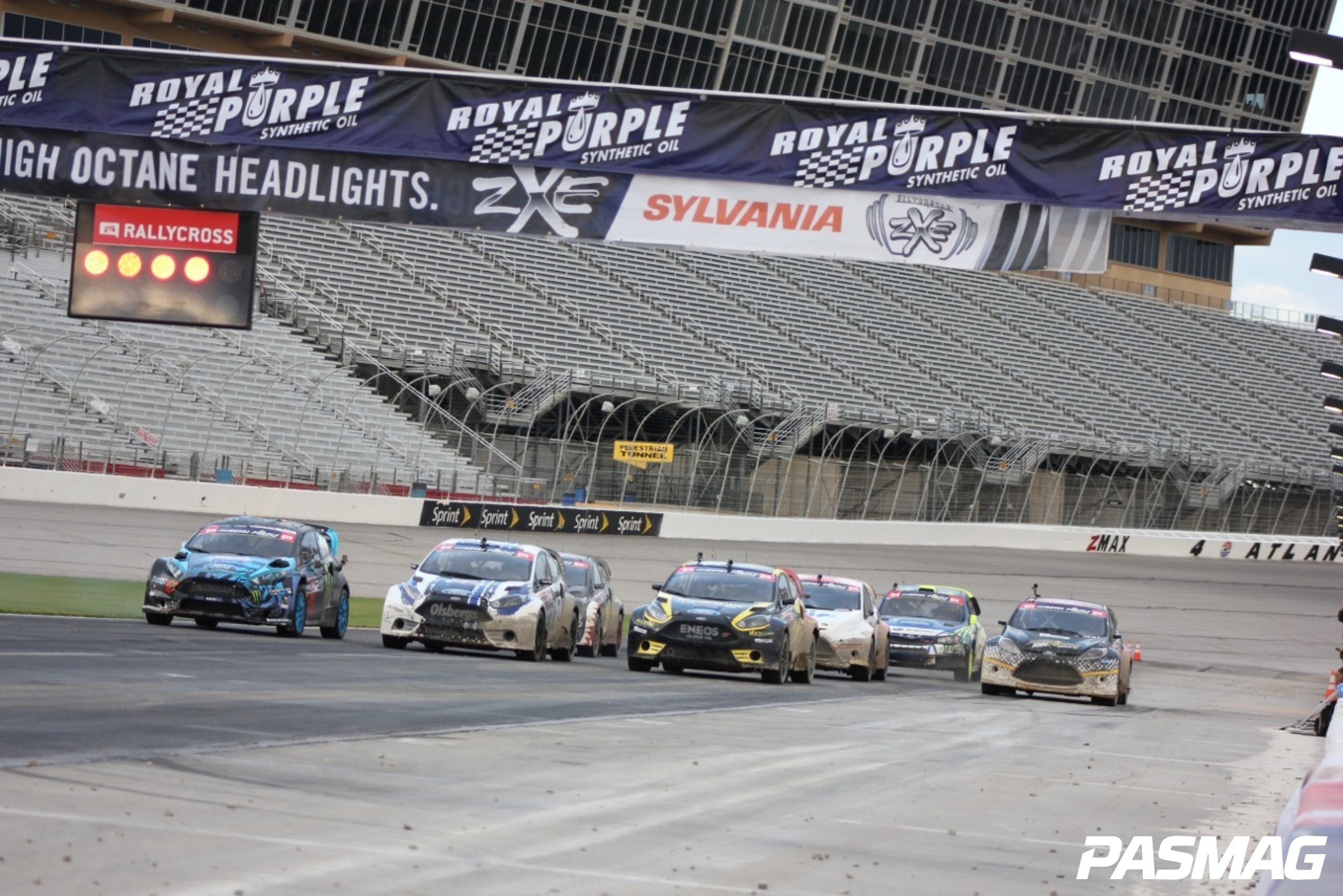 Rockstar stepped up to the plate to back driver Foust and Olsbergs saw enough potential in the action sport-meets-motorsport event to field the second car for longtime sponsored driver Kenny Bräck, the Swedish open wheel pro and Indy 500 champion. Bräck won. Foust finished third, breaking Subaru's four-year stranglehold on the X Games podium and introducing the manufacturer to a new competition venue for small cars. "They used the crap out of it for the Fiesta launch and all of that marketing," says Eriksson now. "I plan a lot of things I do, but that I didn't plan. It just happened."
| | |
| --- | --- |
| | |
It was a "hot hatch" breakthrough in the States and a game changer in action motorsport. In the three years between the sport's introduction to X Games in 2006 and that 2009 race, Subaru had scored every single rally podium – a total of 10. Travis Pastrana brought his Subaru home in second place that year, between the two Fords, marking the end of the era. Since then, and even with the addition of more races and medal-scoring opportunities, Subaru has scored only two more podiums. Ford has chalked up 21. "Andreas really is a visionary," says Foust. "As soon as he saw X Games, he said: 'This will be like a videogame with cars, the way you Americans want it.'"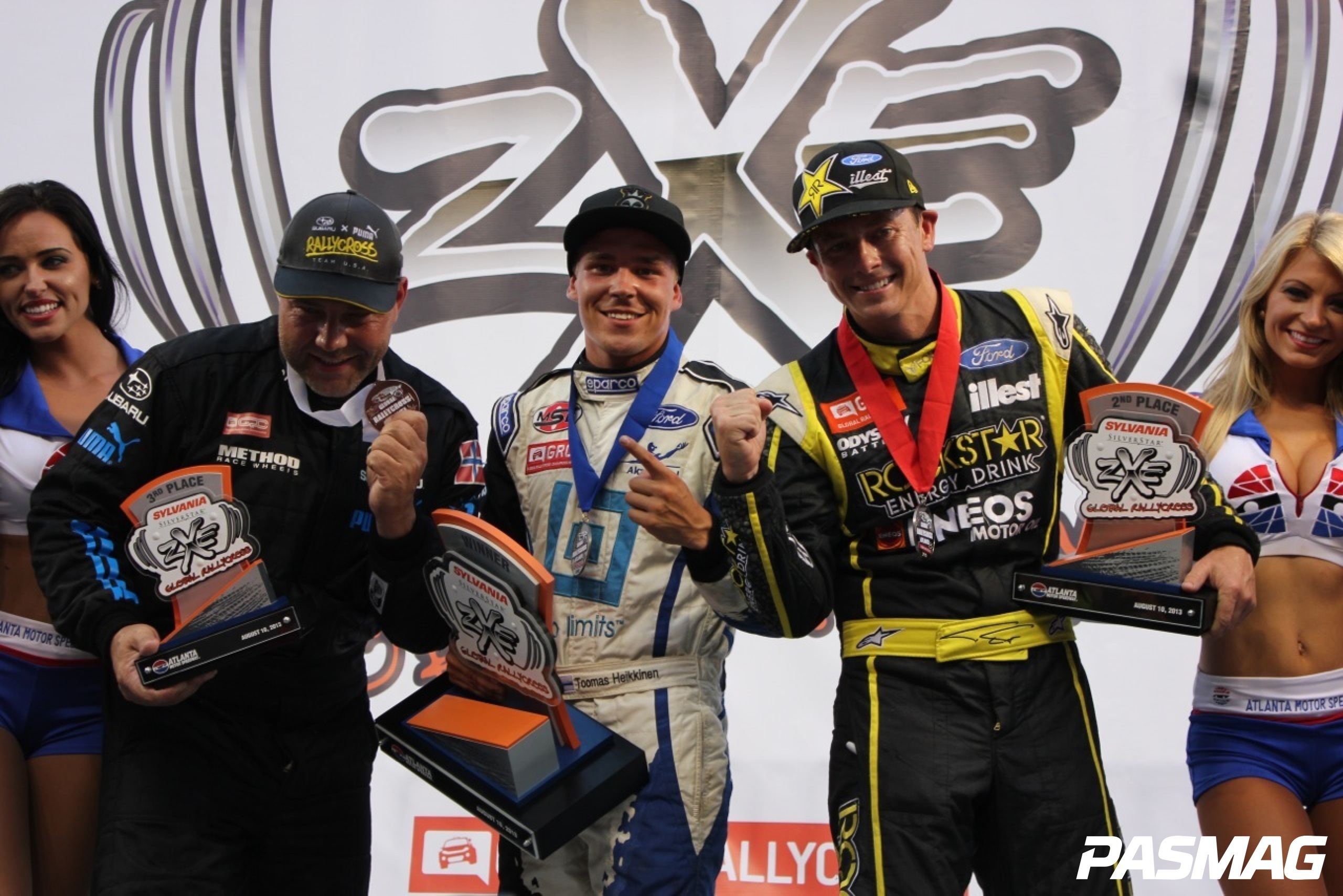 The sport is unrecognizable from what it was just a few years ago, and is growing into the potential that Eriksson described after that first trip to the X Games. The original, modified rally special stage format is now gone, replaced by a made-in-the-USA riff on the sport of rallycross as it has been known in Europe since the late 1960s.
This year's Global Rallycross Championship has featured a potent mix of highly-modified and powerful cars from Ford, Dodge, Volkswagen and Subaru racing in packs on mixed-surface tracks, and characterized by outrageous sliding, door-to-door contact and big jumps. It's a nine-round affair with contests held around the world, from Foz do Iguacu, Brazil to Los Angeles. "I think Olsbergs MSE showing the level of commitment and fearless investment into the sport has allowed others to be a little more comfortable doing the same," says Foust.
| | |
| --- | --- |
| | |
In addition to the new manufacturers – with more to come – GRC races have featured WRC giants like Grönholm and Sébastien Loeb, action sports stars Pastrana, Block, Bucky Lasek, Dave Mirra, and rallycrossers like Britain's Liam Doran and Finland's Heikkinen. At NASCAR, IndyCar and sports car races, the drivers and team owners are talking about the new sport of rallycross. At X Games this year, a pair of IndyCar teams – KV Racing and SH Racing –partnered to field a car. Even the European Rallycross Championship has benefited from the excitement, undergoing an ownership change and rebranding intended to attract a younger demographic.
"I see what will be the future, and five years earlier than everyone else," Eriksson says, in his rapid-fire, Swedish-inflected staccato. "Sometimes I move too early, but you don't need to be a rocket science guy to understand what's happening. You need only look at the kids, your friends' kids. And you can see what is there – what will be the future."
And whatever that future might hold, Eriksson and Olsbergs MSE are ready to lead the way.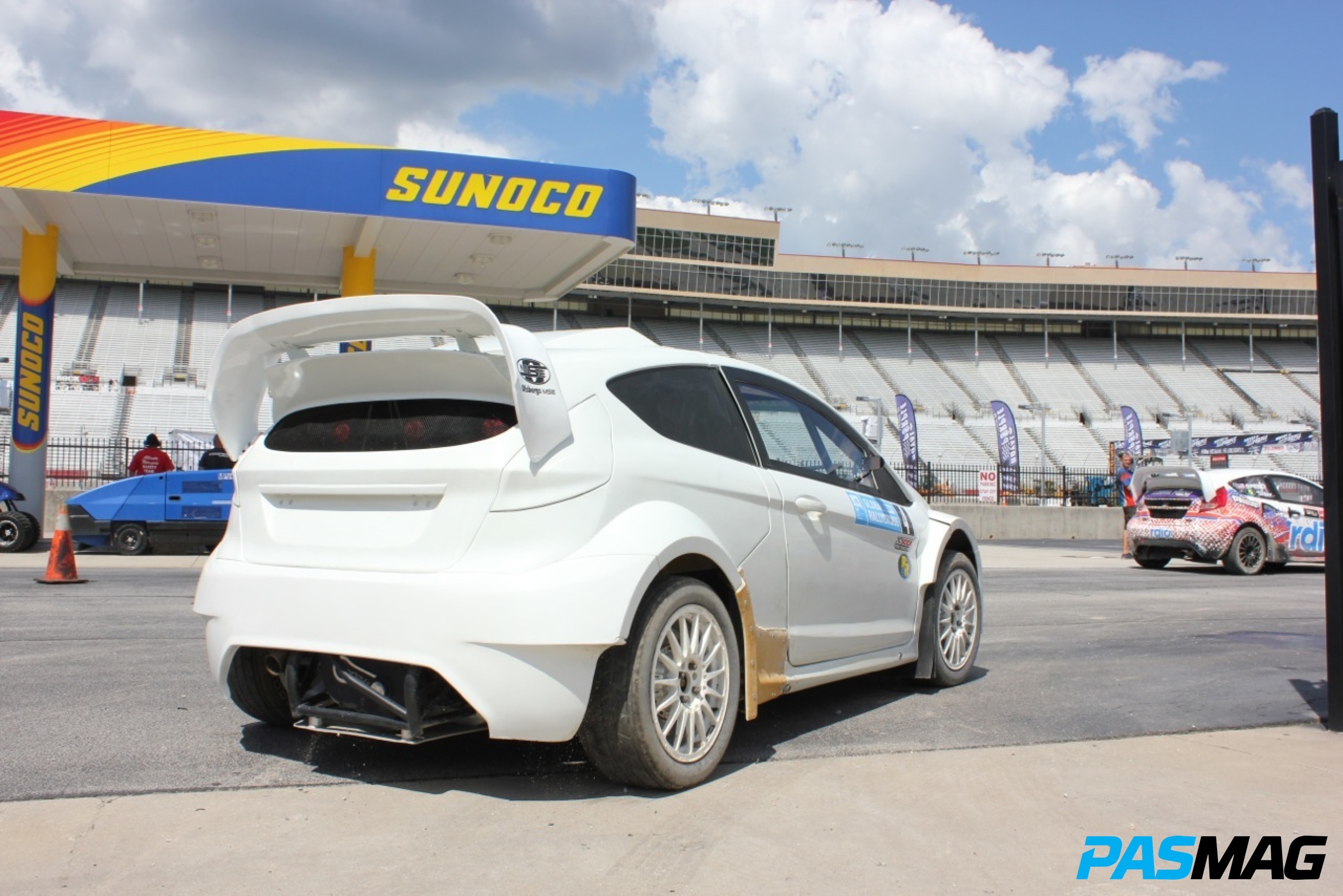 ESSENTIALS
Vehicle: 2013 Ford Fiesta ST
Class: GRC Lites
Built by: Mountune/Olsbergs
Engine: 2.4L Duratech
Horsepower: 310 hp
Torque: 220 lb-ft

ENGINE MODIFICATIONS
Forged steel crankshaft
Forged Pistons
Mountune/Olsbergs design and manufacture camshaft
AEM Infinity engine management

DRIVETRAIN
Sadev (BV5 4x4 Central Transaxle sequential transmissions, driveshaft, propshaft)
ALCON two-plate carbon clutch

WHEELS / TIRES / BRAKES
Motegi Racing forged lightweight rallycross - 17x8 (f/r)
COOPER molded rallycross tires
Alcon four-piston calipers with 330 mm ventilated discs (f/r)
Sadev WRC version handbrake

EXTERIOR
OMSE designed (Kevlar body panels, carbon fiber rear spoiler)
CDS roll-cage
Tubular Spaceframe Structure combined with high-performance composite plastic exterior and interior body

INTERIOR
AIM digital instruments
Sparco (steering wheel, race seat, harness)

CHASSIS / SUSPENSION
Hlins TTX44 twin-tube with Progressive Damping System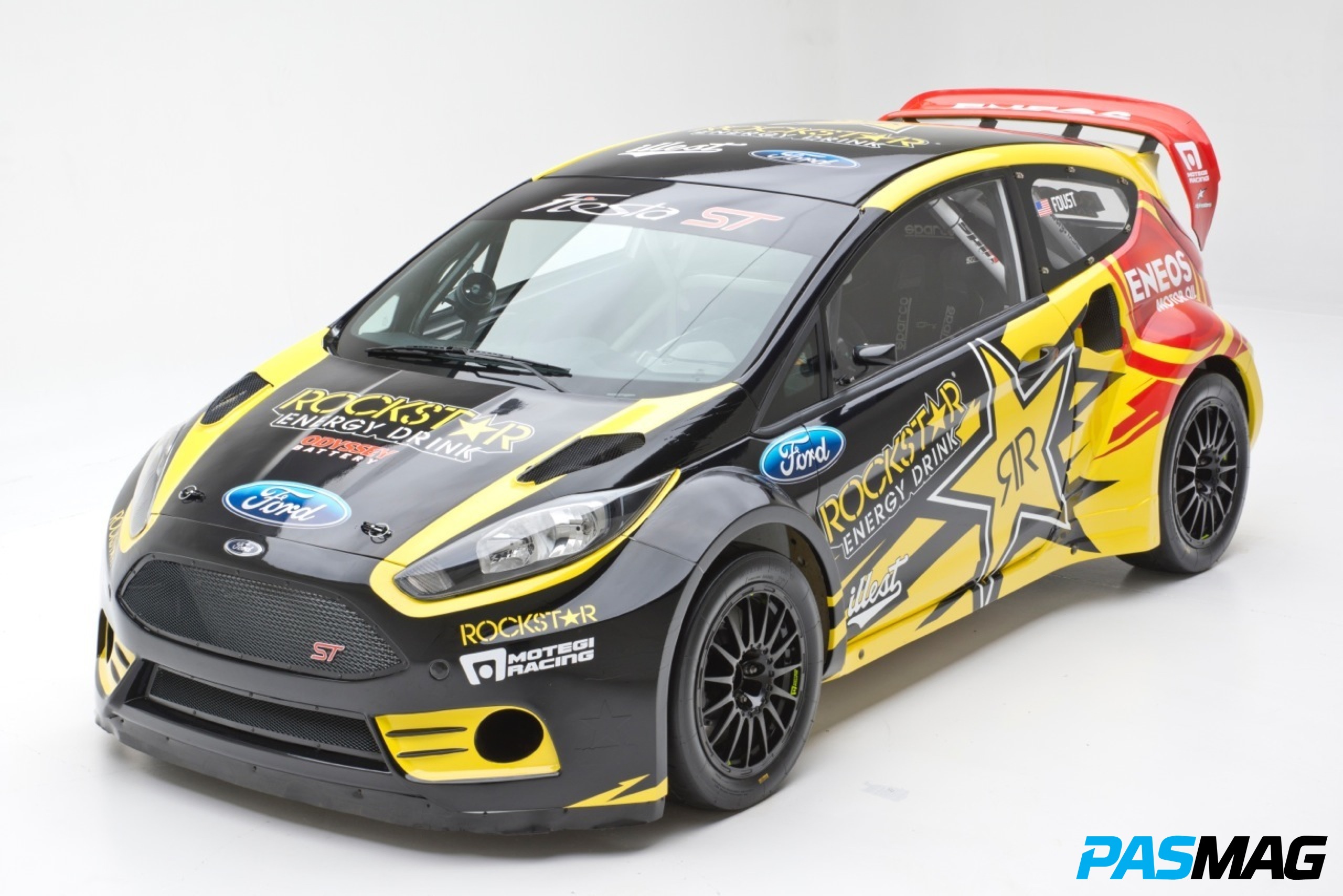 Vehicle: 2013 Ford Fiesta ST
Class: GRC Supercars
Driver: Tanner Foust
Team: Rockstar Energy Drink / Olsbergs MSE (OMSE)
Built by: Olsbergs MSE
Engine: 2.0L Duratec
Horsepower: 550+ hp
Torque: 590 lb-ft

ENGINE MODIFICATIONS
OMSE (cylinder head, inlet)
Garrett turbocharger
PWR intercooler
Pectel engine management
Eneos motor oil
Odyssey battery
Manaflow exhaust

DRIVETRAIN
OMSE gearbox with custom gear ratios

CHASSIS / SUSPENSION
Öhlins TTX four-way adjustable
Eibach custom springs
OMSE adjustable chromoly anti-roll bar

WHEELS / TIRES / BRAKES
Motegi Racing custom Rallycross rims - 17x8 (f/r)
Michelin Tires - 24/64 - 17
Alcon (365 mm ventilated discs with six-piston calipers (f), 315 mm ventilated discs with four-piston calipers (r))
Hydraulic handbrake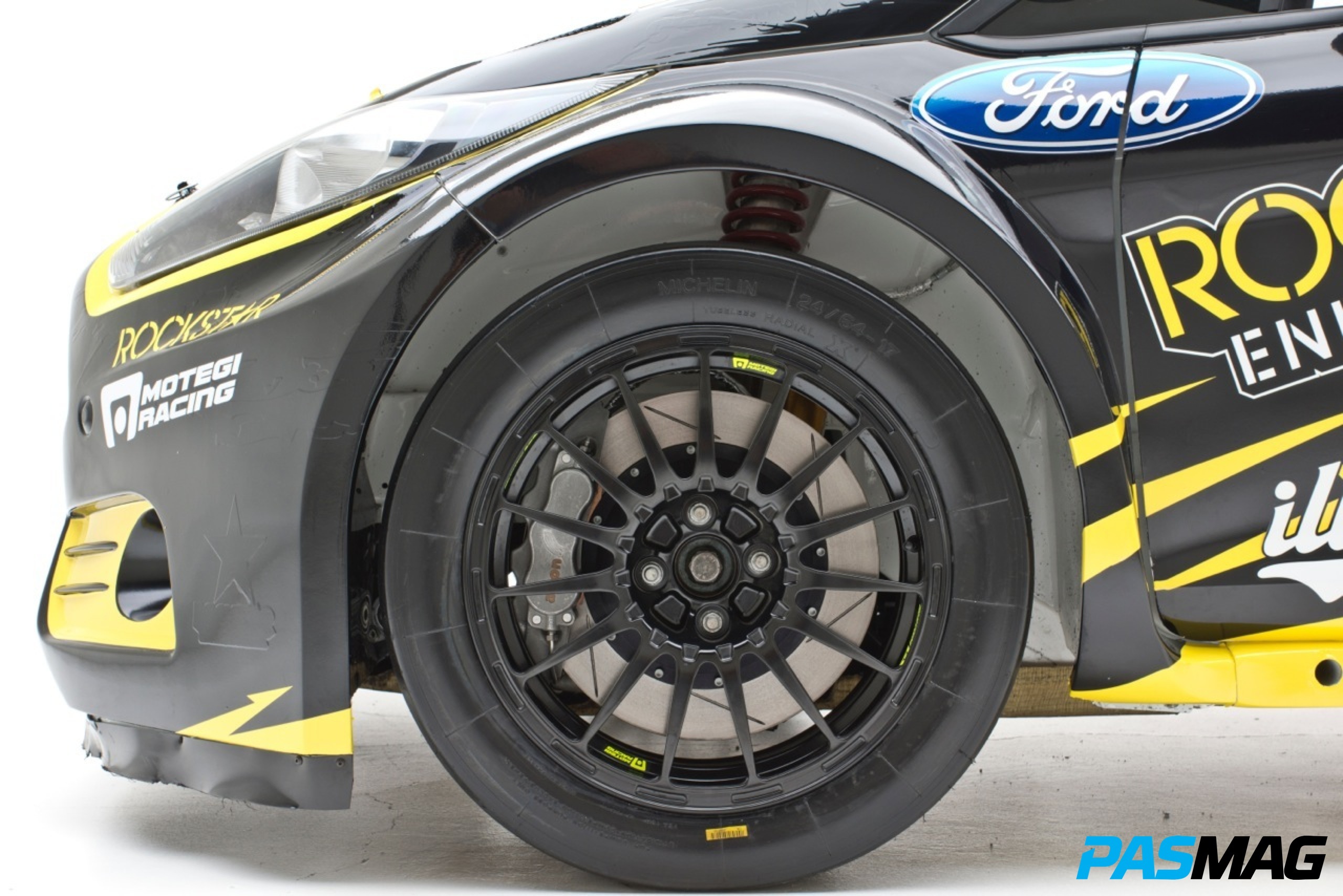 EXTERIOR
OMSE designed (Kevlar body panels, carbon fiber rear spoiler)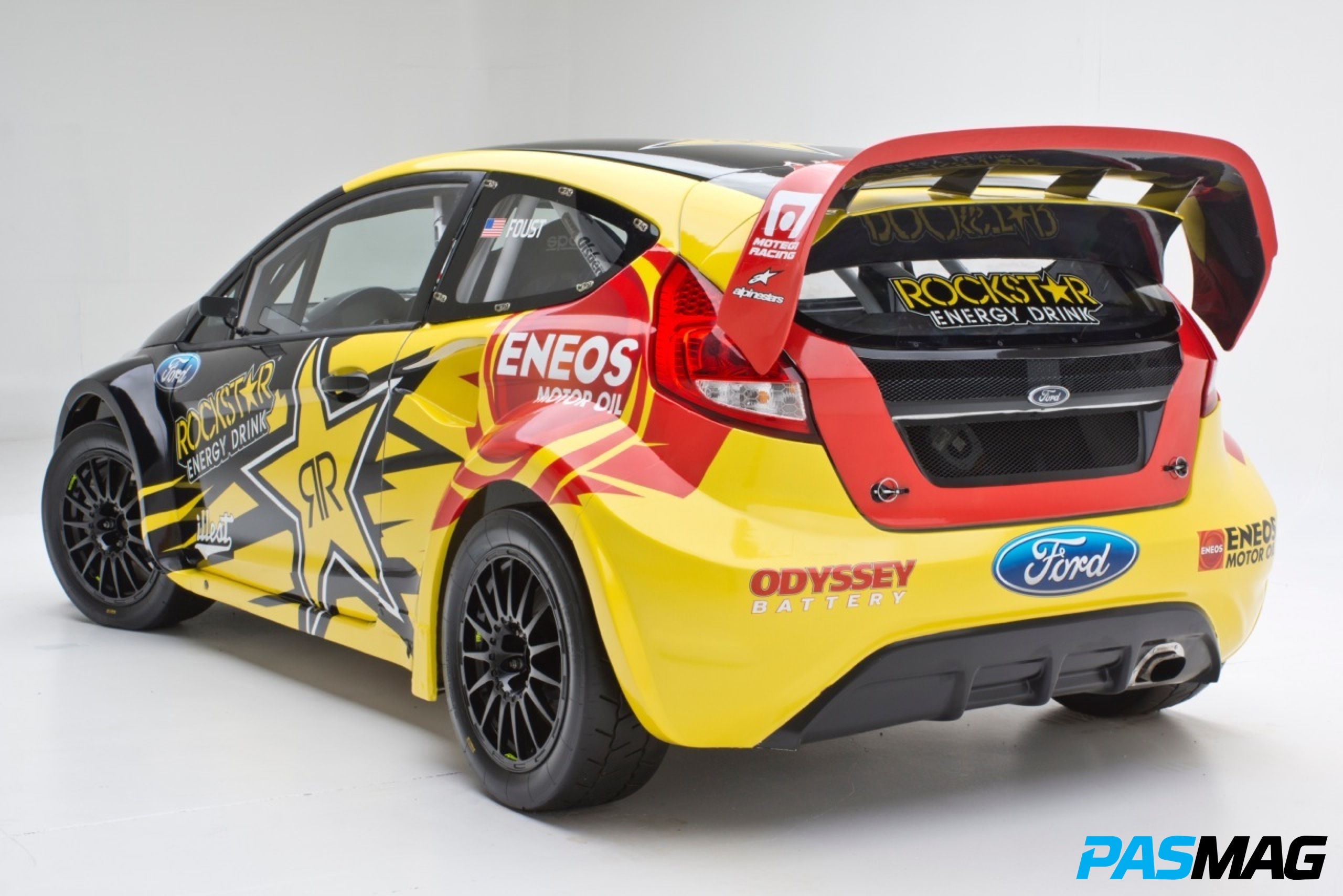 INTERIOR
OMSE (gearshift and hydraulic handbrake)
AIM digital instruments
Sparco (Steering wheel, race seat, harness)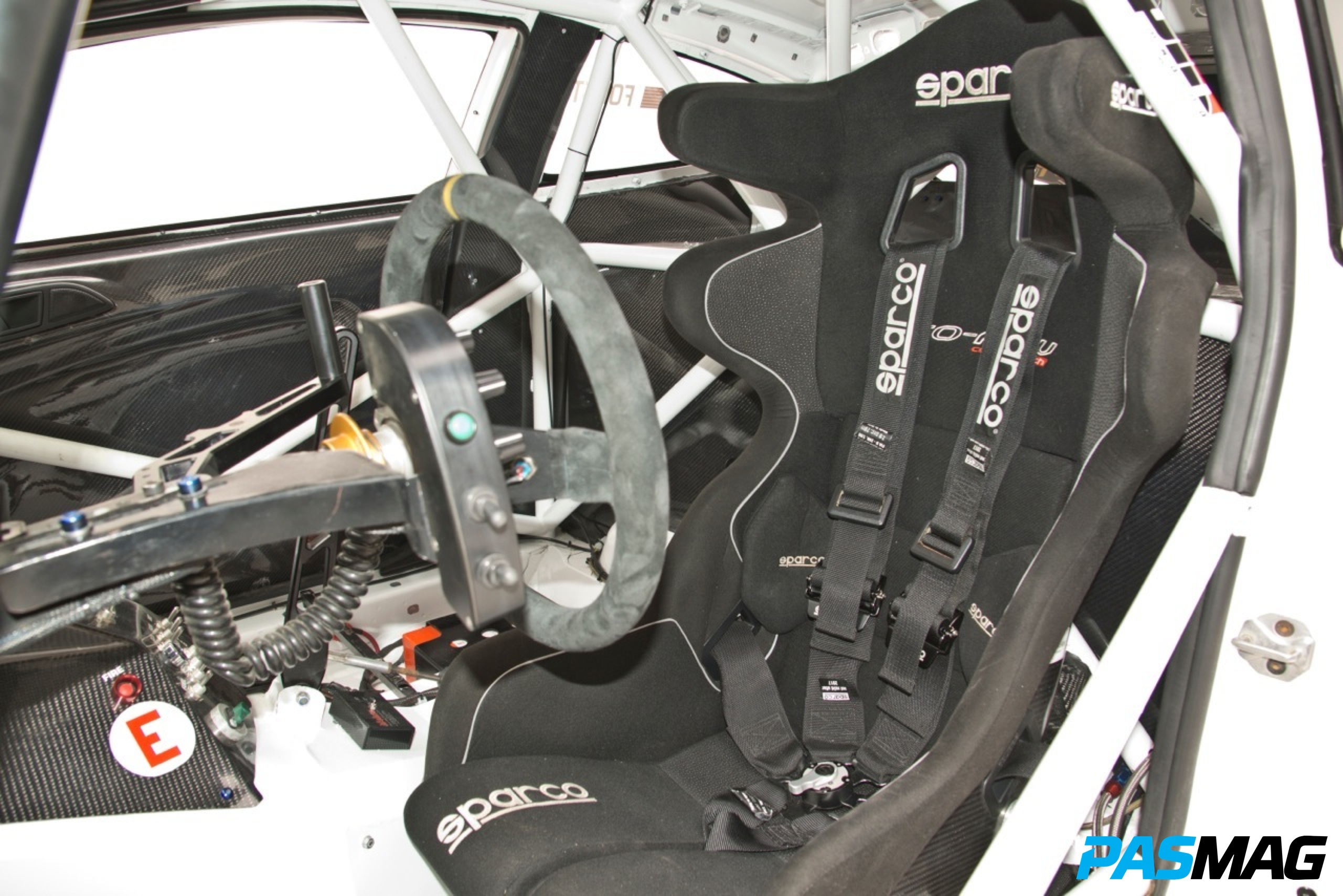 SPONSORS
Ford Racing, Rockstar Energy, Eneos Motor Oil, Odyssey Battery, Motegi Racing, Illest Clothing