Photos by Phillip Awad
---
You frequent the stance and fitment forums. Maybe you're even a regular at the shows and meets. You marvel at the boundaries that have been pushed.
Sure, there may be people who just don't care as much, they don't care about the work that goes into building one of these cars, so long as they have it as their new iPhone background.
Getting to the point where you're recognized and "fitted" is not an easy journey. Achieving it isn't as simple as buying cookie cutter parts, tossing them on, and calling it a day. This takes sacrifice – love, blood, sweat, tears and some major expenses. But how do you get to that point?
Let's take a look at VIP Modular. These guys have more than 15 years of automotive industry knowledge and experience. In 2004, they started the noble pursuit of giving enthusiasts exactly what they wanted. Sure, they have collections of ready-to-order wheels, but where VIP Modular really shines is in its commitment to customization. VIP's main goal is to provide ultra-high-quality wheels that reflect not only the car, but also the owner – with zero compromise. If you've got a crazy idea for some crazy wheels, these guys more than have you covered.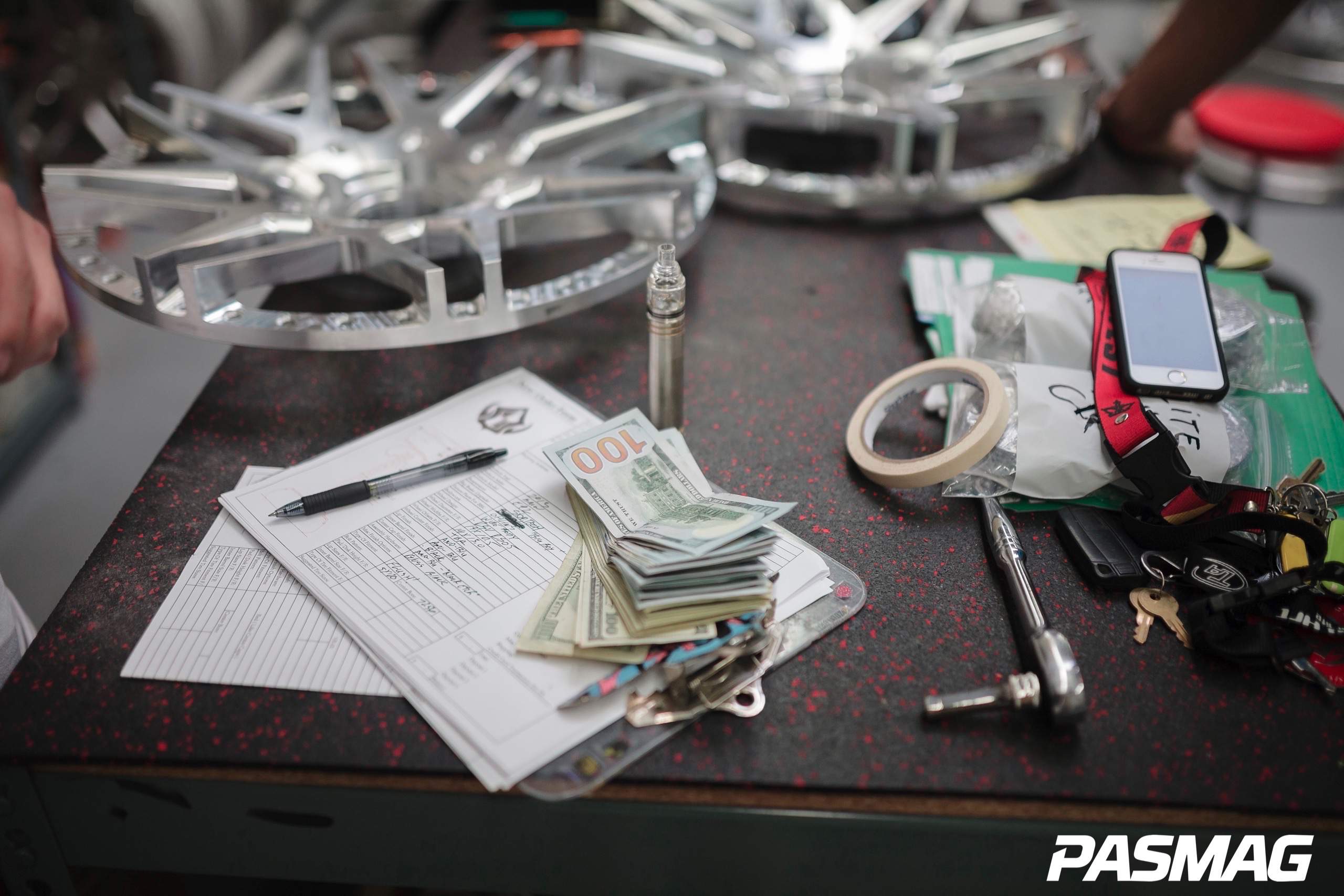 It just so happens that Chris Naguit of MFest fame has some wild ideas of his own, and approached David Nguyen of VIP Modular to build the wheels of his already eye-popping, neck snapping "Salbaje" BMW M3. VIP was more than happy to oblige. Let's say you're like Chris and want a fresh set from VIP. How do you go about it? Here's a step by step of how your cash turns into flash.
1. Go to the bank. Withdraw your savings account. Have a cry if you need to (in private – no one needs to see that) and make your way to VIP Modular with stacks in hand.
2. When you get there, let them know you're interested by smacking that cash on the table like a boss. Once the weird looks have subsided and the money is counted, the topic will move on to what you really want. Depending on how much dough you're dealing with, the sky is the limit. Go as nuts as you need to with widths and offsets. Two-piece? Three-piece? Whatever you want, friendo. VIP will treat you like its namesake.
After slapping his own stacks on the table, Naguit decides to go for VIP Modular's elite brand RSVforged in a 19-inch, three-piece concave setup. For high performance customers that demand the sportier crafted wheels, VIP Modular offers the RSV brand with a thin, suspended spoke design. The final product will measure out at 19- by 10-inches wide with a -15 mm offset on the front axle, and 19- by 12-inches with a -50 offset in the rear. Damn. Naguit is also thinking the matte blue finish contrasting against his orange exterior will make his car pop even more than it does now. Oh, do we ever agree.
| | |
| --- | --- |
| | |
3. Now that VIP has your specifications, it's off to work they go. They start with the wheel center. One of VIP's modular wheel craftsmen starts with a 130-pound piece of 6061-T6 forged aluminum. After staring intently at the hunk of metal like Michelangelo finding the image of his next sculpture, he gets his lathe on. It takes about an hour per side to get the wheel center profile from flat to concave. Some food for thought when you think all wheels are made equal.
4. After eight hours of lathing your complete set, it's time to add the details. A craftsman cuts into the wheel to provide whatever design you chose after all that careful decision making. It takes another steady-handed two hours to mill each center with your style choice. Throughout the process, an array of tools are used to get that three-dimensional effect. They even throw in an engraving on the back of the center that says "Custom Made For (Your Name Here)." Nice! Real nice.
Once all is said and done at the machine portion, that 130-pound slab of aluminum has become a beautiful 12-pound pièce de résistance. Your wheels went on The Biggest Loser so you can be the biggest winner.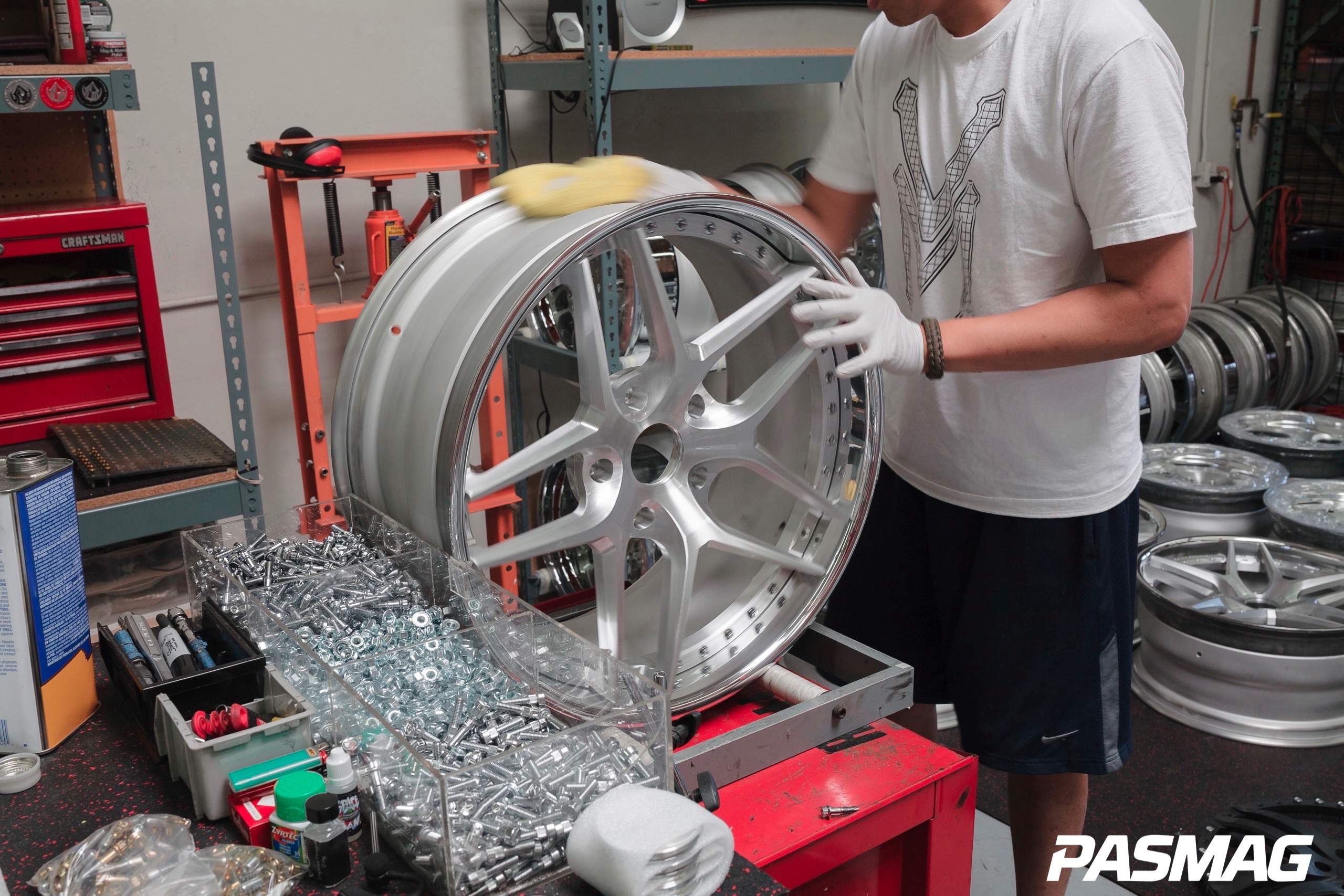 5. The Michelangelo stage is over and now your custom wheels are passed over to a VIP Van Gogh. With the center machined and looking pretty, it's time to make it a showstopper. Cleaning the wheel involves polishing and delicate brushing prep work by hand.
The centers are then powdercoated and baked for another two hours at 380- to 400-degrees Fahrenheit. When the cookies are done, your smoking wheels come out and cool for about an hour before being blasted with whatever killer color you've picked from their extensive pallet.
6. The wheels are now in bits and pieces, prepped and ready to become a two- or three-piece setup, depending on your preference. From here, the craftsmen hand assemble each wheel (are you really even surprised at this point?), checking painstakingly for quality and fitment.
Before the forged center, outer barrel and inner barrel can become one, a craftsman hand applies your selected hardware in whatever finish you see fit. Whether you choose polished, black, bronze, or gold, you can bet they'll set off the look when holding those barrels together.
Now that the wheel is put together, it is polished, brushed and wiped by hand before going for testing. Once it meets the ultra-high standards and rolls true like it should, these masterpieces are packed up and ready to sit on some studs.
7. You'll either get a knock on your door or you'll show up at the shop, but either way you're going to get excited like a kid on Christmas morning. The box is opened and you finally see the beauty that all your money and all VIP's hard work went into making. You might also want to have another cry (this one is a little more accepted). It's guaranteed you'll be satisfied because these wheels are completely yours; they're custom made by you, for your car. If you're anything like Chris Naguit, you'll be over-the-moon stoked about rolling works of art being mounted on your ride.