Photography by Landon Pharr, Matt Schaffer
---
Sure, you've shot around a couple ideas about what kind of vehicle you'd use in an apocalypse scenario, but have you ever built it? Whether it's to bash through zombies or rip around the desert in search of fuel and water, everyone has a specific, hardy dream machine to get them through the toughest of hypothetical situations. As it turns out, there are some people out there who actually put those doomsday plans in motion.
Heavily inspired by a certain outback-marauding 1973 Ford Falcon XB GT "V8 Interceptor," Hoang Le, obviously a very big fan of Mad Max, wanted to bring his desert punk visions to life. Wisely, he chose to bring his base for modification to the talented hands of Chris Pate and crew at Mobile Toys Inc., in College Station, Texas.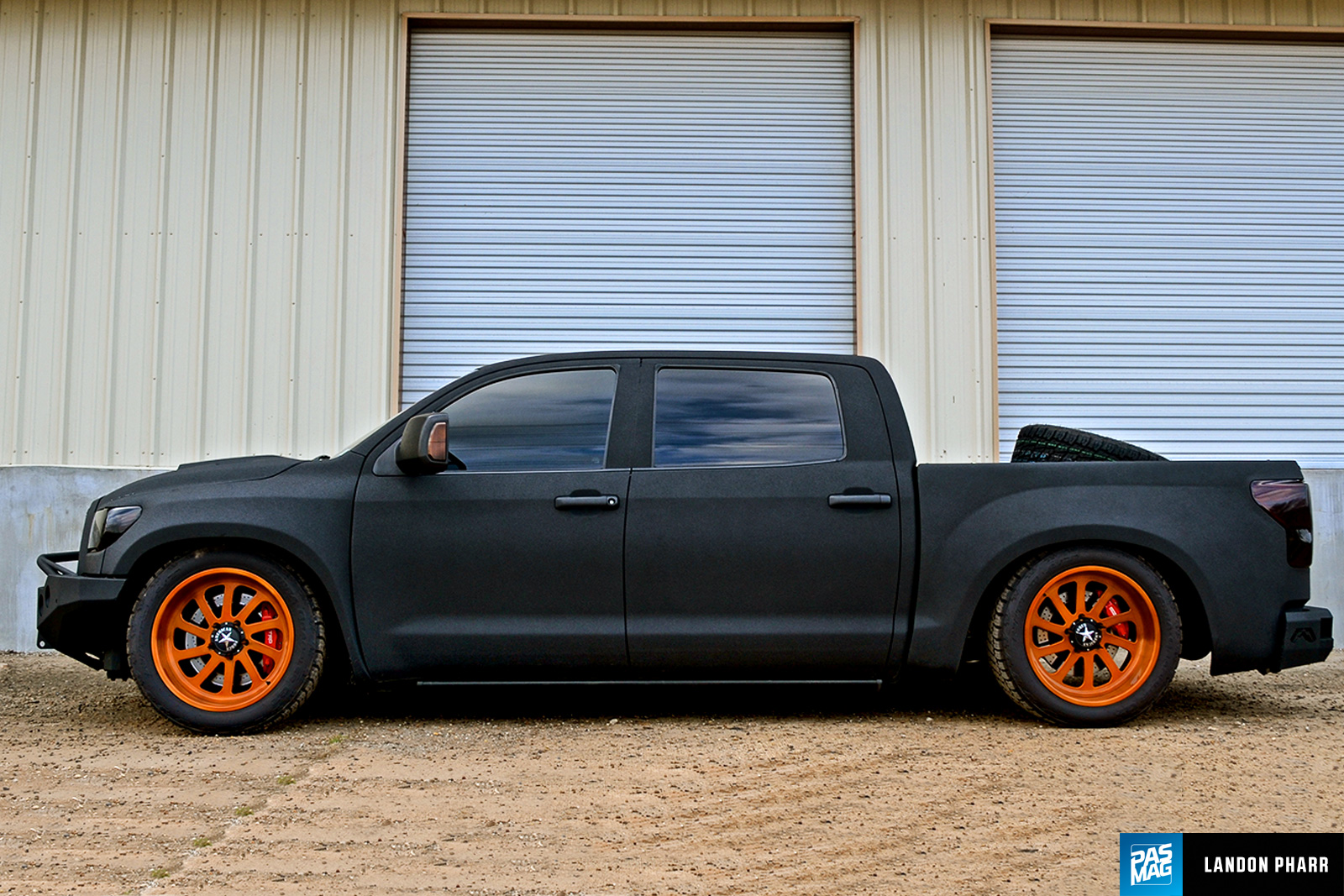 "The goal was to build a themed vehicle based on the visuals of the original Mad Max movie car," Pate explains. "The 1973 Ford Falcon XB GT 'Interceptor' had a low stance with a dusty black exterior finish. We wanted our build to give that feel of apocalyptic times."
The basis for Le's apocalypse machine is a 2010 Toyota Tundra SR5, which is some ways off from a Ford Falcon in many areas, except for one crucial section: under the hood. Le's Tundra packs Toyota's reliable 5.7-liter 3UR-FE V8, and this one is supercharged. Toyota offered something really unique with this generation of Tundra in the form of a bunch of performance-enhancing TRD goodies, and somehow, they snuck a supercharger for their V8-equipped trucks past the Department of Transportation. If you'll remember, Max's Falcon had a large supercharger tacked on top, which is of the roots variety, the same style TRD opted for with their Tundra kit. Where it counts, at heart, the Falcon and the Tundra are brothers; the rest was about to be transformed.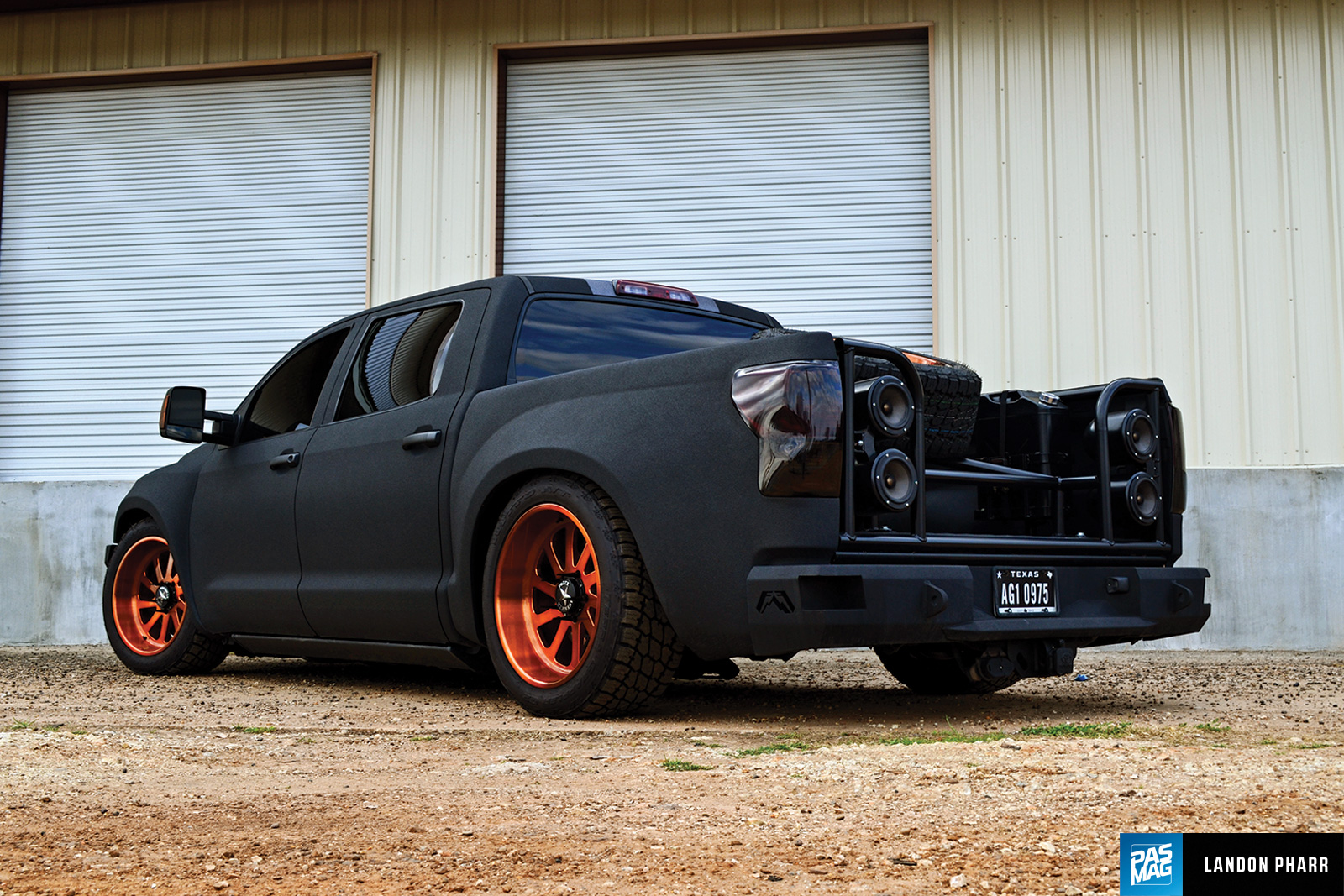 You can't just take a stock body truck out into the wasteland – at least make it look more like a tank first! Glassworks Baja-style widebody fenders and a RKSport vented carbon fiber hood bulk up the truck on the sides and up front, while the Demello Off-road front winch bumper, with Smittybilt XRC winch and Squadron-R Pro LED pods integrated, and Fab Fours Premium rear bumper adding to the rugged and off-road-ready appearance of the now beefed-up Tundra.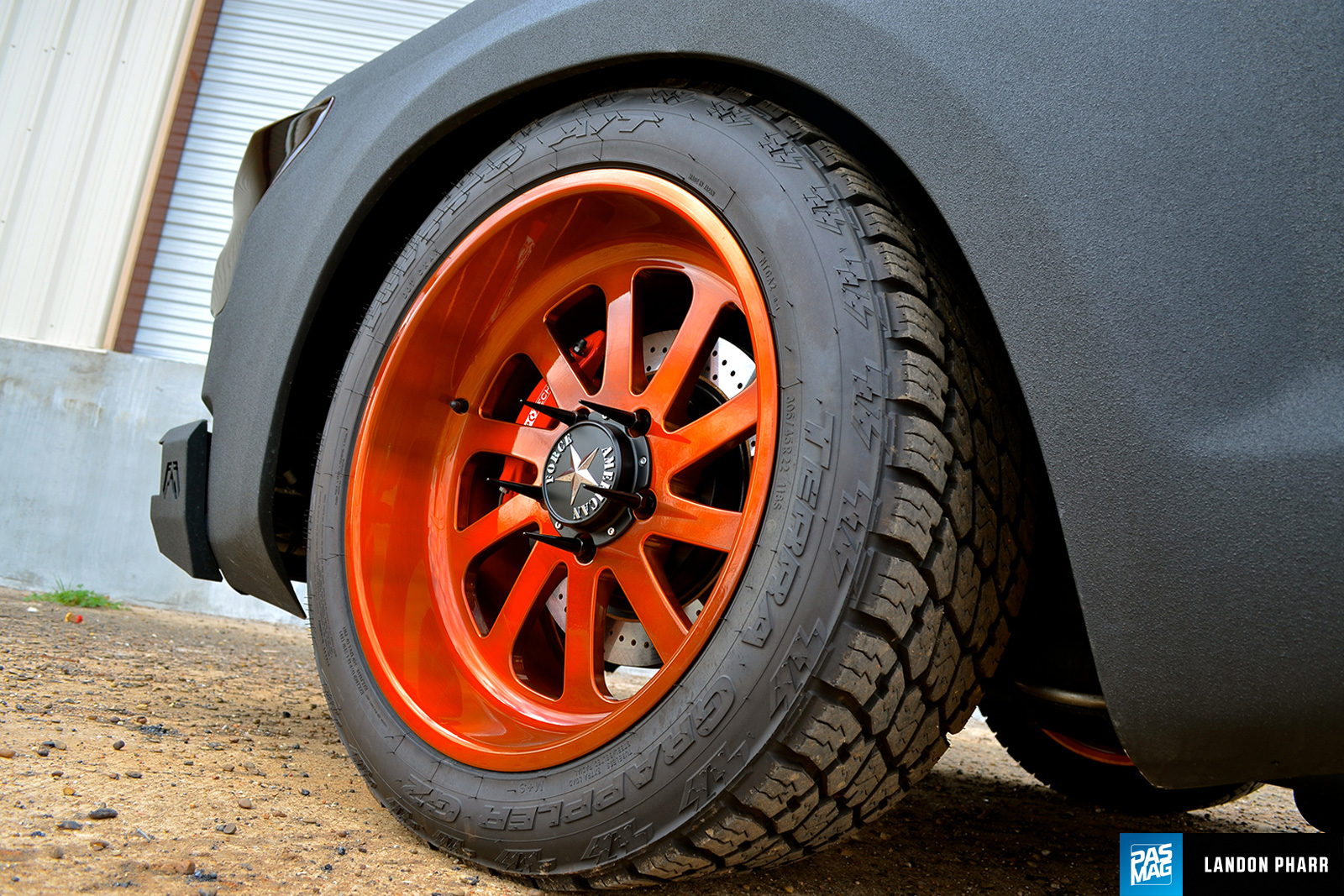 To achieve the blackened and dusty look that the Falcon has, Pate turned to Starwood Motors, who are specialists in Kevlar coatings. These coatings are like spraying a bed liner on the whole exterior of your vehicle, providing protection from bumps and scrapes, as well as UV light, and can be had in many different colors to lend to any look. For the Mad Max Tundra, only a textured black finish would do. The other goal of a low-slung stance was made a reality with the help of Branded customs, who built the four-link rear suspension frame work for a custom air suspension system with Accuair e-Level management. The result is a tank-like Tundra that airs out over some contrasting orange 22x12 American Force Burnout SS8 wheels – something that any desert bandit would double-take at.
"Not many people have built a lowered, bagged, wide-bodied, and Kevlar-coated Tundra - actually, no one to our knowledge," exclaims Pate. "We wanted to build something no one else had done before."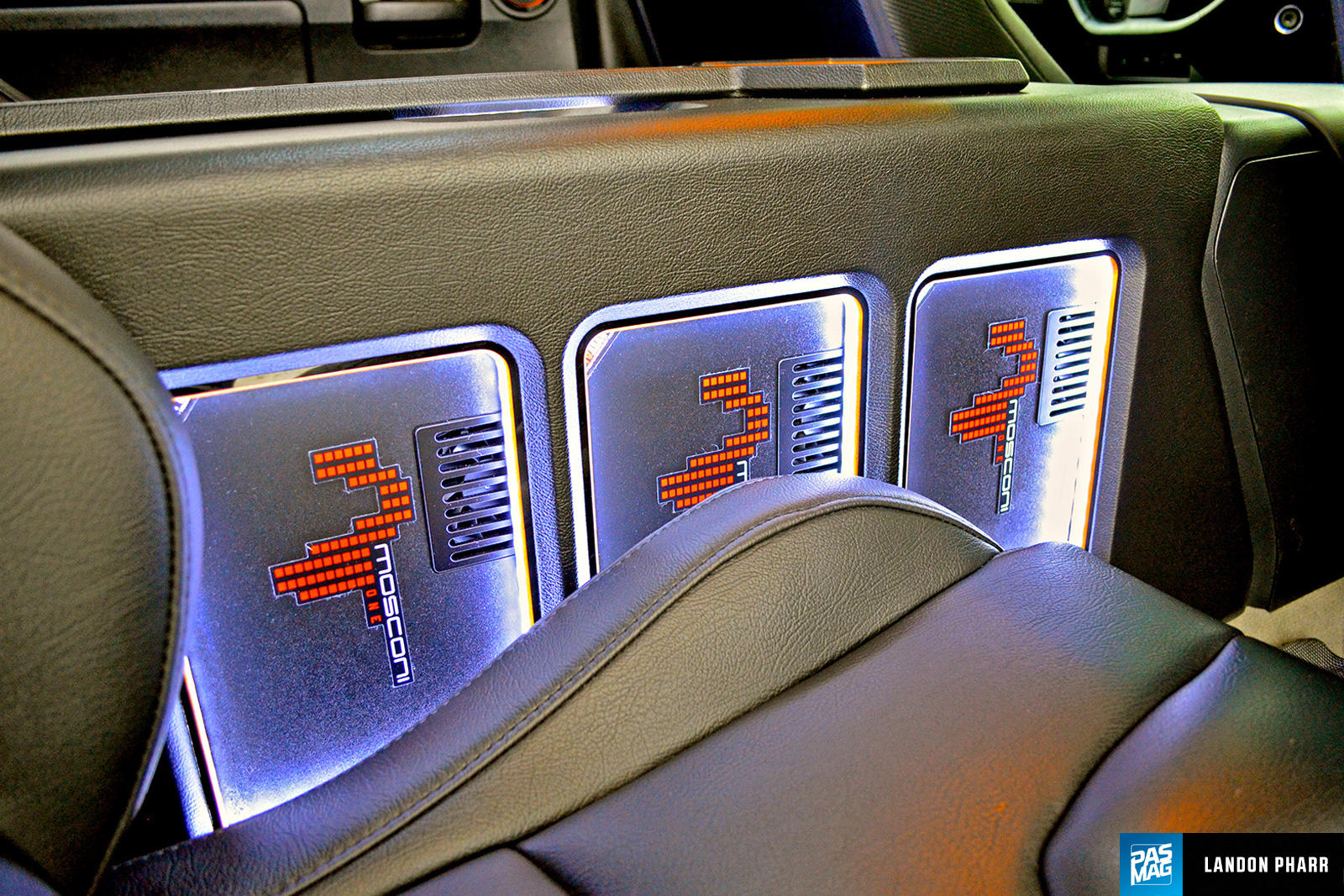 As anyone who's familiar with Mobile Toys' builds knows, the Tundra's uniqueness factor continues inside the truck as well. With a very established partnership with Orca Designs, purveyors of Illusion Audio, Mosconi, and Raven Designs, among many other well-respected brands, Mobile Toys has taken the interior, as well as a section of the exterior to show off their creativity with Orca product.
"The truck's audio system was built as a demo vehicle for the central region of Orca Designs," Pate says. "We designed and executed a system that would image well and create a three-dimensional soundstage. We also wanted to have a vehicle that was loud and one of kind."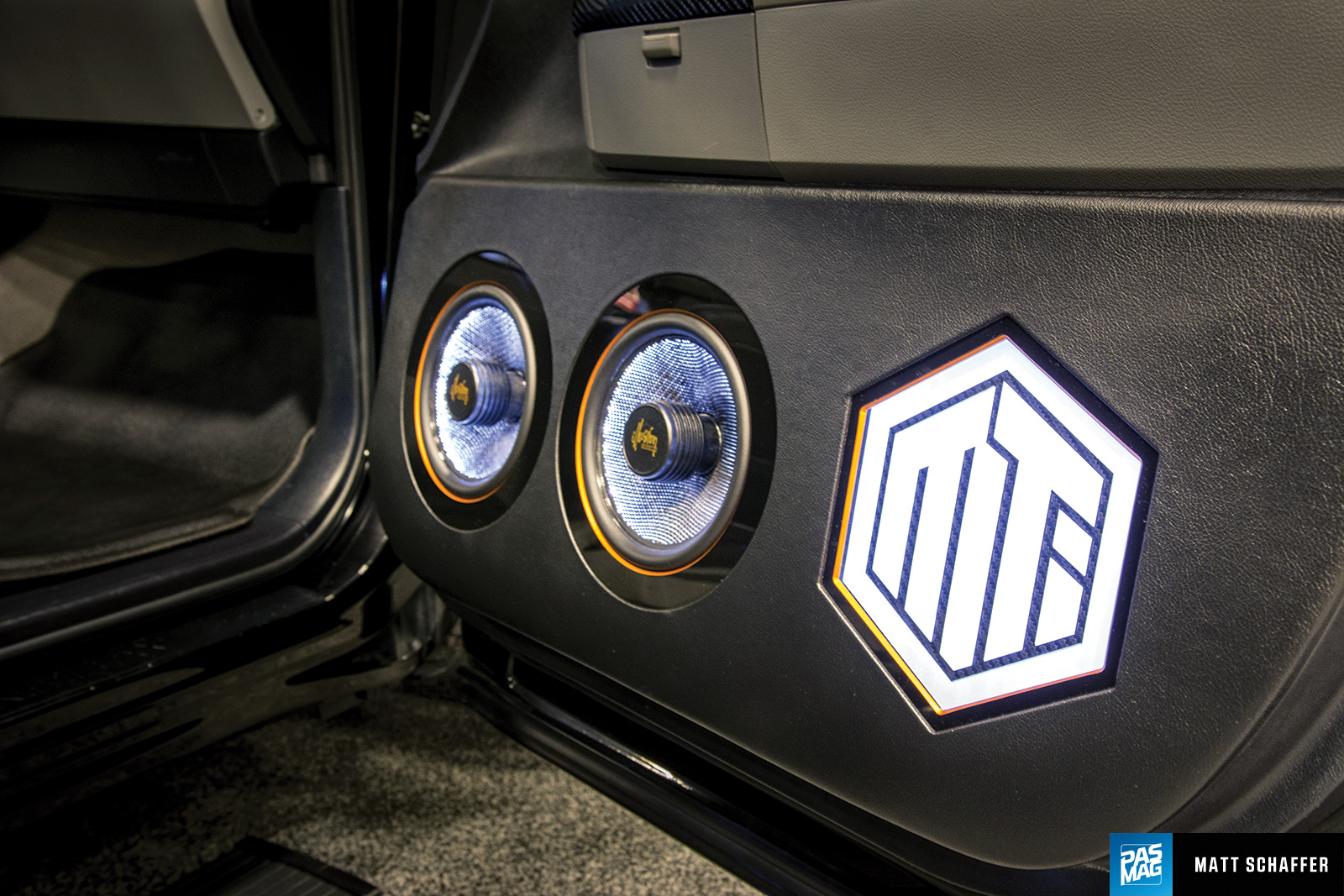 Taking up the space that a middle rear seat would usually sit in, a massive black leather enclosure console has been erected, and on either side, a leather racing seat now sits. In the console, a Mosconi 8to12 Aerospace processor is embedded in the top and partially covered by a custom "Mad Max Tundra" nameplate, while the sides are flanked by six One Series amplifiers – three 130.4s on one side, and two 1000.1ds and a 250.2 on the other – all illuminated by white LED accent lighting.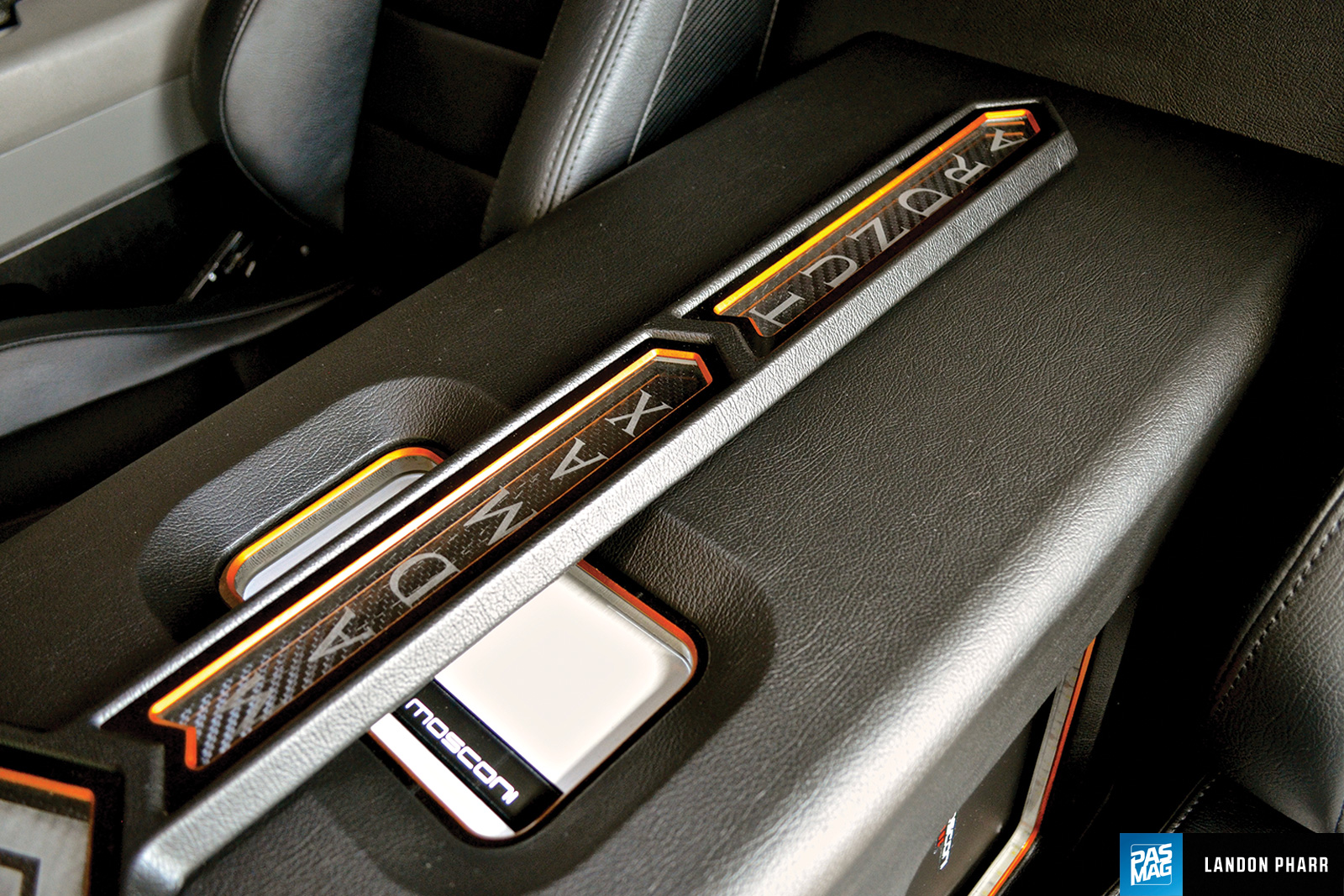 Speaker-wise, three dash-mounted Illusion Audio C3CX coincidence drivers and four door-residing C8 mid-bass drivers make up the front stage, while the rear is composed of another two C3CXs and a pair of C6 mid-bass drivers. Also taking up residence in the back, right behind the rear racing seats, are four Raven Designs XL 12-inch subwoofers to bring the noise. That noise is carried outside of the Tundra as well. In the truck's bed is a custom-built bed rack with an integrated fifth wheel carrier, complete with an additional American Force Burnout SS8 wheel and some Smittybilt fuel canisters, where a set of four outward-facing C6 mid-bass drivers have been mounted, two per side, to the rack. All that's missing from the back of this Tundra is a guy playing a guitar with a flamethrower attached to the neck.
The Mad Max Tundra made its debut at Knowledgefest 2017 and has been on a tear ever since, with the end goal being a SEMA appearance in 2018. If the apocalypse hits while the Tundra is in Vegas, we know which truck we're running to if we want to make it out alive!