Photography by Brian McGee
---
Bullets rip overhead as they tear through your cover and ricochet past. You're pinned down and radioing for extraction. Air support isn't available, says control, but reinforcements in the form of a ground unit is headed your way. A tank or APC? Close enough. You hear the snarl of a throaty exhaust first, and then a deafening crash follows as a Ford Raptor crashes through a wall like the Kool-Aid Man. Instead of an "Oh yeah" announcement, a barrage of covering fire pours out of the windows, allowing you to run into the truck and grab a sidearm out of the holsters on the inside of the door and secure your escape.
At least, that's how I pictured it being used when I saw the F-5.11 Raptor for the first time.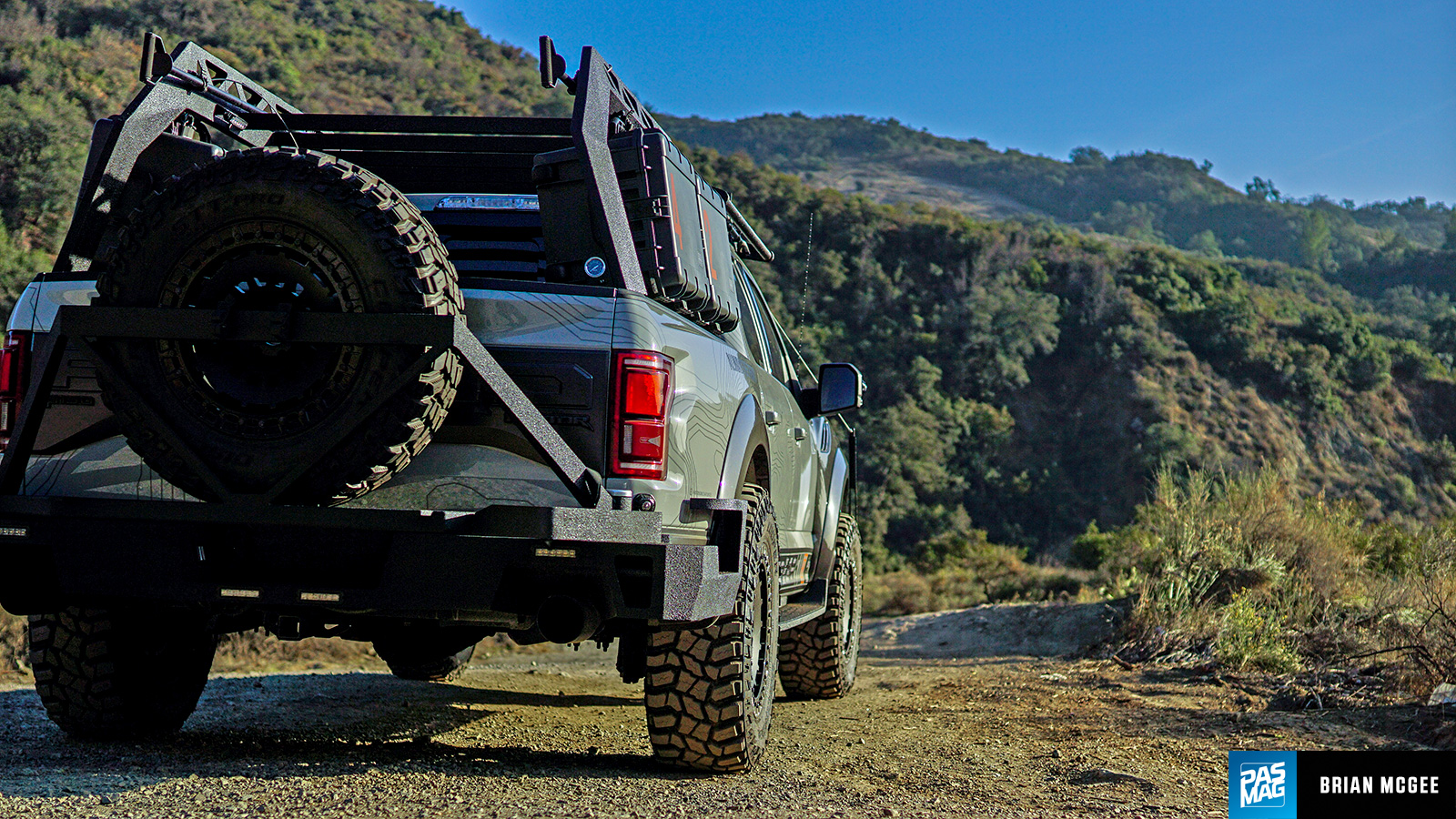 "Tactical" is pretty much the first word that comes to mind when you look at it. How could you not think it? With a no-nonsense color combo of blacks and grays of different shades and textures, custom bumpers and fenders, a livery design that's based on a topographical map, and individually numbered tactical cases mounted around the bed, it's easy to see. 5.11 Tactical's (where the truck gets its namesake) motto of "Always Be Ready" is also featured on the sides, and is something that the team who built the Raptor followed throughout the process.
The birth of the F-5.11 Raptor was thanks to a combination of situations put together by the truck's owner, Ernie Manansala Jr. of Kolab Agency. Through Kolab, he had one client, Volant Performance, who wanted an amazing vehicle to occupy some of their booth space at SEMA, while another client, 5.11 Tactical, wanted their foot and product in the door at the big show. Combining these two wishes and taking the idea to the talented team at Phrenetic Concept Studios to completely design the truck via 3D rendering, Manansala then approached Streetwise Motorsports, specialists in anything with dirty tires, to bring this truck to life. To start off, however, the team had to face their biggest roadblock.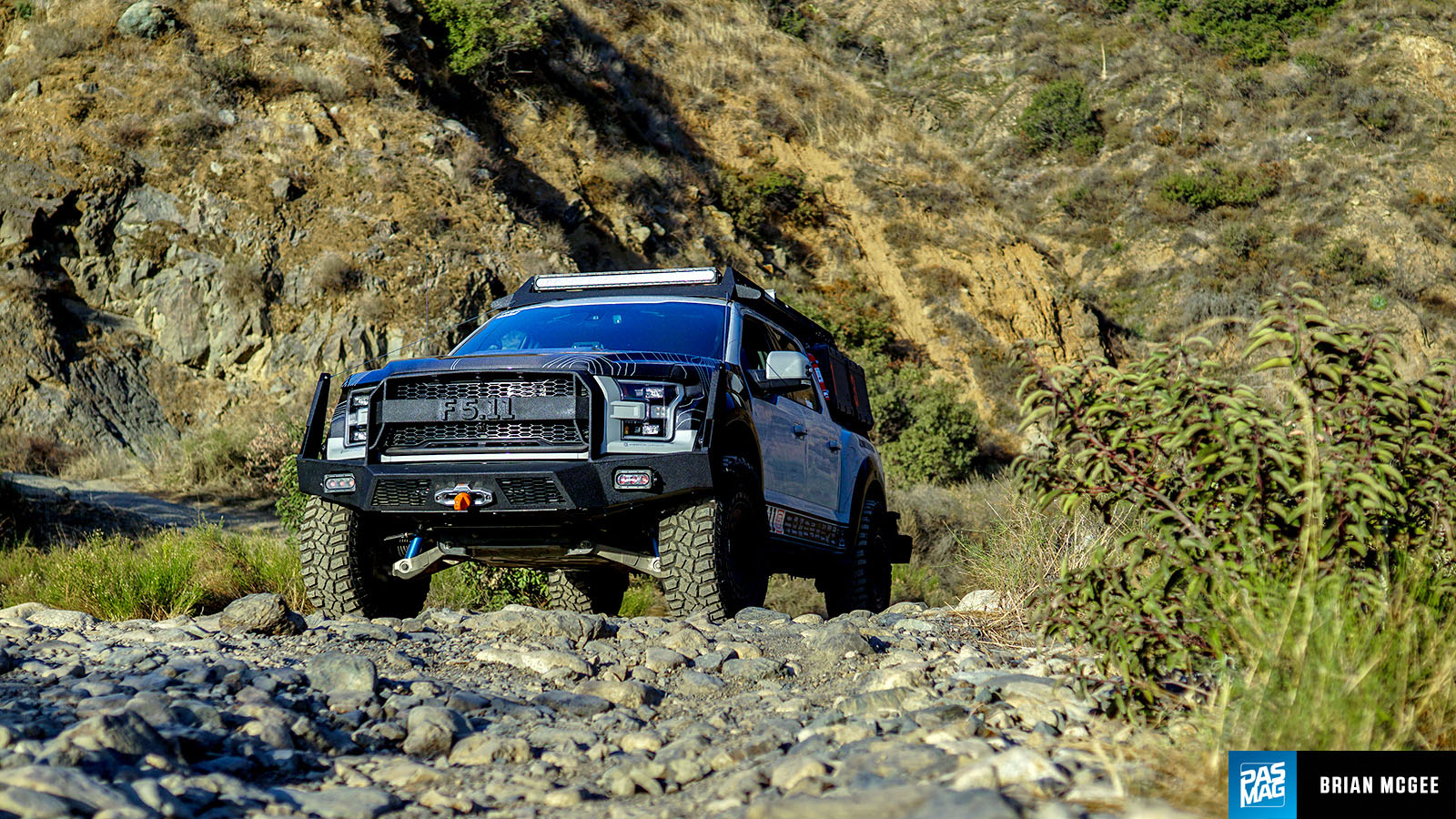 "The biggest challenge that we had to overcome was something that no one could find, afford, or purchase: time," says a wise Manansala. "It was just the time. Had we had more time, we definitely would've been able to execute a lot more. Everyone on this team was just so capable."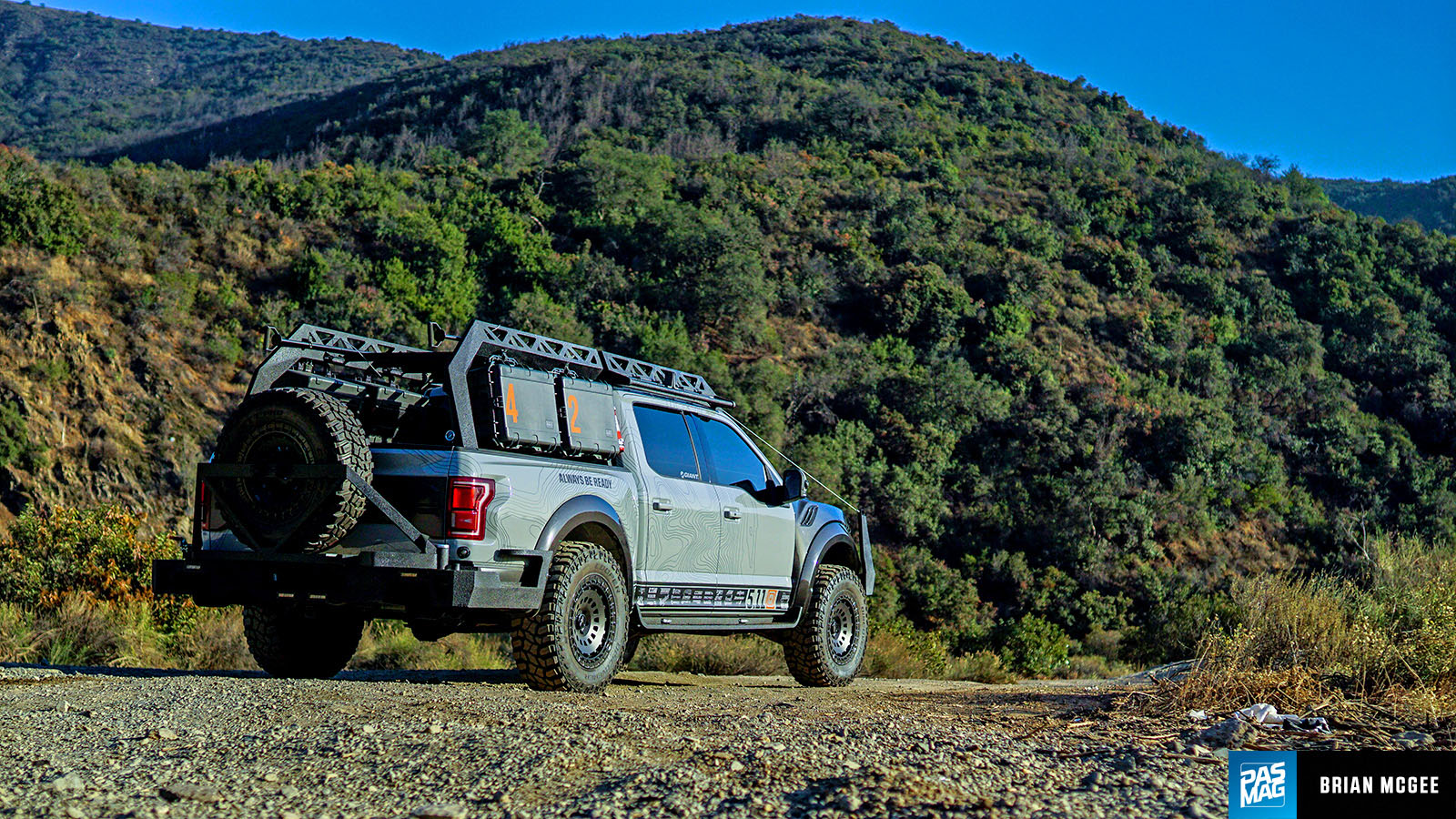 The amount of time they had to piece together a badass truck fit for the SEMA show floor? Four weeks flat. So, right when they go their hands on the 2017 Ford F-150 Raptor, they started tearing it apart and cutting up the front and rear bumpers for some custom additions. The roof rack, side steps, and front and rear bumpers were designed in CAD by Streetwise Motorsports, and then cut with a Torchmate CNC plasma cutter and welded together to take their final shape. The aforementioned rear bumper now features a full fifth wheel and 5.11's heavy breaching kit – you know, just in case. Anderson Composites carbon fiber front fenders have also been added to keep the theme of aggression going.
A combination of Rotiform CCV Off-road wheels and Cooper Discoverer STT tires are the sturdy feet that carry the Raptor on many an adventure, while Icon Vehicle Dynamics shocks, springs, and front delta joints are the capable legs. Behind the wheels sit silver Sparta Evolution big brake kits, all around. Providing the low roar of the 3.5-liter twin-turbo V6 is a tandem effort between the Volant Performance exhaust system, which is doused in Jet-Hot Performance exhaust coating for longevity, and a Volant PowerCore air intake.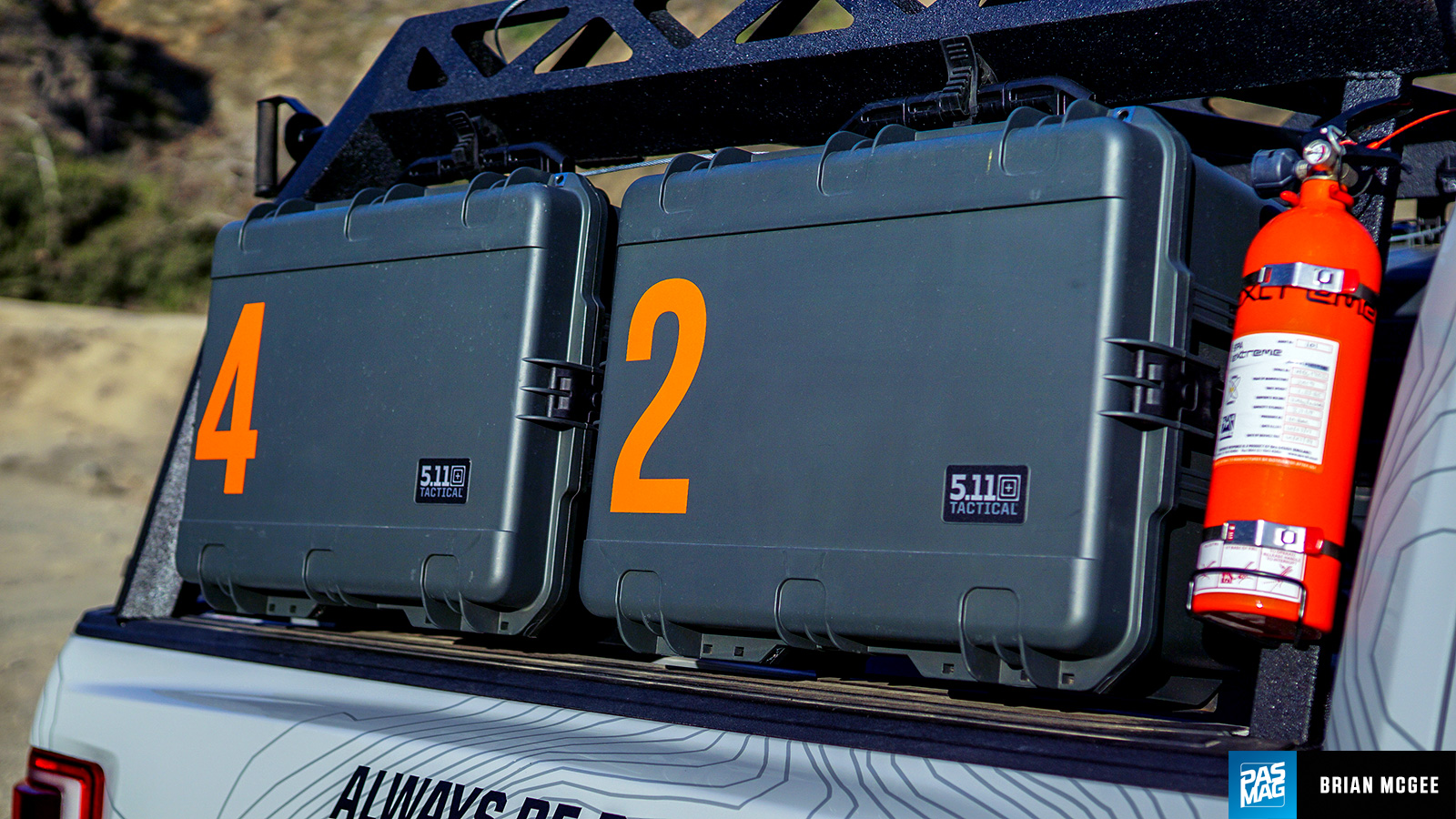 "Personally, I'm attached to this truck because of my upbringing," Manansala explains. "I grew up in a small town and my best friends and I pretty much grew up in the woods. Trucks always surrounded my lifestyle. My friends went on to serve in the military and work in firehouses and police stations, and so on. We wanted to build something that service men and women all over the world would be proud to utilize."
This is a theme that carries flawlessly into the interior of the F-5.11, where a service man or woman would be very comfortable. Katzkin Leather reupholstering takes place on all seats in the Raptor, while MOLLE panels on the insides of the doors provide a nice hanging place for ready bags and holsters filled with med packs, flashlights, handguns, and other gear for situational usefulness. Up front, an AEM CD-7 HUD display feeds and logs data for the driver, and is mounted over the Raptor's dash that has been customized by the team at Streetwise Motorsports.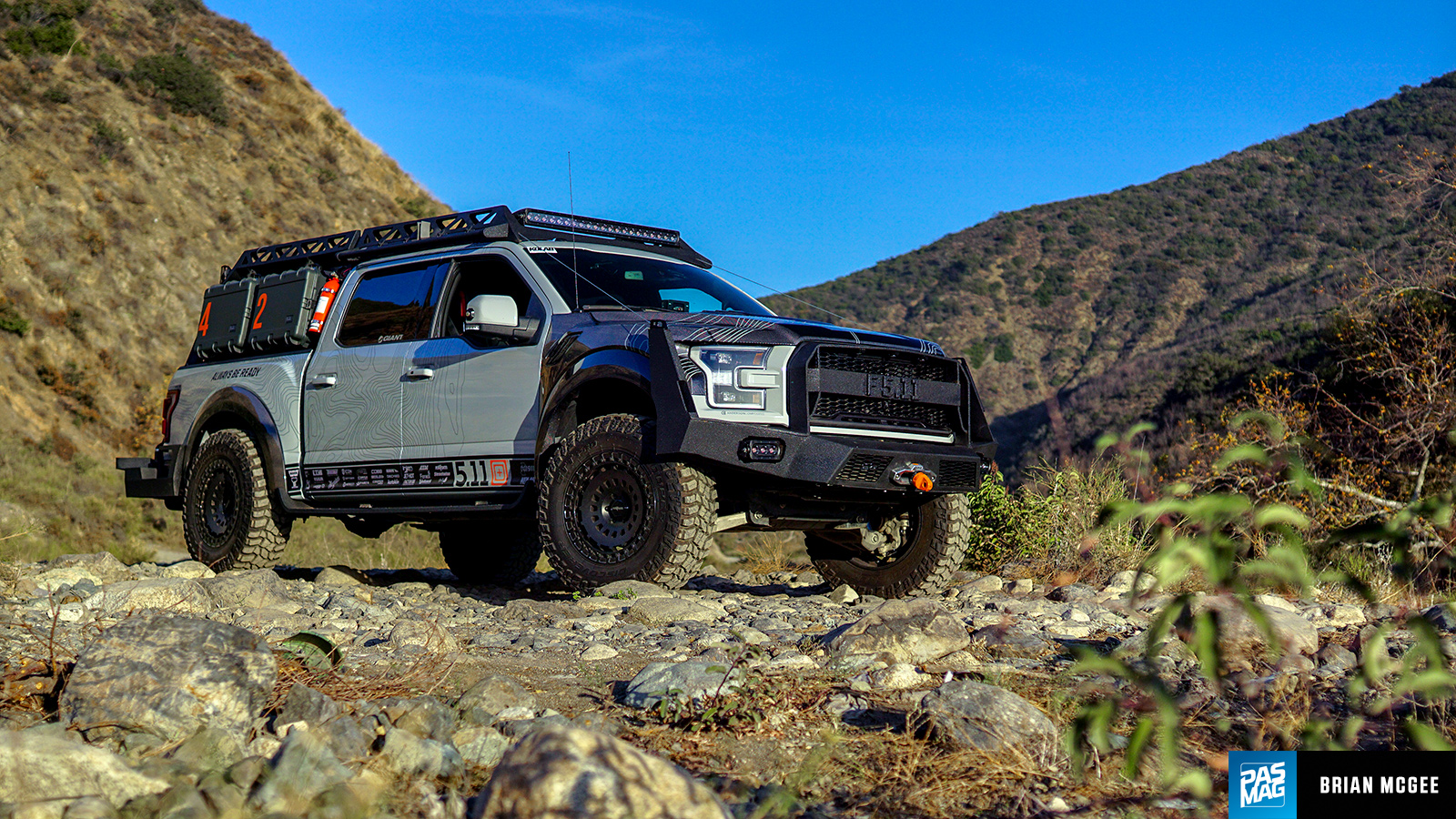 "This project went above and beyond, but could potentially be something that could be the norm in five to 10 years," Manansala says. "It looks flashy, but a lot of people don't realize how functional it really is. You have to understand the situations that you face in the field, whether it's off-road or asphalt. Our truck is fully capable of just about anything.
A combination of situations combined to produce a truck that could handle any situation. The F-5.11 Raptor brings a new meaning to "stay frosty" by being the coolest tactical truck out there.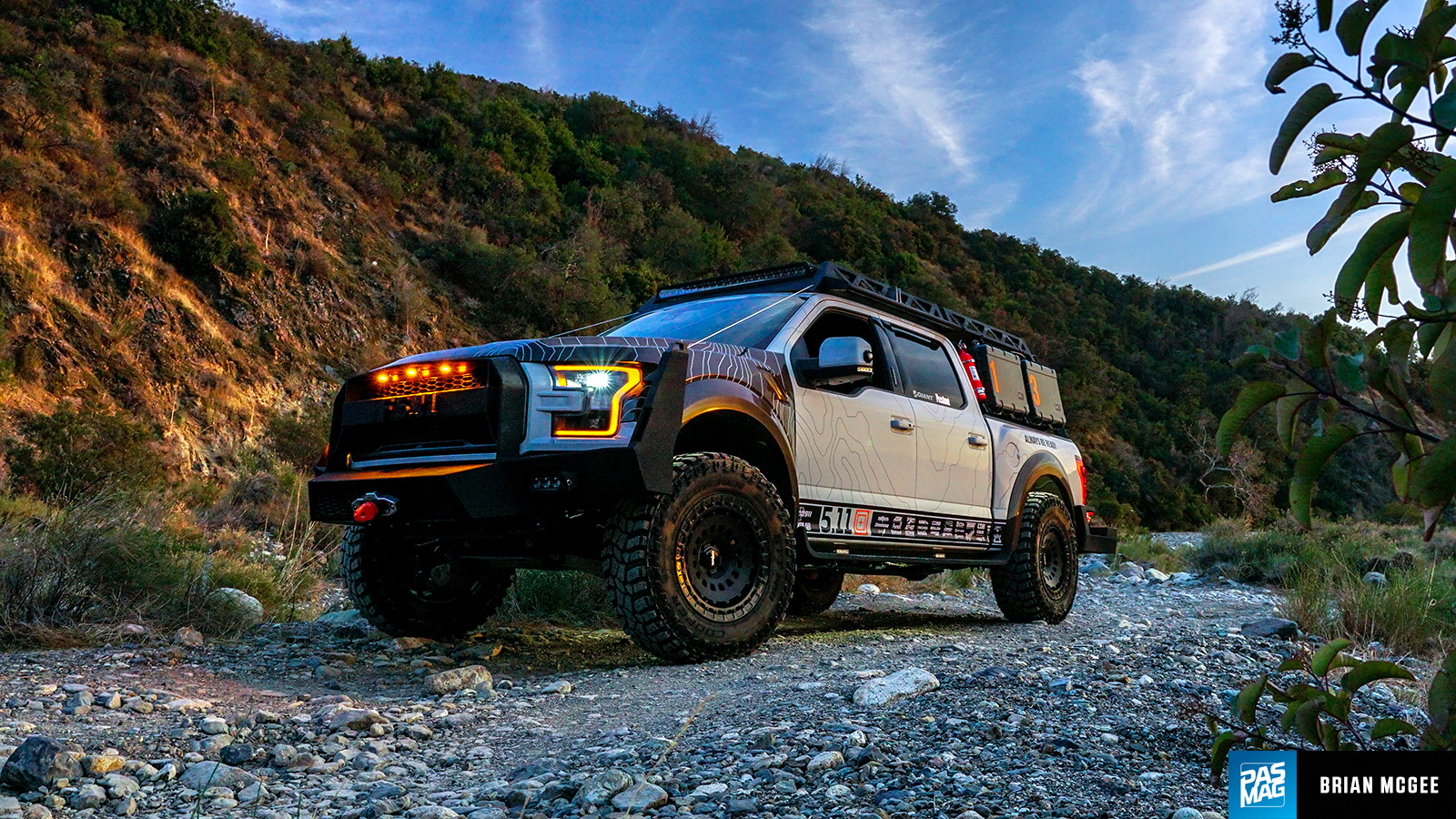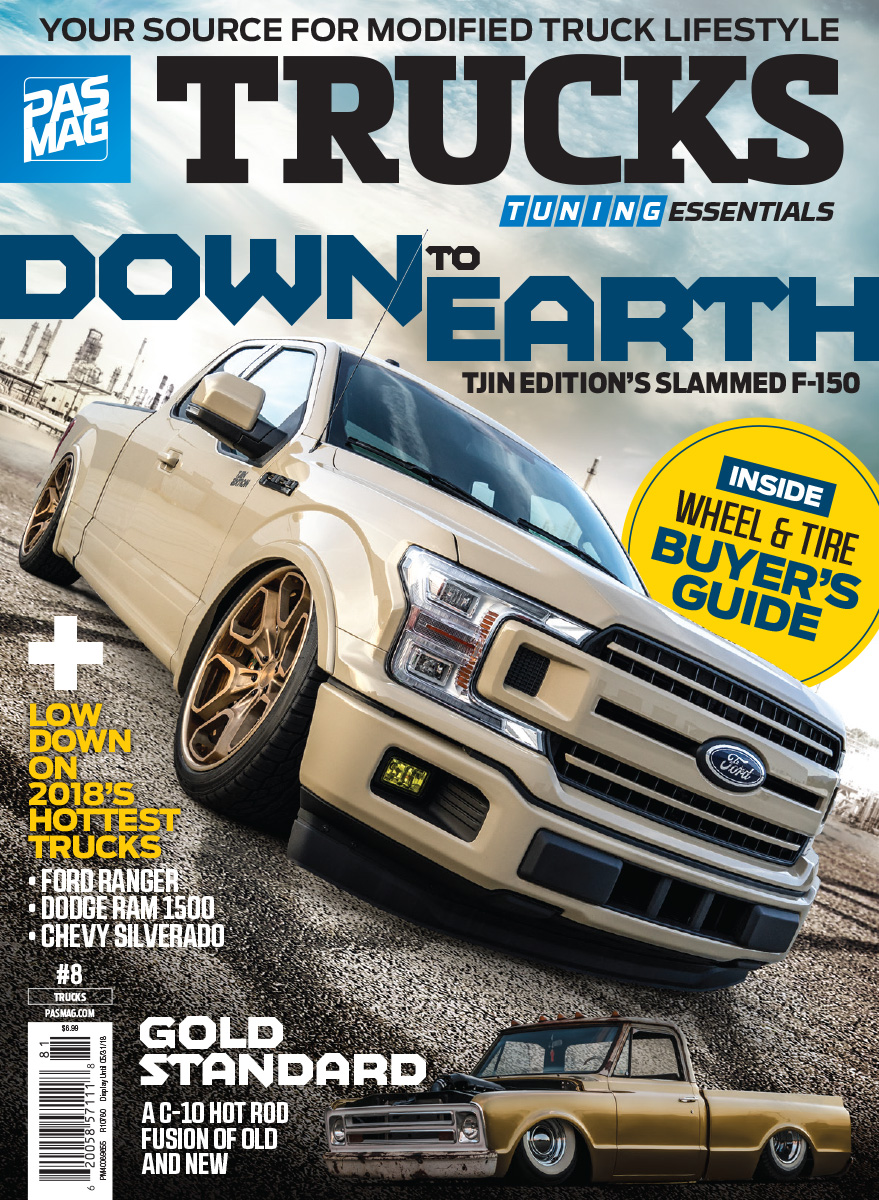 Ernie Manansala's 2017 Ford F-150 Raptor was featured in PASMAG TRUCKS #8.
CLICK HERE TO ORDER.