A Hot Rod C-10 Fusion Of Old And New
When you make your way through any car show these days, it's a lot of the same; widebody, flashy wheels, air suspension - don't pop the hood. After a while of seeing trailered wheel fitments and slapped on FRP lumps, it starts to numb the senses a little bit, which makes it all that much more special when you can cut that bitterness with something sweet. In this case, I'm talking about Matt Begley's Chevy C-10 hot rod.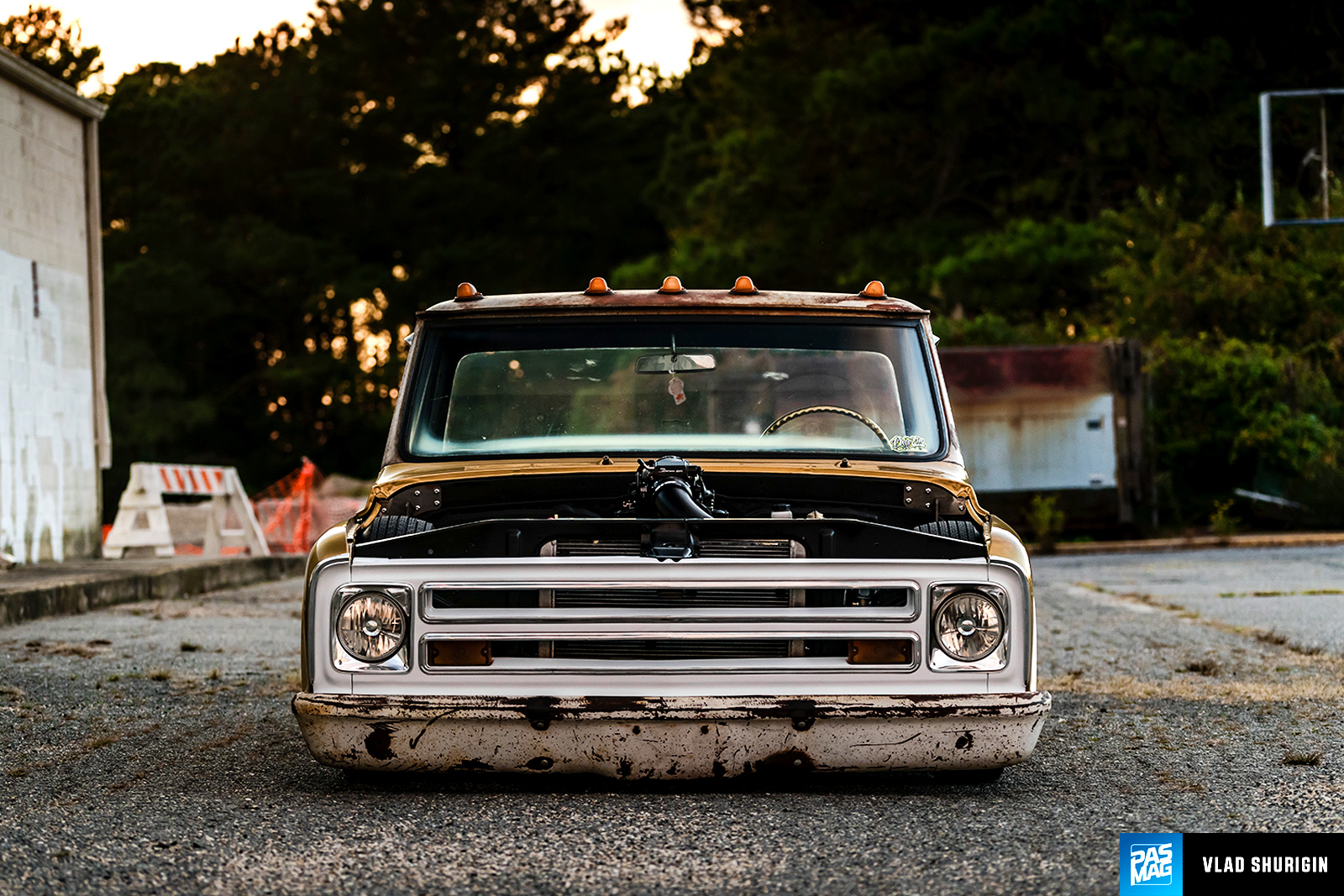 Hot rods are never not cool - they just don't go out of style - and when one struts through the show scene, it leaves a definite impression. When Begley first introduced his truck to the public, it had an as-is attitude on the outside. To Begley, a wrap is just a sandwich alternative; rocking a mix of bare metal and original patina was just right on this '67 C-10. If you're looking for some dress-up, you could peek into the engine bay (you can whenever you want since there's no hood to speak of) to scope out a Chevy LQ4 V8, trimmed out in gold, with a monstrous exit-piped single turbo bolted on the side. Slammed to the ground and rolling around h2oi in 2015, the truck caught international appeal from tons of media coverage. We're not here to talk about that iteration though, so let's take a look at how the Chevy sits now.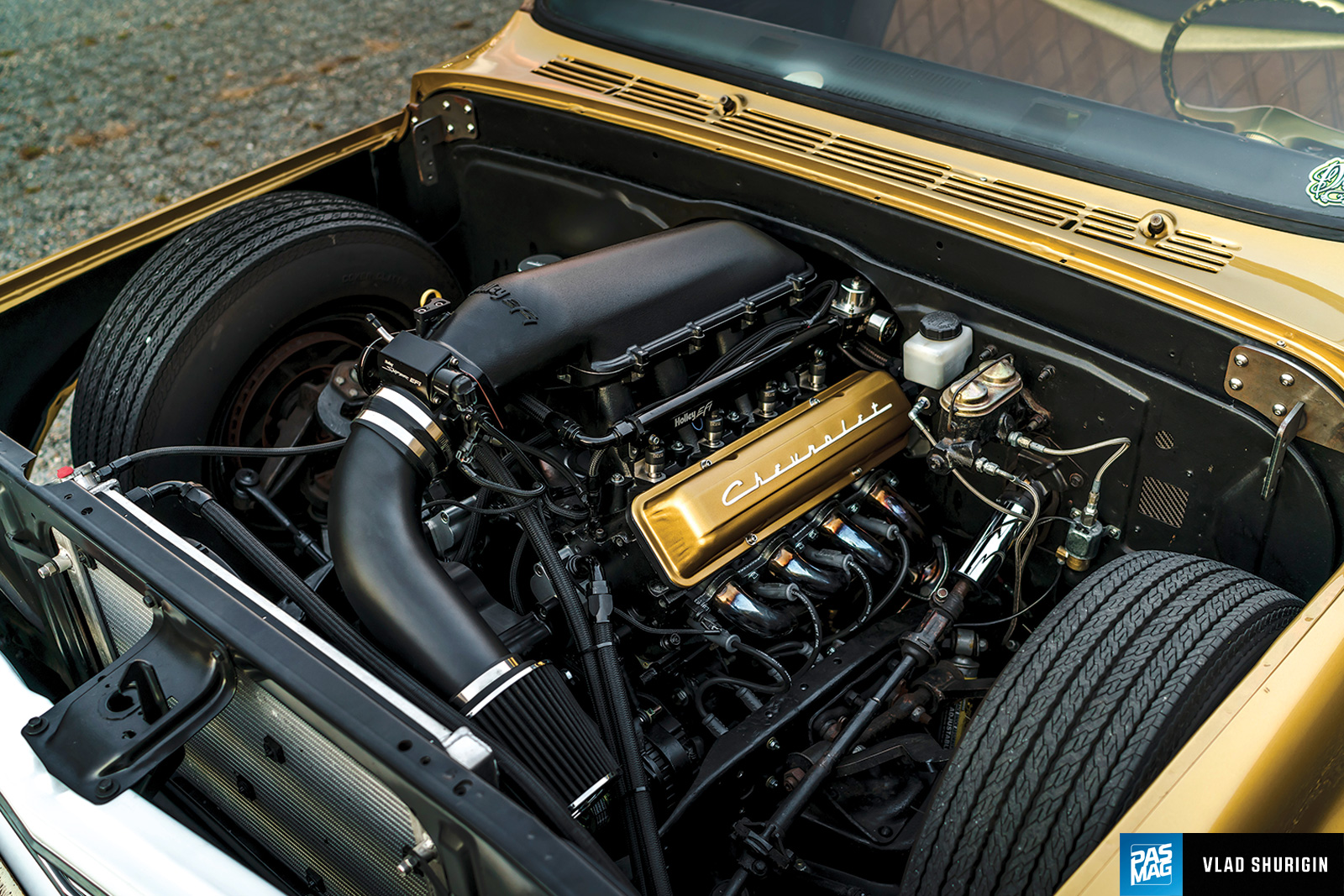 First, let's have a moment of silence for the turbo LS. The stock internals of the LQ4 weren't so happy with the 88-mm turbo stressing them out and eventually ended up spinning a rod bearing. Instead of rebuilding, Begley decided to go for a do-over with a similar engine that ups the ante. Taking place of the LQ4 is an LQ9 engine, differentiated by a flat piston over the LQ4's dished version, which increases compression and base horsepower from the 6.0-liter V8. Fun fact: the LQ9 was used in Cadillac Escalades from 2002 to 2006, so, technically, Begley's C-10's new powerplant is a little more bougie as well.
While the new LS isn't turbocharged just yet, Begley wasn't taking chances again, so he laid a solid foundation for incoming boost.
"This time around, I built up the bottom end with forged internals to withstand a lot more boost and a lot more power than the stock LQ4," Begley explains. "I haven't had a chance to get the twin-turbo setup I'm planning on running on the truck just yet, but it is set up for twin turbos and is capable of 1,500 horsepower."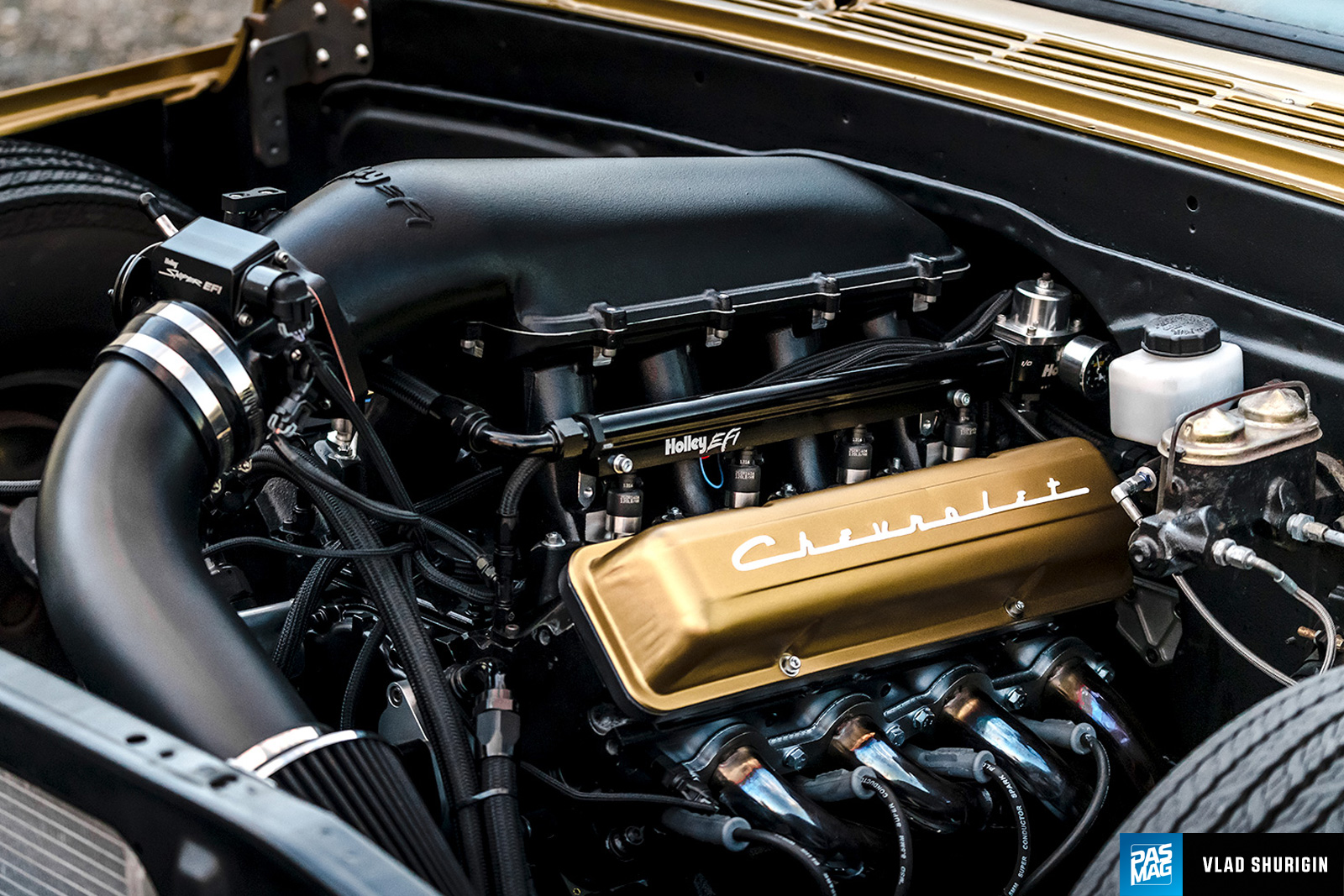 I'll just let the imagery of a dumped twin-turbo '67 C-10 rocketing down the road make you smile for a second there. And yes, you read the number 1,500 right. To achieve an engine build equipped for such potency, Begley teamed up with some trusted names in the business. A Tick Performance Stage 3 Turbo camshaft leaves the Manley valves open a little longer, while Wiseco pistons and rings and Eagle connecting rods pump away to the beat of the deep, lumpy idle.
An important build partner in making the LQ9 run at its best were the LS masterminds at Holley Performance. The C-10's engine inhales via their throttle body and mid-rise intake manifold, and is fed juice and spark by way of a full fuel system made up of Holley's Dominator fuel pump, fuel pressure regulator, fuel rail, and 160-lb injectors, as well as their timing control paired with an MSD ignition system. This is all overseen by an HP standalone ECU, which allows for an AFR that results in the 600 horsepower and 550 lb-ft of torque the NA engine currently puts to the ground.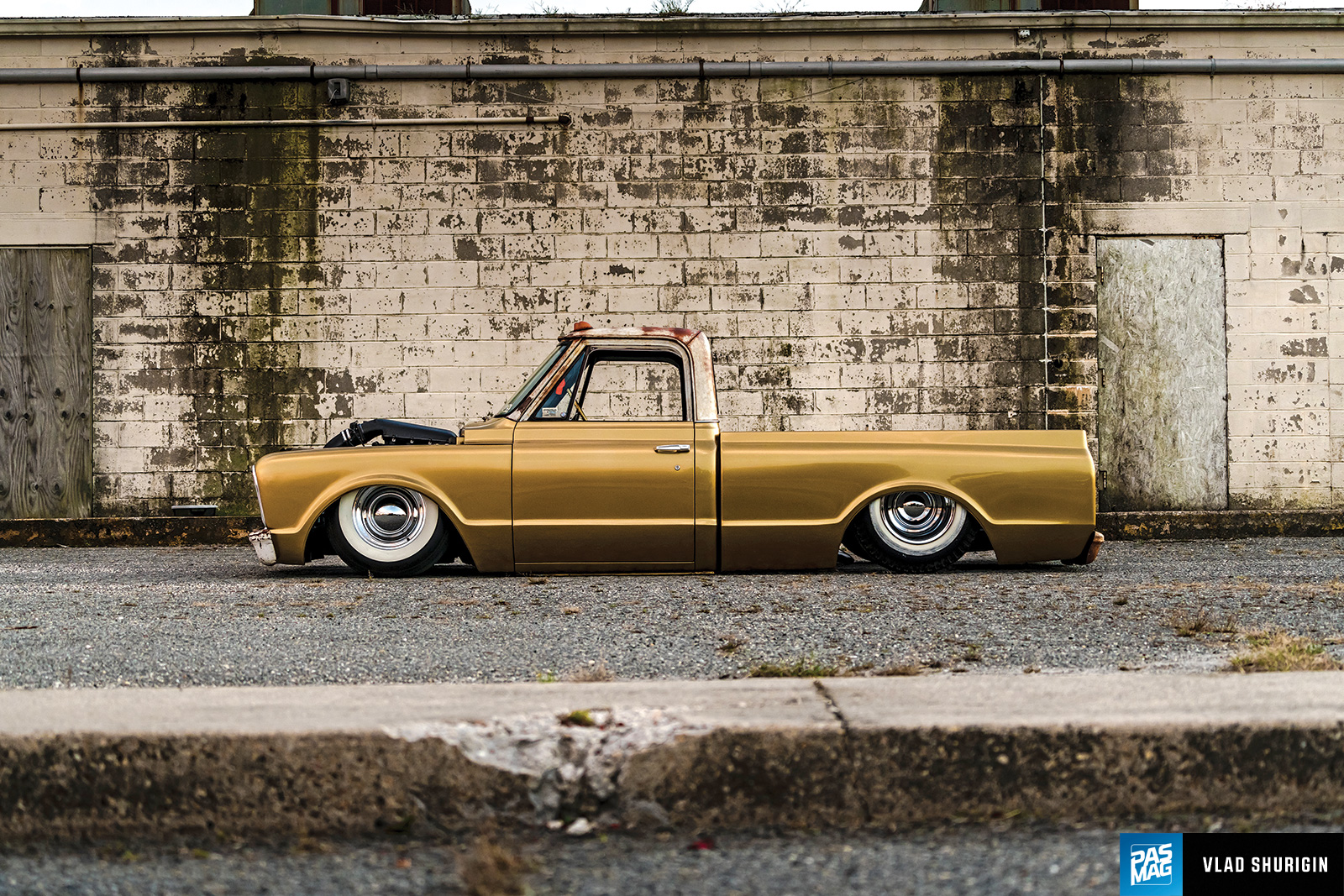 Speaking of which, power isn't the only thing this truck puts to the ground. With the touch of a button, Begley can lay frame thanks to his Airlift Performance air suspension system. To help get this 50-plus-year-old truck become grounded, Begley enlisted some Michigan Metal Works front control arms, complete with better ball joint angles, and even completely rebuilt the rear suspension to a four-link setup at his hot rod shop: Renegade Hot Rods. This is also where Begley chopped middle and rear sections of the frame to convert the once long-boxed truck to a short-box version and did every bit of wrench turning on his truck. Now, the C-10's freshly-painted golden body (sans patina'd roof, pillars, and bumpers) airs out over a classic combination of 15-inch Cragar Smoothies wrapped up in Firestone white wall tires from Coker.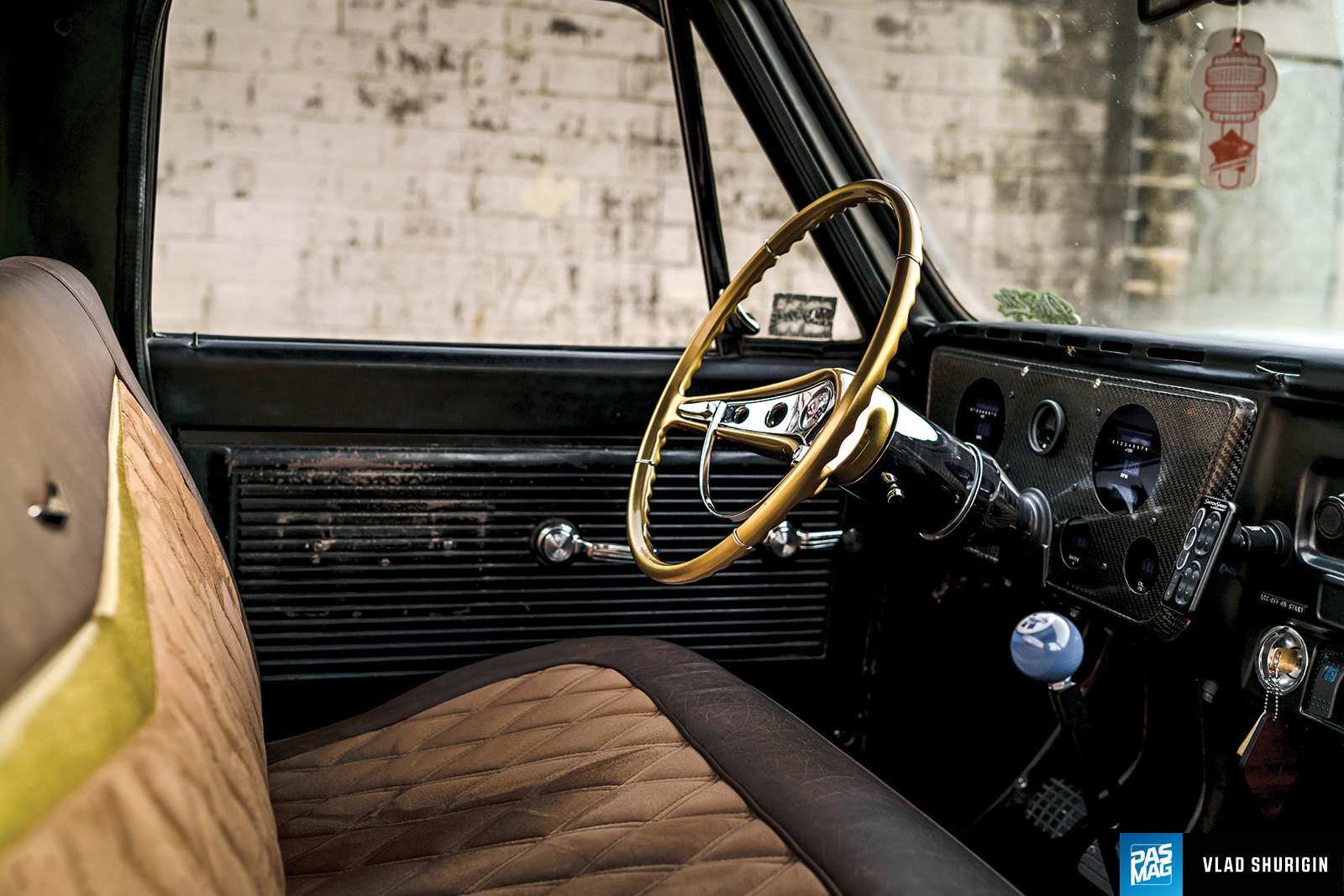 The golden theme creeps in from the outside and into the interior as well, with a gold steering wheel out of a '59 Impala taking position front and center. From the 1980 C-10 suede diamond-stitched bench seat, Begley can shift with a Pabst Blue Ribbon ball shift knob and just cruise, arm out the window, in proper hot rod style.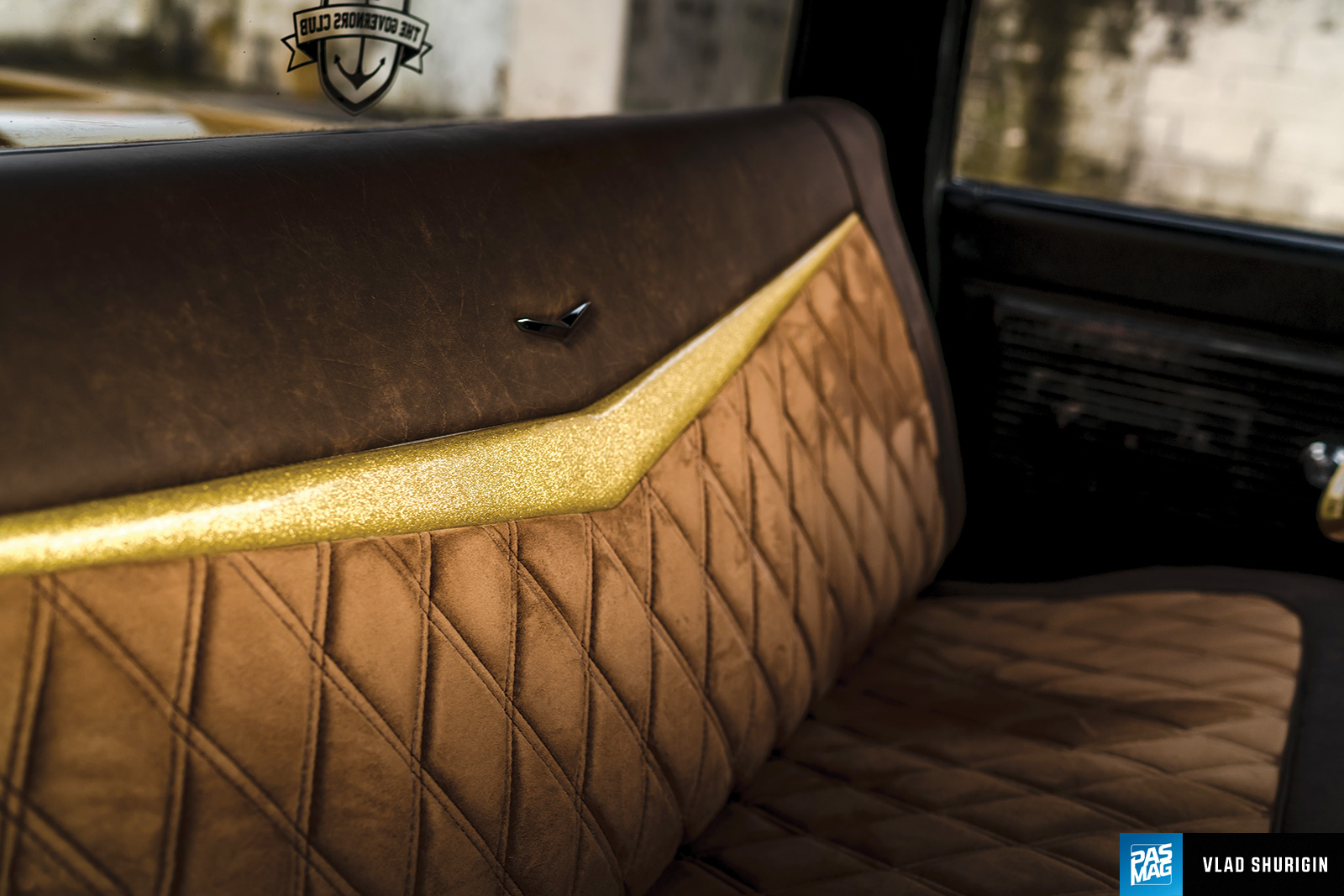 While building hot rods out of his own shop may be a sign that Begley isn't new to this, I'd be remiss not to point out that his very first build, a body-dropped and bagged S-10, which he built the whole frame for, was built by him when he was only 16 years old. To be fair, he's been influenced from an early age.
"My father, Ed Begley, has been my biggest influence and person I've looked up to my entire life," Begley says. "I've been into cars and building them since I was born because of him. I have always wanted to build a C-10, since childhood. I waited until I was able to afford it, but started even when I couldn't afford it."
At just 25 now, and producing projects like this, I think we have many more years of examples of mixing old and new elements together to make something truly golden from him. Until them, catch his C-10 standing out from the crowd and inspiring a new generation of hot-rodders.
Photography by Vlad Shurigin (@zuumy)
Matt Beley's 1967 Chevrolet C-10 was featured in PASMAG TRUCKS #8. CLICK HERE TO ORDER
---
ESSENTIALS
Vehicle: 1967 Chevrolet C-10
Owner: Matt Begley
Location: Morrisville, PA
Built by: Renegade Hot Rods
Engine: Chevrolet LQ9 6.0L V8
Horsepower: 600 hp
Torque: 550 lb-ft
ENGINE
Chevrolet (LQ9 engine swap, LS9 head gasket)
Manley valves
K&N air filter
Holley EFI (throttle body, mid-rise intake manifold, fuel rail, fuel pressure regulator, Dominator fuel pump, 160-lb injectors, timing control, HP standalone ECU)
Tick Performance Stage 3 Turbo camshaft
Eagle H-beam connecting rods
Wiseco (pistons, piston rings)
ARP studs
NGK spark plugs
MSD ignition wires
Custom (intake, grounding system)
EXHAUST
Black Widow customized exhaust system
DRIVETRAIN
Magnum T56 6-speed transmission
SPEC (Stage 3 clutch, flywheel)
Inland driveshaft
WHEELS / TIRES / BRAKES
Cragar Smoothie wheels – 15x6 (f), 15x12 (r)
Coker Firestone white wall tires – 29x15 (f), 30x11.5 (r)
Braided stainless steel brake lines
CHASSIS / SUSPENSION
Air Lift Performance air suspension system
Urethane bushings
Michigan Metal Works front control arms
Custom (4-link rear suspension, short bed conversion)
EXTERIOR
Paint & bodywork by Cody Rountree's Custom Paint
GSI billet door handles
Shaved (grille, gas cap hole)
H4 headlight conversion
HID conversion
INTERIOR
Leather & suede upholstery by Mikey Seats
PBR shift knob
Chevrolet (1959 Impala steering wheel, 1980 C-10 seats
Dakota Digital gauges
Painless wiring harnesses
Ididit tilt steering column
Carbon fiber (gauge trim, switch panel)
SPONSORS
---
PHOTO GALLERY