Photography by Adam Zillin
---
Abflug has always tended to be a brand that absolutely polarizes people. You either love the styling or you hate it. That public acceptance (or lack thereof) hasn't stopped a great many people tuning their cars in the most extravagant ways imaginable and during the late '90s and early 2000s when many people were drawn to the outrageously-stylized Abflug creations for the JZA80 Supra. No doubt, most of you reading this will have either heard of or seen something by Abflug during your time as an enthusiast.
One particular person who wanted to go even further than anyone else is Akihiro Tamura, who owns, arguably, the craziest JZA80 of them all. The "Abflug Schwarzer" as it is known, started life as a seed of thought, with Tamura correctly reasoning that the lustrous appeal of a swoopy Supra coupled with the flair and extravagance of an Abflug design was a road far less traveled, but one definitely worth exploring.
So, it was with this mindset that he contacted the President of Abflug, Uwabo Masamichi, who, together with a team of designers in Japan, penned the elements to the car you see gracing the pages of this issue of PASMAG. Don't let it's debate-stirring exterior fool you, because this is no "flash-in-the-pan," hard parking hipster chariot. There are almost 620 other reasons under the hood why you will need to read on and discover what lengths the Japanese will often go to in their pursuit for individuality and the perceived notions pertaining to perfection.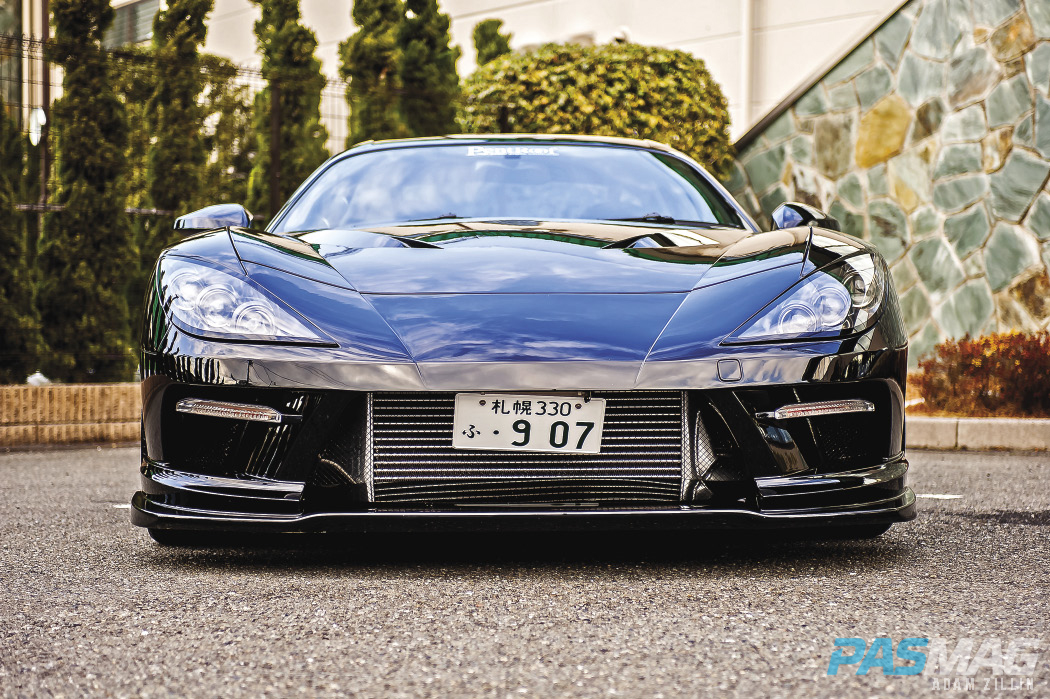 The Abflug Shwarzer is indeed unique. Tamura wanted a design that no one else had and Abflug duly accommodated the request, utilizing the skills of Super GT aerodynamicists to create never-to-be-repeated design concepts for the car in collaboration with Tamura's visions for the build.
Tamura's love affair with all things Supra began in 2001 with the purchase of this 1999 vintage, 2JZ-GTE equipped chassis. It has culminated in a 12-year love affair with the platform and, when I asked him why he chose a Supra in the first place, his answer was revealing.
"A lot of people love the Supra since it is kind of like an accessible Japanese supercar. Naturally, I have had a lot of difficulties (with the car) since 2001, but I was lucky to discover a company like Abflug who shares the same passions as I do. Now that I have spent so many years with the chassis, I just can't devote my time to any other platform. My goal was to push custom design and tuning for the JZA80 right to the limits. Abflug and Pentroof have helped me make that happen."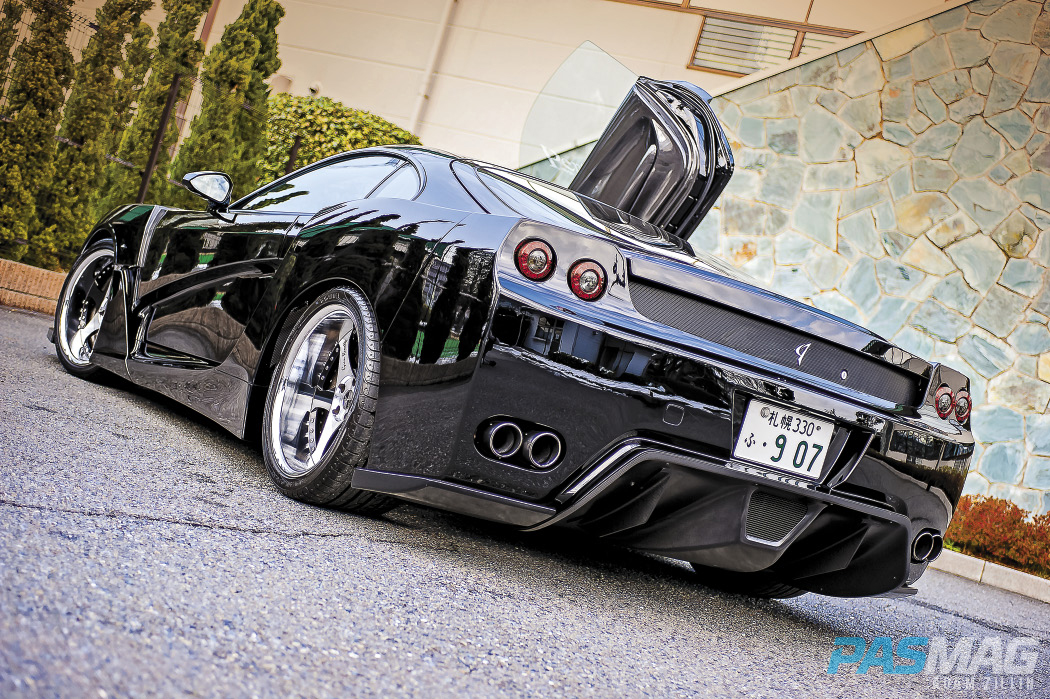 A lot of method has gone into the madness this build represents; every aspect of tuning has been carefully considered. Painted in glossy Piano black, the entire kit is a bespoke creation, from the ostentatious hydraulic scissor doors, outlandish, Enzo-esque rear bumper assembly; beset with Ferrari tail lamps and underbody diffuser, to the extremely aggressive, custom front bumper that has been installed with bespoke HID headlights unlike any you'll ever see again.
If one can manage to tear their eyes away from the exterior, this black beast has enough tricks under the body and inside the car to keep even the most jaded enthusiasts entertained. The 2JZ was sent to renowned engine tuning specialists Pentroof where it was stripped and rebuilt from the ground up. Internally, the block remains standard, but the heads are ported and polished and paired with lumpier cams; treatment that is part of their "Complete Tune" 2JZ engine packages.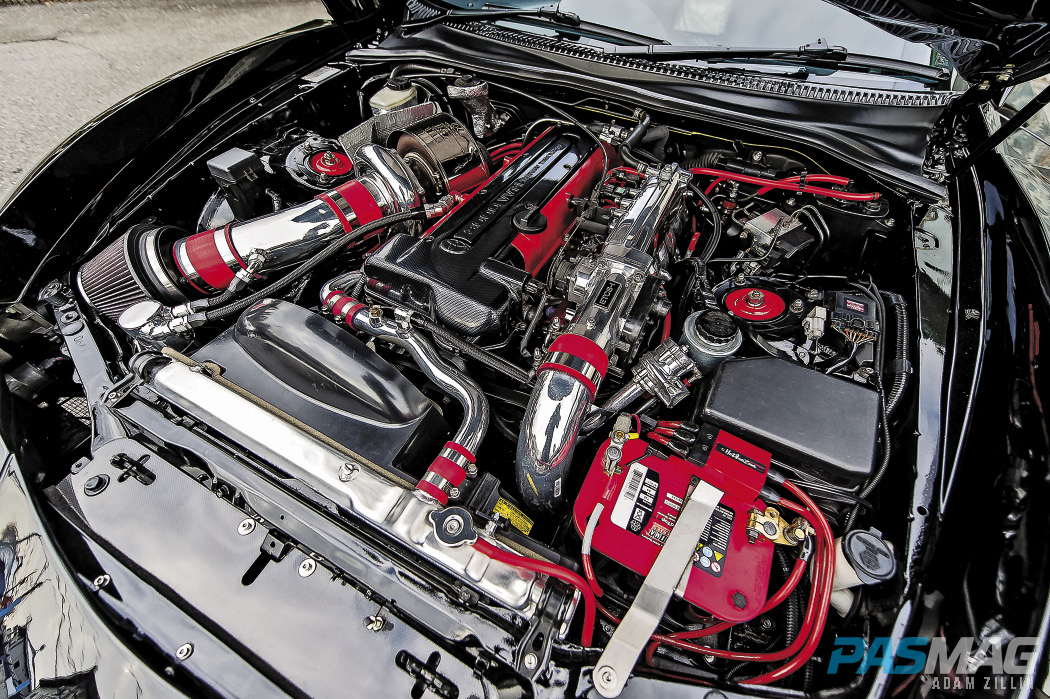 Giving the car adequate thrust is a tried-and-true Trust T78-33D turbo coupled to an F-Con V Pro engine management system. Abflug manufactured a one-off complete titanium exhaust system from the headers back to suit the build and this bulletproof gem of an engine produces a thick and juicy spread of torque and power. Its maximum shove of 620 hp is developed at 4,880 rpm, which is backed up with a similarly broad amount of twist, with 650 lb-ft of torque delivered at a user-friendly 4,460 rpm.
Combined with the Getrag six-speed manual, TRD limited-slip differential and an Exedy Hyper twin plate clutch and flywheel assembly, the Abflug Schwarzer sprints through the quarter mile at 10.3 seconds on its way to a top speed of 201 mph – serious performance for a build this intricate.
Suspending all this power is a set of Abflug's own custom "European Taste" adjustable dampers and springs. Endless racing was brought in to take care of braking duties, supplying six-piston calipers for the front and four-pot calipers for the rear; the entire ensemble is mated to slotted and ventilated oversized discs and Endless Racing brake pads.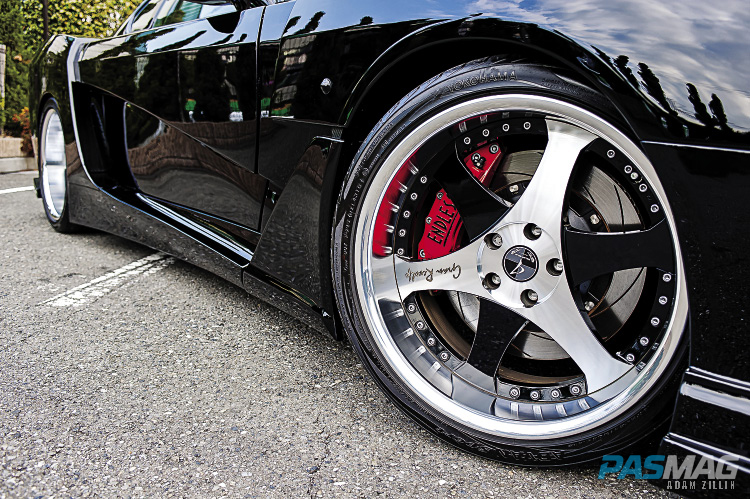 Rolling stock was also provided by Abflug in the form of 19-inch multi-spoke Gran Revolfe Prism "Model II" wheels sitting on each corner measuring a modest but functional 10 inches wide and -27 offset at the front, and 10 inches wide in the rear with a -40 offset. These jewels are wrapped in Yokohama Advan Sport rubber measuring 245/35 and 295/30, respectively.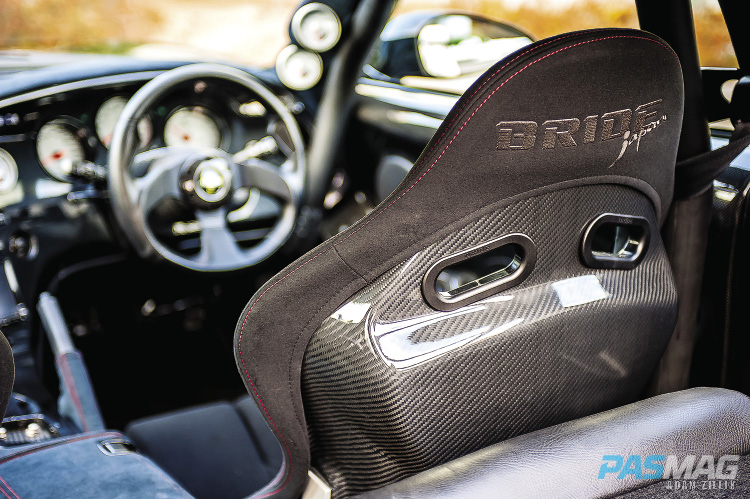 Swinging open and lifting up the surprisingly-light carbon fiber-clad doors of the Supra reveals a completely re-trimmed and customized interior dominated by a pair of carbon fiber-shelled Bride "Stradia Japan SPL" semi buckets. There are also swathes of red-stitched custom Abflug Alacantara adorning all surfaces of the interior, including the entire dash assembly, center console, shift boot and handbrake boot. Tamura controls all this with a 325 mm Abflug Ital Spirit steering wheel and monitors the cars vital signs via a complete set of Defi Step-Master gauges. You'll also notice a complete padded cage system that extends from the A pillars right through to the rear of the car, giving the chassis much needed rigidity.
The Abflug Schwarzer is a heady and intoxicating cocktail of style, function and pure dedication. Tamura's goal was to create something uniquely memorable and pour every ounce of creative energy into a project that, eventually, culminated in critical acclaim at the Tokyo Auto salon in 2012. I had to ask the question though, "Why Abflug?"
Tamura's second answer was equally as insightful as his first. "I have dreamed of cars since I was a child and my opinion was that Abflug was a creator of supercars. I decided that I would love to create my own and the spark for the project ignited what you see 12 years later."
He pauses for a moment, thinking back to some long distance memory buried deep within his subconscious and then, looking up, exclaims, "I wanted to tell a story with this car. A story for young enthusiasts about what tuning really embodies. About pouring your passion into a project like this. I had these dreams as a young guy and now I feel like it's my responsibility to encourage those dreams in others."
"That is why I built the Abflug Schwarzer."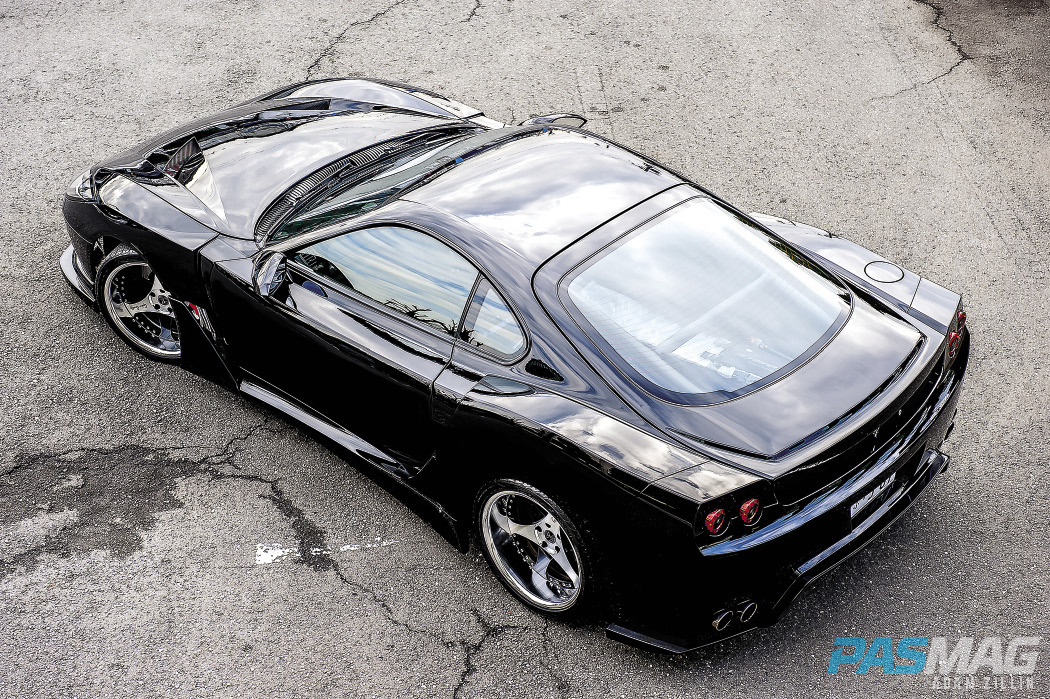 ESSENTIALS // Vehicle: 1997 Toyota Supra JZA80, Owner: Akihiro Tamura, Engine: Toyota 2JZ-GTE inline-six, Horsepower: 620 hp @ 4,880 rpm, Torque: 650 lb-ft @ 4,460 rpm, Top Speed: 201 mph, Quarter-mile: 10.8 sec.
ENGINE // PentRoof 2JZ "Complete Tune" kit, Trust T78-33D turbocharger, HKS F-Con V Pro EMS
EXHAUST // Abflug custom titanium full system
DRIVETRAIN // Getrag six-speed manual transmission, Exedy Hyper twin-plate clutch and lightweight flywheel, TRD two-way limited-slip differential
CHASSIS / SUSPENSION // Abflug "European Taste" adjustable dampers and springs
WHEELS / TIRES / BRAKES // Abflug "Gran Revolfe Prism II" wheels – 19x9 -27 offset (f), 19x10 -40 offset (r), Yokohama Advan Sport tires – 245/35 ZR19 (f), 295/30 ZR19 (r), Endless Racing (six-piston front calipers, four-piston rear calipers; slotted/vented oversize rotors, carbon composite brake pads (f/r))
EXTERIOR // Full "Abflug Schwarzer" custom body kit and diffuser, Carbon-clad Abflug hydraulic scissor doors, Custom HID headlights, Ferrari taillights
INTERIOR // Bride Stradia Japan SPL seats, Abflug Ital Spirit 325 mm Schwarzer one-off steering wheel, Abflug Alacantara "European Taste" interior trim, Defi Step-Master gauges
AUDIO / MOBILE ELECTRONICS // Full Clarion Cravia system