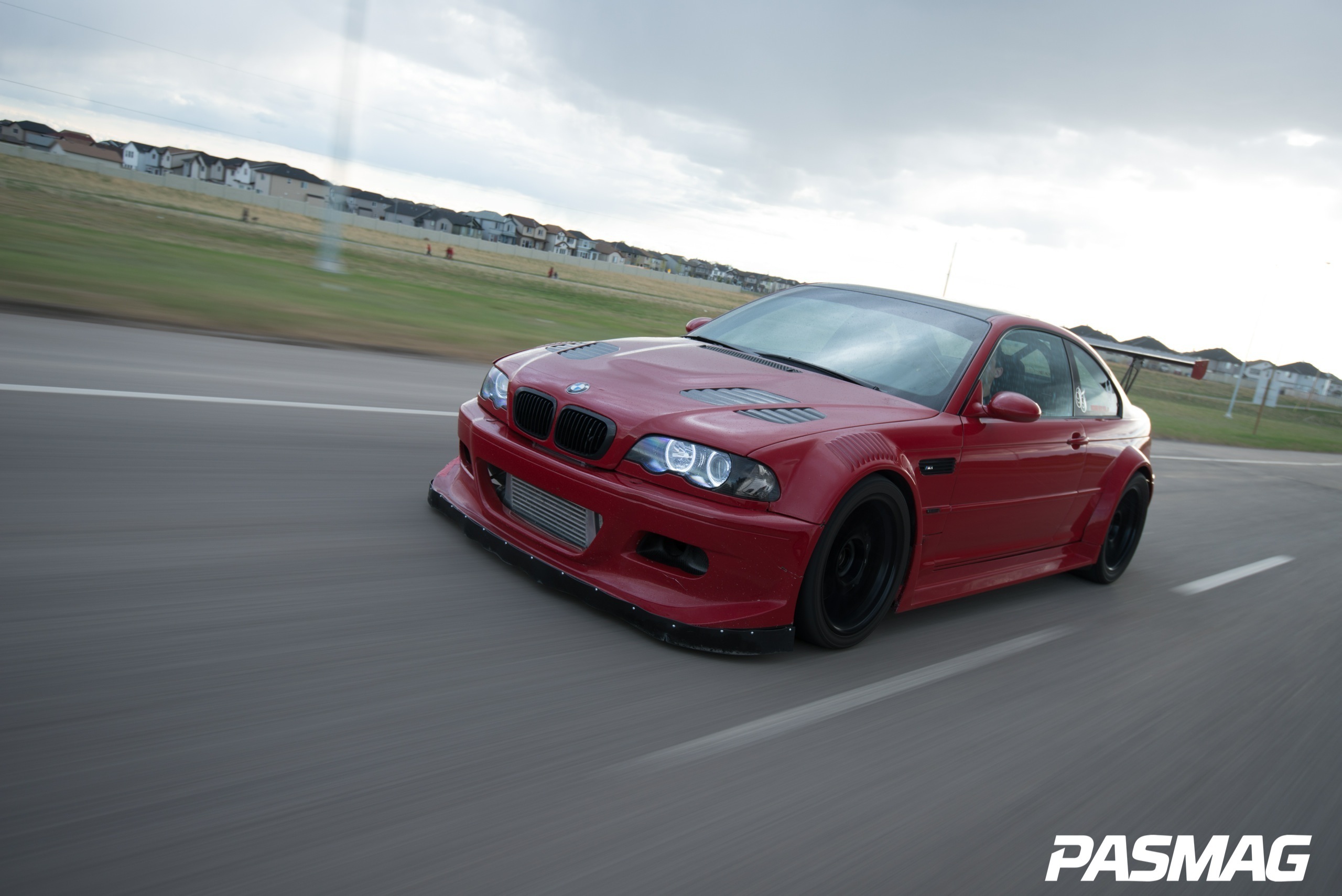 Written by Micky Slinger | Photos by Mike Boldt
When you were a kid, you wanted to be the fastest runner on the playground. You and your sneakers took on all newcomers to prove you were the quickest in your grade. When you had worn your trusty shoes down to the soles, it was time for another lighter and faster pair to take on the competition. Daniel Kowall does not race on the playground, but if he did, you better bet he would be the fastest out there and have the nicest shoes, too.
"I was always into modding BMWs since I could drive," says Kowall. "My first car was a 1995 525i, automatic, 'riced-out' with a body kit, lowering springs and wheels."
This first pair of sneakers, if you will, had Kowall hooked on the feeling of owning a performance car and modifying it. Feeling the drag of the automatic transmission and seeking more cylinders and more power, it wasn't long before he decided an upgrade was in order.
"The second car was a 1999 BMW 540i, six-speed, which I drove to school in Ontario," recalls Kowall. Instead of 2.5 liters, Kowall had 4.4 and 93 more horses, but it didn't stop there. With a newer 5 Series to get him there, Kowgall's travels to school helped the hook of car modding dig deeper. "I was in an automotive business program where I was surrounded by car enthusiasts everyday, which further pushed the mod bug," he says.
By the time Kowall was ready to let go and sell his 540i, it had a full custom re-spray in aspen silver with a gloss black roof, a molded Hamann full body kit, M5 style bumper and mirrors, coilovers, new wheels, and a performance exhaust and intake.
The V8 E39 not only got Kowall addicted to performance modding his vehicles, it also instilled a new love: autocross. "I started autocrossing every summer in the 540i, which made me realize I loved driving and needed a more track focused car," he says.
Kowall went a different path with his next vehicle choice though. He strayed from the 5 Series platform he had become all so familiar with and chose to downsize – in chassis, not performance. Kowall chose a 2002 BMW M3, or E46 M3, which is arguably one of the best driving platforms ever.
"I was getting more and more into autocross, lapping, time attacks, and togue," Kowall explains. "So, I went with the E46 M3, which is a far more capable platform for these events."
Kowall found the car on a forum in Long Island, New York and knew it was the one. Soon the seller was contacted, they worked out a price, and he brought it back to Ontario. Once it was home, in true gear head fashion, he took it right to the track.
"I got it aligned and corner balanced for the track and started doing time attacks around Toronto at Mosport (Canadian Tire Motorsport Park), Cayuga, and Shannonville race tracks," he says. "I even won a first, second, and third place trophy competing in the CSCS (Canadian Sport Compact Series) time attacks at Cayuga."
Then he racked up a 'Driven To Perform' award in 2010 for best BMW. Not only did Daniel have the passion and know how to compete, he was damn good.
Anyone steeped in motorsports and performance cars as much as Kowall is realizes good is only good enough for so long. It wasn't long before the M3 needed to be even more competitive for his tastes. His wins at Cayuga had fueled his focus for the E46 to be more track- focused in terms of modifications.
"School finished, so I shipped the car back to Calgary and joined the CSCC (Calgary Sports Car Club) and did two seasons
of time attacks at Race City and Edmonton," he recalls. "I realized I needed more power and had time over the long winter to in- stall the Active supercharger kit."
That's where the fun begins. This supercharged M3 was now ready to blow away anybody and everybody, but Kowall wasn't done. The Active Autowerke super- charger kit uses an HKS GTS8550 supercharger and blow-off valve. The kit includes timing control which Kowall used to take full advantage of the VANOS system on the S54 engine. Bosch High Capacity injectors splash the fuel in the right amounts to rocket the M3 to time attack records. Air is breathed through a ram air intake, fed to the engine, and expelled down Agency Power headers, where it is fired out the back of a custom header-back exhaust system by Unobtanium welding.
| | |
| --- | --- |
| | |
A BMW Motorsport fan clutch and OS Giken R3C clutch and flywheel work in unison with a short shifter and double shear selector rod by Auto Solutions to help Daniel get the perfect response and gear shift. The electrifying E46 sits on top of Advance Design struts filled with Swift springs and a Ground Control coil-over system, Rogue Engineering Race Brace front and Active Autowerke rear strut bars paired with Tuner Motors- port rear control arms keep the car and driver rigid and ready to attack in the corners. Eighteen- inch Apex ARC-08 wheels wrapped in Toyo R888 tires for the track, and 19-inch BBS LM wheels dressed in Hankook Ventus tires for the street, make sure the M3 always means busi- ness. Alcon Aerospace six-piston front calipers paired with Hawk HTC pads allow Kowall to brake deeper and exit corners earlier.
Not only is it a track beast, this E46 also has the looks to match. A Flossman GTR wide body kit, Vorsteiner GTR carbon fiber hood, and Brooks Motorsport track spoiler give it an ag- gressive look to back up its bite. While you're spending all that time trying to catch up, you can admire its custom rear diffuser by Unobtainium Welding. The in- side sports a Raven Motorsports half cage, an OMP WRC steering wheel and Recaro Pole Position seats draped in Schroth Profi III six-point harnesses, just in case you didn't know this car was the real deal.
"Future plans are to go to a custom pulley and fuel system to make more power, a full weldin roll cage, a custom diffuser, and I'm sure it will never end!" says Kowall.
That's what we like to hear.
His love affair began with per- formance cars and tuning in a pretty good pair of shoes. Thankfully, he didn't stop there. Kowall stuck with the brand he knew and loved and kept improving until he hit the top of the charts.
When asked about his future plans, his enthusiasm is plainly evident. "[I'm] just waiting for a new track to open in Calgary so I can continue my passion!"
So, while Kowall waits for a new playground he can dominate, you can bring out your own pumped up kicks. Just remember that you're no match for this E46.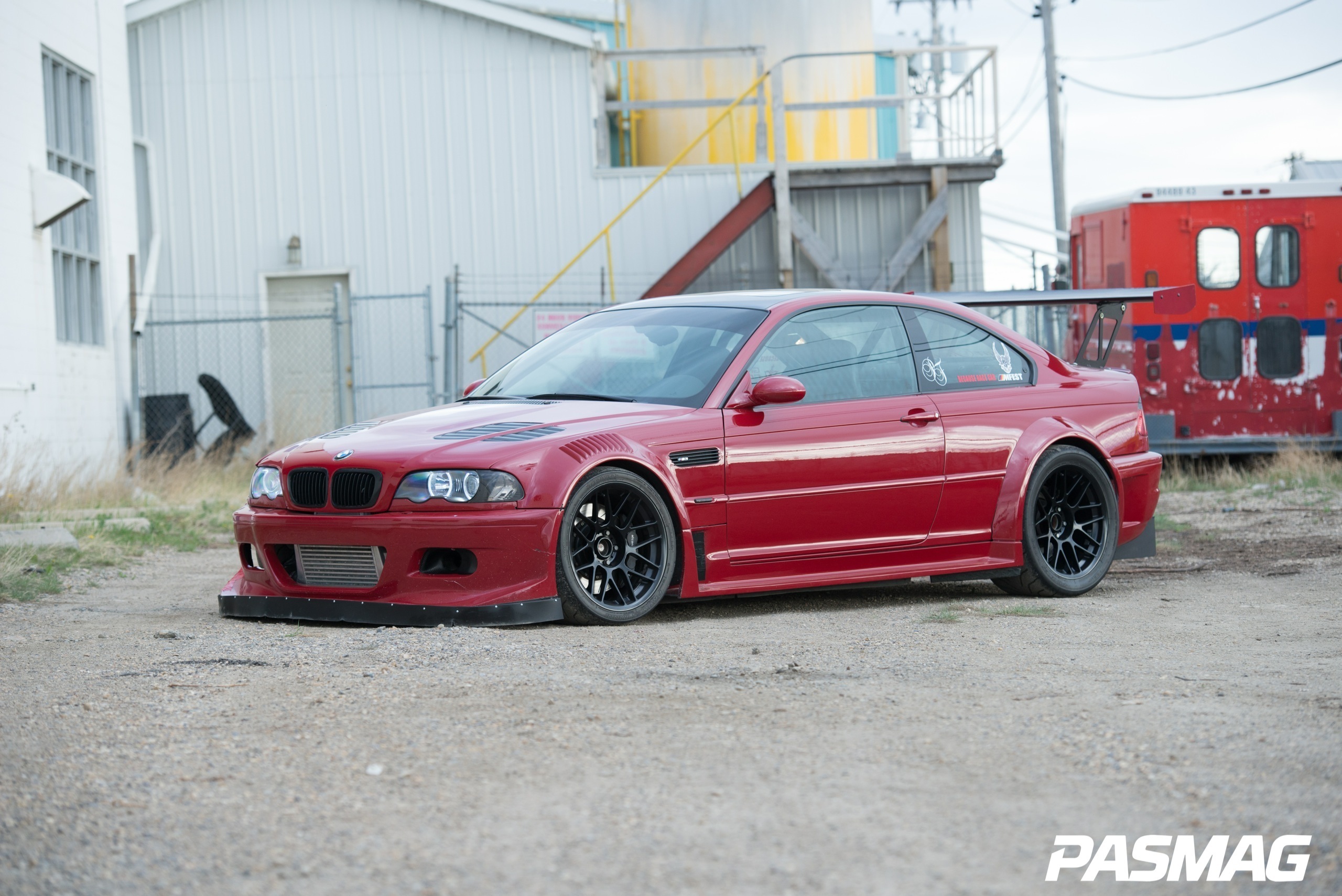 ESSENTIALS // VEHICLE: 2002 BMW M3 / OWNER: Daniel Kowall / CLUB AFFILIATION: Poor Form Car Club / ENGINE: BMW S54 3.2L / HORSEPOWER: 480 HP / TORQUE: 360 LB-FT
ENGINE MODIFICATIONS // HKS (GTS8550 supercharger, blow-off valve), Active Autowerke (intercooler, hoses, blow-off valve, intake manifold w/ dual bypass valve, ram air intake, timing control), High Performance AA spec green air filter, HPF oil cooler, VANOS variable timing, Bosch High Capacity injectors, NGK Iridium spark plugs, ARP hardware, Optima light weight battery
EXHAUST SYSTEM // Unobtainium Welding custom 3-in. exhaust system (from header back), Agency Power header
CHASSIS/ SUSPENSION // Advance Design struts (f/r), Swift springs, Ground Control (coil-over kit (f) and (r), sway bars, urethane bushings, camber plates), Rogue Engineering Race Brace front strut bar, Active Autowerke rear strut bar, Tuner Motorsport rear control arms
WHEELS/TIRES/BRAKES // Apex ARC-08 wheels – 18x10 (f), 18x10 (r) (for track use), Toyo R888 tires – 285/30R18 (f), 305/35R18 (r), BBS LM wheels – 19x10 (f), 19x11 (r) (for street use), Hankook Ventus tires – 275/30R19 (f), 305/30R19 (r), Alcon Aerospace Monoblock 6-piston front calipers, Hawk HTC brake pads, Motul 660 brake fluid
EXTERIOR // Flossman (GTR wide body kit: front bumper, rear bumper, grilles, fenders), Vorsteiner GTR carbon fiber hood, Brooks Motorsport spoiler, Unobtainium Welding custom GTR diffuser, Umnitza (headlights, taillights)
INTERIOR // Raven Motorsports half cage, Jaffster shift knob, OMP WRC steering wheel, Leather Z shift boot, AEM gauges, ATI e-pod, Recaro Pole Position seats, Schroth Profi III 6-point harness
SPONSORS // PoorForm, Vex Performance