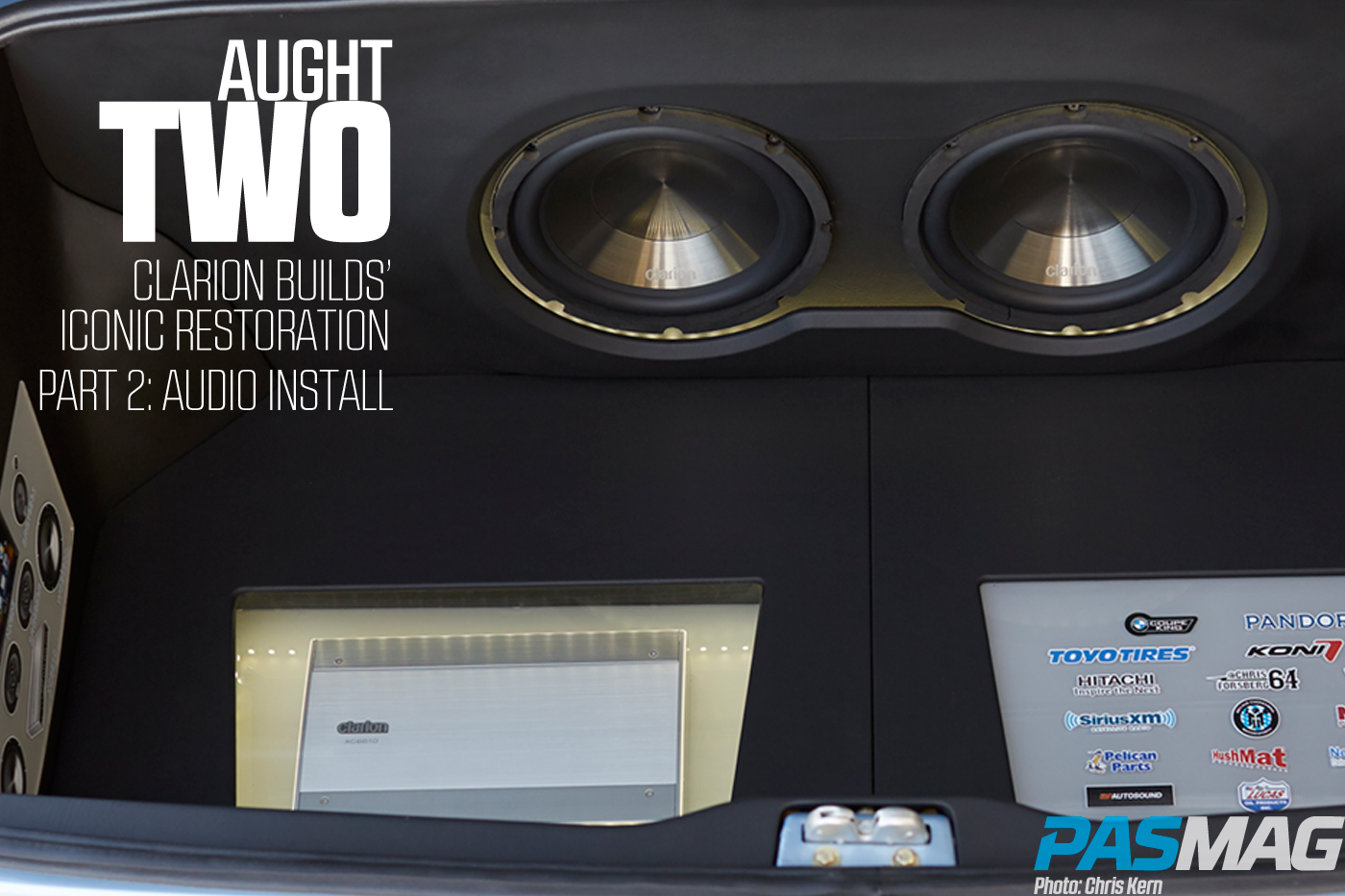 It would be a little embarrassing if the Clarion Builds project car came out with a less-than-stellar audio installation, wouldn't it? If it wasn't obvious enough already, this project 2002 was a labor of blood, sweat, tears and astounding passion, so you won't find some gaudy fiberglass monstrosity inside. This audio system is designed to sound great, modernize the car and bolster its class.
When you're building an audio system, the first thing you want to do is make sure the cabin is as quiet as possible. For this task, Clarion reached out to HushMat, which graciously lined the inside of the 2002, including under the floorboards. The deadening also dissipates heat, which is great for cruising around under the California sun.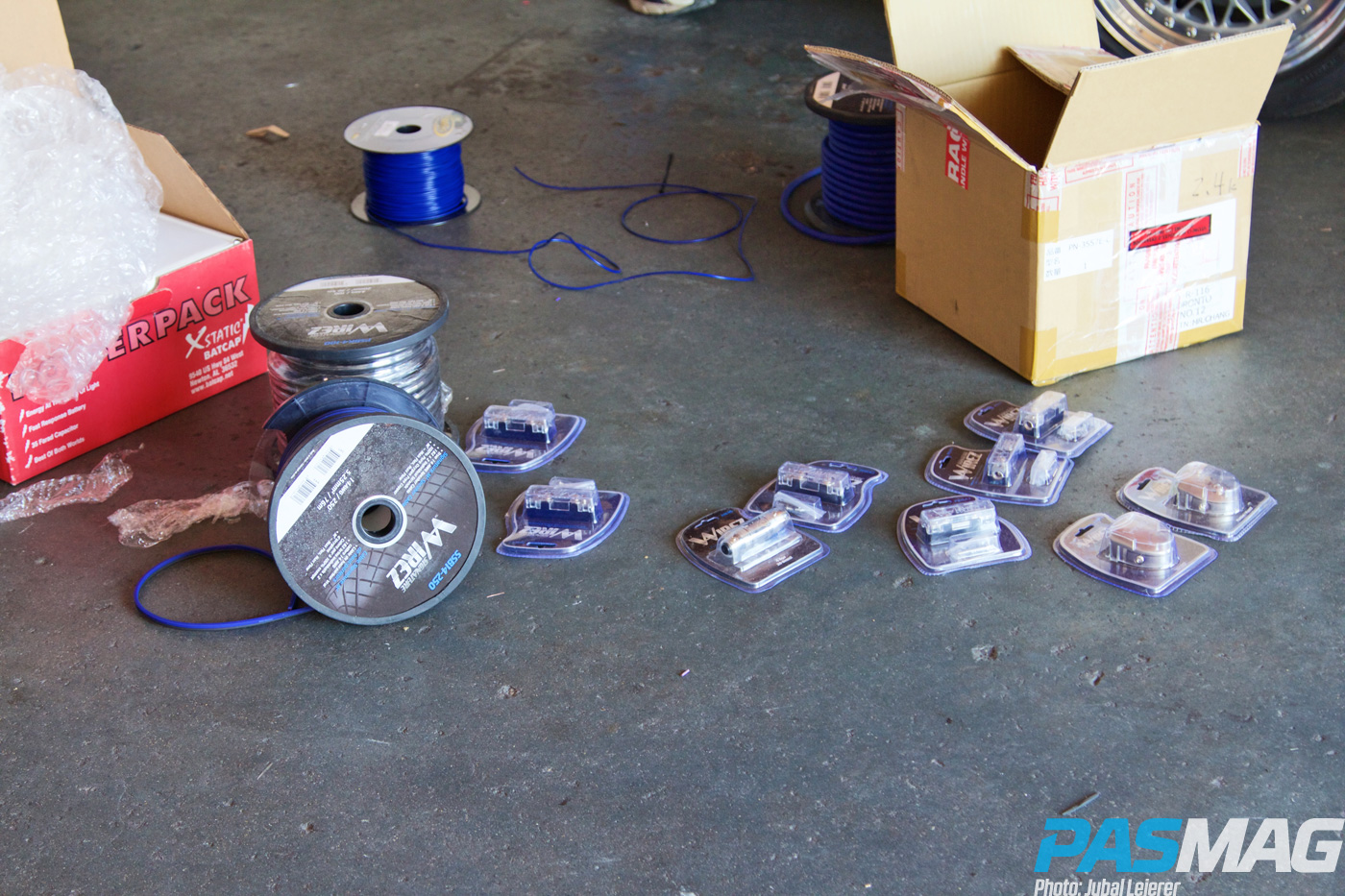 Wiring and distribution is the other essential to have a system sounding its best. Wirez stepped up with some high-quality wiring and Xstatic provided its awesome BatCap Power Pack, which is like a battery and capacitor all rolled up into one compact package. That helps with running the electronics, as well as the car itself.
Sitting at the helm is Clarion's extraordinary NX605 source unit.Being made in Japan with quality to match was one key deciding factor, but the interface which provides little to no driving distraction hit the nail on the head.
"This year, we added a ton of functionality to it," explains Leierer."Now it interfaces with Gmail, with Google Calendar and it's all voice controlled, which is super important so you're not distracted while driving."
"If you tell the unit, 'I'm hungry' it will find whatever is closest," Gharapetian adds. "It will look into your calendar, see you have a meeting coming up and ask to guide you to it."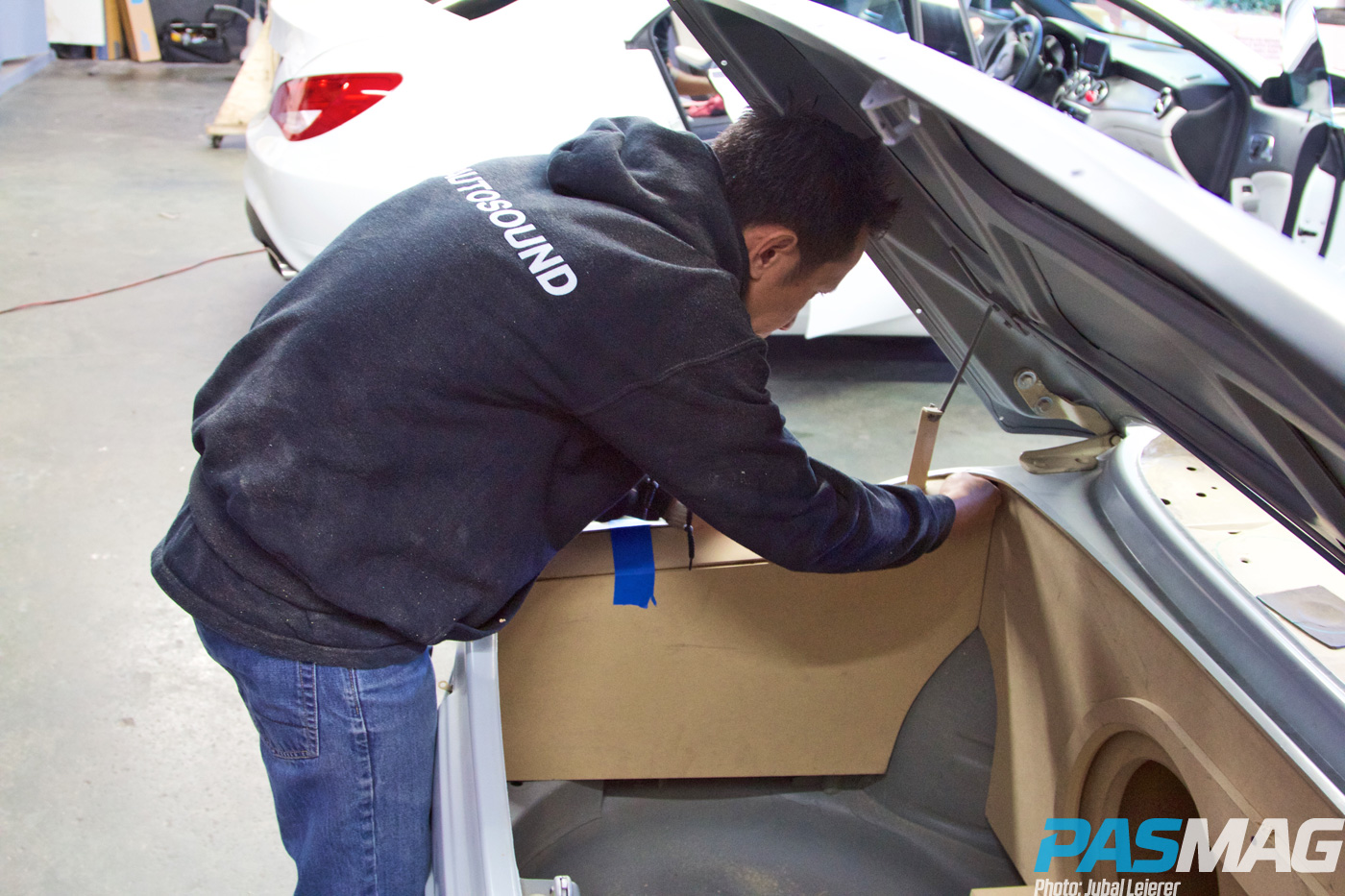 The unit also sounds pretty great, with four-volt RCA outputs relaying a nice, clean signal through an add-on amp. Speaking of which, the one for the job in the Bimmer is the XC6610, which is a digital six-channel model. It's capable enough to run the whole system, which saves on weight and makes the whole install a lot less complex. Plus, it was able to be tucked right down into the spare tire well. Score!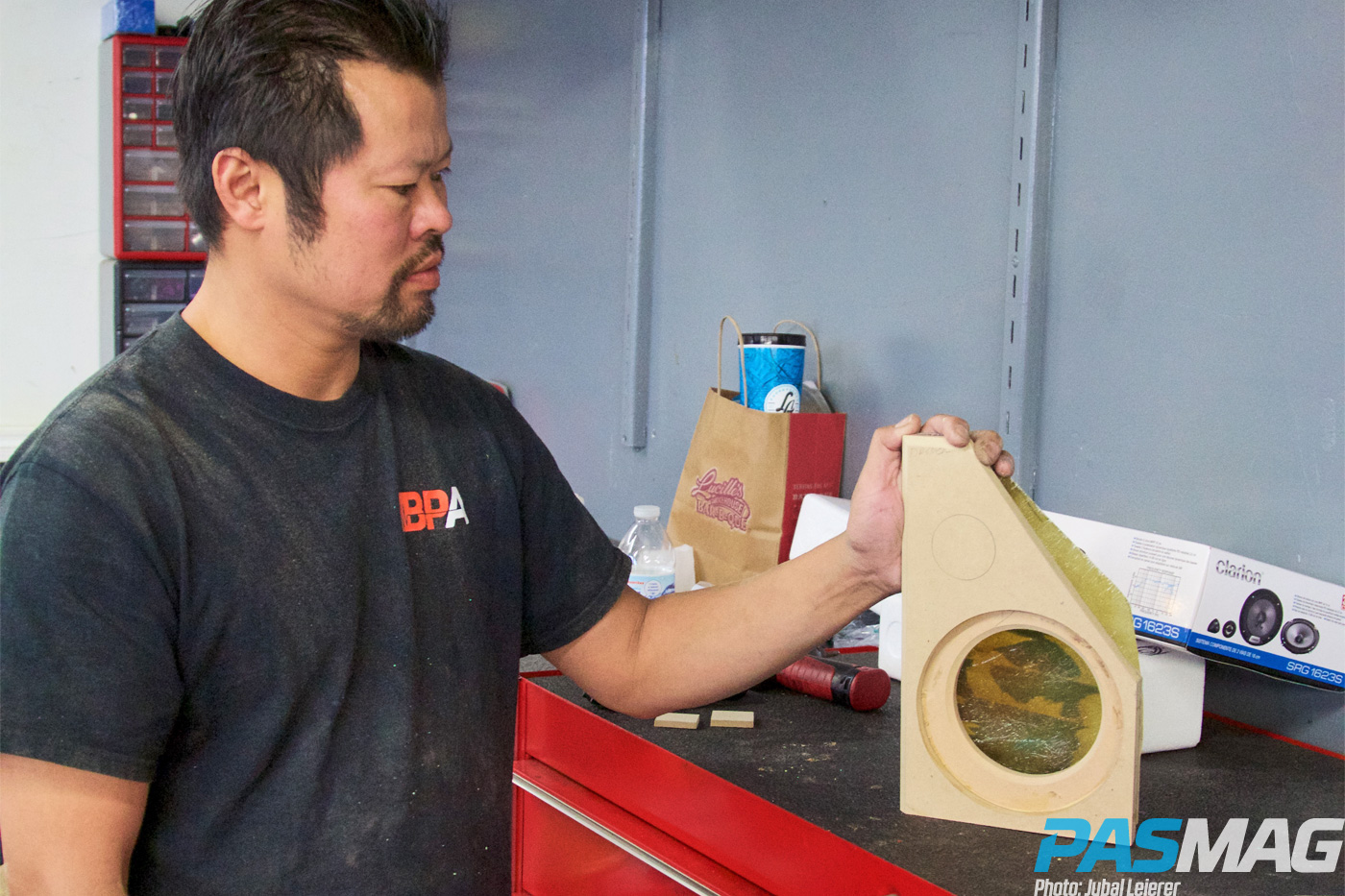 Providing output is a set of five-way components with some 6x9 back-up in the rear deck. Obviously, the 2002 was never meant to have this much tuneage built into it, but Clarion Builds didn't want to cut any holes into the little guy; and enlisted the help of BP Autosound to make custom panels for the new gear to sit in.
"We had [BP Autosound] build custom kick panels up front out of fiberglass," Leierer says. "If there aren't holes in the doors from the factory on classic cars, we avoid that. Each of the panels looks like it came with the car, but each one took hours and hours to get the lines and curves right."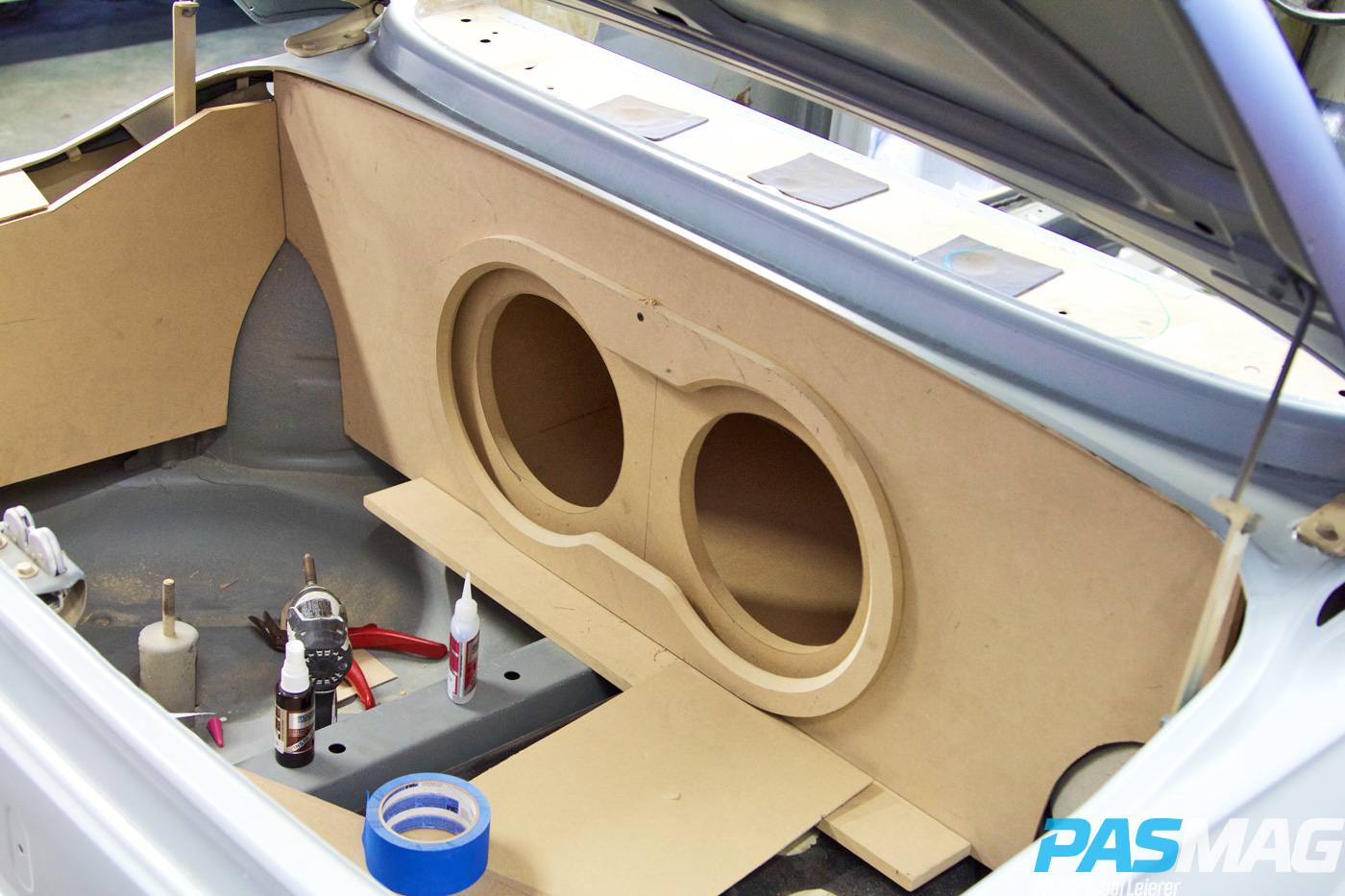 BP Autosound also did a custom subwoofer box for the trunk. The enclosure is covered with a beauty board and wrapped in leather, just like the rest of the trunk. Inside the box lives a pair of 10-inch WG2520D dual voice coil subs, which are beefed-up enough to handle the amp's power, but also compact enough to fit real nice. The 10- inch duo provides some great low-end fill and are topped off with some sweet LED illumination.
A really interesting addition to this build saga is the fact that BP Autosound had to get its hands on its own 2002 in order to have all the installation ready for tight time constraints.
"We actually borrowed another 2002 from Coupe King and shipped it over to BP Autosound so they could start on all the fiberglass and prep work," recalls Gharapetian.
"Once the car actually got to them, they literally had 48 hours to get all the work done." Must be nice to just have some spare classic BMWs just hanging around...
Words by Micky Slinger. Photography by Jubal Leierer & Christopher Kern