Photography by Shoot For Details
---
It looks like Peter Giuffre and his Honda Accord EX-L took the Tuner Battlegrounds #TBGLIVE event by way of pure class.
This is one of the most luxurious Accords we've seen, with about enough lights to bring a plane down safely. Its sequential LEDs in the taillights and trunk lights are boasted to be the only set in the US of A. In proper Honda fashion, Mugen parts take up residence as the front and rear bumpers. Inside, Giuffre obviously took inspiration from Rolls Royce by implementing his own fiber optic starlight headliner. A custom-built trunk display shows off the hand-polished Specialty Suspension seamless air tank, which feeds the Air Force suspension system. To make it even better, the ride height can be adjusted from the inside or outside thanks to Accuair's e-Level and iLevel systems. Sitting pretty beside the air tank is a custom enclosure with Alpine 12-inch subs, as just one part of the full Alpine system in this car, rounds out this class act.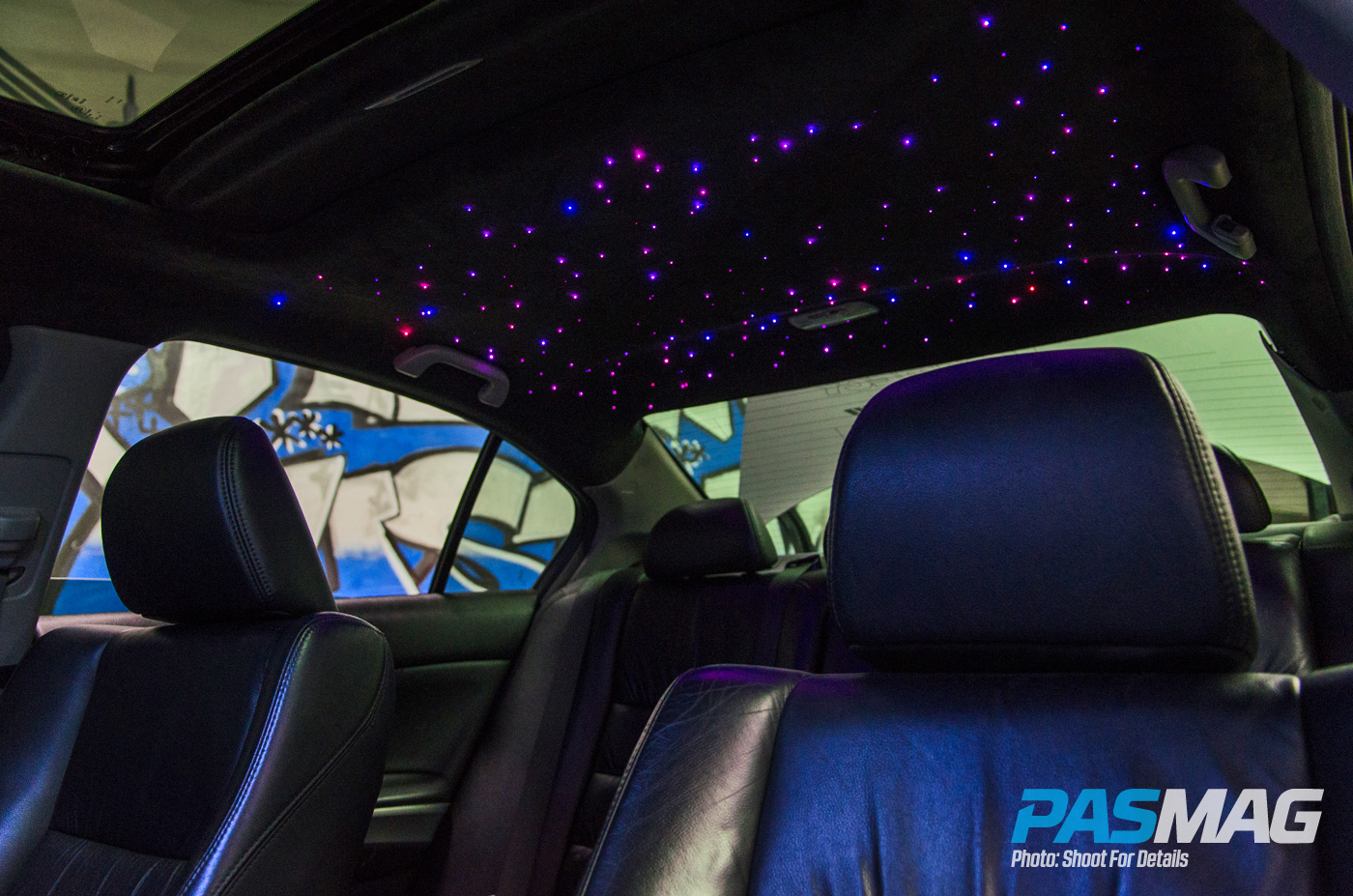 Rolls Royce Inspiration – So you think it's only the richest of the rich that get to ride in luxury under a starlit sky? Think again. Using fiber optics, this Accord pulls it off with cosmic colors. It may just be better than it's pricier, Rolls counterparts – depending on who you ask.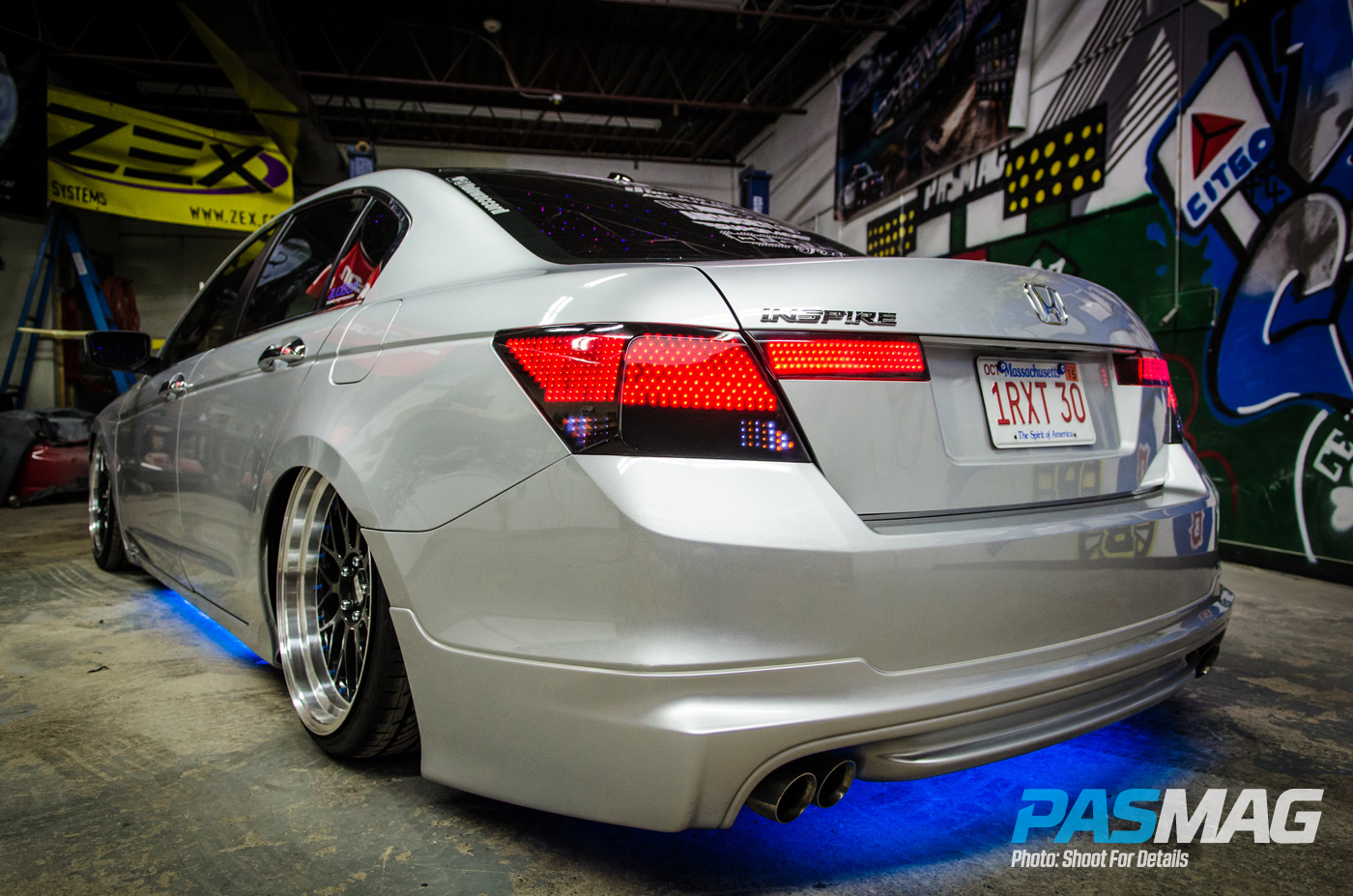 Light It Up – While the Honda Inspire JDM trunk conversion lends itself well to the Mugen rear bumper, the real draw here are the lights. In specific, we're talking about the sequential LEDs. The 25-step taillights and 19-step trunk lights are touted as the only set in the US. And look at that underglow! Some people say it's dead, but then again, those people probably haven't seen this car!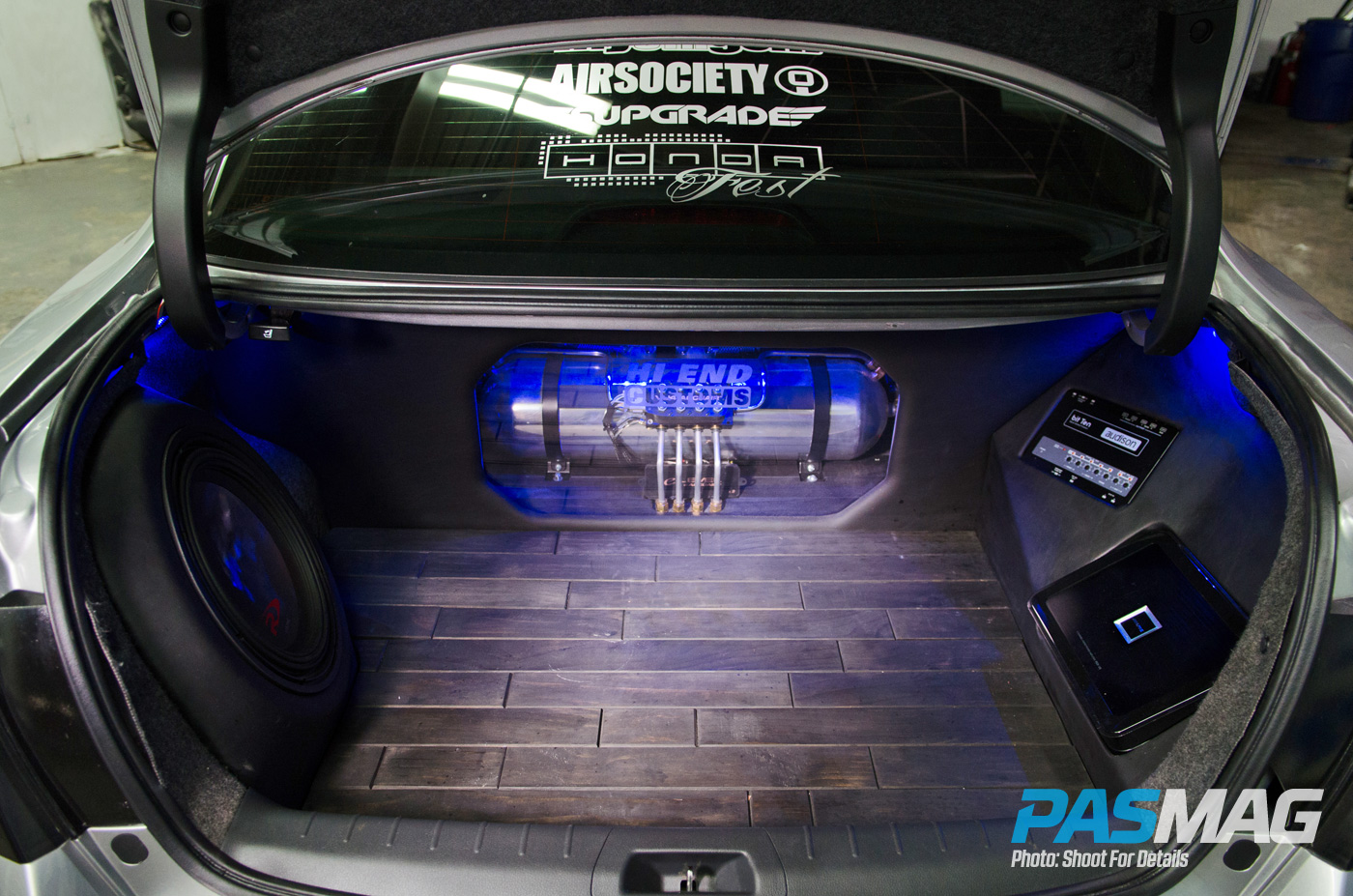 Treasure Trunk – Opening the trunk reveals quite the display. Laid out hardwood replaces the factory carpet and supports the Speciality Suspension air tank with bent aluminum hardlines drilling into the floor. To one side you'll see the Audison BitTen processor and Alpine amp, while on the other; you'll see the 12-inch woofer. As the tag on the air tank suggests, it's pretty "HI END" in here.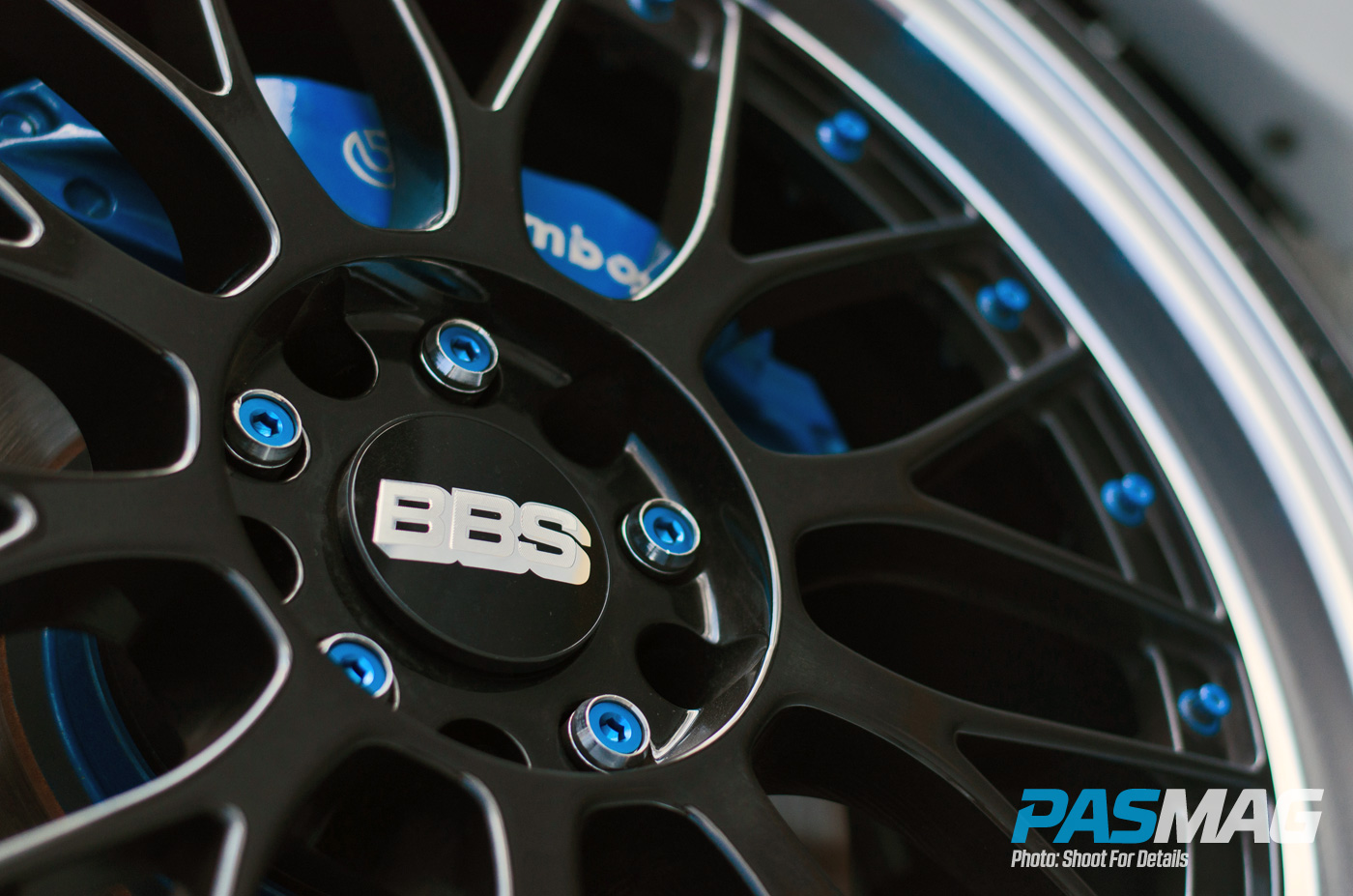 All The Right Touches – The front brake setup is made from a bunch of parts from other Honda family members. The rotors that get clamped by the 4-piston Brembos belonged to an S2000 and the hardware and pads came off of a TL-S. Blue nuts and bolts match the Brembos and clash well with the black BBSs… Hey, wait a minute!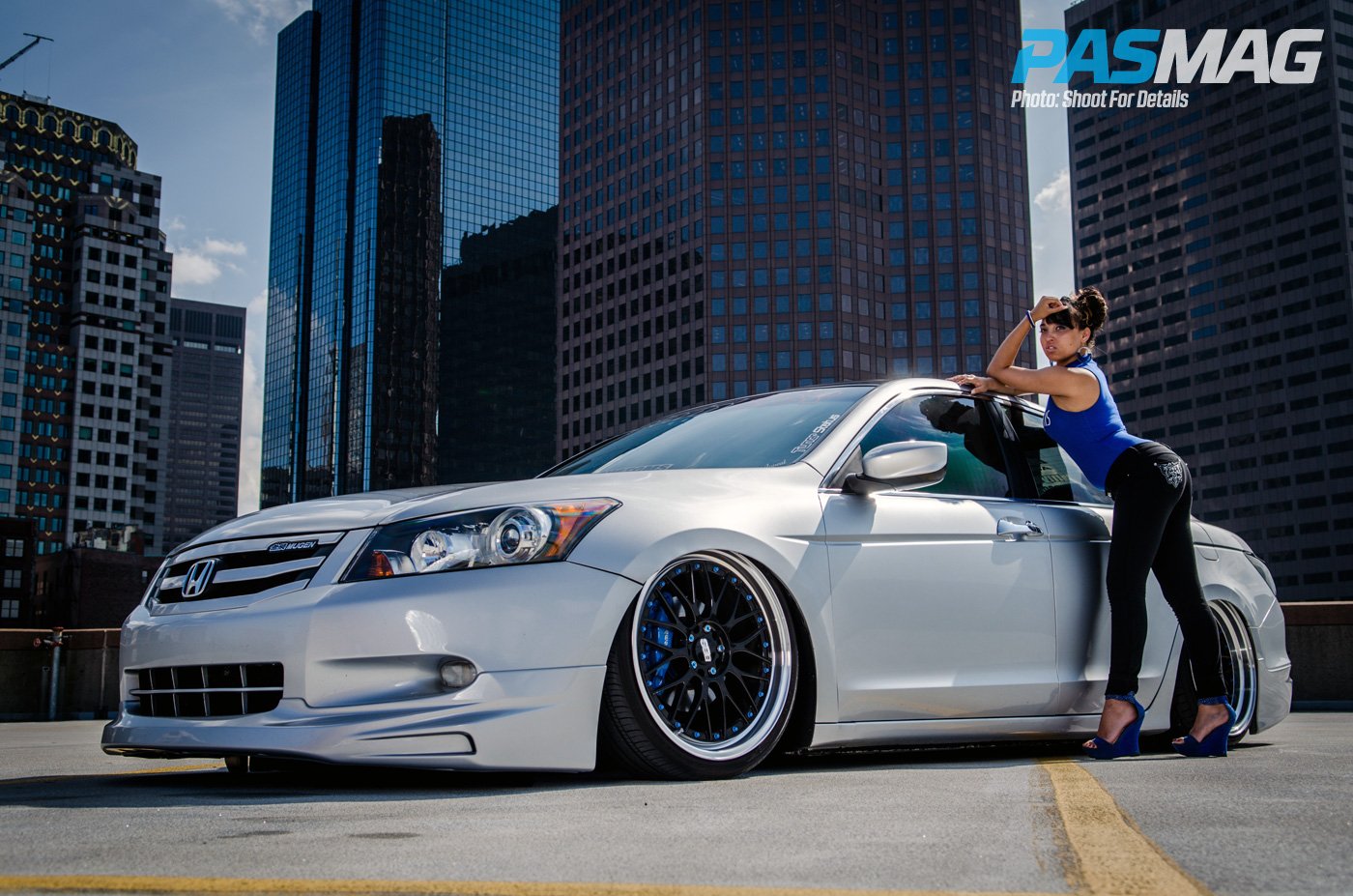 It's A Team Effort: All that stance didn't come easy. Allowing this Accord to tuck and roll is an Air Force air suspension system, Accuair management, dual Viair compressors, Swagelok fittings and SPC adjustable rear control arms and front ball joints. It's definitely worth it.
#TBGLIVE Event: Tuner Evolution 2014 – Oaks, Pennsylvania
Votes: 78 % of the popular vote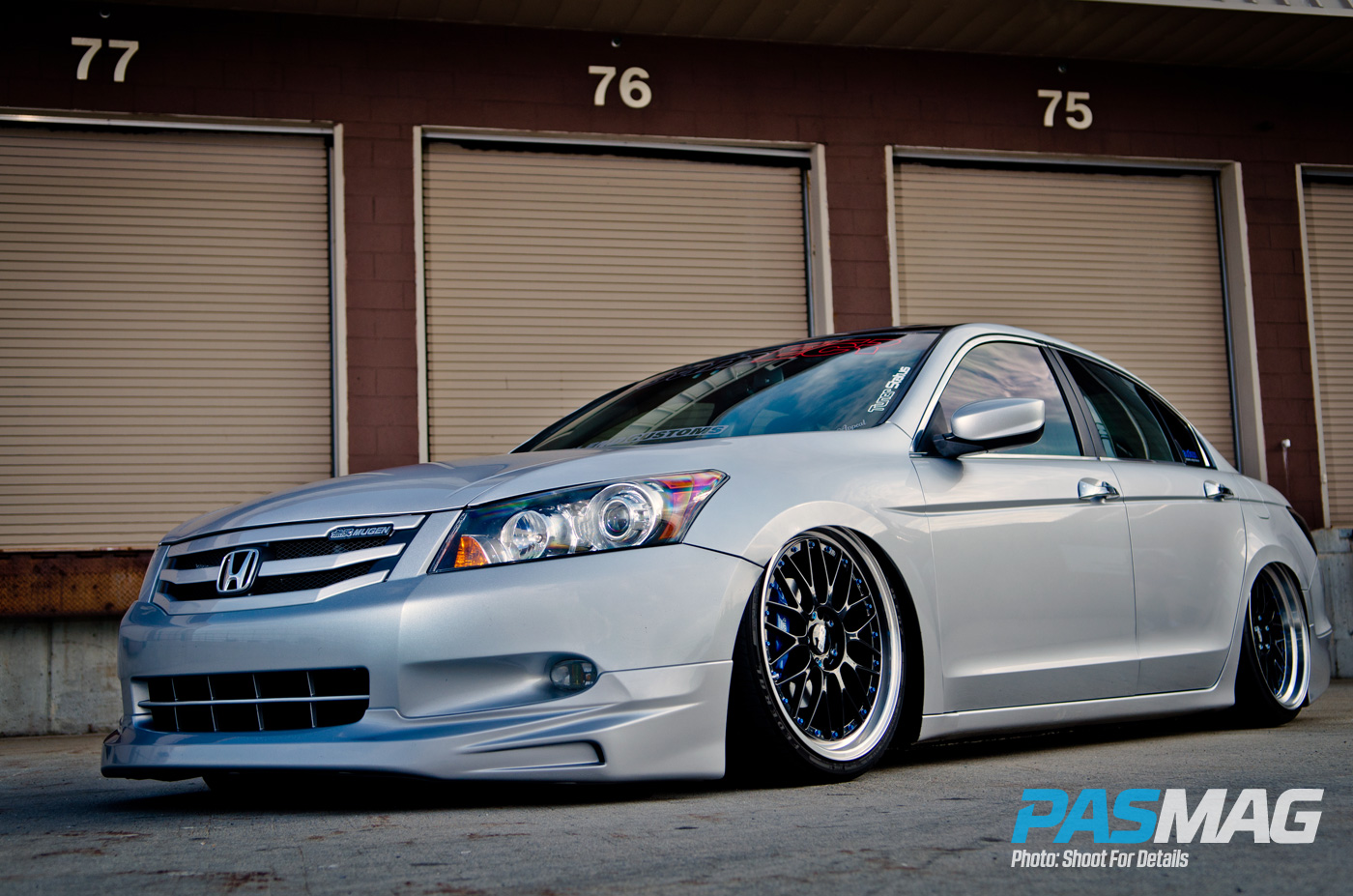 ESSENTIALS // Owner: Peter Giuffre, Vehicle: 2010 Honda Accord EX-L, Engine: Honda J35Y 3.5L V6, Horsepower: 272 hp, Torque: 254 lb-ft, Club Affiliation: TeamECR
ENGINE // Takeda short ram intake, Custom carbon fiber engine cover, Mugen oil cap, Carbon fiber battery cover, Multi-color LED flood lights
EXHAUST // Magnaflow stainless dual exhaust system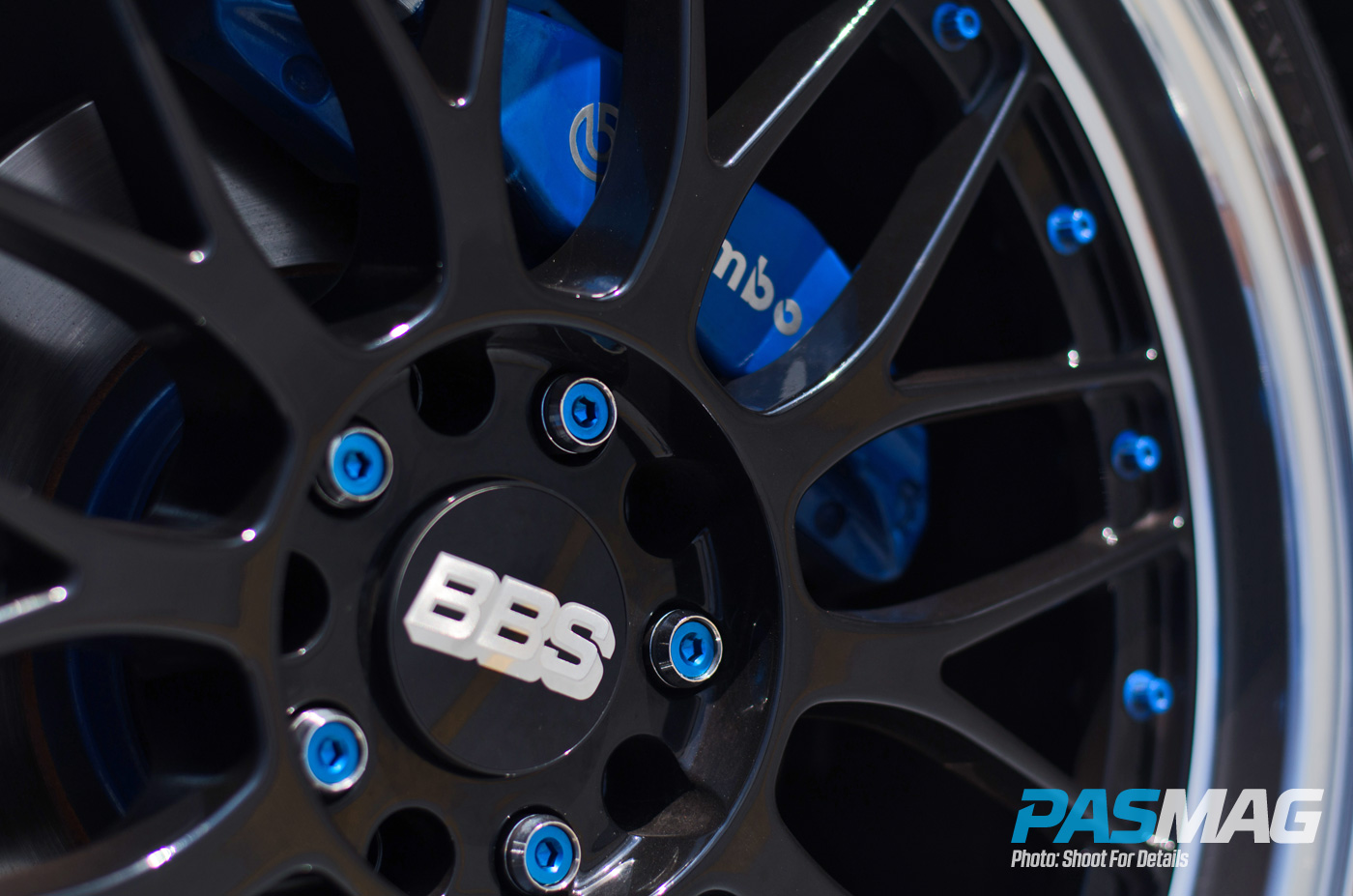 WHEELS / TIRES / BRAKES // XXR 521 wheels - 20x8.5 (f), 20x10.5 (r), Hankook Ventus V12 tires - 225/35 R20 (f), 255/30 R20 (r), Brembo 4-piston calipers (f), Honda S2000 brake rotors (f), Acura TL-S (brake hardware, pads), EBC (USR slotted rotors, Redstuff brake pads) (r)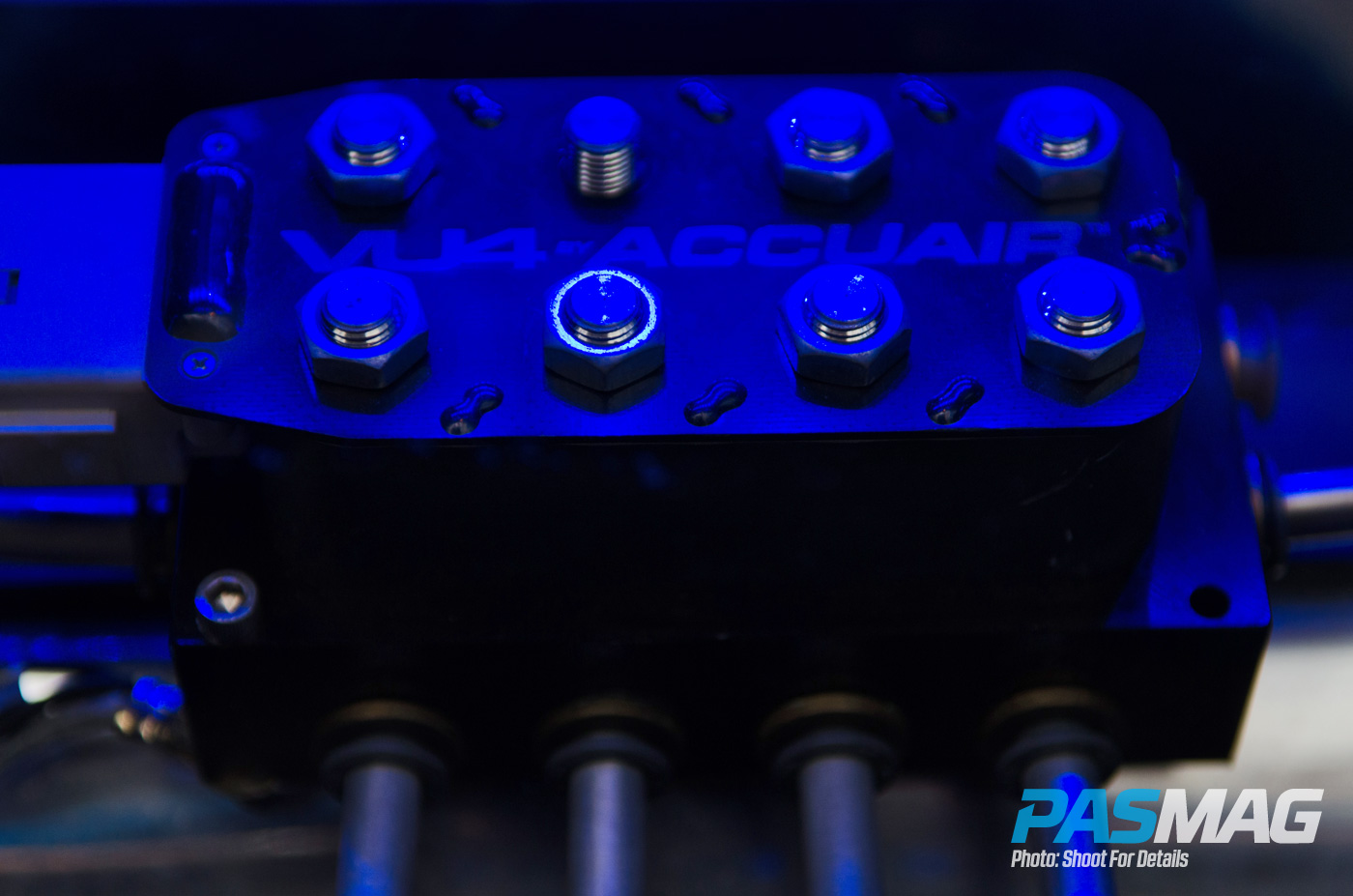 SUSPENSION // Air Force (airbags, struts), Accuair (e-Level management, VU4 manifold, iLevel iPad integration), Specialty Suspension seamless air tank, Viair 444c compressors (2), Aluminum hard lines, Swagelok fittings, SPC (adjustable rear control arms, adjustable front ball joints), Progress sway bar end links
EXTERIOR // Mugen (lips (f/r), grille), Honda Inspire JDM trunk conversion, Morimoto (mini H1 bi-xenon projectors, xBA LED halos, HID bulbs, HID ballasts, 3000K fog lights), Apollo shrouds, 25-step sequential LED taillights, 19-step sequential LED trunk lights, LEDGlow Million Color LED underbody lighting
INTERIOR // "Accord" illuminated door sills, Putco interior LED conversion, LEDGlow Million Color LED accent lighting (footwells, door pockets, trunk), Suede wrapped headliner, Fiber optic starlight headliner
AUDIO/ MULTIMEDIA // iPad Mini in-dash head unit, Audison BitTen processor, Alpine (PDX-V9 5-channel amplifier, Type R component speakers, Type R 12-inch subwoofer), Custom fiberglass subwoofer enclosure, Hardwood floor, Backlit Plexiglas, Fiberglass amp rack, KNUKonceptz (power cables, signal cables), Viper 5704 security/remote start, DEI DBALL bypass module, Optima Yellowtop battery
SPONSORS // Hi-End Customs, Pro Auto Detailing
Peter Giuffre's 2010 Honda Accord EX-L is featured in PASMAG #131, on newsstands June 1, 2015.
www.pasmag.com/backissues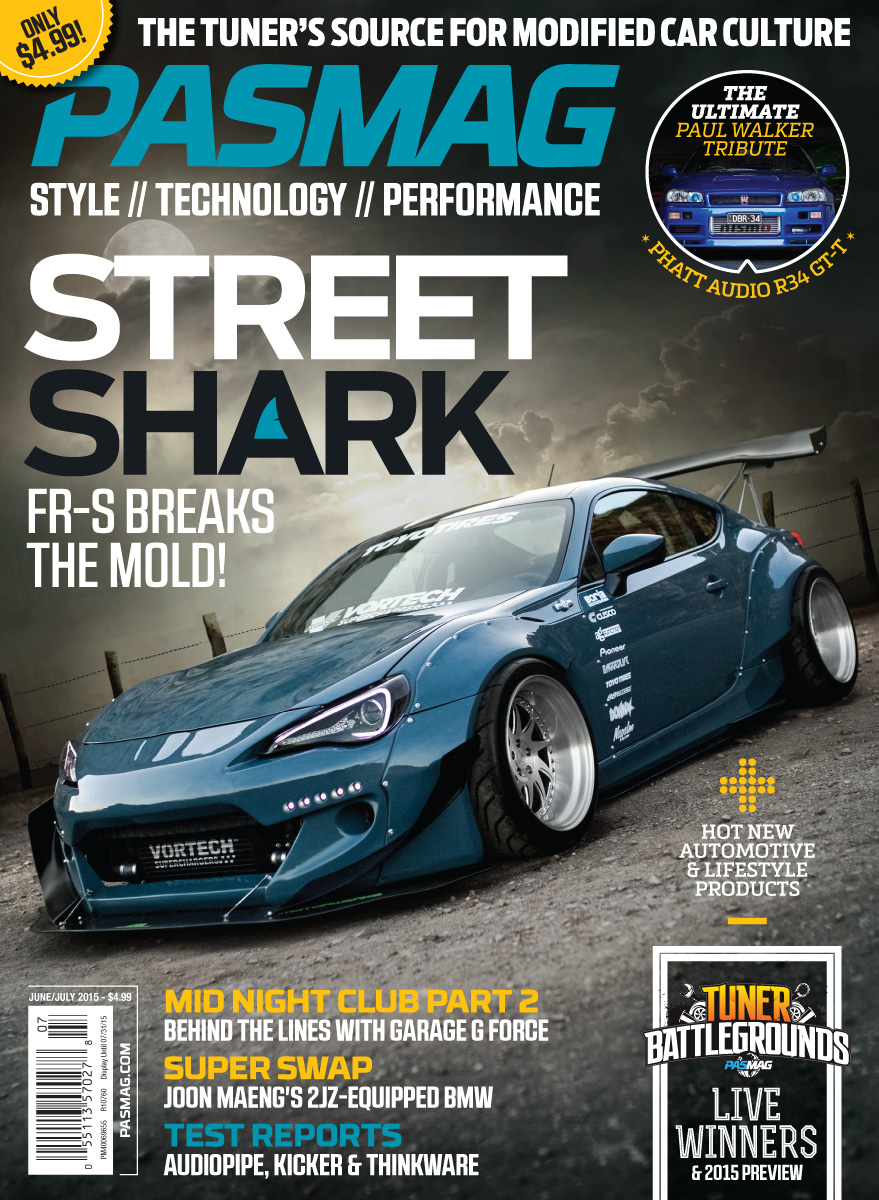 Photography by Shoot For Details