Photography by Giancarlo Pawelec / AutoMotoFoto
---
Wagons and five-doors seem to get all the attention at car shows. Perhaps it's because they're different, or maybe it's because the people who build them are braver than most.
It's easy to make these things look lame. Clearly, nobody thought that when they spotted Ryan Schmidt's 2006 Mazda at TNT. It's a great platform to begin with, but Schmidt went above and beyond to make his wagon stick out from the rest. The story here isn't so much about all-out performance as much as it is a well-balanced driver that oozes style. He is, after all, part of the Attention Whores and Grounded Conceptz crew, so to that end, this grey and green creature sits low and neat thanks to a set of KW V2 coilovers and Dominant Engineering camber arms, which are kept tight via Tri Point end links, a rear sway bar, and strut bar. The rest? Well, just feast your eyes, inside and out.
Schmidt's color scheme is much more than meets the eye. For starters? That's not a wrap – each panel on his car, including the Poly Garage Vary front lip and side skirts were given the plasti-dip treatment in "hyper titanium satin pearl." His wheels? The XXR 551s were sent to Stripping Technologies for a fresh, nuclear green powder-coat, then his headlights, side markers, and reflectors were smoked or blacked out.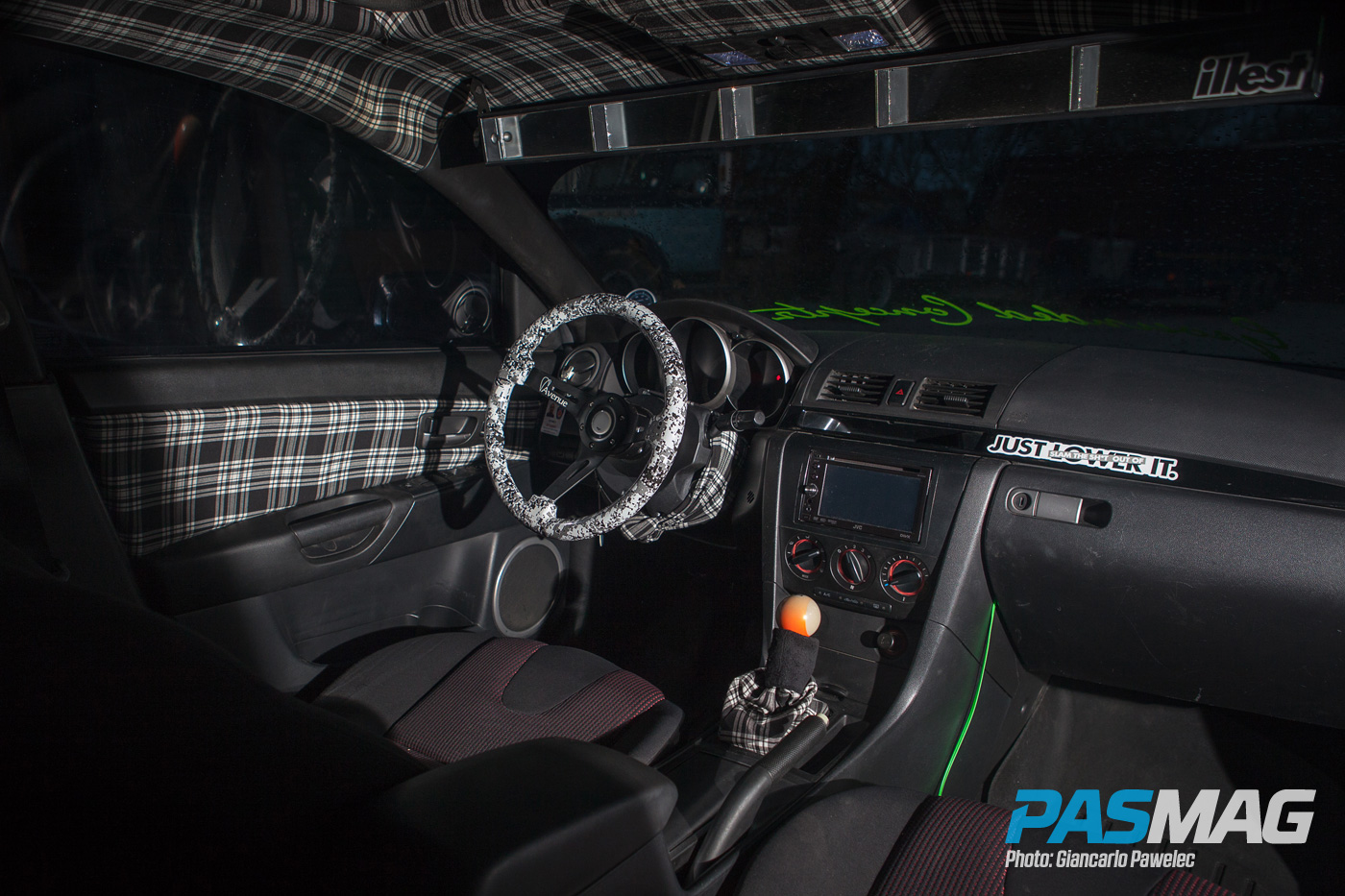 Interior design: Here's something you don't see every day… Schmidt broke the trend and dressed his door panels, shift boot and headliner in grey/black/white plaid, and matched it with his grey digital camo Avenue Performance steering wheel. It begs the question why more people don't do it? Perhaps we'll see more of this in the future. He also carried the plasti-dip them inside on his A, B and C pillars, and shifts are executed comfortably and with authority by way of his pool ball shift knob.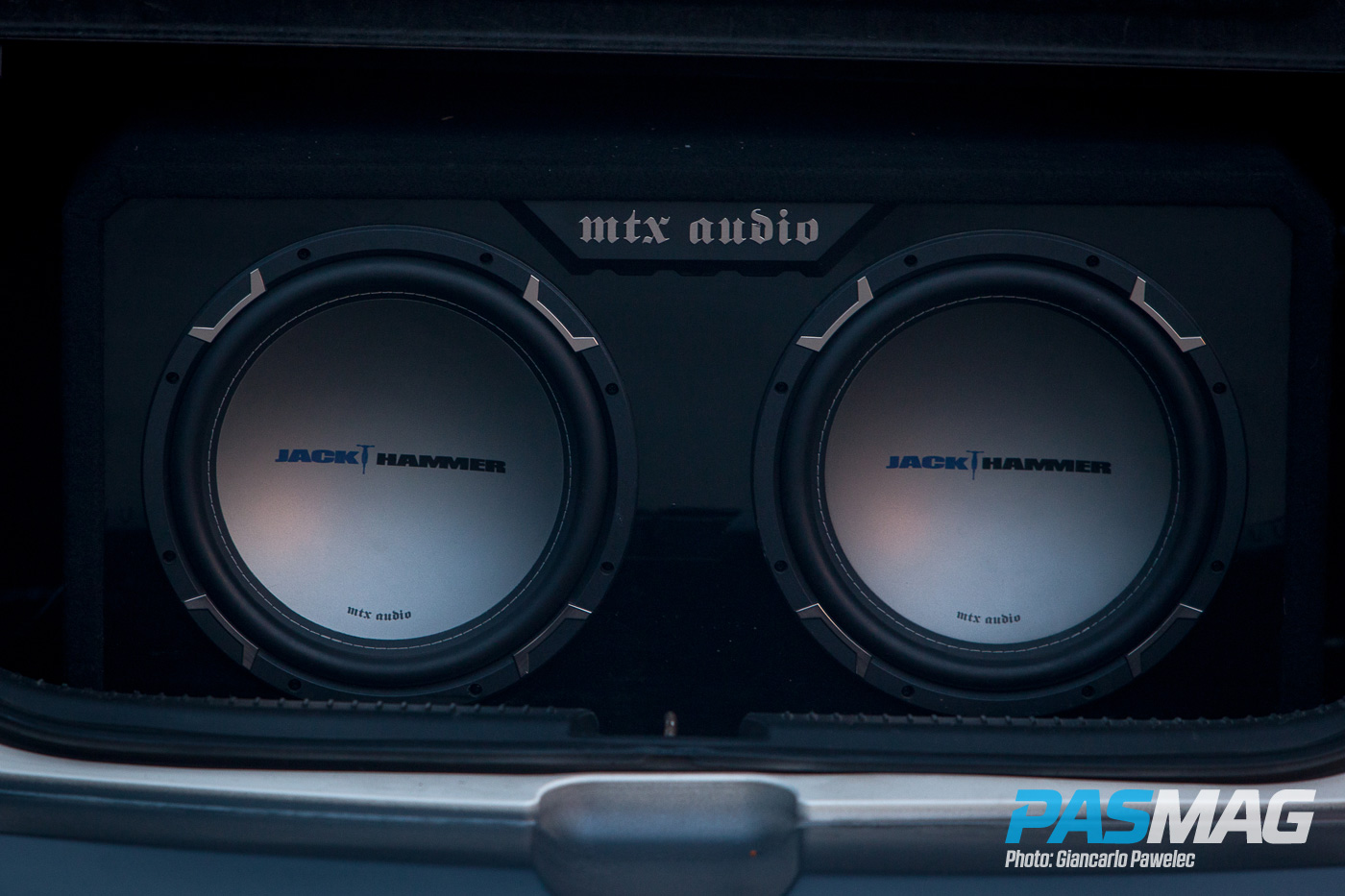 Back punch: Hypothetical situation: You have large amounts of real estate in the trunk of your 5-door wagon. What do you do? Load it with back-pounding audio, of course! Schmidt decided his grey and green monster would sound like one too, so a 1,200W Pioneer GM-D8500M monoblock amp drives two MTX 12-inch JackHammers in the back, paired with four JBL GTO 8628 speakers, all controlled and monitored via a JVC double-DIN head unit and volt gauge.
#TBGLIVE Event: Niagara Tuner & Truck (TNT) Expo: Firemen's Park, Niagara Falls, ON (June 8, 2014)
Votes: 62% of the popular vote
ESSENTIALS // Owner: Ryan Schmidt, Vehicle: 2006 Mazda3, Location: Whitby, Ontario. Canada, Vehicle: 2006 Mazda3, Engine: Mazda 2.3L I-4, Horsepower: 140 HP, Car Club: Attention Whores
ENGINE // Raised engine, Injen cold air intake
WHEELS / TIRES / BRAKES // XXR 522 wheels w/ Nuclear Green powder-coat by Stripping Technologies - 18 x 9.5 +38 (f/r), Falken FK-452 tires – 215/35 R18 (f), Nankang NS2 tires – 215/35 R18 (r), 5 mm rear spacers, VMS 60 mm extended lugs, Cross-drilled & slotted brake rotors (f/r)
SUSPENSION // KW V2 coilovers, Dominant Engineering camber arms, Strut Bar, Tri Point (rear sway bar, end links)
EXTERIOR // Poly Garage Vary Front Lip, Open mouth grille, BWR bumper quick release, OEM side skirts, Side molding delete, Rear wiper delete, Mazda CX–7 stubby antenna, UK-spec rear fog lights, Custom painted headlights, 6000k HID lamps, 5% tint all around, Blacked-out (side markers, reflectors), lasti-dipped exterior w/ hyper titanium satin pearl
INTERIOR // Avenue digital camo steering wheel, NRG (quick release, slim hub), Piano black trim insert, Plaid (wrapped headliner, door panels, stitched shift boot), 5-panel wink mirror, Plasti-dipped A,B,C pillars, Pool ball shift knob
CAR AUDIO // JVC double-DIN head unit, Pioneer GM-D8500M 1,200W monoblock amplifier, JBL GTO 8628 speakers (4), Volt gauge, Optima YellowTop battery
SPONSORS // Grounded Conceptz, Stripping Technologies, Exclusive Wheel and Tire
Ryan Schmidt's 2006 Mazda 3 is featured in PASMAG #131 (June/July 2015), on newsstands on June 1, 2015
www.pasmag.com/subscribe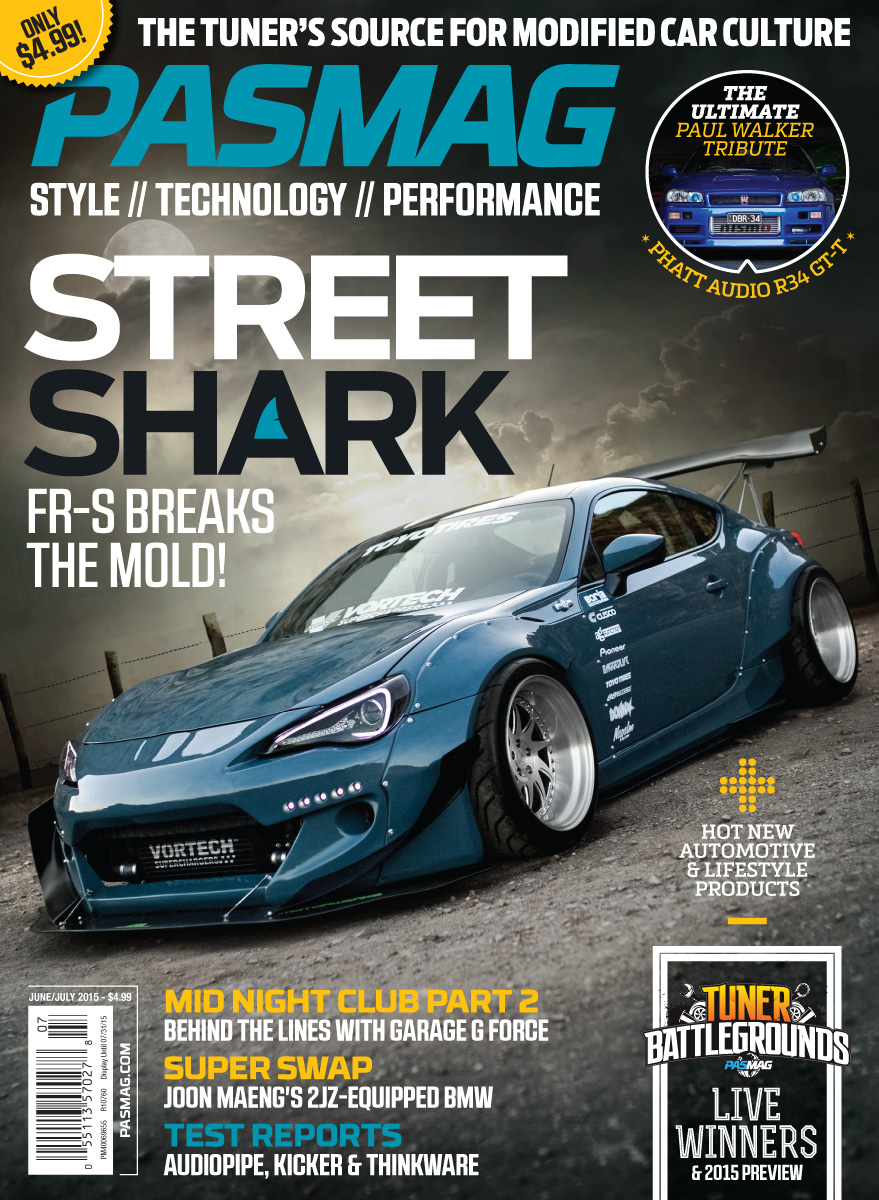 Contributor: Giancarlo Pawelec / AutoMotoFoto