Photography courtesy of Cadence Sound
---
This car audio demo vehicle follows the simplest of formulas – start big and go bigger! The first part was easily accomplished by using a full-size van for this project. In this case, it's a 1996-2003 Mercedes-Benz Vito with the 140 hp gasoline engine; and, its smörgåsbord of interior space has become a veritable show-stopper for Cadence Sound System and Xylux Distributions.
Xylux is actually the Australian distributor for Cadence Sound Systems, which is located in Howell, NJ, and the ones responsible for this project vehicle. Apparently, our Aussie friends go crazy for body movin' bass makers and Xylux delivers.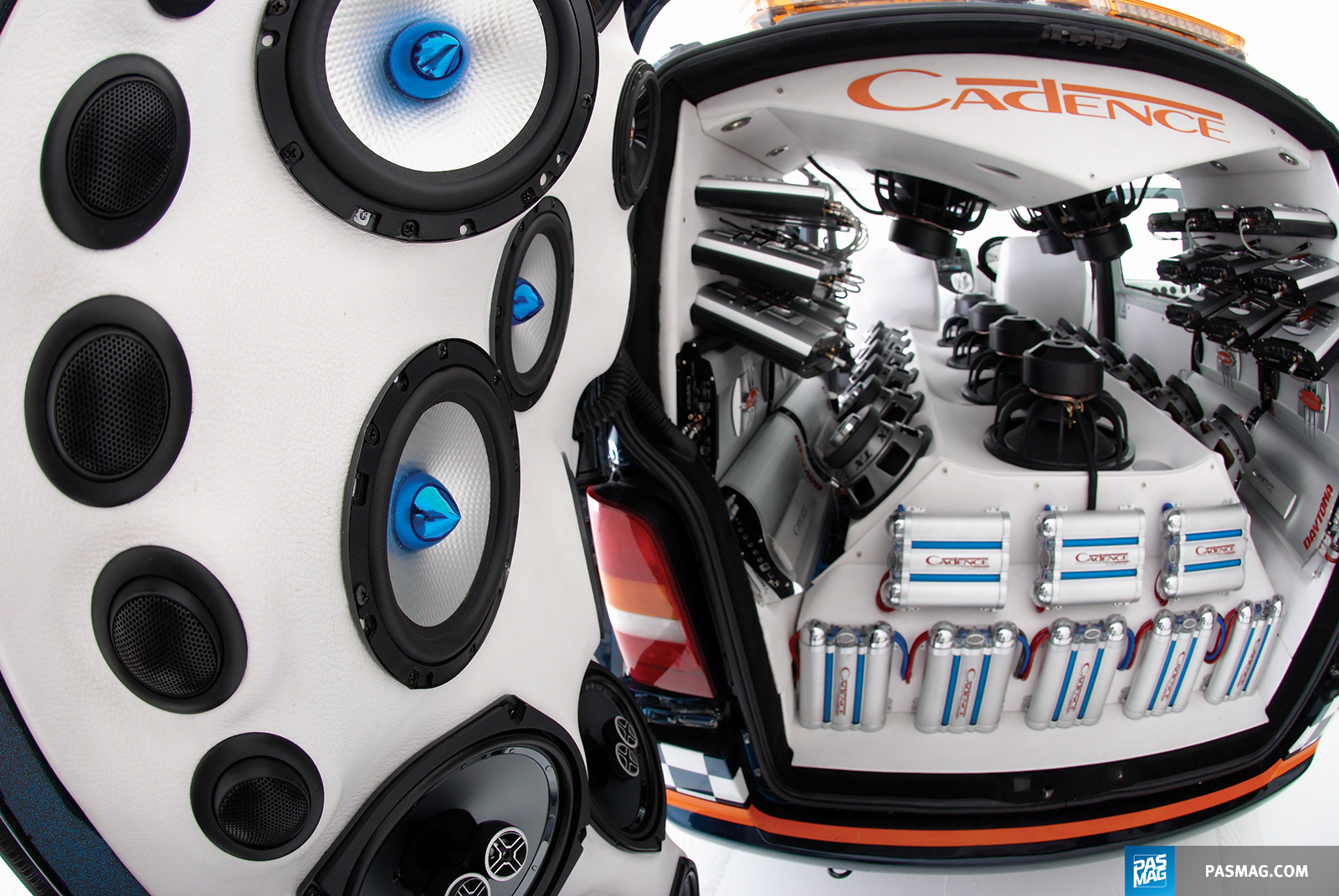 "Our last Cadence demo van was an ambulance," says Damien Caputo, the guy responsible for coordinating this build-up. "We wanted to carry on that theme a bit." But, while there's no gurney-like bed of amplifiers like its predecessor had, this newer Cadence "Divvy" demo van also got stuffed with as much I.C.E. as could fit inside.
Such an undertaking adds significant weight to any vehicle, much of the versatile Mercedes van, including the walls, ceiling, doors and hinges were all reinforced. Stiffer heavy duty rear springs from Suspension City in North Melbourne also got installed to prevent bottoming out, not that the vehicle is driven on a regular basis.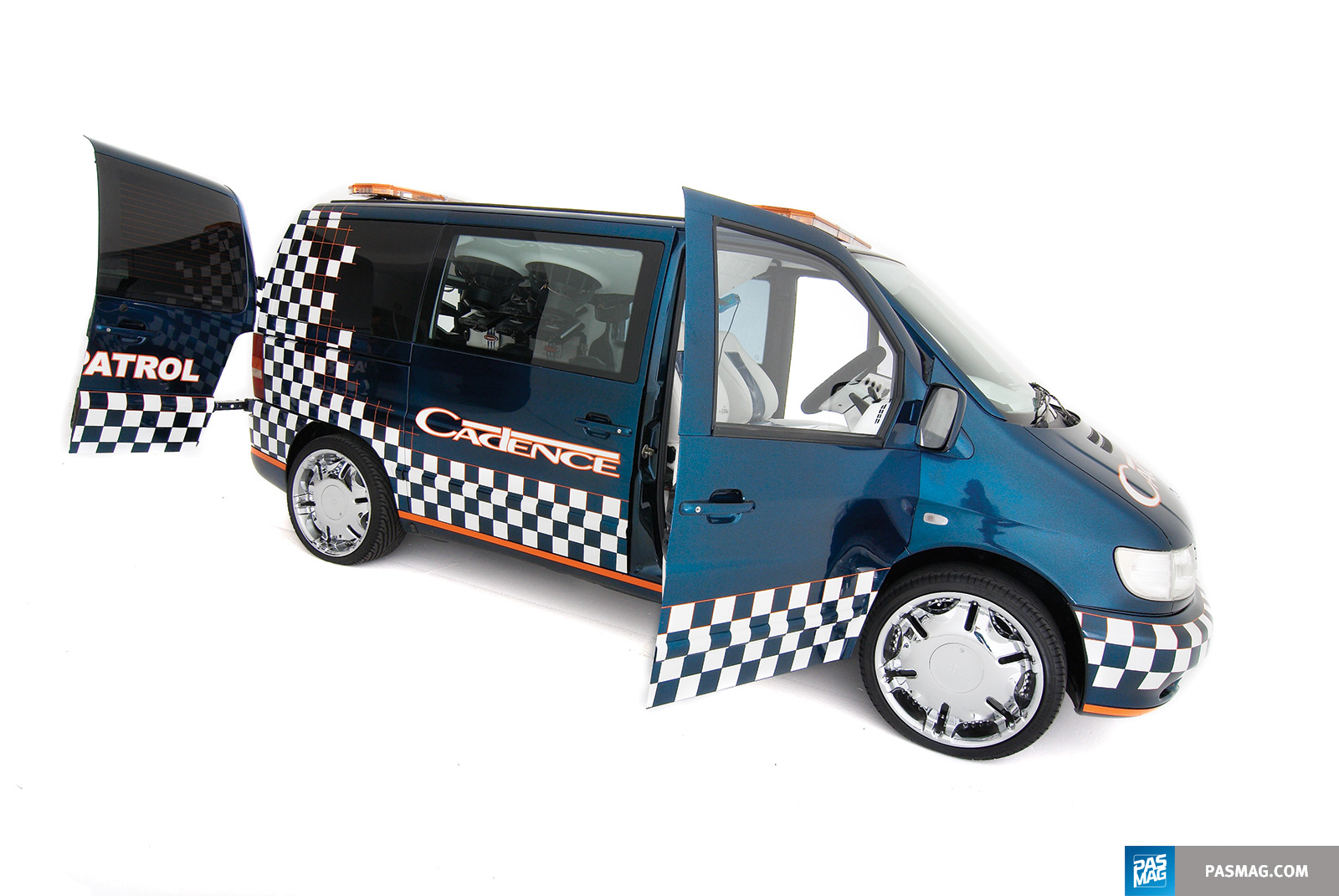 The body and paint work done by Enhanced Panel Services (in Tullamarine) and the 20- x 8.5-inch chrome Jestalt 3 wheels and tire combo is courtesy of Bob-Jane T-Mart (in Preston). Of course, Cadence coughed up the electronics that make this demo vehicle what it is – a rolling product showcase.
When those rear doors are opened, it's obvious the installers had their work cut out for them. But, believe it or not, it only took three months to get the entire project to this stage says Caputo. If the police-inspired checkerboard-on-blue exterior doesn't make it look official enough, the front and rear light bars and bass patrol moniker on the rear doors should tell you this van means business.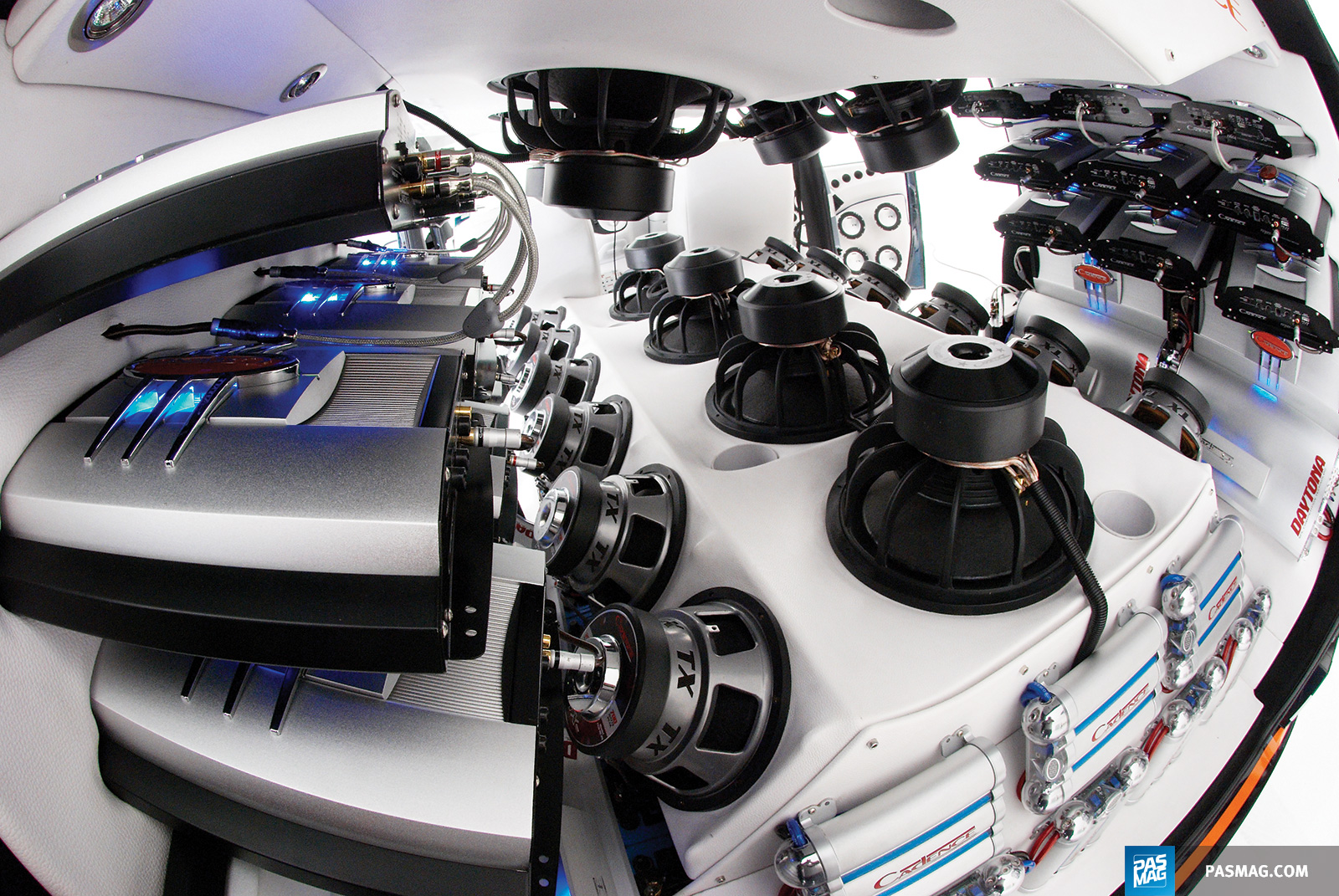 Kamil Moussa's Erupt Concepts (in Reservoir) is the outfit that took on the extreme audio installation. To give you a brief intro/overview, there are 24 batteries supplying 28 amplifiers with enough voltage for 168 speakers. Total system power is in the neighbourhood of 17,120 Watts RMS, which is more than enough to divide a community. And, more than the Cadence ambulance had in all respects.
As for interior mods, the extreme audio install dictated all kinds of special provisions for mounting speakers, amps and the like. That said, practically every square inch of interior has been painted white to help the products stand out; and, the original seats have been re-skinned with white and blue metallic vinyl to match the exterior. A custom instrument panel also made its way into the vehicle.
The system source is a Pioneer DEH-P9850BT head unit unit that's mounted in the factory location and comes with built-in Bluetooth technology for hands-free calling, satellite radio, iPod connectivity and more. Signal processing is taken care of by an half dozen Z-DRIVE 6 six-channel 10 Volt line drivers and some Cadence QXR-7 crossovers.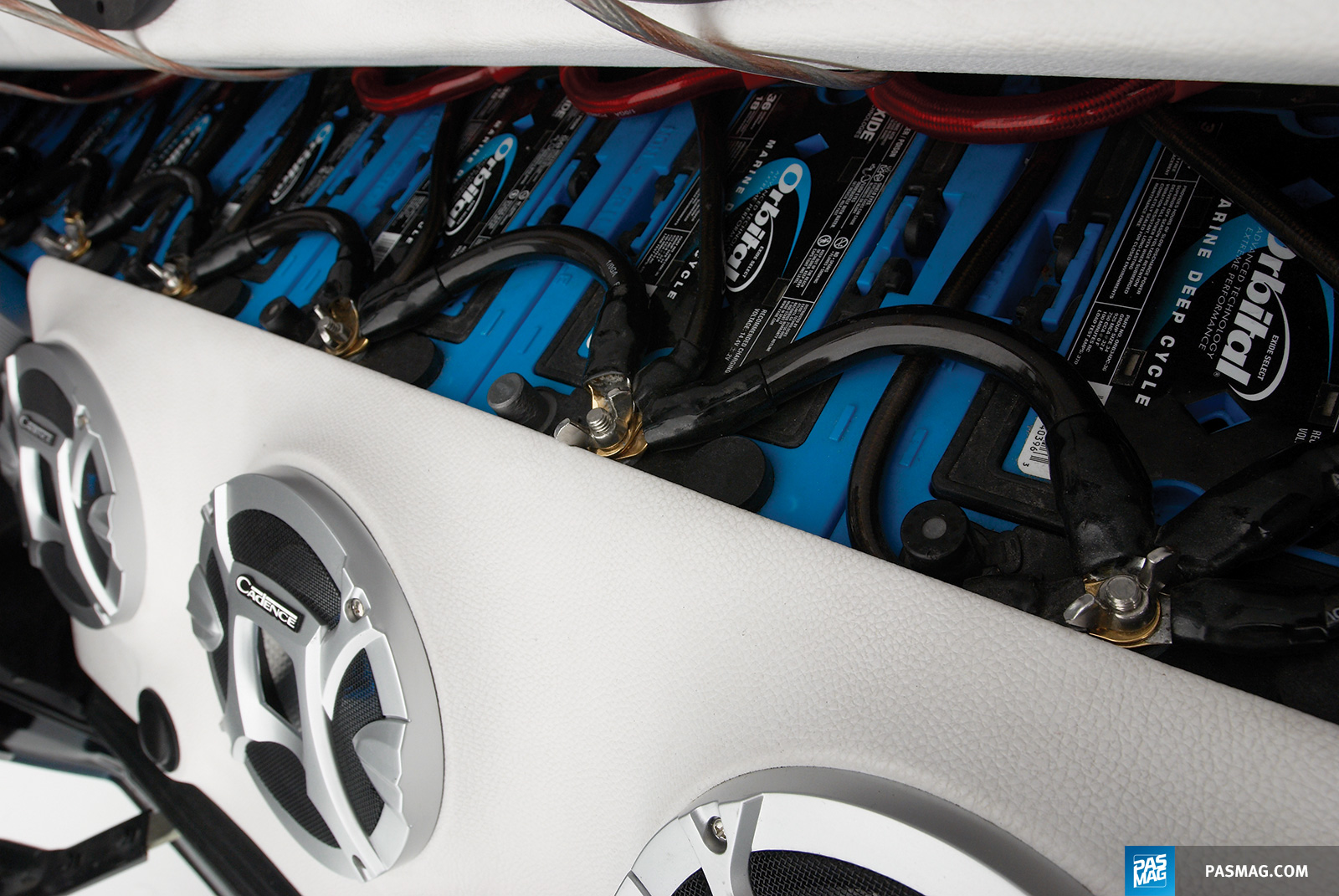 The two dozen Exide marine batteries reside beneath the main speaker enclosure, which takes up virtually the entire floor space, and rely on a custom 4x100 Amp battery charger and eight 2.5-farad stiffening capacitors to keep them all topped up. The latter components are clearly visible on the aft portion of the giant fixture, which almost looks like a big four-carb V-16 engine sitting inside the van thanks to the two rows of 10-inch TXW subs that run down both sides. Functioning as midbass woofers, each 10-inch TXW sits inside its own sealed enclosure tuned to 120 Hz with four more 15-inch Cadence Beast Master subs sitting between the two rows in their own ported enclosures tuned to a low 30 Hz. There are four more 15s found in a ceiling-mounted custom enclosure for real organ-shaking bass.
Full range speakers are also plentiful here. To this end, a large selection of six-, 6.5- and 6x9-inch Cadence separate and coaxial speakers belts out the majority of sounds. These have been placed just about anywhere and everywhere there was enough space. For example, each front door panel houses no fewer than seven tweeters and drivers mounted separately. Seemingly showcasing the rest of Cadence's speaker line-up, each rear cargo door features eight tweeters, four TX series coaxials, four CVL series triaxial 6x9, plus three FX series drivers.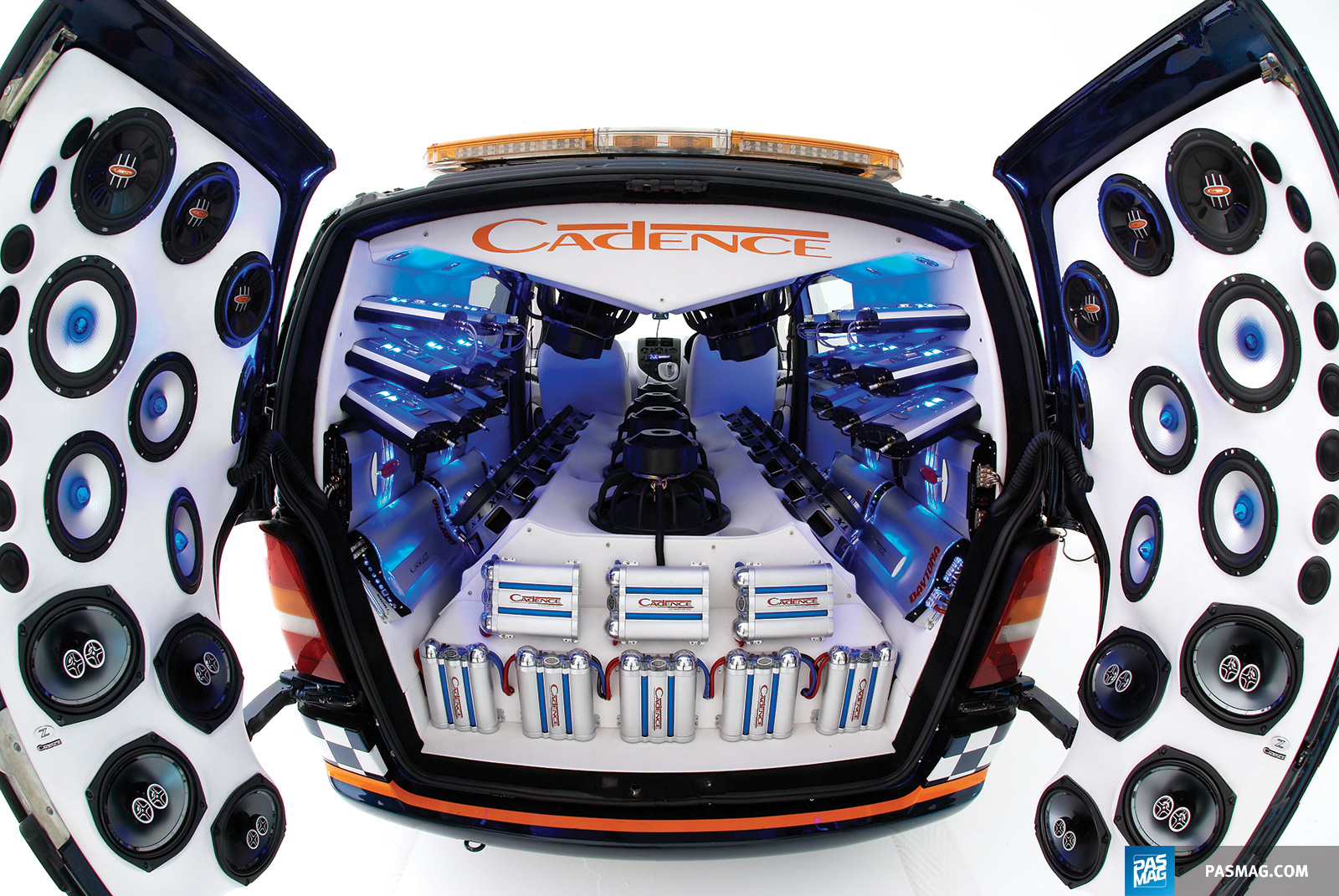 Another key feature of this install is the way in which the 28 amplifiers have been incorporated into the sides of the interior à la floating shelf style. There are actually four Cadence Daytona2500 amplifiers, each providing WRMS for the big subs to ingest, that make up the bottom rungs. Amazingly, two dozen more Cadence FX amplifiers are found nearby angle- and flush-mounted to the interior walls in space-saving fashion; while all wiring, fuses, distribution blocks, crossovers and such are hidden from view.
So, with nearly $130,000 in parts and labour combined, "This vehicle has more sound equipment than most nightclubs, is twice as loud, and chicks dig it!" Caputo says. "There's nothing else in the world like it, so there was nothing to base it on other than our last vehicle. Kudos to Rick van Bree for coming up with such an outstanding system and vehicle graphics design."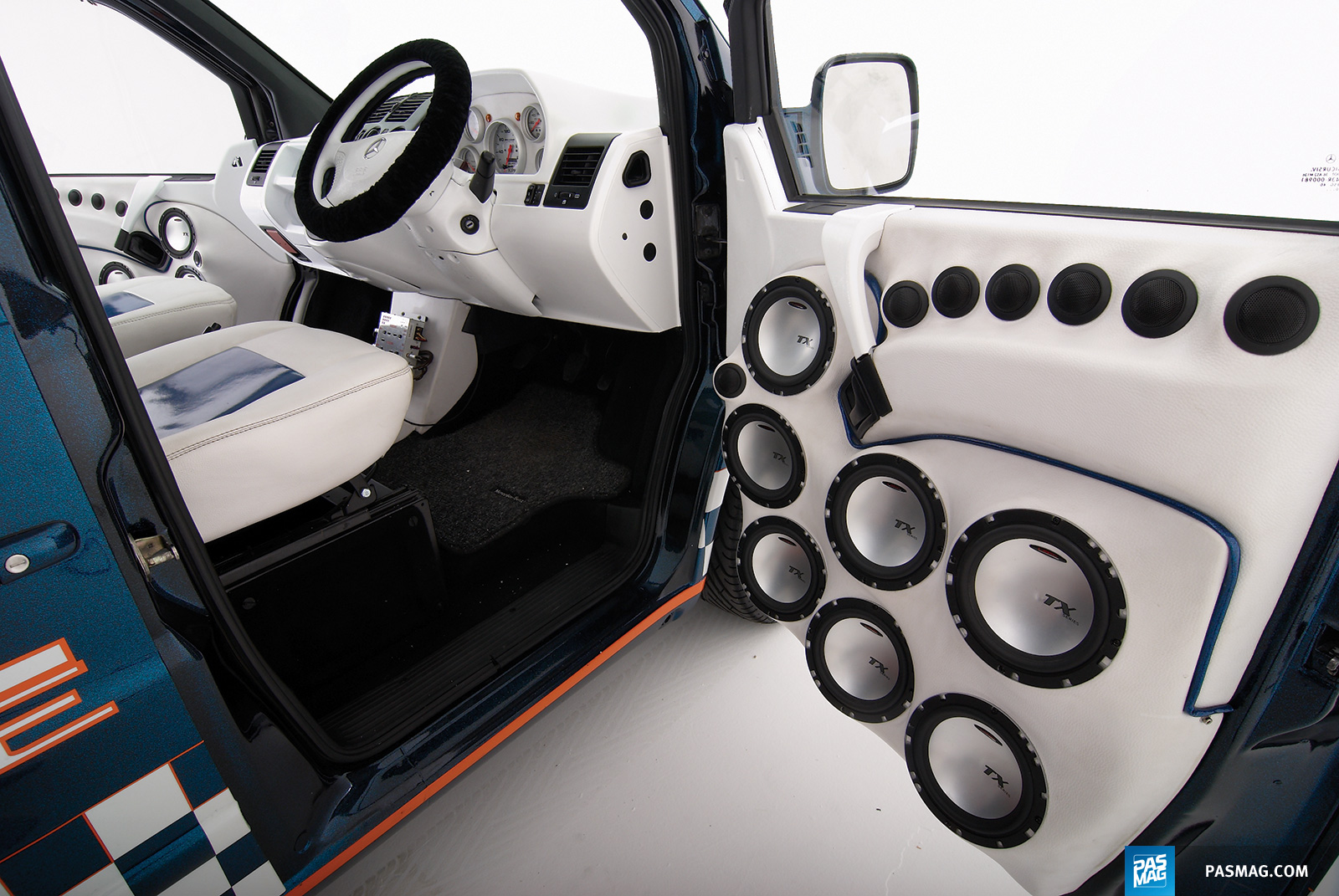 Caputo sends special thanks to Jake and Steve from Cadence in the USA for their continuing support, Brandon Issel his tireless efforts in showing the vehicle around the country and Steve Dellevergini "for letting us spend his money. We hope he's recovered from paying this bill."
Australia is a big continent with an auto enthusiast community that's second to none. The fact the Cadence Divvy van is making waves on both sides of the world should come as no big surprise. It probably won't break any SPL world records, but it's definitely capable of some big bone-shaking bass. And, that's always a crowd pleaser!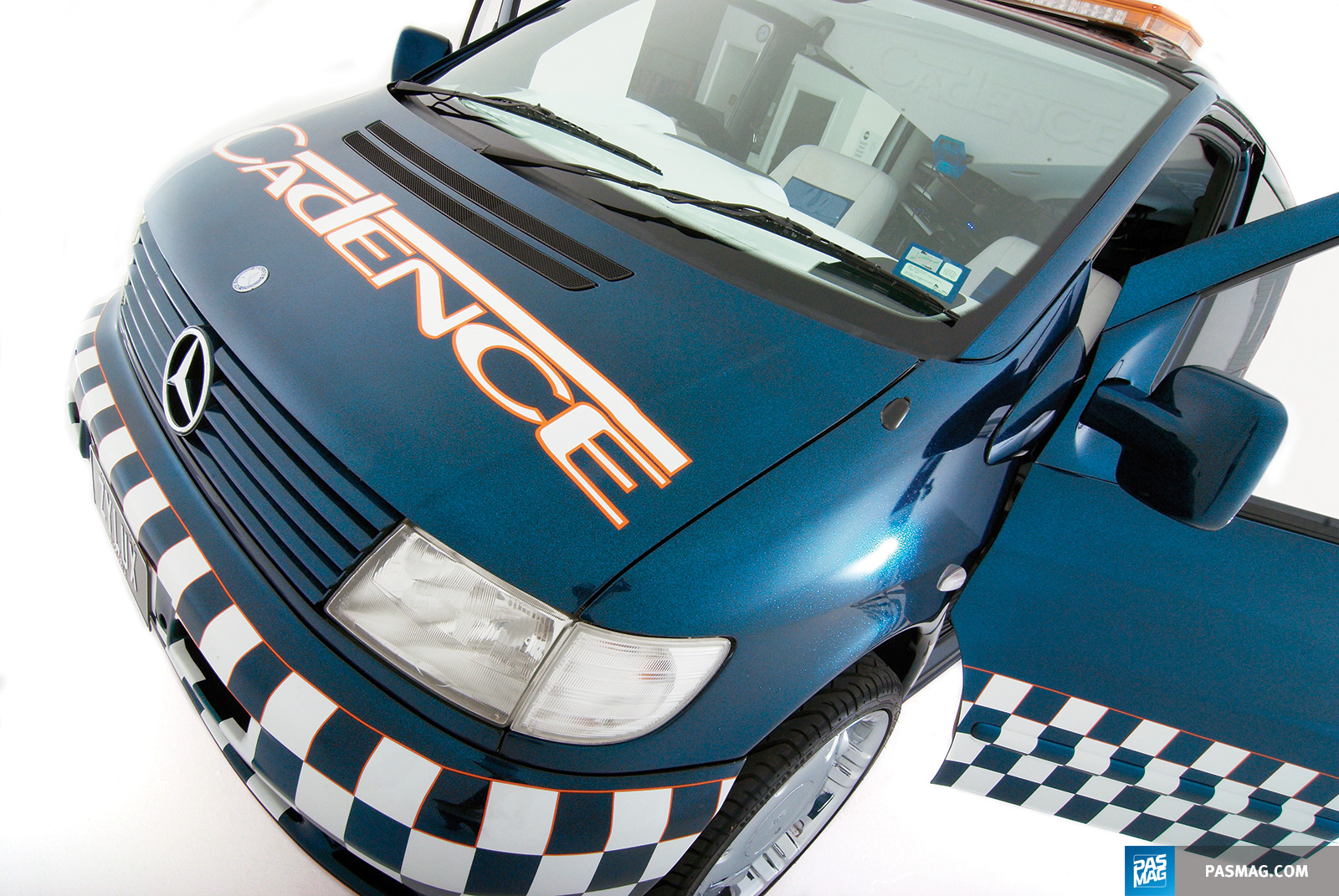 ---
ESSENTIALS
Owner: XYLUX Distribution
Location: Alexandria, New South Wales (AUS)
Vehicle: Mercedes-Benz Vito Van
AUDIO / MULTIMEDIA
Pioneer DEH-P9850BT head unit
Cadence QXR-7 crossovers
Z-DRIVE6 line drivers (x6)
Exide Marine batteries (x24)
Custom 4x100 Amp battery charger
Cadence FX amplifiers (x24)
Cadence Daytona2500 amplifiers (x4)
Cadence Beast Master 15-in. subs (x8)
Cadence TXW 10-in. mid woofers (x12)
Cadence 6-, 6.5- and 6x9-in. coaxial/separate speakers (x many)
Cadence CAP-2DRN 2.5 Farad capacitors (x8)
Custom I.C.E. installation by Erupt Concepts
EXTERIOR
Candy Blue over metallic custom paint by Enhanced Panel Services (Tullamarine)
WHEELS / TIRES
Jestalt 3 chrome wheels - 20x8.5-inch (f), 20x8.5-inch (f)
SUSPENSION / BRAKES
INTERIOR
White and blue vinyl reupholstery
Custom instrument panel
Customized interior panels and I.C.E. installation
PHOTO GALLLERY