Photography By Devin Lefevre
---
Every once in a while, some car will crop up in motorsports where fans and other racers just simply ask "why?" And that rings true with what is happening in the drift world because as a young motorsport no one really knows the unwritten rules yet. The sport is still forging an identity and as a result, some weird cars have popped up: RWD Integras, Scion xBs, El Caminos and now JIC is showcasing something that really no one expected or thought possible.
But still JIC Magic USA owner Jon Kaneda thought it would be possible to build a Porsche drift car, make it competitive and showcase the JIC CROSS line of parts for the car. Kaneda has owned Porsches for many years an recently they used their knowledge of dampers and suspension to tackle a variety of models from '86-'08!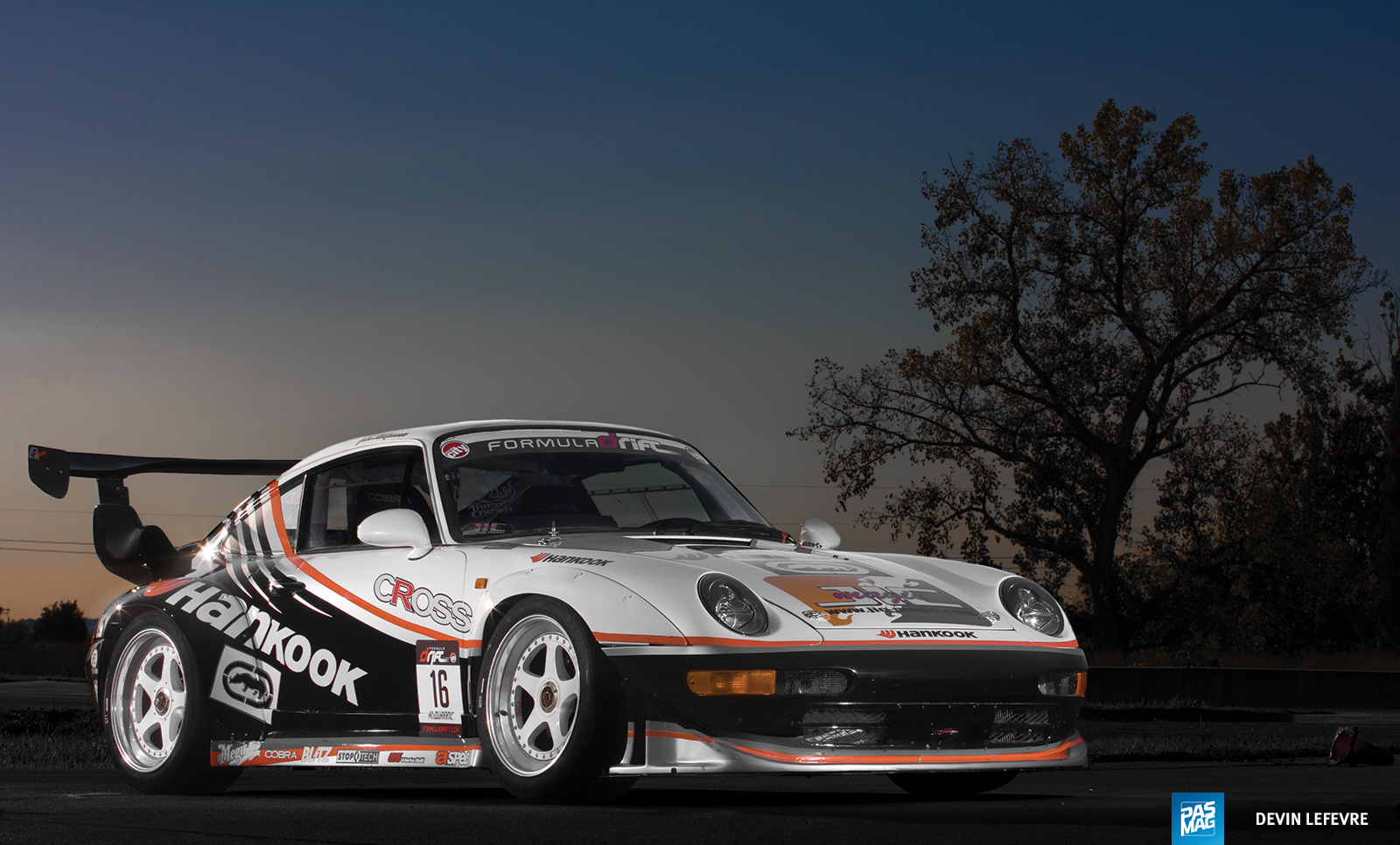 The guinea pig for this project is a Euro-spec 993 RS GT2 that was going to receive a real work-out to be a player in the Formula DRIFT series. The shell was sent off to M1 Fabrication where a complete competition roll cage was added and the chassis stiffened. Then over to Sixteen Works where a set of GT2 EVO2 fender flares were added in addition to the front bumper and extended APR rear wing. After a re-spray the car was completely wrapped in JICs trademark stripes with some Hankook flavor since they are the technical partner when it comes to delivering the proper tire for the job.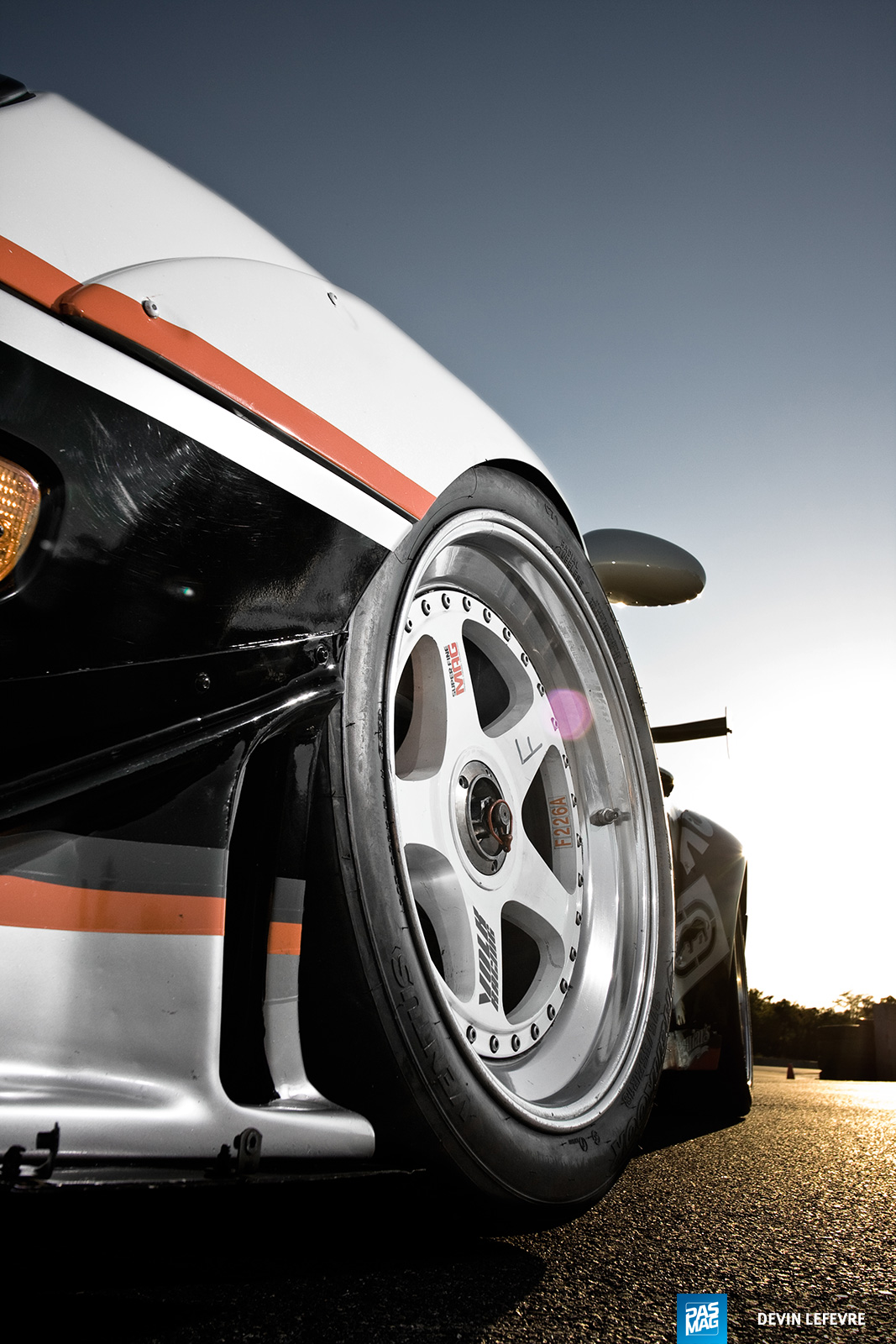 The tire of choice for Kaneda was the Hankook Z212. An ultra high performance tire, that provided the delicate balance for grip and slip needed. Out back is a staggering 315/30ZR18 tire slipped onto an 18x12-inch CROSS wheel. In the front are 18x10 inch wheels tucked under the flares with 265/35ZR18 tire to control the counter-steer. Behind the white 5-spokes lurk 4-piston StopTech brakes clamping down on 355mm rotors helped out by stock Brembo 4-pots in the rear.
When it comes to controlling the suspension characteristics, this is where JIC excels. Under all four corners are the JIC Magic CROSS TAR coilovers with 14kg up front with 18kg in the rear. The sways are a Ziel design both front and rear with a thick, rigid construction connected to pillow ball bearings. The control arms are a blend or ERP and JIC gear linking up one of the more advanced designs in automotive history. The steering rack has been modified by JIC for some extreme angle in conjunction with JIC tie rods with rod end designs and hub modifications by Kaneda himself. The result is a car that boasts 48-degrees of steering angle.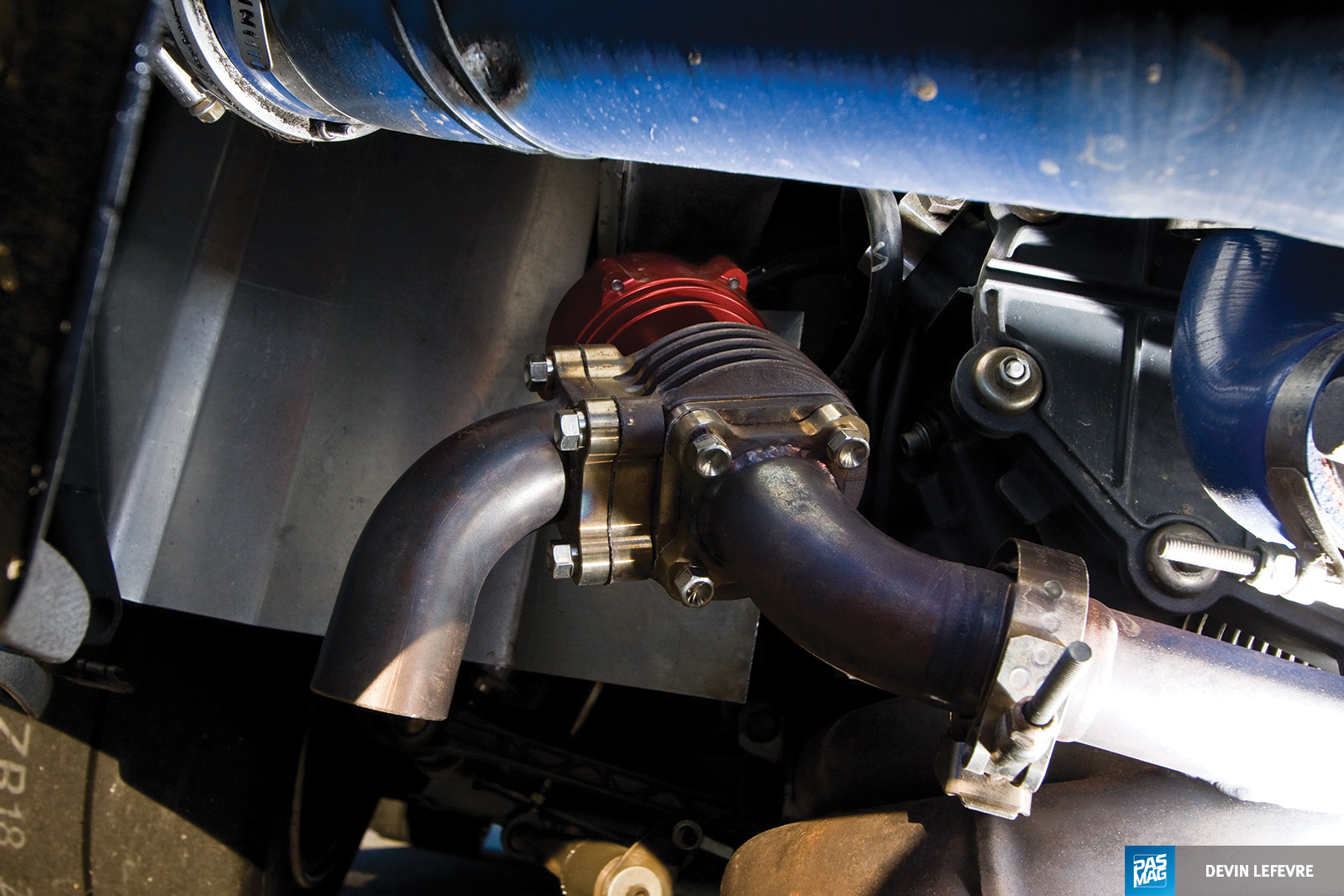 Under the lid is Porsches venerable 3.8L flat-6 boxer motor that is amped up by a couple heavy turbos. Kanead insisted on doing most of the engine work in-house, reworking the valvetrain, building a fuel system and intake specifically to his specs. The fuel channeled through the rail meets up with an AEM FPR and fires out 680cc injectors from RC Engineering. The turbos are a custom-spec IHI RX6 matter to a maze of custom Ziel piping, Ziel SS exhaust and regulated by TiAL 46mm wastegates. The end result was over 500whp but since tweaked to an estimated 650whp with 610lb-ft of torque flowing though a SPEC clutch and OS Giken LSD.
From the cockpit, driver Tyler McQuarrie has made some great moves in this car. Wrapped in a Cobra Suzuka and Sparco harness McQuarrie has tackled double-duty in this car for both drifting and time attack. And although competitive in drifting, the car has set some records when set up for grip. It still holds the track record at Summit Point raceway in West Virginia and knowing Jon and the whole JIC crew, they will do whatever it takes to snatch it back should it fall.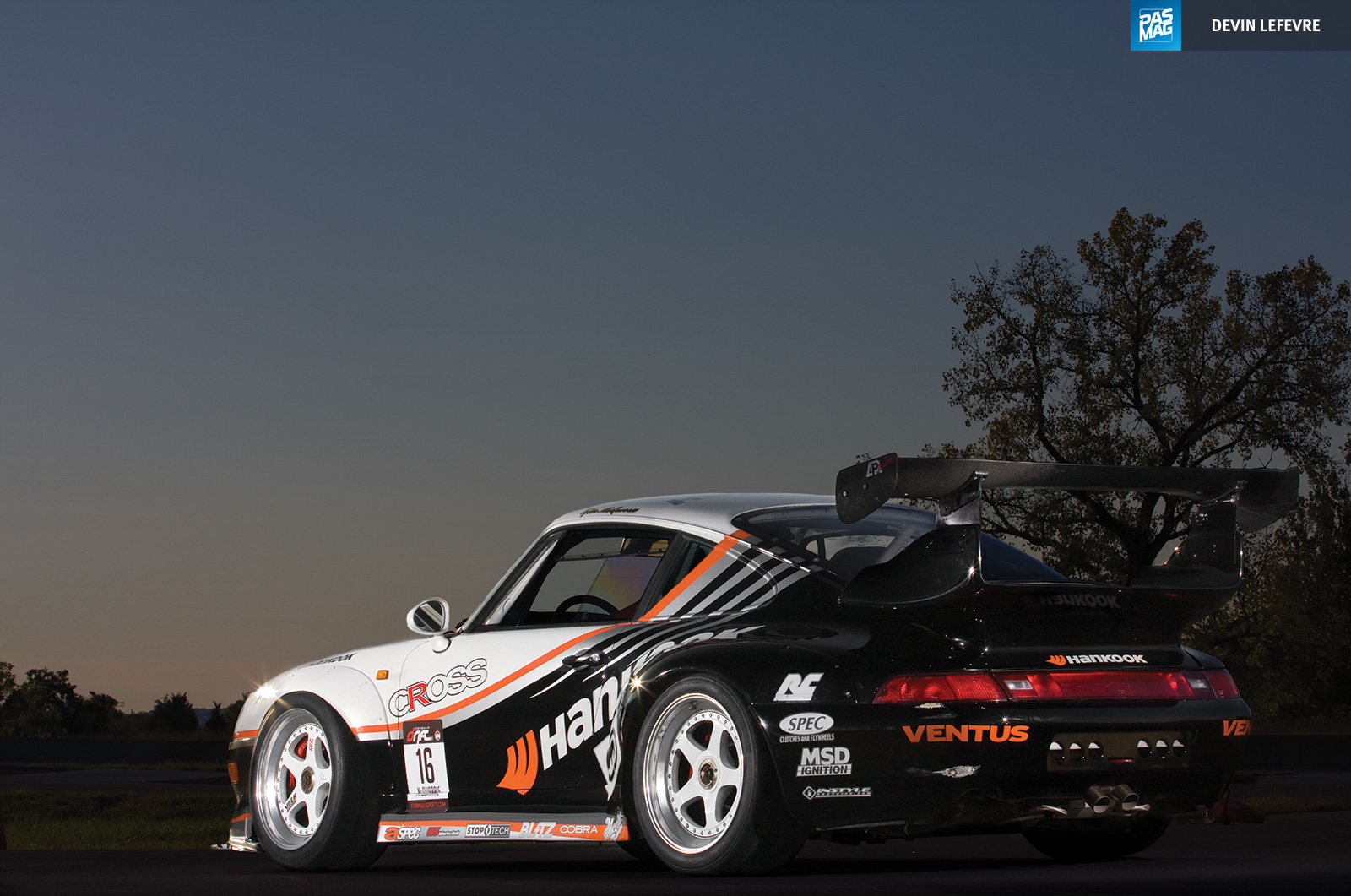 ---
ESSENTIALS
Owner: Jon Kaneda
Location: Downey, CA
Vehicle: 1996 Porsche RS GT2
Power: 650whp (est.)
ENGINE / PERFORMANCE
Ziel-built 3.8L
Ziel-spec IHI RX6 turbos
Ziel intercooler piping
Ziel exhaust header
Ziel intercooler
Ziel fuel rail
Bosch 660cc injectors
AEM FPR
TiAL 36mm wastegates
ENGINE MANAGEMENT
WHEELS, TIRES, BRAKES
JIC-Spec wheels - 18x10-inch (f), 18x12-inch (r)
Hankook Z212 tires - 265/35R18 (f), 315/30R18 (r)
Stoptech 4-piston / 355mm
SUSPENSION
JIC CROSS TAR coilovers, 14kg/18kg spring rates
Ziel sway bars
Ziel pillow-ball links
JIC Magic strut bar
JIC rear control arms
JIC tie rods
EXTERIOR
GT2 EVO front bumper
GT2 EVO2 flares
APR carbon fiber
INTERIOR
M1 Fabrication roll cage
Sixteen Works
Cobra Suzuka
Sparco 5-point harnesses
SPONSORS
Ecko
JIC
CROSS
Ziel
StopTech
RC Engineering
PHOTO GALLERY