Photography by Duy Nguyen
---
American muscle has been enjoying a bit of a renaissance lately in the form of some of the most powerful muscle cars ever produced from the factories of the big three that pioneered the U.S. pony wars of the '60s and '70s. Challengers, Chargers, Mustangs, and Camaros have all come back in a big way, with power numbers around 600 to 700 horses, but these monsters are a different breed from the solid-axled American metal of old. New Camaros are attacking the track and dancing around BMWs now, which isn't a bad thing – muscle just means something different now.
What about those old growling iron machines though? Would it be possible to bring a muscle car from the '60s up to '17 snuff, while keeping the spirit of American muscle intact? We weren't too sure until we stumbled upon Mike Heim's project that's been almost 30 years in the making.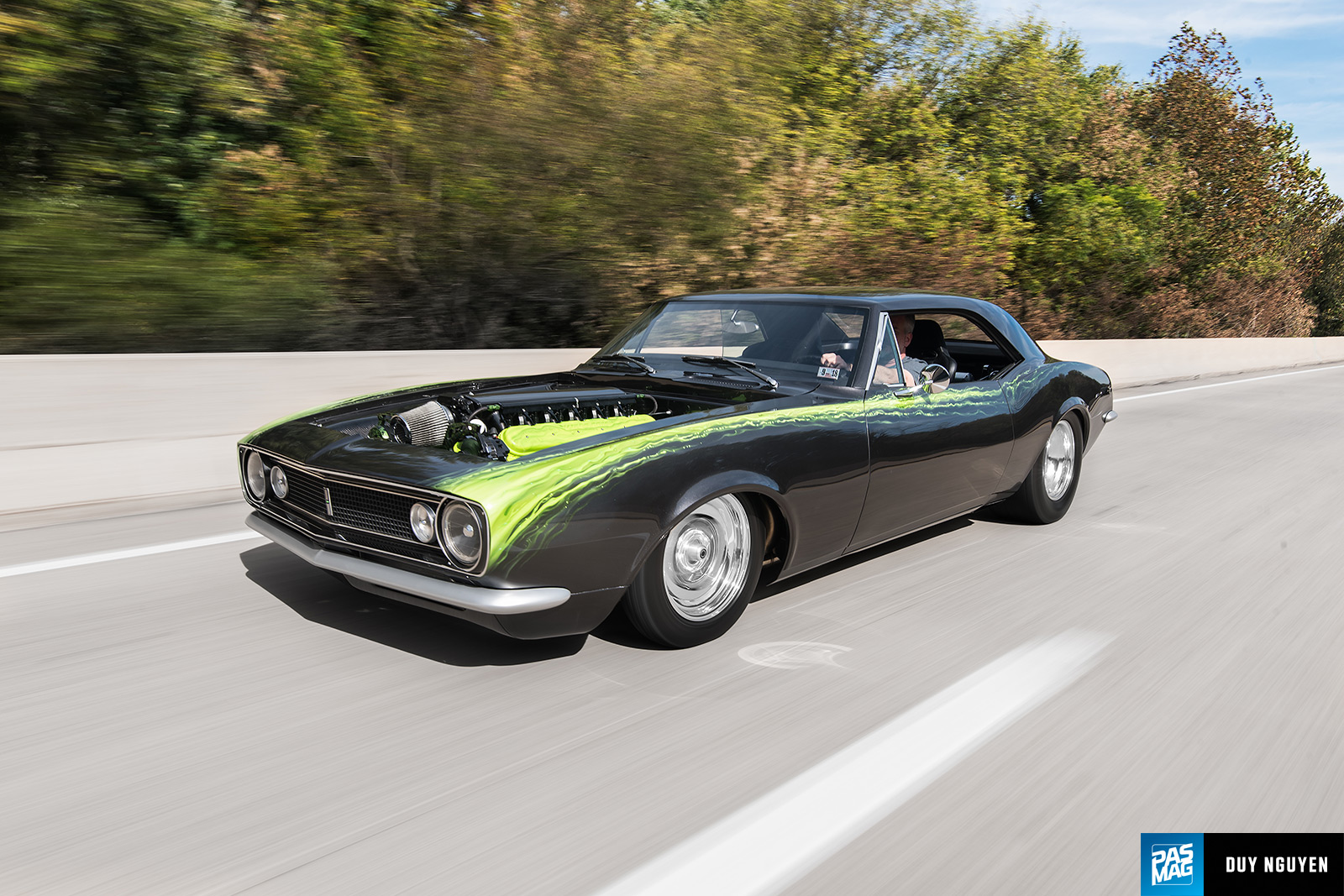 Heim's Camaro first came to our attention as it smacked me in the face at SEMA Show 2016. As anyone who's been to SEMA for business knows, the show is an absolute marathon, so if something makes you plant your feet, it's guaranteed to eventually result in a dropped jaw as well. On the pre-show media day, I cut behind the mammoth outdoor Ford presence to get around any traffic that may be lingering around, and as I passed by a line of cars, a flash of bright green caught my attention. From inside a crazy low and chopped Camaro shone an engine I had trouble recognizing. At first I thought it was a custom LS, but it was too long for that, and after counting the exhaust ports on each side of the engine, I realized that with six per side, I was looking at a 12-cylinder. This was my first run in with the V12LS.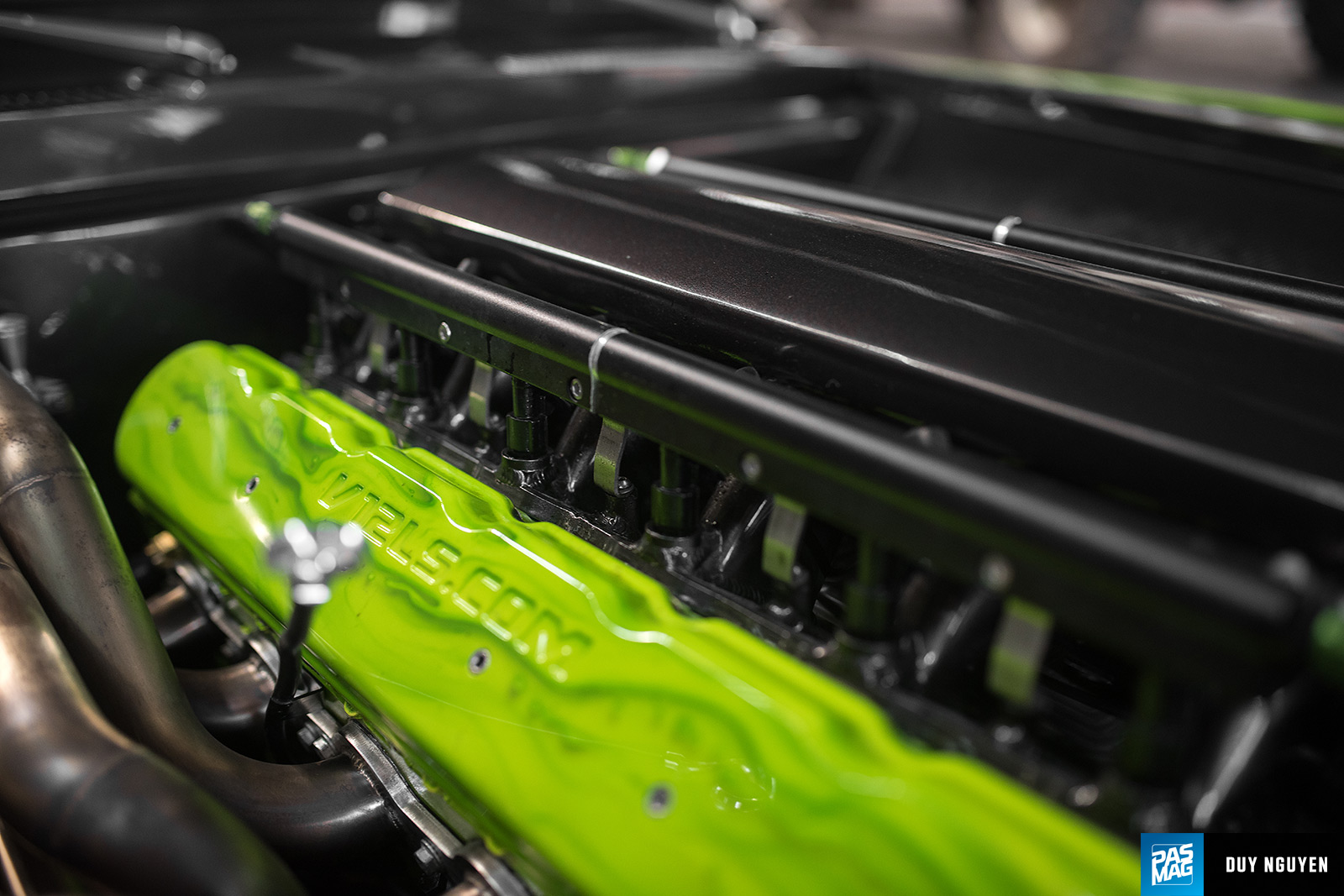 The V12LS is exactly what it sounds like – a V12 engine that's made from LS engine parts. This particular engine was the prototype for testing and development and used two LS1 V8s welded together. This 8.5-liter Frankenstein V12 utilizes a custom-designed billet crankshaft and hydraulic roller camshaft, both machined by Clive Cams in Melbourne, Australia, as well as heavy duty valve springs, custom copper head gaskets, and un-ported GM 241 cylinder heads, all fed by a custom single throttle body made by Mike Heim's shop; Quality Custom Rides (QCR). The total package, with a March Performance pulley system and a custom tune from Evens Tuning, is good for almost 800 horsepower and 600 lb-ft of torque. It's pretty much the most perfectly unique way to introduce a Camaro from '67 to the 21st century.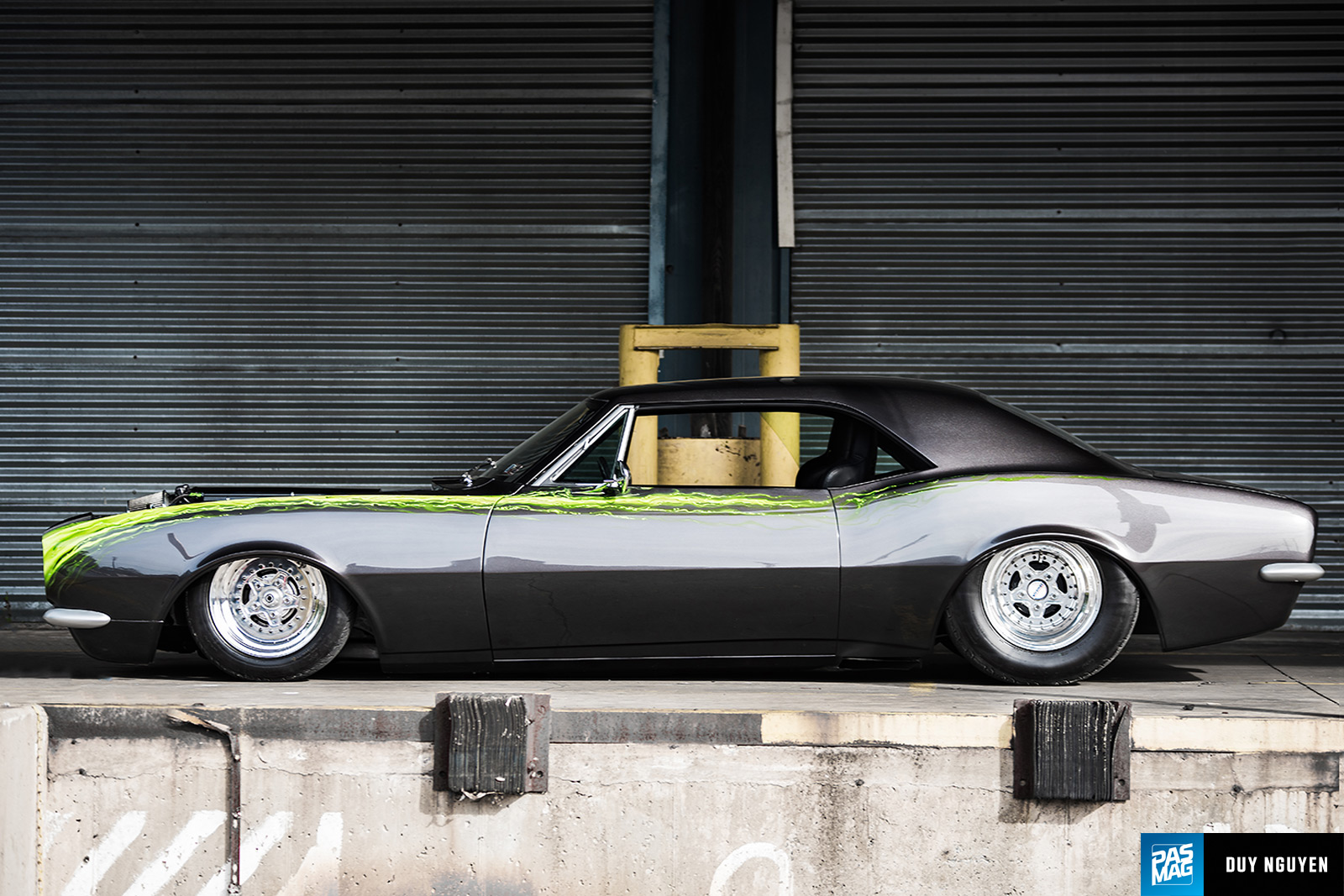 Mike Heim picked up the '67 Camaro as his first car in 1987. By 1991, Heim had built the car to a point he liked, sans engine. At QCR HQ, he and his team had tucked and narrowed the front and rear bumpers, chopped the roof by half, and performed a three-inch body drop over its vintage 15-inch Monocoque racing wheels, five inches wide up front, 10 in the rear, and enveloped in thick-walled Mickey Thompson radials. Some of the coolest work QCR had done to the car, however, were the doors. The handles have been completely shaved off and filled, so to get in now, Heim and his crew made it so you can pull back on the side mirrors to unlatch doors, which now swing out in suicide-style on both sides! Sadly, that's how the Camaro sat in the shop, covered up for over 20 years.
"I designed the car as you see it in 1991 without the V12LS motor, but did not have the time to build it," Heim explains. "For years, I just built other people's vehicles and never got the chance to build my own. I think it is an addiction that there is no cure for. I get great pleasure making customers happy by bringing new ideas to reality and having them get as excited as I do."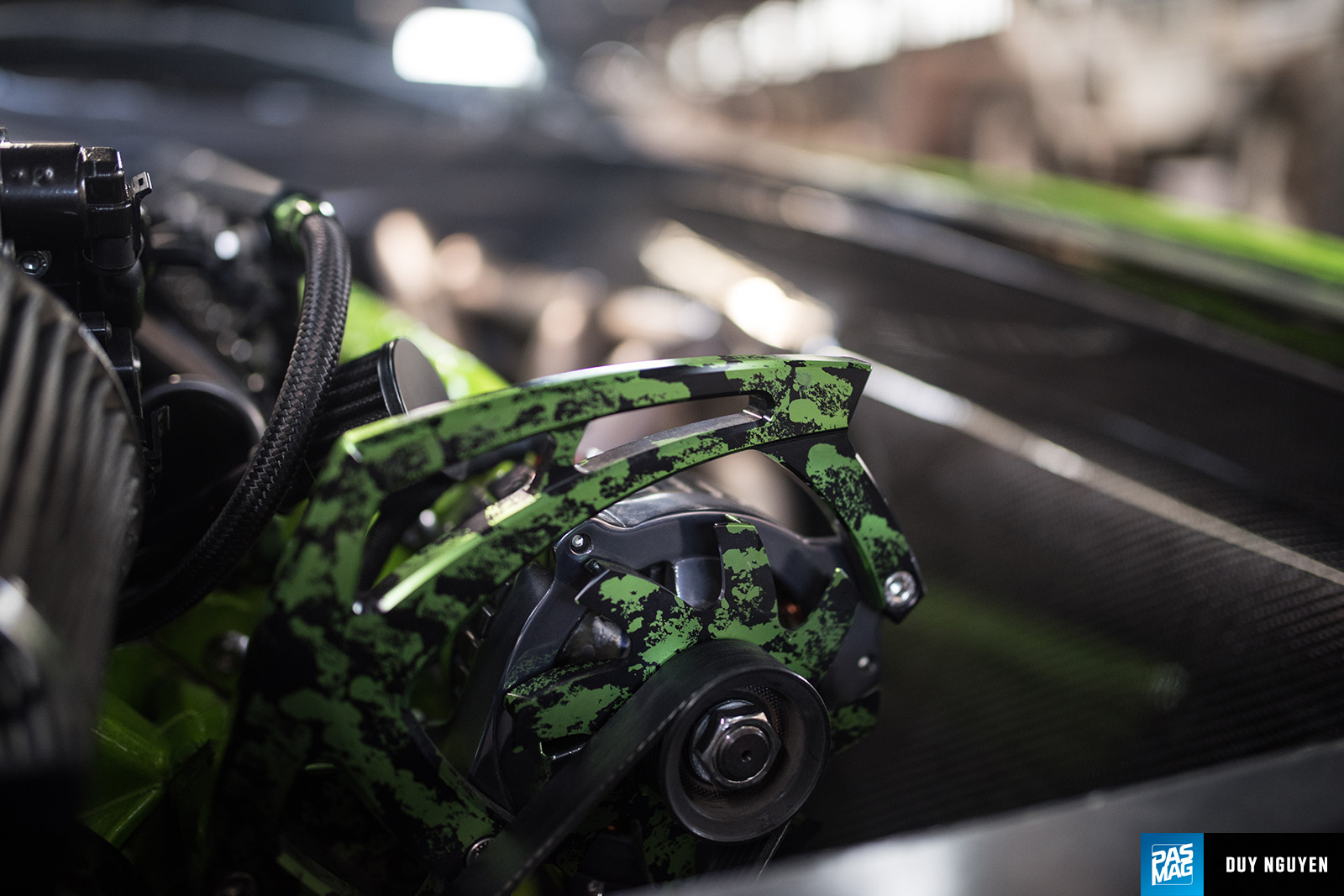 With V12LS's base of operations in Australia, but one half of the two-brother team living in the States, the market they were aiming for, it only made sense to have an R&D motor in a functioning US-based car. Heim's Camaro was chosen to be the testbed, and with the offer on the table, the QCR team went into overdrive to build the stagnant car into something to wow the attendees of SEMA. The body was refreshed with a graphite paintjob, a custom "Antifreeze Green" livery by KRB Graphics, and custom LED lighting. The rear suspension has been upgraded to a custom cantilever system to pair with the Ridetech Shockwave air struts mounted in the trunk for even more low.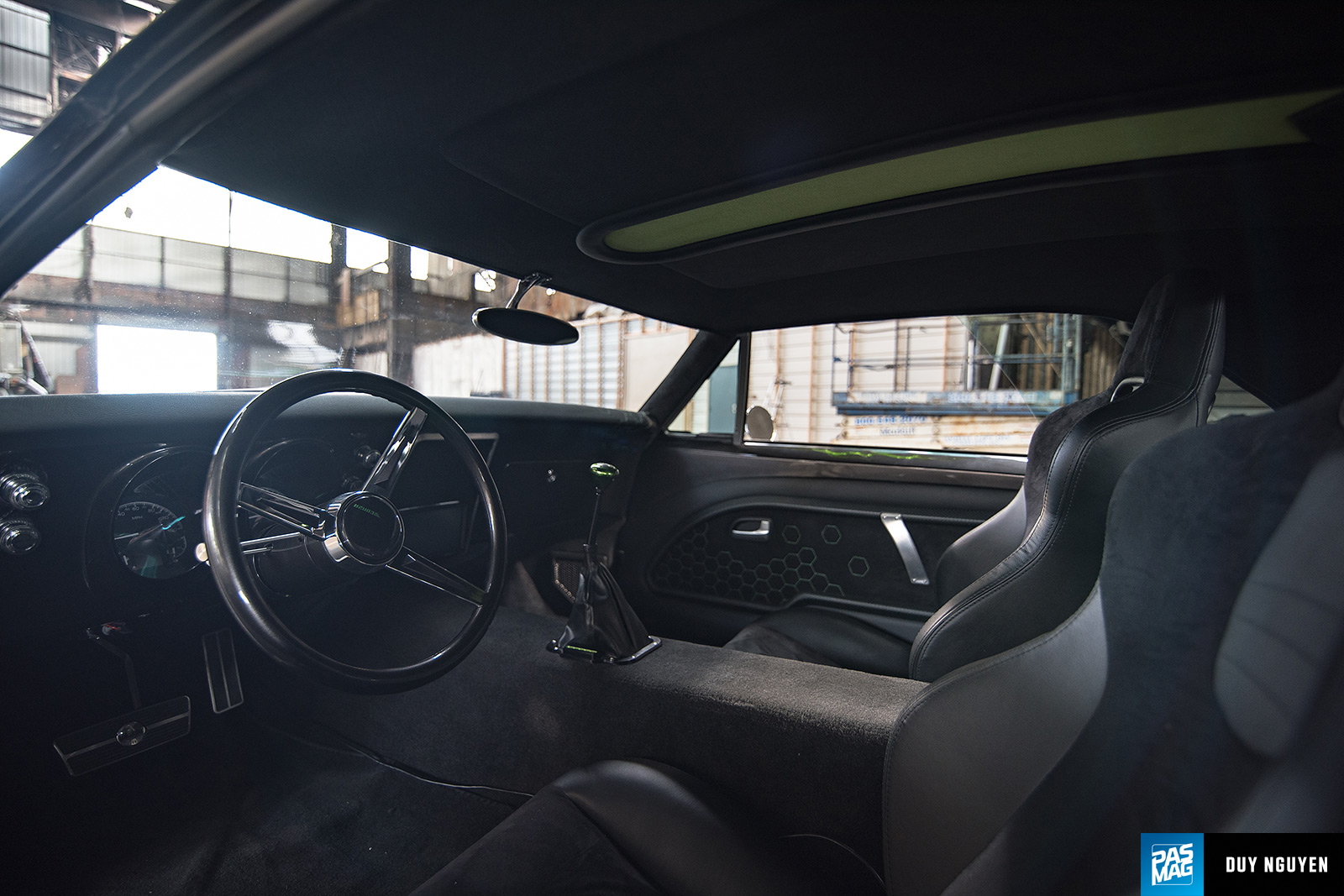 Interior decorating was handled by Lucky 7 Rod Shop, using suede from the floor to the ceiling and vinyl of the perforated and non-perforated variety to trim the dash and edges of the seats. A Con2R custom steering wheel and Lokar shift knob are utilized to retain the Camaro's roots, while Dakota Digital's HDX digital gauges bring things into the future and display readings fed from the Haltech Elite 2500 ECU.
When the V12LS was first mounted up in the Camaro it had ITBs, all 12 of them, and that's how it was displayed at SEMA. Since then, the intake has become a single throttle body, which makes the engine look a little less alien and more LS-based, despite the otherworldly green color that takes place on the engine itself, as well as various components. A branching network of pipes snake back from the sides of the engine and work themselves down into the bay and under the car – something that was masterminded by GP Headers with fabrication parts from Stainless Header MFG.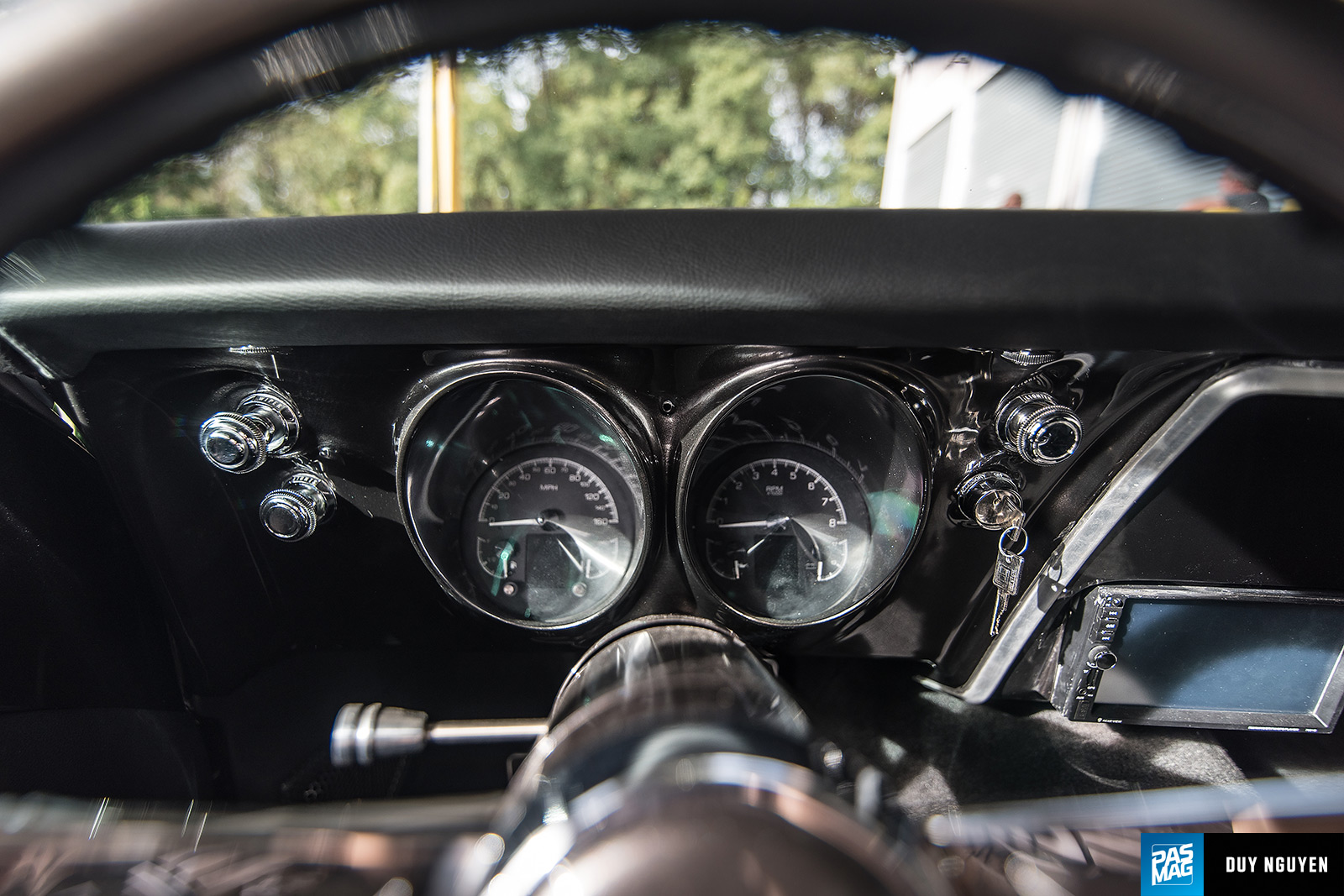 Taking the power from the beastly 12-cylinder and driving it through a custom Inland Empire Driveline aluminum driveshaft to spin the monstrous Mickey Thompsons out back is an ATI T400 transmission, in true hot rod style. Based on a GM three-speed gearbox, the T400 is said to be the strongest of the threes, so it definitely suits the output of the V12LS, especially when it comes to making a smoke show.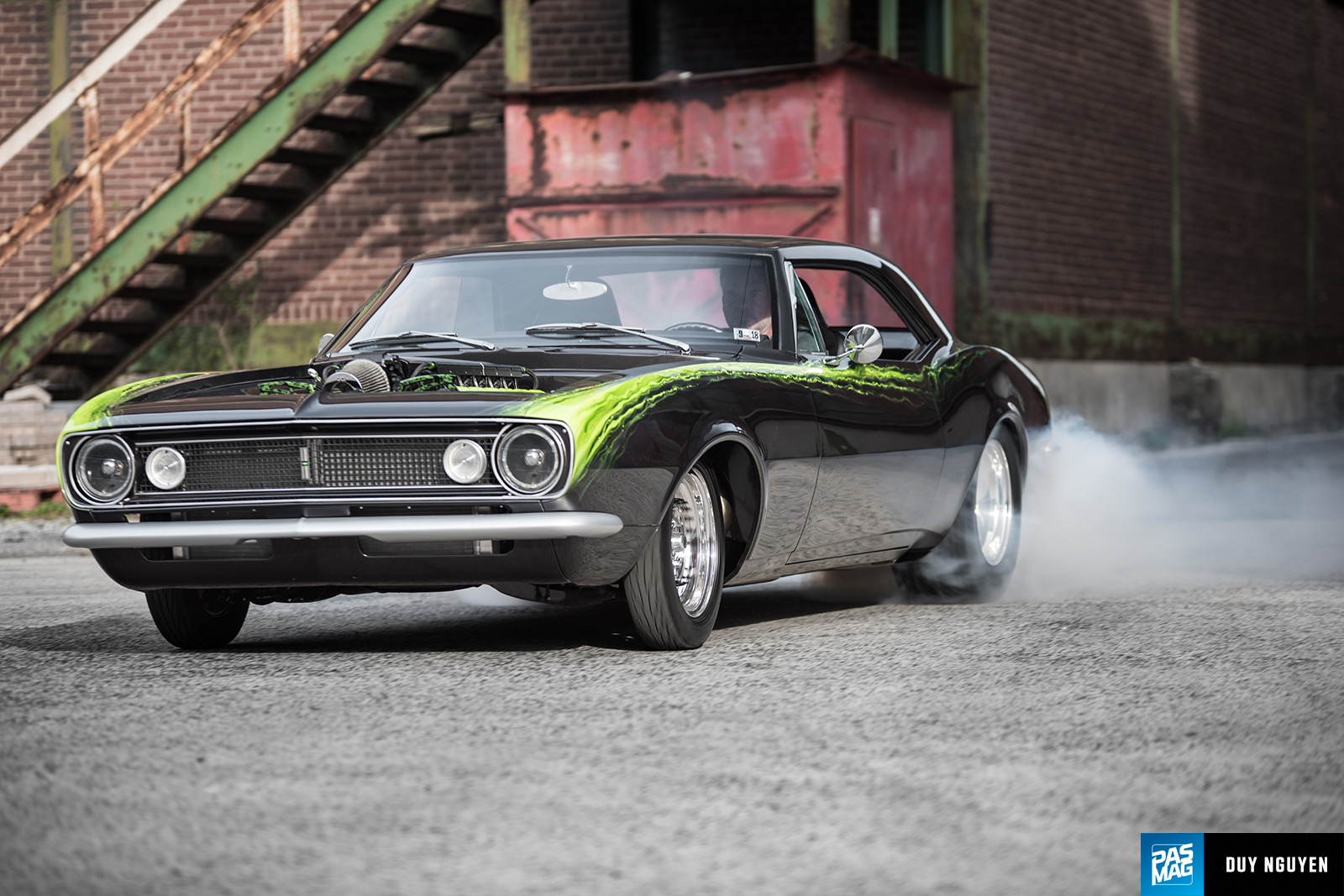 "The V12LS produces 600 lb-ft at 2,200 rpm and holds throughout 6,000 rpm," says Heim, grinning away. "It does awesome burnouts!"
Though it's tons of fun now and gets showered in love from fans all over the globe, the build itself was testing. The most challenging was following a vision to set the car apart from every other Camaro that had been done before.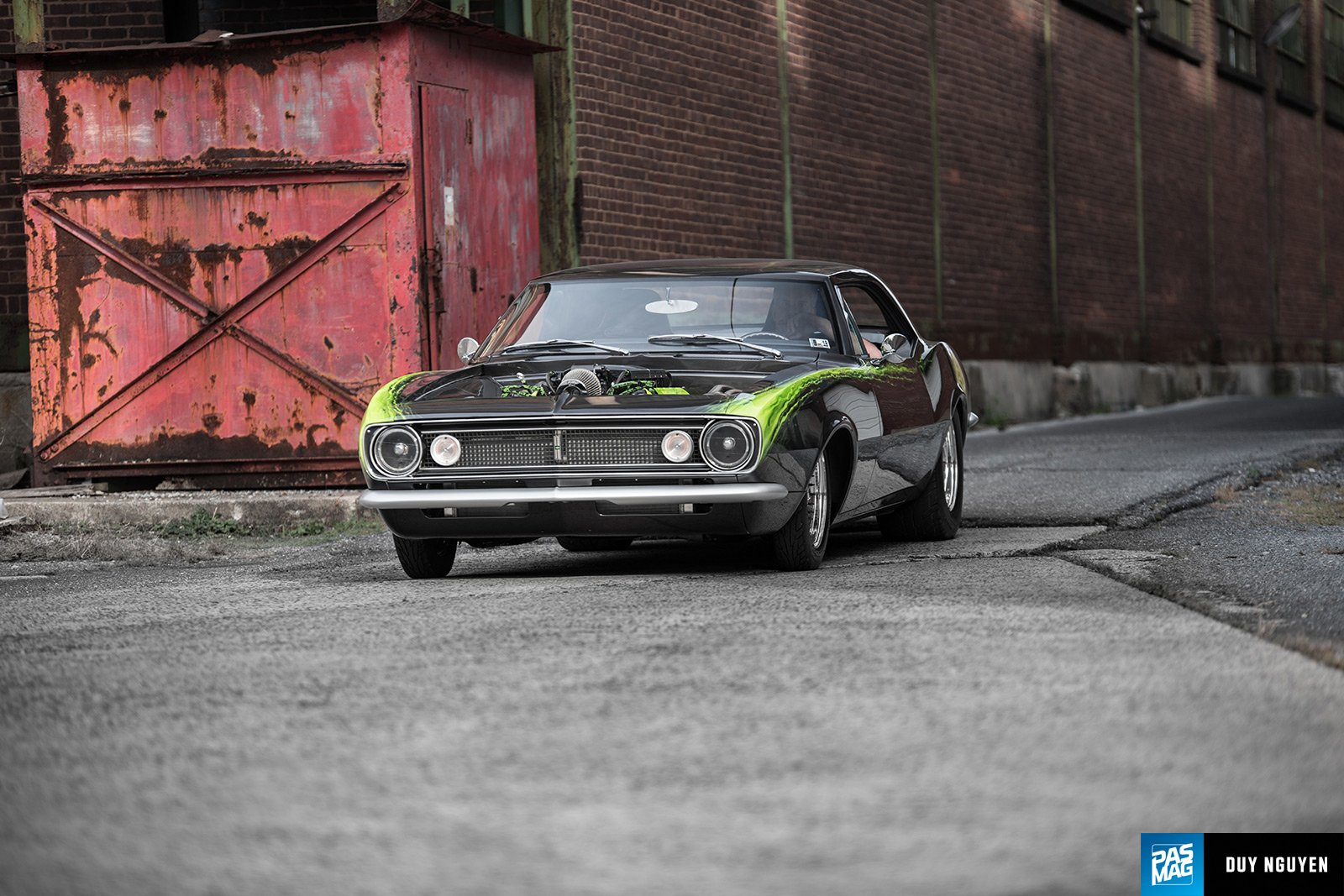 "Everything about this build was a challenge," Heim admits. "If I had to pick one thing, it would be that I had to build a car that everyone has seen built in every way imaginable, make it different from anything seen before, plus make it memorable."
Heim lists his team, the guys at V12LS, and his wife as the most important parts of making his dream build of almost 30 years a reality. With the right people behind him, he was able to piece together something that made it to the automotive world stage and stood out from the rest, even at the back of the show. QCR took the spirit of American muscle, then gave it a jetpack and a facelift, and we absolutely love it.