THE HYBRID YOU ACTUALLY WANT TO HEAR ABOUT
The word "hybrid" when it comes to cars is almost always associated with Toyota Priuses, Honda Insights, and the more environmentally- and economically-focused future it seems the automotive industry is headed towards. While the term is presently tied to boring automotive appliances, it's key to not forget the original definition:
hy·brid
/'hī,brid/
adjective
of mixed character; composed of mixed parts.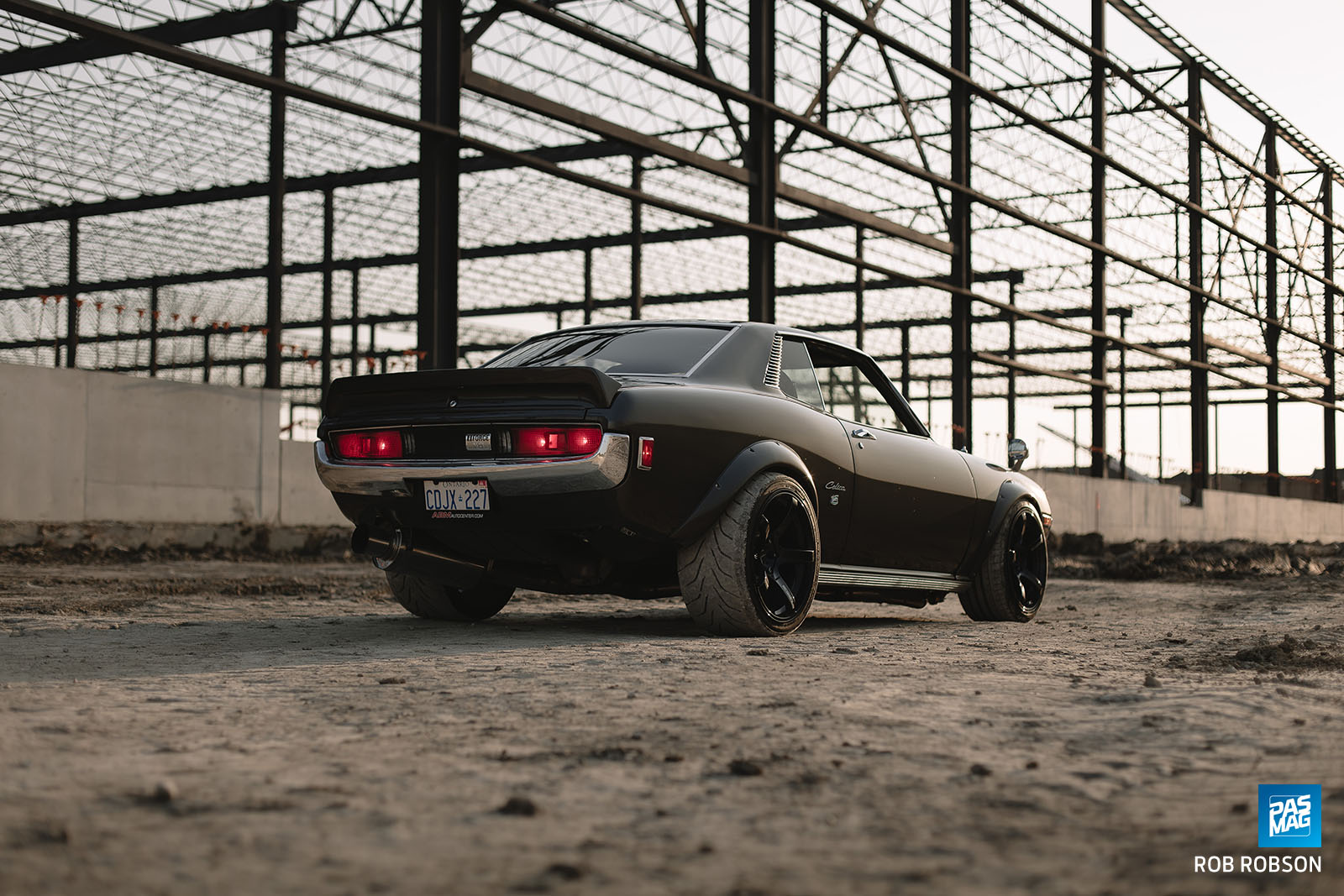 Combining parts with unique characteristics to make something truly in its own lane is always exciting, and we just happen to know the perfect example. Spitting in the face of modern hybrids is John Nguyen's 1972 Toyota Celica. From the outside, this may only look like a classic Celica with some modern touches and a supercharger sticking out of the hood, but under the skin, this is the enthusiast's version of a hybrid.
Nguyen is the owner and operator of a shop in North York (a part of the Greater Toronto Area) in Ontario, Canada, that handles all kinds of projects. He personally owns 10 cars, all Japanese, that he's put his own spin on; an AE86 that he's swapped an F22C engine into, a fire-spitting Supra in the four-digit power numbers, and a Civic hatch that's been converted to all-wheel drive and runs on methanol are just a few examples. The '72 Celica is the most recent addition to the fleet and it didn't last long before Nguyen twisted it to be possibly the most insane out of his collection, build-wise.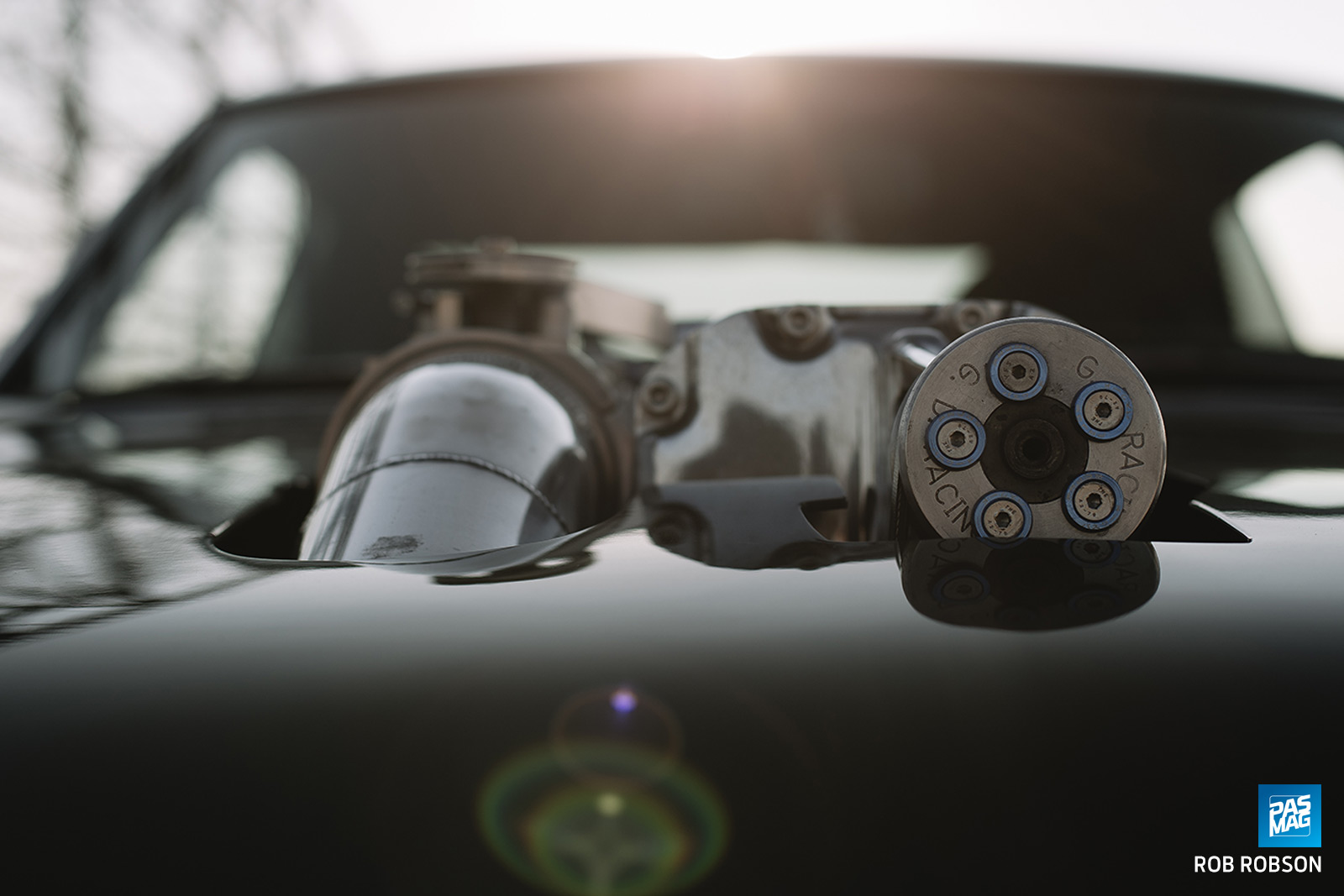 The supercharger sticking out of the hood of the car is actually a Ford SVT unit meant for a Mustang, which is whirring away atop a Toyota 2UZ engine out of a Lexus GX SUV. While that's enough to give your head a shake, the custom piping under the hood continues to a secondary source of forced induction: a Garrett GTX4508R turbo. The 816 wheel-horsepower and 877 lb-ft of torque resulting of that hybrid system is all handled by a Titan Stage 2 A340E automatic transmission from a MKIV Supra, and then handed down to the rear wheels via a Ford Racing LSD. Usually the term "cobbled together" is negative, but this thing was cobbled with care to give way to something truly different and truly special.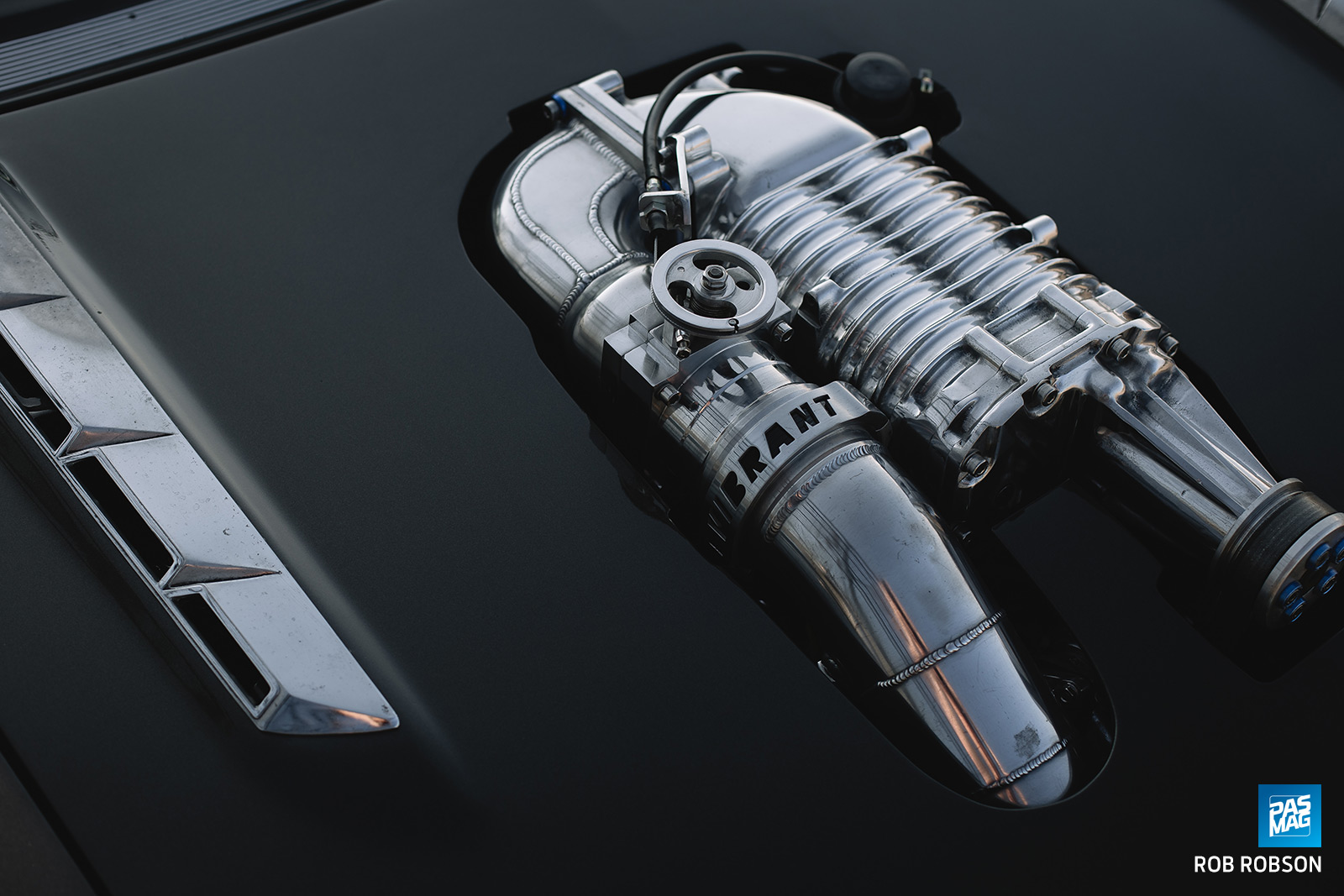 It's funny to think that this build was the result of a simple conversation between Nguyen and his wife, Phuong, one day. She expressed how much she liked the first generation Celica's looks and suggested that they should seek one out as a project. After a few searches around some classified listings online, the power couple had zeroed-in on one not too far from them and arranged to go check it out. Unfortunately, it wasn't to be, as the car had been sitting outside for too long in Ontario's elements. Swapping and modifying is something that Nguyen counted on, but there was no way he was going to start rebuilding a rusted-out body. Not put off by their let down though, the Nguyens expanded their search and eventually found a worthy contender over the border in Oregon. Completely stock and in need of some TLC, this Celica would be the platform for the Frankenstein to come.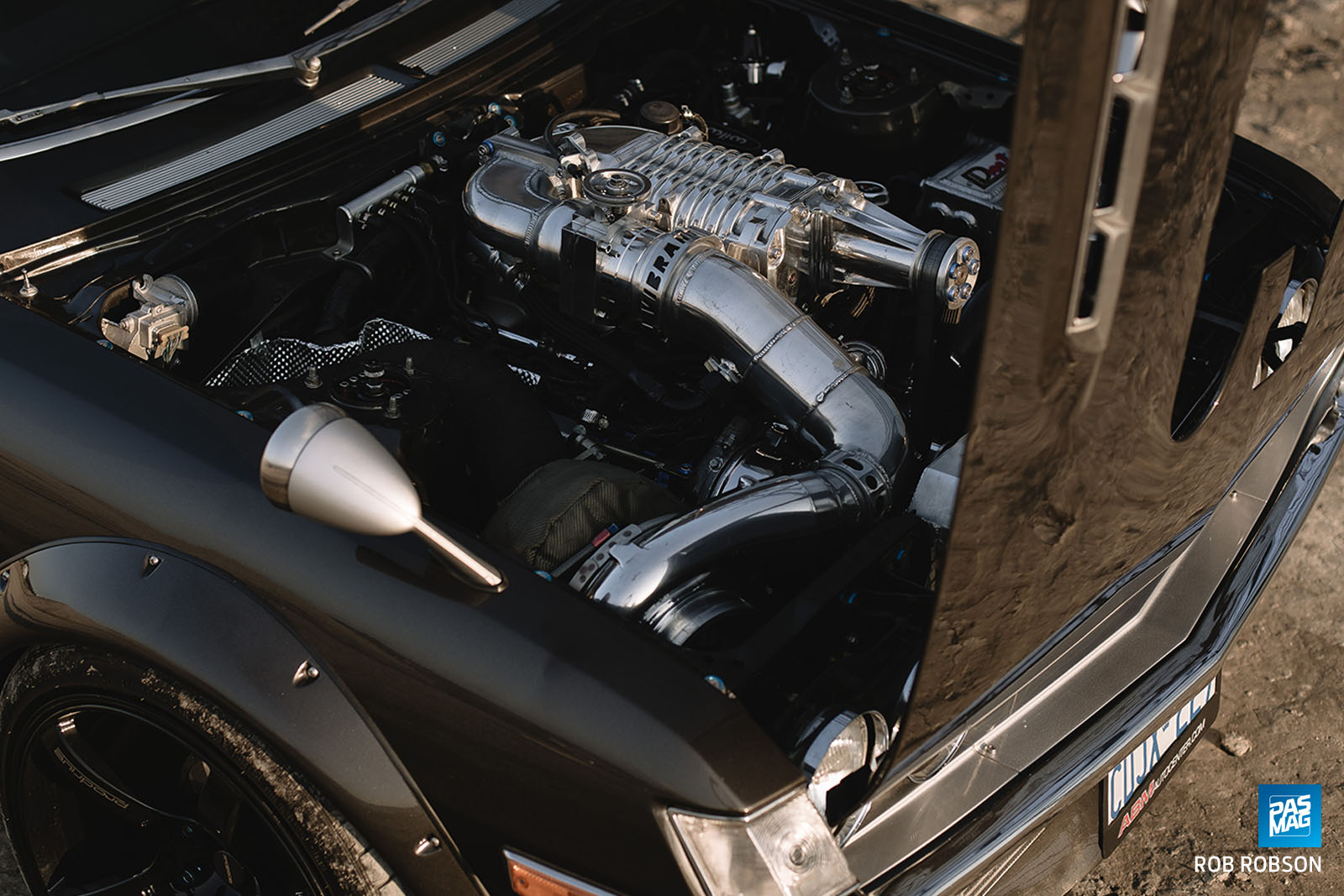 Nguyen's shop, ABM Auto Center, tackles jobs from full-on performance builds to collision work, so the vast majority of the build was done under that roof. When a damaged Lexus GX rolled in and was declared totaled, the unharmed 4.7-liter 2UZ-FE V8 under its hood was already spoken for. Before being acquainted with the Eaton M112 supercharger that Ford's SVT division used on the Mustang Cobra and F-150 Lightning, Nguyen supported the 2UZ with Wiseco pistons and Eagle rods, as well as juiced up the fueling system with three Walbro 450-lph pumps, a Turbosmart regulator, and 1,000-cc injectors to handle both pump fuel and methanol. A much-needed extra support due to the boost that would be added.
"A positive displacement supercharger allows the engine to act as if it has a larger displacement," Nguyen explains of his system. "The 4.7-liter with eight psi through the supercharger has the airflow and power characteristics of a 5.7-liter engine, so the turbine on the turbo must be sized for that increase in flow. That's why I have a large turbo with basically instant power and no lag!"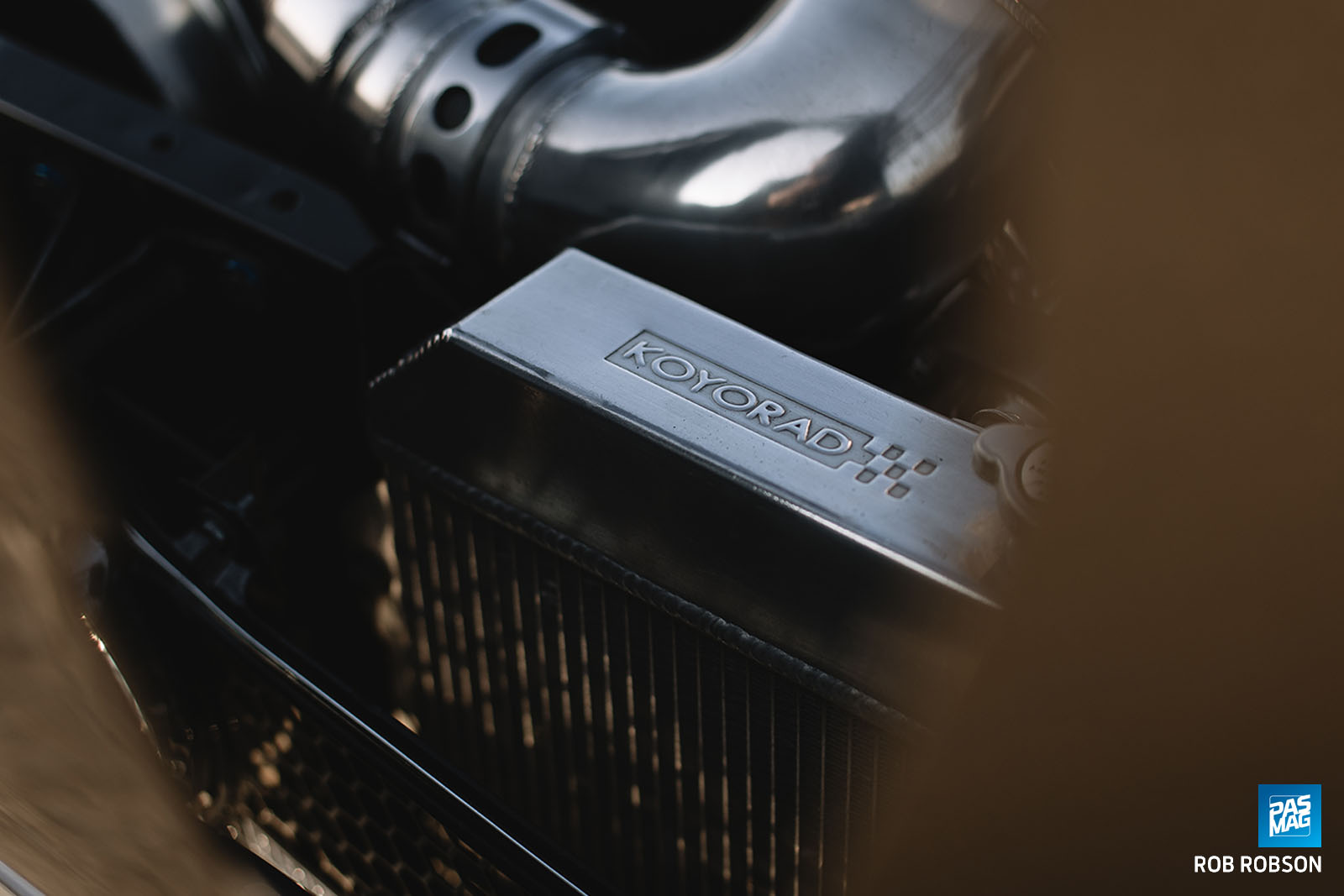 The additional GTX4508R is a sizeable snail - the largest T4-based turbo that Garrett offers, actually - and it was donated by Nguyen's 1,000-plus-horse Supra that was mentioned earlier, as was the automatic transmission that's outfitted with Titan Motorsports' Stage 2 makeover to handle some serious power. After performing a manual swap and updating the engine bay, the Supra parts were just sitting on the shelf, so why shouldn't the Celica make use of them? As you can imagine, the smaller bay of the '72 Toyota stuffed with a V8, blower, and a turbo doesn't leave a whole lot of room left for other activities, such as cooling. Instead of running a big front-mount intercooler, Nguyen gets away with a smaller air-to-water intercooler from an old drag setup he used to run on his Civic, which is mounted pretty far forwards, almost directly behind the front license plate.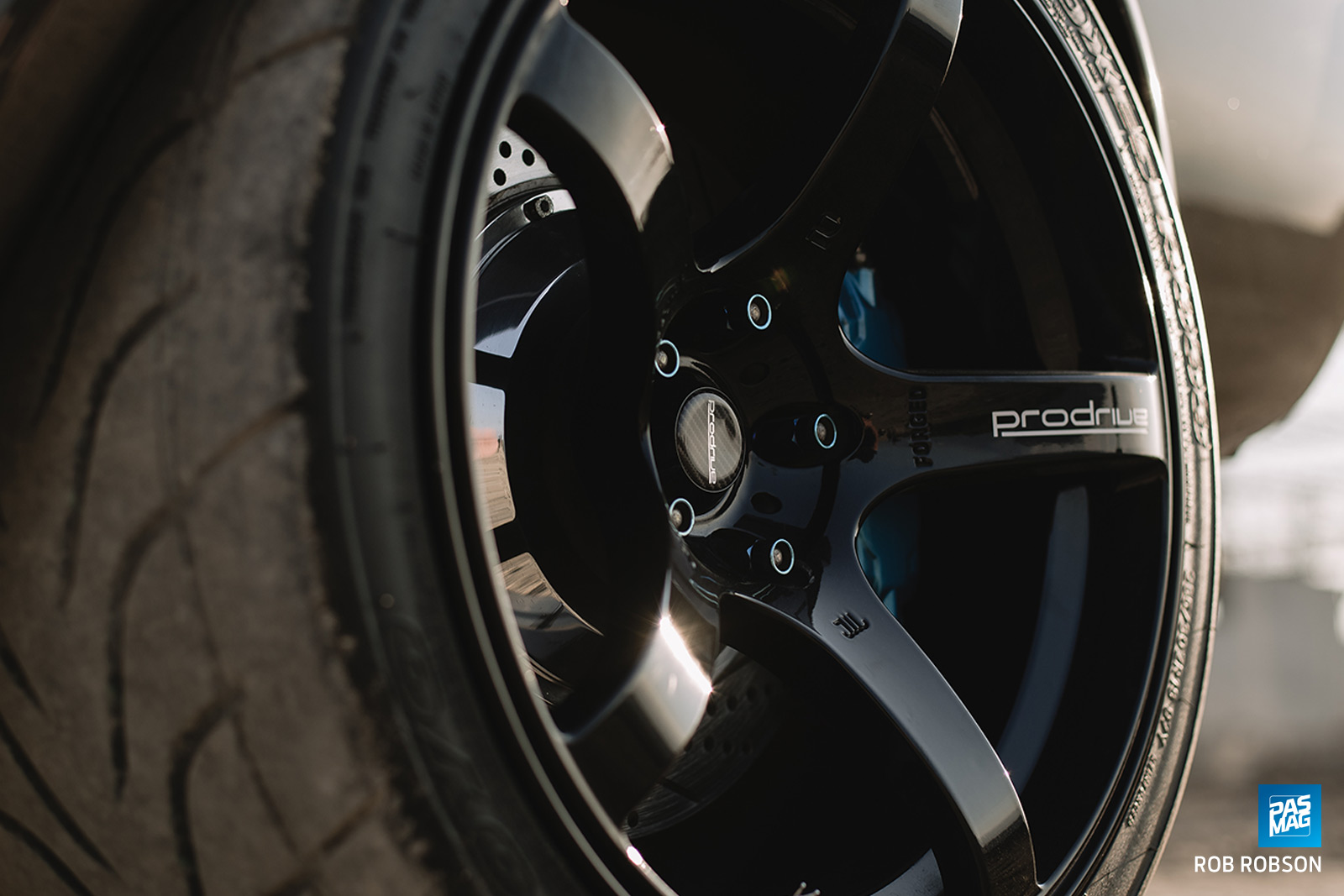 Aside from all the business under the hood though, the Celica still looks as much like a mini '60s Camaro as it did when it first came out, just with a few modern touches. TRD flares, chin spoiler, and a trunk wing were all sourced and applied to the stock body, which was then lowered via coilovers over some Rays Prodrive GC05F wheels and meaty Toyo R888s. Behind the five spoke wheels is a serious Rotora brake kit that's been transplanted from a friend's R32 GT-R after it needed an upgrade.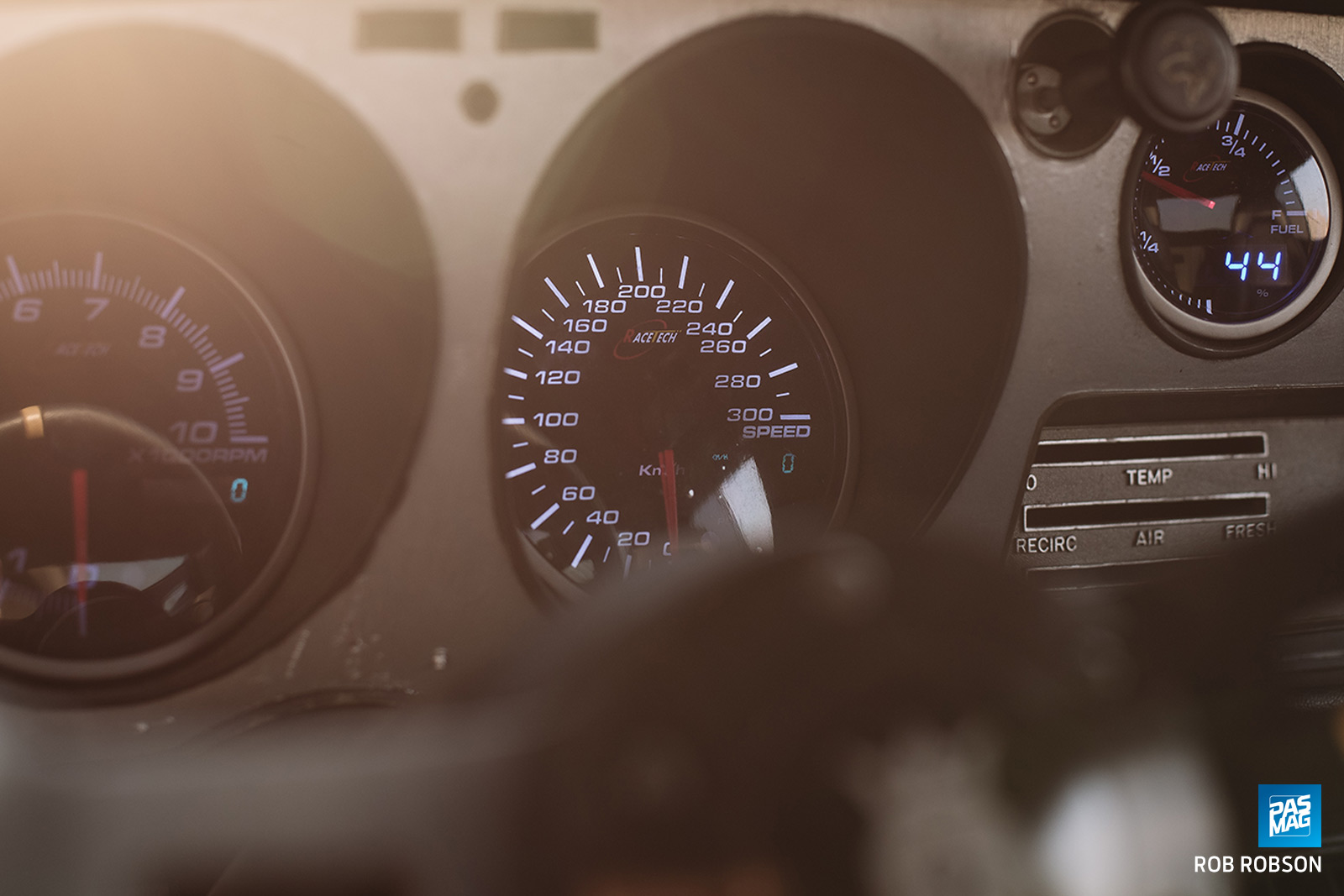 Inside the Celica are the last examples of a hand-me-down, and those are the front seat transplants from Nguyen's Supra. From there, modern Racetech speedo and tach gauges can be viewed behind the Momo steering wheel, while a host of aftermarket gauges that keep track of gear, boost, temps, and AFR are lined down the center of the dashboard. This is a view that Nguyen is very used to, as he drives the car almost daily to the shop, and to shows here and there on the weekends. No trailers here.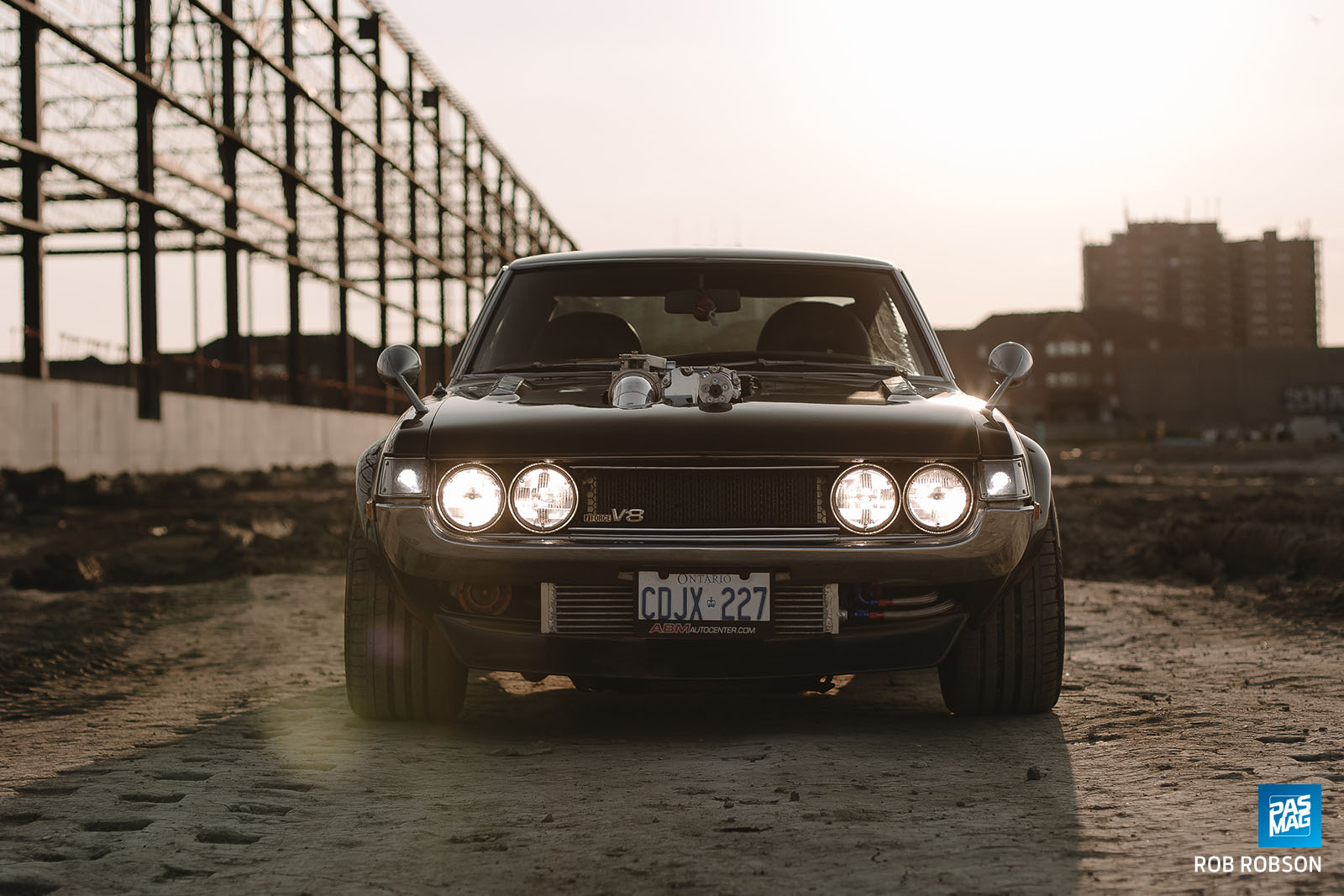 It's not saving the environment or decreasing the amount of liquid dinosaurs burned on the road, but it is a car that's a hybrid in more than a few ways. This is the type of creativity that should be celebrated, and as such, it has garnered more than a few awards from the shows the Celica attends. Just remember, no matter how boring the direction the automotive world may be headed in, there are people out there, like Nguyen, always doing awesome things.
John Nguyen's 1972 Toyota Celica is the cover feature of PASMAG Tuning Essentials: Ultimate Performance Guide, Volume 6. CLICK HERE TO ORDER.
Photography by Rob Robson
---
ESSENTIALS
Vehicle: 1972 Toyota Celica
Owner: John Nguyen
Location: North York, ON
Built By: ABM Auto Center, Dynamotorsports
Engine: Toyota 2UZ 4.7L V8
Horsepower: 816 Whp
Torque: 877 Lb-Ft
Social: @johndimsum, @phuongae86
ENGINE
Toyota 2UZ V8 engine swap
Garrett GTX4508R turbocharger
Ford SVT M112 supercharger
Bullet A2W (intercooler, intake manifold)
GReddy Type-S blow-off valve
Tial MVR wastegate
Turbosmart FPR1200 fuel pressure regulator
Walbro 450 LPH fuel pumps (3)
Injector Dynamics 1,000cc fuel injectors
Eagle rods
Wiseco pistons
AEM V2 standalone ECU
Dynamotorsports (custom tune, intercooler piping, throttle body)
Supertech valvetrain
ARP head studs
EXHAUST
Dynamotorsports custom (exhaust system, turbo manifolds, down-pipe)
Varex 3.5-inch round muffler
DRIVETRAIN
Titan Stage 2 A340E transmission
Ford Racing LSD
WHEELS/TIRES/BRAKES
Rays Prodrive GC05F wheels - 18x9.5 +35 (f), 18x10.5 +22 (r)
Toyo R888 tires - 245/35 R18 (f), 285/35 R18 (r)
Rotora Nissan R32 GT-R (brake calipers - 6-piston (f), 4-piston (r), braided lines, 355mm 2-piece slotted/drilled brake rotors)
Wilwood brake master cylinder
Cyrious Garageworks (remote mount brake booster, secondary caliper parking brake)
CHASSIS/SUSPENSION
Megan Racing (Street coilovers, front LCAs, multilink arms)
EXTERIOR
TRD (fender flares, rear wing, chin spoiler)
Toyota Celica GTV grille
JDM fender mirrors
INTERIOR
PHR shift knob
Momo steering wheel
Racetech gauges (speedometer, tachometer, fuel)
Autometer indicator gauge
AEM wideband fail safe AFR gauge
Toyota MKIV Supra seats
---
PHOTO GALLERY