A DTM Tribute Unlike Any Other Before It
The Mercedes-Benz 190 - or the W201, as the chassis was internally designated by the German automaker - is one of the most instantly recognizable sights in the automotive world. The success and excitement of the 190's tenure as a DTM racer through the 1990s further cemented the platform as a motorsports icon, and is still recognized today as one of the all-time greats by those who know.
Several iterations of the 190 were created during the platform's hay day, including a road-going homologation model with a Cosworth engine, which then led to the Evolution I and Evolution II models, and finally an AMG tuned version of the 190E. At the time, AMG wasn't the division of Mercedes-Benz it is today, but their tuning success with the 190E led them to produce the 190E 3.2 AMG - the first model sold through AMG authorized reseller with a Mercedes-Benz new car warranty. The beauty of the 190 is that every model that was even a little bit sporty is an incredibly well put together 4-door sports car.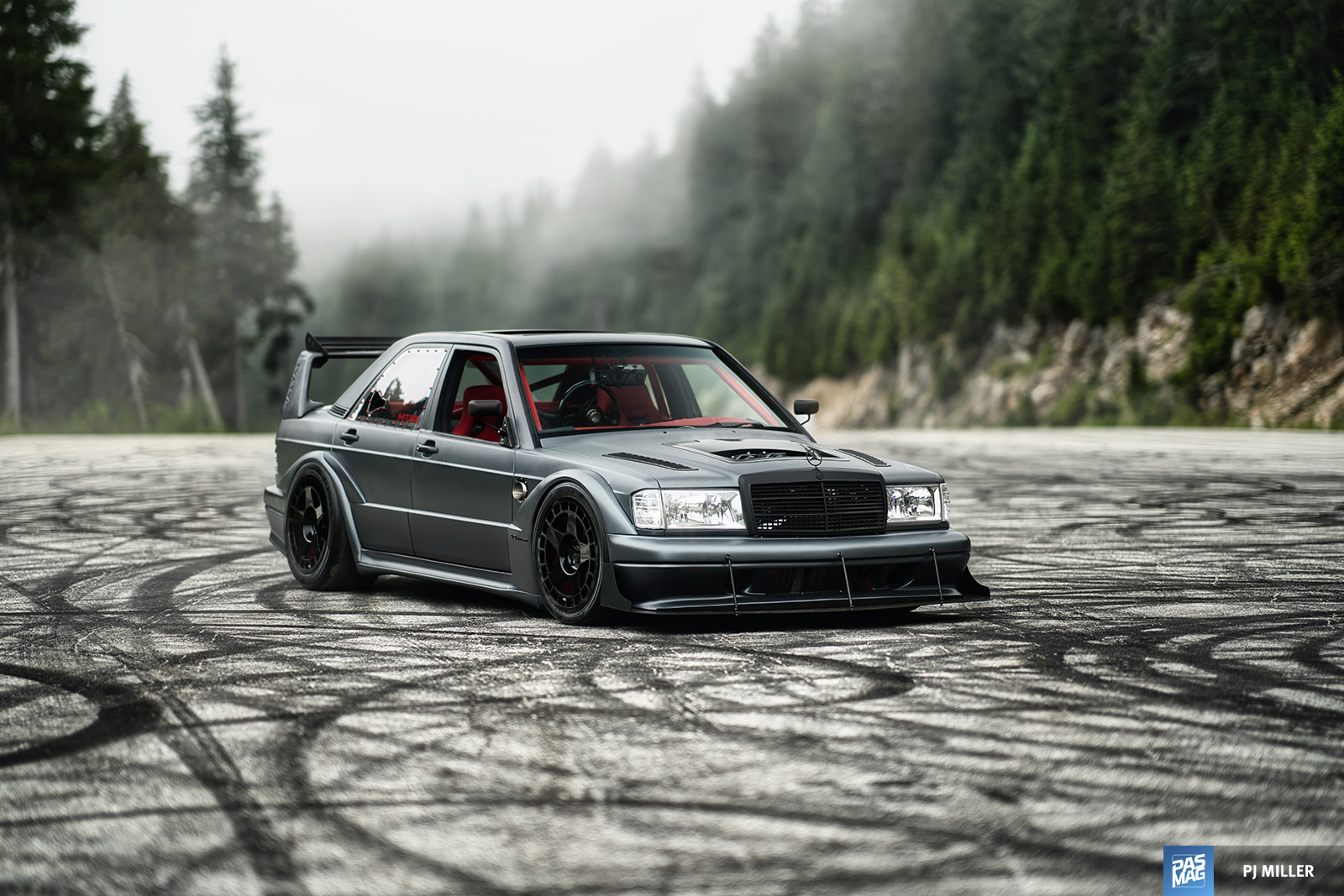 Tim Lajambe of Coquitlam, British Columbia developed an affinity for the platform from the early days of its DTM run. Around 10 years ago, Lajambe found himself a 190 2.5-16V version, and planned to convert the car to a proper Evolution II spec over time. He spent years gathering parts and fine-tuning his overall concept, but the value of his immaculate 190 2.5 kept climbing, and the car attained collector's status in no time. When he couldn't bring himself to cut up his clean 190, but he still needed to make the Evolution II conversion happen, he did what any sensible enthusiast would do: he bought another one - this time, a base model 190 he could go wild with.
Confident that his own fabrication skills had caught up to his decade-old ambitions, Lajambe and his crew at Trick Factory Customs got busy with the 190. He knew he wanted to draw inspiration from the golden era of DTM racecars, but he also wanted to modernize the platform and have it live up to the quality standards he had been known for on the SEMA show floor. With an idea in his head for a build with absolutely no restrictions, he fired up the sawzall and the welder. This is where any hardcore purists may want to turn away.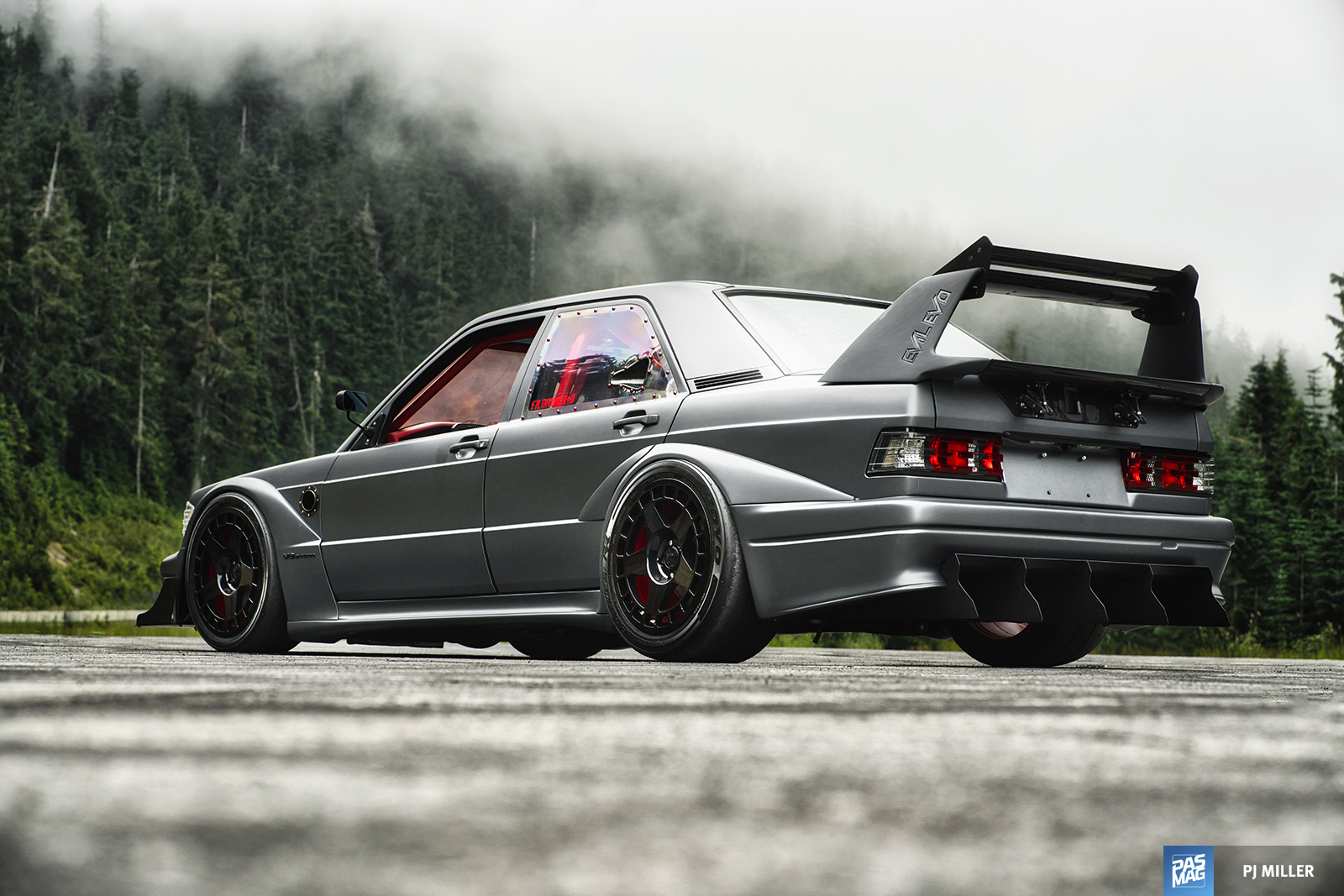 One of the first moments of blasphemy comes in the form of SL600 front and rear subframes, and it only gets more insane from there. Almost immediately after cutting the fenders away to make room for the custom widened Evolution II widebody, Lajambe noticed that the entire track width had been made wider, so the Evolution II kit went under the knife, and was custom widened by another three inches to ensure good fitment. Filling in the gaps of the now super-wide wheel arches was a job for Fifteen52 Turbomac wheels, which definitely walk the line between old school style and modern engineering exceptionally well, measuring in at 18x9 in the front, and a beefy 18x12.5 in the rear.
At this point, you might be wondering why they went with such an enormous rear wheel and tire setup. Toyo Tires Proxes RR tires measuring 305/35/18 in the rear are no joke, but is it functional? Those questions are soon answered as we peer under the hood. Where a 2.0L inline-4 making barely 90 horsepower once sat, you're met with a jaw-dropping sight. A Texas Speed 408 stroker LS complete with PRC billet heads, and mirror image twin Precision Turbo ceramic ball bearing turbos damn near jumps out of the red painted engine bay. Currently making around 1,000 horsepower, this setup is capable of 1,400 horses if needed. More than 10 times the previous engine's horsepower, calling this an upgrade is an understatement, and it certainly explains the upgraded ACE twin-disc clutch and American Drivetrain Stage 2 T56 Magnum XL transmission.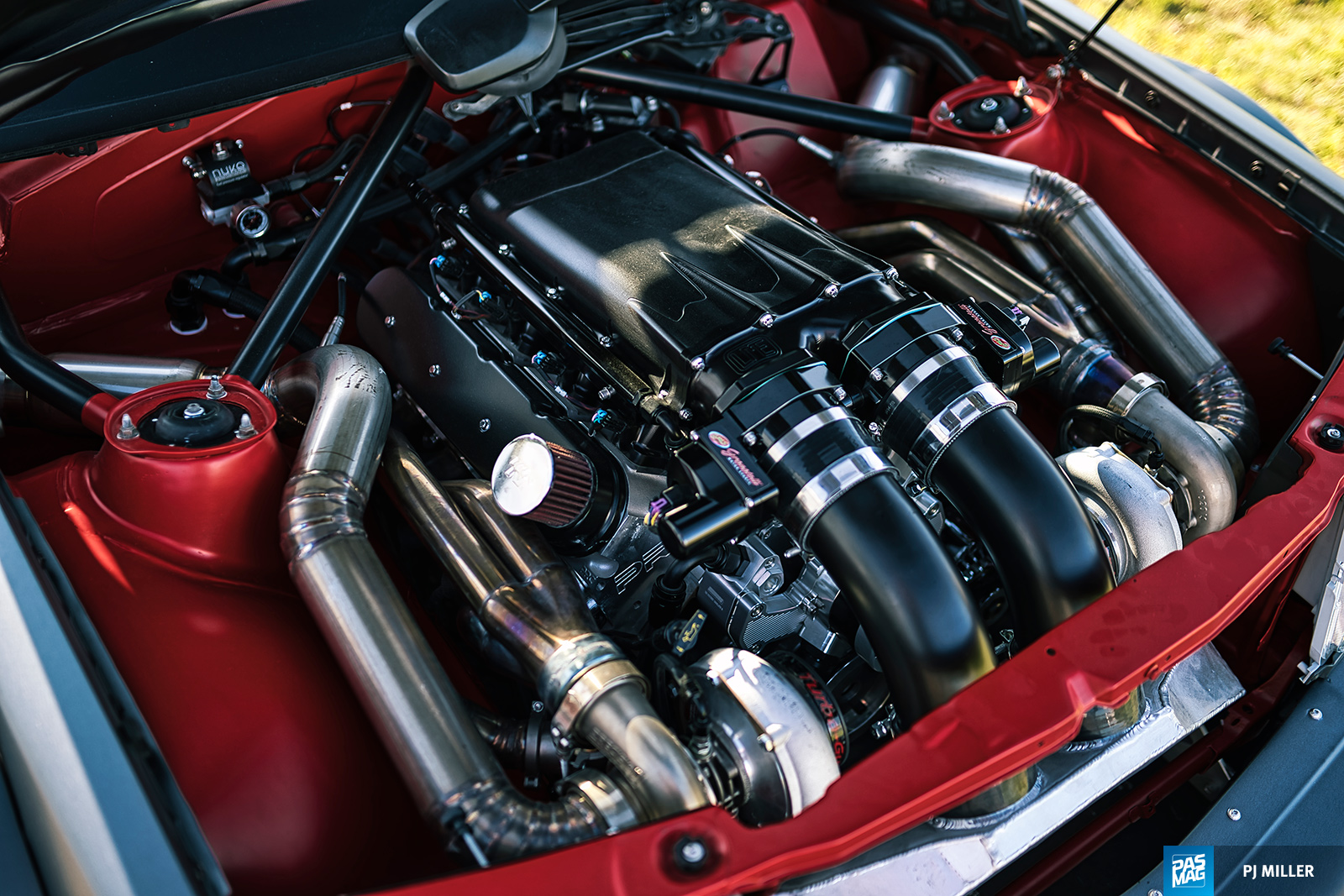 The same red you see in the engine bay is part of a theme that carries over to the car's interior. While satin black on the outside, every visible part of the interior is completed in a combination of Hydes Leather red Napa leather and carbon fiber, including the custom dash and roll cage. "We did the red leather because I wanted it to be super inviting," Lajambe told us at SEMA. "Everytime I look at it I just want to jump in it." With a Metra Electronics UTV audio system ensuring a pleasant soundtrack to any drive, we want to jump in it, too.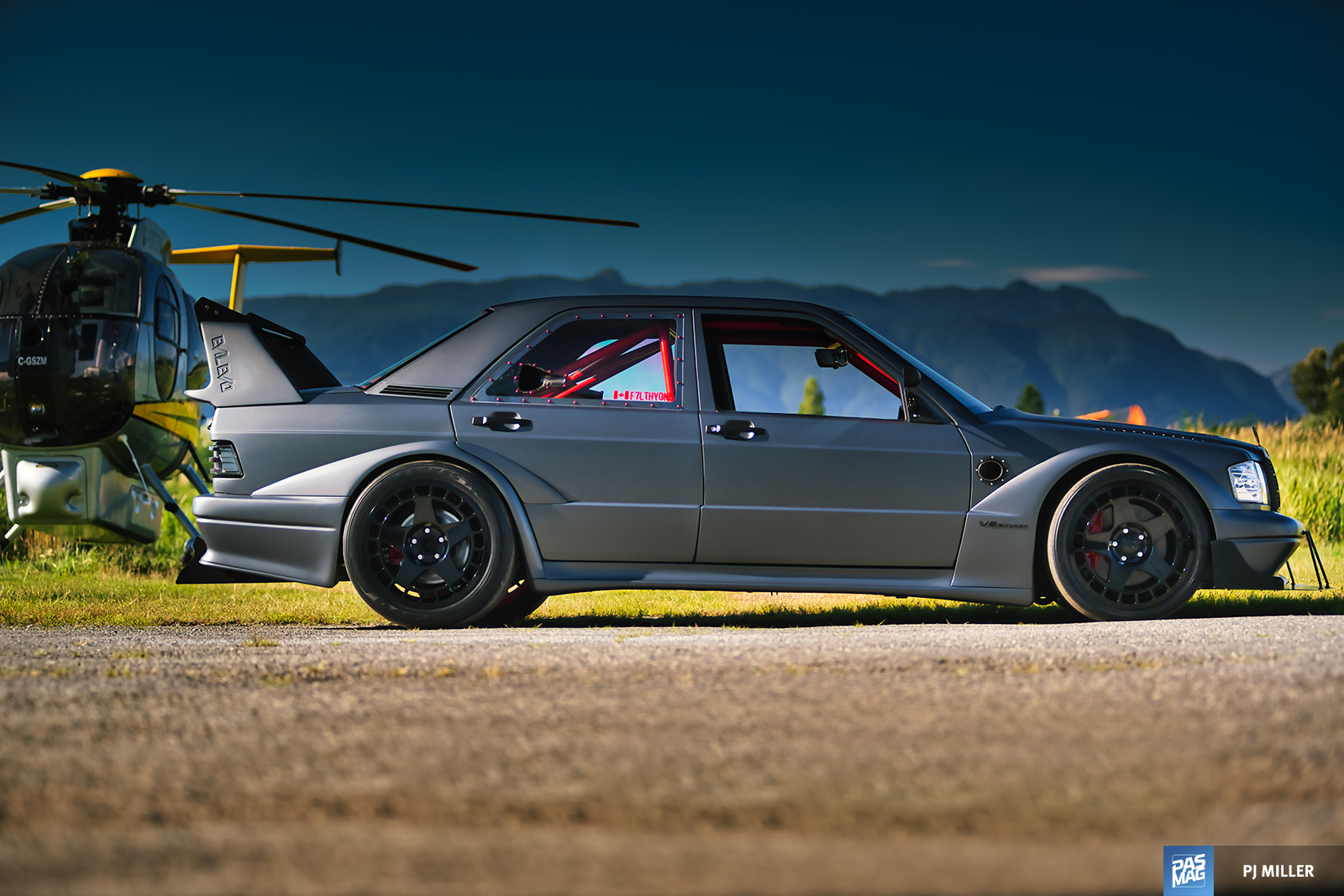 On that note, it's important to remember that this is still a street car, despite how much of a racecar it appears to be with its dual element custom wing featuring active aero, Lexan rear windows with air ducts, side-exit dump tubes, and combination of splitter and diffusers. Air suspension is utilized courtesy of D2 Racing air struts, making a drive through less-than-ideal roads of the city a breeze. A custom aluminum sub-floor was created to keep serviceability as easy as possible, with all applicable lines and cables running inside the car rather than underneath. Little touches like that truly set this build apart.
These days, you can catch Lajambe cruising the west coast of Canada in his Texas Speed-powered tribute to the DTM golden era's Mercedes-Benz 190. While his build has come a long way from its original equipment, the spirit of DTM is evident throughout the build's design. Dare we say this might be even more desirable than the originals?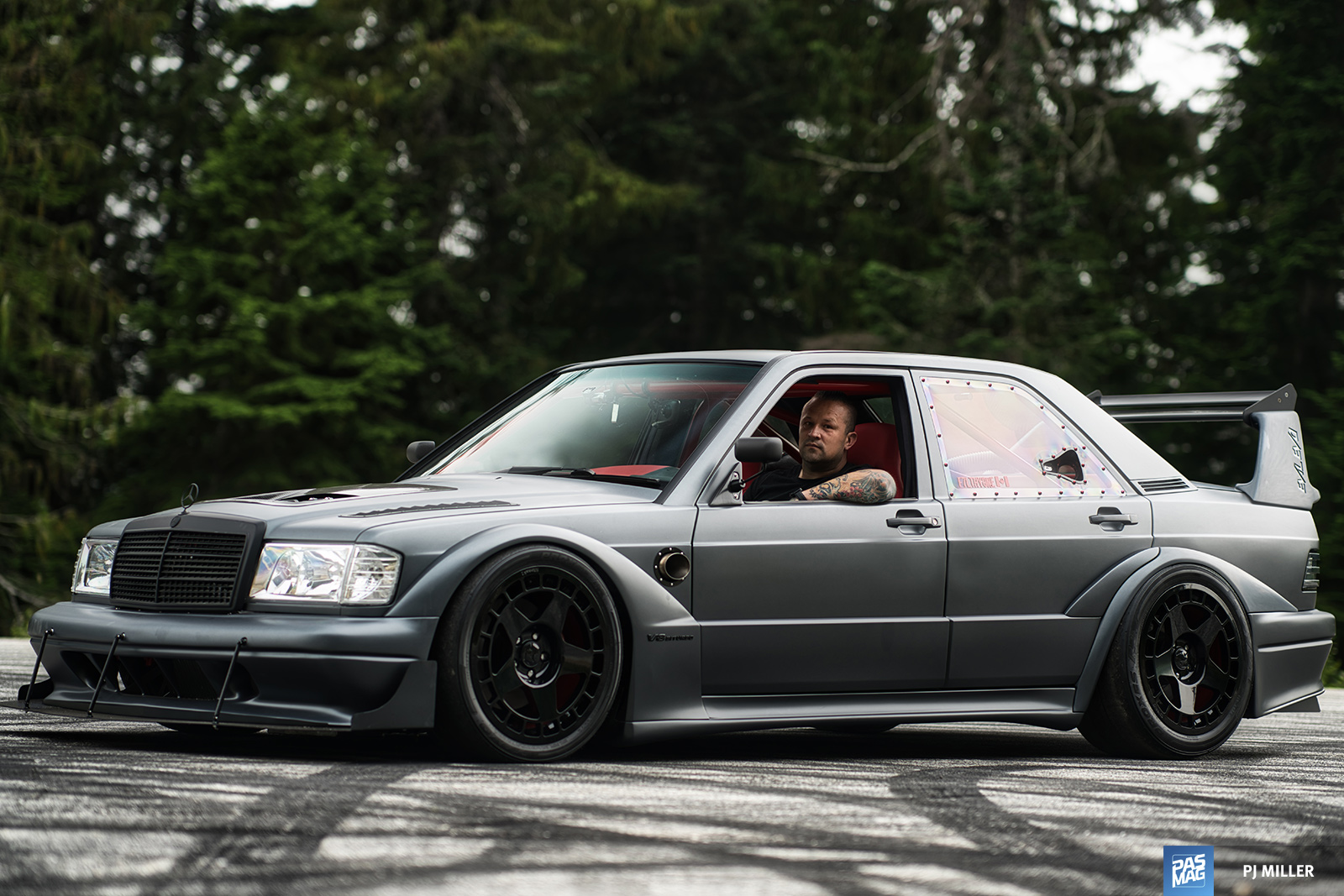 Photography by Christopher Thibert (@pacific_rides), PJ Miller (@megapixelsniper).
---
ESSENTIALS
Owner: Tim Lajambe
Vehicle: 1990 Mercedes-Benz 190
Location: Coquitlam, British Columbia, Canada
Horsepower: 1,000 (est.)
SOCIAL
Facebook: /trickfactorycustoms
Instagram: @engineeredevil
ENGINE
Texas Speed 408 stroker LS engine swap
PRC billet heads
Precision Turbo mirror image ceramic ball bearing twin turbos
Late Model Engines twin throttle body billet intake
Granatelli billet 103mm throttle bodies
AEM Performance Electronics Infinity 7
EXHAUST
Speed Engineering headers
Custom Ticon Industries exhaust piping
DRIVETRAIN
American Drivetrain Stage 2 T56 Magnum XL transmission
ACE twin-disc billet clutch
WHEELS / TIRES / BRAKES
Fifteen52 Turbomac wheels - 18x9 (f), 18x12.5 (r)
Toyo Proxes RR tires - 255/35/18 (f), 305/35/18 (r)
SL600 Silver Arrow BBK; 12.5-inch front rotors, 11-inch rear rotors
CHASSIS / SUSPENSION
SL600 front and rear subframes
D2 Racing air struts
Custom (chassis components, sway bars)
EXTERIOR
Custom widened Evolution 2 body kit
Custom (front splitter, rear diffuser)
Dual element wing w/ functioning active aero carbon fiber air brake
Lexan rear windows w/ air ducts
Custom V8 Biturbo emblems
INTERIOR
Aluminum sub floor
Custom roll cage
Hydes Leather red Napa leather interior reupholstery
Carbon backed racing bucket seats
AUDIO / MOBILE ELECTRONICS
Metra Electronics UTV audio system
SPONSORS
Metra Electronics
Texas Speed
Late Model Engines
Speed Engineering
Toyo Tires
Mishimoto
Precision Turbo
Tremec
Nuke Performance
Alt Racing Fuel Cells
Ctek
AEM Performance Electronics
---
PHOTO GALLERY