A BMW 2002 in Appearance Only
Having previously built a show-stopping E30 M3 EVO with an S54 engine swap, George Dalmakis was no stranger to unorthodox BMW builds. With his E30 completed, it was only a matter of time before Dalmakis set his sights on his next project. After purchasing a 1973 BMW 2002 at the end of 2018, just days before the new year, he devised a plan for a new show piece: a classic BMW with a modern power plant. Sounds simple enough, right?
"Simple" is not the first word that comes to mind when trying to accurately describe the '73 BMW you see here, and that's because it's anything but simple, but with cohesive planning and careful selection of aftermarket parts, this build does come together in a perfectly user-friendly package, but we'll get to that shortly. As it sat immediately after purchase, the 2002 was in poor shape, and not running. From the beginning, Dalmakis knew this build had to be given the works, so the entire build started off with the complete disassembly of the car, and disposal of unusable or unnecessary parts.
From there, the car was mounted to a rotisserie, media blasted, and had its entire underside cut off. With the floor, firewall, trunk, and parts of the engine bay's underside removed, a tube chassis frame was designed and built around E90 subframes by Chassis Stop, with provisions to accommodate the S55 engine from a BMW M4. You can see where this is going. With the frame, engine mounts, and firewall all fabricated, a set of custom widebody flares, a diffuser, and a front lip were made. The cooling system, exhaust and turbo system were all mocked up, and then the car was stripped down again and mounted to a rotisserie once again to be primed and painted.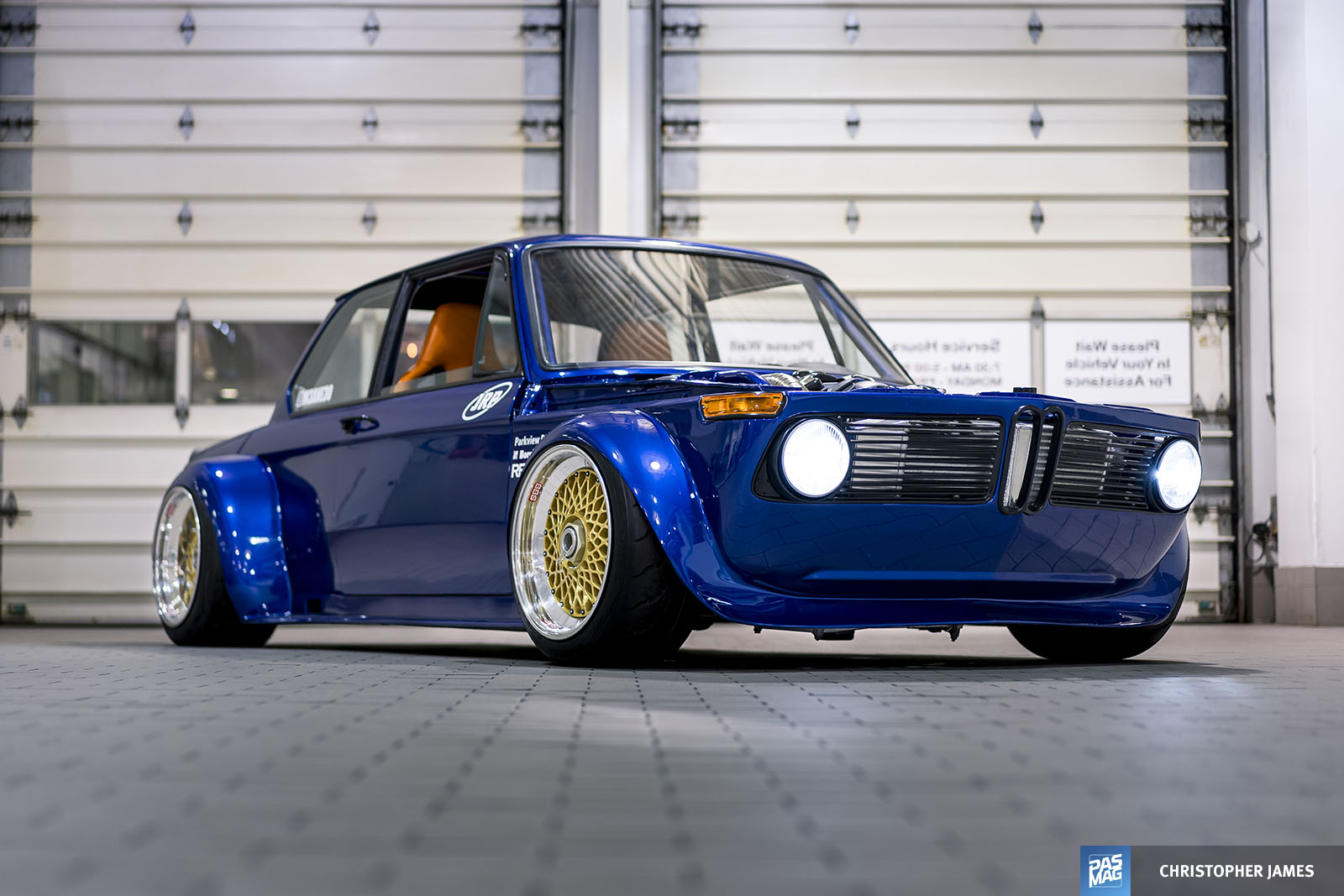 While this extensive resto-mod of the bare chassis was underway, the S55 in question was being assembled by Dalmakis at home, with tuning support from Martin Roets of MJR Technologies in South Africa. The S55B30 was treated to improved fuel delivery courtesy of a Radium custom fuel cell, dual OEM high-pressure fuel pumps, Injector Dynamics 1050X injectors, and additional port injection with Flex Fuel capability for good measure. Airflow is bolstered in tandem with the help of BorgWarner's 8374 twin-scroll turbo mounted up front, and a ported head, with a pair of Tial 44mm wastegates and a 50mm BOV managing boost pressure. The whole setup is managed by Motec's M142 ECU, and all together makes a respectable estimated 800 horsepower.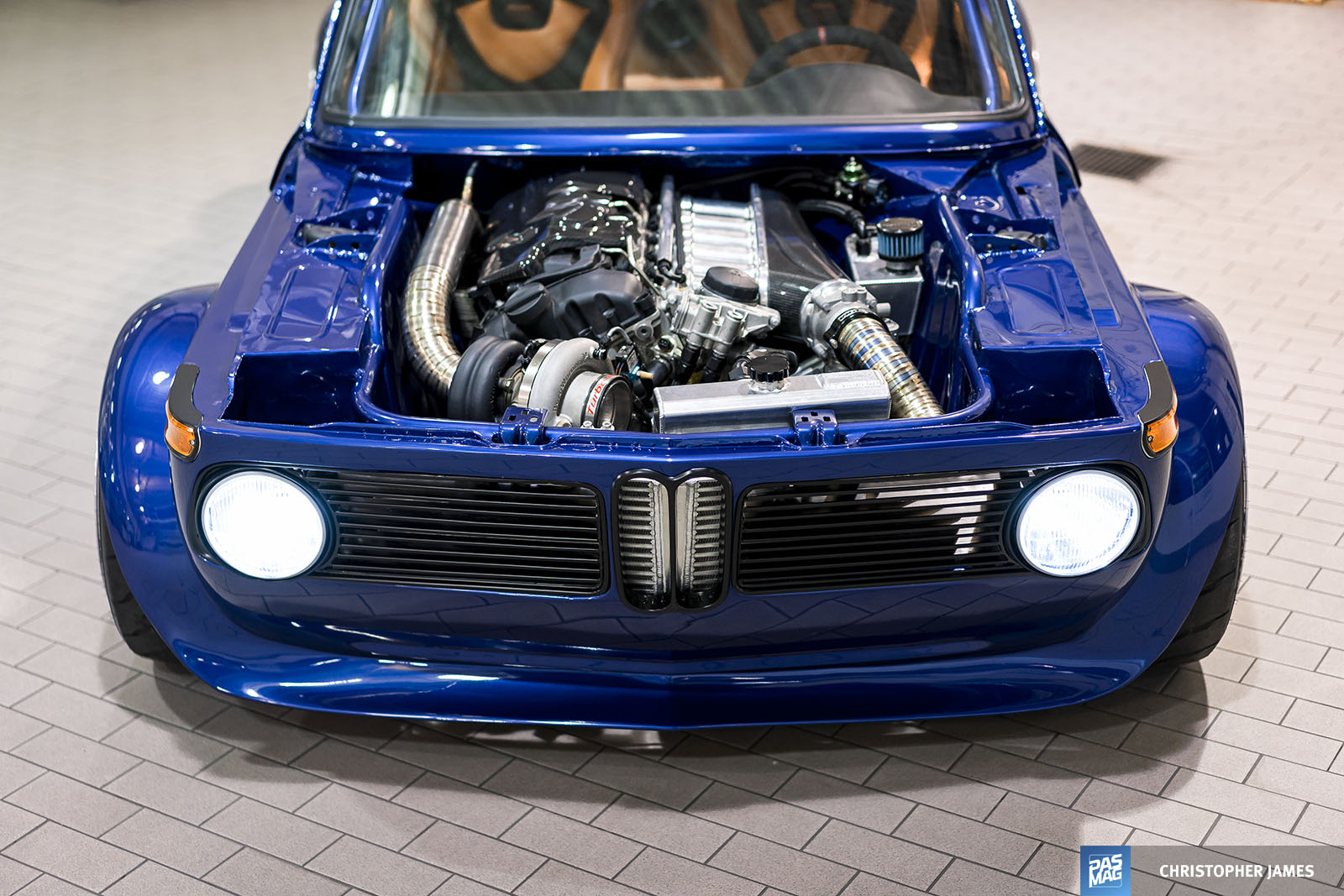 The components in the engine bay are already a cohesive unit, but if this was to be a show car, Dalmakis had to go above and beyond. A custom carbon fiber intake manifold makes for a great conversation piece. "Built by Custom Plenum Creations in Australia, it was quite a process to ensure fitment," Dalmakis says. "3D files were exchanged, 3D printed in Canada for test fitting, and revised until the final product was built in Australia." To further complement the engine bay, all piping was made of titanium, and fitted with Vibrant parts throughout.
Built around E9X subframes, the track width had been widened by four inches in the front and rear. E9X M3 bushings, control arms, thrust rods, sway bars, and even LSD were used to make up the bones of the suspension system, and thanks to the uniformity of the E9X components, Dalmakis was able to use Air Lift Performance's air suspension for an E90 as a plug and play installation, utilizing Accuair's Endo-CVT tank and management system. Handling steering is a BMW Z8 hydraulic steering rack.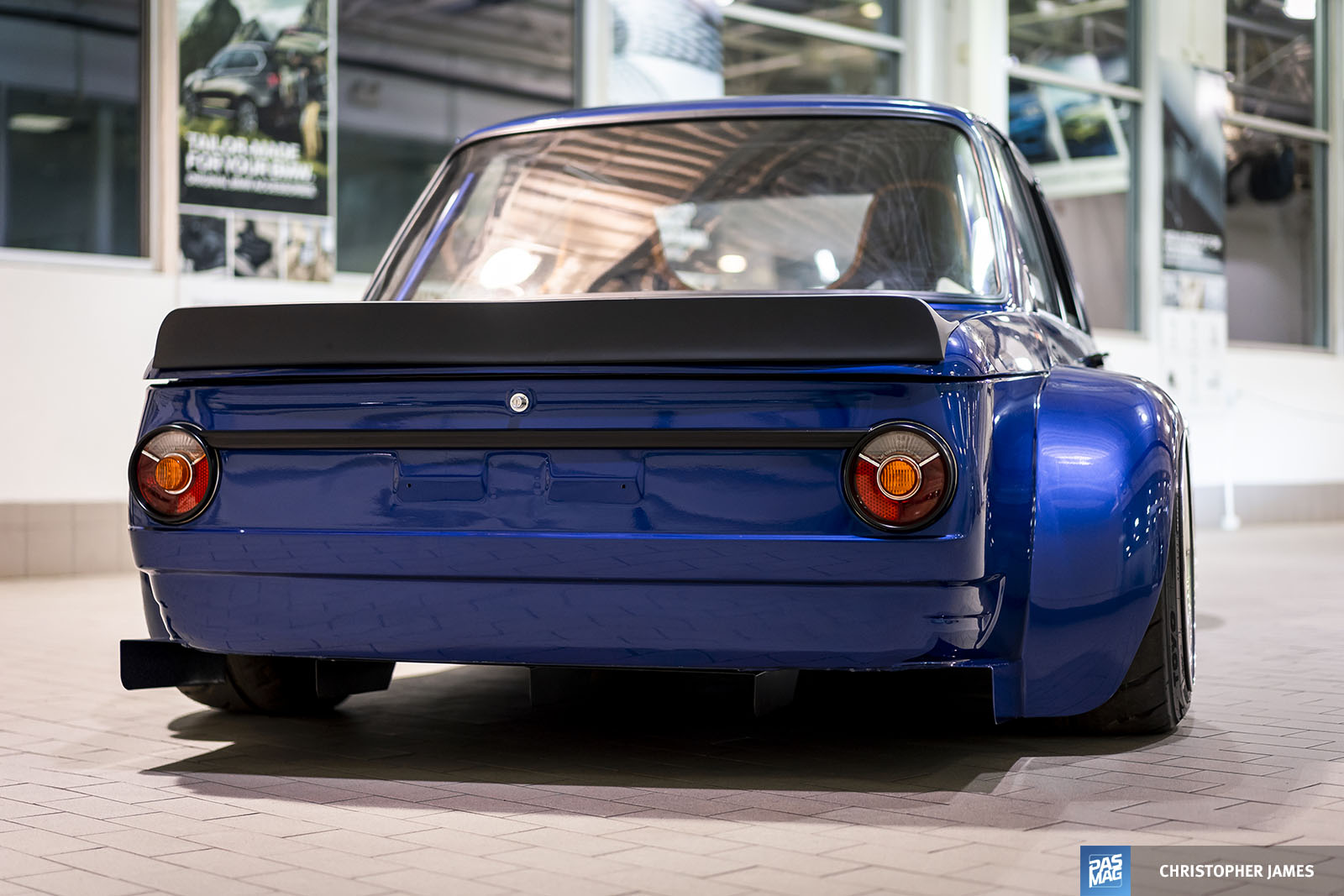 The body of the car itself had to get considerably wider to suit the new subframes and track width, so the car was given to Kyle and Warren Scaife to construct a full metal widebody. With that widebody completed, it was time to hit the paint booth. Ensuring the 2002 stood out among other show-worthy vehicles at SEMA and beyond, Dalmakis took a look through the BMW Motorsport Division color catalogue, and found the perfect color: San Marino Blue. Once painted, the BMW's glass, rubber, and a majority of the hardware were replaced to give the car a truly showroom fresh look.
At ground level, Dalmakis filled those massive new wheel arches with a 17-inch set of BBS E55 center-lock wheels, measuring 10 inches wide up front, and 12 inches wide in the rear. If these gold wheels look brand new, that's because they are. With the help of sponsor, JRP, Dalmakis was able to convince the BBS Motorsport division to whip up a brand new set of E55 wheels to his exact specifications. Wrapped in Toyo R888R tires, the wheel and tire setup looks fit for motorsports at the drop of a hat, and the Forge Motorsport big brake kit behind them ensures the car can handle itself.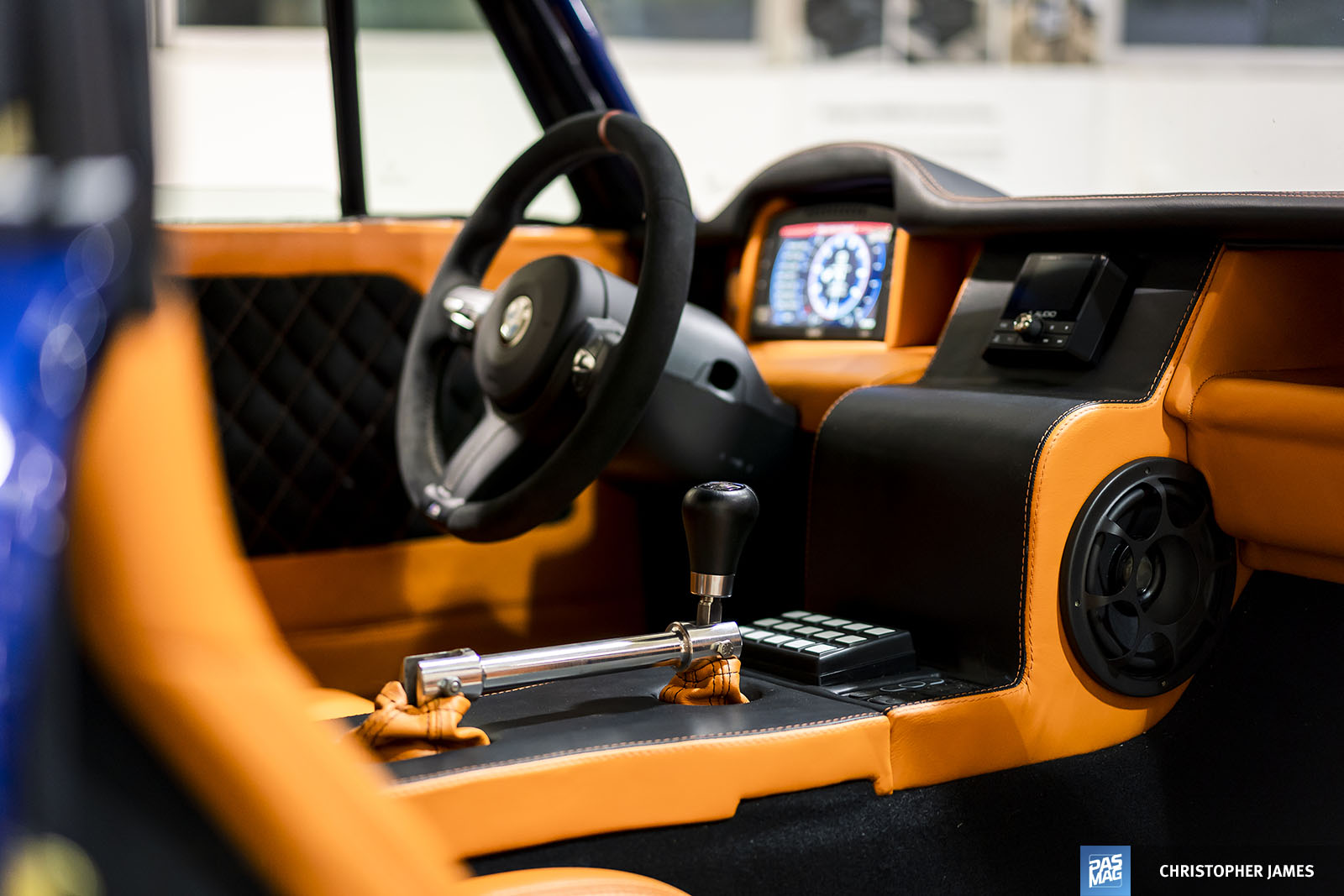 At this point, Dalmakis could have called it a day, and the car would still look right at home on the floor of SEMA, but he isn't the type to cut corners or leave things untouched. The interior of the car was treated to a full custom reupholstery using orange Nappa leather and black alcantara from front to back, including the trunk, where you'll find a diamond-stitched trunk floor surrounding the fuel cell. Recaro Sportster seats were reupholstered in matching orange, which works well with the wheel faces when viewed from the outside. Modernizing the instrument panel is a Motec C127 digital instrument display, and a full JL Audio speaker set.
With another incredible BMW build under his belt, Dalmakis is just about finished tinkering with his '73. We got our first glimpse of the car on the floor of SEMA 2019, and we were immediately impressed, as the car stood out even among the world's finest around it. The last order of business is to get it over to the dyno for a proper shakedown and solidify his 800 horsepower goal as a reality. Now the only problem Dalmakis faces is choosing which of his awesome builds to drive on a nice day.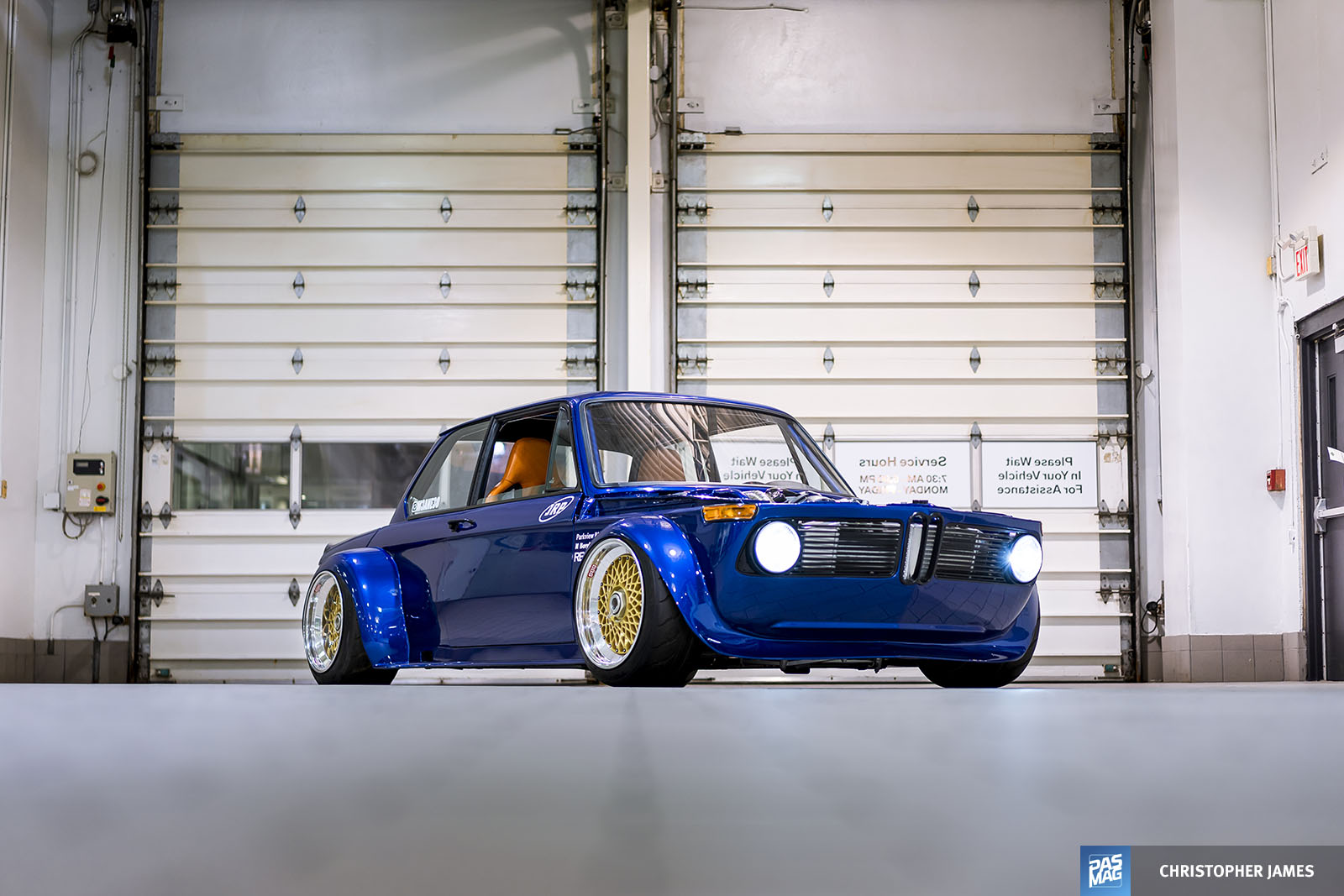 Photography by Christopher James (@itschrisvq)
---
ESSENTIALS
Owner: George Dalmakis
Vehicle: 1973 BMW 2002
Location: Toronto, Ontario, Canada
Engine: BMW S55B30 3.0L I6
SOCIAL
Instagram: @m3ane30
ENGINE
BMW S55B30 engine swap
Ported head
Keyed hub
BorgWarner 8374 twin-scroll turbo
Custom carbon fiber intake
Tial (44m wastegates (2), 50mm BOV)
Motec (M142 ECU, PDM 15)
Injector Dynamics 1050X injectors
Additional port injection
Radium custom fuel cell
Dual OEM high pressure fuel pumps
Flex Fuel sensor
EXHAUST
Vibrant custom titanium exhaust system
DRIVETRAIN
WHEELS / TIRES / BRAKES
BBS E55 center-lock wheels - 17x10 (f), 17x12 (r)
Toyo Proxes R888R tires - 235/40/17 (f), 275/40/17 (r)
Forge Motorsport (356mm front rotors, 330mm rear rotors, 6-piston front calipers, 4-piston rear calipers, stainless steel braided brake lines)
CHASSIS / SUSPENSION
Chassis Stop tubular chassis
BMW Z8 hydraulic steering rack
BMW E9X subframes
BMW E9X M3 (bushings, control arms, thrust rods, sway bars)
Air Lift Performance air struts
Accuair Endo-CVT air management system
EXTERIOR
Custom metal widebody by Kyle and Warren Scaife
San Marino Blue paint
Galvanized exterior hardware
INTERIOR
Custom reupholstered interior w/ orange Nappa leather and black alcantara
Recaro Sportster GT seats
Motec C127 digital instrument cluster display
AUDIO / MOBILE ELECTRONICS
JL Audio (C2-650X speakers (4), amplifier)
---
PHOTO GALLERY