Photography by Russell MacDonald (@basisvisuals)
---
Does the GTI before you look unlike any Golf you've ever seen before? It should. That's because very few of the visible parts on this car are available for purchase anywhere. Jason Bos isn't your average Volkswagen enthusiast. Instead of catalog shopping for parts to improve his 2003 Golf GTI's driveability, appearance, and overall quality, Bos took it upon himself to put in the hard work himself. Having worked as a machinist and fabricator for nearly two decades, he decided he would learn some new skills to experiment on his own car.
"I've always enjoyed making things, whether it's from fabric, metal, or wood," Bos tells us, reflecting on his hands-on nature and how it applied to car building. "A car is just a large canvas that lets you try different things." That big blank canvas was a playground for Bos in the early stages of the build. Bos has owned the car for six years, but its current iteration started about three years into his time with the car, and lasted another three years to reach the point it's at now. Rome wasn't built in a day, after all.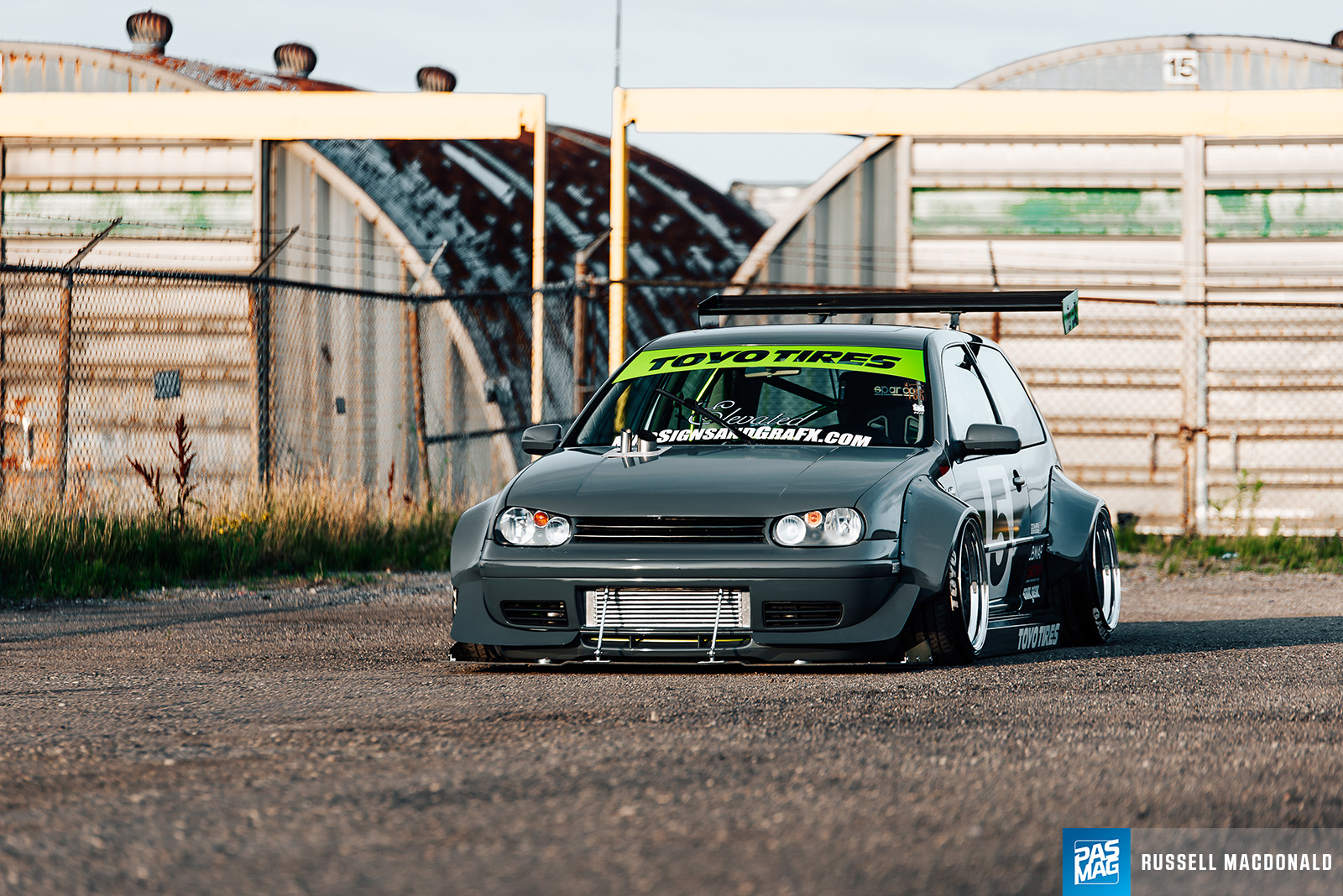 One of the most incredible and immediately noticeable features on this build is the super wide widebody kit. No universal ABS plastic fender flares here - the pieces of this kit are all hand-made by Bos himself out of sheet metal, after learning some new skills and making some new tools for his machines to help stretch the material with minimal tooling marks. Bos extends a thank-you to Empire Fabrication, an American fabrication company who gave Bos some advice on the process when he called for some help. Once he had figured out the right way to craft a proper reverse curve in the metal, he was proficient in the process by the time he reached the last one.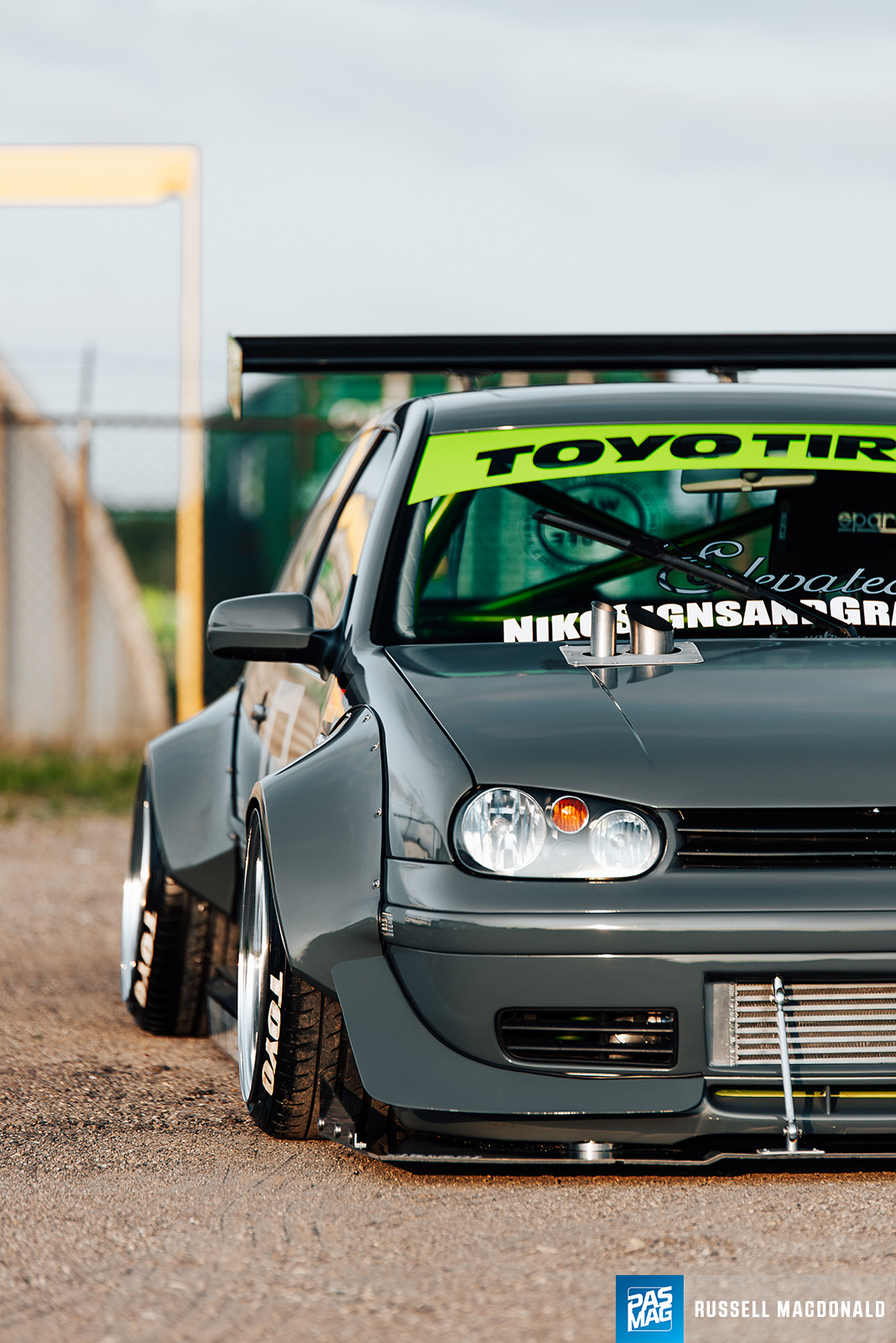 With his custom fender flares made, he added a splitter, metal side skirts, and spoiler brackets, all hand-made to match the car's growing widebody aesthetic. With the GTI now several inches wider on each side, the rest of the car's components needed to work in tandem with that. Matching the car's width at the highest level is an APR GT250 carbon fiber spoiler attached to Bos' custom spoiler brackets, reaching almost as far out as the fenders themselves. From top to bottom the car is full of custom surprises, and at ground level you may notice something extra unique.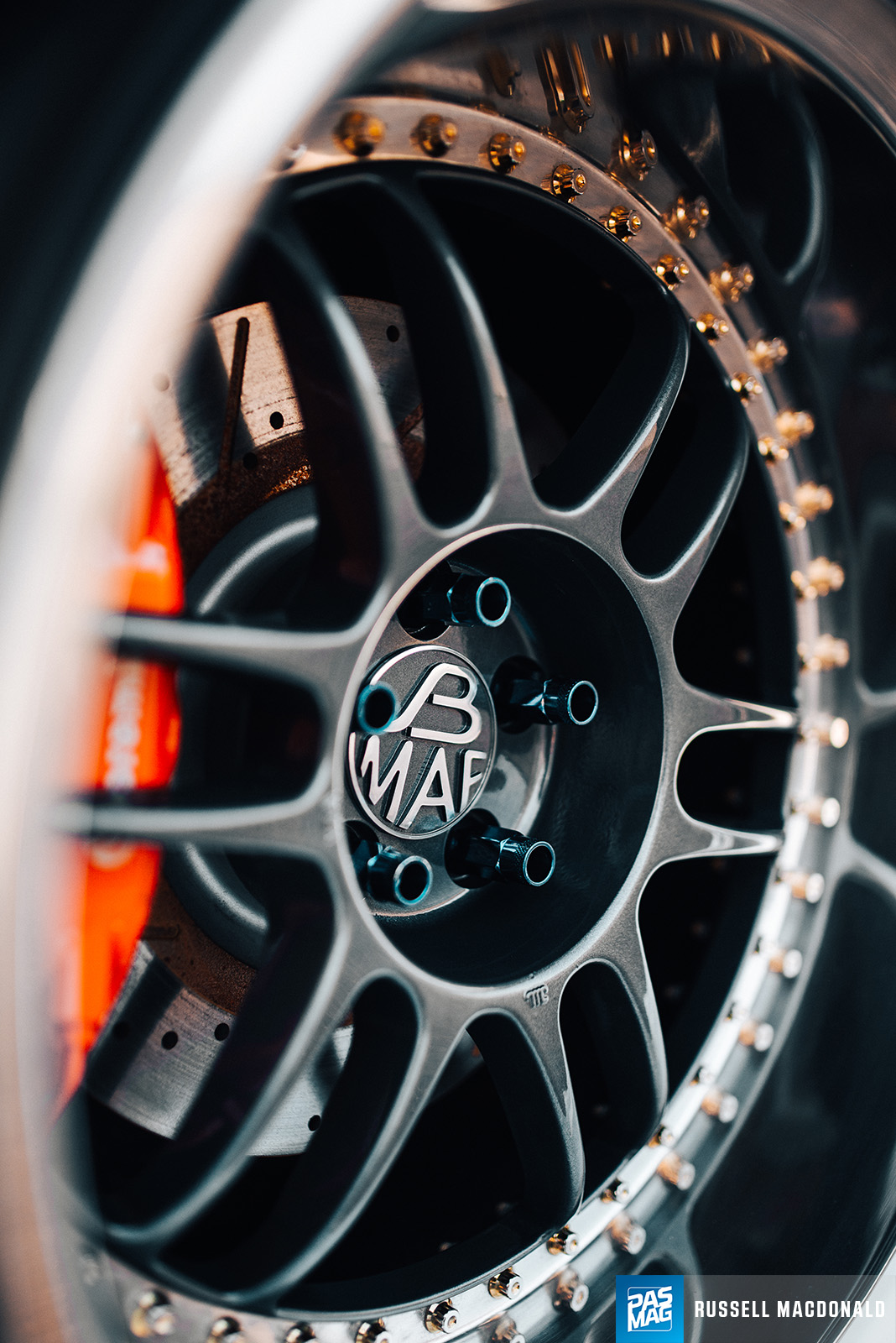 If you know your wheels, you've probably spent a bit of time examining the very special Enkei RPF1 wheels in a three-piece variation. You might be thinking to yourself that three-piece Enkei RPF1s don't exist - and until Bos came along, you would have been right. After splitting a set of RPF1s on his lathe, he had lips and barrels sourced by Righteous Garage, and put together the world's first three-piece set of Enkei RPF1 wheels, complete with 6-inch lips up front, and 7-inch lips in the rear, with the entire assembly held together with gold M7 hardware. Once completed, the custom RPF1s measured 18x11.5 up front, and 18x13 in the rear. Adding the final finishing touch to the custom wheels is a special JB MaF center cap to let people know just who made them.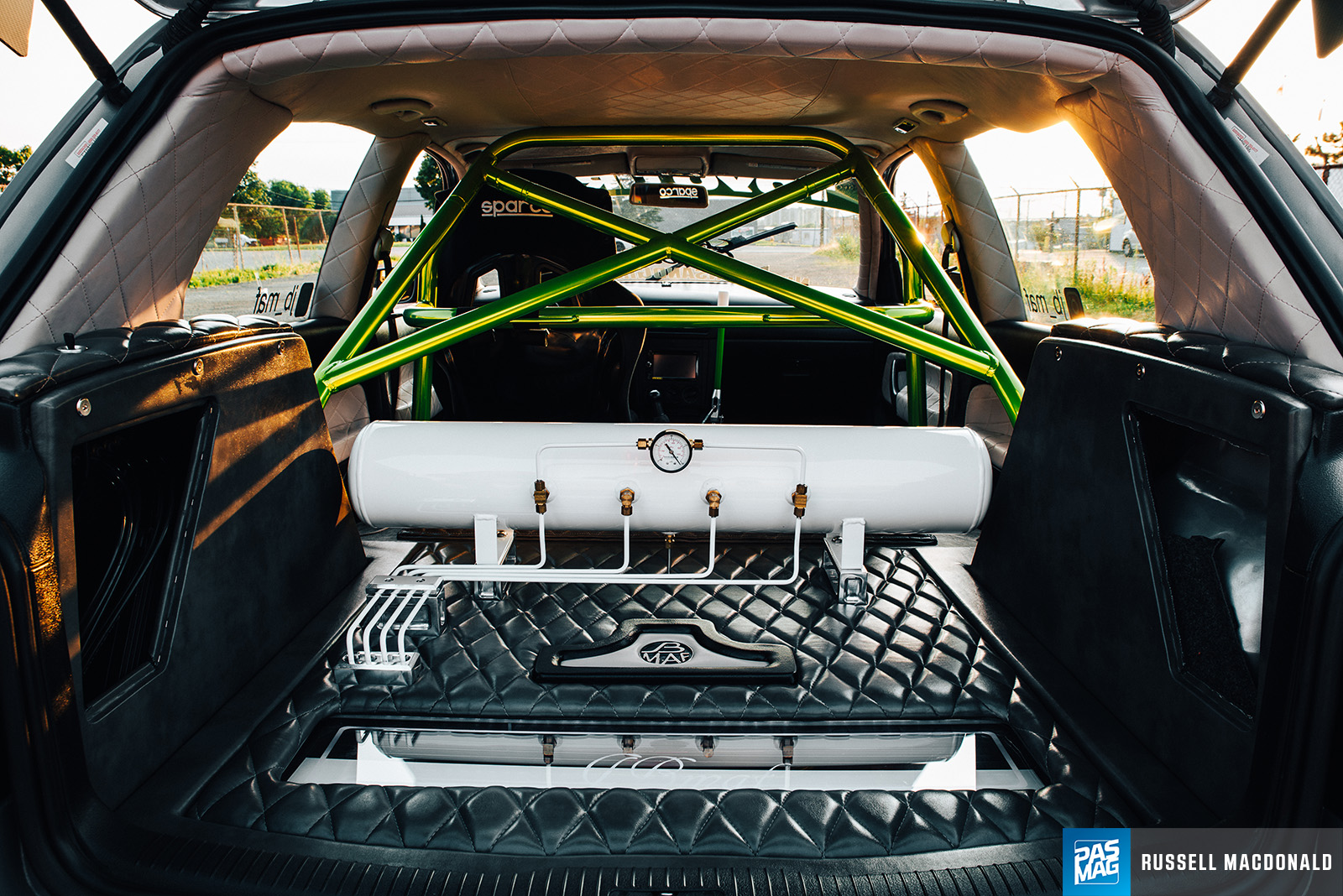 Allowing the Toyo tires to tuck beneath the wide metal fenders and achieve perfect fitment is a full Air Lift Performance air suspension system, which is managed by a tank, compressor and hardline setup displayed beautifully in the trunk. That trunk setup sits just beneath a green painted, custom fabricated roll cage, and atop a completely reupholstered trunk floor, complete with diamond-pleated leather and a JB MaF CNC-machined logo plate. Flip a switch, and the internal trunk access door opens via air actuation to show off the battery, compressor, and Zapco 1000-watt amplifier that powers his JL Audio 8W7 subwoofers in a custom enclosure. The entire trunk setup was designed and fabricated by Bos himself, making for an incredible show display that he can truly take pride in.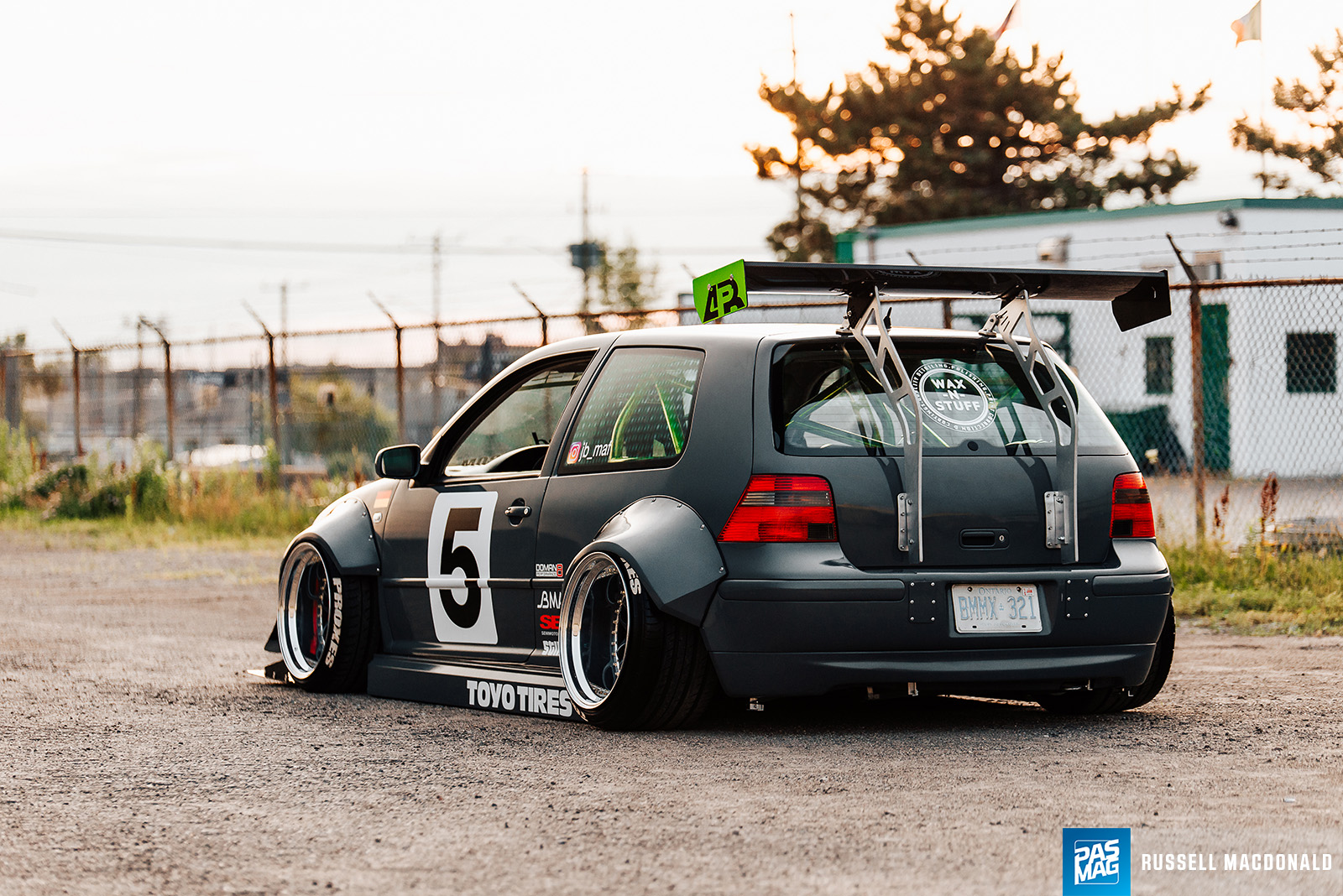 Once the show-worthy nature of the vehicle was well taken care of, Bos directed his attention to ensuring the GTI's performance matched the aggressive looks. In the three years before he had amassed enough metalworking skills to commit to the car's transformation, Bos had added a bigger turbo, injectors, and an intercooler around two years into owning the car. Knowing he would eventually want more, he planned ahead, and built the bottom end of his AWP 1.8T with Integrated Engineering connecting rods. He also took this time to install a South Bend stage 2 clutch and a Peloquin LSD.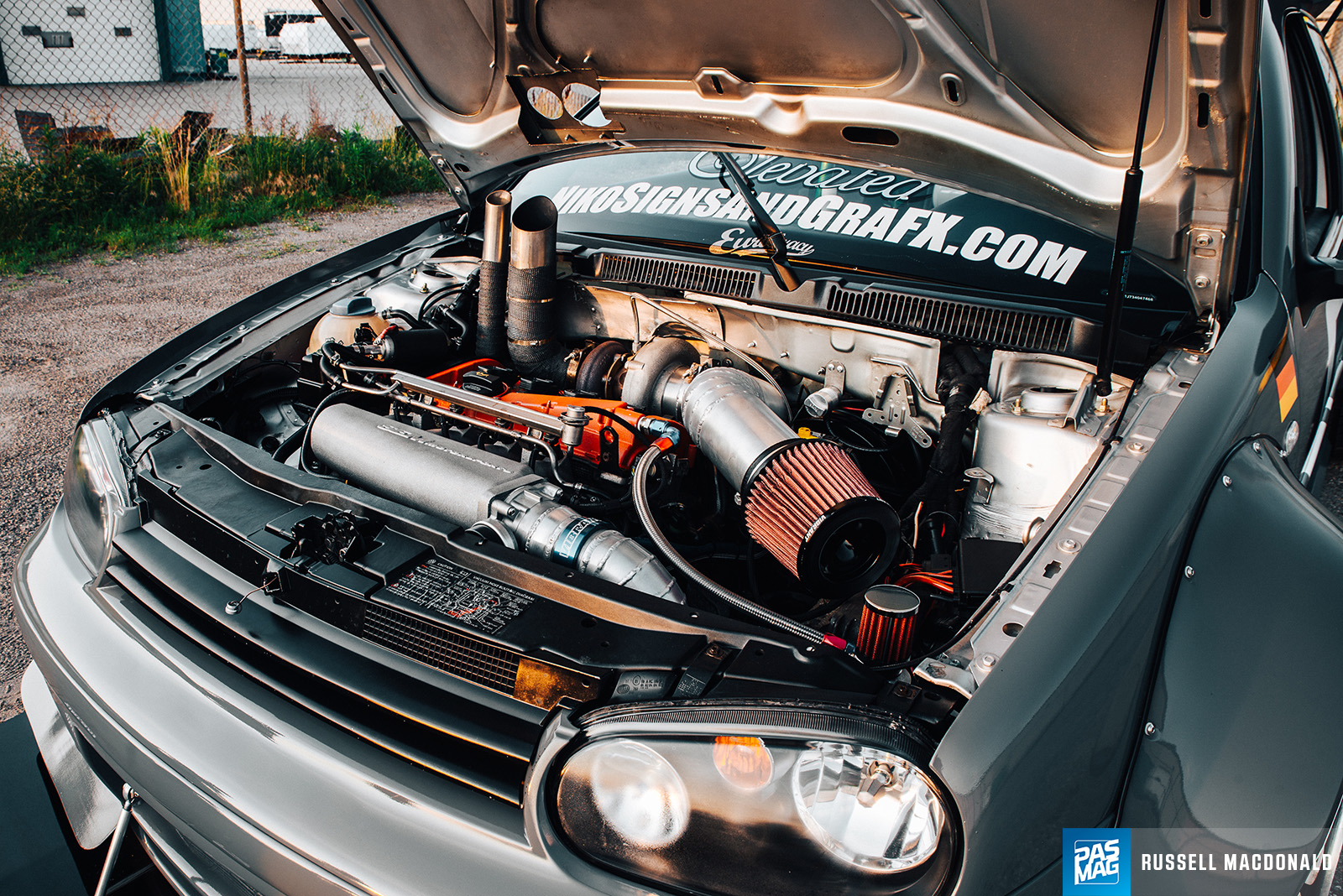 All of that performance preparation paid off in the summer of 2018. After acquiring and hoarding a handful of parts over the years, it was time to make some power. A Precision 5858 turbocharger would replace his old turbo, and Bos' fabrication skills would once again come into play as he made his own turbo manifold, intercooler piping, and custom machined Hemi throttle body made to fit on his SEM Motorsport intake manifold. Fuel delivery was taken care of by a Walbro 450 fuel pump and Grams performance 1000cc injectors, and a custom tune from Doman8 brought the entire system into harmony to make a potent 450 estimated wheel horsepower.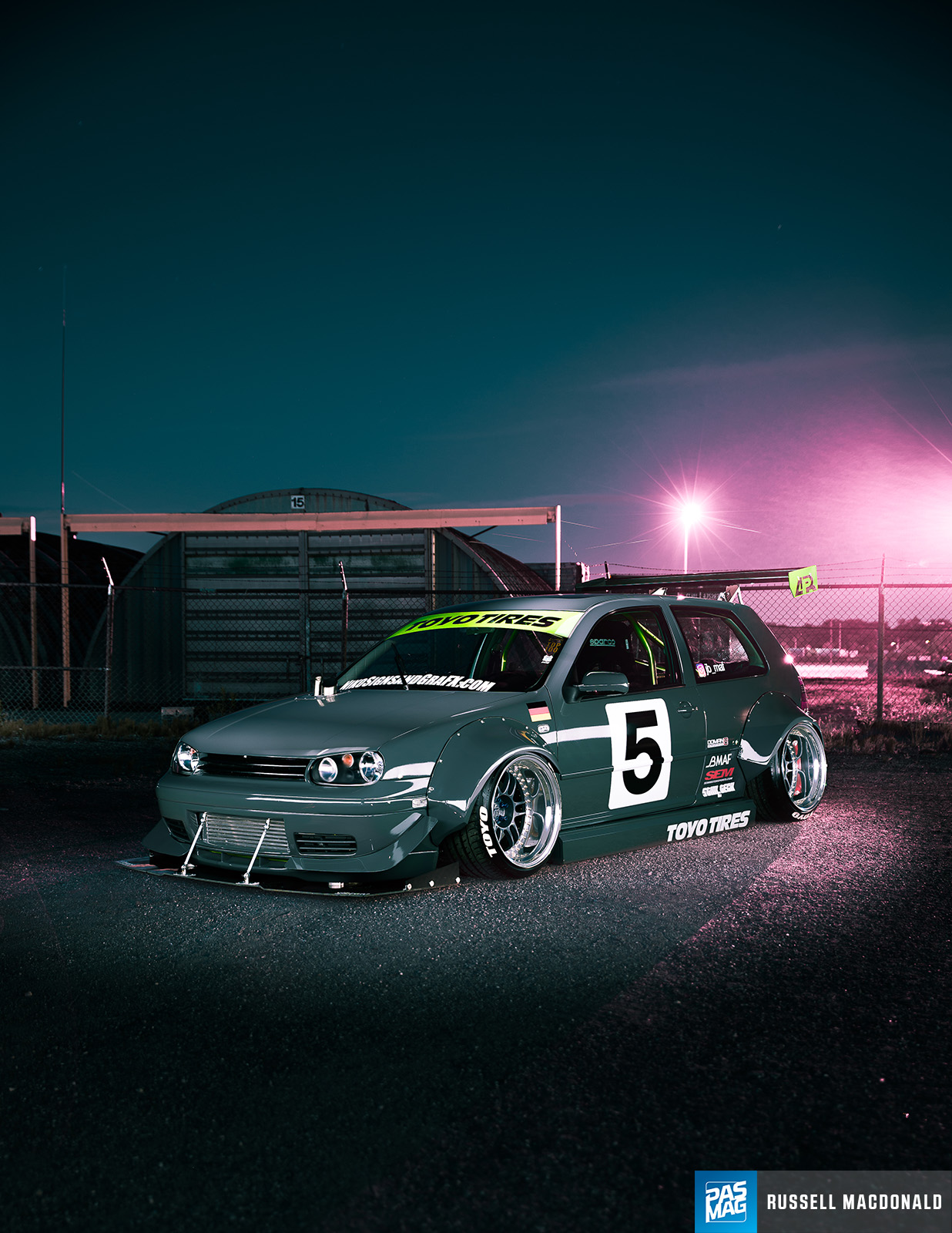 Since completing the GTI, Bos has earned numerous prestigious accolades at shows both local and abroad. After building a custom bagged trailer last year to bring the car to far away shows, the urge to drive the car more has been taking hold, and he says he will be doing a lot more of that this year. Ultimately, the build was not only a stellar show piece, but also a great learning experience for Bos to hone his skills. He tells us that his next build will utilize those same skills to create something more performance oriented, and less show-car. Whatever it is, we're here for it.
---
ESSENTIALS
Owner: Jason Bos
Vehicle: 2003 Volkswagen Golf GTI
Location: Kitchener, ON
Engine: Volkswagen AWP Turbocharged 1.8L I4
Horsepower: 450 (est.)
SOCIAL
Facebook: jason.bos.129
Instagram: @jb_maf
ENGINE
Integrated Engineering connecting rods
Precision Turbo (5858 turbocharger, 38mm wastegate)
Grams Performance 1000cc injectors
SEM Motorsport intake manifold
Tial BOV
JB MaF custom (turbo manifold, intercooler piping, 3-inch cold air intake, machined Hemi throttle body)
Vibrant HD clamps
Walbro 450 inline fuel pump
Doman8 custom tune
EXHAUST
JB MaF custom pie-cut wastegate hood exit
DRIVETRAIN
Peloquin LSD
South Bend stage 2 clutch
WHEELS / TIRES / BRAKES
Custom Enkei RPF1 3-piece conversion wheels - 18x11.5 (f), 18x13 (r)
Toyo Proxes tires - 265/35/18 (f), 285/30/18 (r)
Custom machined (JB MaF center caps, brake adapters)
Gold M7 hardware
Mitsubishi CT9A Brembo brake calipers
Stim Technologies hydraulic e-brake
CHASSIS / SUSPENSION
Air Lift Performance V2 full air suspension system
EXTERIOR
JB MaF custom (metal widebody, front splitter, splitter rods, metal side skirts, hand-shaped fenders, spoiler bracket)
Shaved (hood, hatch emblem)
Avery Dark Gray Gloss vinyl wrap
APR GT250 carbon fiber spoiler
INTERIOR
Custom interior reupholstery
Diamond-pleated (headline, pillars, trunk setup
Air actuated trunk access door
JB MaF (custom fabricated roll cage, CNC-machined logo trunk display)
Sparco (Evo Competition driver seat, 4-point harness)
AUDIO / MOBILE ELECTRONICS
Zapco 1000 W old school amplifier
JL Audio 8W7 subwoofers (2)
Custom subwoofer enclosure
SPONSORS
Stim Technologies
Toyo Tires
SEM Motorsports
Niko Signs and Grafx
JB MaF