A Period-Correct E36 M3 That Stands The Test Of Time.
We have all had goals and promises that we made to ourselves back in our adolescent years. Whether it's a giant house you wanted to buy, some super model you wanted to marry, or a tropical island that you wanted to retire at by age 30. Let's be real - a lot of us never came through with those promises. Not to bum you out, but that's just how reality works. There's a point in your life where you just sit around with your high school friends talking about the good old days and how great things would have been if you just came through with one of those promises. That's part of getting old. Don't feel too bad because you're part of the majority. There is a small handful of people in our world's giant population that do keep their word to themselves, and Jonathan Huang of Claremont, California is one of them. The promise is his Dakar Yellow 1998 BMW M3 convertible, and like most things from the 90's, with the exception of Nokia cell phones, classics like this E36 never go out of style.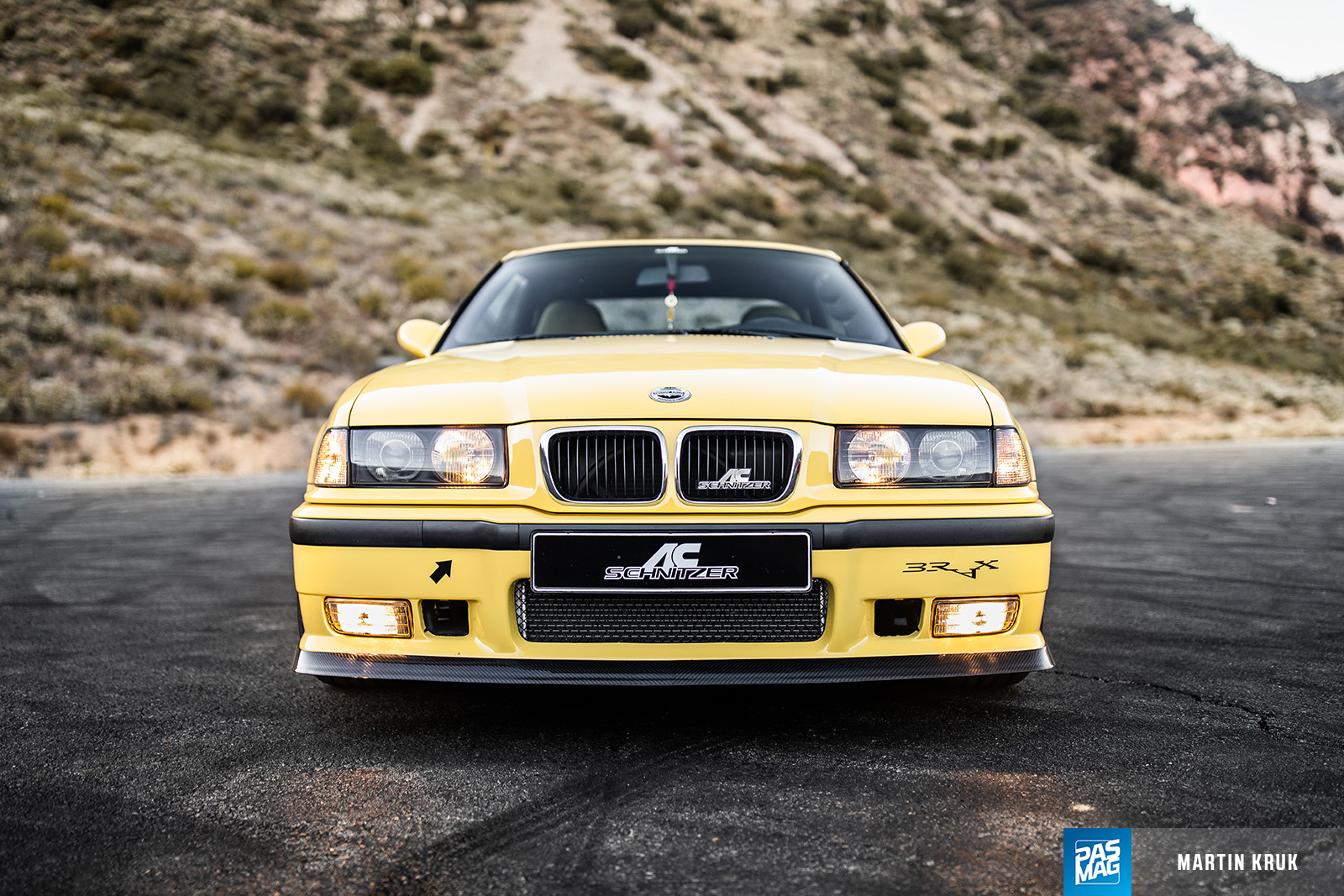 When we first asked why he built his E36 M3, Huang told us that it was out of nostalgia. It was his favorite car growing up, and he vowed that he would buy and build one when he was able to afford it. Sounds familiar. Like many of us, he was just a broke college kid with a passion for cars. His first Bimmer was also an E36 body, but a 325 that he received as a graduation present from his parents. He built that up through the years with parts he could find online or at local shops. Fixing up cars wasn't as easy back in the day. Young bloods will never understand the challenges of browsing internet forums over slow dial up internet. From that small taste of the sweet nectar, he longed for the day that he could afford the beefed up version of his original 3-series. While Huang's M3 dreams seemed far from reach, he never strayed from the vow that he made to himself. Between studying and college fraternity parties, Huang spent the majority of his time flipping through AC Schnitzer catalogs and checking off every single part for his future car until his pen ran out of ink. All he could think to himself was that one day, he would own his dream car. In 2014, one of his boys got him feeling young again so he started scouring the internet to look for the M3 that had his palms sweating back in his teenage years. On April Fool's Day of that year, he found his car on eBay.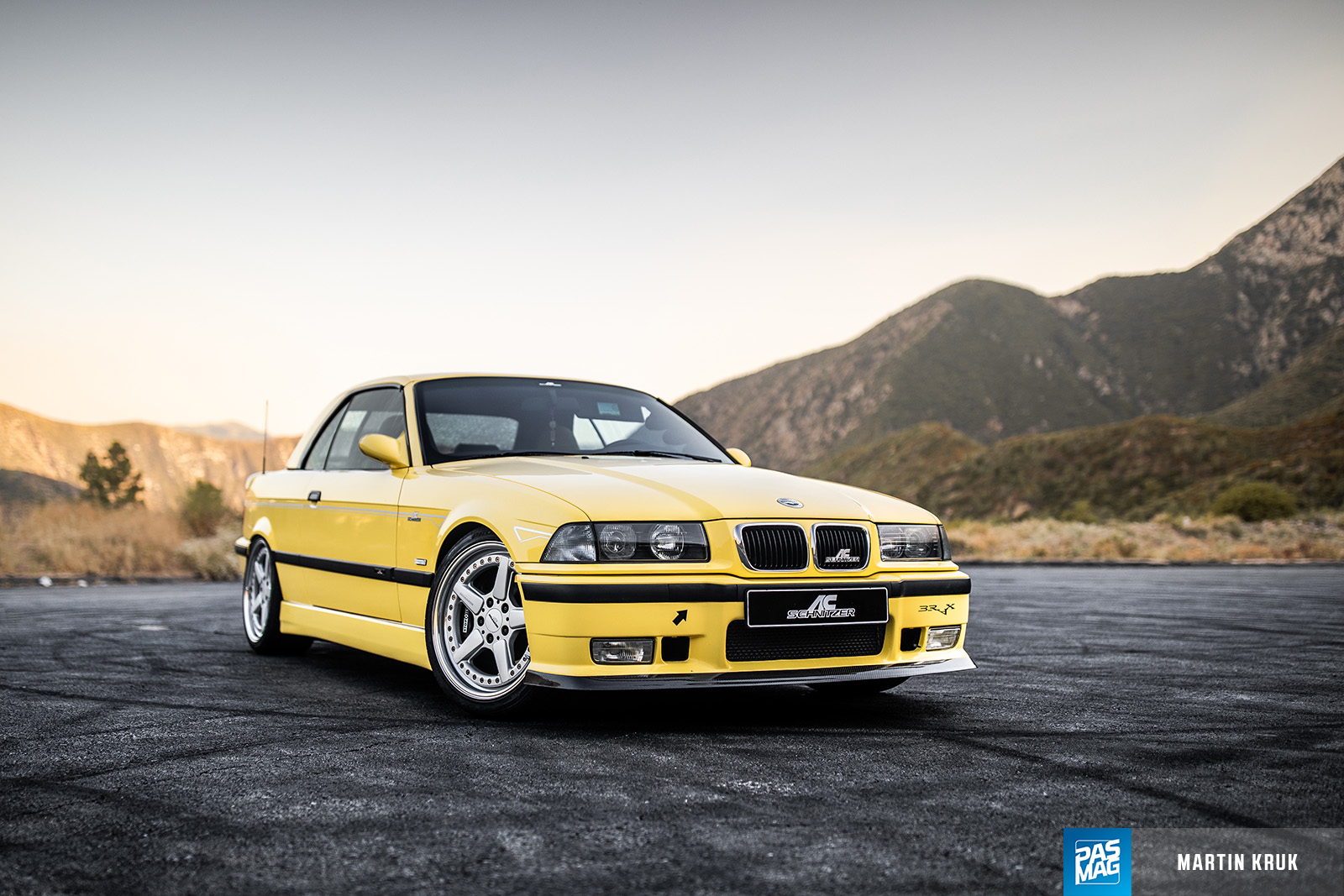 So here we are, over 20 years after the production date of his M3 and Huang is feeling more and more content with his build. He did, however, ravage through a series of very luxurious rides through the past two decades from a Lexus SC430, to a BMW M5, to a couple of Aston Martins. As you can see, Jonathan has a taste for the fine arts, but like our first loves, none will ever compare to his M3. He goes on to tell us that one of the biggest challenges that he ran into when building his M3 was trying to keep it period-proper to the '90s. It's so easy to get caught up in what's hot right now, but then this yellow masterpiece wouldn't be true to form. Nearly the entire car is engulfed head to toe in AC Schnitzer body parts and accessories. If it isn't carbon fiber this then it's DTM that. Everything had to be authentic for the car to be perfect in his eyes.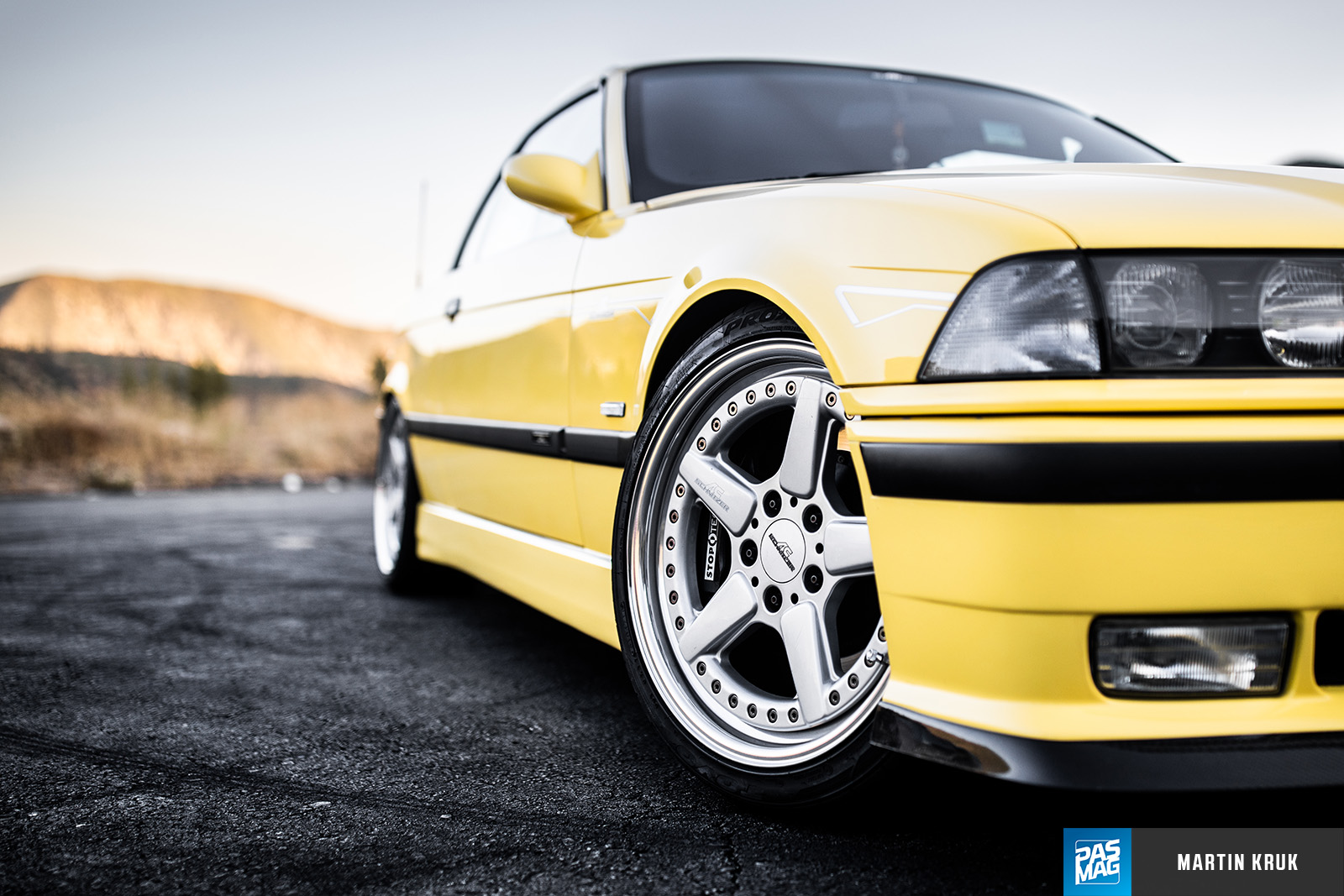 For millennials, think of it as the equivalent of having your closet and wardrobe filled with Supreme and Off White gear - just to keep things relatable. Jonathan mentions that he went with AC Schnitzer because the name sounded very "German" so that all worked out well as the body parts complimented the Dakar Yellow superbly. German cars aren't known for being nimble and lightweight. Tack on all of the body armor and 18-inch Type II Rennsport wheels, and he was pretty much trying to push a tank around if he kept the engine stock.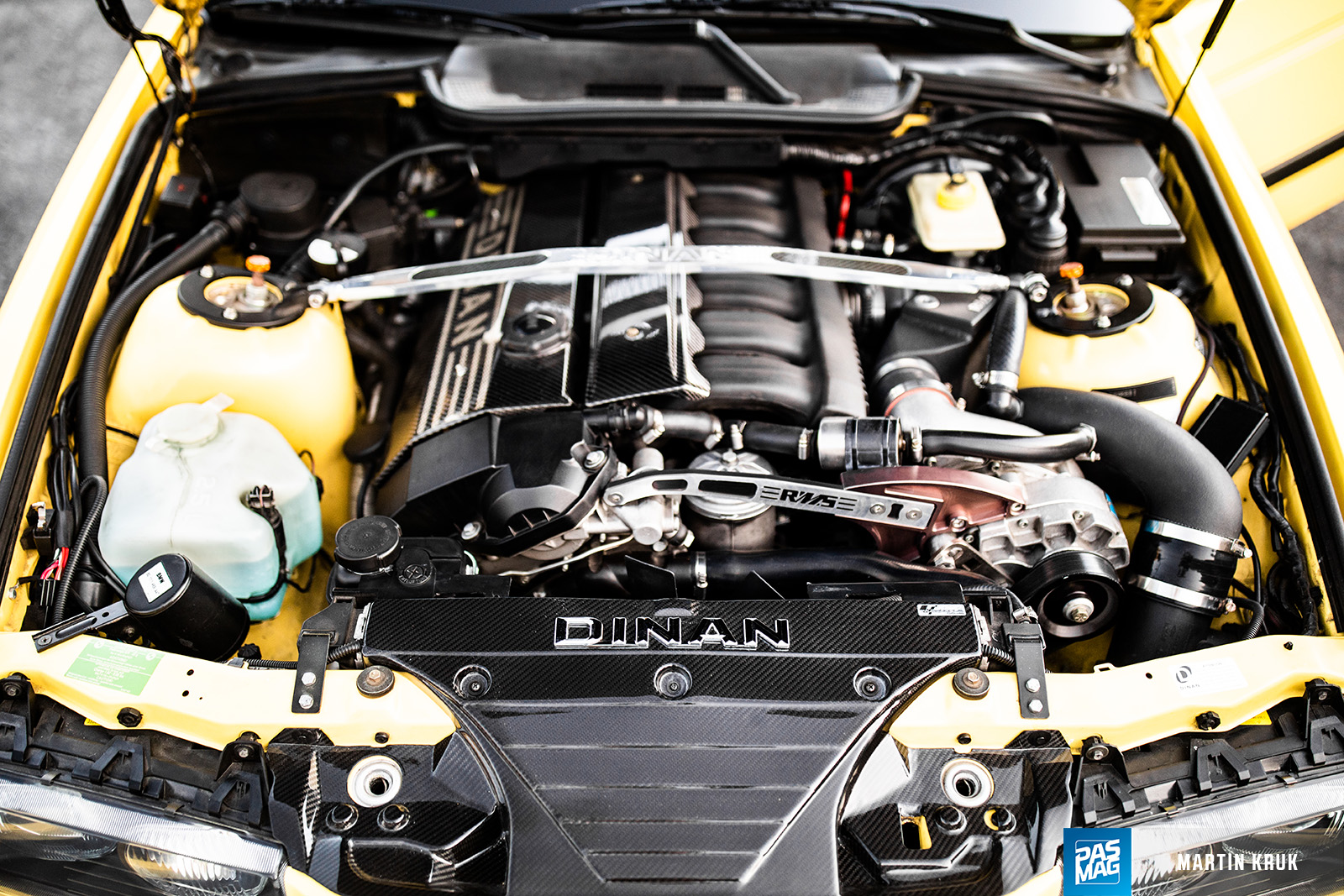 Huang was well aware of this, so his next focus was on pumping up the horsepower with a Dinan/Vortech V2 supercharger, exhaust, and Technique Tuning programmed ECU. He ran into a bit of a snag when the original tuner went MIA on him and ran off with his cash. His car almost ended up being an expensive door stopper rather than the 400-plus horsepower, show-stopping, asphalt abuser that you see now. We didn't take Huang for a big audio guy, but he reiterates that his favorite and most expensive component of the car is the Brax sound system from Germany.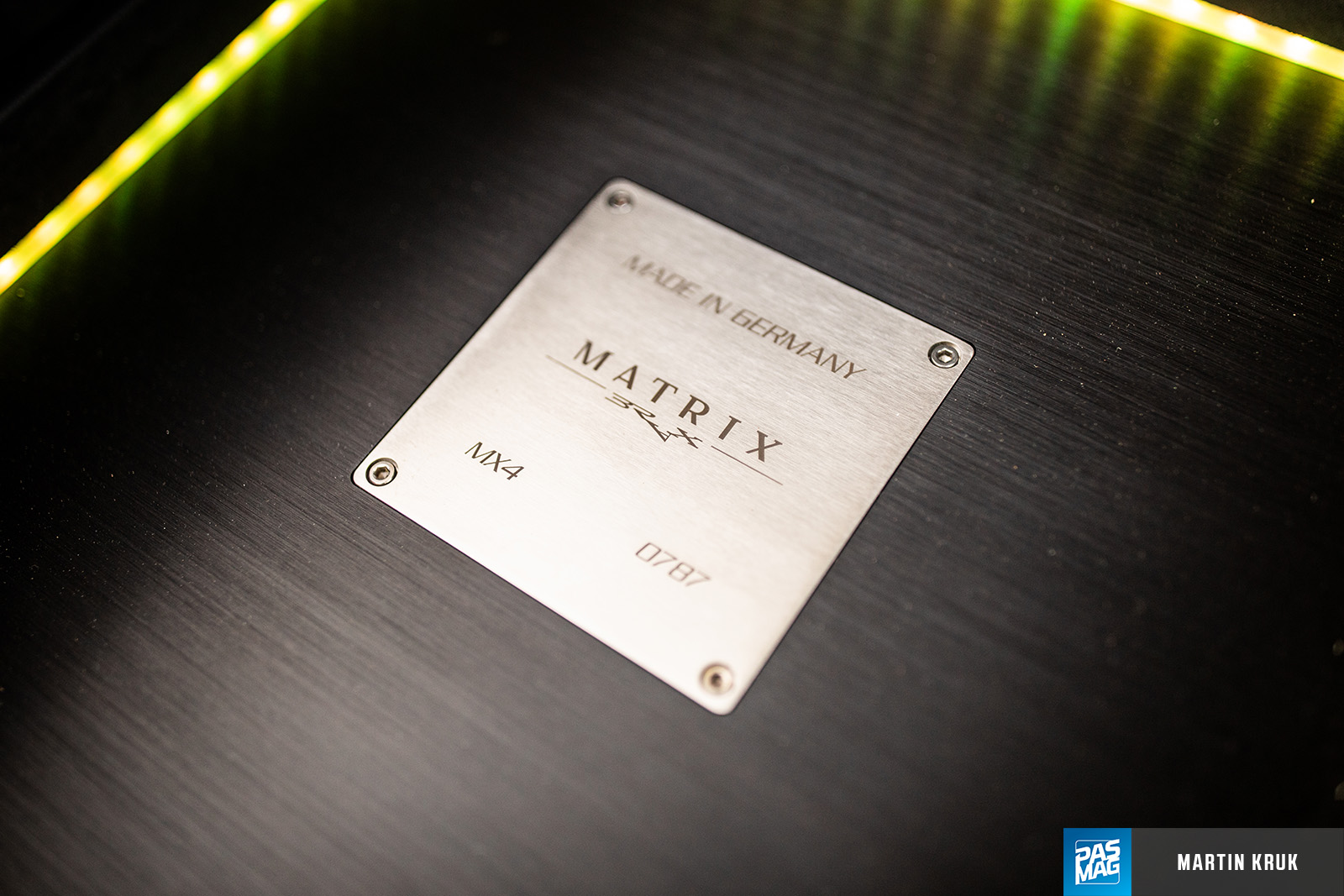 German car, German audio - seems like a good fit. Huang must have maxed out more than a couple of credit cards orchestrating the combination of Brax speakers and limited edition Denon head unit and controls. If Huang really kept everything period-specific, we can only imagine that he's bumping some 90's gangster rap while he battles the Southern California traffic in the Inland Empire.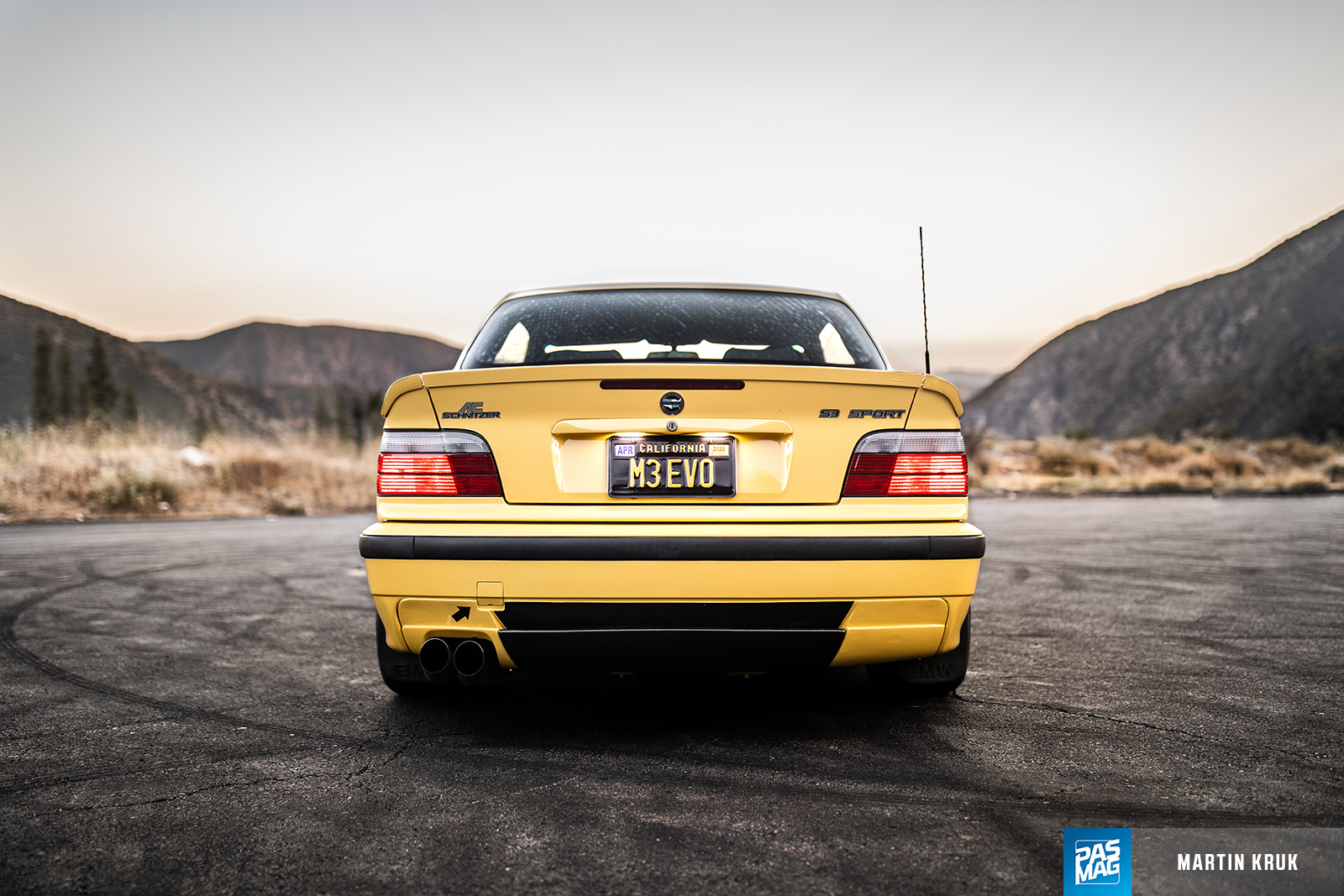 A cool, but probably dangerous side story comes along with the acquisition of Huang's M3. Car lovers are notorious for putting a build ahead of their significant others, and Jonathan was no different. While his wife was in the hospital ready to go into labor with their first child, he was out on the phone trying to make a deal to buy his car. Thankfully, everything worked out and he was able to buy the car of his collegiate dreams, and still witness the birth of his son. We don't highly recommend this to anyone that values their own lives.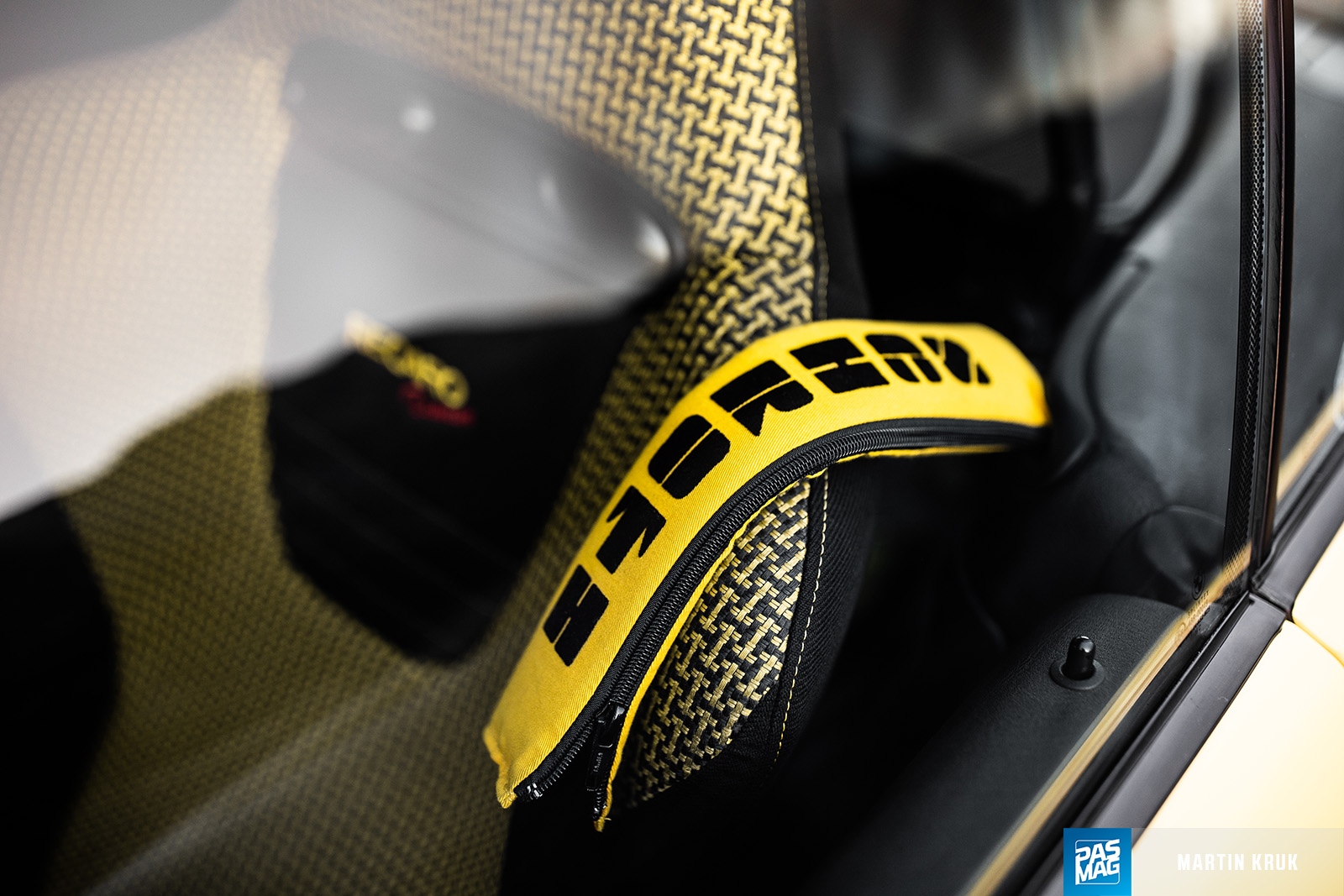 Huang originally built this car for his own self-satisfaction until he eventually decided to flex a bit and enter it into some car shows. In both 2018 and 2019 Bimmerfest events, he was able to rack up two trophies, one of them being "Best of Show," which isn't too shabby considering that his M3 is over 20 years old. That'll show the newbies what's up.If you haven't yet inspired yourself, then use Huang's E36 as inspiration. Maybe you won't get to marry Tyra Banks, and the chances of retiring on Fiji before your dirty 30 birthday bash have long gone by, but at least you can still hang onto that last thread of hope that owning your dream car might be a possibility. That would definitely liven up your next college reunion.

Photography by Martin Kruk (@framelous)
---
ESSENTIALS
Owner: Jonathan Huang
Vehicle: 1998 BMW M3
Location: Claremont, CA
Engine: BMW S52 3.2L I6
Horsepower: 363 whp
SOCIAL
Facebook: ACSchnitzerS3Sport
Instagram: @esq_bimmer
ENGINE
Dinan/Vortech V2 supercharger
Dinan (3.43 supercharger pulley, carbon fiber valve cover, carbon fiber fuel rail cover, badge)
Karbonius Composites carbon fiber radiator cover
Race Marque System (aftercooler, supercharger bracket, 8-rib crank pulley kit, supercharger belt tensioner, thermal intake and tubing)
Lucas 42lb injectors
Porsche 803 HFM
M50 manifold conversion
NGK BKR7K spark plugs
Technique Tuning ECU tune
Marshall Instrument
EXHAUST
Dinan cat-back exhaust
AC Schnitzer DTM exhaust tips
Walker catalytic converters
DRIVETRAIN
Getrag 420G 6-speed manual transmission conversion
BMW E46 M3 (shifter, clutch assembly)
Dinan short shift kit
Modified driveshaft
Custom 3.46 differential
Offset Motorwerks clutch stop
WHEELS / TIRES / BRAKES
AC Schnitzer Type II Rennsport wheels - 18-inch
Toyo Proxes Sport tires - 225/40/18 (f), 245/35/18 ®
Offset Motorwerks black racing studs
Project Kics (Leggdura 2-piece lug nuts, tire stem valves)
StopTech (355mm front rotors, 332mm rear rotors, ST40 calipers)
CHASSIS / SUSPENSION
AC Schnitzer sway bars (f/r)
Dinan carbon fiber front strut bar
AST (4100 adjustable coilovers, rear shock mounts)
Hyperco springs
Vorshlag M-Force front camber/caster plates
Powerflex control arm bushings
Turtle Labs rear sway bar reinforcement kit
JT Design aluminum under tray
EXTERIOR
AC Schnitzer (carbon fiber front lip spoiler, carbon fiber rear diffuser, Type I DTM mirrors, Type II side skirts, silver pinstripes decal kit, 3-piece rear spoiler, S3 Sport trunk decal, white windshield decal, black door molding emblems, front Euro plate/frame)
BMW (mud flaps, hard top)
Cal Alumni license plate frame
Custom spoiler side pieces
Bosch/AL headlights
6000k HID headlight kit
Depo smoked front corner lights
LED license plate lights
INTERIOR
AC Schnitzer (silver aluminum pedals, black aluminum dead pedal, silver aluminum e-brake handle, carbon fiber airbag steering wheel, door sills, embroidery on Floyd mats, aluminum shift knob, black resin badge, seatbelt pads)
Schroth yellow seatbelt pads
Recaro Tomcat seats
BimmerWorld oil distribution/sending block
Custom (suede A-pillars, suede gauge housing, kevlar interior trim)
Rotweiss suede shifter boot
BMW Paul Klee Edition windscreen
AUDIO / MOBILE ELECTRONICS
Denon (DCT-1 head unit, DCH-470 12-disk CD changer, DSV-1 volume meter)
Brax Matrix (1.1 tweeters, 2.1 mid-range speakers, 6.1 mid-bass speakers, 10.1 subwoofer, MX4 amplifiers, Multicontroller)
Helix (DSP Pro, Director remote)
USB/iPod adapter pod
---
PHOTO GALLERY