You wouldn't be doing yourself a favor by underestimating any Irishman. Even the smallest of them can prove quite dangerous, as many vow to never go down without a fight and they just don't quit. There's a reason, the mighty English army conquered one quarter of the world, yet couldn't hold down all of Ireland. But without getting into a political debacle, let's stick to drifting, where battle is done sideways around the world. At the last Red Bull World Drifting Championships the World's best were rounded up and included a couple of Irishmen. One was 16 year-old driving sensation James Dean and the other was our boy Eric O'Sullivan who campaigns the Rockstar Hachi with stellar results.
O'Sullivan is the 2007 Pro Drift Ireland Champion and has recently been given a full ride to run in Formula D. O'Sullivan will be piloting an STi for Rockstar and Hankook this year, so his Championship Hachi will be put on ice. Even though it won't be actively competing, we had to move quick to catch this exclusive feature on his Hatchi which was bound back to the Emerald Isle right after the Red Bull event. What has really set the drifting world off about this car is its powerplant. Rather than slipping in the stout 4AG, O'Sullivan went with Honda power. With much controversy, an F20C inline-4 from a Honda S2000 was slipped into the engine bay. Without engineering something custom, the team stuck with the Honda 6-speed box, but required a custom driveshaft to make it sing. The clutch was replaced with an Exedy Hyper single carbon unit and the diff was replaced with a Toyota 7.25-inch welded LSD. An ITG induction system was added in addition to a custom header feeding a 2.5-inch stainless exhaust. The fuel was ramped up with SS lines fed by a Bosch pump draining a 20L fuel cell in the trunk.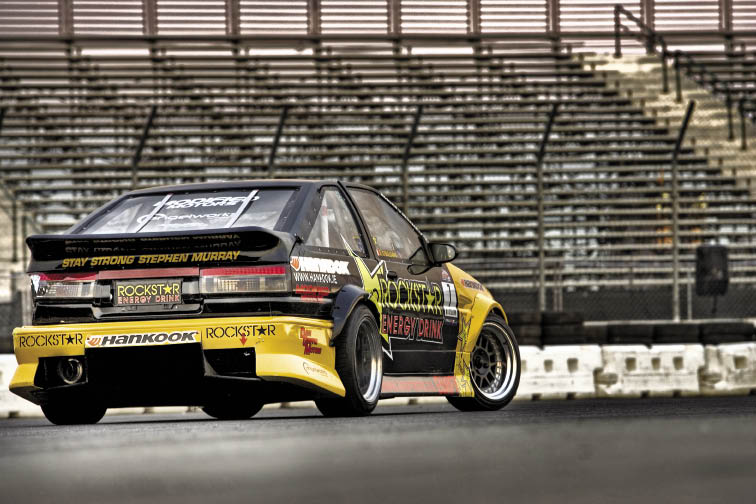 To get the car sideways and keep it there, O'Sullivan spent countless hours on the chassis set-up. A set of adjustable KYB AGX dampers were modified with Ground Control coilover conversions. Ueo Style front tension rods and lower control arms were added for more suspension tweaks. T3 was contacted for a set of front camber plates, custom tie rods, 4-links and pan hard rods. Whiteline traction brackets were added in addition to a Battle Version steering lock kit to round out the suspension. The brakes were fairly simple, stock calipers fitted with Ferodo pads, SS lines and EBC slotted rotors. The attention turned to the chassis to make it as stiff as possible. The entire car was seam-welded and a 10-point cage was fabricated for both safety and rigidity. The rolling gear had to be on-point to keep the car competitive. O'Sullivan sourced some Image wheels from the UK measuring 16x7.5-inch front with 16x9-inch in the rear featuring aggressive -40mm offsets. Sponsor Hankook stepped up with skid after skid of K105 Ventus Prime tires in 195/45R16s and 225/45R16s to hit the track.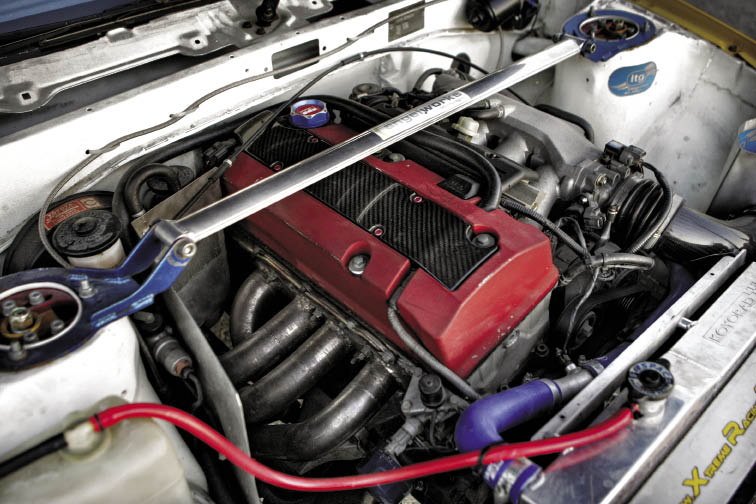 The cockpit is all about functionality. A modified dashboard features a custom carbon fiber switch panel and gauge cluster. A Sparco wheel was added in addition to Momo seats and matching 4-point harnesses. However, the exterior received much more love from O'Sullivan. A full BN Sports aerokit was added including front fascia, rear bumper and flared sideskirts. The hood and mirrors have been replaced with carbon fiber units from Carbon Culture. Danco IRL supplied the fibreglass rear hatch and doors to trim some weight as did the Lexan window replacements. A Mercury rear diffuser was added as well as a Jubride rear spoiler to manage the airflow in all directions.
With O'Sullivan achieving top honours on his home turf in this AE86, he is pleased with how far the trusty Toyota took him. With a new Subaru ride and some major backing, his skills will be focused in a more corporate direction. Coming from the tiny market of Ireland, stepping up to the Formula D series is truly making it in the big leagues.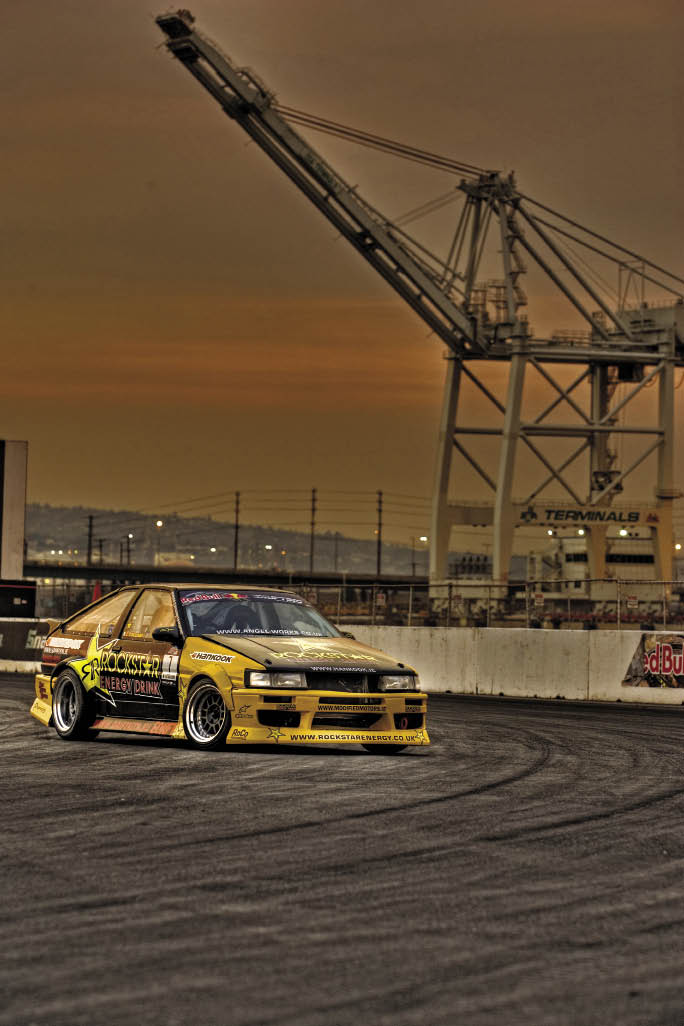 Photographer: Jacob Leveton
---
THE ESSENTIALS
Owner: Eric O'Sullivan
Location: Dublin, Ireland
Vehicle: 1988 Toyota Corolla GT-S

ENGINE
Honda 2.0L F20C inline-4

Engine MODIFICATIONS
ITG Induction system
Mishimoto Radiator
Custom engine and transmission mounts
Custom exhaust manifold and 2.5 inch system
Custom 20 liter fuel cell
Bosch fuel pump
Custom fuel lines
Engine Management
Mectronik ECU with custom wiring and mapping by Angelworks Technologies.

DRIVELINE
Stock S2000 transmission
Exedy Hyper single clutch/flywheel combo
Custom Prop shaft
Toyota 7.25 inch welded LSD

SUSPENSION
KYB AGX dampers
Ground Control coilover conversion
T3 front camber plates
Ueo style front tension rods and lower arms
Battle Version steering lock kit
T3 custom steering tie rods
Modified front cross member to accept F20 motor
T3 rear 4 links and panhard rod.
White line traction brackets

BRAKES
EBC grooved front discs
Ferodo pads
Hydraulic e-brake
Custom braided brake lines throughout

WHEELS & TIRES
Image wheels UK 16x9 -40mm rear, 16x7.5 -25mm front
195/45/16 front and 225/45/16 rear Hankook K105 Ventus Prime

BODYWORK
Fully seam welded with ten point cage
Custom transmission tunnel
BN sports Aero kit
Mercury R diffuser
Danco Irl fiber glass rear hatch and doors
Jubride rear spoiler
Carbon Culture Bonnet and mirrors
CBY over fenders
Crystal tail lamps custom tinted
Lexan windows with original windscreen

INTERIOR
Modified stock dash with custom carbon switch panel and gauge cluster
Momo seats and 4 point harness
Dry cell battery with internal/external cut off
Sparco wheel, S2000 shifter knob
---
PHOTO GALLERY