Written by Dave Pankew | Photos By Mike Gazda
The only thing constant in life is change. In the face-paced world of performance and competition anything can and will happen. We have seen feature cars stolen, vandalized, blow up and yes, completely totaled. In the case of the fiery BFGoodrich Solstice that competed in the Drift Mania series, it was destroyed within 48 hours of photographing it, so we're thrilled to be the first (and likely last) magazine to have an in-depth look at it.
I asked driver Carl Nadeau how things unraveled at Downsview Park in the fourth round of the series. "I drive a car to its maximum potential, but it needed a lot of set-up to become competitive. For example, Rhys Millen got his car from Roush Racing, and he could not drive it!!! It took him a whole year of development to dial it in. We are really far from having those type of resources. I tried to qualify the car on the very lumpy Toronto track (looks more like a mine field than a track). I've put the car sideways with a clutch kick, but it came back straight right towards the wall. I clutch kicked again, but the car griped and went straight into the wall at an estimated 100km/h (62mph)."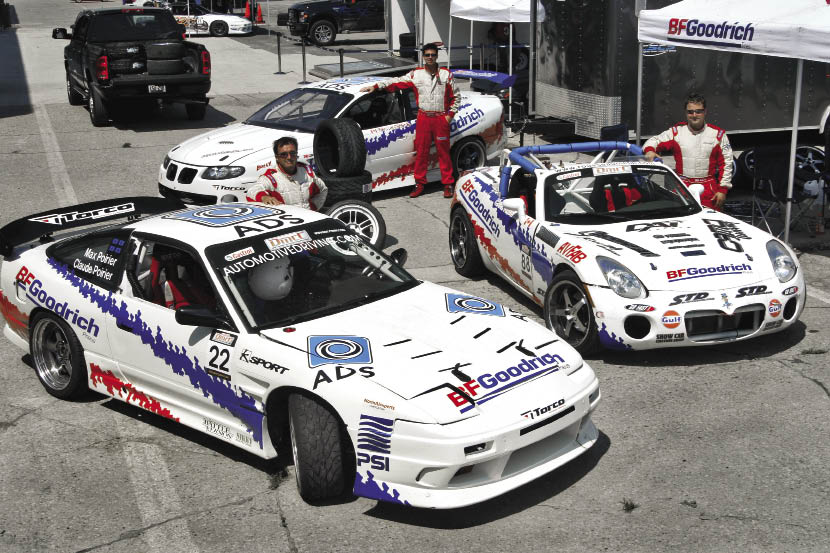 Nadeau was banged up after the crash but no serious injuries occurred. He was thrilled to have chosen Bruno Desfossés from Technocraft to build the safety cage claiming he saved both his back and legs from serious injury! "Desfossés is a great cage and chassis builder of many years, he also had a major crash last year in road racing (which broke his back). Desfossés decided to do more research on safety and it's totally paid off and saved me, plus the car is rebuildable!" says Nadeau.
Many who witnessed the crash thought it would take a miracle to rebuild the Solstice including Nadeau. "I found out, we will save the whole car! Nobody thought it was possible, except the team from STD Suspension. The frame had major damage, the firewall was bent, the brake pedal was broken by the steering column, which was also broken! The steering rack, the bumper, the list goes on! But even by the time we left Toronto, our team made it look better already."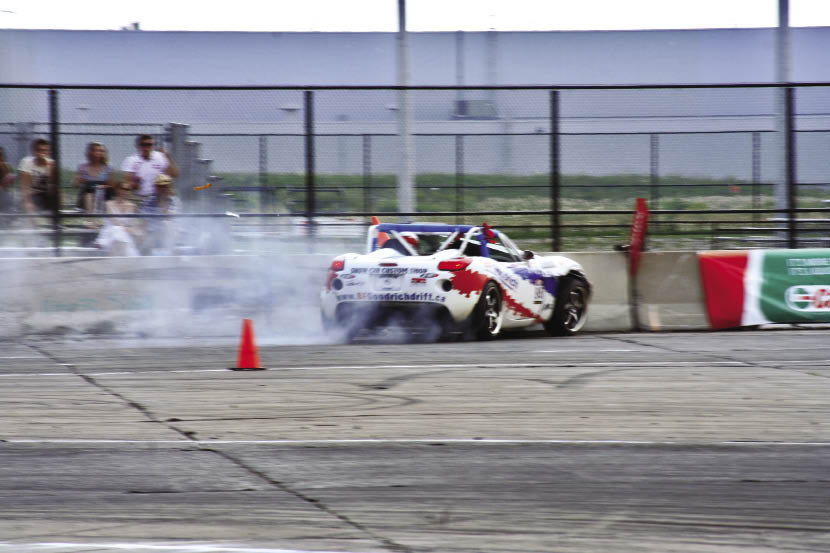 Nadeau credits his team with being able to put this car back in competition shape. "I wanted to thank: Jimmy Nadeau, Mathieu Lemay, and David Lagrange, assisted by Emanuel Brissette and Kevin Darwish. At the track, I also have Chant Bengian, Jimmy Rotondo, and Jean-Sebastien Chapleau."
Although Nadeau did disclose that they would be improving the steering angle, safety and cooling on the car, no one knows the actual parts list. So we'll dive into what made the car tick and will likely drive it for the balance of the season. The car as it sat took around four months to complete and cost over $100,000 to build making it the first of its kind in Canada. The engine, ironically is from a truck, more specifically a 2003 Hummer H2. Installed by TK Race and AV Fab, the LQ4 6.0L V8 is bone stock and was chosen for its lightweight and impressive torque of 330lb-ft. It definitely was not easy to shoehorn into the roadster requiring extensive custom bracing and mounts. The engine is controlled by a Megasquirt ECU by W-Tech and tuned by Synoptic Tuning in Delson, QC.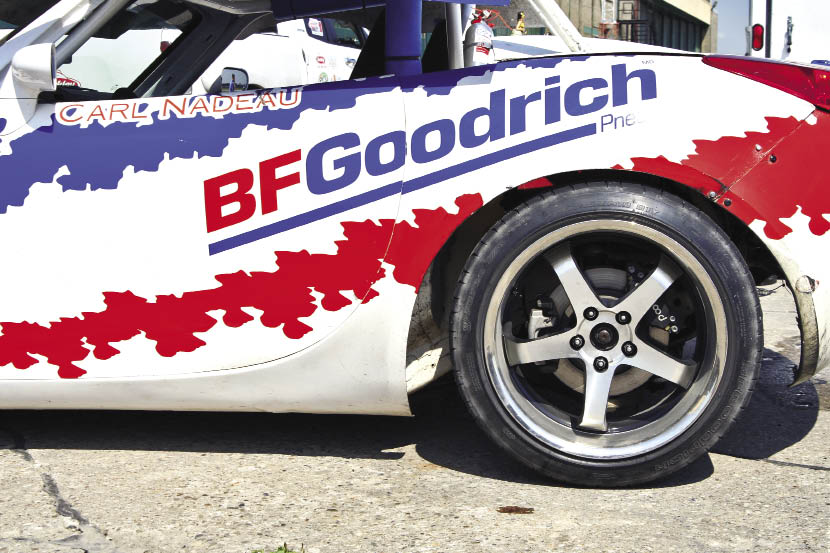 The exterior was given a makeover by one of the premier bodyshops in Canada, Phat Rides. The shop is run by Chris Nankoo and his father, Lee Nankoo who are famous for their award winning Top Tuner Saturn Sky and previous Chevy truck, so working with them was a natural choice. A custom fiberglass body kit was fabricated and painted by Show Car Custom Shop. The door handles were shaved and the front and rear bumpers were fabricated out of tube steel.
The attention tuned to the running gear that would make the car competitive. The Strike-style wheels are from DAI Alloys in 18x9-inches on all four corners. The drift meats are the BFGoodrich G-Force KDWs ranging in size anywhere from a 225/40R18 to a 255/40R18 depending on the track. Behind the rollers are stock brakes fitted with a custom Wilwood caliper and hydraulic e-brake assembled by Technocraft. When it came to coilovers, Nadeau didn't have to look any further than Quebec's own, STD Suspension.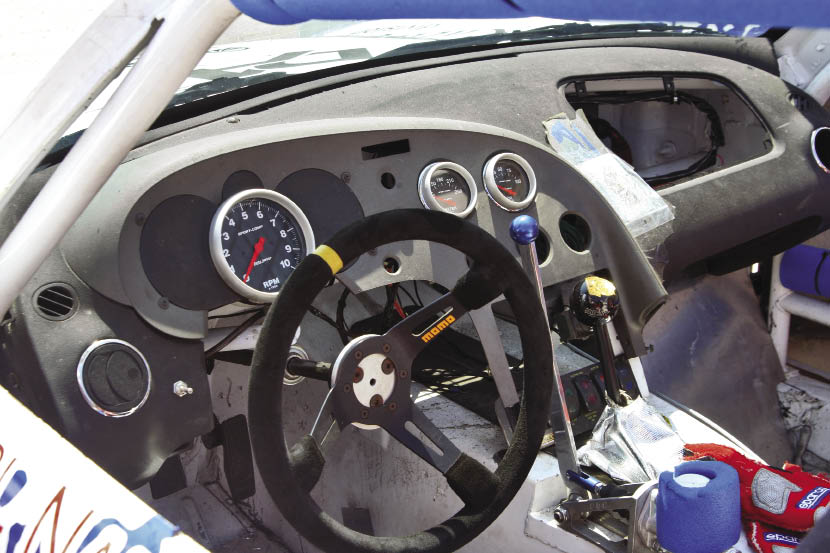 Inside the cockpit, there isn't much beyond the bare essentials. A MOMO steering wheel and quick release were added in addition to a Fireproof short-shift kit and a handful of gauges including: RPM, water temperature and oil pressure. A MOMO racing seat and 5-point harness provide the balance of the safety gear. With a challenging season behind him, Nadeau has completed what he describes as the "Set-up year." Nadeau expects to be even more competitive next year and aims for regular podiums by 2011. We can say with certainty having a seasoned team like that and backing of BFGoodrich, that is a definite possibility.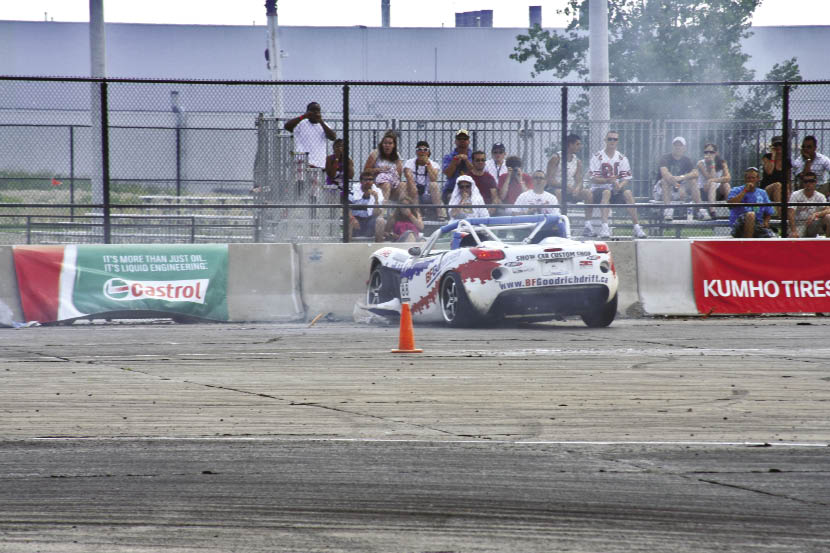 ESSENTIALS
Owner: Carl Nadeau
Location: Montreal, QC
Vehicle: 2006 Pontiac Solstice
Power: 300whp with 330lb-ft
ENGINE MODIFICATIONS
TK Race and AV Fab engine swap
HKS Mega-Flow intake
Bosch In-line fuel pump
ATL fuel cell
Aviaid LS-C dry sump
Custom stainless exhaust
ENGINE MANAGEMENT
Megasquirt ECU by W-Tech
Tuned by Synoptic Tuning in Delson
DRIVELINE
Tremec T56 Transmission
Welded LSD
Competition Clutch
CV Tech driveshaft
WHEELS, TIRES, BRAKES
DAI Alloys Strike 18x9-inch alloys
BFGoodrich G-Force KDW 255/40R18
Wilwood hydraulic e-brake by Technocraft
SUSPENSION
STD Coilovers
Custom sway bars
EXTERIOR
Phat Rides custom fiber glass body kit
Show Car Custom Shop paint
Tubular bumpers
INTERIOR
Momo steering wheel
Momo seat
Momo 5-point harness
SHOUTOUTS
BF Goodrich Tires (www.bfgoodrichdrift.ca)
Helmet painting by 66graphx (www.66graphx.com)
Synoptic Tuning (www.synoptic-tuning.com)
STD Suspension (www.stdsuspension.com)
Technocraft (www.technocraft.ca)
Rousseau Metal (www.rousseaumetal.com)
DAI Alloys (www.daialloys.com)
Phat Ride Custom (www.phatridecustom.com/contact.html)
Camo Tuning (www.camotuning.com)
TK Race Head (www.tkrace.com)
Gulf Oil (www.teklub.ca)
Show Car Custom Shop
W-Tech Tuning
Aviaid.com
AV Fabrication