The MKIV Toyota Supra is as iconic to the Japanese tuning scene as the Ford Mustang or Pontiac GTO is to the muscle car scene here. Sporting 300hp and a drivetrain that's even more bulletproof than Superman, Toyota's flagship performance vehicle is at the top of almost every tuner's want list. There are countless aftermarket parts available for the Supra, as the vehicle can morph from low-key street cruiser to high-powered rocket-on-wheels with just a few add-ons. Farhad Ghayour of Phoenix, AZ was fortunate enough to find this extremely unique 1994 Toyota Supra and didn't think twice about shelling out the coin to grab it.
Originally built by Do-Luck USA in Kent, WA for demo purposes, the Supra posed alongside the company's Nissan Skyline GT-R R34 at events up and down the West Coast. The car caught the eye of car building guru RJ De Vera of RO_JA Wheels / American Racing and was purchased from Do-Luck USA to help promote RO_JA's import image. After an appearance at SEMA Las Vegas, the Supra landed in Ghayour's hands and he's recently been doing his best to shed the car's corporate trailer queen persona.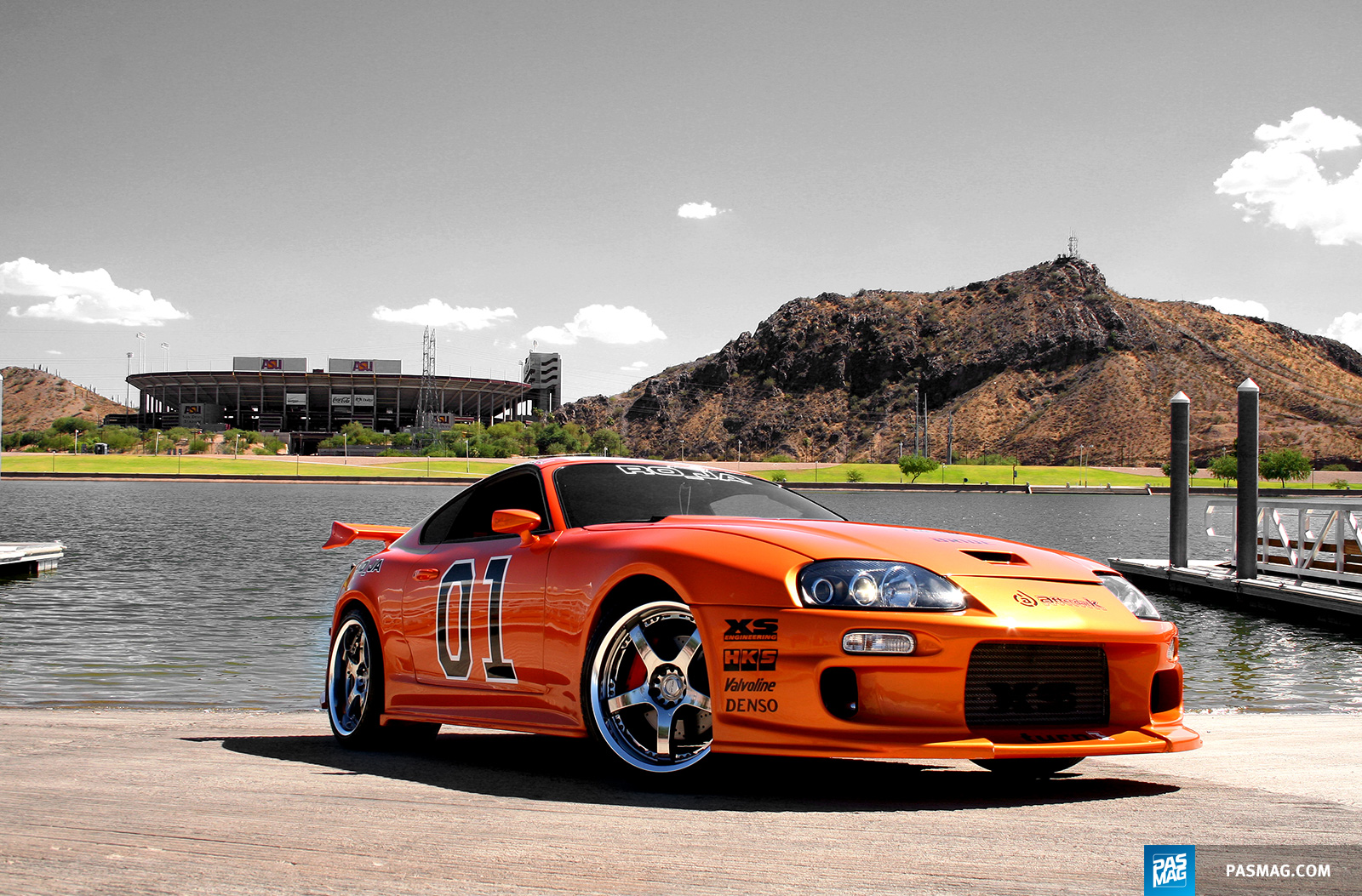 As a muscle car gearhead-turned-import tuner, Ghayour has built a number of vehicles, including Chevrolet Camaros, varying versions of Mitsubishi 3000GTs and an Acura NSX. However, he was fascinated with the potential of the Toyota Supras that his younger brother had been building, so he decided to bite the bullet by purchasing the Do-Luck USA vehicle for his very own use.
It was evident from the get-go that Ghayour's new Supra wasn't anything like his previous project cars. But of course, when you invest $90,000 in a vehicle that has been meticulously built by one of Japan's most well-respected companies, you have to expect something a little out of the ordinary. From a driver's perspective, the most obvious modification is the Getrag six-speed sequential transmission. Extremely rare and more likely to be found on Super GT race cars, this race-ready tranny is a certified "1-of-1" piece and is tougher to find than a Shaquille O'Neal jump shot. Together with an RPS racing clutch and lightweight flywheel, the Supra has no problem transferring the boosted ponies from the crank to the rear wheels.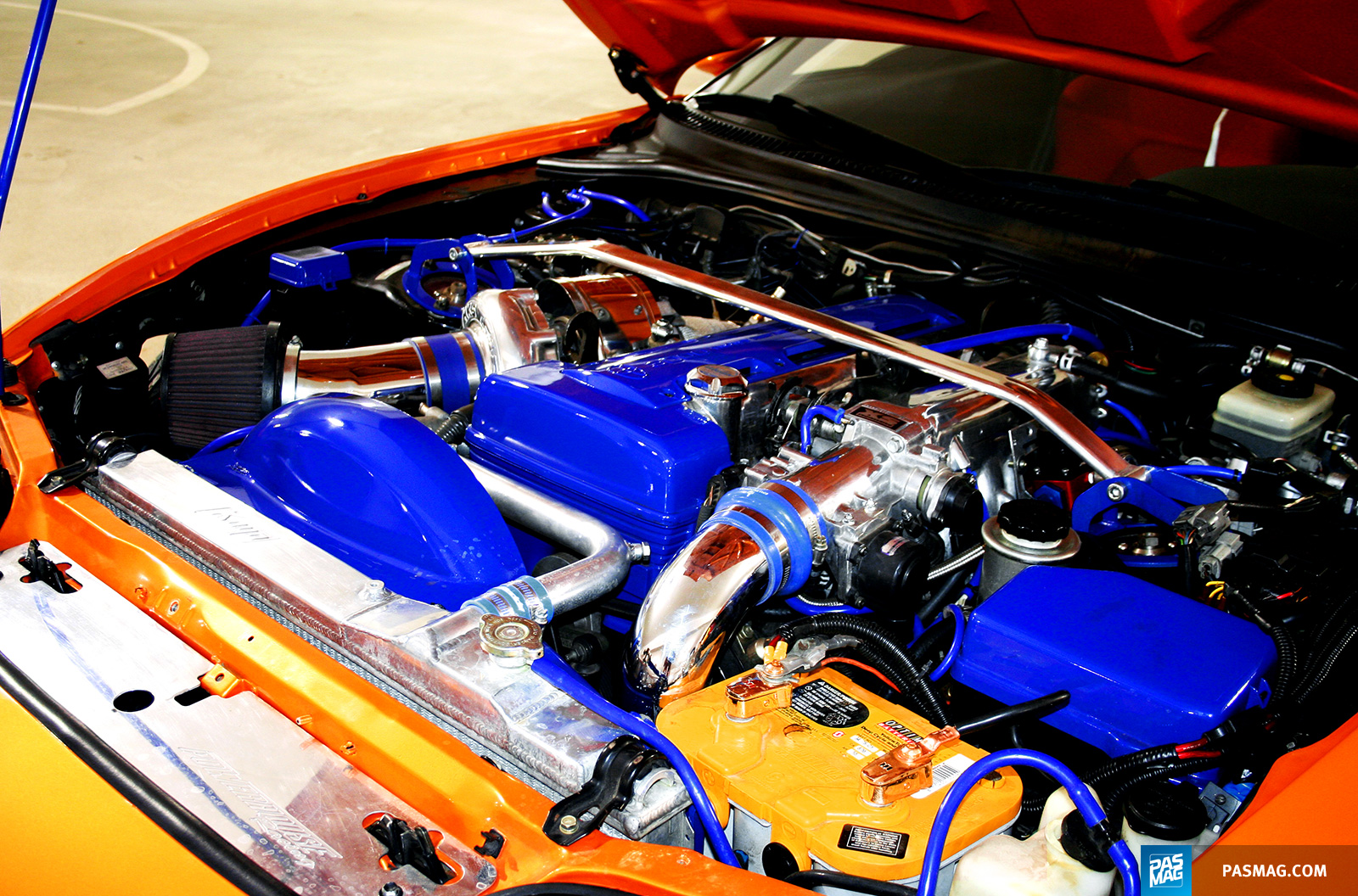 At the heart of the setup is the 3.0L engine that is widely considered as the Don Corleone of all Japanese motors. No combination of numbers and letters evoke more emotion than Toyota's "2JZGTE", especially when they are followed by the term "fully-built." Heavily tweaked by the power brokers at XS Engineering in Huntington Beach, CA, the inline-six motor features a pair of Crower bumpsticks to provide a turbo-friendly powerband.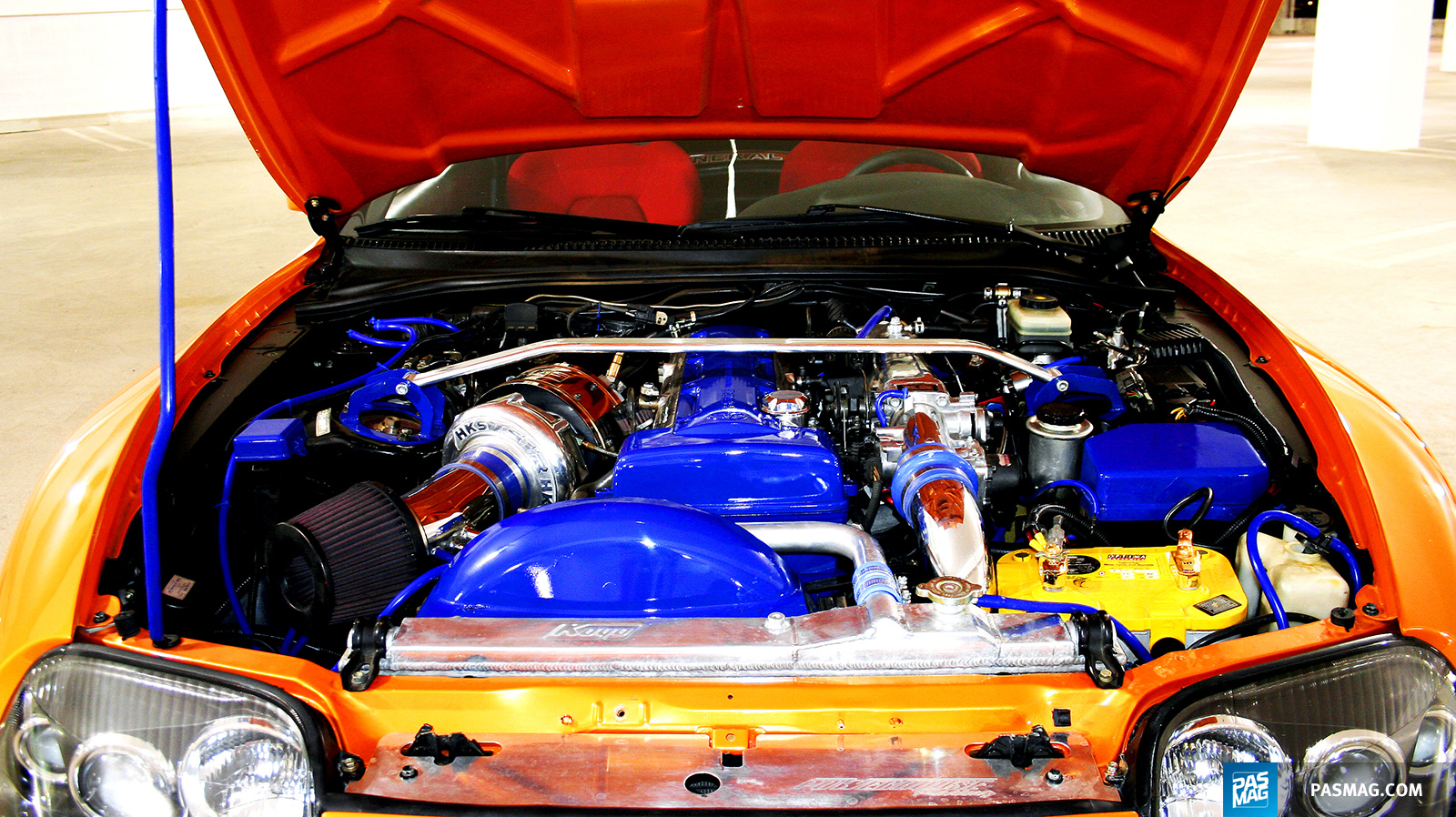 Pressurization is no longer the duty of the factory twin turbos, as the duo was replaced with a single, watermelon-sized HKS T51R KAI turbocharger. "The turbo is one of the best sounding turbos I've ever heard. Under boost, it makes the Supra sound like a jet taking off," says Ghayour with true boost junkie excitement. Plumbed together with an XS Engineering front-mount intercooler and Koyo radiator to keep things cool, HKS blow-off valve and wastegate, and a fuel system large enough to quench a hoard of thirsty co-eds on pub night, this particular Supra will put 99.99% of the cars on the road to shame.
Like Peyton Manning calling plays from behind center, the finely-tuned AEM EMS orchestrates the entire setup to function like it was factory-issued. And although the Supra's hardware will no doubt crank out power well into the four-digit-range, Ghayour is content with the 480hp (on 91-octane fuel) that it's currently tuned to produce.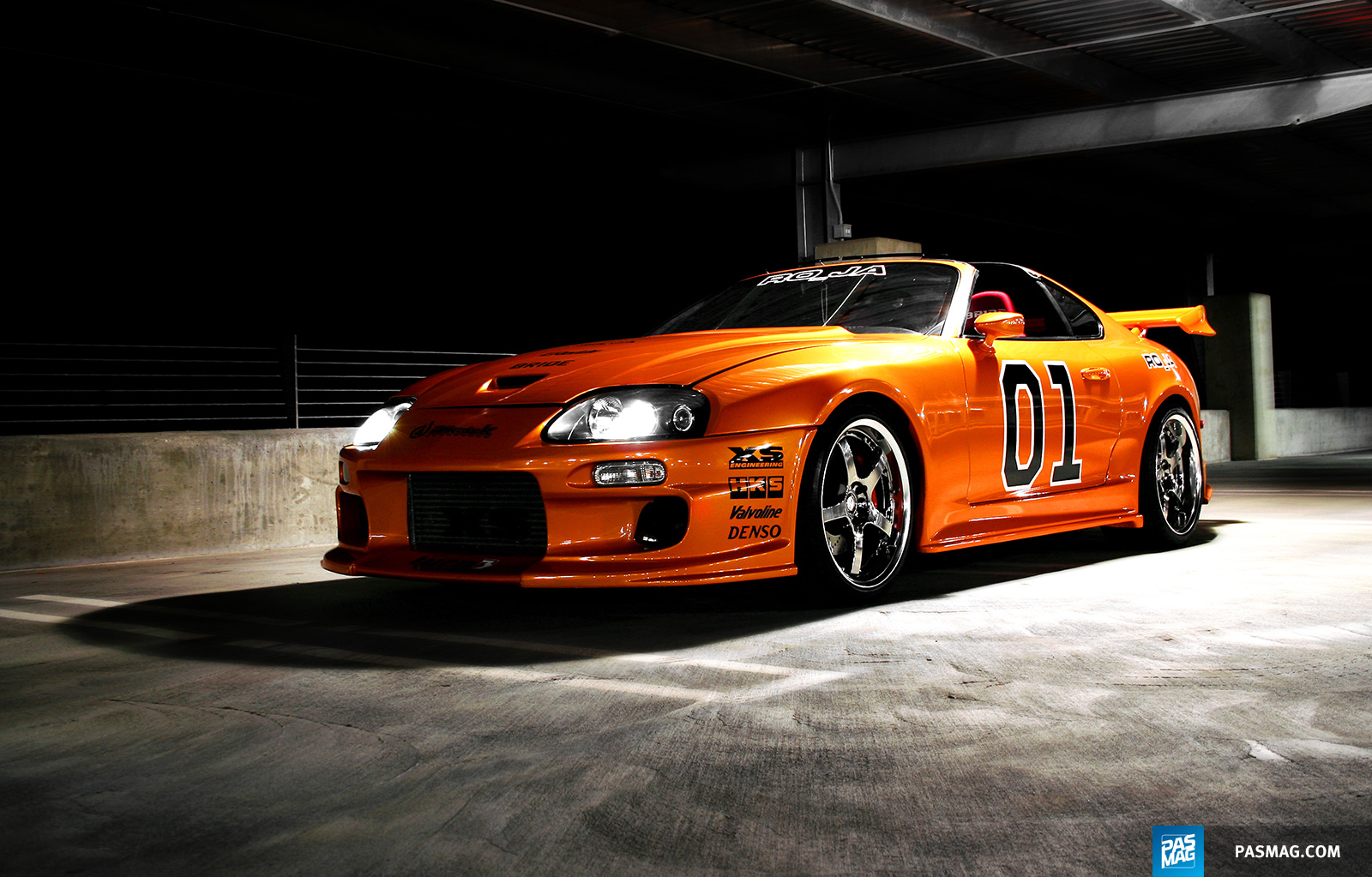 The Supra's exterior attire is fully functional, as the Do-Luck wide body kit has been wind tunnel-tested to ensure that every vent and scoop helps the 3,500lb beast slice through the air. The aero package consists of a front bumper, side and rear skirts. The rear diffuser was also added, as well as the front blister fenders to accommodate wider wheels and tires. The Supra also sports the lightweight AeroWivern bonnet, which sports a vent to help cool the monstrous motor.
After carefully moulding the pieces to the JZA80 body, the car was sprayed in Candy Sunburst Orange paint and several layers of clear for protection. A set of 1998-spec headlights and Do-Luck side mirrors (signed by RJ De Vera himself) complete the car's list of aesthetic upgrades. The car's Dukes of Hazzard-inspired graphics were applied by Afterdark Designs and was originally done to match the theme of American Racing's SEMA display featuring a replica General Lee 1970 Dodge Charger and 2005 Dodge Charger.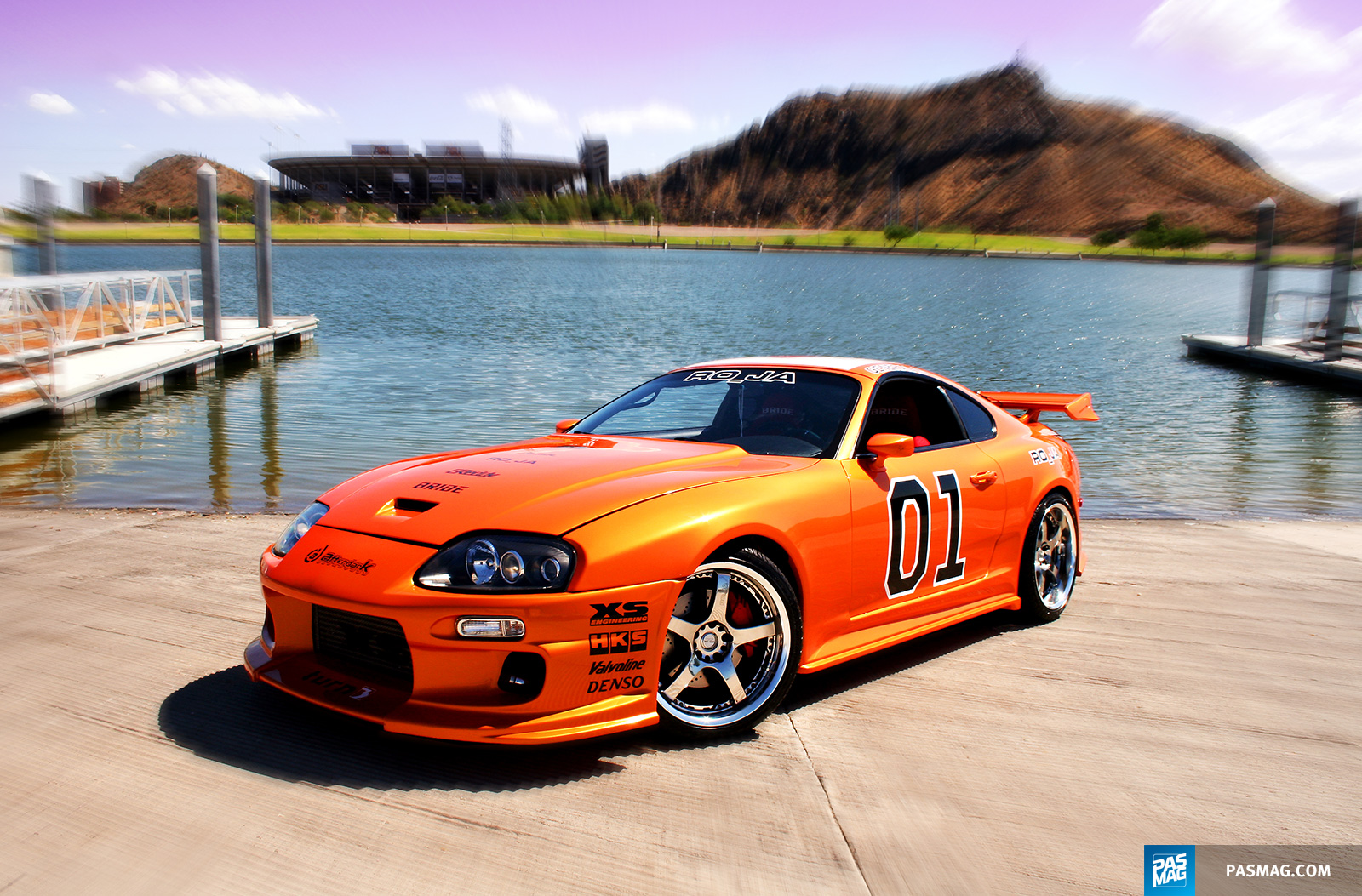 The Supra's wheel wells are filled with a set of 19-inch rollers wrapped in extra sticky Michelin Pilot Sport tires. The RO_JA R2-5 wheels are manufactured by Japanese wheel giant RAYS Engineering and measure 9.5 inches (front) and 10.5 inches (rear) wide to fit the 255 / 35 and 285 / 30-sized rubber that stretches across them. A pair of the Supra's massive four-piston calipers hides behind the front wheels, clamping onto upgraded Brembo rotors to provide optimum stopping bite.
The bumps and dips of the sun-drenched Phoenix roads are soaked up by the HKS Hipermax RS coil-overs. Specifically valved for great on-track performance yet flexible enough to provide a comfortable ride on the street, this suspension allows Ghayour to put the Supra though its paces every chance he gets. A unique Do-Luck chassis brace bar was installed on the cabin floor to help eliminate body flex, and especially comes in handy when the Supra's targa top is removed.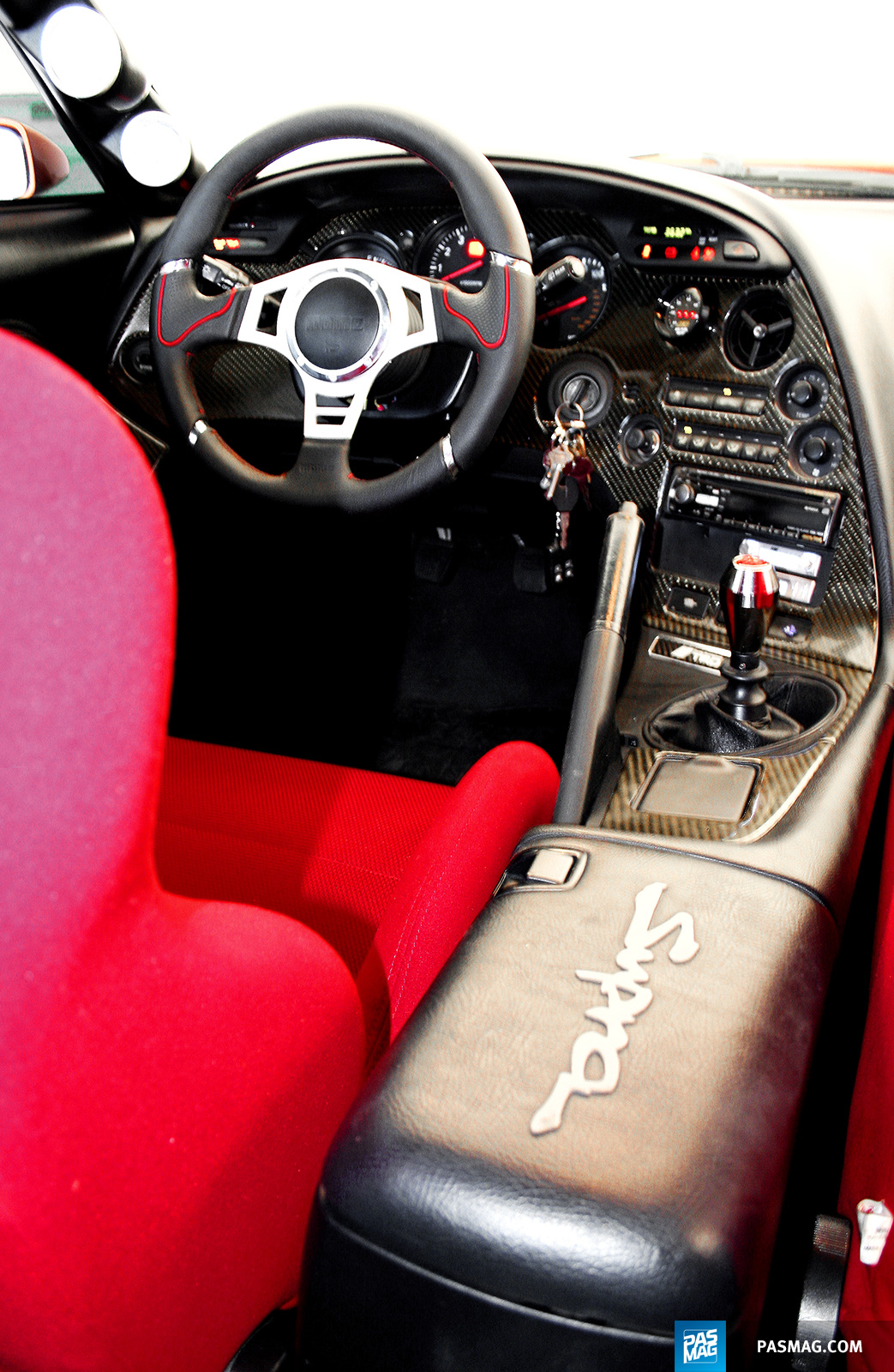 Ghayour's cockpit was altered to suit the needs of the performance-focused driver, as evident by the pair of Bride seats that provide both driver and passenger with superb lateral support in the twisties. A MOMO Millenium Sport steering wheel replaces the Toyota unit, while GReddy 60mm gauges display boost and EGT levels. An AEM UEGO wide-band controller / gauge was installed for tuning purposes, with both a Blitz boost controller and turbo timer taking care of the aftermarket turbo. And as this is a race-inspired car, the only addition to the Supra's factory sound system is a Sony head unit.
Finally in the hands of a private owner, Ghayour has been doing his best to help his General Li Toyota Supra reach its full potential. There's nothing worse than a wasted opportunity, so you can bet the house that Ghayour is making the most out of his investment. Many thanks go out to all of those involved with the project, especially HKS, Do-Luck USA, RO_JA / American Racing, JPJ, Tuner's Corner Motorsports, Michelin, Denso, MOMO, Bride, AEM and VSOP Racing Development. A special shout out to Mark and Michael Meyers and the good guys at NOPI for giving us a heads-up on this awesome vehicle. With appearances at SEMA, DUB, SPEED Channel and NOPI already under its belt, you can be sure that the General Li will be hitting an event near you.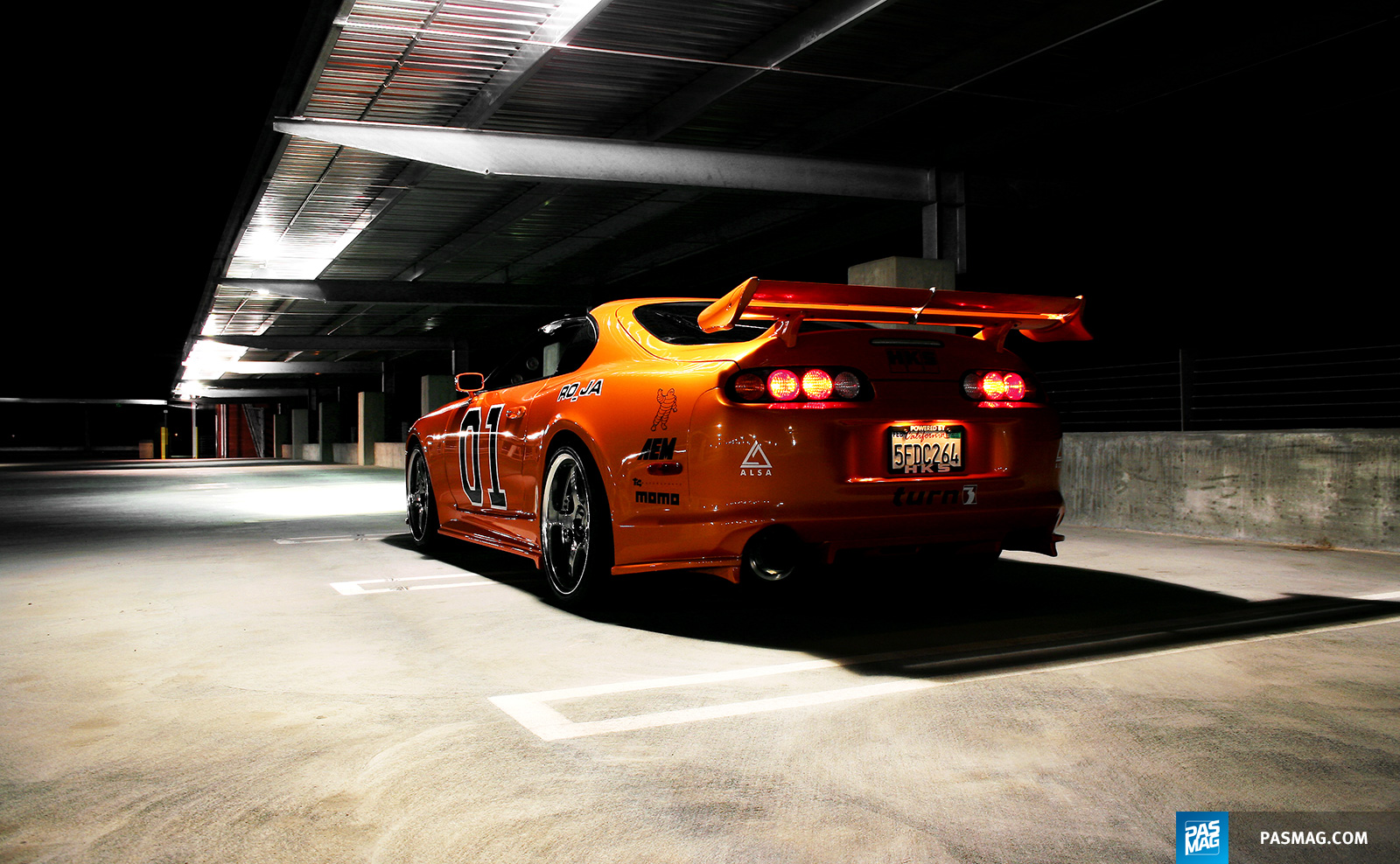 Photography by JPJ Studios & MVK Photography
PHOTO GALLERY