Euro + Wagon x JDM = BEST
How do you make any sedan or coupe infinitely cooler? Easy: give it a long roof and a hatch at the back. Shooting brake, estate, wagon - whatever your flavor, I think we can all agree that anything long and low steals the show. The example we see here is the epitome of awesome. Johnny Feng's BMW F31 may as well have written the equation on how to modify in the most appealing way: a Euro platform with JDM goodies, done up in tasteful OEM-plus style.
It's honestly surprising that Feng was able to find this example of a 3 Series in Arizona. With the rare way it's spec'd - a wagon with a turbocharged diesel engine - it may as well have come from across the pond. Thankfully, inside, the M Performance steering wheel is on the right side (the left side) and accompanied by many other M goodies. As an M-Sport-packaged car there are a few from the factory, but Feng has added more carbon fiber and alcantara touches that would feel right at home on an M3 or M4, straight from the M Performance catalogue. The Recaro Sportster CS leather seats look as though they were originally optioned out as well, and in the back seat is a matching Recaro child's car seat to hint at what this Bimmer's original purpose was: the family daily.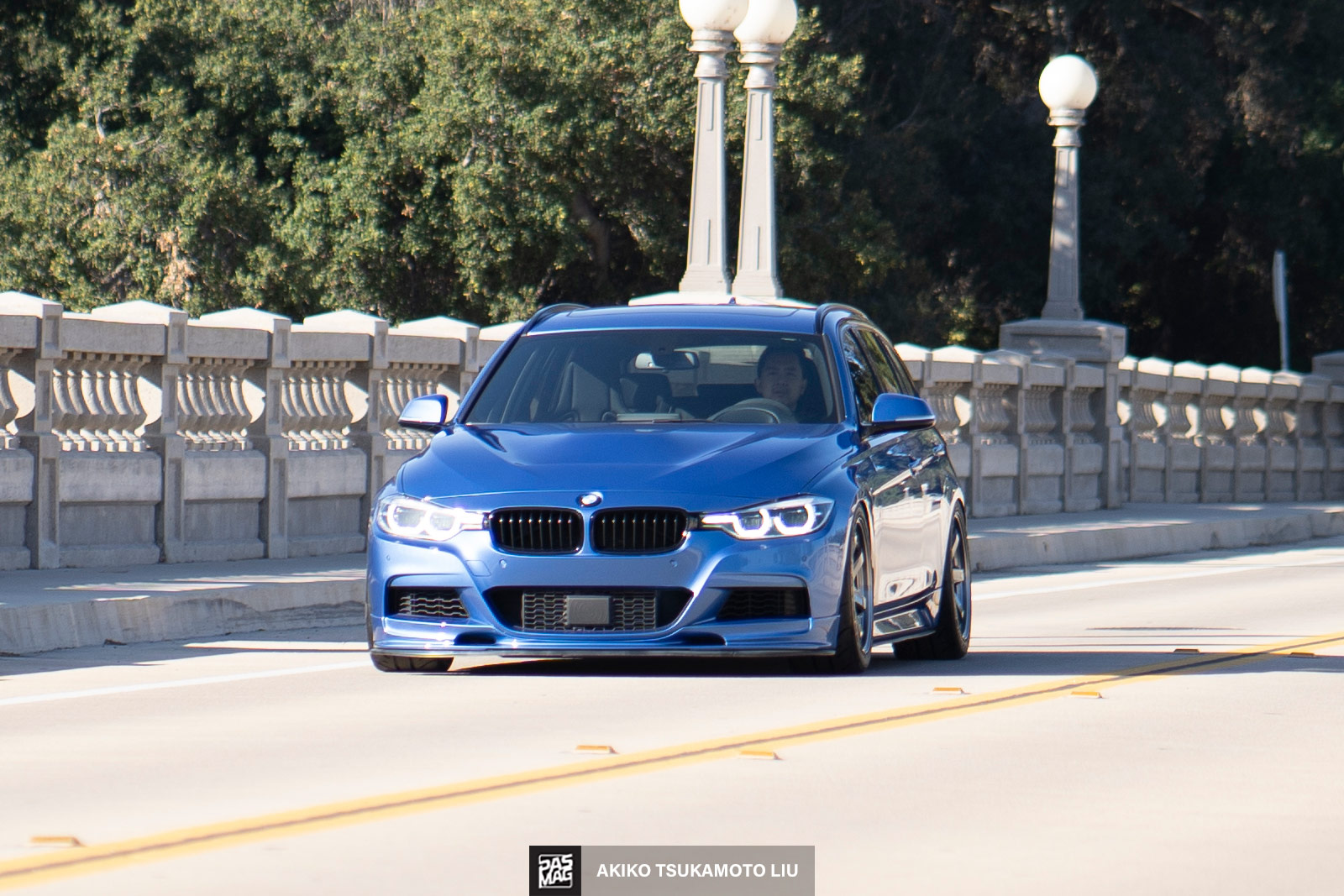 "I bought this car to actually settle down from modifying cars," Feng says, thinking back on his lies to himself. "After going back and forth about modifying it, I couldn't stop myself. I bought this car so I could drive my kids more in it, but we now have a van that we use everyday."
As you may have guessed, Feng isn't new to putting together great cars. Just over 13 years ago, his Lexus IS250 show car was featured here in PAS, and up until recently, regularly showed his cars before he started pursuing his MBA at USC. With the van taking over family hauler duties though, the 328d was more than available for Feng to pour his JDM sensibilities into.
The biggest challenge with any 3 Series is making it stand out from the crowd, especially in California, and with most owners opting for M Performance exterior additions, it can even be a strain to express yourself among modified owners. This is where the JDM bits come into play. Feng opted for the tasteful offerings from Japanese BMW tuner, 3D Design, for the front bumper lip, roof spoiler, and rear diffuser. Paired with the ABS Autobody M4 GTS lookalike hood, this F31 could be mistaken as a limited edition M-badged car that would make even the most enthusiastic of BMW aficionados jealous.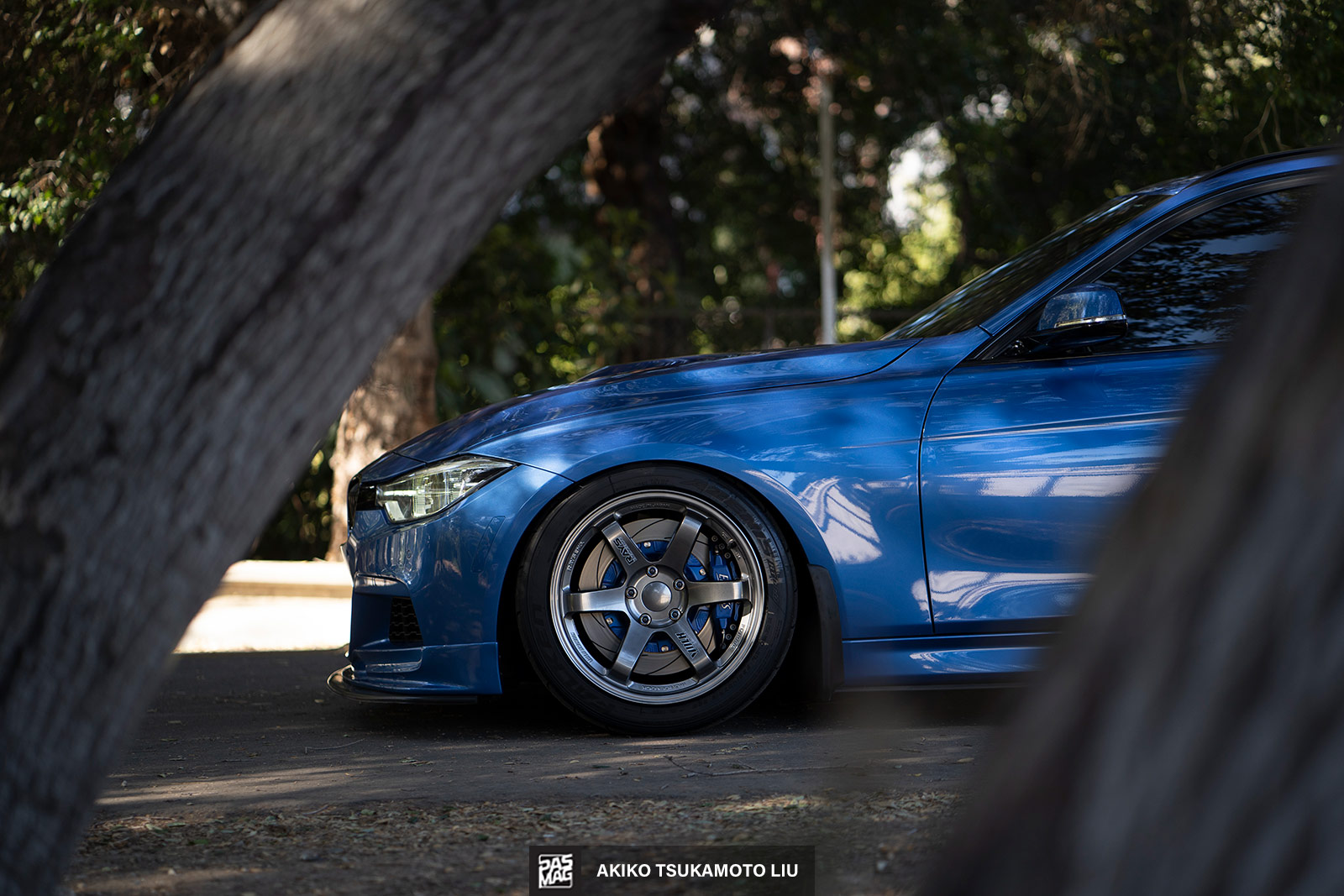 Obviously, Feng is familiar with the old Japanese adage of "TE everything," and made it so, setting up Formula Silver TE37 OGs in 18x9.5, front and rear, just slightly cambering the meaty Falken RT660s under each fender. JDM wheels on a European car is definitely the best move ever, but sitting behind the TE's six-spoke faces is something that might just be even cooler.
"My favorite aspect is the extra JDM touch with the Endless BBK," gushes Feng. "You never see Endless on a Euro. What inspired me to build this car were some of the 3 Series wagons built in Asia - Hong Kong, Japan. There's a huge market over there for these cars and they're really rare over here."
In an OEM-plus build, creature comforts are paramount, and just like incorporating kouki elements on a JDM zenki build, anything new put out by the OEM automatically becomes most-wanted material. It just so happened that a year after this car was built in 2014, BMW released some upgraded tech in the form of LCI LED headlight and taillights, as well as a vastly improved version of their iDrive multimedia system. Naturally, Feng just had to have it. New LED headlights and European-spec tails with amber turn signals round out the wagon's exterior, while an upgraded media display with a snappier processor and Apple CarPlay functionality have been retrofitted to ensure Feng, and the occasional car-seated passenger, are riding with the right tunes.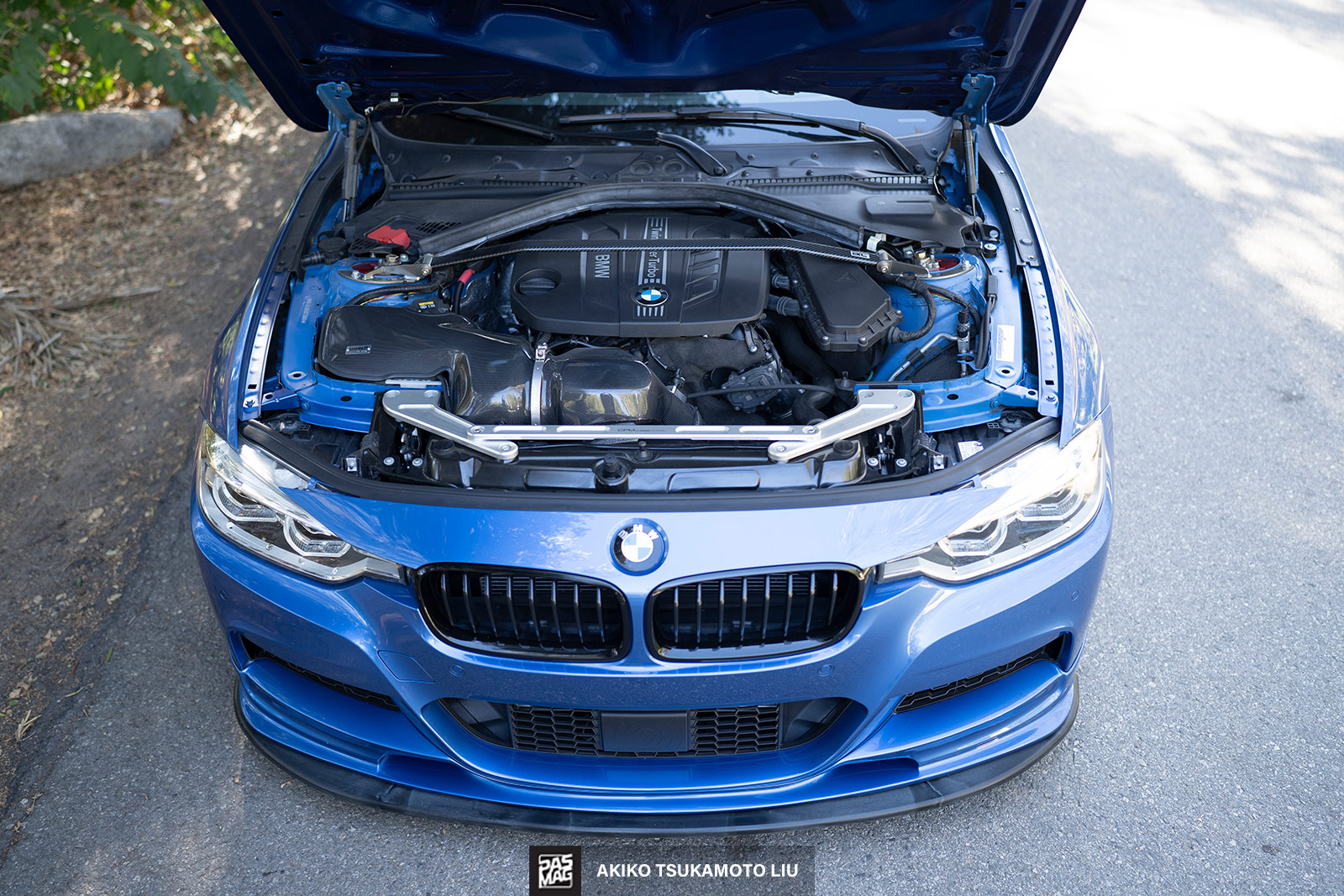 Admittedly, BMW's N47 engine is a bit unloved compared to its gas-powered brethren in the aftermarket department, but Feng has found a way to squeeze a bit more performance out of the 2.0-liter. In conjunction with the upgraded intercooler and carbon fiber ram air intake, a DUDMD Stage 2 tune ramps horsepower output to just over 200, while right around 300 lb-ft of torque is put down by the little turbo-diesel. Even the TCU has been flashed with a tune from xHP to keep up with the newfound power and rotational force.
That being said, even though Feng loves the way the 328d runs and drives as it sits, there is talk of more power being added in the form of a total powerplant swap in the near future. Right now, Feng has his sights set on BMW's B58 turbocharged inline-six with the ultimate driver's mod, a manual transmission. A long-roof 3 Series with the performance of the new-gen Supra, rowing up and down on the shifter, and carving up canyons in California sounds pretty tantalizing, doesn't it?
While this F31 comes off, from a distance, as the perfect kind of unassuming on the outside, the closer you get, the more layers of well-thought-out modifications there are to take into account, making it one of the more unique Bimmer builds out there. If and when those new powertrain plans come to fruition, even more so. Though, with that extra kick, Feng might need to plan for a five- or six-point harness for that mini Recaro in the back seat.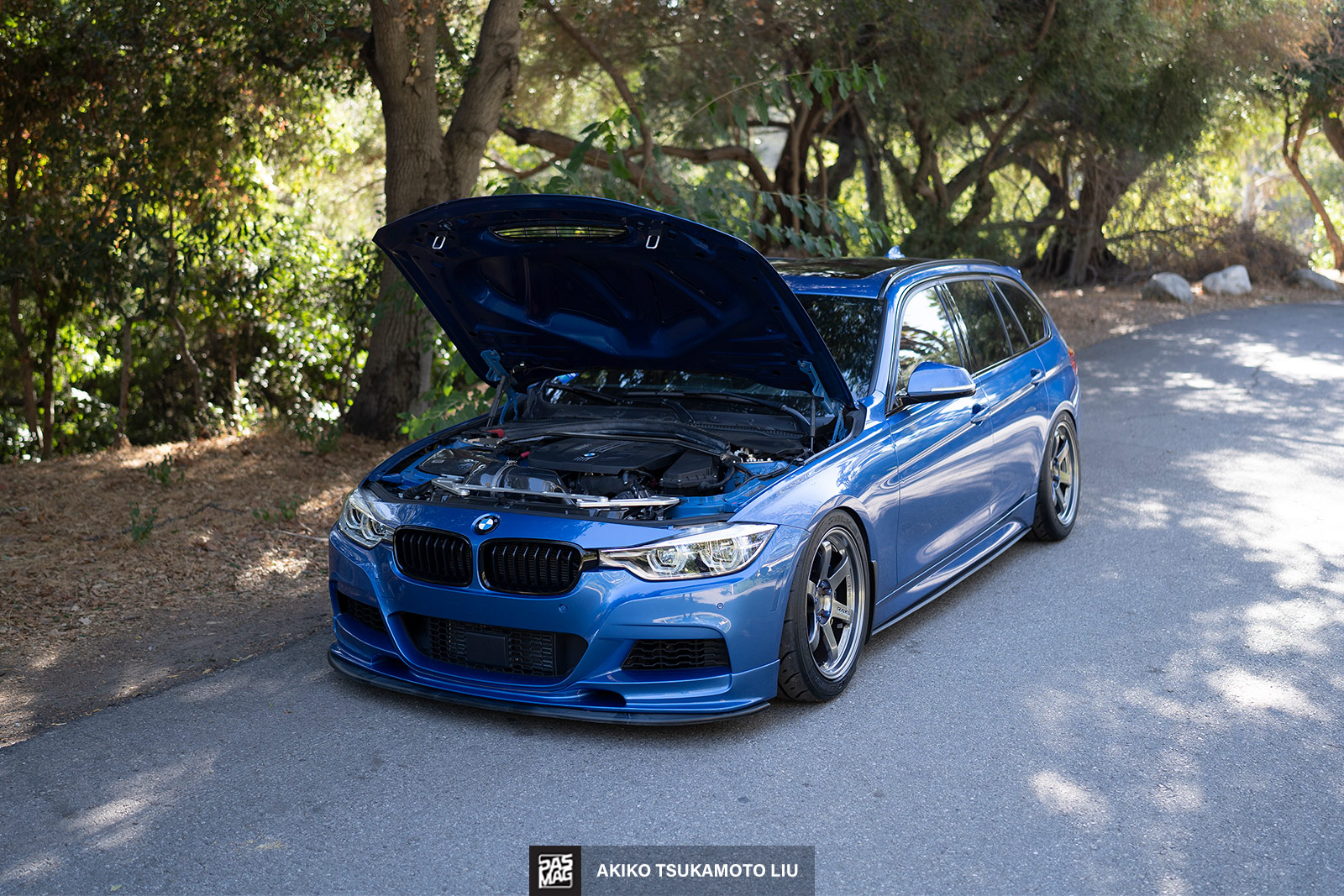 Johnny Feng's 2014 BMW 328d M Sport Wagon is feature in PASMAG #167. Click Here to order.
Photography by Akiko Tsukamoto Liu
---
ESSENTIALS
Owner: Johnny Feng
Vehicle: 2014 BMW 328d M Sport Wagon
Location: Alhambra, CA, USA
Engine: BMW N47 2.0L Turbo-Diesel I-4
Horsepower: 210 hp
Club: Jade Motorsports, Encore Collective
SOCIAL
Facebook: /johnny.feng
Instagram: @oem_nub
ENGINE
Gruppe M carbon fiber ram air intake system
Ambient Thermal Management front-mount intercooler
DUDMD Stage 2 ECU tune
EXHAUST
Supersprint (quad-exit cat-back exhaust system, midpipe w/ cat, downpipe)
DRIVETRAIN
WHEELS / TIRES / BRAKES
Volk Racing TE37 OG - 18x9.5 +38 (f/r)
Falken RT660 tires - 255/40 R18
MSI 80.5-mm 14x1.5 stud conversion
Project Kics Iconix lug nuts
Endless Racing (6-pot calipers (f), 4-pot calipers (r), brake rotors, MX52 brake pads, stainless steel brake lines)
CHASSIS / SUSPENSION
KW Suspension V1 coilovers
ARC Power front strut bar
KC Design rear strut bar
CPM front member brace
Vorshlag front camber plates
Megan Racing (rear camber arms, front upper arms)
EXTERIOR
3D Design (front lip, roof spoiler, carbon fiber rear diffuser)
ABS Autobody M4 GTS style hood
IKON Motorsports universal front splitter
Autotecknic color-matched front reflectors
BMW (M Performance gloss black grilles, M Performance side skirt extensions, mudflaps, LCI LED headlight retrofit, Euro LCI LED taillights w/ amber turn signal)
Studie AG trunk badge
INTERIOR
3D Design paddle shifter
Recaro Sportster CS leather seats
Brey Krause electric slider seat brackets
BMW (E30 window switch, M Performance carbon & alcantara M3/M4 armrest, M Performance carbon & alcantara shifter surround, M Performance carbon & alcantara shifter, M3/M4 leather glovebox, M3/M4 shifter console w/ leg pad, cup holder cover, 6WB digital instrument cluster, M Performance stainless steel pedal set, M Performance M3/M4 carbon & alcantara e-brake handle, M Performance M3/M4 alcantara electronic steering wheel, M Performance carbon & alcantara interior trim)
Studie AG door projector lights
AUDIO
BMW NBT EVO ID6 iDrive retrofit
SPONSORS
Falken Tire
Endless USA
Mackin Industries
SPECIAL THANKS
Mackin Industries - Brian Yeung
Falken Tire - Steve Wong
Three's Racing - Meng Tea
Autotuned - Young Tea
Autofashion USA - Freddie Fernandez
Raceline USA - Elton Lo
Impex Motorsports - Harry Yue
Minicorsa - Danny Darwichian
Wife and kids
Patrick Chung
---
PHOTO GALLERY