If you're familiar with RS Future, you've probably seen Amir Bentatou's awesome 1991 Acura NSX before. In case you aren't familiar, RS Future is a motorsports shop in SoCal with over 15 years of experience they bring to the table. That experience and their standard for quality of craftsmanship is well reflected in Bentatou's NSX - the shop demo car.
The team started building the NSX in 2017 with the goal of building the fastest Street Class Time Attack car possible, and has since completed their third year of Global Time Attack with back-to-back championship wins in Street Class. Powered by a K20Z1 swap built by RS Machine, and bolstered by a Garrett G30-770 turbocharger, this NSX is no slouch producing nearly 500 horsepower at the rear wheels.
The team was the first to swap the K-series into the NSX with the goal of making parts readily available for purchase to anyone doing the same. As such, most of the components for the engine setup had to be custom, and took about a year and a half to complete. With inspiration taken from Japanese Time Attack builds, the NSX not only performs up to their standards, but also looks the part! There's a lot to love here.
Amir Bentatou's 1991 Acura NSX is featured as a Competitor - Builds To Follow in PASMAG's Performance Upgrade Guide #9. Click here to order
Event Series: Global Time Attack (@globaltimeattack)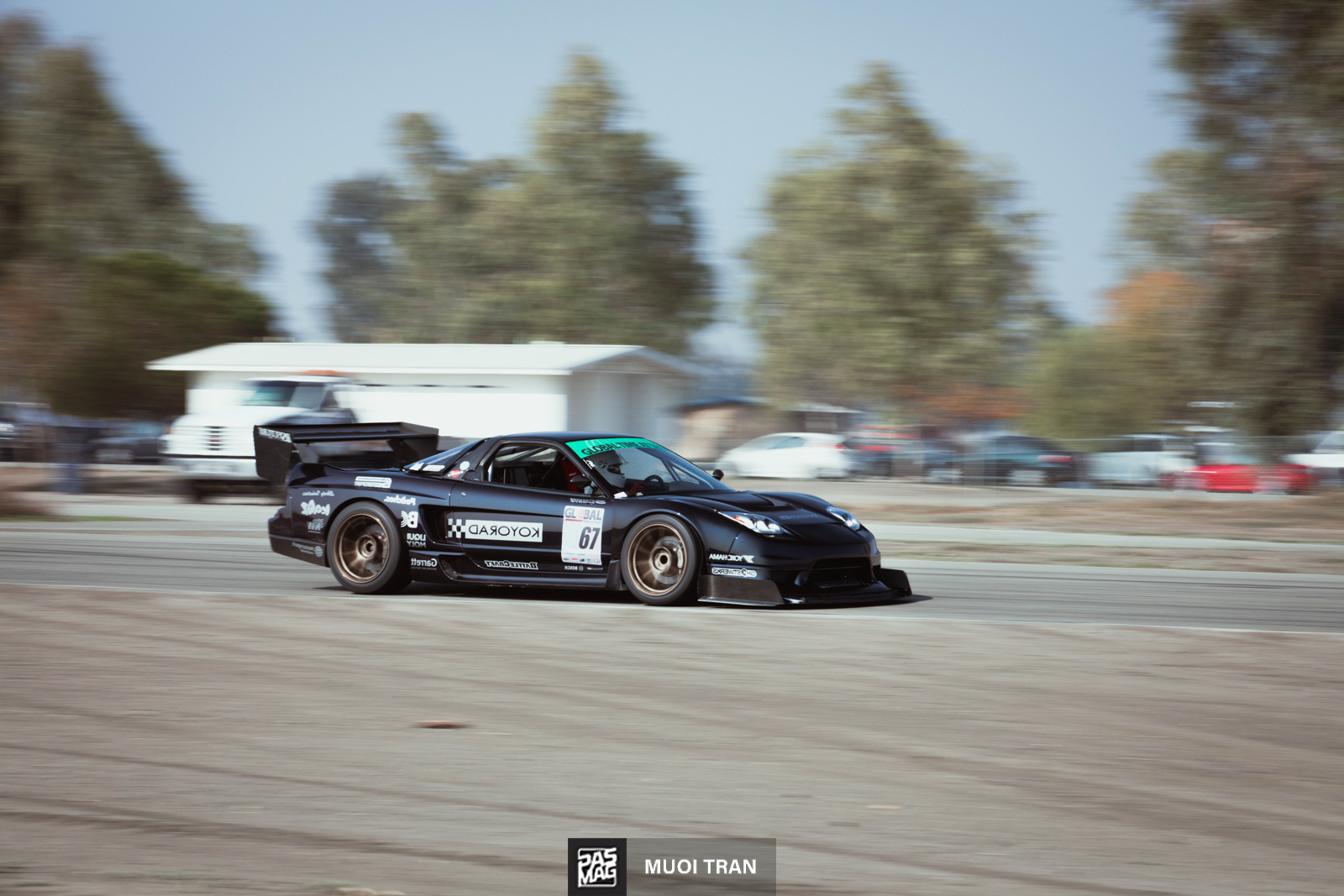 ---
PHOTOS BY Muoi Tran (@mmmuoi)
ESSENTIALS
Competitor: Amir Bentatou
Vehicle: 1991 Acura NSX
Location: El Monte, California, USA
Engine: Honda K20Z1 2.0L I4
Horsepower: 498 whp
Club: RS Future / Koyorad
SOCIAL
Instagram: @rsfuture_amir
COMPETITION RESULTS
2020, 2021 Global Time Attack: Street Class Champion
2020, 2021 Global Time Attack: Finals Winner
ENGINE
RS Machine K20Z1 engine
Garrett Advancing Motion G30-770 turbo
Hondata Kpro
EXHAUST
RS Motorsport (custom turbo manifold, custom titanium exhaust, custom dump tube)
DRIVETRAIN
Samsonas 6-speed H-pattern dog box transmission
Kaaz LSD
Insane Shafts axles
WHEELS / TIRES / BRAKES
RAYS ZE40 wheels - 18x10.5 +15 (f), 18x12 +22 (r)
StopTech Trophy big brake kit
Bosch Motorsport ABS
CHASSIS / SUSPENSION
KW Suspension Competition 2-way Dampers
EXTERIOR
RS Future aero package
Spoon Sports (front bumper, rear bumper)
Yokota Bodycraft front fenders
Marga Hills (quarter panels, side skirts)
INTERIOR
RS Motorsport (roll cage)
Battlecraft (quick-release, shift knob)
Hybrid Racing shifter
Bride Proface seat
Cusco harnesses
SPONSORS
Koyorad
RS Motorsport
Battlecraft
KW Suspension
Spoon Sports
Yokohama Tire
SP Engineering
ABS Autobody
Ghostwerks
Late Brake Coffee
Insane Shafts
Rywire
Emtron
Kaaz
McLeod
LiquiMoly
---
PHOTO GALLERY