This was probably one of the most talked about builds inside the Toyo Treadpass at SEMA 2021, and for good reason. This isn't some elaborate wrap job or carbon fiber overlay - the entirety of this R32 GT-R's exterior is made up of Garage Active carbon fiber panels, and so is most of the interior to match. The weight savings are real! In addition to looking insanely cool, the entire car only weighs 1,375 kg (3,031 lbs).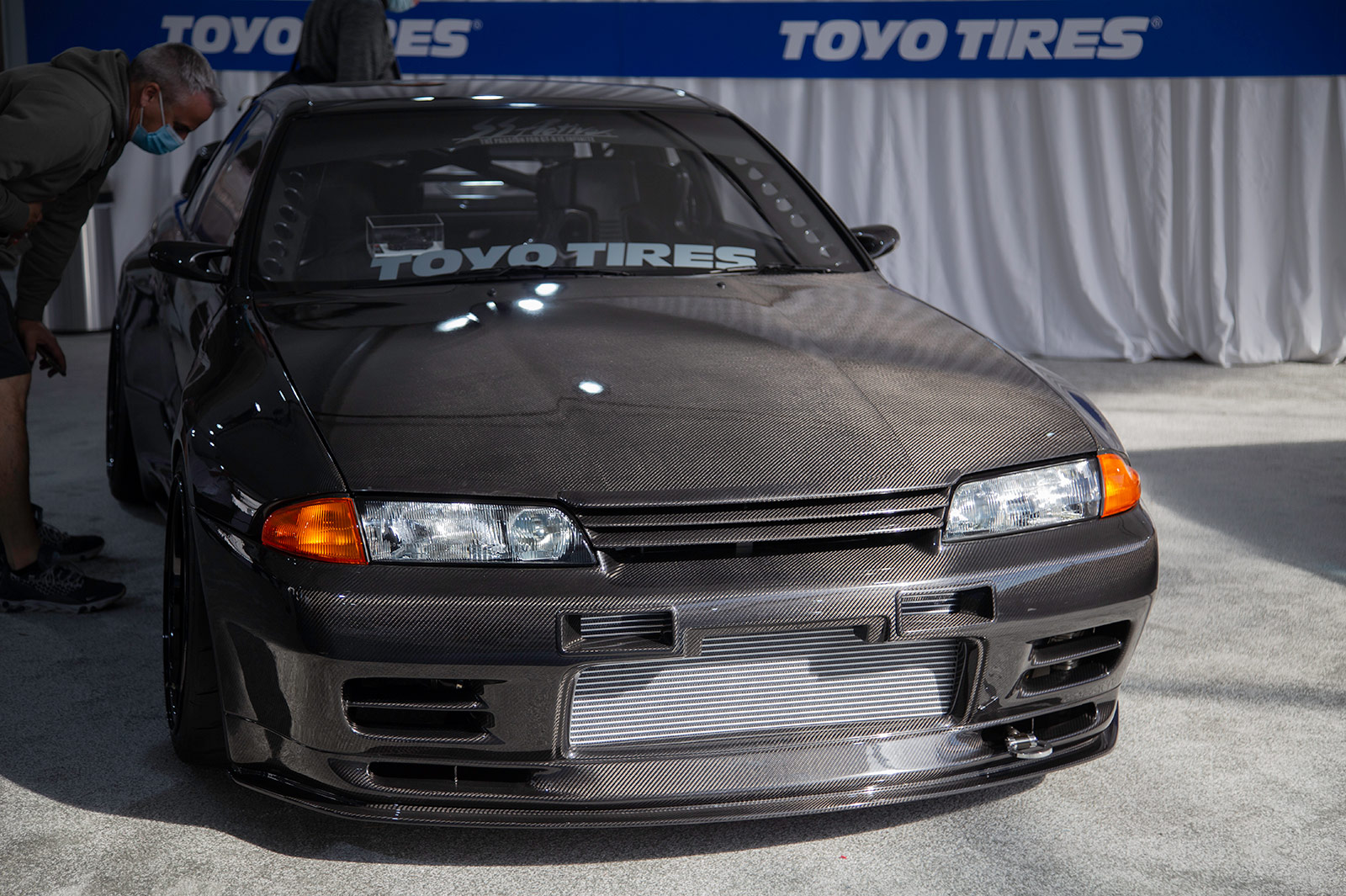 When you consider that the 2.8L HKS stroker RB engine makes 1,000+ horsepower, and it uses an OS Giken OS-88 sequential transmission, this might be the ultimate street Godzilla build. The car was built by Garage Active in Japan, but it was just so damn good that they had to bring it to display in the Toyo Treadpass. Other than the awesome carbon fiber pieces, lots of custom and one-off pieces separate this build from the rest.
Did I mention the awesome custom wheels? I could go through each of the quality parts on this build like the custom full titanium exhaust or the HKS turbo setup, but what can I say that "1,000 horsepower carbon fiber R32 GT-R" doesn't already say? This thing is badass. What's even more impressive is that a red carbon fiber version of this car exists in Japan.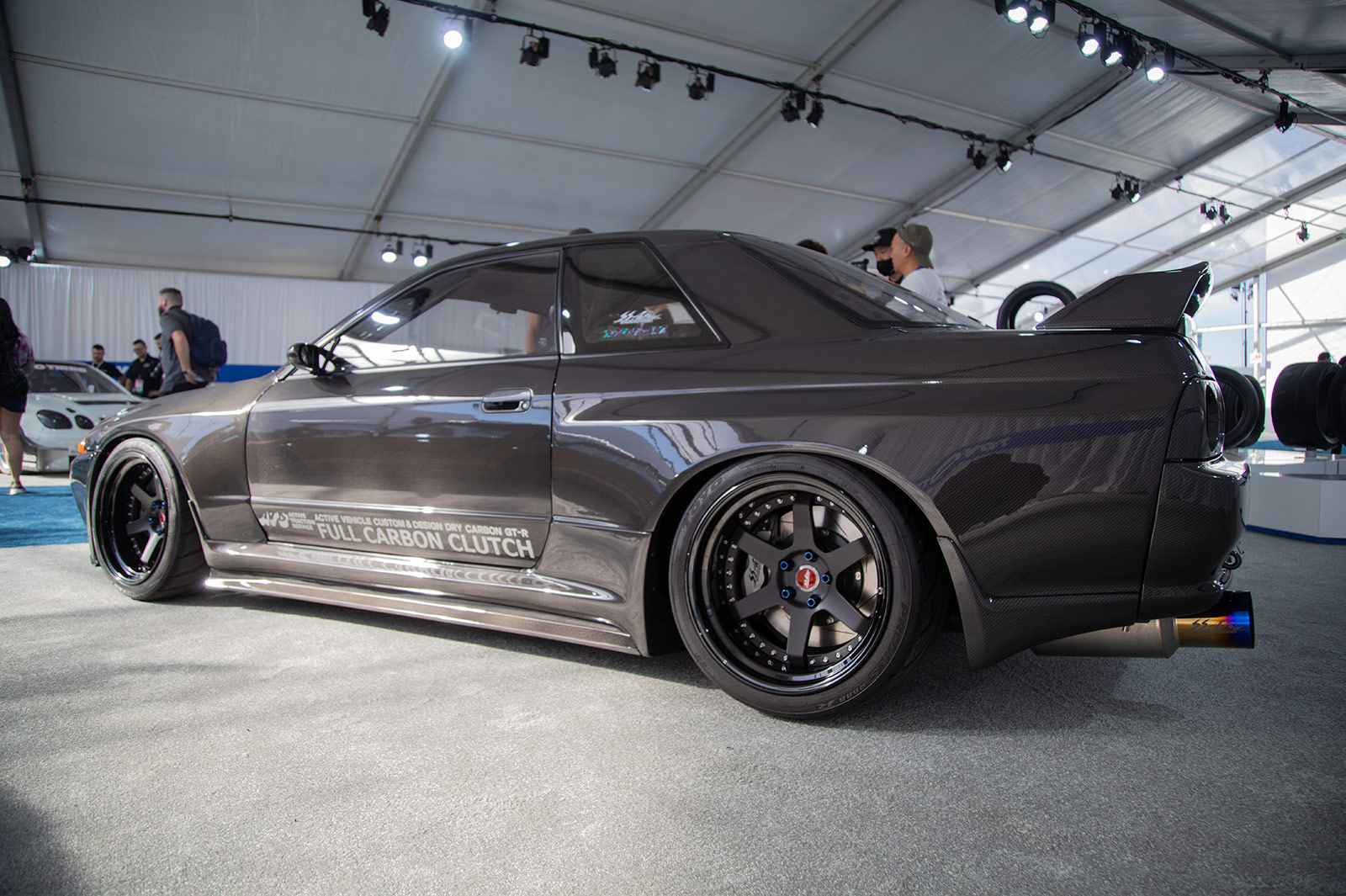 As seen in PASMAG #169. ORDER HERE
Photography by Gerbie Reyes (@gersmms2k)
---
ESSENTIALS
Owner: Garage Active
Vehicle: Carbon Fiber R32 GT-R
SOCIAL
Instagram: @active.gtr
ENGINE
HKS (2.8L stroker kit, drag metal head gasket, GT75115-BB turbo, GT II wastegate, electronic boost control, F-CON V Pro ECU, oil cooler kit, R-Type intercooler)
Tomei (camshafts, valvetrain)
Garage Active (Original exhaust manifold, front pipe, custom suction kit, fuel delivery pipe, R134 air conditioner kit)
NAPREC (big valves, drag combustion chamber kit)
SARD (900cc injectors, R type fuel pressure regulator)
IP ignition coil
DRL radiator
EXHAUST
Garage Active full titanium exhaust
DRIVETRAIN
OS Giken OS-88 sequential transmission
ATS (MAX4000 full carbon clutch kit, front and rear LSD)
WHEELS / TIRES / BRAKES
SS-Active RC-V1 wheels - 18x12 (f/r)
Toyo Tires R888R tires - 295/30/18 (f/r)
CHASSIS / SUSPENSION
HKS Hipermax IV SP Drag coilovers
Garage Active electric power steering kit
EXTERIOR
Garage Active full carbon fiber exterior
INTERIOR
Garage Active (custom roll cage, leather interior upholstery, carbon fiber rear seat delete, carbon fiber floor)
Recaro RMS dry carbon seats
---
PHOTO GALLERY