Photography by Ken Au
---
Achieving massive power without a cookie-cutter recipe
Mitsubishi's Lancer Evolution has been a cult hit since it arrived on the scene in 1992. After some success with the Group A Galant VR-4, Mitsubishi essentially shoe-horned their proven 4G63T engine and drivetrain into their lighter, more compact model, the Mirage-based Lancer. Thus, the first Lancer Evo was born. All models of the first iteration of the Evolution were sold out in just three days.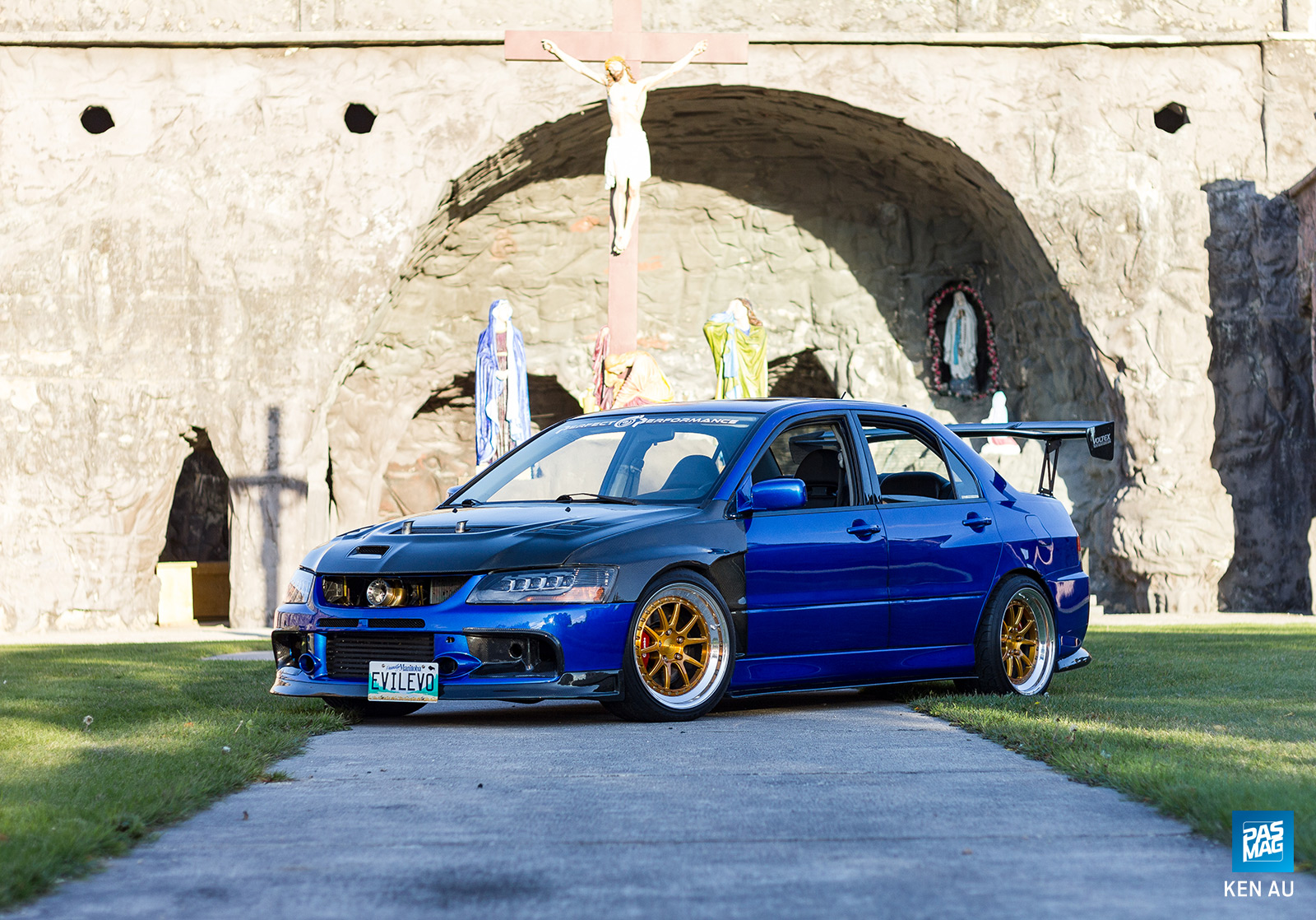 The Evolution continued its evolution [ha!] over the next few generations, and things started to get advanced in 1996 when the Evo IV debuted with a bigger turbo, active yaw control, and tell-tale fog lights up front to let you know it was indeed a rally car. By the time the Evolution hit its seventh generation, several years and multiple engineering tweaks later, the platform was a potent sport compact desired by just about anyone who knew what it was.
In 2003, North America finally got its share. The Evolution VIII made its debut as an even-further lightened platform, and it was an immediate hit among enthusiasts across the world, particularly among those to the North who wanted that sweet, rally-proven, hard-launching AWD system in a sporty compact platform. Chad Shirtliff was one of those enthusiasts, and after some experience with Celicas and a 1995 Eclipse, he picked up the 2003 Mitsubishi Evolution you see here.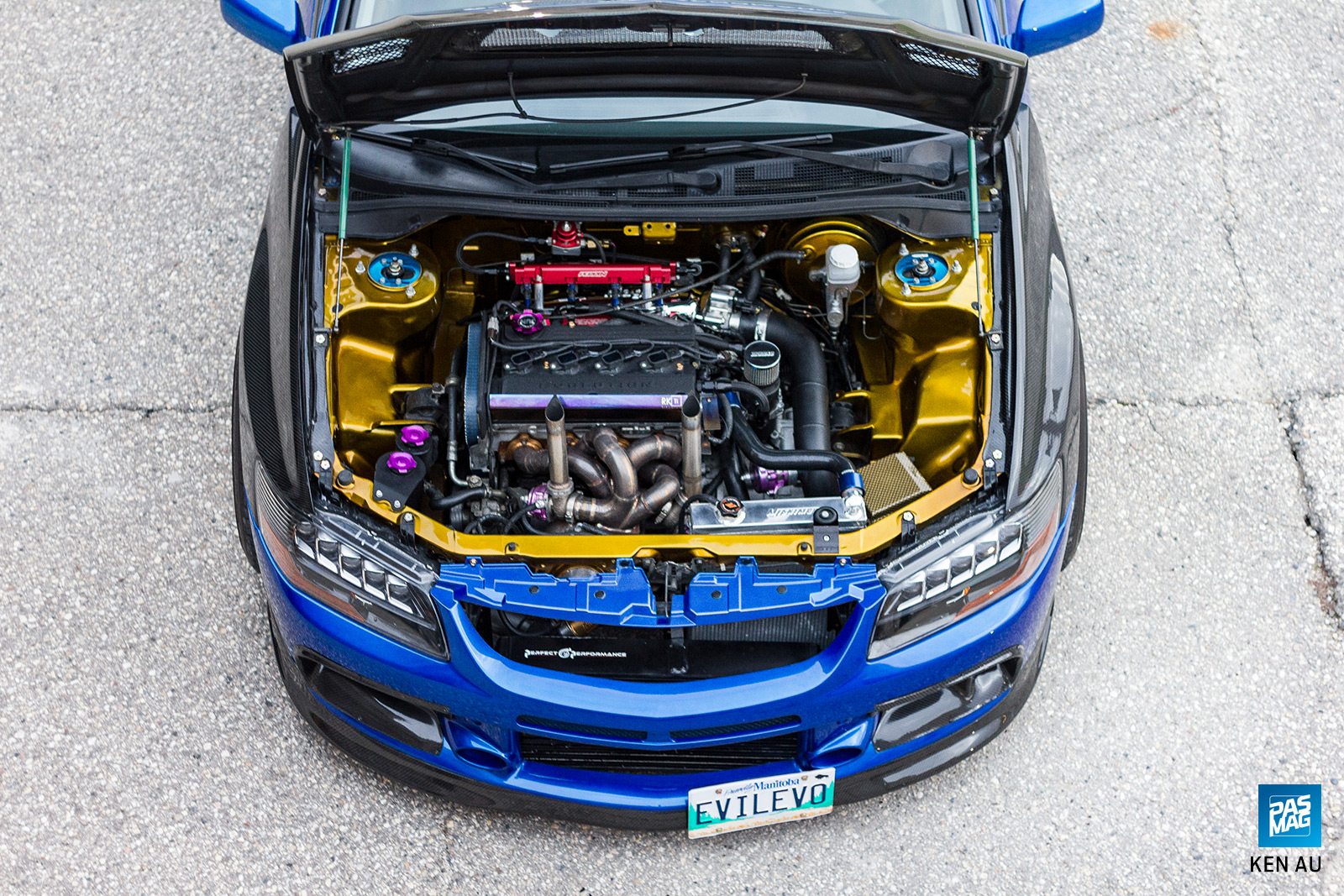 Shirtliff and his brother cut their teeth on mechanics with dirt bikes in their younger years, and eventually graduated to cars as they got older. As their passion moved from the dirt to the road, they found themselves tinkering with whatever they could get their hands on. "We would always try different things to our cars to see if we could make more power on a budget, until we would either lose power or break something," he laughs. As he matured, so did his taste in modifications.
When he finally sat down to plan out how this car would be transformed, he knew he wanted something that could hold its own at car shows, but still be track-ready and act as the perfect street car. He also knew he wanted the Evo's power to sit well above the 500 whp mark. With so many recipes and cookie-cutter formulas for building the 4G63T to absurd levels of power, Shirtliff also wanted to build his engine in a different way than most Evo owners would take.
To get a solid foundation for the powerplant, the 4G63T's head was ported, polished, and mated to a 4G64 block, which was built and bored out to a 2.4-liter high-compression version with Manley rods, pistons, and crankshaft. This 4G-Frankenstein formula keeps throttle response peppy, even off boost, and a Precision Turbo 6466 T4 1.15AR turbocharger, visible through the front grille, ensures that boost is even more potent. The MPS dry nitrous kit is just the icing on the cake.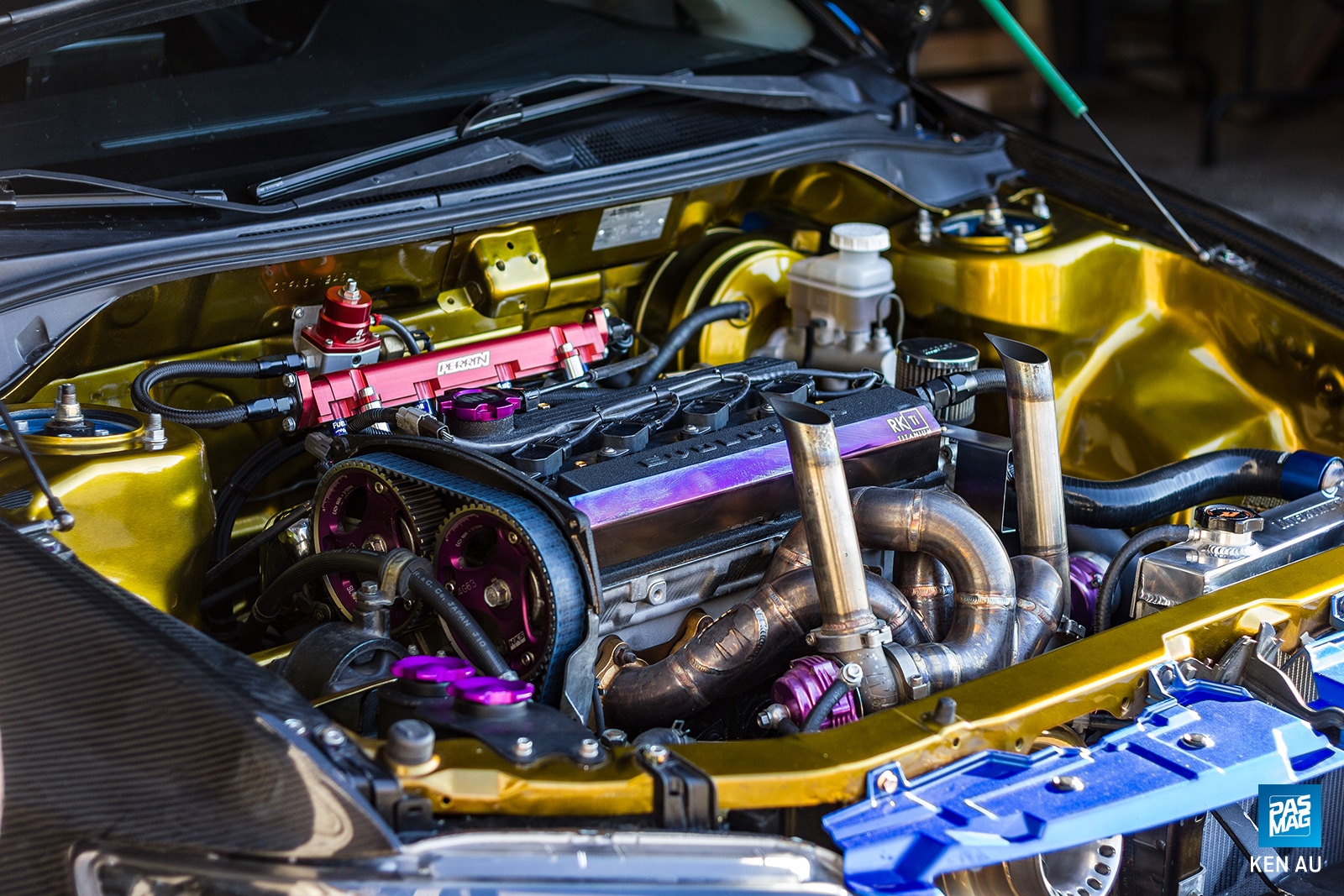 Perhaps the coolest feature of the mutant 4G isn't found in a monstrous turbo, or your typical power-adders, but rather, in the intake manifold. Impressed with the work and products offered by Magnus Motorsports, Shirtliff noticed that one of their Evolution intake manifolds was configurable for eight injectors, and a wild idea was born. With its current setup, the primary four injectors run standard pump gas, but as boost begins to build, it switches to the alternate four injectors, which feed E98 directly into the churning engine. Shirtliff says this setup allows him to maintain some sense of conservative and reliable driving on the street, with the ability to unleash a monster at the drop of a hat.
The unique recipe for the 4G64 equates to an overall power output of 806 whp and 692 lb-ft of torque at 40 psi, a significant amount above his goal of "500 hp to the wheels." With so much power coming out of a compact package, many fail-safe components need to withstand the thrashing it provides. An AEM Performance Electronics Infinity 8H ECU manages all of the engine's electronics, which include three fuel pumps, one Walbro, and two Bosch units. Moving that power through the drivetrain is an Exedy triple-plate clutch and flywheel, Perfect Performance carbon fiber synchros in the gearbox, and a Quaife differential.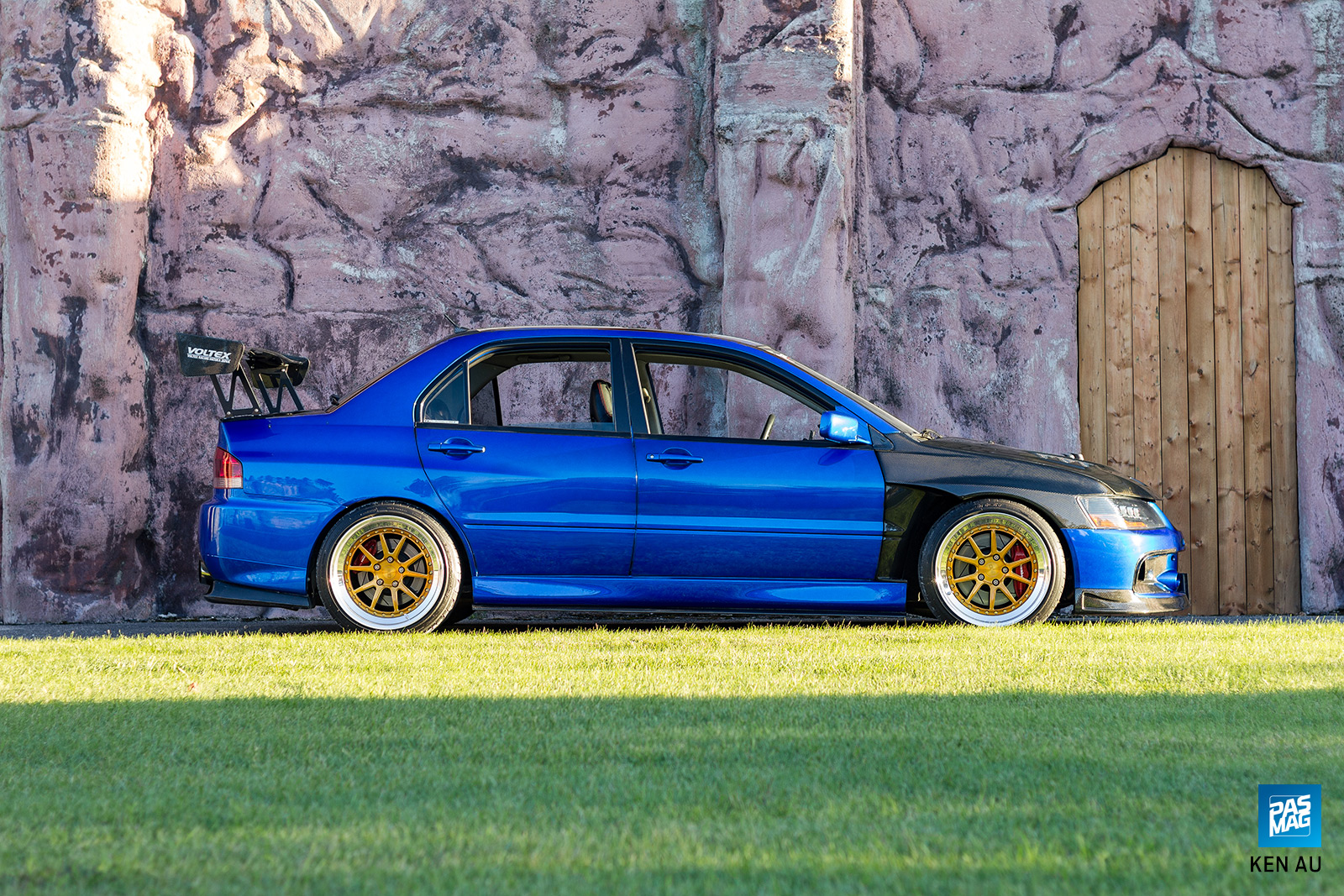 Keeping the Evo planted in the corners is a set of Cusco coilovers and braces, as well as Whiteline sway bars and strut bars in both the front and the rear. On the ground, a set of 18x10-inch +15 CCW wheels are wrapped in BFGoodrich KDW2 tires, measuring 255/35 R18, in order to maintain grip under the power on tap. Inside those CCW wheels sits a Brembo brake kit from an Evo X with Hawk HPS pads. All in, the entire setup makes for a potent track weapon which is still comfortable enough to drive on the street.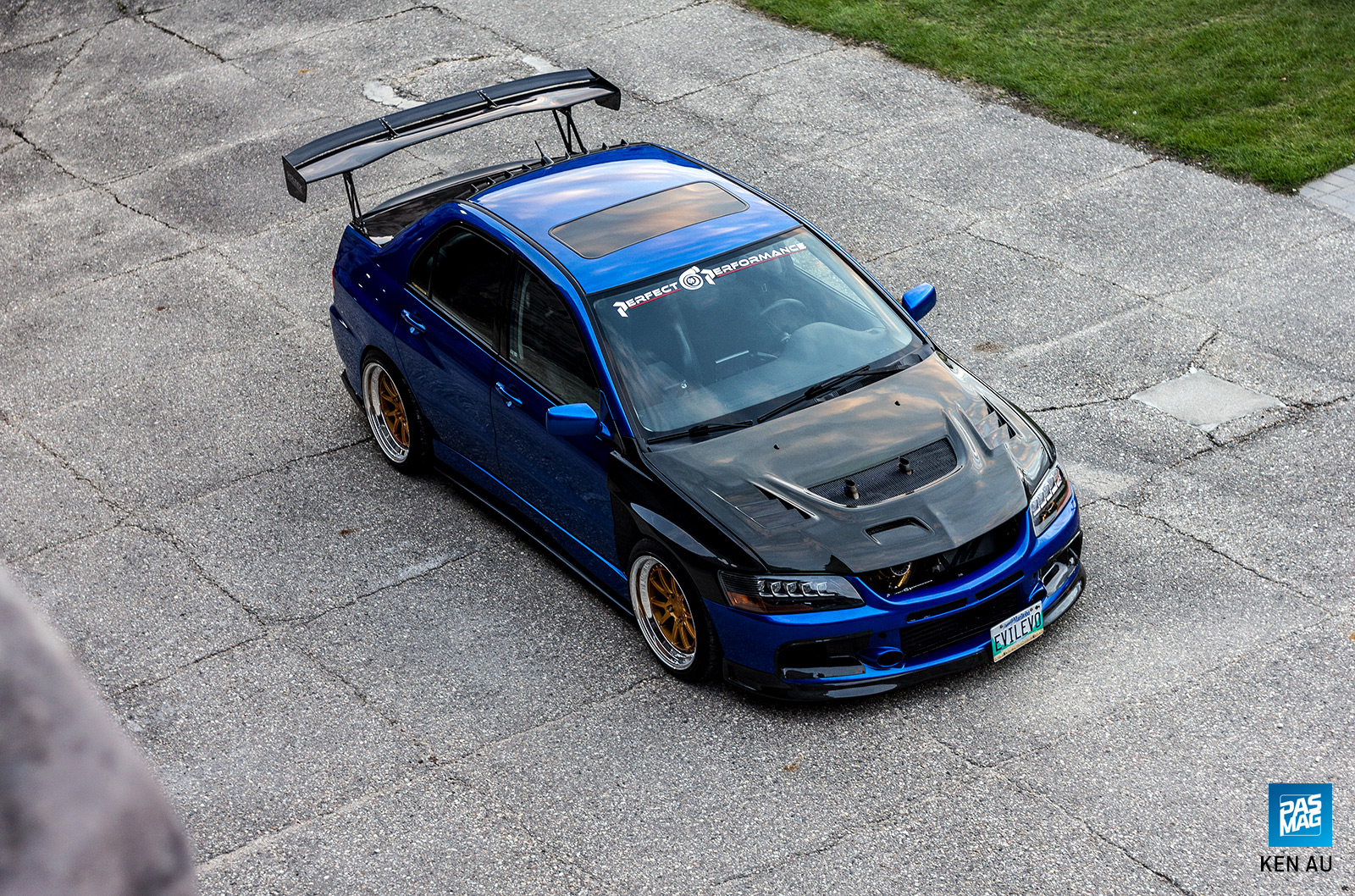 Some readers may be looking at Shirtliff's Evo VIII thinking it looks like an Evo IX, and you wouldn't be far off. Both the front and rear bumper are from a USDM Evo IX and a JDM Evo IX respectively, with a set of JDM Evo VII taillights mated to the rear, and 2015 Acura TLX retrofitted headlights up front. With exposed carbon fiber present in the Victory Function fenders, as well as the Voltex 5V spoiler and Rexspeed add-ons, the Lamborghini blue paint shines with brilliant contrast.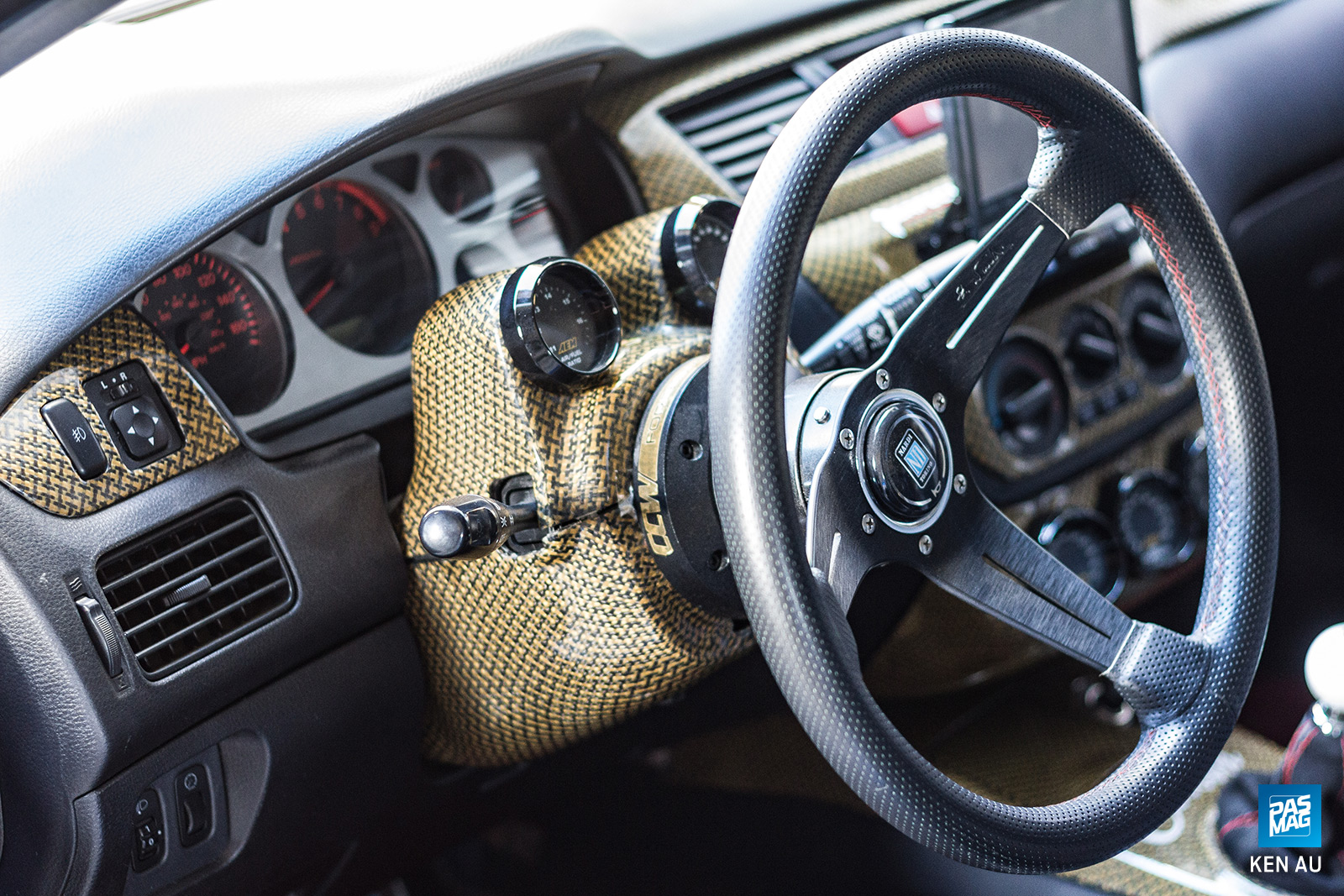 Shirtliff knew when he started this project that one day he might have a family, and therefore the interior of the car remains fully functional, with all four doors opening to a seat, as opposed to a rear seat delete plate. The front seats come courtesy of the same JDM Evo IX as the rear bumper, and apart from some neat bits, like a custom Kevlar gauge pod housing, AEM gauges, and a suede shift boot beneath the Forged Performance shift knob, the interior remains simple and civil.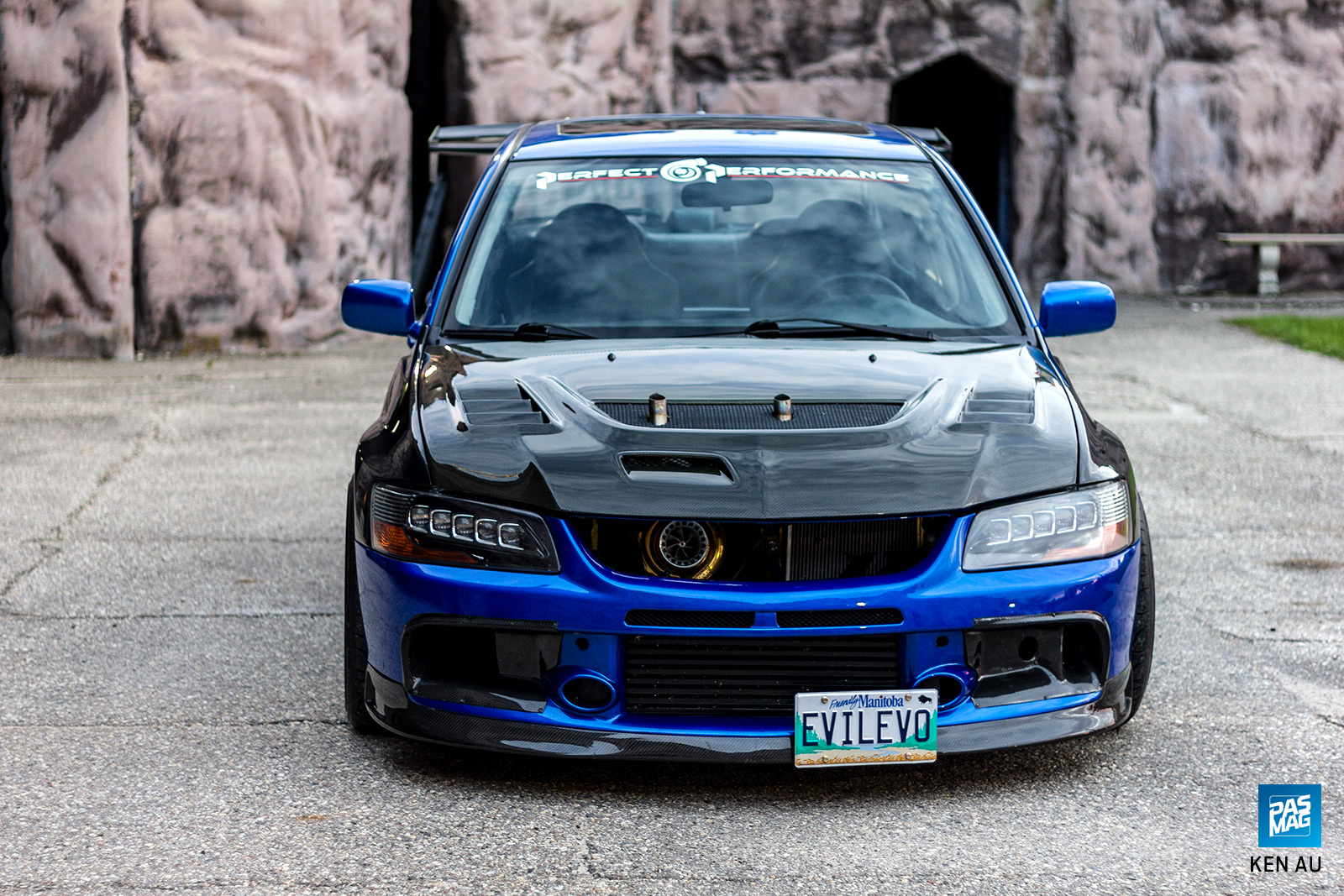 Ultimately, Shirtliff's original goal wasn't to have the world's fastest, or the most powerful Evo VIII, but rather something he could drive to and from shows, the track, and wherever life takes him with a little extra power on tap. To his pleasant surprise, his original power goal was far surpassed as modifications snowballed into something truly remarkable. Today, his car is the only Evo VIII in North America running his unique injection setup. It's amazing what a childhood of tinkering with dirt bikes can lead you to.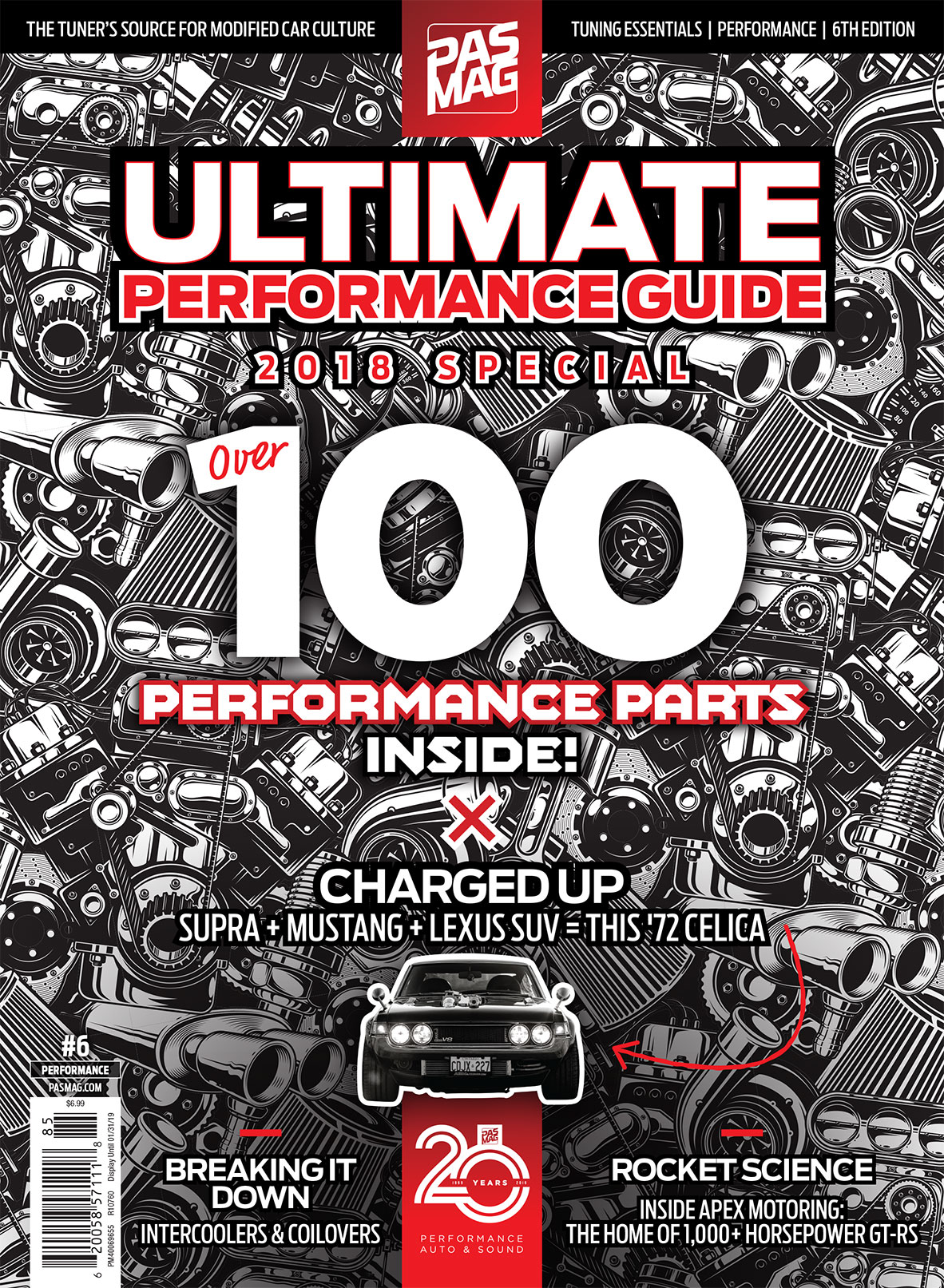 Chad Shirtliff's 2003 Mitsubishi Evolution is featured in PASMAG Tuning Essentals: Ultimate Performance Guide, Volume 6. CLICK HERE TO ORDER.