Habitual Sleeplessness Never Sounded So Good.
Late into the night and early hours of the morning, deep in the suburbs of Brenham, Texas, a garage light illuminates the driveway before it in an otherwise pitch black section of Chappel Hill street. Inside, you can find Kendrick Rogers, AKA "Swift," putting the finishing touches on his 2014 Cadillac Escalade, or detailing the car in preparation for a show the next day. Late nights and early mornings are all a part of the daily routine for Rogers. With insomnia affecting at least three generations of his family, the condition has been a blessing in disguise when builds come down to the wire.
Rogers' history of building, restoring, and modifying vehicles started way back when he was just 16 years old, which now seems ages ago as he turned 48 just recently. Forever young at heart, he never let the creeping of father time slow him down. With a true passion for audio competition, as well as quality audio in general, his builds have always featured some sort of sound system - usually the focal point of the build itself. Of course, audio itself was never enough for Rogers, either. He loved having something completely custom and one-of-a-kind that made people look.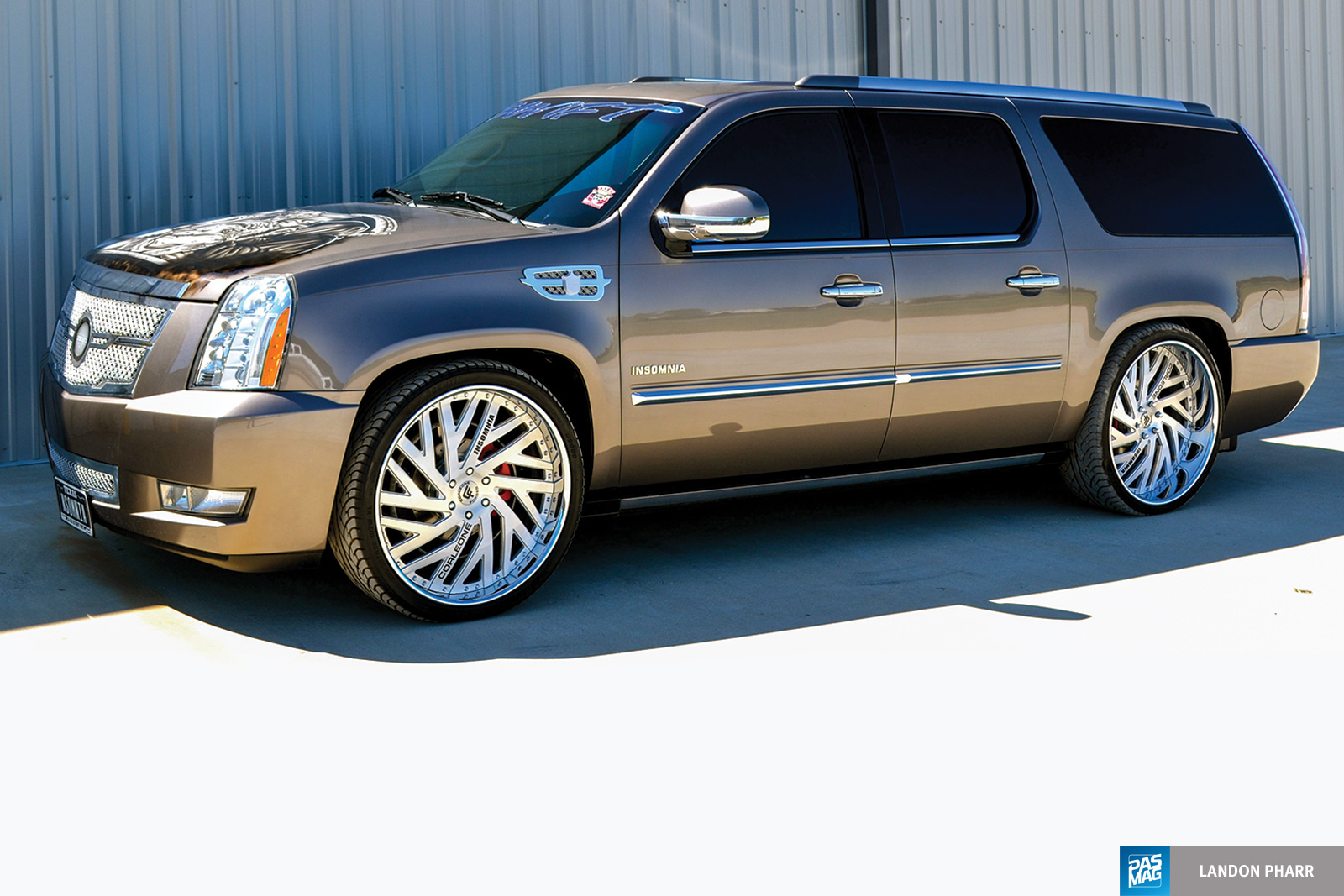 When Rogers' mother passed away before he could get started on his most recent build, the 2014 Cadillac Escalade ESV Premium you see here, he made the decision to dedicate the build to her memory. Since she was both his biggest critic and biggest influence through the course of his build history, a tribute to her memory was a fitting decision for his magnum opus. Once he took possession of the Escalade, his next step was to find a mad scientist or two who were as crazy as he was. Enter our mutual friend, Chris Pate of Mobile Toys Inc.
No stranger to building mild-to-wild audio systems from the ground up, Pate and the team at Mobile Toys Inc were definitely the right guys to get this job done right. Rogers wanted to make sure the audio system went above and beyond, so he reached out to the teams at B2 Audio and Audio Control to source some of the high-end audio products that he wanted to try out for himself. A sponsorship from both companies as well as incredible customer service between the two made their quality mobile electronics the driving force of the Escalade's sound system.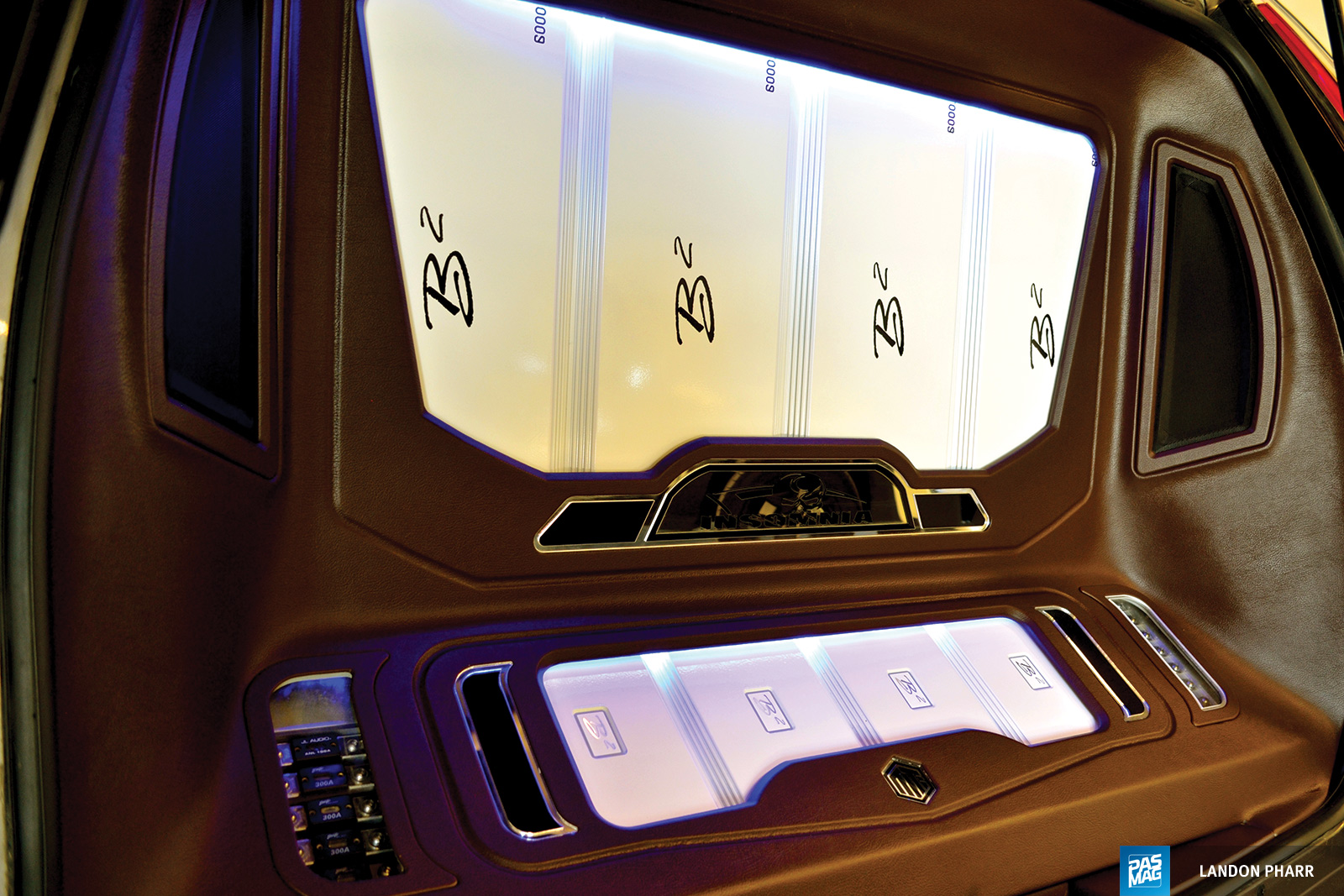 B2 Audio stepped up in a big way, providing 11 amplifiers in total, two sets of REF63 speaker packages, 14 HNT1v2 tweeters, 14 HN8P mid-range speakers, a 10-inch shallow-mount subwoofer, and two absolutely enormous X2Six 33-inch subwoofers, which take up the majority of the interior space behind the second row of seats. The entire system is fine-tuned by Audio Control's pair of DM 810 processors and Matrix pre-amp line driver. Serving as the source unit for the earth-shaking system is a Kenwood 9903 head unit, integrated beautifully into the custom alcantara, suede, and brown leather dashboard.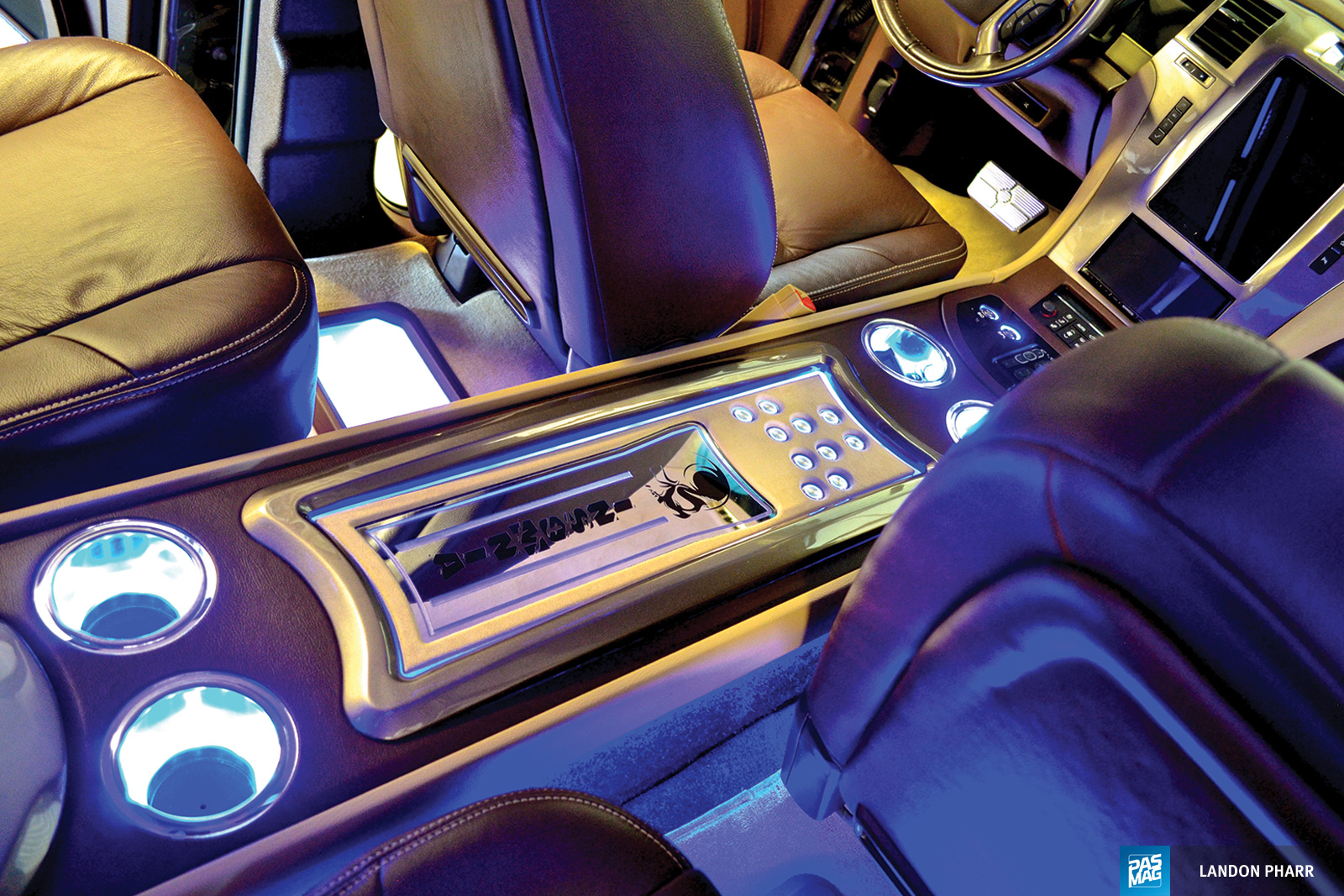 That combination of tan and brown interior materials is the handiwork of both MSB Automotive and Mobile Toys Inc. Not wanting his Escalade to be "just another loud SUV," he wanted the build to be well rounded with a proper interior, and the classy use of materials and craftsmanship was exactly what he needed. Complete with blue LEDs running through the panels, integrated controls in the center console, custom floor mats, and a one-off gauge cluster in the dash, the clean interior became a highlight of the build.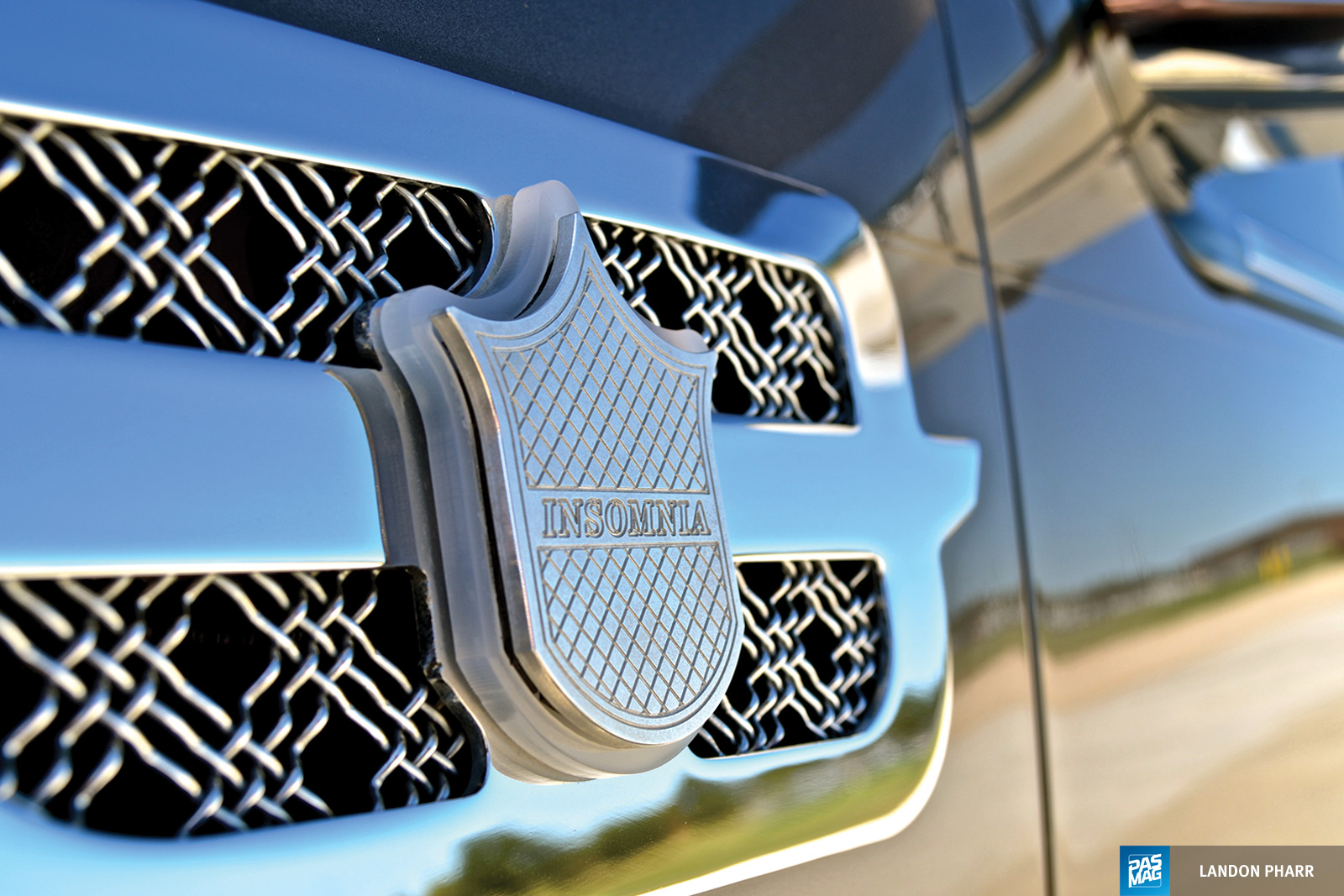 To make sure the Escalade's exterior matched the cleanliness of the interior, Rogers opted for a subtle "iced out" look. Tiarra Grilles handled a custom upper and lower grille, as well as side vents, while Anthony "Tool Maker" Jude got to work on some custom side badges. The pièce de résistance is a custom airbrushing on the hood done by Erik Contreras of Powerhouse Cycles, truly setting the car apart at any audio event. To top it all off, Infinite Offroad rock lights were added on the underside, which help illuminate the custom battery rack which is tucked under the truck, as well as the massive 26-inch Corleone Forged wheels.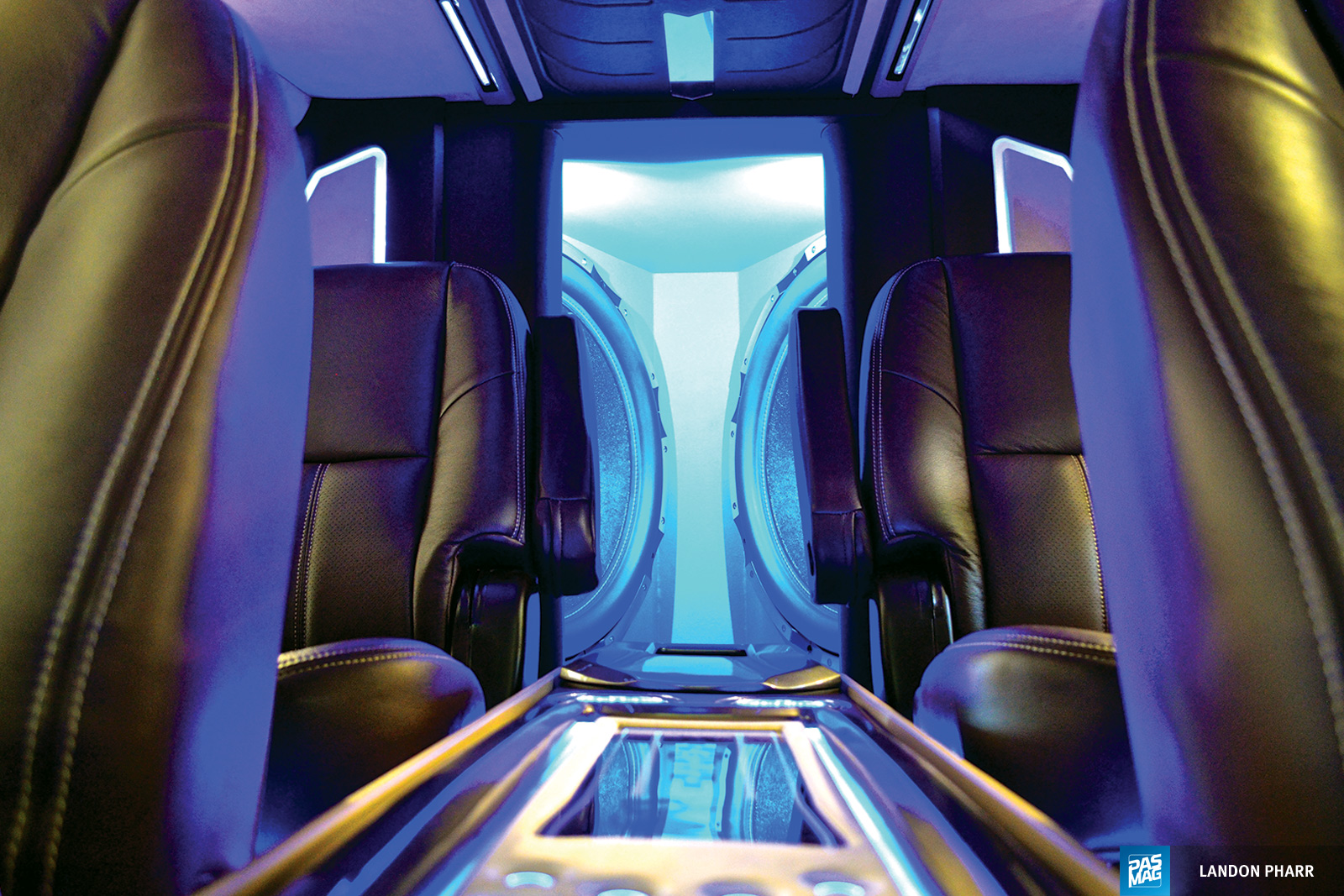 As the entire build came together, his nickname for the build, "Insomnia," began to take on a double meaning among people who followed Rogers' build along the way. "They decided it was called Insomnia because it kept other builders and the competition up at night trying to figure out what's next," Rogers tells us, laughing, but we know the true meaning of this build was a heartfelt dedication to his family, and the final product is more than a worthy tribute.
Photography by Landon Pharr
---

INTERVIEW
PASMAG: Why did you choose the 2014 Cadillac Escalade ESV Premium?
Kendrick Rogers: I chose this vehicle because I actually thought it would stand out in a crowd, look good, and motivate people.
What got you into building in the first place?
What got me into building vehicles was a love for having something custom. Something that made people look and say "nice ride".
What is your favorite aspect of the build?
The way it flows but still looks like something GM could have built.
Were there any major challenges you experienced in the build?
The hardest challenge has always been trying to figure out how to get whatever subwoofers I wanted to run in such a small area, and make them efficient and sound good.
What were your original intentions with the build?
I'll say it was audio and a nice show vehicle
Why did you choose certain brands for your build?
I chose B2 Audio and Audio Control for this particular build because both companies have great products that I wanted to try out. They both also have great customer service which means a lot! At anytime day or night, I can pick the phone up and hit up Chris, Jay, or Andrew.
What influences or inspiration helped you over the course of your build?
There were several people who inspired and helped me with this build along the way - Brian Francois, Chris Pate, Edgar Diosdado, Blake Hunt, Kim leQuoc, Matt Vowell, Louis Jolivette, Rebecca Joe, Michael Dubcak, my family, friends, and especially Tami Steven who put up with me through out all this! My all-time biggest inspiration would have and still is my mom, who passed away before I could finish the first build in the escalade.
Is there anything personally or about the build that you would like readers to know?
I would like to dedicate my SUV to my deceased mom who was a very important part of how my life was influenced.
Any final words?
My SUV is named "Insomnia". The name came from my mom, myself, and my daughter all having the condition. Along the way, it kind of formed another meaning by some of the people who follow the SUV. They decided it was called Insomnia because it kept other builders and the competition up at night, trying to figure out, what's next!
---

ESSENTIALS
Owner: Kendrick Rogers
Vehicle: 2014 Cadillac Escalade ESV Premium
Location: Brenham, TX
Engine: GM EcoTec3 L86 6.2L V8
Club: Swift Car Club
SOCIAL
Facebook: /kendrick.rogers.33
Instagram: @bigbrenham
ENGINE
EXHAUST
Shortened factory exhaust
WHEELS / TIRES / BRAKES
Corleone Forged wheels - 26x9 (f), 26x10 (r)
Tires - 295/30/26 (f), 305/30/26 (r)
Power Stop Z36 brakes
CHASSIS / SUSPENSION
Accuair controller
CVT air tank
Bolt-on air suspension components
EXTERIOR
Tiarra Luxury Grilles custom (upper, lower, and side vents)
Erik Contreras air-brushed hood
MSB Automotive Performance and Design paint and bodywork
Anthony "Tool Maker" Jude custom side badges
Arc n Spark Welding x Mobile Toys Inc custom underside battery rack
Infinite Offroad rock lights
INTERIOR
MSB Automotive Performance x Mobile Toys Inc custom (dash, headliner, doors, seats, console, subwoofer enclosure, amplifier rack, floor mats, blue LEDs, gauge cluster)
AUDIO / MOBILE ELECTRONICS
Kenwood 9903 head unit
Audio Control (DM 810 processors (2), Matrix)
B2 Audio (MA 6000.1 amplifiers (4), MA 1000.4 amplifiers (4), Ref 4 amplifiers (3), REF63 sets (2), 10-inch shallow mount subwoofer, HNT1v2 tweeters (14), HN8P mid-range speakers (14), X2Six 33-inch subwoofers (2))
SPONSORS
B2 Audio
Audio Control
Mobile Toys Inc
MSB Automotive Performance and Design
King Wheel & Tire
---
PHOTO GALLERY