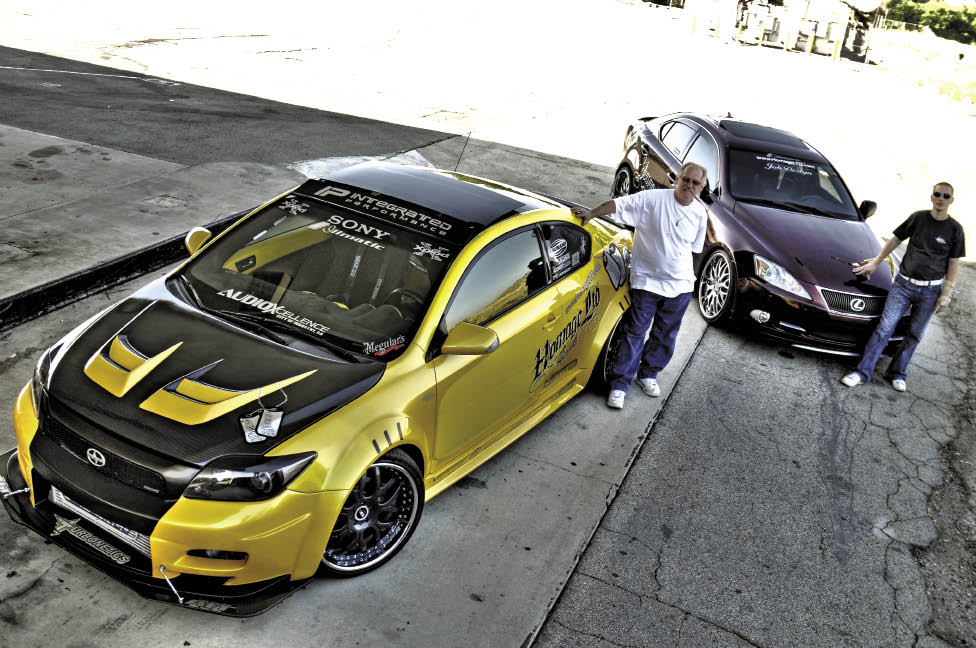 Written by Dave Pankew | Photos by Jacob Leveton
As much as you try and deny it, the traits of your parents will pop up sooner or later. For some, that isn't always a good thing but in the case of Andrew and Michael Yurcich, this father and son
team are bent on making their projects into something that really turns heads. This dedicated tuning duo are sure to attract twice the attention too, because they have each built a hyped up import with countless upgrades, especially their Scion tC. It goes without saying that none of this was easy, but since they had the dedication and the right partners in place, it was all possible.
The results speak for themselves, as the pair have won numerous HIN Best Scion, Two-door Mild and Scion Class awards! Both father and son have won the classic Scion Show Off award three times and won Best Scion at the Sadistic Car Show (their very first trophy). The Scion has never placed lower than 2nd anywhere it goes! The team won Best tC at the Scion Scary Farm show recently and bagged the Won Logo Scion event put on by M2 Motoring. "It was a great show put on by Mike Ma… Not just because we won Best of Show, Best Motor and Best tC either," smiles Andrew.
The Scion project started with more power being extracted from the 2.4L mill. Integrated Performance in Gardena, CA stepped in to perform all of the engine mods, which started with a Turbonetics T3/T4 turbo kit. Consisting of a ball bearing turbo, cast manifold and their trademark Spearco intercooler, Raptor blow-off valve, Evolution wastegate, and comes with absolutely everything to make some solid power. When the Unichip computer was tuned, the final output numbers came down the pipe. The car made 300whp at only 8psi making it double the factory horsepower! The factory clutch was upgraded to an ACT 6-puck along with an Unorthodox aluminum flywheel.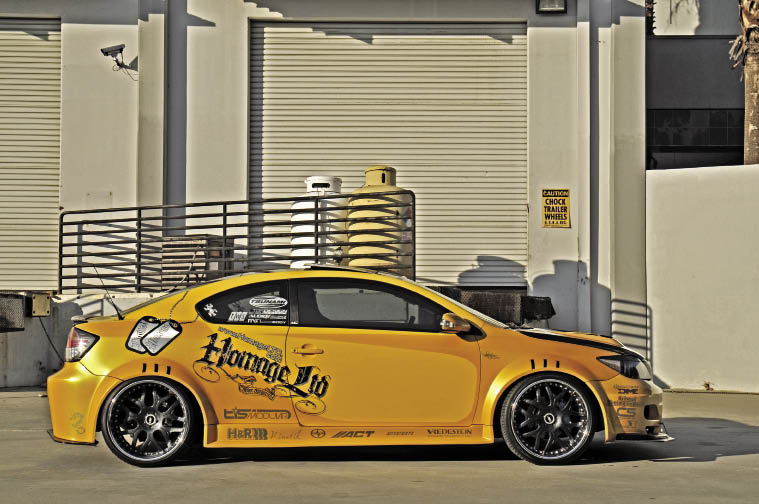 The outside of the car got a striking makeover with a full custom widebody and carbon fiber fender flares. A Krazy Kustomz front and rear bumper was added along with a Precision grille and TC Sportline spoilers at the hands of master techs at M1 Autobody and DTM Autobody. Finally, the team drenched the project in Lamborghini yellow with black accents. The exterior was wrapped up with Hella HIDs and an AIT carbon fiber hood and rear diffuser. The rollers needed to be on par with the rest of the project. Andrew selected 20x8.5-inch fronts with 20x10.5-inch rears from TIS Modular. Lurking behind the gunmetal spokes are a set of Rotora 4-piston big brakes for unfading stopping power connected by Goodrich stainless lines. As for lowering, Andrew turned to H&R to supply a set of lowering springs to get the right stance. The body-roll was eliminated with some Hotchkis sway bars. The chassis was tightened up with AEM sway bars front and rear.
The car was taken to Audio Xcellence in City of Industry, CA where the entire interior was gutted. Using fiberglass, suede and plexiglas the entire interior was designed in preparation for the audio install. A set of Sparco Monza seats were added to the project in black suede with custom yellow stitching by JNL in Rosemead, CA. Everything was redesigned from the dash, to door panels, liners and outrageous rear hatch setup.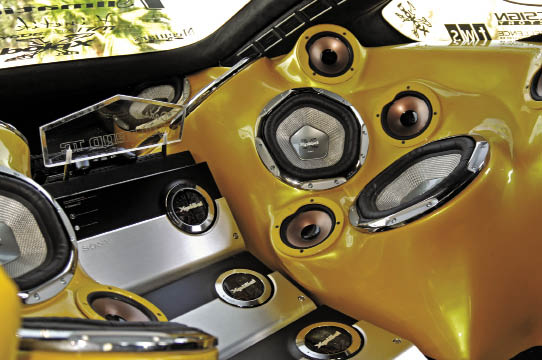 Lining the former cargo space is now a quartet of sweet-sounding Sony Xplod XS-LD127P 12-inch subs. The subs are driven using four individual Sony Xplod XM-D9001GTR amps to each subwoofer. The mids and highs are reproduced with seven sets of Sony Xplod XS-HF167 6.5-inch components spread throughout the cabin. In addition to the 6.5-inchers, two sets of Xplod XS-HF137 components, all driven by three Sony Xplod XM-1252GTR 2-channel amps. Everything is driven by the venerable double-DIN Sony Xplod XAV-W1 head unit, which features not only SACD, but the accompanying 5.1 surround sound as well! The XAV-W1 sports a 7-inch screen with a customizable display and of course the head unit is satellite radio and iPod ready.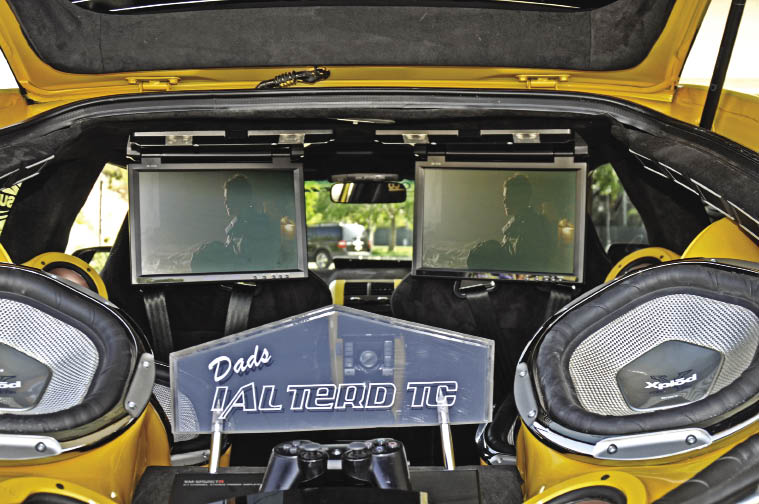 With this project complete, the father and son team have turned their attention and resources to the Lexus IS you see lurking in the background of our photo shoot. Both vehicles now serve active duty as rolling billboards to help promote their business www.HomageLTD.com, distinctive apparel produced to pay homage and donate to military charities such as the West Los Angeles Fisher House Foundation. With a good cause in mind and a lengthy list of mods already installed on the popular Lexus platform, we can't wait to see what the Yurcich's come up with next!
ESSENTIALS
Owner: Andrew and Michael Yurcich
Location: Alhambra, CA
Vehicle: 2005 Scion tC
Power: 300whp @ 8psi
Engine: Toyota 2.4L 2ZE-FE inline-4
ENGINE MODIFICATIONS
Turbonetics T3/T4 turbo kit
Turbonetics manifold
Spearco intercooler
Turbonetics Raptor blow-off valve
Turbonetics Evolution wastegate
Unichip computer
ACT 6-puck
Unorthodox aluminum flywheel.
WHEELS, TIRES, BRAKES
TIS Modular 20x8.5-inch & 20x10.5-inch
Vredestein Ultra Sessanta tires 255/25R20 & 285/20R20
Rotora 4-piston big brakes
Goodridge stainless lines
SUSPENSION
H&R lowering springs
Hotchkis sway bars
AEM sway bars
AUDIO / MULTIMEDIA
Sony Xplod XS-LD127P 12-inch subs x4
Sony Xplod XM-D9001GTR amps x4
Sony Xplod XS-HF167 6.5-inch components x7
Sony Xplod XS-HF137 5.25-inch components x2
Sony Xplod XM-1252GTR 2-channel amps x3
Sony Xplod XAV-W1 headunit
Sony XVM-B62 7-inch monitors x3
Kinetik HC1800s x3
Tsunami wiring, fuses and distribution blocks.
SHOUTOUTS
Scion-Huntington Beach, Car Sponsorships, Alsa paints, Sony Mobile, Vredestein, TIS Modular, Turbonetics, Kinetik batteries, Meguiars, H&R, AEM, DC Sports, Rotora, Borla, Star Shield Armor, Krazy Kustomz, AIT Racing, TC Sportline, Sun Auto, Unorthodox Racing, NX, PI-Thon, Pro Fit, Tsunami, M1 Autobody (www.m1autobody.com), DTM Autobody (www.dtmautobody.com), Audio Xcellence (www.audioxcellence.net), TWS (www.thewheelsupply.com), Integrated Performance (www.integratedperformance.org/)