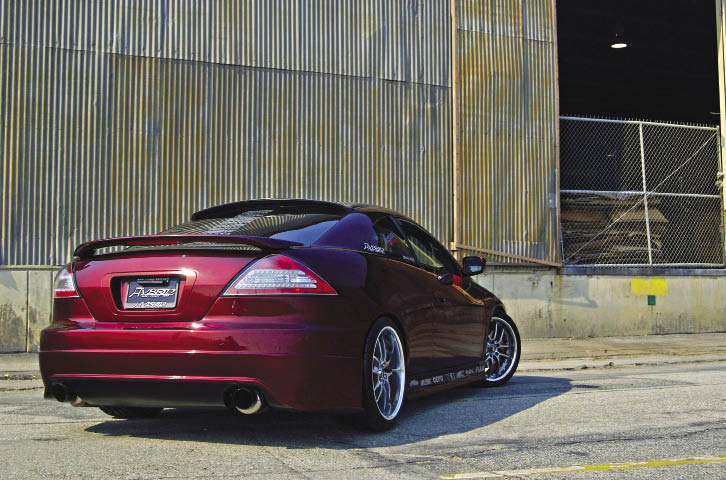 Written by Dave Pankew | Photos by Chris Manacop
The enthusiast scene is fueled by the individual desire to customize and create unique vehicles proud to call our own. Not everyone shares the same tastes or personality, but that's what makes the aftermarket tuning scene so diverse. One such individual is Suneil "Sunny" Suravarapu, a long-time enthusiast who wanted to build something to set himself apart from the crowd. A Honda Accord definitely qualifies!
"Well it better be a 6-speed and have some sort of forced induction," I muttered to Editor In-Chief Mark Pereira when he told me about it. I knew this Accord had to be special to grab our attention and was soon informed "It doesn't have a turbo… it has two!"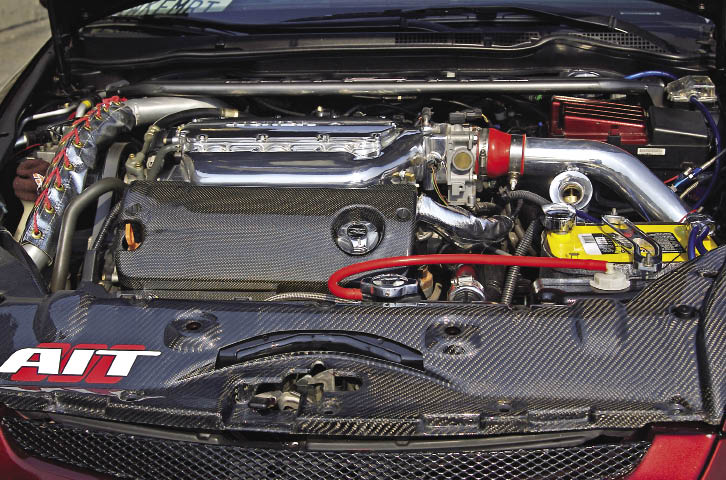 A pair of Garrett GT-25s were plumbed in by Evolution Racewerks who made everything from scratch. Go figure, there are no off-the-shelf parts for this car. An AEM dry filter hauls in the air and the fuel is mixed in with a Precision Turbo 444cc injectors regulated by an AEM FPR fed by a Walbro 190 lph pump. The air is chilled with a Yonaka intercooler and is vented by a Turbo XS BOV while the exhaust gases are channelled through an AC Autotechnic exhaust with a dual titanium tip.
The engine is managed by AEM's FIC module and was tuned by Church Automotive. Running on 5psi of boost, the V6 churns out an estimated 400whp on a high compression motor. Those figures are without the NX direct port system that Sunny installed. Since the car was not designed to put down this kind of high horse power jam, Sunny added a ClutchMasters Stage II clutch.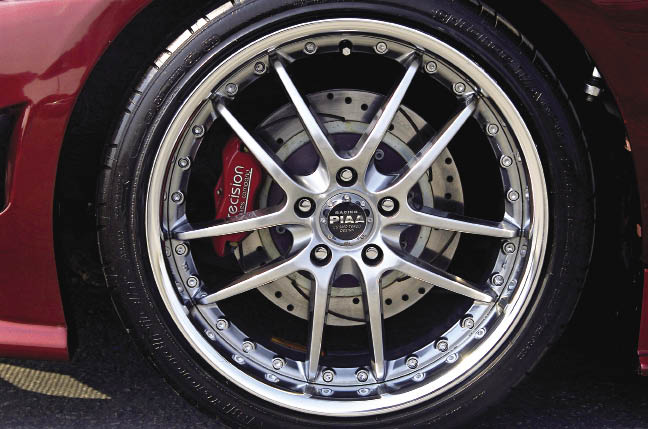 Since the power of a twin turbo system was more than enough for a front wheel drive car, Sunny was also after a project that could carve corners. The attention turned to the suspension where D2 adjustable coilovers were fitted to the project. A set of Progress sways bars were added to reduce roll and a DC Sports strut bar ties the chassis up. A set of Ingalls camber arms were added to achieve the right stance. A proper connection to the ground was vital, so Sunny opted for a set of BFGoodrich g-Force KDWs wrapped around PIAA Super Rozza staggered wheels with 19x8.5 inch fronts and 19x9.5-inch rears in super black. The stopping power came in the form of a Wilwood big brake kit that had to be customized to fit since there was no application for an Accord.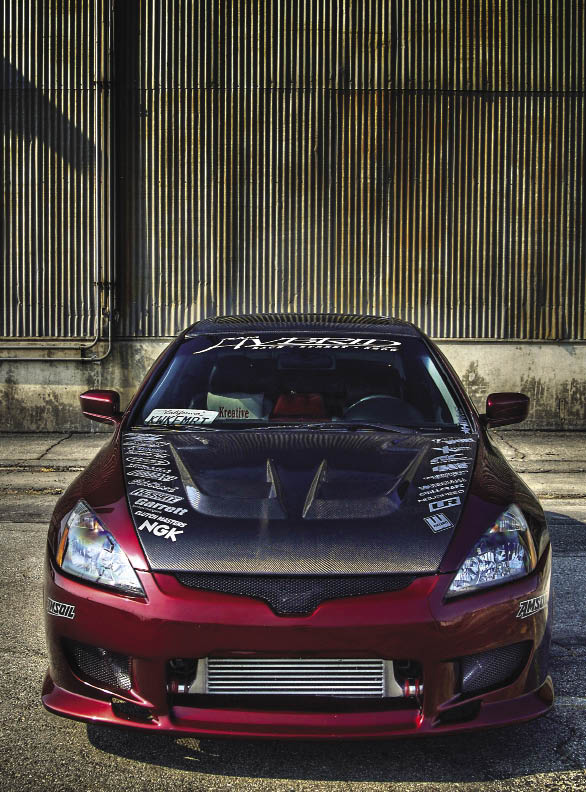 From the exterior, the car is difficult to identify as an Accord. An AIT Racing body kit was added that consists of a front and rear bumper and sideskirts, but the AIT treatment didn't stop there. Sunny installed an AIT Racing carbon fiber hood, carbon fiber roof and roof spoiler. A Grillcraft upper and lower grille was added to give the front end a more aggressive look along with DEPO HID headlights and rear LED tails. The doors were also fitted with a Verticals Doors kit before M1 Autobody shot the whole project in House of Kolors candy black cherry paint.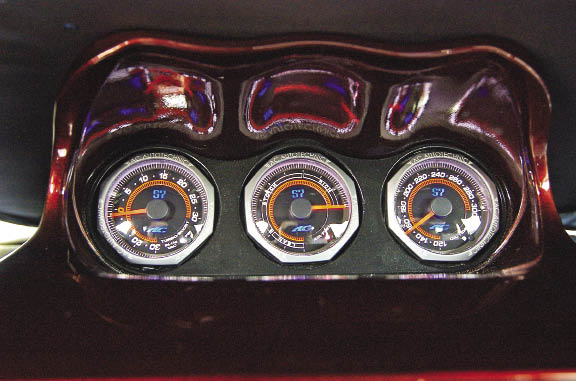 Sunny wanted the cabin to be a place that showed off his style but at the same time was functional. The entire interior was recovered in full Katzin two-tone leather and suede. An Ignited Performance switch panel was added in addition to an engine switch. An ATI triple gauge pod was custom molded into the dash by Nexson at V6p.net with AC Autotechnic gauges: oil pressure, AFR and boost to keep tabs on the twin turbo Honda.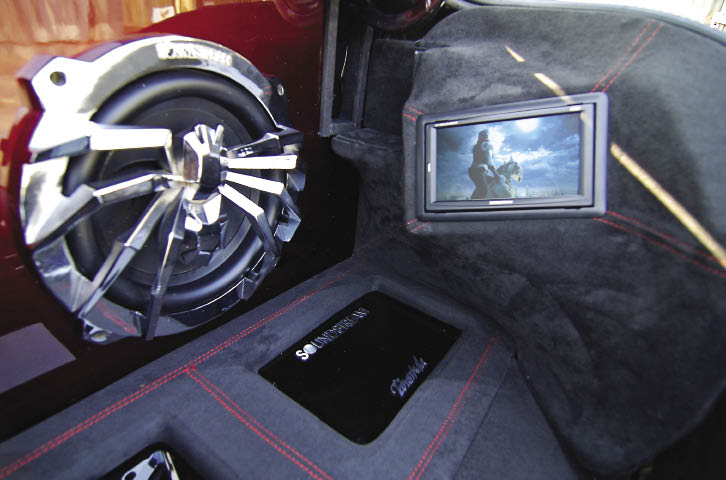 The sound and video was taken care of by Xtreme Image in City of Industry, CA. A load of rockin' Soundstream products were installed starting with a Soundstream VIR 5000-series headunit. The bass lines are belted out of a pair of Soundstream Tarantula 10-inch subs in custom suede and fiberglass/painted enclosure and a total of three Tarantula amps. Soundstream Tarantula components speakers were placed throughout the cabin to handle the mids and highs.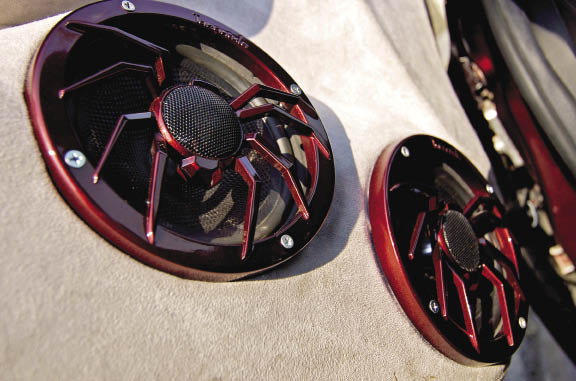 A pair of 7-inch Soundstream LCD screens have been placed in the trunk to relay video and entertainment. All of the wiring, fuses and distribution blocks are by Tsunami and the whole system is lit up by an Optima Red Top battery.
Sunny's one-of-a-kind Accord (which he dubbed "KWKEMRT" on his license plate due to his Indian heritage) has been around for a long while, displayed and winning at many HINs, SEMAs and even Nisei week. We have to hand it to Sunny for being original and continuing to reinvent his project until he got inked in our magazine.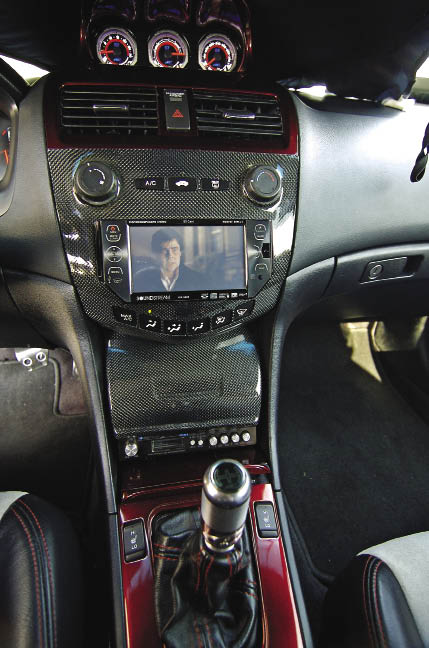 ESSENTIALS
Owner: Suneil "Sunny" Suravarapu
Location: City of Industry, CA
Vehicle: 2004 Honda Accord
Engine: Honda 3.2L V6
ENGINE MODIFICATIONS
AC Autotechnic carbon fibre/titanium tip exhaust
AEM FIC, fuel filter and fuel regulator
AEM dry filters
Evolution Racewerks turbo system
Garrett Turbo GT25 x2
Hose Techniques hoses
Innovative motor mounts
NGK spark plugs and O2 sensors
Nitrous Express nitrous system
Precision Turbo 440cc fuel injectors
Russell Performance braided hoses
Turbo XS BOV
Walbro 190 LPH fuel pump
Yonaka Motorsports intercooler
AMSOIL Signature Series 0W-30
100% Synthetic Motor Oil
ENGINE MANAGEMENT
Church Automotive tune for 5psi of boost
SUSPENSION
DC Sports front sway bar
D2 Racing Sport coilovers
Progress rear sway bar (provided by Corsport)
Ingalls front and rear camber kit
WHEELS, TIRES, BRAKES
PIAA Super Rozza staggered wheels super black; 19x8.5-inch (f), 19x9.5-inch (r)
BFGoodirch g-Force T/A KDW
Wilwood custom big brake kit
Autoaccessorystore.com cross drilled rotors
EXTERIOR
Paint and body work by M1 Auto body
AIT Racing body kit
AIT Racing carbon fibre rear diffuser
AIT Racing carbon fibre roof
AIT Racing carbon fibre vented hood
CorSport window deflectors
Autoaccessorystore.com carbon fibre door pillars
DEPO JDM black housing headlights
DEPO rear LED taillights
Grillcraft upper front insert
House of Kolors candy black cherry
Ignited Performance HIDs
Vertical Doors kit
INTERIOR
Katzkin 2-tone full interior
AC Autotechnic gauges, turbo timer, and fan controller
ATI dash mount gauge holder
Beltronics RX75 Plus
Beltronics Vector FX1
Neuspeed short shifter
Clifford alarm system
Hayame carbon fibre pedals
Ignited Performance switches / buttons
AUDIO & MULTIMEDIA
Xtreme Image Stereo in City of Industry, CA
Soundstream Tarantula 10-inch subs x2
Soundstream 7-inch monitors x2
Soundstream Tarantula amps x3
Soundstream Tarantula Component speakers
Soundstream VIR 5000 headunit
Soundstream Digital processor
Tsunami Battery distribution
Tsunami fuse blocks
Tsunami Battery terminals
Tsunami Competition battery
Tsunami RCA / speaker wire
Metra dash kit
SPONSORS
AEM, AIT Racing, Autoaccessorystore.com, Auto Tech Interiors, AMSOIL, Beltronics, BFGoodrich, Church Automotive Testing, Clutch Masters, CorSport, DC Sports, DEPO, D2 Racing sports, Edelbrock, Evolution Racewerks, Garrett by Honeywell, Grillcraft, Hose Techniques, House of Kolors, Ignited Performance, Innovative Mounts, Katzkin Leather, Meguiar's, M1 Auto body, Neuspeed, Nexson @ V6p.net, NGK, Nitrous Express, Optima Batteries, PIAA, Precision Turbo, Russell Performance,