Photography by Kevin Cruz (@omi_media)
---
Andrew Espiritu was exposed to modifying cars from a young age, when he saw a couple of young guys building cars on his street. As he got older, racing video games and RC cars caught his attention.
"When I was about 4 years old, there were a couple of teenagers that we're building cars on the street that I grew up on," Espiritu mentions. "I remember seeing a body kit being fitted onto a grey Nissan 240sx and at that time I hated the fastback look." The 240sx is actually one of his favorite vehicles now. He was only 4 at that time and he didn't really know much, but at that age he really loved the Dodge Viper and Chevy Corvette. It wasn't until Gran Turismo came out, that Espiritu discovered he had a taste in import vehicles and tuning them."
"I loved playing those racing games," he remembers, "earning money and spending it on car parts." Not much different than real life now. When he got a bit older, Espiritu started playing with micro RC vehicles. "I modified these little toys by adding an extra battery to make it go faster," he states, "and also molding putty onto it to create some ground effect body kit." As he got even older, he moved onto a bigger scale of RC cars.
Building cars has followed Espiritu through his whole life and is a hobby that he enjoy with a passion. He's met a lot of people along the way with the same interest. "I think that is one of the reasons I have made it this far - building real cars," he mentions.
Espiritu had previously built a Honda S2000 and a Mercedes-Benz C280 when he landed a sales position at a local Subaru dealership. While working there, a 2017 Subaru BRZ made its way to the lot, and was parked right outside the window from his desk. It was love at first sight, and he knew right away that he had to take that car home.
With plans to attend shows and turn heads, his focus in modifying the car has always been on aesthetics. Using carefully selected parts, Espiritu has built a race-inspired exterior and an exciting interior for his BRZ. Setting it all in an aggressive stance is an Air Lift Performance air suspension system. His intentions were also to hit the track, so he also spent some time bolstering performance in the engine bay as well.
With plans to keep on going, Espiritu says he hasn't stopped modifying. "My build isn't done and I wont use the word 'yet' because it's constantly changing," he states. "By the time you read this, there would have been a few changes already made on the vehicle." So to find out what he's working on, check our Espiritu on Instagram (@drewmahdo).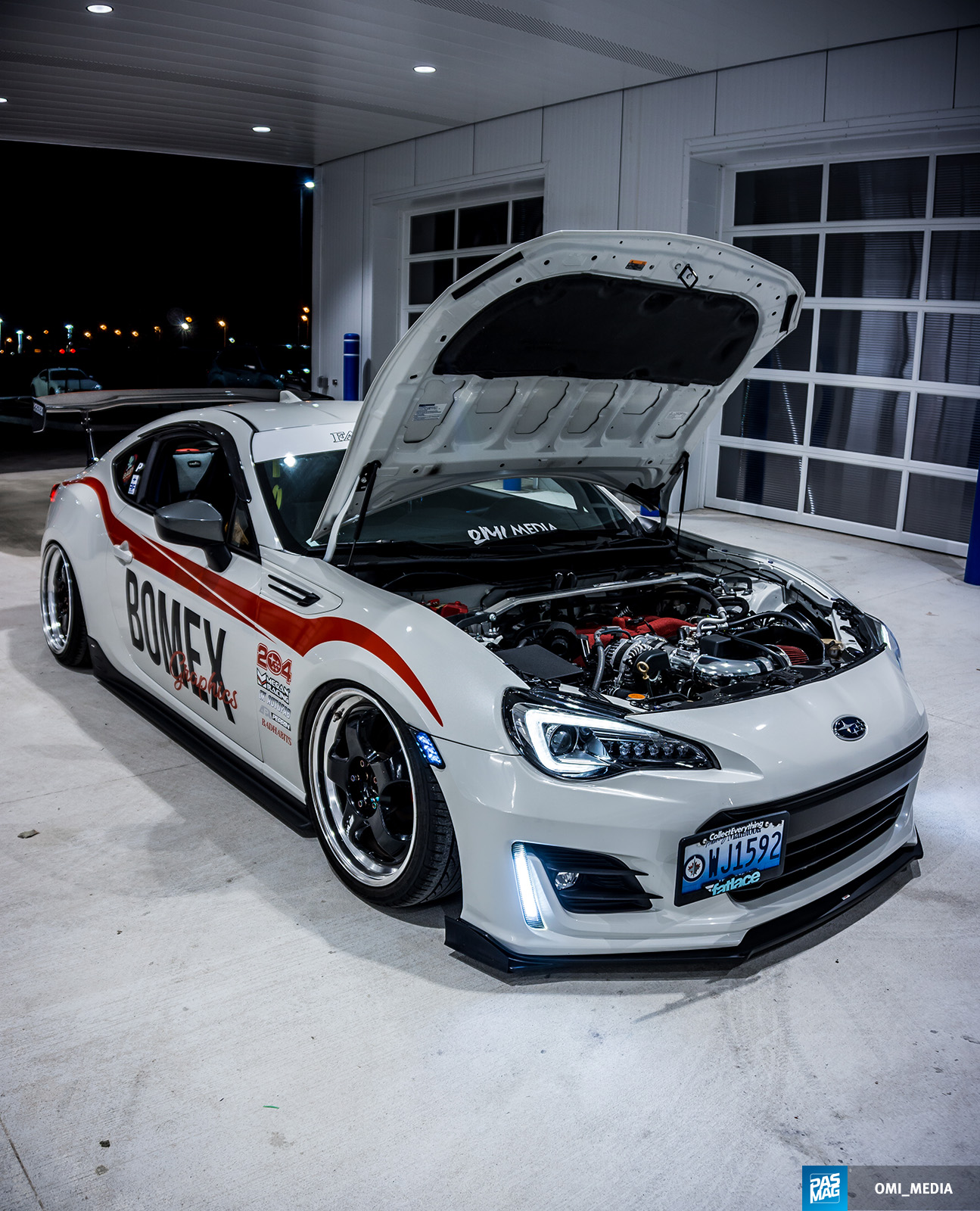 ---
INTERVIEW
PASMAG: Why did you choose this vehicle / platform?
Andrew Espiritu: When the BRZ and FRS first came out, I got the chance to test drive the vehicle and I absolutely loved how the vehicle handled. Taking left or right turns made me believe that this is a well-balanced platform. Sitting in the seat really makes you feel like you were in a race car cockpit with the seat so low, dash so high, doors up to your shoulders, and the terrible visibility you get because on the track, your main focus should be moving forward anyways.


Do you have any prior build experience?
I really liked the Bippu (JDM VIP) style vehicles so I moved onto a right-hand drive 1994 Mercedes Benz C280. Neat little vehicle that I had big plans for until I landed a sales position at Subaru. That's where my new 2017 BRZ with the brand spanking new Kouki update landed just outside the window in front of my desk. It was at this moment, I knew I had to take this car home.
What is your favorite aspect of the build?

My favorite part about the build is always gonna be the looks. I absolutely love the way my interior looks. The racecar-inspired exterior. You can call me a ricer and it's okay, because this was the style I grew up dreaming of.
Why did you choose certain brands for your build?

The parts I used for this build are quality parts. The Work wheels are fantastic. I've owned a few sets in previous builds and they never disappoint.
What influences or inspiration helped you over the course of your build?

Many friends, family, and YouTubers have inspired to keep moving forward with this build. I don't expect a lot of people to be happy with my build, but I truly appreciate the ones who support me personally.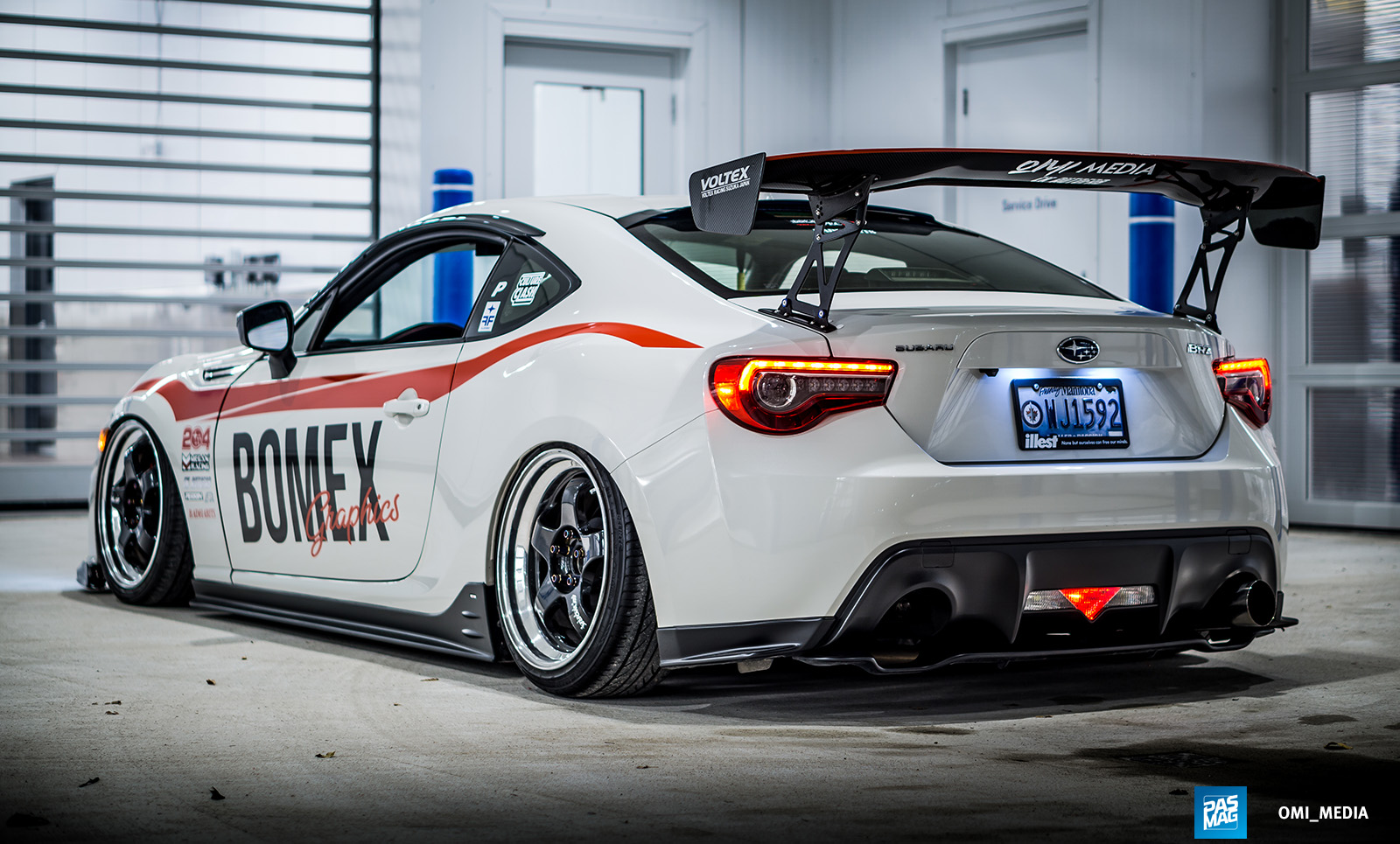 ---
ESSENTIALS
Owner: Andrew Espiritu
Location: Winnipeg, Manitoba, Canada
Vehicle: 2017 Subaru BRZ
Horsepower: 178 whp (estimated)
Club/Team: Midnitesociety / Unit204 / JDMWinnipeg
SOCIAL
Facebook: /andrew.espiritu
Instagram: @drewmahdo, @drewe.photo
Event: Hot Import Nights
Location: Minneapolis, MN
Popular Vote: 63%
ENGINE / PERFORMANCE
Cold Air Intake
Modified Intake Snorkel
Oil Catch Can
APR Radiator Cooling Plate
EXHAUST
PLM Unequal Length Header
Buddy Club Spec 2 Cat-Back
PERFORMANCE ELECTRONICS
Stage 2+ Open Flash Tablet Tune
DRIVETRAIN
6 Speed Manual Transmission
WHEELS / TIRES
Work Meister S1 2-Piece Wheels - 18x8 (f), 18x9 (r) +35
Blackworks Racing Lugnuts
Delinte Tires - 215/40/18
BRAKES
JDM Subaru Forester STI 4 Piston Calipers
CHASSIS / SUSPENSION
Air Lift Performance Air Suspension
Air Lift Performance 3P Management
ViAir Compressors (2)
Megan Racing Front Upper Strut Bar
EXTERIOR
STI Front Lower Spoiler
STI Side Skirts
STI Rear Valence
Subaru/Toyota Rear Diffuser
JDM Toyota Window Visors
HIC Rear Window Visor
Midniteclub Front Winglets
Voltex Type 2 1600mm GT Spoiler
CKautofab Hand Crafted Wing Risers
Perrin License Plate Relocate Kit
LIGHTING
Rear Fog Light Enabled
JDM Vertical Running Lights
Smoked LED Side Markers
Interior Footwell LED
Exterior LED Underglow
INTERIOR
Nardi Classic Leather Steering Wheel
Works Bell Rapfix GTC Pop Up
HKB Steering Wheel Hub
Tomei Shift Knob
Top Stitch Trim Custom Bape Trim
GT86 Dash Mat
Cusco Gas Pedal
Cusco Hand Brake Knob
Alluminum Hand Brake Cover
Car Shop Glow Passenger Foot Rest
Weapon R Floor Mats
Handcrafted Suede Armrest
NRG FRP 310 Bucket Seat
AUDIO / MULTIMEDIA
Android 7" Stereo
JBL 12" Subwoofer
Rockford Mono Amplifier
SPONSORS
Drew E Photo
Omi Media
JDMWinnipeg
Bomex Graphics
CKautofab
Midniteclub
Manitoba Subarus
SHOPS / MECHANICS
Speed Factor Racing
CKautofab
Patrick Deguzman
Mark Reyes
Randy Patacsil
PHOTO GALLERY