Diego Berrios always found himself around European vehicles since his earlier car scene days. He looked up to older generations and wanted to be like them, "it's what pushed me to get out there," he mentions. Berrios grew up in a small town with a very small number of car enthusiasts that pushed themselves for improvement in the scene. "It was tough back then," he remembers, "and it wasn't until I started attending out of town shows that I realized what the world had to offer.
Euro shows, Wekfest and major events such as SEMA have inspired Berrios over the years and to keep moving forward on his builds. "I first laid eyes on the Old & New Porsches at the 2017 SEMA Show when they were being revealed," he remembers. He took many pictures of and with all of them, never expecting anything out of it; he appreciated the art the kit brought to the car.
"As a Volkswagen kid, Porsche is always the ultimate step," Berrios mentions, "at least for me it was." It never seemed to be possible until he started looking into it. "My friends said I should just go for it," he states, "and my head and feelings just said 'you only live once'".
It wasn't until mid-2019 Berrios gave up on his VW GLI build that he felt he needed to do something different and something for his business. "I really had no excuses," he expresses. Berrios pulled the trigger on a 2001 Porsche 911 Carrera C2 from New York. "It was a track car that was slightly wrecked and it hit a tire barrier," he mentions. The owner no longer wished to continue with it so Berrios purchased it for a price he couldn't refuse.
Time went by, and with the help of his Low Class Militia team and local shops such as RPM El Paso, Patterson Performance, Gordos Body Shop and D2 Industries, they started putting the project car together. "I was able to start putting the puzzle together," Berrios mentions, "and all to have it ready for our big show, Spring Fest 7." Not many people knew about this and he didn't want to ruin the surprise. At this moment in his life, with the new build, it was a long-time dream that became reality.
"Thanks to good supportive friends, and my girlfriend, I was able to focus on what needed to be done," Berrios expresses.
It was a tough decision to leave his GLI behind, a car that he built for 4 years - wide-bodied, color changed to a GM black on custom Rotiform wheels - it wasn't easy to let go.
"I hope to now inspire others as others have inspired me," he states, "and to let them know that anything is possible as long as you put your mind and heart to it. This car isn't all, but the story behind it and the people and the intentions are what give this car a whole new meaning."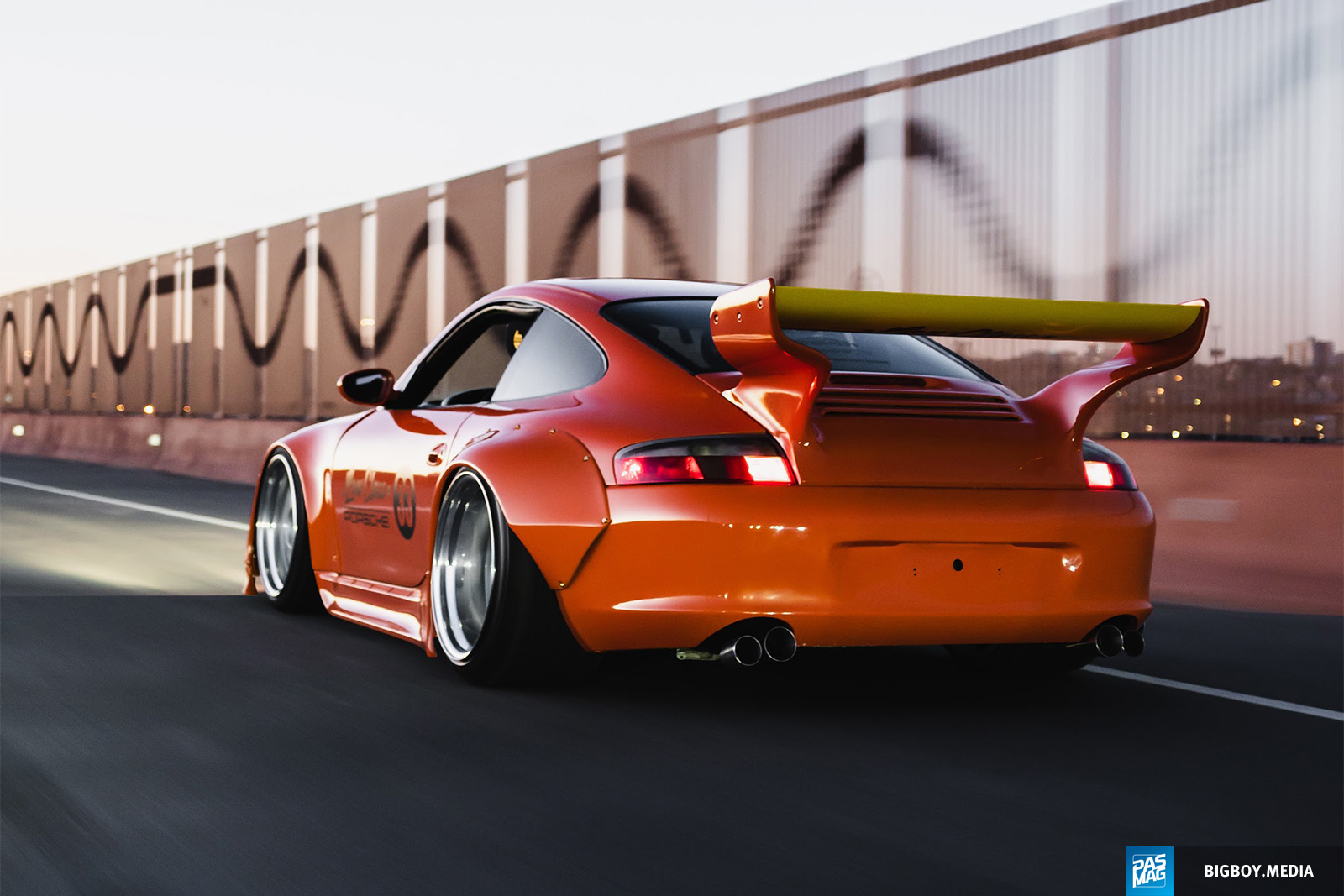 Photography by Alex Omar (@bigboy.media)
---
INTERIVIEW
PASMAG: What got you into building in the first place?
Diego Berrios: The freedom of wrenching, the peace of mind it creates and more importantly, creating new friendships around the cities we travel to.
What is your favorite aspect of the build?
Definitely the front end. It's perfection.
Were there any major challenges you experienced in the build?
Fitting a fiber glass body kit is the biggest pain. The shop struggled one way. Measuring stock spec wheels and guessing specs by measuring what I could.
What were your original intentions with the build?
Always wanted it for show but also a car that's fun to drive. I left the camber scene behind.
Why did you choose certain brands for your build?
Can't go wrong with Momo and Porsche - a perfect combo!
What influences or inspiration helped you over the course of your build?
Having something to represent my brand over all, with such build was something that kept me going.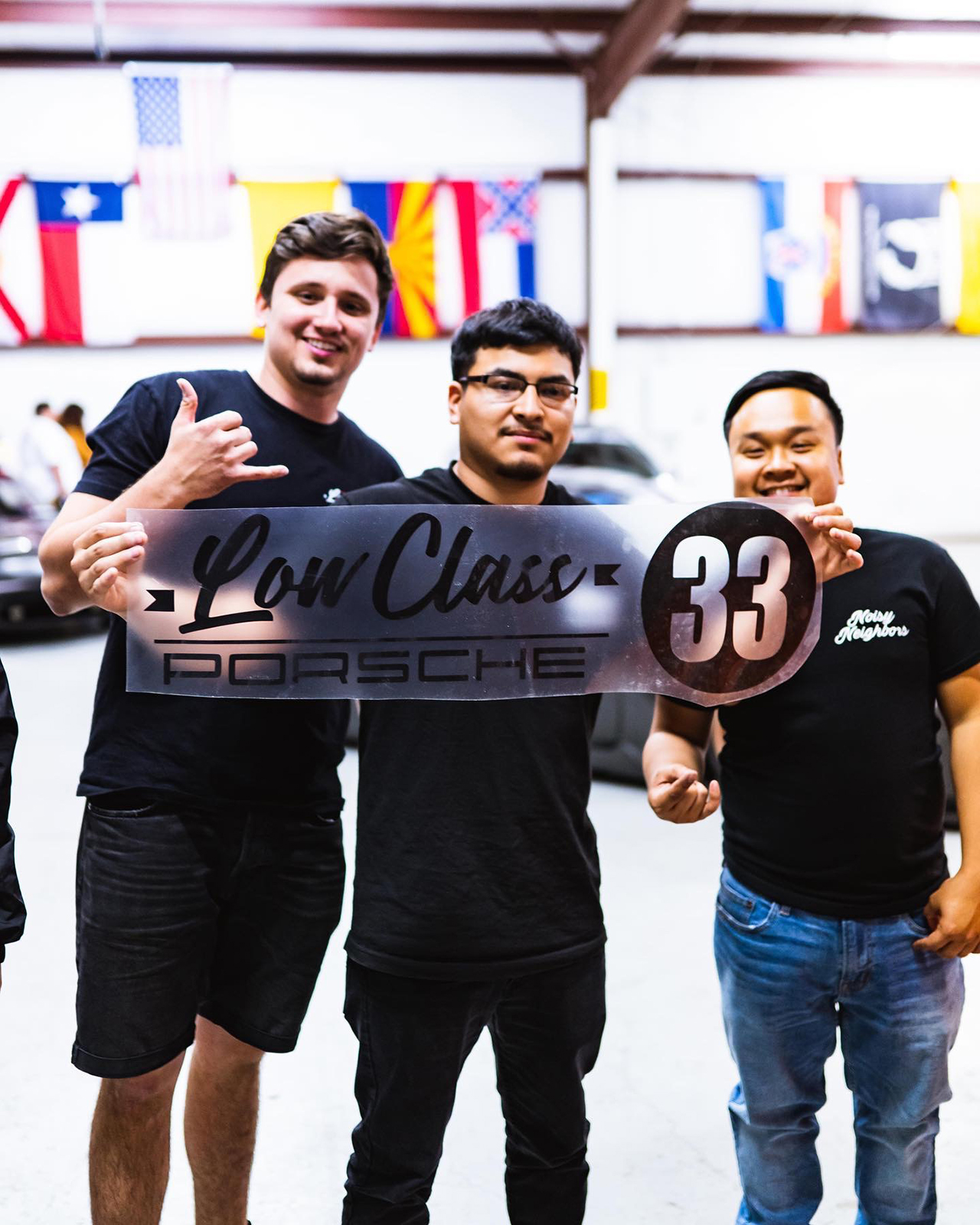 ---
ESSENTIALS
Owner: Diego Berrios
Location: El Paso, Texas
Vehicle: 2001 Porsche 911 Carrera C2
Horsepower: n/a
Club: Low Class Militia
SOCIAL
Facebook: /diego.berrios2
Instagram: @lowclassdiego
ENGINE & PERFORMANCE
K&N Intake
Bored out to a 3.5L
EXHAUST
DRIVETRAIN
WHEELS & TIRES
Work Brombacher Wheels
Hankook Tires
BRAKES
CHASSIS & SUSPENSION
GT3RS Sway Bars
Full Bushing Refresh
Yellow Speed Racing Air Suspension Bags
Air Lift Perforance Management
EXTERIOR
Old & New Porsche 997 Wide Body Kit, Custom Fit for the 996
Custom Orange
INTERIOR
Momo Daytona Seats
Momo Steering Wheel, Hub
GT3 Roll Cage
Rennline Shift Knob
Rennline Track Pedals
Rennline Track Mats
FUTURE MODIFICATIONS
SPONSORS
SHOPS & MECHANICS
Vag-Haus / Kiki Marquez
Gordos Body Shop (Paint, Body Work)
PHOTO GALLERY