Photography by Jamie Wertz, Evolutionized Photography, LYD Media, Future Collectors Car Show.
---
Jamie Wertz had found himself enamoured with JDM sports cars while living in Japan as a military member for six years. "While stationed there I had several Skylines, but stumbled across my first Y32 Nissan Cedric," he says. "It was four doors, boosted, and perfect for the family, so I picked it up." It wasn't long before that Cedric became the favorite of all the cars he owned while out in Japan.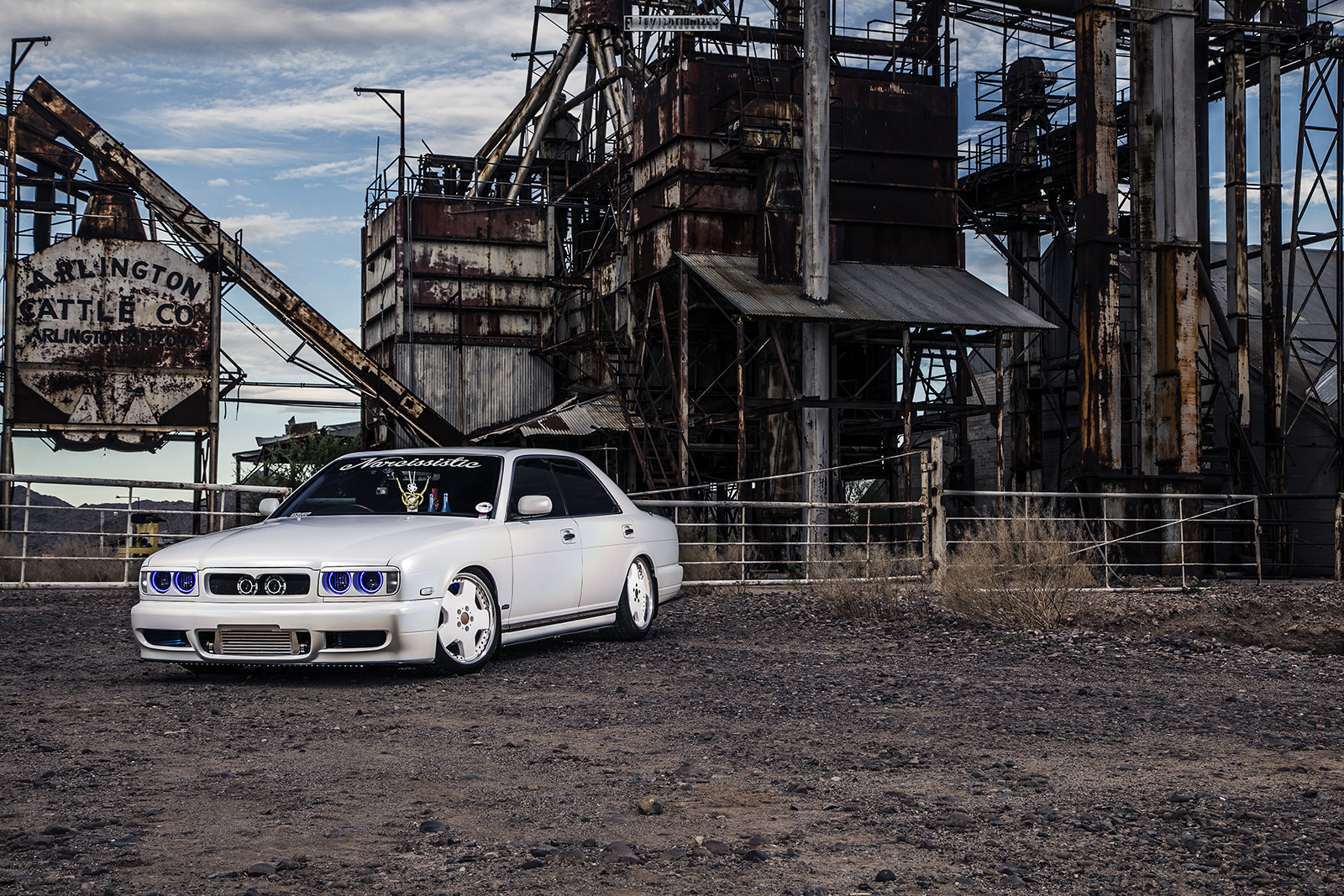 Fast forward 27 years, and Wertz had just gotten his 578 whp SR20DET-powered widebody 240sx back from the shop, but he didn't like the power delivery and wanted to go the LS-swap route. While he was looking around for donor cars to supply an LS, he ended up stumbling onto this 1992 Nissan Gloria Gran Turismo Ultima on Japanese Classics LLC. "It was perfect," he exclaims. "Extremely low miles at only 23k. Very rare Black Leather and was Pearl White just like my old Cedric. I fell in love instantly."
As soon as he knew the car was his, Wertz was already buying parts to install before it came home. After each show he attended, you could find him in the garage installing new mods before the next show came around. A combination high quality and reputable parts, as well as some cool one-off creations, have come together to make Wertz's Gloria truly one of a kind.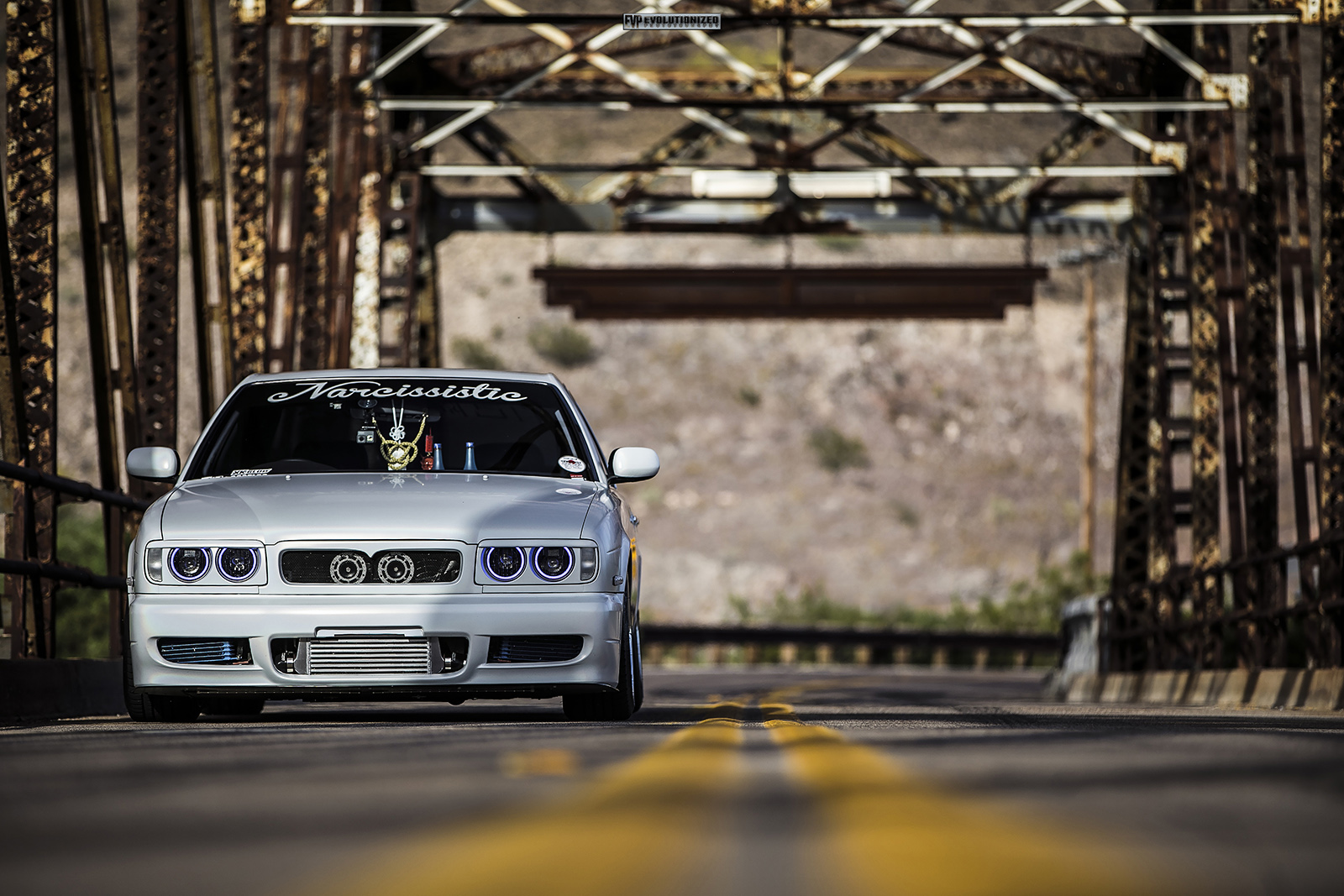 ---
INTERVIEW
Why did you choose this vehicle / platform?
As a previous owner of one while living in Japan. It was my favorite car i owned while living there. No American Version was made making it a very unique car here in the USA. Once I saw it I had to have it!
Do you have any prior build experience? If so, what cars did you build and what happened to them?
Fully built widebody 240sx with a 578WHP SR20DET. This was my last all out full build. just over 3 years in the making. Sold it as soon as my Gloria was Purchased. Bought a C5 Corvette to tinker with as well. Have also owned a 93 Dodge Stealth RT TT, 86 Toyota Soarer Z20 RHD and many many many DSM's back in the day. You can see all my builds on my car page https://www.facebook.com/Gostlrs/
What got you into building in the first place?
2013 at HIN at Phoenix. I had just picked up my 240sx with the blown SR. I saw a 240 there at the show that I personally thought looked terrible. Said to myself I can do that. Recently retired from the military and started a job that funded my passion and have been full speed ever since.
What is your favorite aspect of the build?
Rarity... I like getting things that you don't see often. Or with my 240 build. You never see them look clean and fast. I didn't build a drift car, it was show and go.
Were there any major challenges you experienced in the build? How did you overcome them?
Importing parts from Japan, I have a great friend still living there that buys my items off Yahoo Auctions Japan for me and ships them to my door.
What were your original intentions with the build (show, race, audio, etc.)? Did anything change after your research?
Going for the VIP build with a hint of Sports Luxury.
Why did you choose certain brands for your build (feel free to focus on one or two, specifically)?
I am very limited on what I can purchase for my car. So i try to get the best products available or get things custom done so I have 1 Off items and know it won't be duplicated
What influences or inspiration helped you over the course of your build?
I love seeing other cars at shows. I make it a habit to take at least 1 picture of each car there. I'll take multiple ones of cars I really liked or ideas i seen that I could use on mine. Helps me go back and see what I can do. Look at the cars that won and see what is it they did that i didnt so i can improve.
Is there anything personally or about the build (experiences, etc.) that you would like readers to know?
Try to research any car before you start off on a build. Forums are great...but outdated and really not much new information out there. Find the facebook groups that align with your build. Thats where you will find the best help and newest things people are doing to the cars. If buying a RHD car. Especially make sure you can source parts.
Feel free to attach any stats or interesting facts about your build here:
Currently we have 63 Owners of Y32 Chassis. This includes the Cedric/Gloria and the Cima (Gloria's bigger brother) The Y32 is a very forgotten car. Shares the same engine as the Z32 VG30DET so a single turbo vs a twin. Suspension parts can be swapped to a S-chassis front setup or Y33 Q45 parts can bolt on.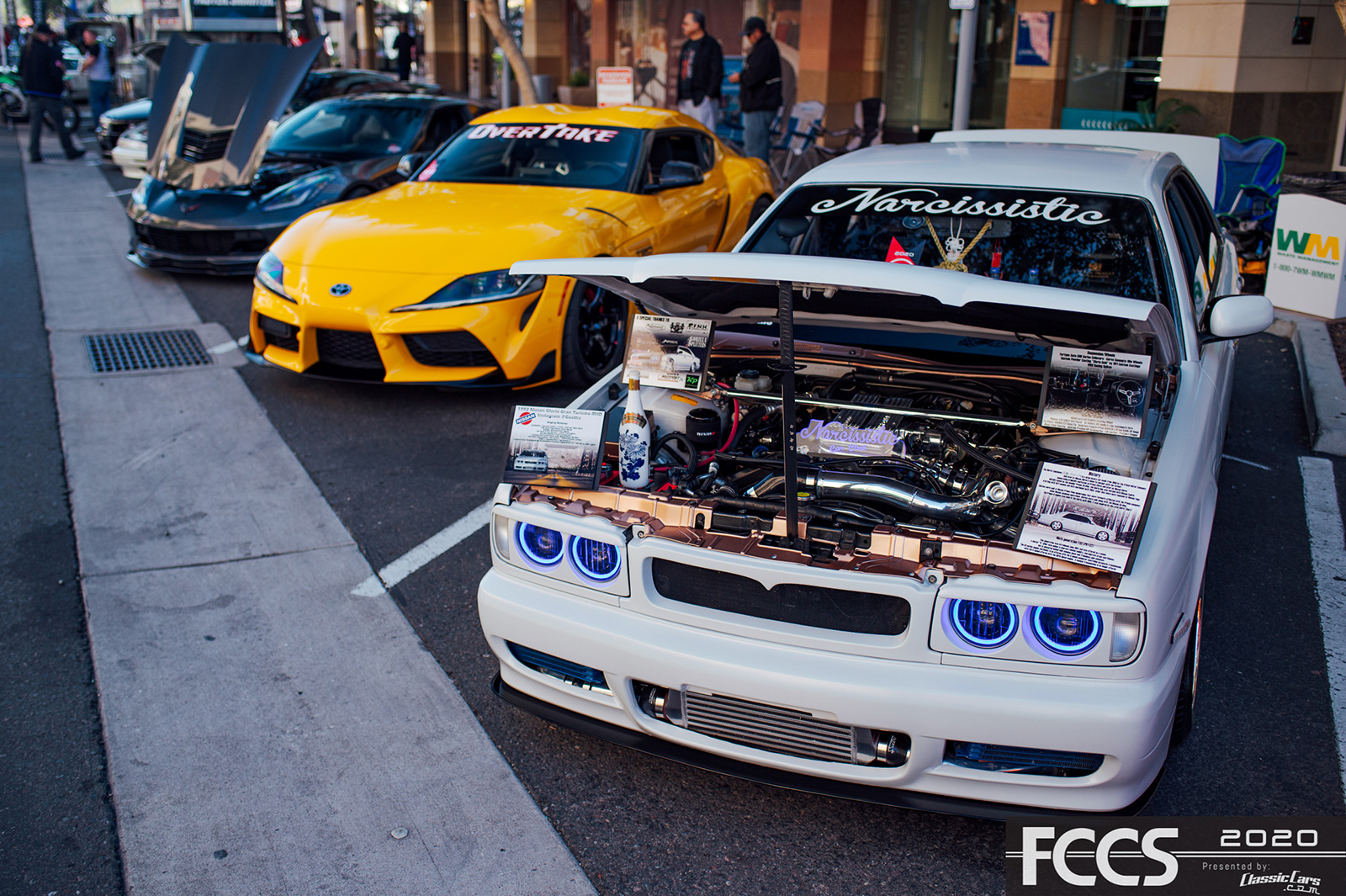 ---
ESSENTIALS
Location: Buckeye, AZ
Vehicle: 1992 Nissan Gloria Gran Turismo Ultima
Horsepower: 255 whp
Club: Narcissistic Car Club
SOCIAL
Facebook: https://www.facebook.com/jamie.wertz.1
Instagram: @gostlrs
ENGINE & PERFORMANCE
Garrett turbocharger
Turbo XS RFL BOV
Front-mount intercooler w/ custom piping
Z32 oil filter relocation kit w/ cooler
EXHAUST
Custom 3-inch turbo-back exhaust
Magnaflow muffler
DRIVETRAIN
WHEELS / TIRES / BRAKES
Zauber 3-piece wheels - 18x8.5 +38 (f), 18x9.5 +38 (r)
CHASSIS / SUSPENSION
EXTERIOR
3M Satin Flip Ghost Pearl Wrap


Nismo Lights


Custom Clear Tails


Automotive Custom Lighting LLC Halo Headlights


XKGlow Wheel Lights


VIP Grill and Eye Lids


Gorilla Spliters
INTERIOR
Momo Retro steering wheel
Wood trunk flooring
Junction Product VIP accessories
Custom VIP tables
Prosport gauges
AUDIO & MOBILE ELECTRONICS
Pioneer AVH-500EX DVD head unit
Infinity REF-6500CX 6.5-inch component sets (4)
Kicker 43CWRT122 Comp 12-inch subwoofers (2)
Rockford Fosgate (Prime R500X1D amplifier, R400-4D amplifier)
7-inch TV
SPONSORS
Xk Glow
Kens Polishing
Prosport Gauges
PHOTO GALLERY