Photography by Taylor Vollrath (@taydork)
---
Way back when John Mark Andrada was much younger, he stumbled across a bright yellow Mitsubishi Evo in a magazine, and he was immediately hooked. At the beginning of 2016 he decided to fulfil his dream, and he picked up a 2015 Mitsubishi Evolution Final Edition. Andrada had owned a few cars before the Evo, but this was his first major build as an enthusiast, and he wanted to do it right.
His original intentions were to use the car as a modified daily, but as the desire for more and more modifications took over, he started building it as a full-blown show car that could still function for daily duties.
A common theme across all aspects of modification was quality over quantity, so Andrada carefully hand-selected brands and parts that would do justice to his vision for the car. With the work of his own hands, as well as some help from a couple of friends, Andrada has assembled his Evo tastefully, with a well-balanced blend of performance and style.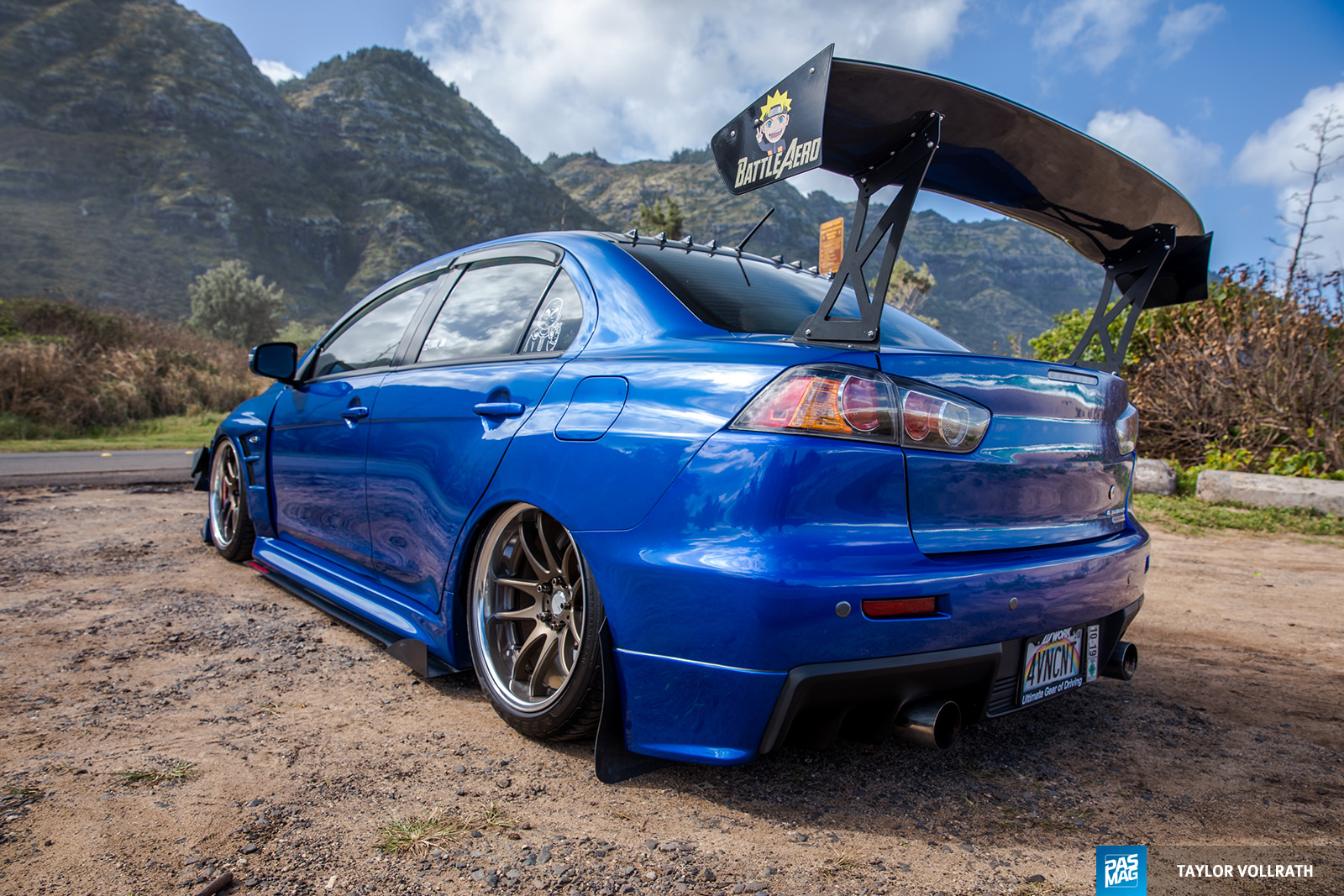 ---
INTERVIEW
PASMAG: Why did you choose this vehicle?
John Mark Andrada: I've always like the Mitsubishi Evo platform; it's fun to drive and it never gets boring.
Do you have any prior build experience?
This is my first major build. I've had a few cars before the Evo, but those are history.
What got you into building in the first place?
It keeps me sane, and I love that I can do whatever I want to do with the car. Overall, it makes me happy.
What is your favorite aspect of the build?
Everything and Everything that comes afterwards.
What were your original intentions with the build?
It was intended as a daily, but the itch for modifications took over (haha). I couldn't decide if I wanted to do power or show, so I did both slowly but more on the aesthetic side.
Why did you choose certain brands for your build?
Fake parts break hearts?
What influences or inspiration helped you over the course of your build?
I'm not really sure. I just built the car the way I wanted to. My friend, Bryan, sometimes said, "do it, p**sy!". So, I just do it sometimes. Shout-out to Bryan P!
Is there anything personally or about the build?
If you are passionate about something, go and do it!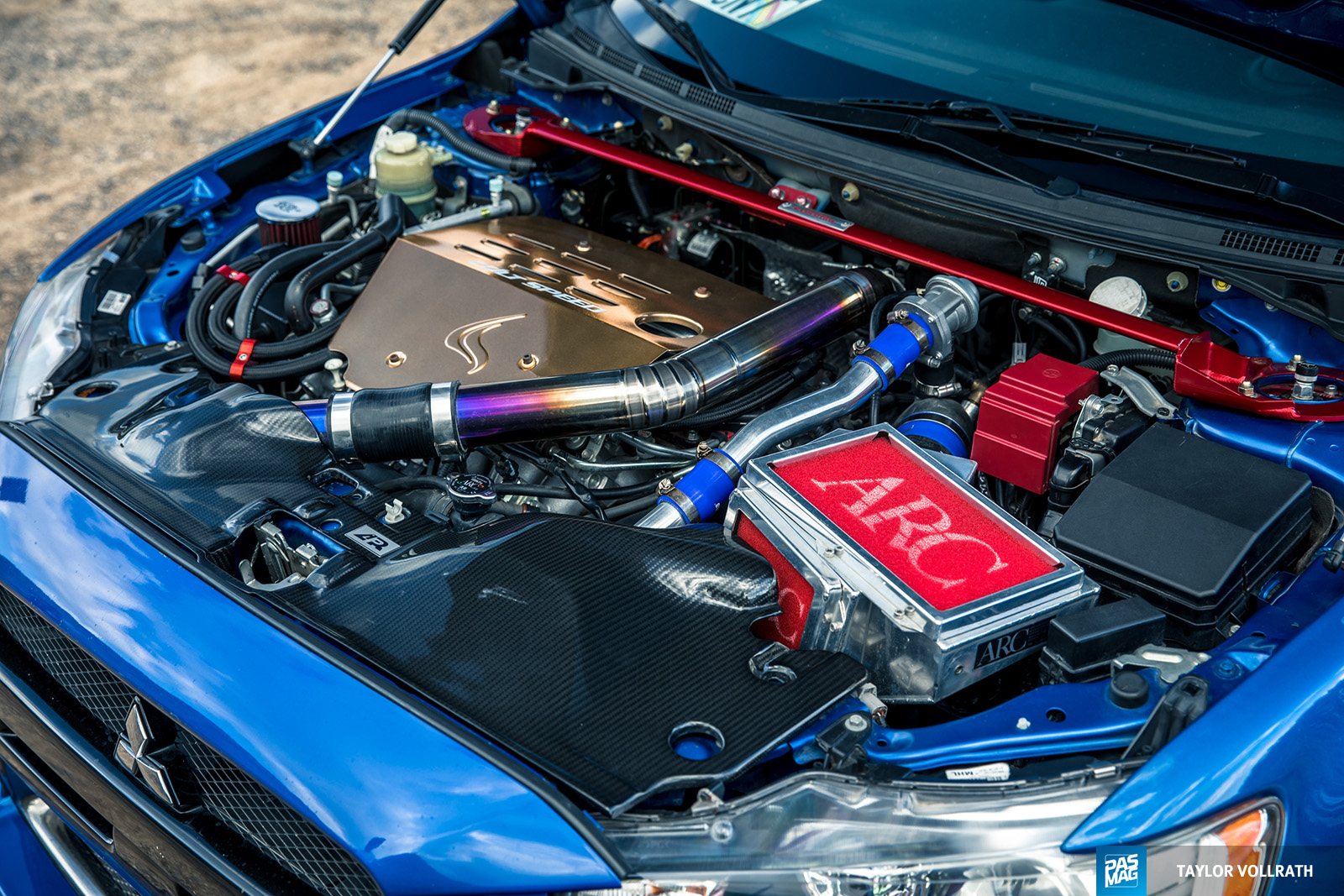 ---
ESSENTIALS
Owner: John Mark Andrada
Location: Honolulu, HI
Vehicle: 2015 Mitsubishi Evolution X Final Edition
Engine: Mitsubishi 4B11T 2.0L Turbocharged I4
Horsepower: 348 whp
Torque: 350 lb-ft
Club: FadedLoyalty
SOCIAL
Facebook: J.M. Andrada
Instagram: @evox_jm
Event: Hot Import Nights
Location: Blaisdell Center. Honolulu, HI
Popular Vote: 32%
ENGINE
ARC intake box
Blitz intake pipe
Torque Solution rad hoses
Colt Speed engine cover
Driven Fab (catch can, coolant expansion tank)
Monster Sport BOV pipe
TopSpeed titanium upper intercooler piping
Cobb lower intercooler piping
GrimmSpeed EBCS
EXHAUST
ETS (open downpipe, test pipe)
TopSpeed cat-back exhaust
WHEELS / TIRES / BRAKES
Work Wheels CR2P wheels - 18x10.5 +18 (f/r)
Federal SS595 tires - 275/35/18 (f/r)
Hawk Performance brake pads
CHASSIS / SUSPENSION
Air Lift Performance air suspension w/ 3P management
Megan Racing adjustable rear LCAs
EXTERIOR
Battle Aero carbon fiber spoiler
Voltex front lip
UbeyMade canards
AeroFlow side skirt extensions
INTERIOR
Takata harnesses
NRG harness bar
Classy House RBG air suspension controller mount
Nelson Racing Wheels custom carbon fiber steering wheel
Carbon fiber steering column gauge pod
FUTURE MODIFICATIONS
Varis Front Bumper
Widebody
New Wheels
Color Change
SHOPS & MECHANICS
Wingz Performance, AZ - Phuong
Moon Performance, AZ - Eijah
PHOTO GALLERY