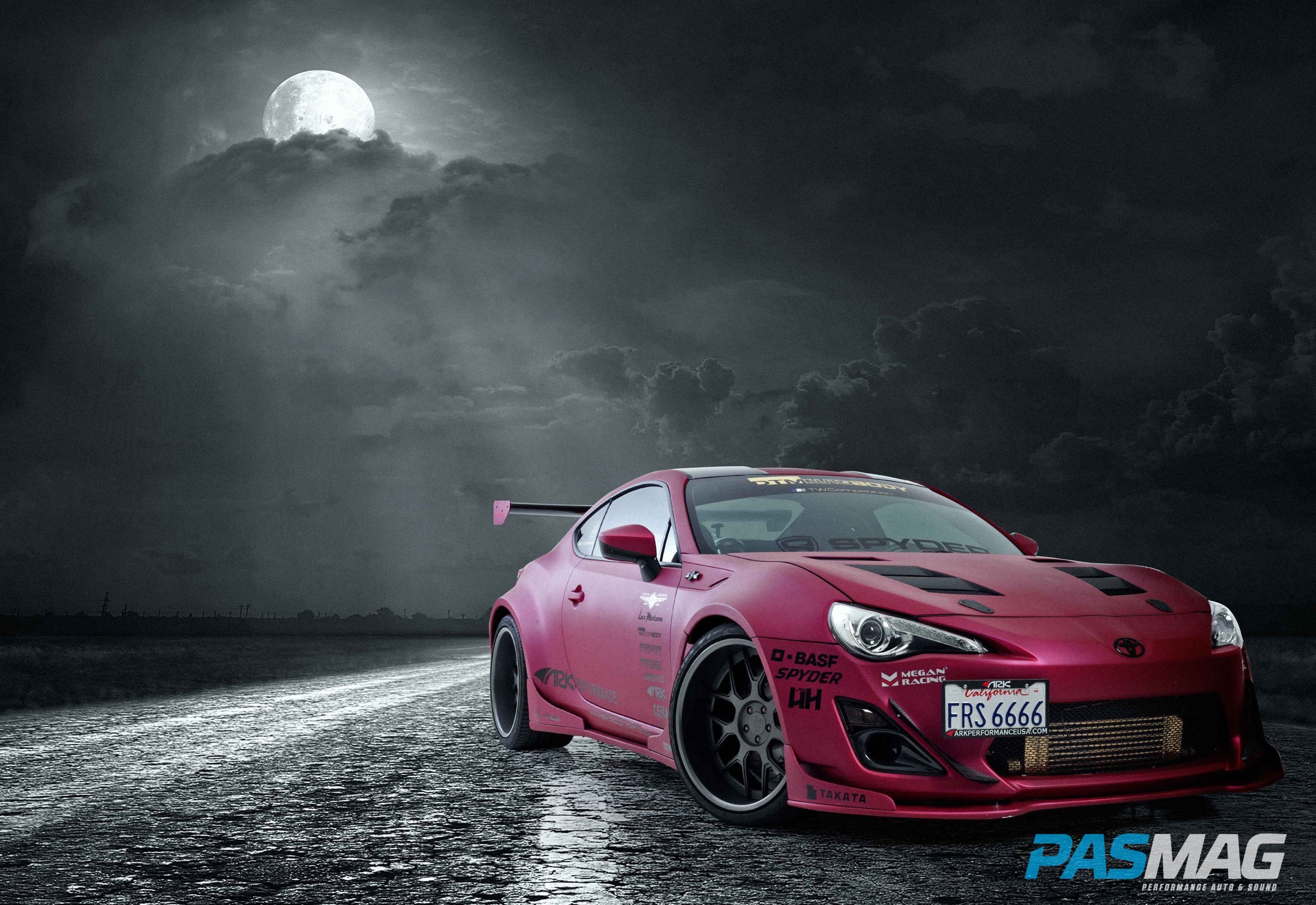 If you've never heard of Jamie Liu or have yet to see some of her cars, then you've been living under a rock. Her builds to date are some of the most coveted and treasured of all time. Winning awards such as "Best of Show" at Wekfest and Spocom is nothing new to Jamie, and neither are magazine features. In fact, she has a few more projects to complete for 2014, but the focus here is her new Scion FR-S.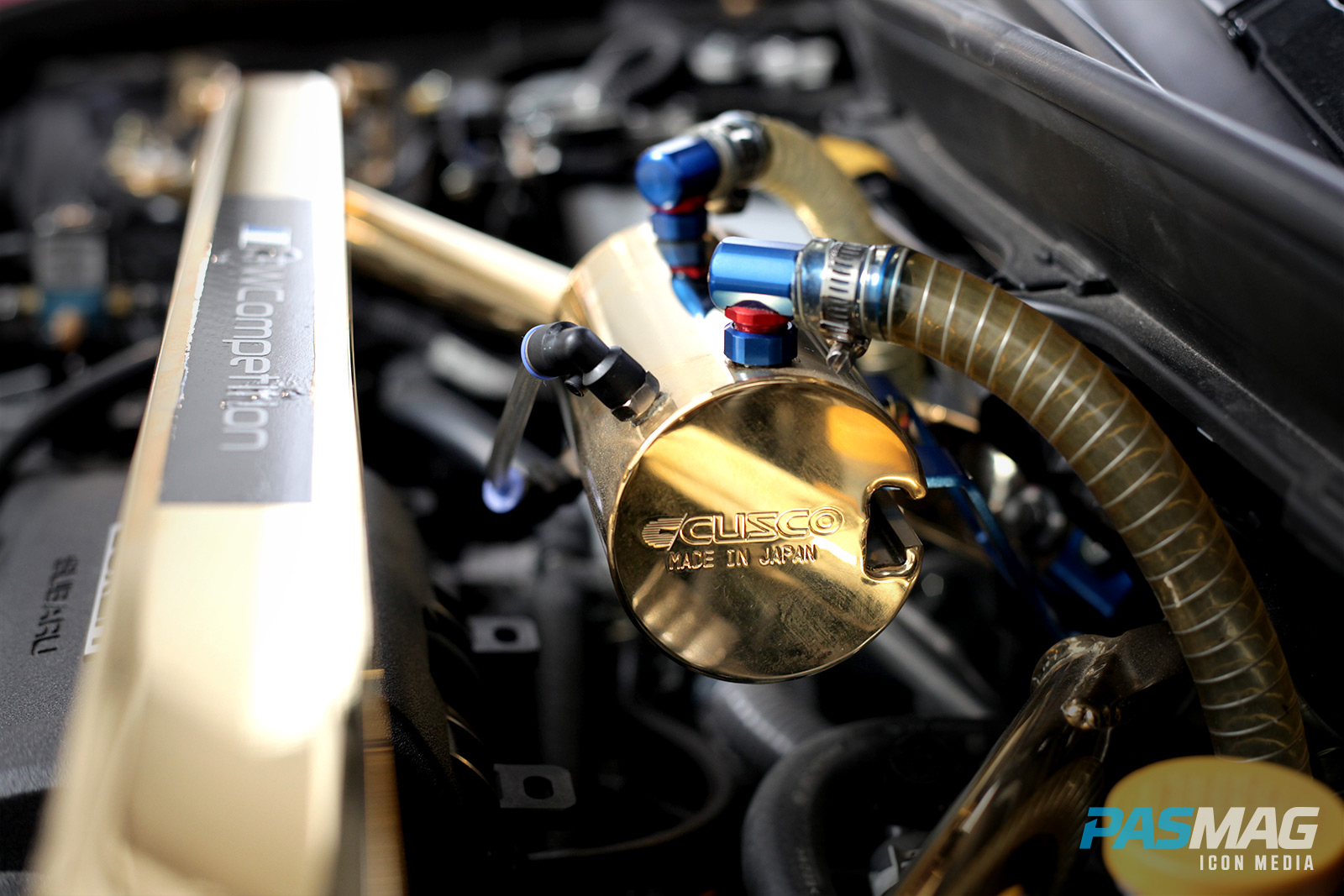 Since the tuner industry was introduced to the FR-S, it seemed everything that could be done to the FR-S had been done. But we were wrong. Jamie and her brother, Jonathon Chu, have created a rolling masterpiece that is as beautiful as it is unique.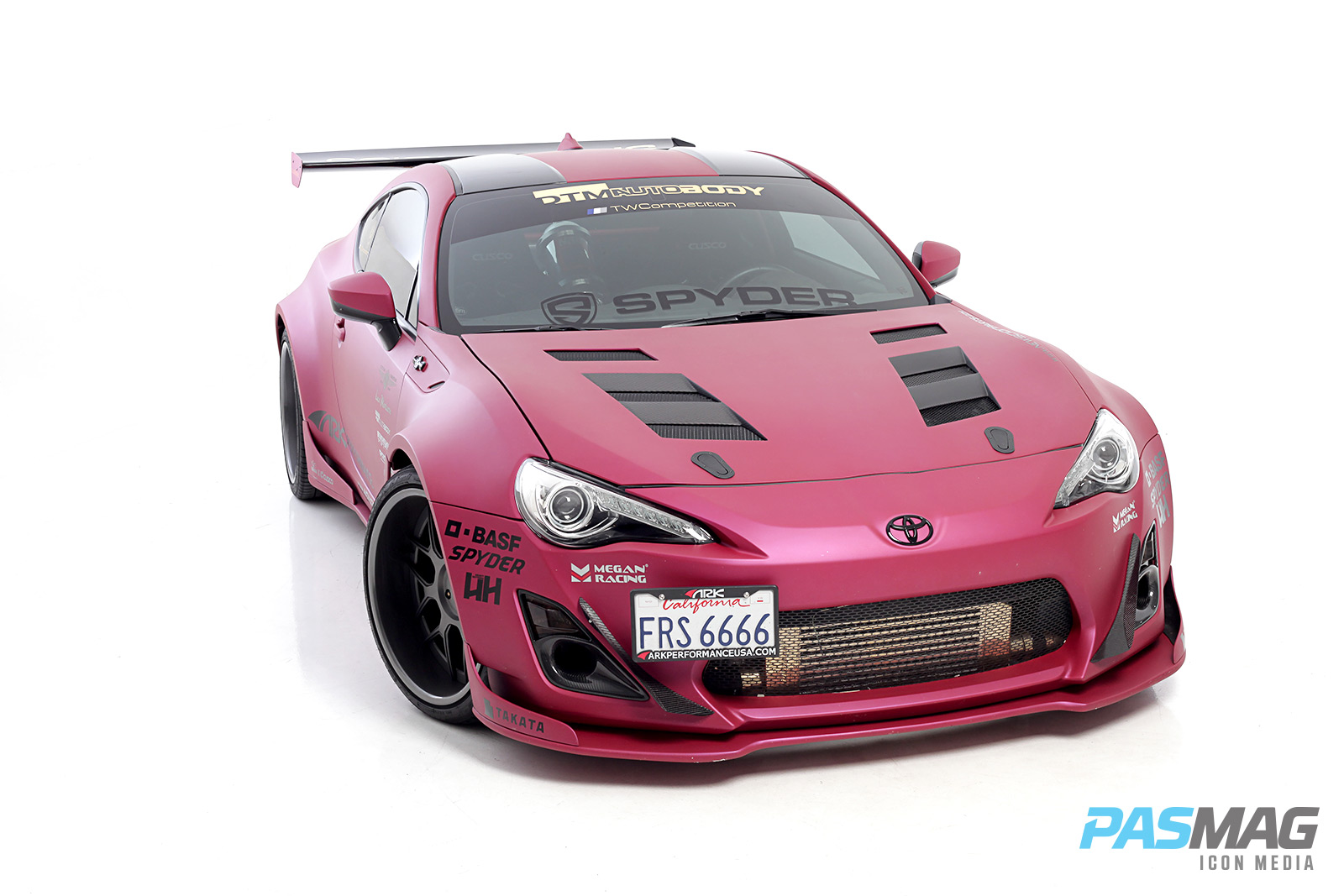 When one sibling sees your success and shares your love for cars, what else is there to do? Jamie Liu's past and current projects have included everything from a Honda CR-X to high-end exotics such as the SLR McLaren and the Ferrari F430. Her cars are no strangers to PASMAG covers either. Each build is totally unique, almost down to the last bolt and screw. As PASMAG readers, I am sure we all remember her C63 AMG that is now in the 900-hp range and still being driven to this day.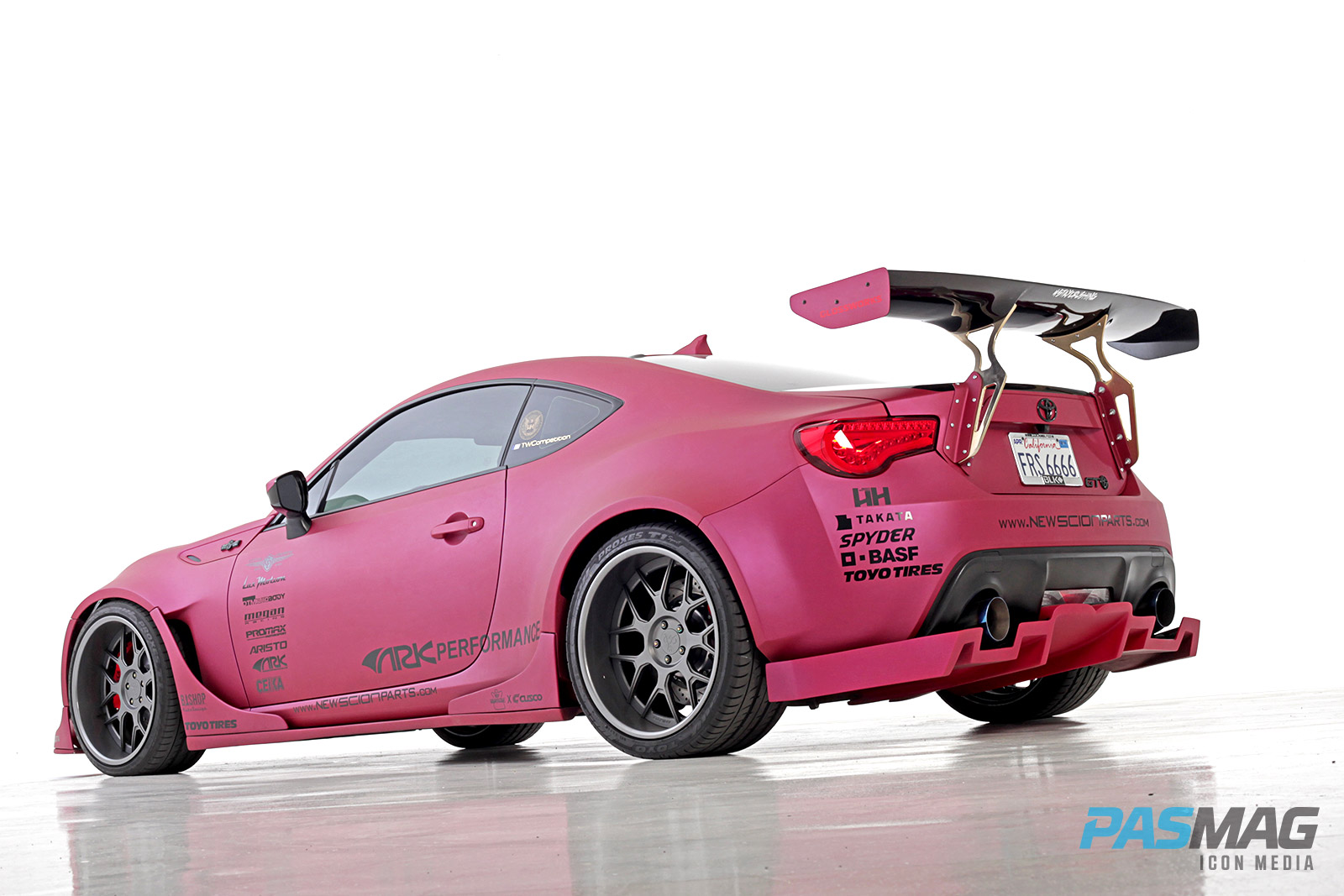 This how the story begins...
Jonathon has always been a fan of cars, mainly European and high-end exotics. One day while he was bored at home, he began to research various platforms that captured his interest. Then the Scion FR-S popped into his head. It became even more desirable after watching multiple videos of supercharged and nitrous-fed versions on YouTube. Oddly enough, he stumbled on a video of my own car (the StayCrushing FR-S) and fell in love with the lines of a widebody FR-S. He likened it to,"a supercar for a fraction of the price; an import that finally looks like an exotic and can perform like one too." Jonathon consulted his sister on how they should go about a build and, literally that very same day, he returned from the dealership with the car. No time was wasted at all. Within a week the car was torn down and the madness began.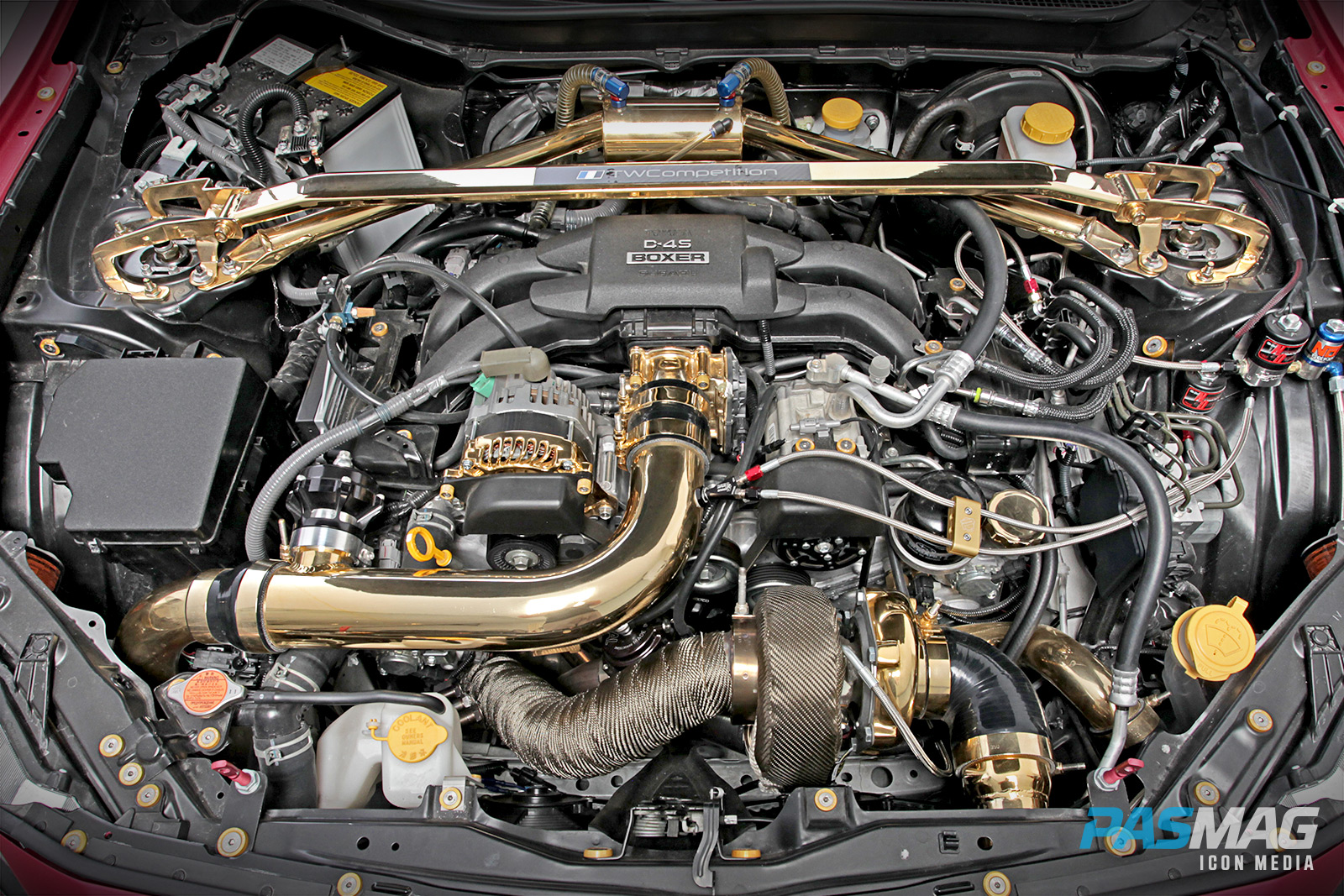 A top-shelf build like this one this isn't cheap, but no expense was spared on the Lux Motion wide body, the Satin BASF magenta paint, and a turbo kit dipped in 24-karat gold! If you have to ask how much the dip costs, you probably shouldn't do it on your car. Nineteen-inch Aristo wheels paired with six and eight-piston CEIKA brakes fill in the extremely wide wheel arches, and Megan Racing coil-overs and suspension arms are used to dial in the ride height.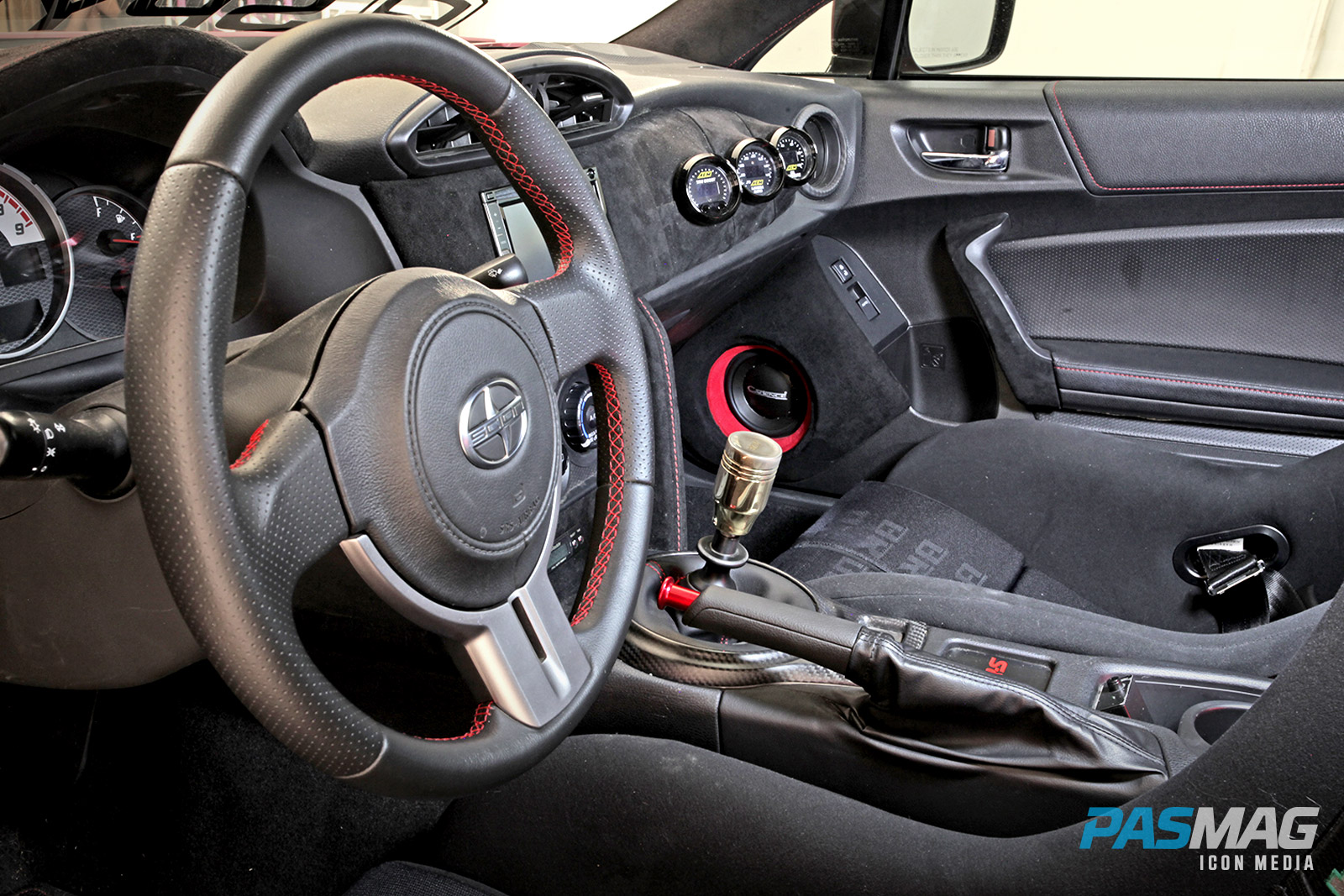 One of the most shocking aspects of the car is the interior. Custom Dimensions went to work and tore apart the entire inside to create one of the most unique interiors you'll ever see in an FR-S. Top parts such as CUSCO edition BRIDE seats and Takata race harnesses are used to hold the driver and passenger in place.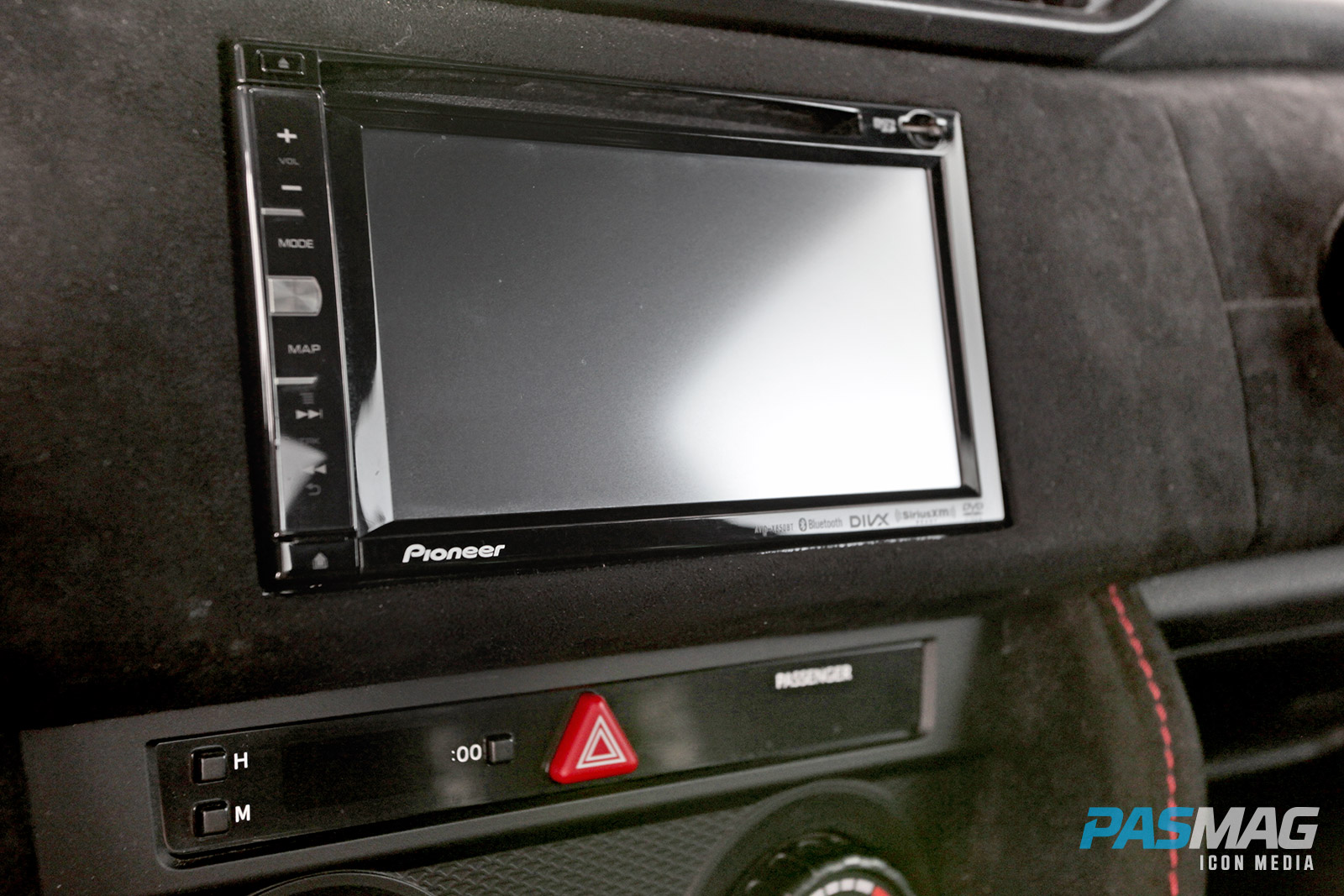 A Pioneer head unit with dual Alpine subs deliver ear-popping sound, while a 10-farad capacitor bolsters the electronic madness inside this car. There's even a PS3 in the trunk!
One thing to remember about Jamie's builds is they not only break necks, but they have the power to back them up. Jonathon opted for the Full Blown Motorsports turbo kit and added nitrous on top of that. This setup puts 350 horses at the wheels, which for a car of this size and weight is more than enough. Bishop Auto handled the assembly and dialed in the finished product. To handle the power, an ACT clutch and flywheel were enlisted after the stock clutch was destroyed due to the power increase. A Quaife LSD has been added to ensure that both rear wheels get equal power at all times.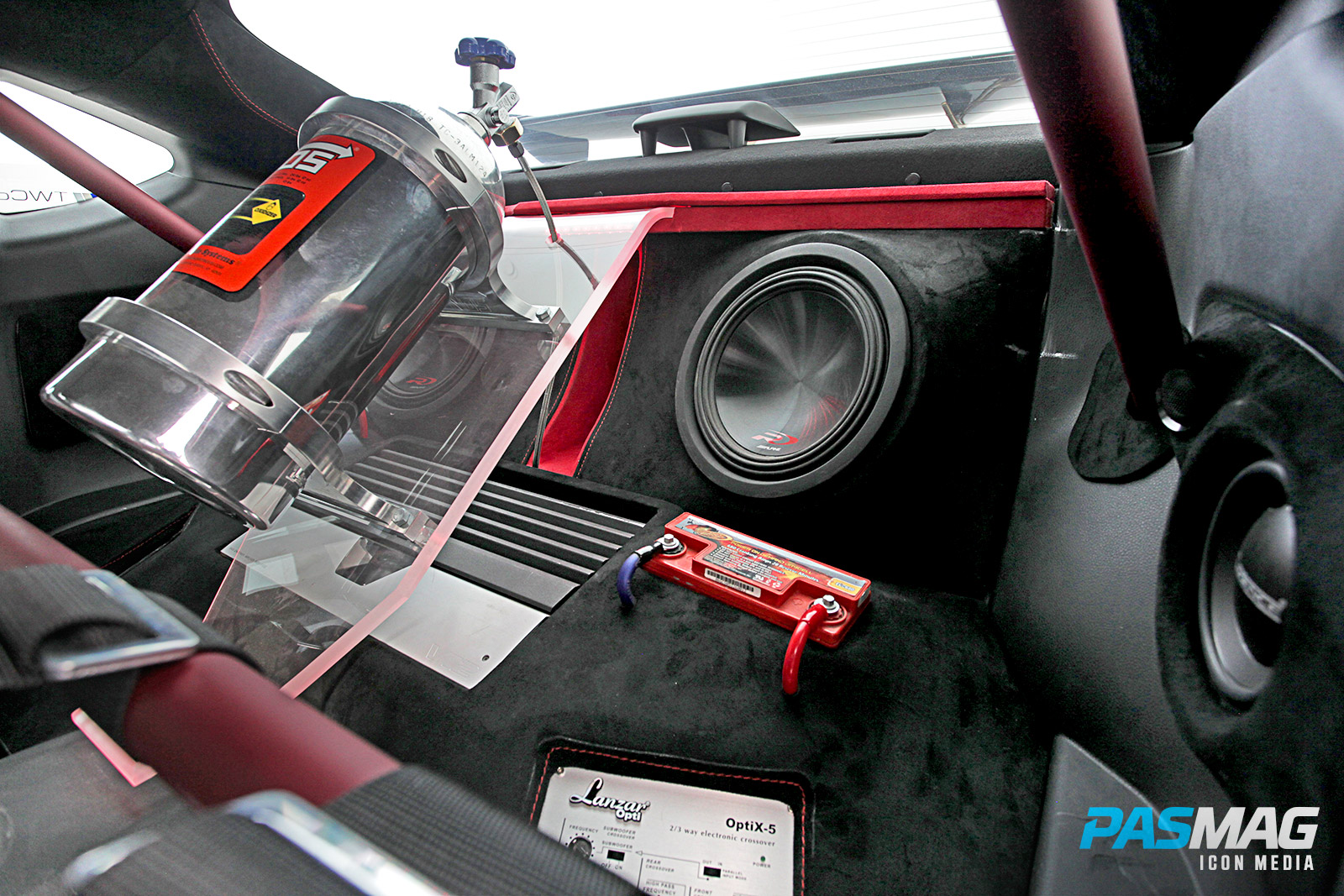 The build made its debut at Spocom and left everyone in shock and awe. The multi-thousand dollar audio/interior setup grabbed most people's attention initially, but it was the engine bay that caused everyone to lose their mind. Needless to say, the satin assassin absolutely destroyed the competition and won "Best FR-S/BRZ of Show." The prize and was a giant sword trophy, which is fitting since Jamie is a weapons enthusiast.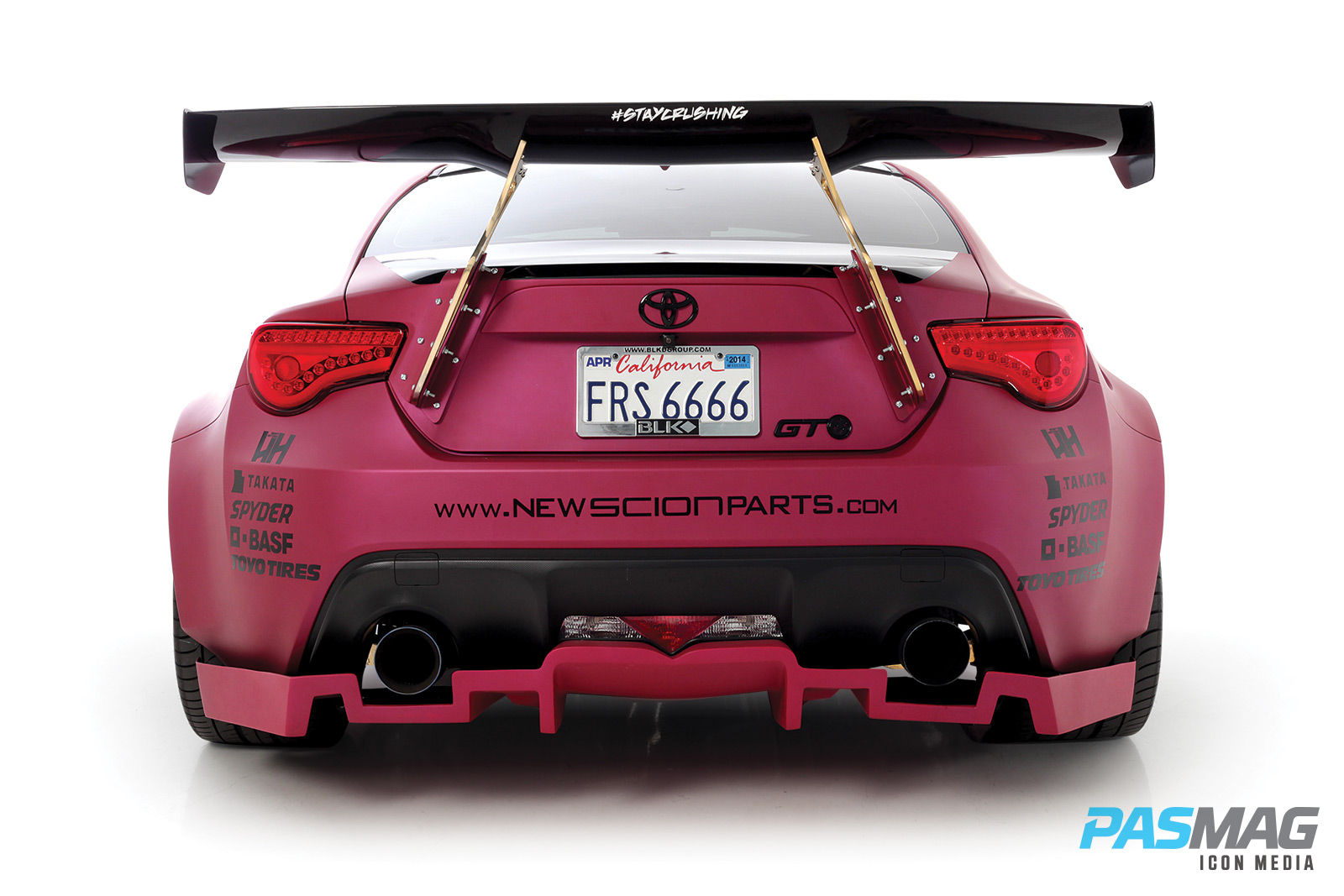 To date, this joint project between Jamie and Jonathon is one of the most radical FR-S builds ever, sporting a huge amount of power and just about every suspension component around. It seems that every build Jamie touches not only becomes a trophy winner and neck breaker, but a true work of art that can be appreciated by even non-enthusiasts. With more builds on the horizon, we at PASMAG fully expect the Jamie and Jonathon show to entertain us for years to come.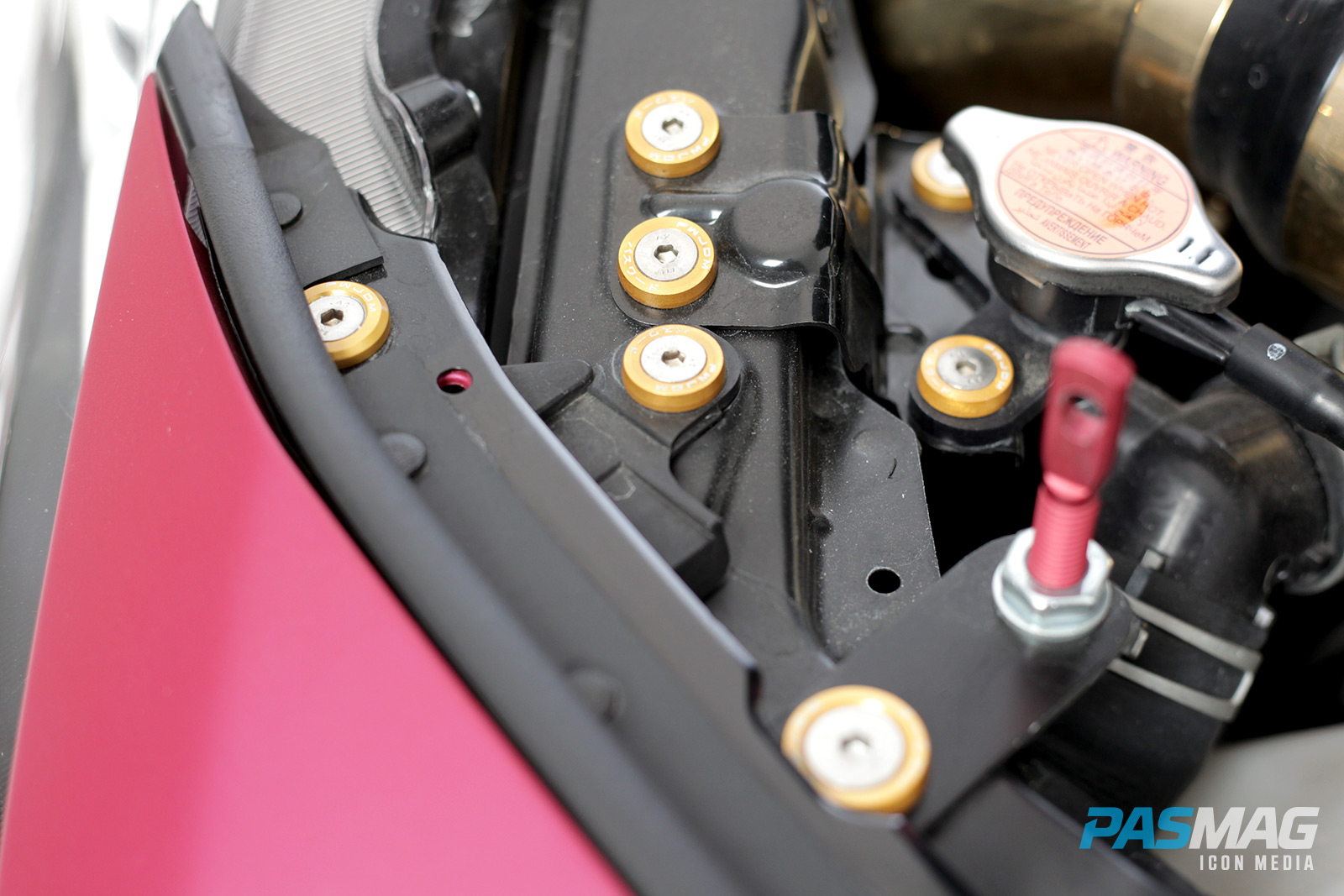 ESSENTIALS // Vehicle: 2013 Scion FR-S, Owner: Jamie Liu / Jonathon Chu, Engine: 2.0L 4-cyl. boxer, Horsepower: 350 hp, Torque: 276 lb-ft
ENGINE MODIFICATIONS // Full Blown Motorsports (T3/T4 BB turbo kit, throttle body, fuel rail), TiAL (blow-off valve, wastegate), NOS Single Fogger wet nitrous system, Sx Performance fuel pressure regulator, Paxton fuel pump, Fuel Injector Clinic 1,000 cc injectors, NGK spark plugs (two steps colder), Blox air filter
EXHAUST // Ark exhaust system, Full Blown downpipe
DRIVETRAIN // ACT (6-puck clutch, flywheel), Quaife Engineering LSD
CHASSIS / SUSPENSION // Megan Racing (coilovers (f/r), sway bars, control arms (f/r)), GReddy struts (f/r)
WHEELS / TIRES / BRAKES // Aristo by Manugill wheels – 19x9.5 (f), 19x12.5 (r), Toyo tires, CEIKA Performance brake kit - 8-piston calipers, 380 mm rotors (f), 6-piston calipers, 356 mm rotors (r)
EXTERIOR // Lux Motion Version 2 body kit, Rocket Bunny spoiler (18k gold plated), JDM headlights, Spyder taillights, DTM Autobody body work. BASF Matte Pearl Pink / Red graphics
INTERIOR // 24k gold plated shift knob, BRIDE limited edition CUSCO x BRIDE seats, Takata racing harnesses, Custom pod gauges
AUDIO/ MOBILE ELECTRONICS // Pioneer DVD head unit, AudioControl (equalizer, crossovers), HERTZ (4-ch. mid bass, sub amplifiers) • Alpine Type-R subwoofers (2), Cadence 6.5-in. mid-range component speakers (f/r), Sony PlayStation 3, 10-in. monitors in trunk lid (2) • Optima under-hood battery, Custom ventilated box
10-Farad capacitor
SPONSORS // Spyder, Megan Racing, DTM Autobody, Aristo Wheels, Custom Dimensions
AWARDS // SPOCOM 2013 "Best FR-S/BRZ"

Contributors: Robert Kochis, Icon Media