Photos By: Ryan De Los Santos
---
If you are the lucky owner of a clean OG car and ever have to sell it, you know the pain of having to advertise it out there. Any clean car, with attention to detail and a swap is definitely worth the money but if some scrubs can buy the chassis for $500, they just insult and low-ball your reasonable asking price. Owners of 240s, Hachis and clean Hondas know exactly what I'm saying because any time they have had to put their car up for sale, its just a constant stream of kids saying they can get that car for less elsewhere. The irony is, well these broke-ass scrubs don't realize you would have to spend double the asking price on the mad tyte $500 car to get to that point.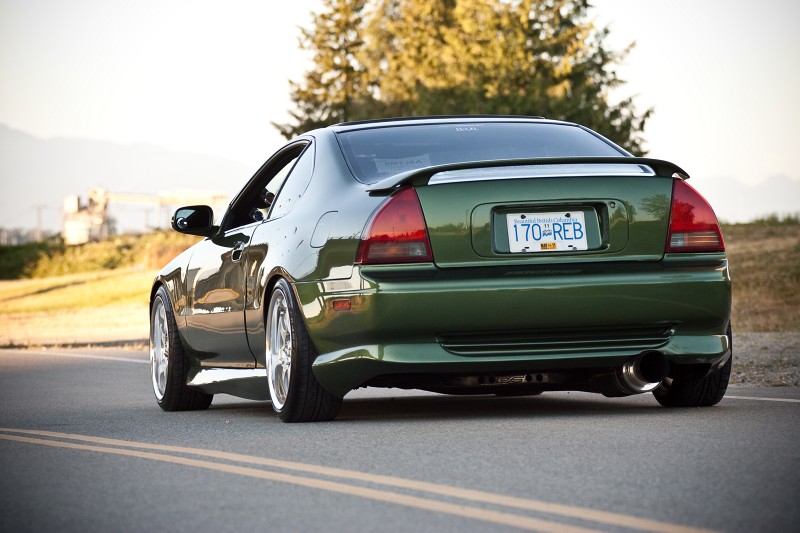 The Prelude we have here, is definitely one of those rides. Yeah sure you can find one for a few hundred bucks but not like this. Owner Ryan de Los Santos is a hardcore Honda head that was looking to build up a car he has had forever. He had the Prelude for 10 years but a couple years ago, he was at a cross-roads with its future. He had graduated university, was making some decent money. Should he buy another car or take some time on his current ride and built it up? The smart money would have been his third choice of buying a condo but the sentimental attachment to his Prelude was too much to ignore.
"After choosing to modify the 'Lude, I wanted my car to be one of a kind.' Says de Los Santos "First, I hand-picked the color and even tested it out in different lighting conditions to see how it would look. I obsessed over the details and think it shows through in the workmanship and the numbers the car puts down."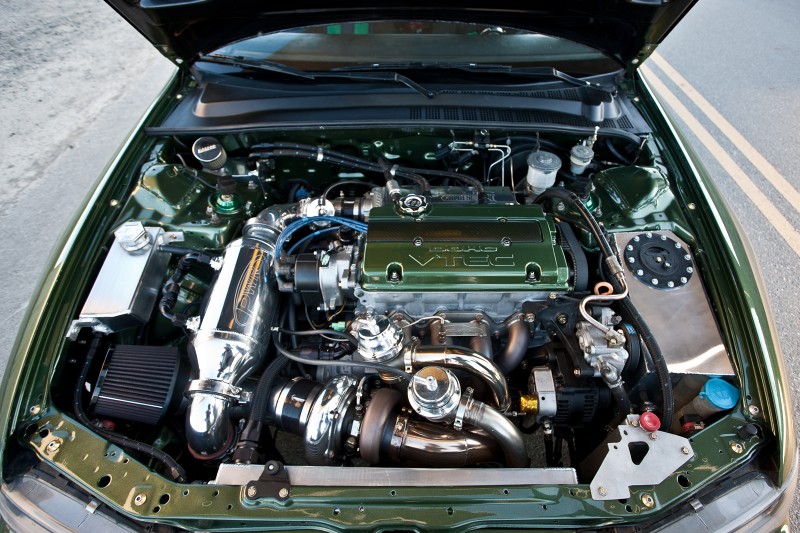 The build started with the H22 lurking under the hood. The turbo components were be all fabricated. For example instead of just an air to air intercooler he chose to go with an air-to-water cooled with an icebox reservoir for race situations. The engine is a fully built and sleeved motor running CP forged 9:1 pistons and Eagle rods. The build was done by the experts over at Evolution Auto Performance in Mapleridge, BC. Hanging off a custom manifold is a Garrett GT35R turbo regulated by TiAL 38mm wastegate. The hot side dumps into an Evolution Auto 3-inch exhausts with an HKS carbon titanium tip. When the car was tuned with an eCtune Pro, the motor pulled 449whp with a conservative 15 psi on pump gas. The car is going to be tuned for C16 race gas running 25 PSI or more and aiming for 600whp soon.
The silhouette of the car is unlike any Prelude we have seen in a long time. Well, usually these cars are rusty, dented and are missing all kinds of trim. It is really odd to see one so clean and as we did some digging, one that is so hooked up. The front is fitted with a Spoon carbon fiber front lip, wings west sideskirts and matching rear lip. The car was fitted with JDM 1-piece headlights running TSX projectors as well as LED turn signals. The entire car was shaved of any ornamentation by Speedcraft Autoline before the custom green hue was laid down.
The rollers also have that period look with a classic set of Volks. The GT-7 wheel measures 17x8-inches all around and rocks a Falken FK452 215/40R17 on all four corners. The proper stance was achieved using TEIN FLEX coilovers and an SPC camber kit to dial-in the camber. Behind the front spokes are a set of Spoon Sports 4-piston brakes clamping 12-inch rotors. The balance of the system remains OE but now uses Hawk HPS pads and Goodridge SS lines.
The interior got a shot in the arm to bolster the aging Honda parts. A battery of Defi gauges were added to the project including: boost, EGT, water temp., oil pressure and finally an Innovate XD-16 wideband. A set of Recaro JDM Evo seats were added in addition to Takata 4-point harnesses. AN NRG wheel and quick release were added to the build and the stage was set for the audio install.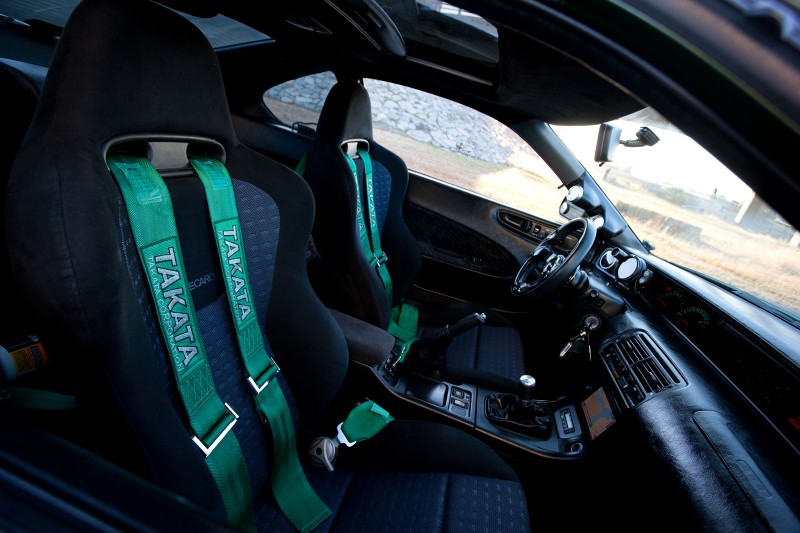 When it came to the audio in this car, de los Santos didn't pull any punches. The car was sent over to Soundsgood in Coquitlam, BC for a full tear down and rebuild of the sound components. Stemming from a Pioneer AVIC-D3 headunit, the balance of the system is all Audison and Realm. The lows head to a single Audison VRX 1.500 located in the trunk driving a pair of Realm DD 2510 10-inch subs in a vented enclosure. The mids and highs are amplified by an Audison VRX 6.420 amplifier pushing Realm LS 6C components front and rear. The whole ensemble is lit up with a Shuriken battery and Tsunami wiring and fuses.
We don't get to see many BB1 Preludes in nice condition and certainly none like this. If we had our way we'd like to see more unusual classics of our younger years pop up. But at the same time we understand why tuners wouldn't want to do it because the world is full of dreamers with $500 to spend.