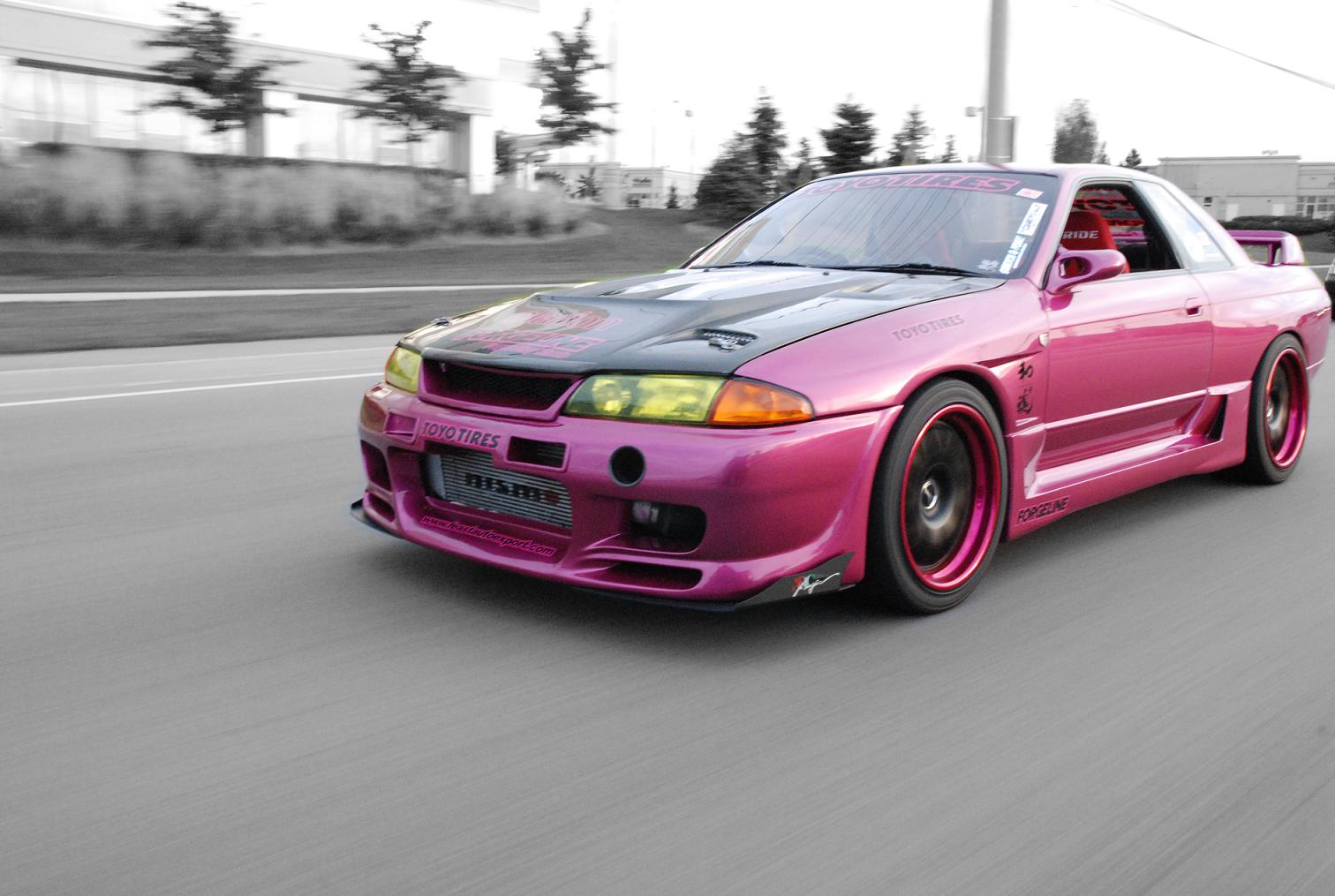 The Canadian way of life has a few perks living in the great white north. First there is the low crime rate, excellent social services and of course free medical care. There are few natural disasters and the landscape is beautiful albeit a cold place for several months of the year. For car enthusiasts, there is a a definite advantage of the US - importing a JDM car is here is simple. All you need is the right paperwork, the funds and you will have the car of your dreams in a couple months. Whether it is a Mark IV Supra, Fairlady Z, Silvia or and FD RX-7 getting a hold of one is cheap and easy. But for many enthusiasts, the chance at owning a Skyline GT-R became very real in 2004!
Under the importation rule, any 15 year old car can be imported as of its build date. So in 2004, the 1989 Skyline GT-R became available and car Enthusiasts Neal Woon Fat decided it was time to get onboard. Neal had noticed that yours truly, Dave Pankew has just taken delivery of his GT-R and the clean, low mileage beast drew all kinds of attention. Neal however was on a mission to take and already clean GT-R and turn it into one of Canada's most recognizable show cars.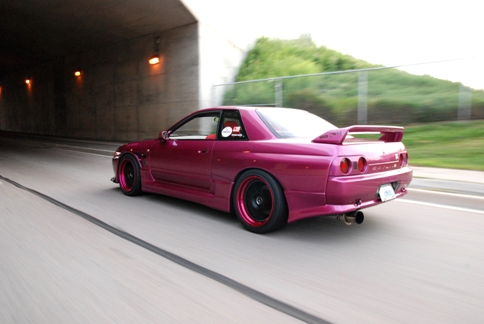 As with many JDM cars what is under the hood can be a mystery. You may end up with a powerhouse or a motor down on compression and is a ticking time-bomb. Sure enough Neal's motor wasn't too fond of our Canadian 94 octane and decided to say goodbye. But at the same time, Neal was pumped about what he could build. The motor was pulled and machined to make way for Wiesco 87.5mm forged pistons with Brian Crower rods and Nismo bearings. The boost comes correct thanks to Nismo N1 turbos and HKS actuators pushing air into a Nismo front mount. The whole ensemble was tuned to perfection running an A'PEXi Power FC converted to MAP sensors using the L-Jetro.
Although JDM cars are rust-free and well maintained, Neal decided to tear it all apart anyway. The extensive body modifcations got underway with th entire shell being striped and prepped for paint. The shell was fitted with TBO R33 Gracer/ GReddy sideskirts, TBO Vented front fenders and TBO open mouth grill shot in Special Edition 30th Anniversary Lamborghini purple. Up front an ARC front splitter was added along with Nismo front air ducts and Nismo N1 headlights.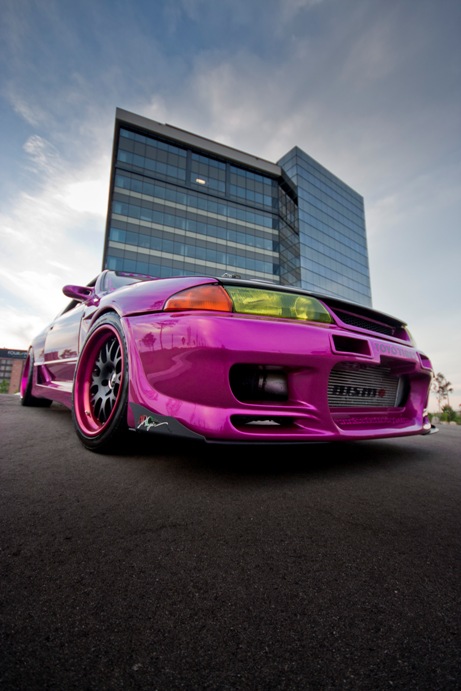 The rolling gear is impressive as well. Long known as the guy with the gold Volks, Neal recently switched it up. He opted for a set of Forgeline 18x10-inch WC3 3-piece wheels in a custom step up design with custom colors. Since Neal is part of Team Toyo Street here in Canada, he is always running the latest rubber and that currently is 265/35R18 Toyo Proxes R1R all around. He achieves the right drop using TEIN HA coilovers and gets to a quick stop using the VTTR 6-piston brakes he has on all four corners.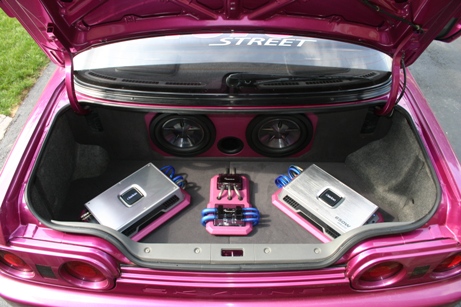 Inside the cockpit, Neal has stuffed it full of Bride, Defi and Nismo gear. Bride occupies the front and rear seats and the balance is almost all Nismo for accessories and of course, Defi for the gauges. The audio system was certain to be an easy upgrade since, Neal is good friends with Dave MacKinnon of Clarion Canada. Neal even lives near "D-Mac" so they quickly got to work on AutoCAD designing a system that would be efficient but pound hard. Up front is the Clarion VRX765VD AM/FM DVD multimedia station for all of the AV needs. The signals head out to a pair of Clarion DPX2251 amps to light up the Clarion speakers. In the rear is a custom sealed box running Clarion PXW1052 10-inch subs and found throughout are Clarion SS501 component speakers. All the wiring, interconnects, distribution blocks and fuse blocks are all from KnuKonceptz and the system is lit up with an Optima yellow top.
With a load of performance and legendary Nissan reliability, this 20+ year old car still turns heads while it is daily driven in the summer. Head up to any show in Eastern Canada and you'll find "Pinky" and Neal representing Team Toyo Street. He'll drive it anywhere since Neal is known to be a road warrior with more than a few NOPI and HINs under his belt.

ESSENTIALS
Owner: Neal Woon Fat
Location: Mississauga, ON
Vehicle: 1990 Nissan Skyline GT-R
Engine: Nissan 2.6L RB26DETT inline-6 twin turbo
ENGINE MODIFICATIONS
Nismo Front Mount Intercooler
Nismo 1.2mm Head Gasket
Nismo Oil Cap/ Rad Cap
HKS Turbo Actuators
Nissan R33 Oil collar
Nissan N1 R33 Turbo's
Nissan N1 Oil Pump
Nissan N1 Water Pump
Nissan N1 Crank Bearings
Nissan N1 Connecting Rod Bearings
ARP Head Bolts
Brian Crower Intake and Exhaust Valves
Brian Crower Valve Springs and Retainers
Wiesco Forged 87.5mm Pistons/Piston Rings
GReddy Power Extreme II Exhaust
GReddy Intercooler Piping
GReddy Fuel Rail
GReddy Oil Catch Can
GReddy Radiator Deflector
GReddy Oil Cooler
GReddy Oil Filter Relocation Kit
Koyo Type Z Aluminum Radiator
M's Factory Hi Flow Air Intakes
Blitz Blow-off Valves
FAL Slim Electric Fan
A'PEXi L-Jetro Standalone
Bosch Fuel Pump
RC Engineering 680CC injectors
Vibrant Hoses and Clamps
WHEELS / TIRES / BRAKES
Forgeline 18x10-inch WC3 3-Piece Custom Step Lip Rims
Toyo Proxes R1Rs 265/35R18
VTTR 6-piston/330mm Brakes
SUSPENSION
TEIN HA Coilovers
Nismo Front Tower Strut Bar
Nismo Rear Tower Strut Bar
EXTERIOR
ARC Magic Front Bumper Diffuser
Special Edition 30th Anniversary Lamborghini Purple
Gracer/Greddy Front Bumper
Gracer/Greddy Rear Valence
Nismo Front Bumper Air Ducts
Nissan N1 Headlights
Seibon Vented Carbon Fiber Hood
TBO R33 Gracer/GReddy Sideskirts
TBO Vented Front Fenders
TBO Opened Mouth Grill
Ignited 6000k HID bulbs
Ganador Mirrors
One-Off Custom Carbon Fiber Bumper Air Duct
INTERIOR
Key's Racing Steering Wheel
Nismo Gauge Cluster
Nismo Steering Wheel Hub
Nismo Shift Knob
Bride Seats
Bride Seat Rails
Bride Custom Interior Rear Seats and Floor mats
Defi BF Series 60mm Boost
Defi BF Series 60mm EGT Gauge
Defi Controller II Unit
GReddy Dual A Pillar 60mm Gauge Pod
C-Shift Short Shifter
JDM leather Shift Boot
JDM leather Hand Brake Boot
Vibrant Performance Foot Pedals
AUDIO / VIDEIO MULTIMEDIA
Clarion VRX765VD AM/FM DVD Multimedia Station
Clarion SSS501 Signature Series Components
Clarion PXW1052 10-inch Subwoofers x 2
Clarion DPX2251 Amplifiers x 2
KnuKonceptz Kolossus Fleks Kables (1/0 and 4 Gauge)
KnuKonceptz Klear Speaker Kable (10 and 16 Gauge)
KnuKonceptz Krystal RCA Kables
Kompact Kap 1.2 Farad
KnuKonceptz KonFUSED 3-Way Distribution Block
KnuKonceptz KonFUSED Ground Distribution System
KnuKonceptz KonFUSED Battery Terminals
KnuKNoceptz ANL Fuse Holder