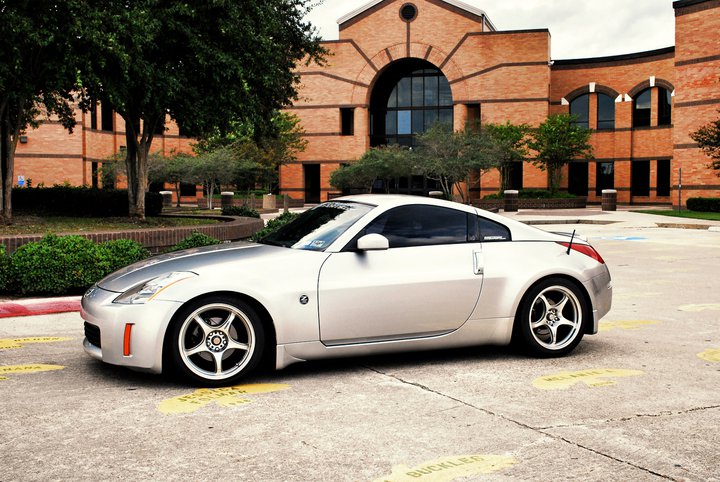 The Essentials
Owner: Robert Bayless
Location:  Houston, TX
Website(s): www.BoostedImports.com
Facebook: http://www.facebook.com/#!/pages/BoostedImportscom/131383903555728
Myspace: www.myspace.com/boostedimports
PASNATION Username (http://pasnation.pasmag.com): BuiltnBoostedZ
Vehicle (Year Make Model): 2003 Nissan 350Z
Car Club Affiliation: Z Club of Houston
Power: 640whp w/ 640lb-ft
Engine/Performance Info/Modifications:
FULLY Built Motor
Darton Mid Sleeves Bored .030 over (decked, honed, bored, line honed, bearings)
CP pistons 8.5:1 compression
Carillo Rods
Ferrera 1mm oversized Valves
Titanium Valve springs
Valve locks
Spring locators
5 angle valve job
Tomei 268 cams
Balanced Crank
Revup oil pump
Nismo thermo
HKS metal head gasket
Custom L19 Studs
ARP Rod Bolts
ARP Main Studs
Walbro 255 fuel pump
RC 750cc injectors
Fluidamper Harmonic Crank Dampener
Cooling mod (DA Tank, lines, fittings, etc)
Greddy Twin Turbo Kit (turbos, BOV, piping, etc)
Greddy Intercooler
Greddy PRofec B-specII Boost Controller
SGP Racing oil cooler
SGP Racing fuel return system
Aeromotive FPR
SGP Racing Wastegate reloction kit with open dumps
SGP Racing 3" downpipes
AAM Dual 3" exhaust
Cusco air deverter plate
Nismo Oil cap
Samco Hoses
PWR Radiator
Carbonetics Triple Disc Clutch / Flywheel
Nitrous Express wet kit
Nitrous Express purge solenoid
NOS intercooler spray bar
Zex Bottle heater
Dynotune Nitrous TPS/Window switch
FCON VPRO Stand alone EMS (with Knock AMP and Wide band)
Uprev Osiris reflash on ECU
Blitz Throttle Control (no more drive-by-wire lag)
Hidden NX bottle in gym back - switches in ashtray
Wheels & Tires Info/Modifications:
Street
5zigen fn01r-c 18x8.5 - Toyo Proxy T1R (255/35/18)
5zigen fn01r-c 18x9.5 - Toyo Proxy T1R (285/35/10)
Drag
Stock 18" wheels – BFG KDW (255/40/18)
Stock 18" wheels - BFG Drag Radials (275/35/18) 
Suspension Info/Modifications:
HKS Hipermax III coilovers
SPL front upper a-arms
Eibach Sway Bars (front and rear)
SPL Rear Camber Arms
APS strut tower brace
Stoptech Stage 2 Brakes
(Axxis Pads, Steel Braided Lines, Slotted Rotors, Race fluid) 
Exterior Info/Modifications:
S2000 Antenna
Custom made Twin Turbo fender emblems
2008 LED tail lights (oem)
Modified front bumper for oil cooler air flow
Interior Info/Modifications:
Defi Boost Gauge with Defi Controller
Aspec Titanium Shift Knob
Boost Controller installed in center dash under AC controls
Nitrous switches in the ash tray
Audio/Multimedia Info/Modifications:
JVC DVD audiophile headunit (3.5" screen - single din)
Farenheit 7" screen in navigation cubby hole
Infinity Reference components 6.5"
Infinity Reference coaxils 5.25"
Z-enclosure subwoofer box (oem fitment)
Diamond Audio (2) 8" subwoofers
Memphis Audio 1000D (1100 x 1 @ 1 ohm...running at 300 x 2 watts @ 4 ohm)
Phoenix Gold ZX475 titanium amp (75 x 4 @ 4 ohms) OLD SCHOOL Phoenix Gold - made in USA.
Clifford Alarm with remote start
Sponsors:
BoostedImports.com
PowerFab Automotive
Shout-Outs
Bryan and Jeremy @ PowerFab.  All the members on BoostedImports.com who have helped make it a great community.  Ryan Cannon, my friend and partner on BoostedImports.com. My cousin David Smith for installing all of my audio/video!!  Of course all you guys at PAS!!!  And my wife, Julie, for putting up with my addiction all these years!
---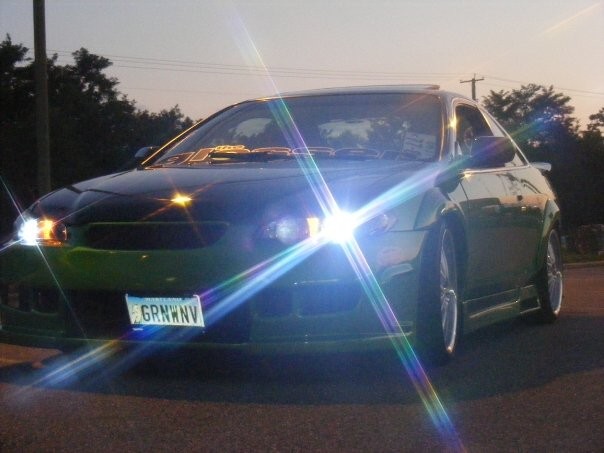 The Essentials
Owner: Trevor Boone
Location (City, State/Province): Owings Mills, MD
Facebook: http://www.facebook.com/home.php?sk=lf#!/profile.php?id=561780708
PASNATION Username (http://pasnation.pasmag.com): polkaccord75
Vehicle (Year Make Model): 2001 Honda Accord
Car Club Affiliation: SEACRET KINGDOM, 75ers
Power: 255whp

Engine/Performance Modifications:
DC Sports Polished Strut Bar
DC Sports Polished Battery Tie Down
DC Sports Polished Oil Cap
Weapon R polished oil Catch can
Weapon R polished Radiator Catch can
Fully Polished intake Manifold
Cool Flex Polished Radiator Hose
Optima Red Top Deep Cell Battery
Wheels & Tires Modifications:
Rims:
19 x 8 Concept One Visions
Tires:
Dunlop Direzza 225/35/ZR19
Suspension Info/Modifications:
Skunk 2 Fully Adjustable Coilover Suspension
AEM cross drilled rotors
Exterior Modifications:
Dupont Hot Hues Midouri Sour Green w/ House Of Kolors Black Two-tone Paint Job (two-tone continued into door jams and trunk)
Ground Designs Black Widow 1 Front Bumper
Ground Designs Black Widow 1 Side Skirts
Ground Designs Black Widow 1 Rear Bumper
Ground Designs Black Widow 1 Fender Flares (4)
Ground Designs Black Widow 1 Spoiler
Sparco Flush Mount Chrome Fuel Door w/ Lock
Nissan Silvia S15 Headlight Conversion w/30K HID
Rear Taillights tinted and replaced with LED

Interior Modifications:
Full Fiberglass Dash
Full Fiberglass Door Panels
Suede Bride Bucket Seats
4-Point Sparco Race Harness
Sony Playstation 2 Molded Into Dash w/color matched controllers
Stewart Warner Monster Tachometer
Stewart Warner Digital Shift Light Gauge
Stewart Warner Water Temp Gauge
Stewart Warner Voltage Gauge
All Gauges Are Molded And Fiber glassed into Center Dash Pod
Headliner, Door Inserts, Top Half Of Dash, A-B-C Pillars, Center Console All Wrapped In Suede
Matworks Custom Floor Mats with Polk MOMO Symbol
Fiber glassed Trunk lid w/ two 5-inch OROCOM Screens Molded Into It
MOMO Steering Wheels
MOMO Carbon E-Brake Handle
Audio/Multimedia Modifications:
Alpine CVA 1003 7-inch Flip Out Monitor
Four Polk Audio 10-inch MM2104DVC Subwoofers in Fiber glassed Enclosure
(first car in MD with Polk's new MM subwoofers)
Polk Audio 5 ¼ MMC525 Speakers Fiber glassed and Molded Into The Dash
Polk Audio 6 ½ MMC650 Speakers Fiber glassed and Molded Into The Door Panels
Polk Audio 5 ¼ MMC525 Speakers In Fiber glassed Pod in Rear Deck

Sponsors:
the Glosser
Plok Audio
MatWorks
Dunlop
Kyowa racing (wheels)
Sticky Fingers Customs
Stewart Warner
AMSOIL
Fuzion Graphics
East Coast Clothing
919 Studios
Traitor clothing
Under a Rock Clothing
Shout-outs
Yea, tons shouts first off go to my grandfather and mom for starting me and supporting me in this and to Ryan Shutt,Glen Mikkeny,Joe Malinowski,Sean Setherley,Josh Claar, rules,sin,skam,kreep,betz,krazy,hung, coco dan, art,ken,situasain,teflon,eyebrowz,tj,joey d,ryno,c-murder,curry,kristen,chaliss,stacie,giorya and to all the others i have forgotten who have supported me and put there blood sweat and tears into this build.
---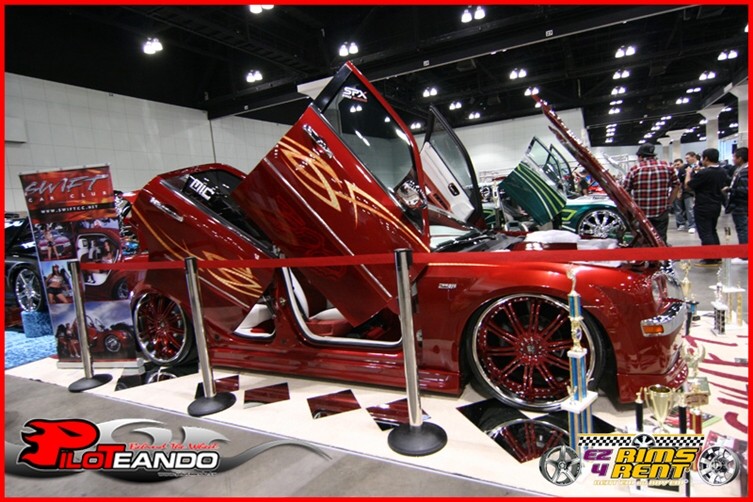 The Essentials
Owner: Juan Resendiz
Location (City, State/Province):  Santa Ana, CA
Website:
www.cardomain.com/ride/2650020
www.dubpages.com/profile/JResendiz
Vehicle: Chrysler 300 2007 AKA (EL DIABLO)
Wheels & Tires Info/ Modifications:
Wheels Donz Estrella 24"

Suspension Info/Modifications:
Air bags suspension side to side.

Exterior Info/Modifications:
Air brush murals
T rex grill
Gold leafing
Full body kit
Front and rear lambo doors
Motorized hood
Motorized trunk
Hid lights fog & head lights
Fiberglass cover lights

Interior Info/Modifications:
Full wrap interior
Ostrich, snake, stingray, & suede
Audio/Multimedia Info/Modifications:
Memphis audio components, 6"x9" and 2- 15" subs
14 TV's total
Sponsors:
T Rex Grilles
Jt autostyle
Creative motor sports
MA auto body
MIC customs
Barn Yard Grafics
Munos air brush
Donz wheels
Smart wax
PAS: Any Shout-outs?
Owner:
TO MY WIFE AND MY 3 KIDS 4 ALL THE SUPPORT & TO MY SPONSORS
T Rex Grilles
Jt autostyle
Creative motor sports
MA auto body
MIC customs
Barn Yard Grafics
Munos air brush
Donz wheels
Smart wax
Ctr photography
Pilorteando TV