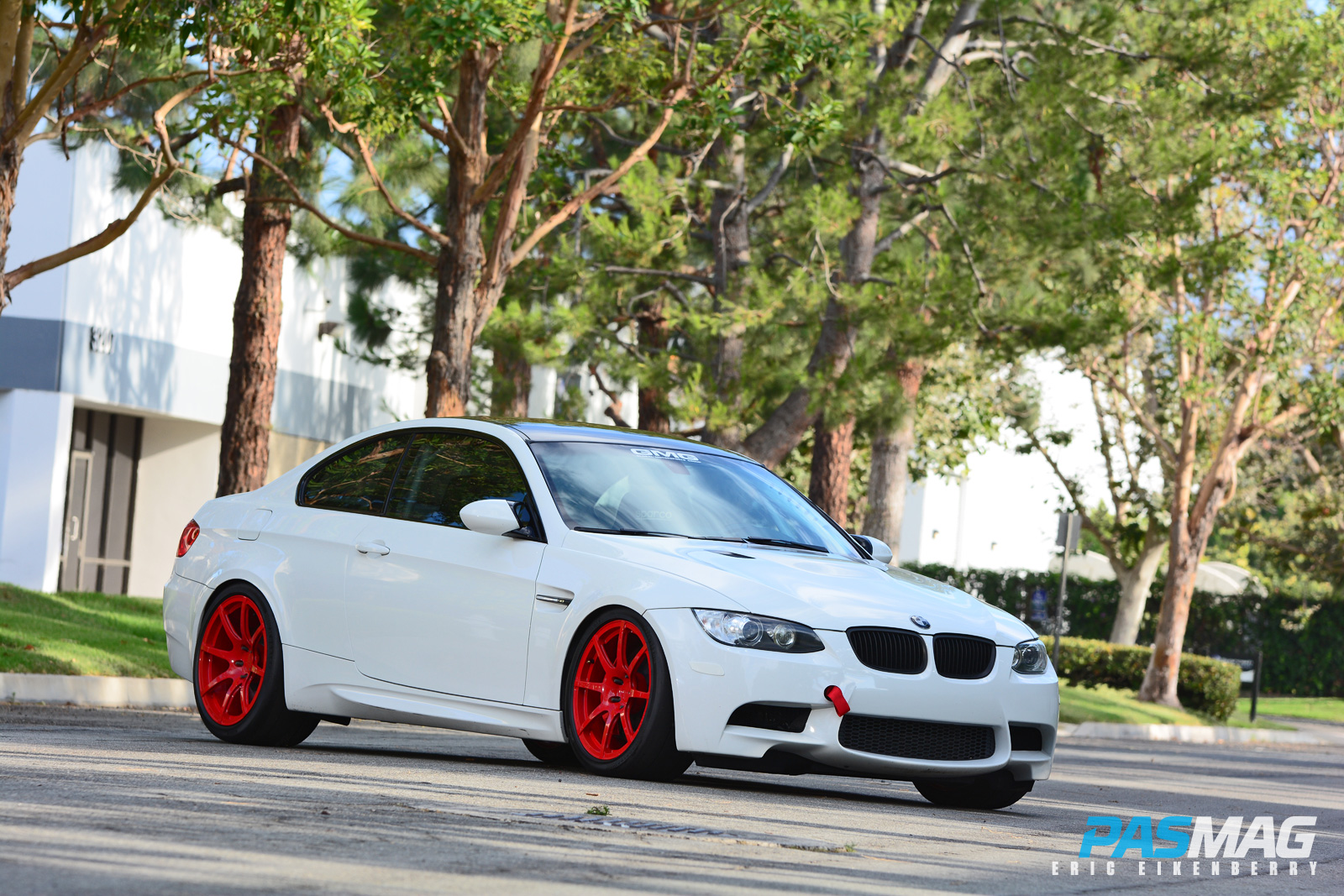 A long time ago in a land far, far away known as California, a small shop with a big name began building Audi and BMW race cars. Because they were very good at it, they quickly progressed from those humble beginnings to converting legendary automobiles from Porsche, Lamborghini and Ferrari into full-fledged, track-scalding weapons. But they never forgot their roots.
One fine day, when approached by a doctor from the nearby burg of Las Vegas, they agreed to turn their attention to his E92 M3, to see what beastly changes could be performed. This is no fantasy fable. That shop is the famous Global Motorsports Group, or "GMG" as they are commonly known as, and the result is this wickedly fast 2009 M3.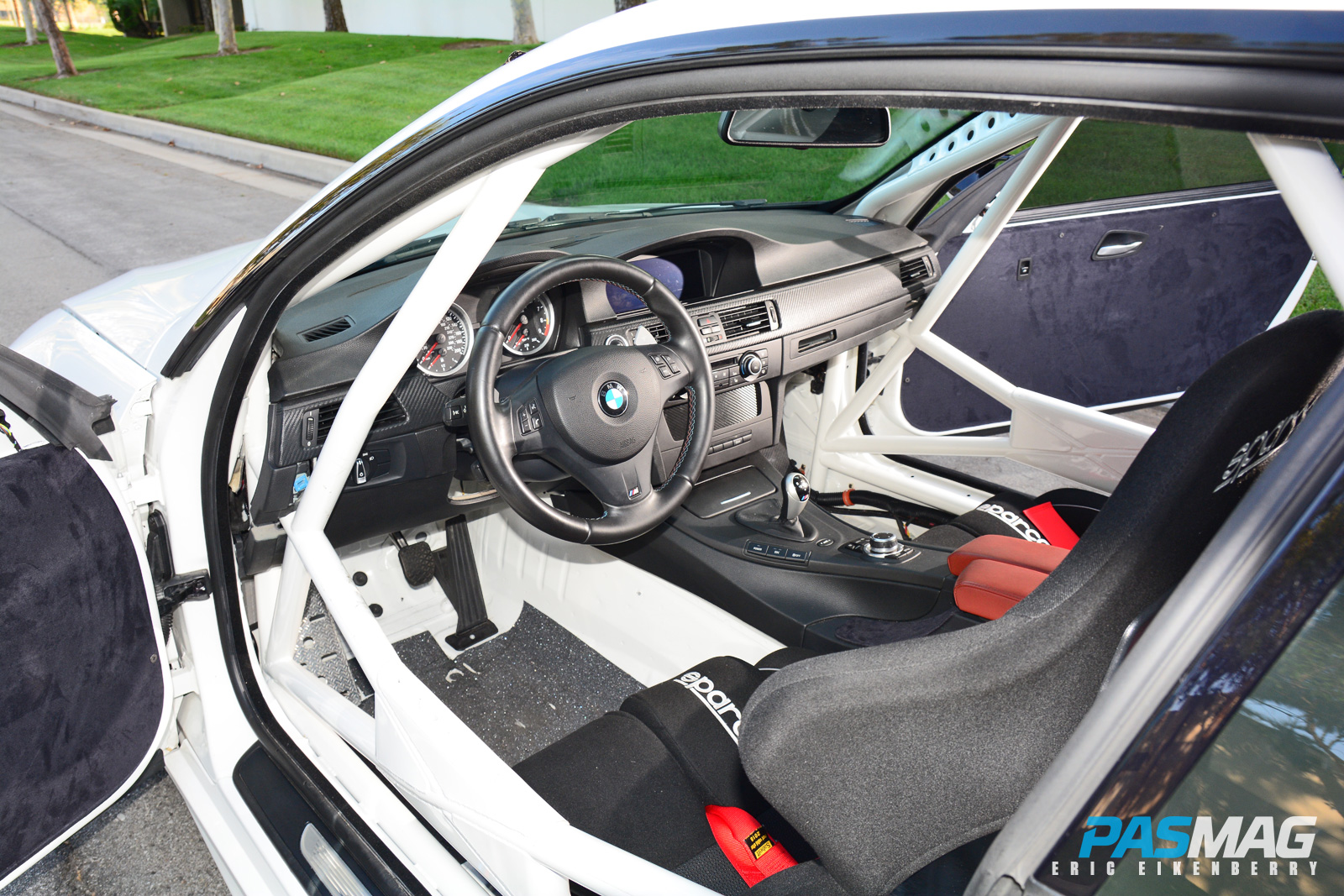 Naturally, some things had to go. Namely, most of the interior. The dash and paddle shifter-equipped steering wheel remain, as does the airbag and power windows. Owner Fabryce Kutyba's technicians are alchemists, not sadists. The 1.5-inch TIG-welded OD chromoly tube safety cage is copied from BMW's own GTR version, and has more pickup points than a crowded bar on ladies' night, all boxed and reinforced, or course.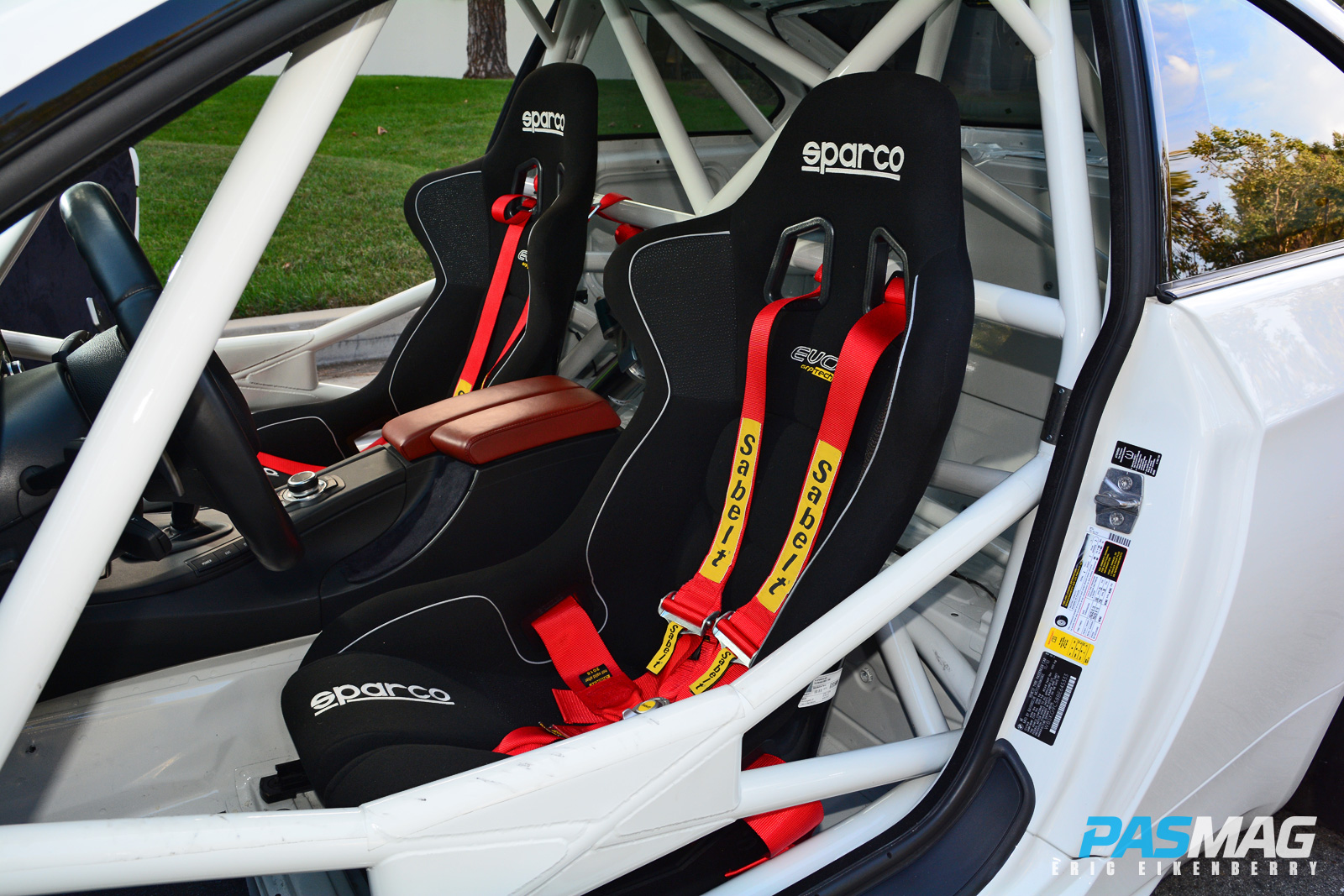 Competition gear from Sparco and Sabelt provide secure seating arrangements. Simple aluminum panels covered with Alcantara suede hold the door release handles and power steering controls. The radio and its related amplifiers were binned along with the speakers, and a proper fire extinguisher substituted in their place. Spartan? Certainly. But flawlessly executed nonetheless. This is not your local drag Honda's stripped interior. It oozes class, refinement and competence.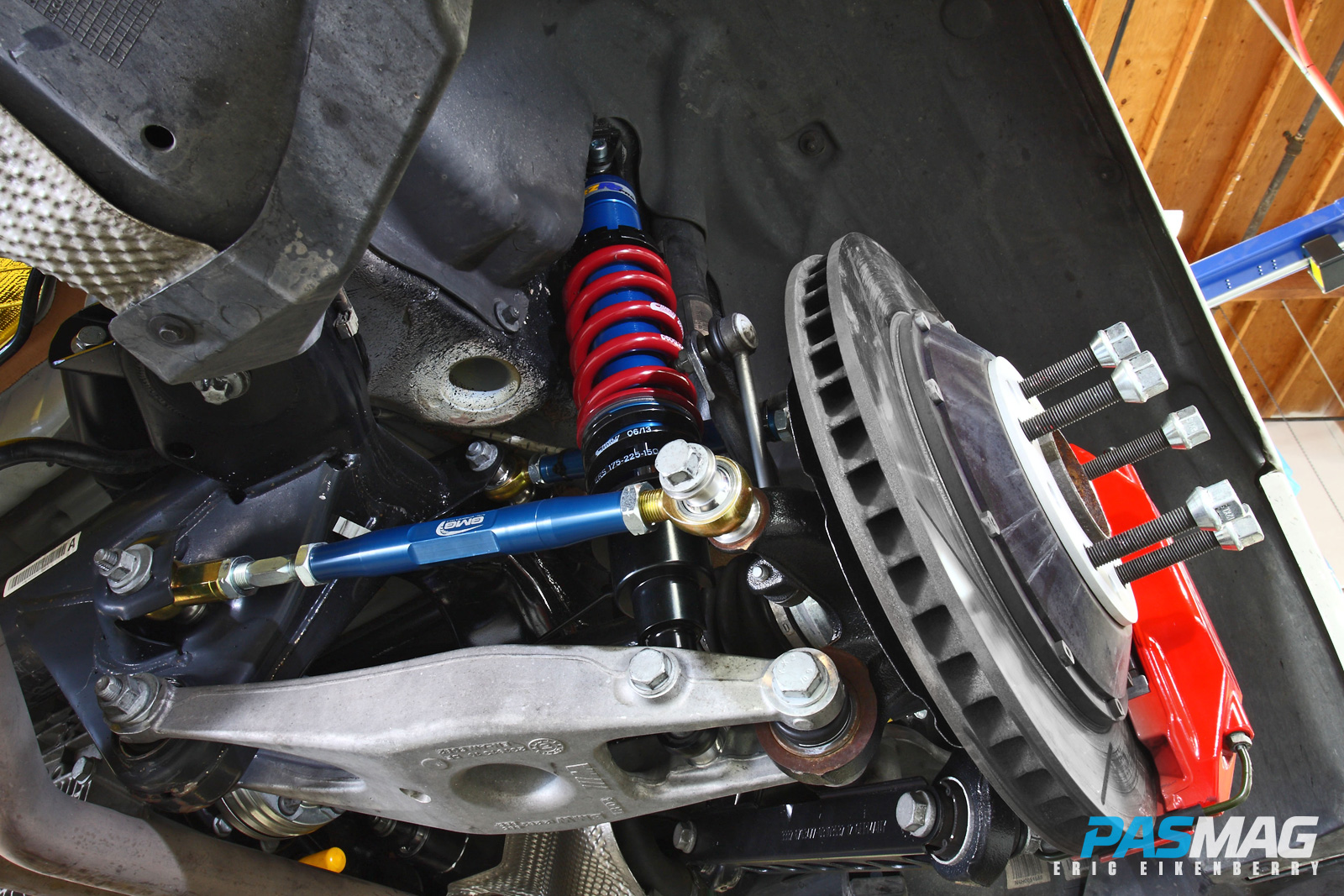 Lead technician, Sergey Zherobnenko, a major player in the planning and construction phases, has modified the drivetrain with Turner Motorsport solid mounts under the engine, transmission and differential. The entire subframe assembly has been reengineered with GMG-built heim-jointed control arms. The only notable exceptions are the massive M-Sport lower aluminum control arms. GMG turned to JRZ for a one-off set of coilovers with remote reservoirs mounted in the trunk. The coilovers use lightweight Eibach springs and attach to reinforced upper perches; the farther out the spring is placed, the smaller and lighter a spring can be for the work it performs.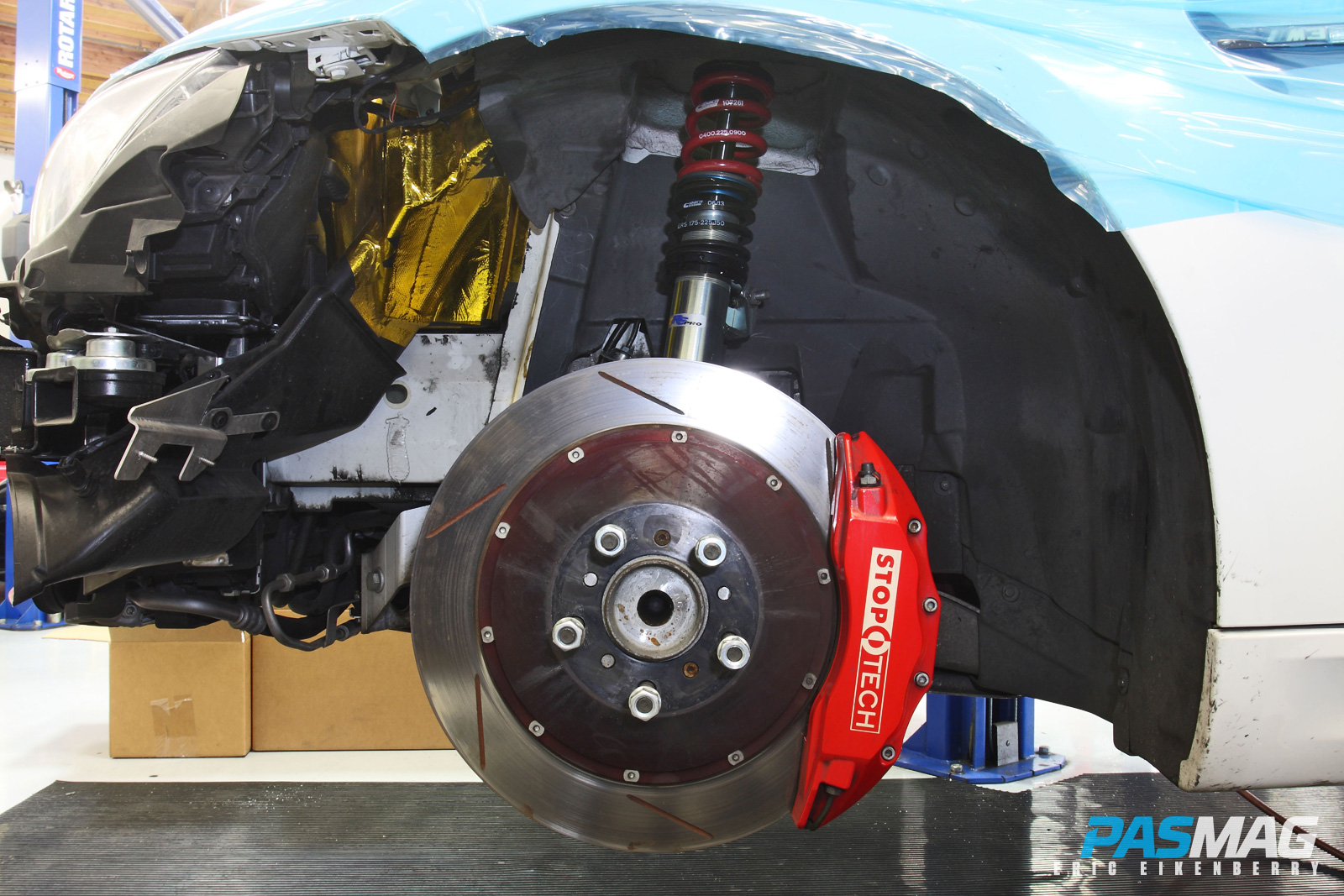 StopTech's GT-spec semi-floating brakes, with six-piston front and four-piston rear calipers were called to duty, along with braided steel lines, Endless RF 650 high-temp brake fluid, and Endless high-friction pads. Special forged and machined 19-inch wheels were built, with the nine-inch wide front units weighing just 20 pounds each. The rears offer up 11 inches of meaty tire-carrying capacity. For our test day, we got to sample Hoosier R6 tires, which aren't even remotely street-legal, but damn if they weren't fun to drive! With rocks pinging constantly off the stripped undercarriage, I got a true sense of what a world-class driver in GT3 experiences, in terms of noise level at least.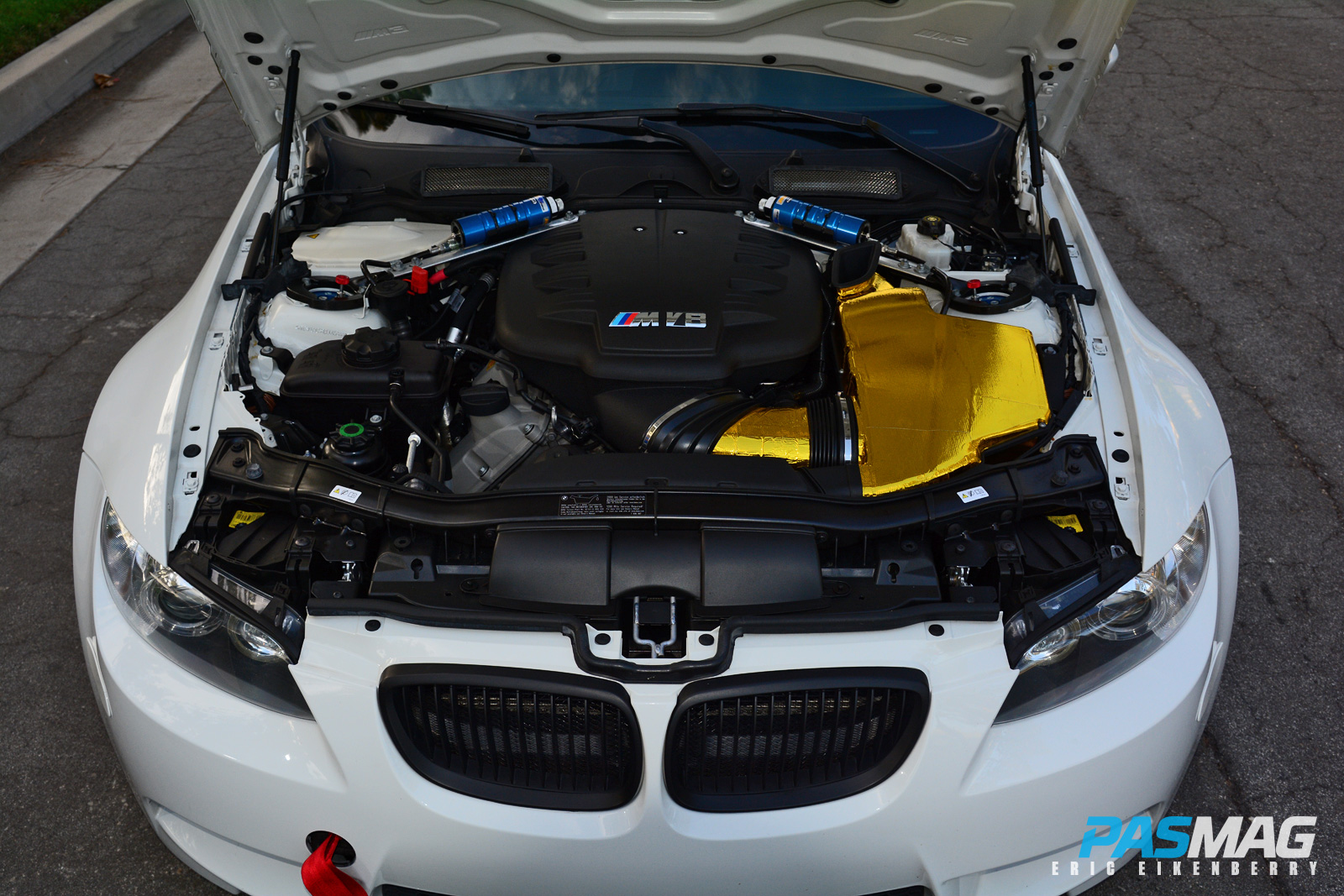 I also got a quick taste of the power those drivers get to play with, which is something not readily apparent in a brief glance at the engine bay. The internally-modified, increased-capacity air box is wrapped in heat-reflective gold foil, which is eye-catching and functional, but aside from that and the strut brace-mounted JRZ reservoirs, most of it appears to be standard M-Sport V8 fare. Much of the magic cannot be seen, including the custom x-pipe exhaust system with low-restriction axle-back dual muffler design utilizing GMG's World Challenge sport mufflers.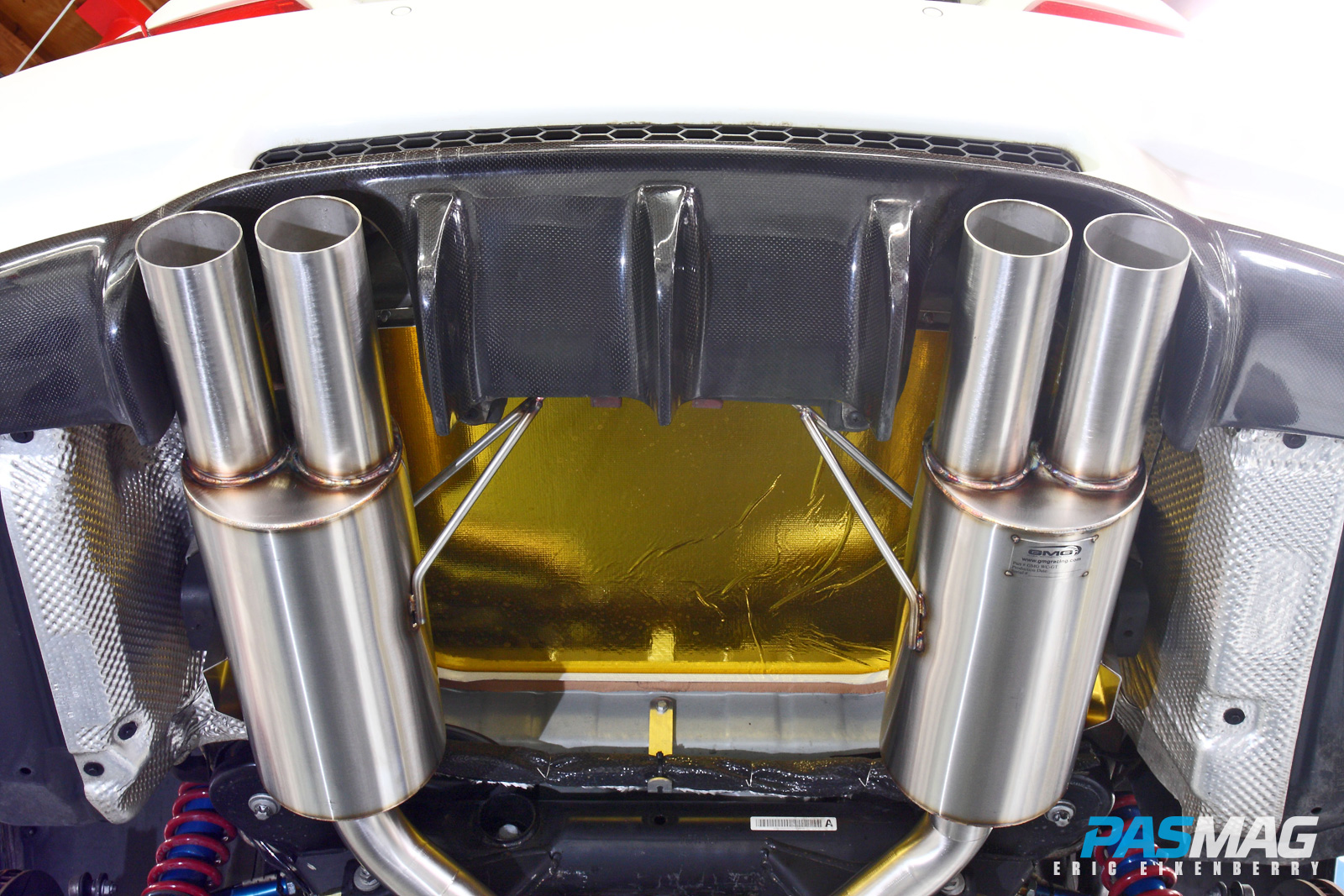 The engine oil and the SMG transmission fluid coolers are upgraded with larger Setrab cores to deal with track-generated heat. But the biggest trick is reserved for the software, and GIAC massaged the S65B40's engine management into a whole new realm of fun. Their motto apparently is "All violence, all the time."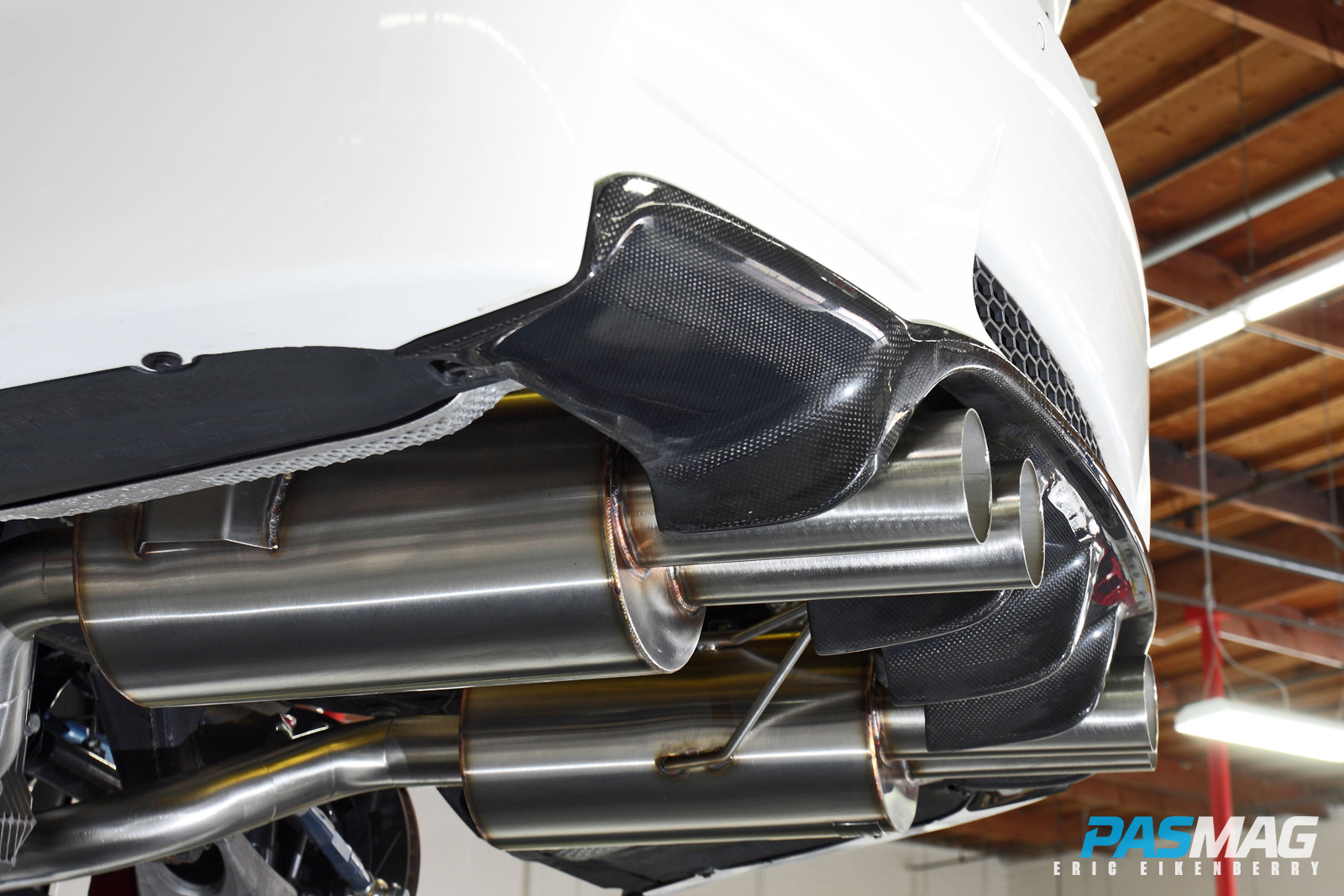 With the electronic nannies deactivated, this M3 takes on an angry nature, as if it were mad at being packaged in a lowly street chassis. Every touch of the throttle is crisp, and the engine never stops pulling, even while screaming near redline. The exhaust note is a perfect basso profundo, which increases in volume up to the roar of a small jet before the SMG bangs off the next crisp upshift. Slowing down allows the software to show off, blipping the eight individual throttle bodies to perfectly match the revs on each downshift. It truly is magic, and far more maniacal than the as-delivered M3. This is a car you tame, not drive.
And that's the difference, friends, between a tuned car and a race car, even one with a paper-thin veneer of civility such as this. Street cars limit you. Race cars don't. They are built to be apex-seeking missiles, guided only by the Mark 1 eyeball and the best your meager reflexes can muster. There's no fancy body kit, no giant wing, only raw speed packaged into an unassuming white shell. We have no doubt GMG could transmute its abilities into catalog-friendly bolt-on parts if they wanted to. But they won't. Exclusivity matters. That right there might be the most impressive part of all.
ESSENTIALS // 2009 BMW M3 / ENGINE: BMW S65B40 4.0L / HORSEPOWER: 414 hp / TORQUE: 300 lb-ft / BUILT BY: Global Motorsports Group
ENGINE MODIFICATIONS // GIAC custom engine management remap / Setrab (engine oil cooler upgrade, SMG transmission oil cooler upgrade)
EXHAUST SYSTEM / GMG (x-pipe axle-back exhaust system, World Challenge sport mufflers)
WHEELS / TIRES / BRAKES // GMG fully forged monoblock wheels – 19x9 (f), 19x11 (r) / Hoosier R6 tires / StopTech (15-in., 6-piston front calipers, 2-pc. slotted rotors; 14-in., 4-piston, 2-pc. slotted rotors) / Endless (brake pads, RF 650 brake fluid) / Steel braided lines
INTERIOR // Sparco Evo 2 seats / Schroth competition harnesses / Fire extinguisher / Custom door panels with Alcantara lining / GMG chromoly safety cage
CHASSIS / SUSPENSION // JRZ custom RS Pro coilovers / GMG rear link kit for toe and camber / Rear subframe solid mounted / Turner Motorsport solid mounts (engine, differential, transmission) / H&R Sway bar upgrades (front and rear)