Photos by Vossen
---
Between driving an Audi RS6 on the tops of the mountains of Liechtenstein during a trip to Wörthersee, and drooling over Brian Henderson's B7 Avant build at SEMA, Anthony Anderson knew he wanted to modify an Audi estate at some point. As it happens, 2014 has turned out to be his year. Anderson's Audi wagon blessing came in the form of a burnt orange 2013 A4 Allroad. After taking a break from Euros to build a beautifully bagged Infiniti G25, Anderson felt the need to go back to his comfort zone.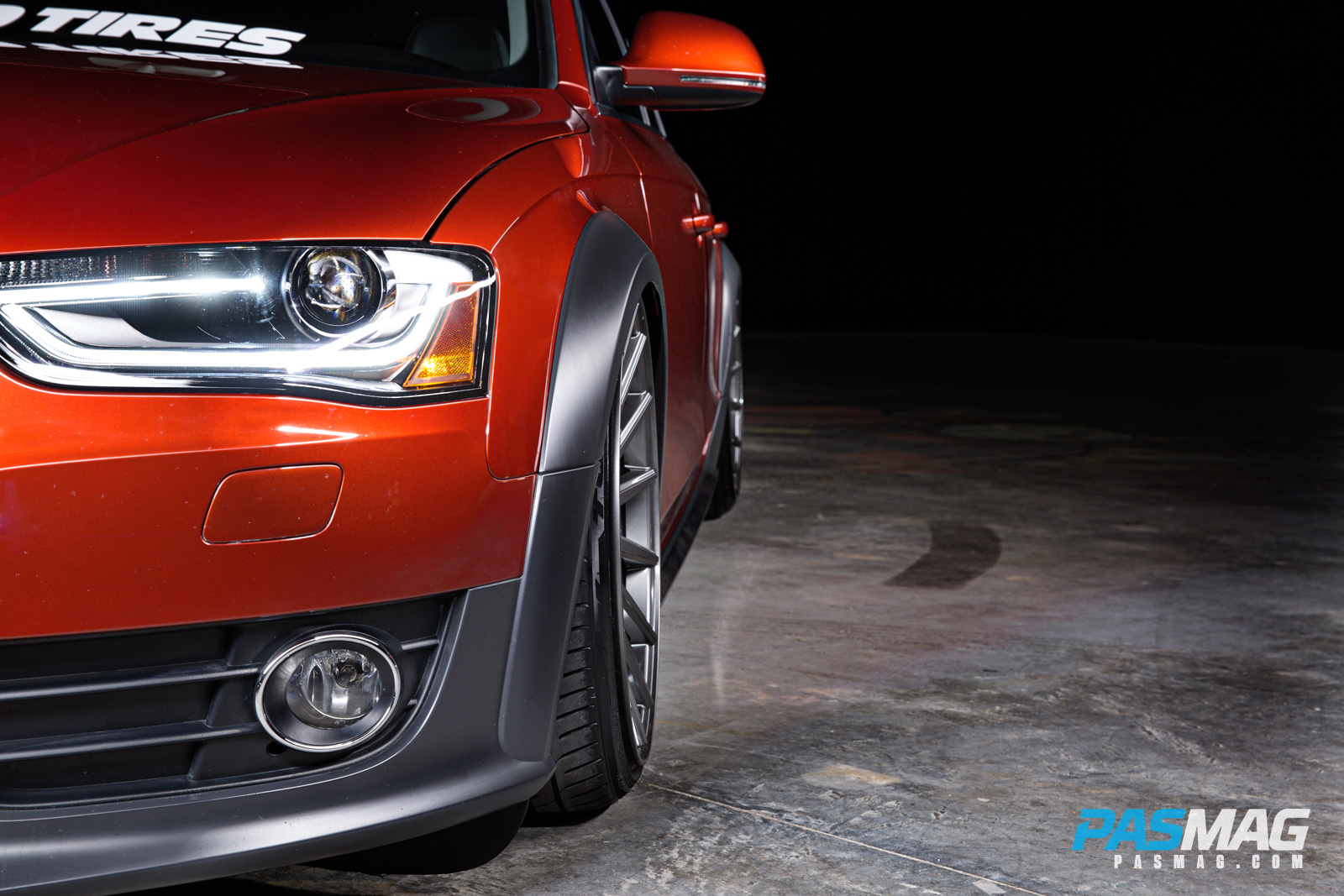 "I loved Euros and had to go back to my roots," explains Anderson. "I feel like no one builds wagons in the States, and for those who do, it's a small demographic."
This build would be different in terms of platform, but not execution. Anderson is known for slapping on some killer wheels and bagging his builds for the perfect, head turning fitment. Suspension is actually the cornerstone of his cars and Anderson swears by its importance.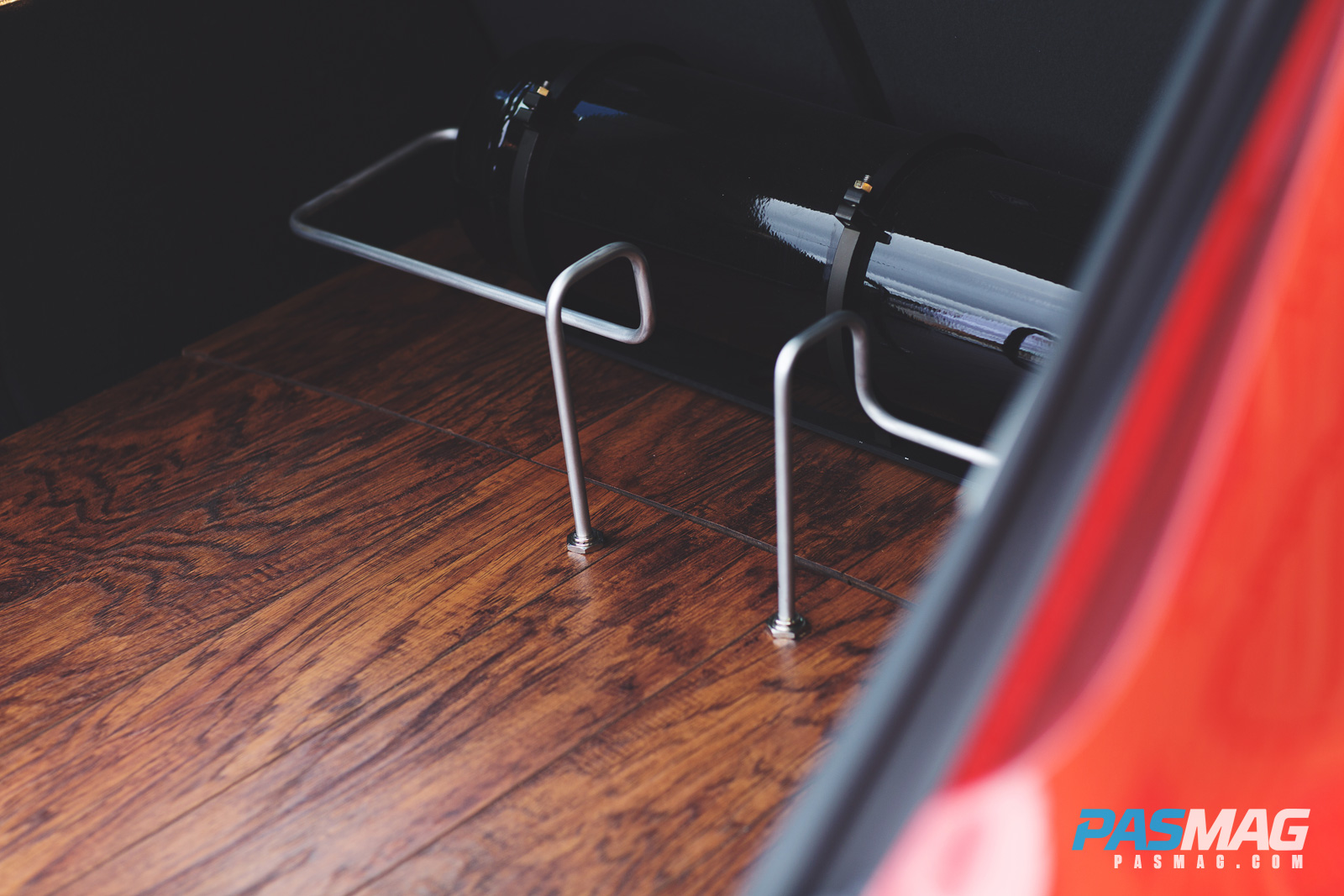 "Suspension is so important in all aspects; performance or stance setups," he says. "I have seen plenty of cars with stock wheels, but the suspension made me take a double look. In my opinion, suspension can make or break your car. The most perfect wheel setup is nothing without the perfect suspension setup."
It's no surprise then that he sprung for some Accuair air suspension. Accuair offers a B8 kit that doesn't require any modification to the car to install. It's completely plug and play. Pair that with the iLevel program for Anderson's smartphone, which lets him lower his ride wirelessly over some 20x10.5-inch Vossen VFS2 wheels on low-pro Toyo Proxes T1 Sports, and he's got himself a sweet setup.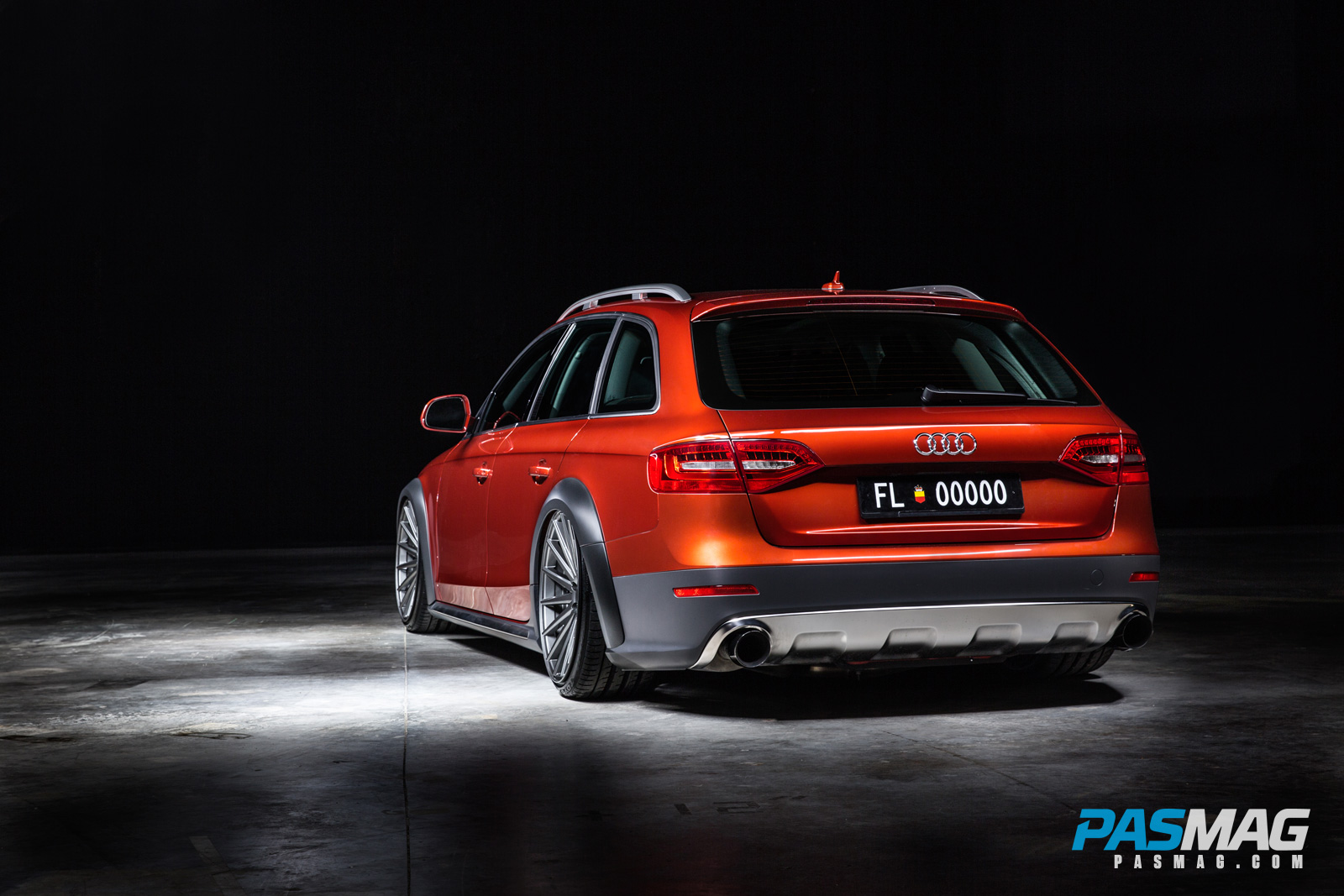 The mastermind behind the stance, the e-Level air management system, lies in the trunk. Stainless steel hard lines snake down and drill into the hardwood flooring, which makes up the floor of the boot as well as the rest of the Allroad. Up front, the red glow from the seamlessly mounted AWE Tuning vent-mounted boost gauge shows Anderson his bars.
Giac Tuning recommends that the customer installs a performance exhaust system to acquire full gains from their Xplus ECU tune. Anderson went with AWE's Touring Edition dual exhaust with an Audi 2.0T resonated down-pipe and custom three-inch mid-pipe to take advantage and give the quattro B8 a throaty tone.
Although audio isn't installed at this time, a Hertz two-way system, two ES 250.2 subwoofers, a pair of HDP5 five-channel amps and Audison bit Ten signal interface processor wait in the wings to bring the noise.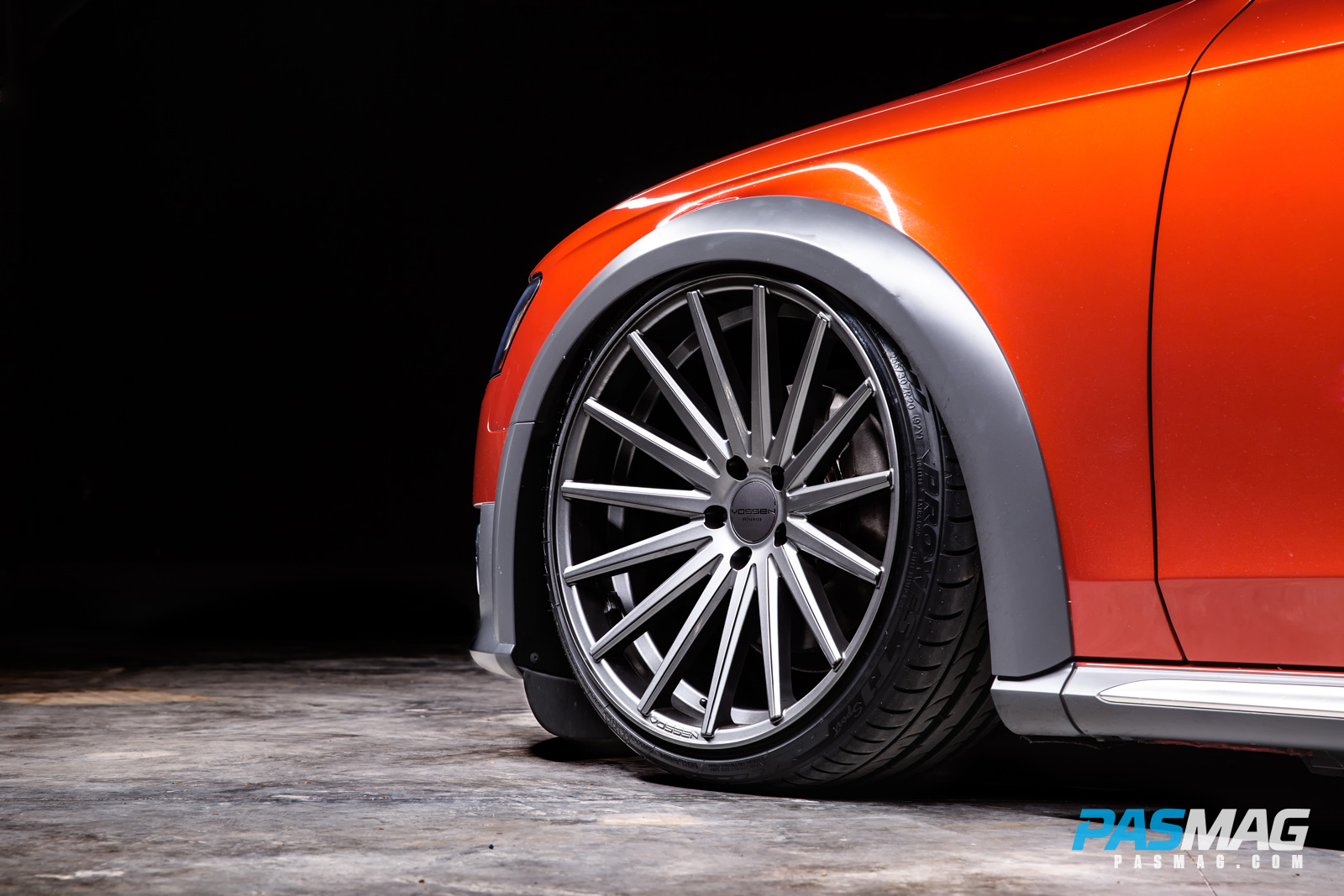 Anderson achieved his goal of building a German wagon and passed with flying colors. He keeps gaining inspiration through others and their builds though. After attending Wörthersee and combing through the field, he has decided that a set of RS5 Recaro seats and R8 stock rotors would look right at home on his Allroad. We have yet to see the end of this build, and we're totally okay with that.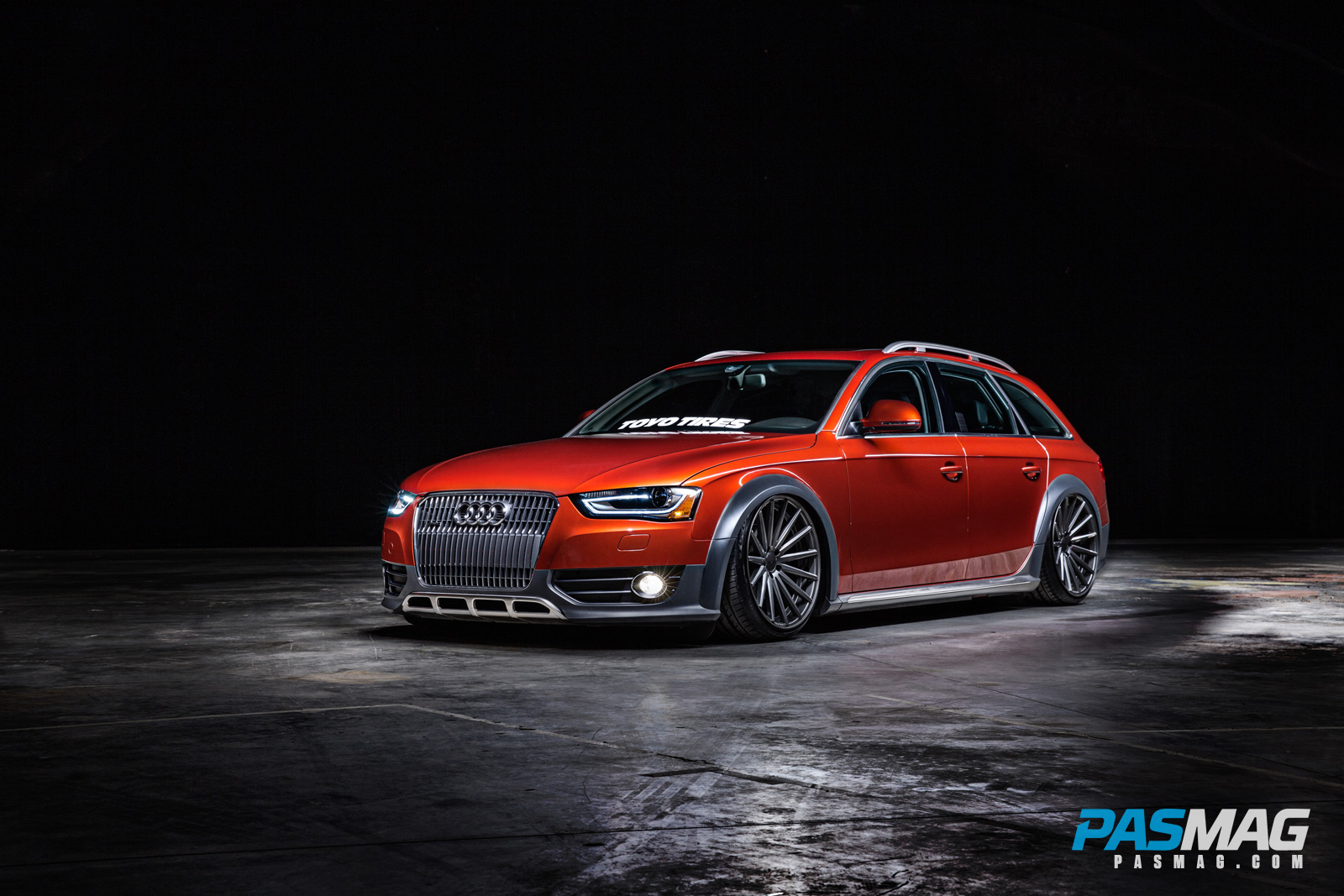 ESSENTIALS

2013 Audi A4 Allroad
Owner: Anthony Anderson
Engine: Audi 2.0L TFSI
ENGINE MODIFICATIONS

Giac Tuning Stage Xplus ECU software
EXHAUST SYSTEM

AWE Tuning (Touring Edition dual exhaust, Diamond Black tips)
Audi 2.0T Resonated Performance down-pipe|
Custom 3-inch mid-pipe
WHEELS / TIRES / BRAKES

Vossen VFS2 wheels – 20x10.5 +30 offset (f), 20x10 +30 offset (r)
Toyo Proxes T1 Sport tires – 255/30 R20 (f), 255/30 R20 (r)
CHASSIS / SUSPENSION

Accuair (B8 Sport Kit, iLevel wireless controller, e-Level dual compressor air management system)
INTERIOR

AWE Tuning Vent Mounted boost gauge
Hardwood floors and trunk
Stainless steel air tank hard lines
MOBILE ELECTRONICS

Hertz (2-way 300 W system, ES 250.2 750 W subwoofers (2), HDP5 5-ch. amps with crossover (2))
Audison bit Ten signal interface processor
SPONSORS

Accuair, AWE Tuning, Giac Tuning, Audison-Hertz, Toyo Tires
SPECIAL THANKS