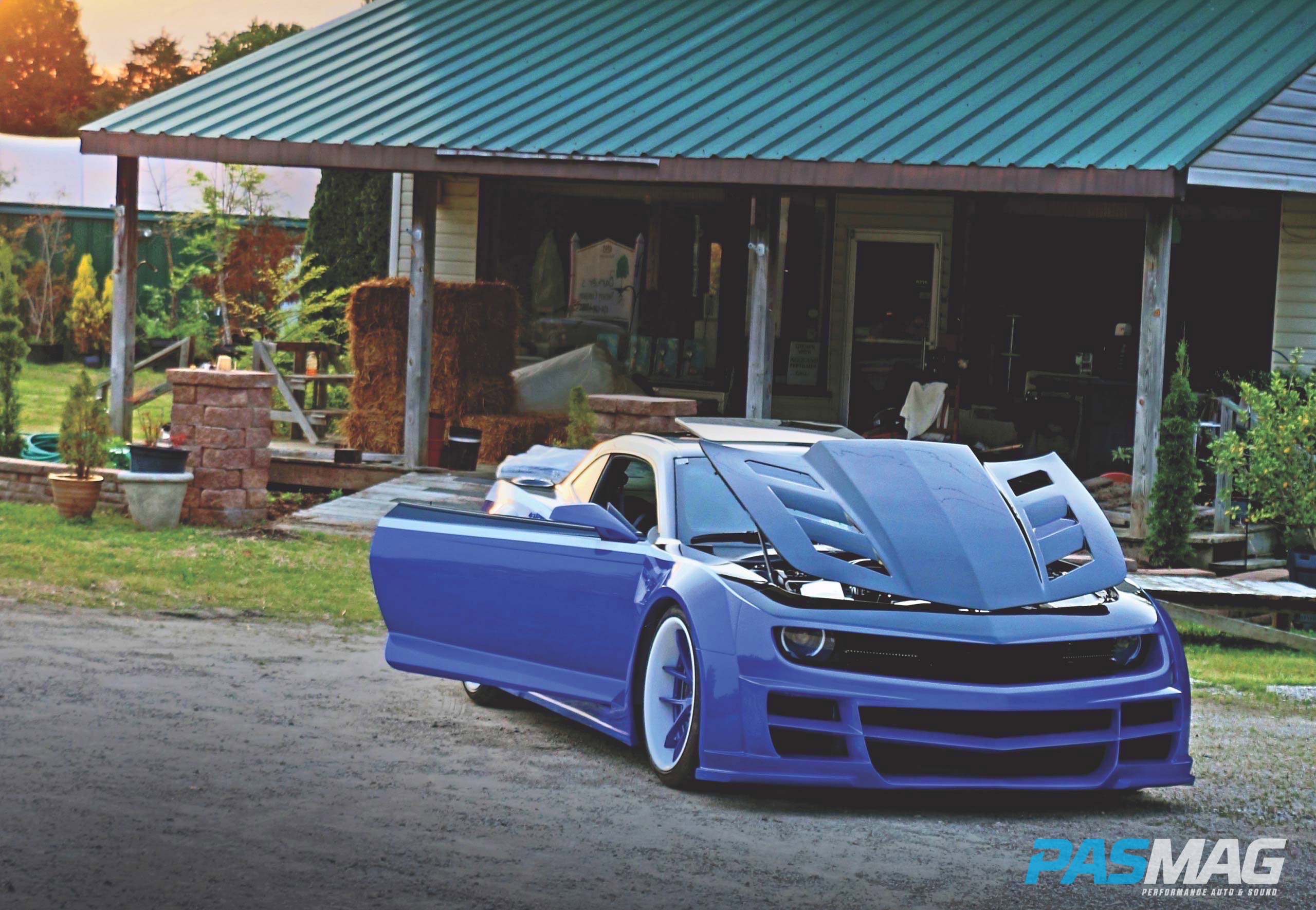 The Chevy Camaro – a cultural icon that's as American as southern hospitality and country music. It's a car that has seen the winner's circle in NASCAR and been the pride and joy of everyone from teenagers in the '60s to hair metal fans driving IROCs in the '80s and beyond. When GM decided to re-launch the Camaro in fifth-generation form in 2010, it was a throwback to the original that took the automotive and enthusiast world by storm in 1966. The Zeta platform is only the second in the model's history, and was built to handle the advanced systems and immense power that lies beneath. But more importantly, the car honors its heritage – the large, inset black grill, long front hood and hulking rear quarter panels show that this newest car is an immense machine that takes the Camaro's muscle to the next level.
Text by Jordan Lenssen. Photography by Paul Crisp
Frank Daniels knows that history all too well. Hailing from Colonial Heights in the Old Dominion of Virginia, he's been immersed in Chevy culture and American Muscle since he was a kid. At his first car show, he saw a '68 Camaro SS - the epitome of a pony car. To Daniels, it's all he needed to see to get him hooked. It also didn't hurt to grow up in a Chevy household; his father was a devoted owner, and that trend continued with him.
For many people, they start building cars in their late teens and early 20s, but Daniels got started even earlier. His build credentials and loyalty started with the Camaro; that encounter with the '68 led him to build the granddaddy of '80s muscle cars – a 1987 IROC, which uses the same F-body platform as its legendary predecessors. The long silhouette, black inset headlights and trademark white/orange/red taillights defined a generation of enthusiasts and led to some of the most powerful and creative builds of that decade. Daniels' car was equipped with Chevy's classic 'big block' 5.7-liter (350 cu. in.) V8. Only 12,105 were produced for the '87 model year, and Daniels was surely one of very few teenagers who could call it his own. When he graduated from high school he was forced to sell the car, but vowed he would own another Camaro.
Skipping the fourth generation brings us to the Camaro you see here. When Daniels first got the car, his intent was to build something that he could show, drive daily and race. The previous generations were built for straight line speed, but when Chevy decided to bring the Camaro back, the goal was to create an all-out track destroyer.
His car arrived on the scene with a great deal of criticism following an online post from the 2012 Carlisle Performance & Style show, where it was accused of being a "riced up American car." After that, Daniels set out to build something that people couldn't say anything bad about.
He began his transformation and decided to enter into first Tuner Battlegrounds competition last year. "I really didn't expect to go far in the [Tuner Battlegrounds] competition," he says. Somehow, even without a functioning Facebook account for much of the competition, he climbed the charts and qualified for the Tuner Battlegrounds Showdown at SEMA 2013. The build came under even more criticism when it hit the showroom floor – many pointing out the poor alignment of the body panels, the quality of the paint, and the fit and finish of the build in general. What most people don't know is that Daniels' Camaro made it to the Tuner Battlegrounds Showdown at SEMA as an unfinished product. Daniels would have preferred a different scenario, but it was there because people wanted it there. They saw the potential it had, and that's evident here.
When the curtains closed on SEMA and the Tuner Battlegrounds, Daniels finished fourth – impressive considering his lack of online campaigning. Even with the overwhelming support of his fans, the criticism Daniels received lingered in the back of his head, and pushed him to get to the garage as soon as he returned home, with the intention of going bigger than he ever planned.
"My build [took] a great sum of time," he says. "At SEMA, my car was still under primer and I had people asking me why in the world I chose that paint for my car. I had others ask me why I would go this drastic with a domestic car. I told them, I am trying to make a domestic car that will fit not in the domestic world, but would also be accepted by the import community."
Daniels tore the car completely apart. He finished coating the custom-made widebody in the House of Kolors three-tone paint scheme with PPG flakes and refitted the body panels to get them flush. Michael Kidd and Billy Daniel from Late Night Customs are credited with giving special attention to the numerous minor details throughout. Alone, these changes were enough to visually transform the car and silence his critics, but Daniels wanted to push it further.
He took the naturally-aspirated GM 6.2-liter LS3 V8 – which was already pushing a consistent, naturally-aspirated 389 rear-wheel horsepower – and loaded it with a TorqStorm supercharger, Texas Speed AFM-1 camshafts, a Kenne Bell boost pump and DeatschWerks 60-lb. fuel injectors, among other upgrades. The final result? A tire-melting 609 horsepower...and that's before he dumps 20 lbs. of nitrous from two 10 lb. tanks!
For braking power, Daniels upgraded his four-piston Brembo calipers to include R1 Concept pads and a set of R1 custom rotors. His suspension is completely air ride, with an upgraded Smart Ride controller that displays pressure and travel distance, powered by a five-gallon tank with dual compressors.
Inside, his game is just as serious. Custom upholstered in white and black throughout, his gauges, moldings, bezels and shifter plate are painted white with blue flakes. The air ride tank sits where the back seat used to be, and as a throwback to the tuners of old, he's even got an Xbox 360 with custom blue carbon fiber-dipped controllers and three TVs, which highlight an insane list of mobile electronics housed in custom racks and boxes in the cabin and trunk.
This is one of the most extreme Camaro builds we've seen in a while, and while it's not everyone's cup of tea, Daniels' has pushed the envelope to create a car that is equal parts tuner and American muscle and worthy of a role in the next Transformers blockbuster.
"At the end of the day you have to realize that you build what you like," Daniels says. "The smile on my face when I see my car made me realize that I built the right car for me." And for any builder, that's really what it's all about.
ESSENTIALS // Owner: Frank Daniels, Vehicle: 2010 Chevy Camaro 2SS/RS, Engine: Chevrolet LS3 6.2L V8, Horsepower: 609 hp, Car Club: Team Absolute
ENGINE // American Racing 3-in. Headers, TorqStorm Supercharger (black anodized), Texas Speed AFM-1 camshaft, Kenne Bell boost pump, Deatschwerks 60 lb. fuel injectors, Nitrous Express 10 lb. nitrous tanks (2), Cold air intake w/ clear housing painted, Jannetty Racing (scoop, custom tune), Camaro strut tower brace, Brembo ABS module cover, American Car Craft (blue LED engine cover with center light, faux polished firewall), White powder coated radiator cover, Multicolor LEDs, Custom painted (engine cover, master cylinder cover, fuse box cover, wiring harness cover), Chrome (battery and cable cover, dipstick, oil cap, radiator cap w/ SS logo)
EXHAUST // JBA 3-in. exhaust
WHEELS // Niche Targa A210 wheels (custom made & painted) – 22x11 (f), 24x15 (r), Pirelli tires – 305/30 R22 (f), 405/25 R24 (r), McGard black chrome lug nuts w/ custom logo
BRAKES // Brembo 4-piston calipers (f/r), R1 Concept (brake pads, custom rotors) (f/r)
SUSPENSION // Airlift struts, AirBagIt Smartride controller (shows pressure and distance), 5-gallon polished tank w/ dual compressors
EXTERIOR // Custom ultra wide body kit, VIS carbon fiber hood, Hyperion grill, Shaved door handles w/ door poppers, Camaro Concept side view mirrors, Gas door relocate, ORACLE (multicolor engine lighting kit, Halo LED headlights), Technostalgia LED tail lights that dance when activated, Advanced Automotive Concepts rear bowtie , LEDGLOW three million color USB lighting kit (underbody, wheel well, grill, trunk), Vertex Super LED strobe lights
INTERIOR // Roadwire custom two-tone leather seats, Diode Dynamics illuminated cup holder and door pulls, Advanced Automotive Concepts LEDs (blue dome, trunk), White paint w/ heavy blue flake (middle console, shifter, gauges , steering wheel moldings, tachometer bezel, kick plates, dash molding, door panel inserts, door handles), Car ID white accent pieces , Polished trunk corner covers w/ white bowtie, Lloyd Mats custom floormats w/ white SS logo and outer pin stripe, Scosche double-DIN deck painted white, 5-gallon polished tank mounted on back seat delete, Custom (enlarged bowtie w/ SS centerpiece, cup holder delete painted white to house LED switches, trunk lid)
MOBILE ELECTRONICS // Pioneer AVIC Z140 head unit, Fahrenheit TVs (3), Digital Design Audio (M3b1 amplifier, C5c amplifiers (2), CM600 amplifier, 2510f-D2 10-in. Subwoofers (4), 1508a-D2 8-in. Subwoofers (2), W6.5 midbass speakers (2), AW6pr midrange speakers (2), AT28pr tweeters (4), CXS6.5 speakers (2), X1.1 signal processor), App-Tronics SmartNav 5 rearview mirror, Xbox 360 (kinect in trunk enclosed with leather inserts, blue carbon fiber dipped controllers), Odyssey batteries (5) (two with lockdowns), Custom (ported subwoofer box in back seat, amp rack in back seat, amp rack in trunk, amp rack slider)
SPONSORS // Late Night Customs, Digital Design Audio (DD Audio), TorqStorm Superchargers, VST (Virginia Solar Tinting), Niche Road Wheels, Pirelli, R1 Concepts, ORACLE, Halo Super Cars, McGard, RoadWire, , App-Tronics, ODYSSEY Battery, 742 Marketing, Diode Dynamics, D2BD Motorwerks
Contributor: Paul Crisp