Photography by Jordan Donnelly
---
Opus" is an old English term for an undertaking of great magnitude, like a masterpiece of art or an epic story. Homer's Odyssey is a perfect example. The subject of this tale, the Orion Car Audio 2005 Dodge Magnum SXT, can certainly be considered a creation of great magnitude, and of even greater volume.
When Orion found themselves in need of a heavy-hitting display vehicle, the group green-lit the acquisition of the Dodge Magnum you see in these pages. They tricked out the exterior with an OEM Dodge SRT-8 fiberglass hood painted black to match the two-tone black and silver finish. Naturally, Orion graphics adorn the sides. It is slammed on Tein springs, and fitted with a set of fully-polished 20-inch Konig Blix 3 wheels and Falken tires. A full Pypes exhaust system with polished tips and dark tinted windows complete the beefed-up exterior down to the finest detail.
But it is inside where the real show begins. A custom vented trunk enclosure holds three of Orion's HCCA122 dual 2 ohm subwoofers. These massive-motor drivers require a staggering 2,500 watts of continuous power – each!
They're also completely re-buildable according to Orion, should you somehow manage to damage one. With three of these firing backwards out of the hatch, they generate an effective and punishing wall of accurate bass frequencies. The wall is powered by an HCCA 8000.1D mono amplifier, running on an efficient MOSFET Class D architecture at a "ridiculously low impedance" value.
We're not certain this is even street-legal due to the sheer volume of sound it can produce.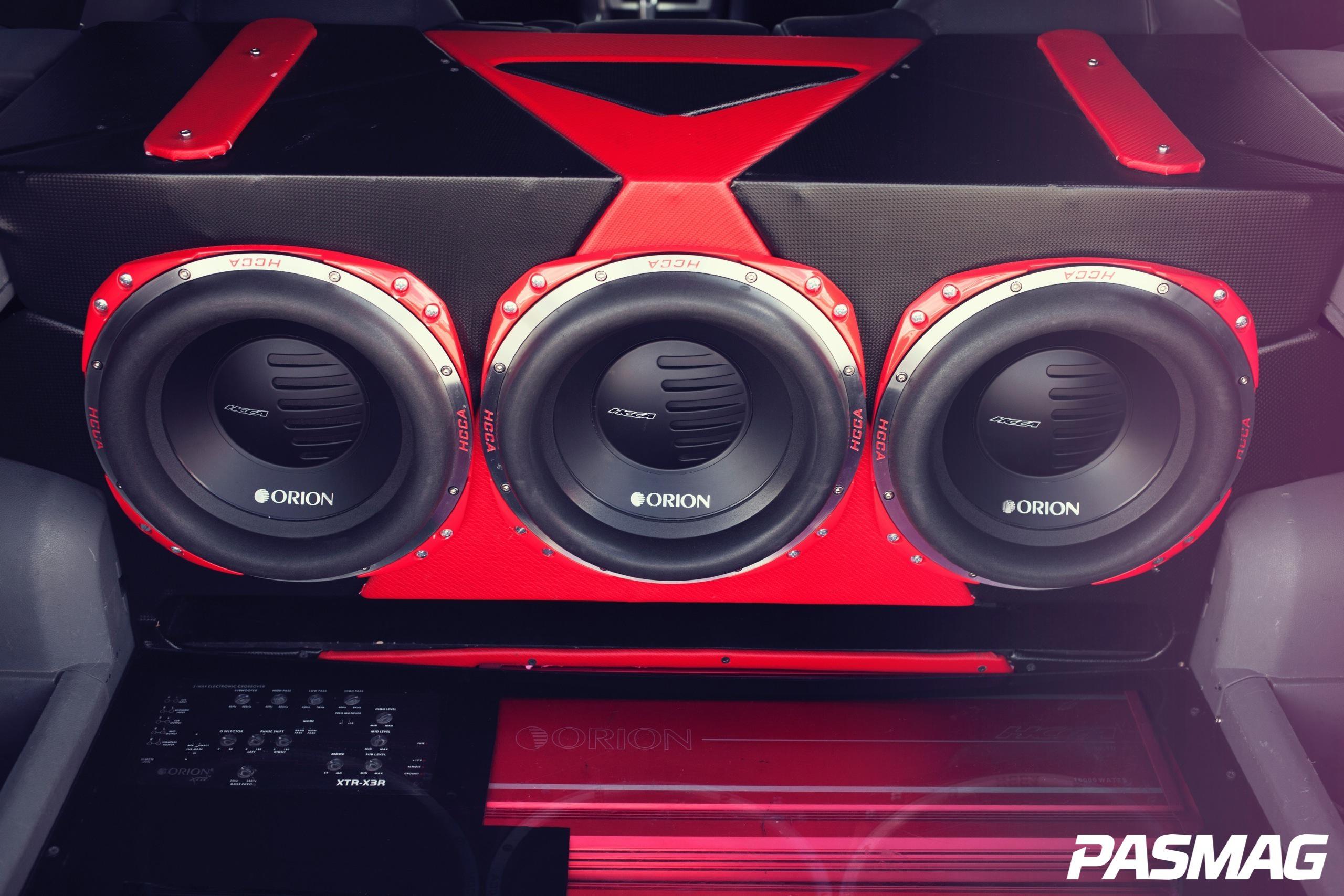 To ensure the other key frequencies weren't left out, Orion customized the hatch lid with two HCCA 104NHP mid-bass speakers, two HCCA 84N mid-range speakers, and four HCCA TN-1 tweeters. Power for these are split between an HCCA 2000.4 amp for the mid range and an XTR 600.4 for the high frequencies. These deliver an additional 2,600 watts of reinforcement. The system total in the hatch is well over 5,100 watts of pulse-pounding RMS.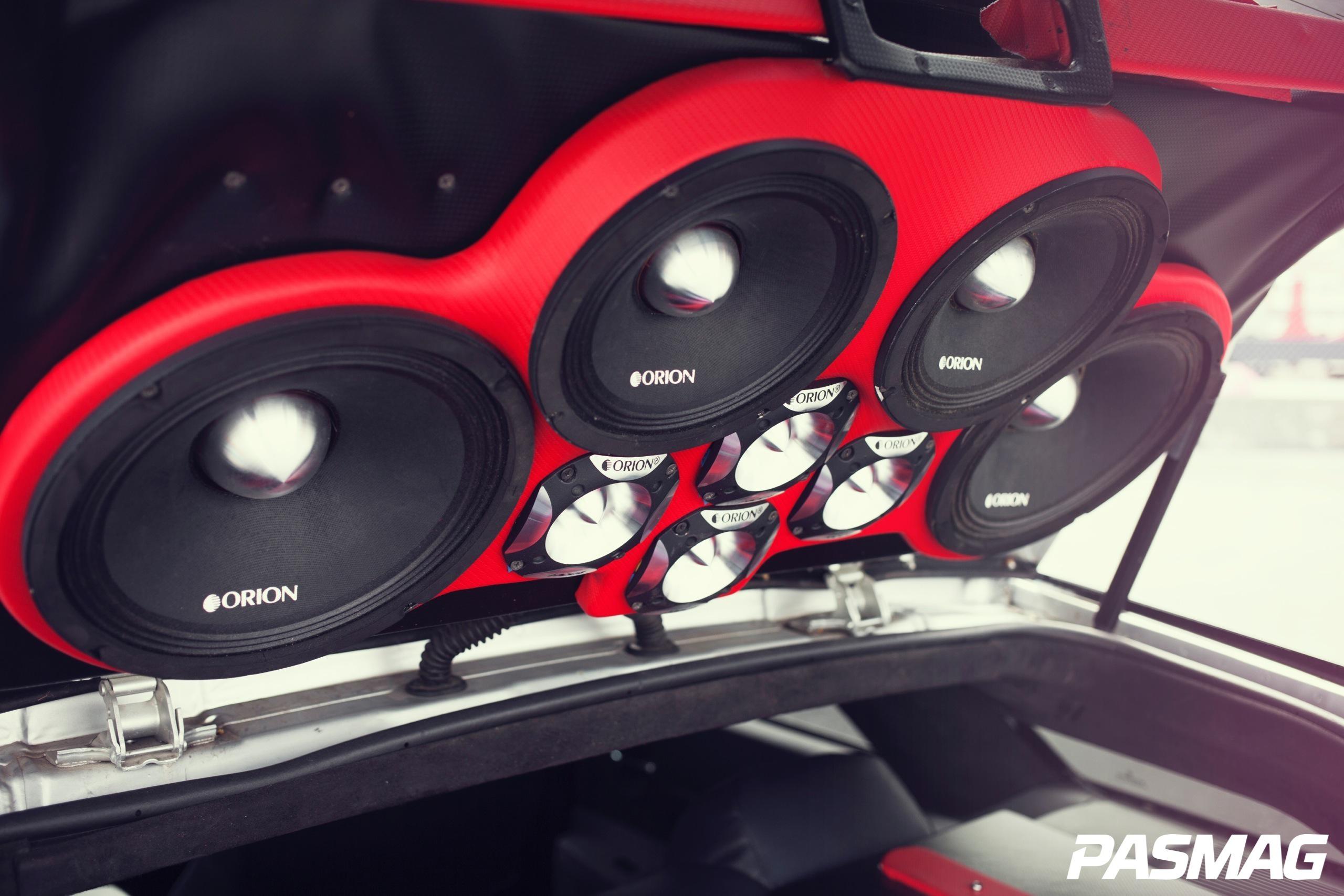 All of this is controlled with one XTR-X3R three-way active crossover, meaning the mid bass and mid range speakers are covering the same range. Somehow, we don't think anyone who witnesses this is too concerned, as the name of the game is sonic domination.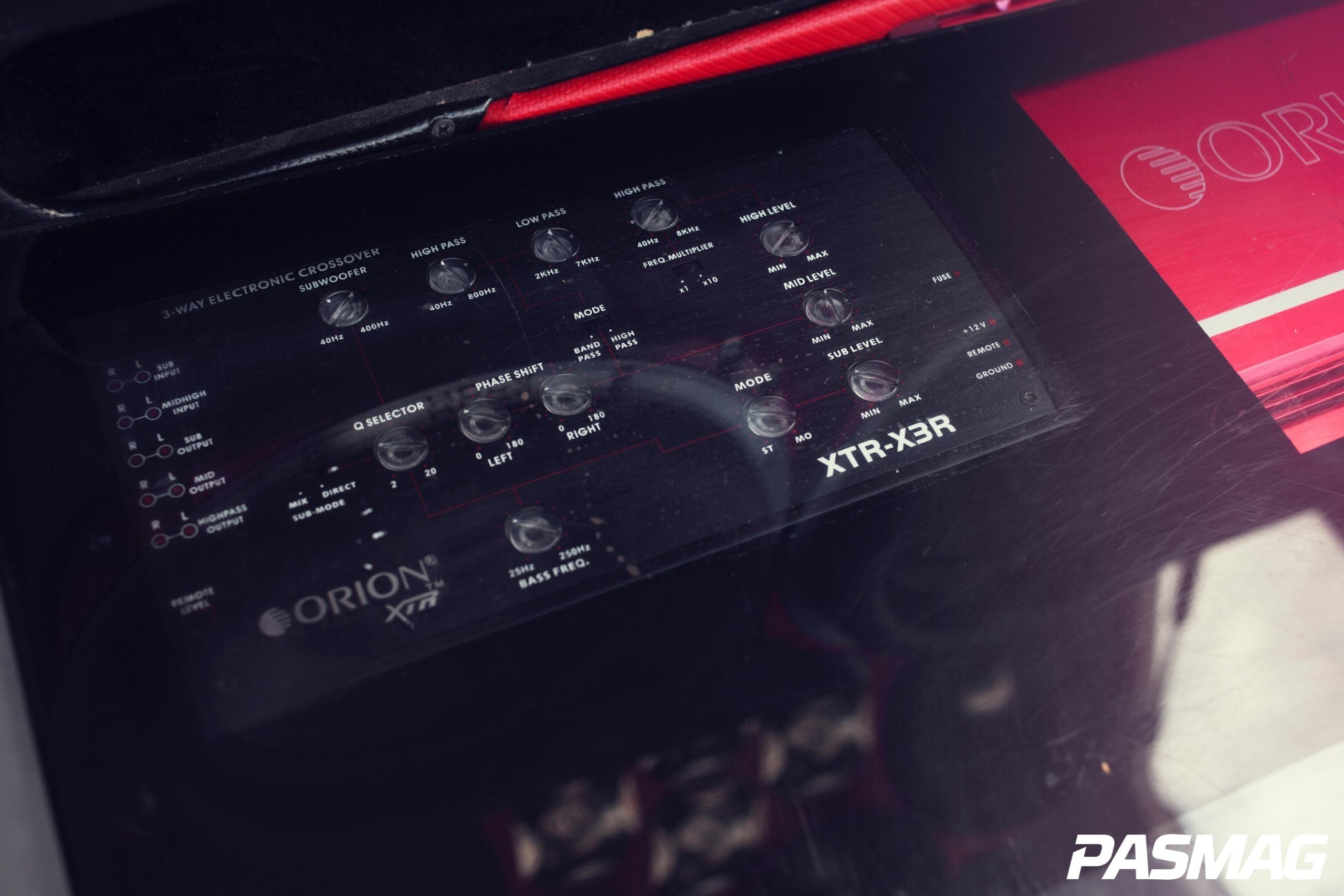 As multiple show winners, Orion is very proud of their past credentials, and this display vehicle is no exception. The "amps under glass" approach has been used before, but it always looks snazzy and clean – especially with an amp as large as the HCCA 8000.1D.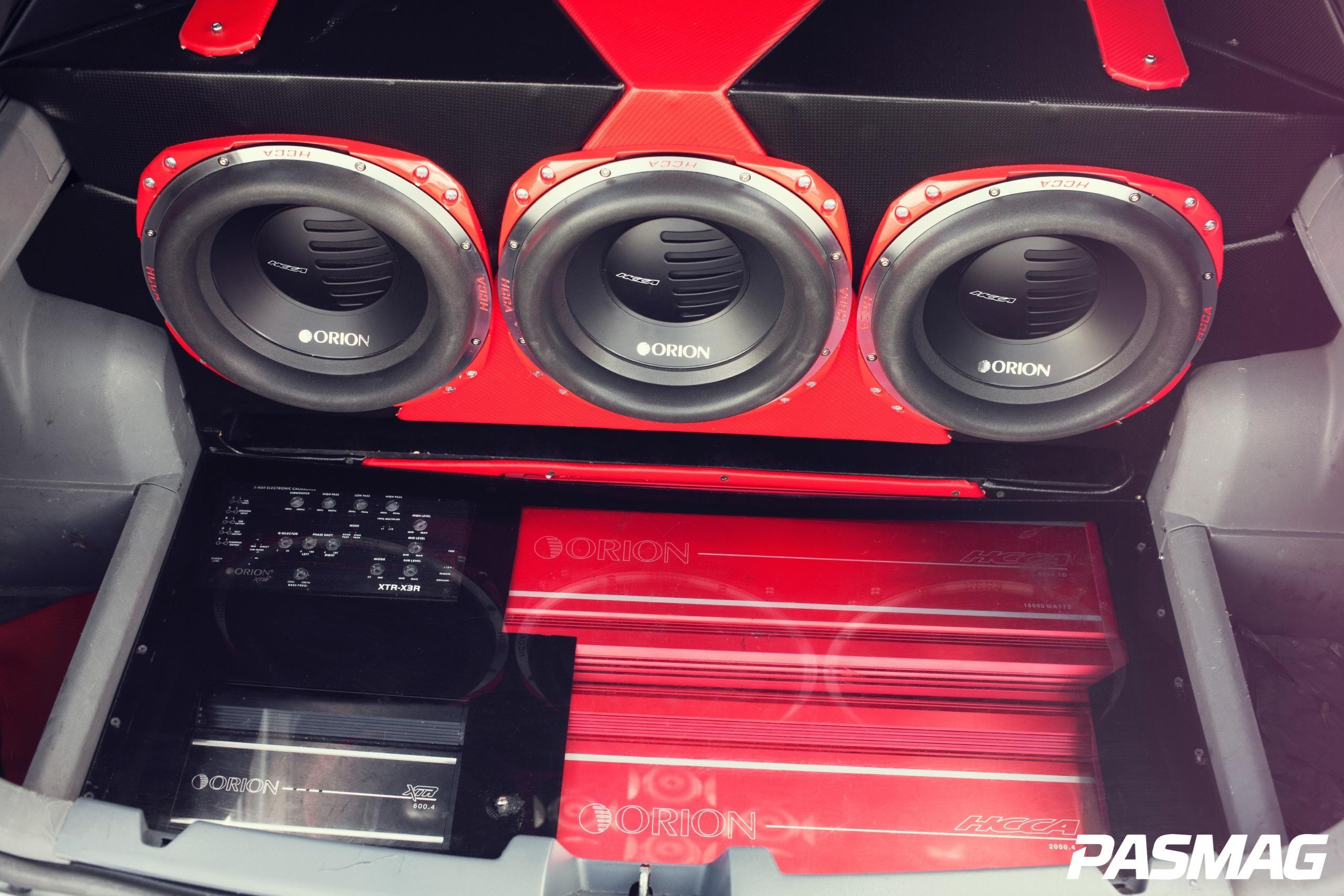 Filling sound inside the cabin comes from two pairs of XTR 65.SC components and an XTR 350.4 amp, firing off 350 watts divided by four channels. The signal is supplied by the Pioneer AVH-X2500BT which offers Bluetooth connectivity to iPhones, iPads, and other supported wireless devices. The ability to carry several weeks worth of music in your pocket has totally changed the car audio game, and for the better, we might add.
The big touchscreen DVD system sits comfortably in the dash over top of the crossover bass control remote. This allows for as much as 18 dB of bass boost, just to better stun the crowds. Two Shuriken batteries and Orion's own main fuse holder and O-gauge wire deliver the juice to the Orion Wired distribution blocks.
To dress the rest of the interior they added custom seat covers embroidered with "MD/ Owire" on the seat backs, and floor mats embroidered with the Orion logo. A Directed 10-inch drop-down rear seat monitor ensures guests in the rear seat have a good view of the show.
Orion doesn't have to slay a giant or a wolf to gain their street cred like the heroes of old. Those days are long behind us, but they built a monster audio system – and in an incredible three days. And that's a crowning achievement that stands on its own merit.
ESSENTIALS
Vehicle: 2005 Dodge Magnum SXT
Built by: Orion Car Audio/MD Audio Engineering, Inc.
Engine: 3.5L V6
Horsepower: 260 hp
Torque: 250 lb-ft

ENGINE MODIFICATIONS
Stock

EXHAUST
Pypes exhaust system w/ polished tips

DRIVETRAIN
Stock

CHASSIS / SUSPENSION
Tein S.Tech lowering springs

WHEELS / TIRES / BRAKES
Konig Blix 3 wheels – 20 x 8.5 (f/r)
Falken Azenis tires – 255/35R20 (f/r)

EXTERIOR
Two-tone black and silver paint
Dodge SRT-8 fiberglass hood
Orion Car Audio graphics

INTERIOR
Custom-embroidered seat covers
Custom floor mats

AUDIO / MOBILE ELECTRONICS
Pioneer AVH-X2500BT head unit
Orion Car Audio (XTR-X3R crossover network, HCCA 8000.1D subwoofer amplifier, HCCA 2000.4 mid-range amplifier, XTR 600.4 high-frequency amplifier, XTR 355.4 rear fill amplifier, HCCA 122 dual 2 ohm subwoofers (3), HCCA 104NHP mid-bass speakers (2), HCCA 84N mid-range speakers (2), HCCA TN-1 tweeters (4), XTR 65.SC component speakers (2 pairs), OWFHANL20DIGIV main fuse holder, 0-gauge power wire, Wired distribution block)
Directed 10-in. rear ceiling-mount monitor
Custom vented enclosure
Shuriken batteries (2)

SPONSORS
Orion Car Audio