Photography by Eric Eikenberry
---
Let's suppose for a minute that you are a sports coupe. What would perfection look like? What would it sound like? How would it feel, as a car, to be the undisputed champion in your class. If that were the case, you might be a BMW 1M; a quick limited-edition coupe based on a 135i, hailing from the racy M-Sport side of the company. Stealth black might be the ideal color for a Q-ship (Google it, history is fascinating) like this, but Harold Lin, the founder and CEO of HP Autosport in Santa Barbara, California has found that bright white makes a more than acceptable substitute in the West Coast sunshine. Do not be fooled by its commonplace appearance. This is one bad-fast machine.
| | |
| --- | --- |
| | |
The 135i is a highly competent vehicle in its own right. BMW publicity-meisters have it right; they do aim to build the "Ultimate Driving Machine" with every model they release. However, the 135i suffers from numb steering and a touch of understeer as delivered. This is intentional. Something must be used to prevent complete noobs from spinning out and crashing backwards at the first wet corner. The 1M faces no such limitation with its handling, graced, as it were, with the DNA of the e92 M3 platform. The 1M's wider track comes courtesy of the M3's front and rear control arms and steering rack, making for a wonderfully-precise instrument of corner-carving delight. Somewhere in its archives, BMW has determined the precise ratio for steering wheel input to actual turning radius, and stamped it into gold-plated cards handed out to every chassis engineer at M-Sport.
| | |
| --- | --- |
| | |
To set the corner balance, Lin matched up Swift springs with an Ohlins Road&Track single-adjustable coil-over DFV shocks and Vorshlag camber plates. "The combination of Monotube dampers and DFV technology give the R&T coil-overs a Dr. Jekyll and Mr Hyde personality with a few simple clicks of the adjustment knobs." At the rear Lin has added his own quick-change rear spring kit (the rear springs directly control rear tire grip and need to be swapped to better match track conditions). All of this with the aim of destroying lap times. In other words, with these changes and the aggressive Michelin Pilot Super Sport tires (255/35R-19 front and 275/35R-19 rear) Lin has wrapped around BMW Competition Package wheels, the 1M's cornering grip has improved into the stratosphere without appearing much different from stock. To fully realize its potential requires a track, a helmet, and a fully-qualified driving instructor. Yes, it's that good.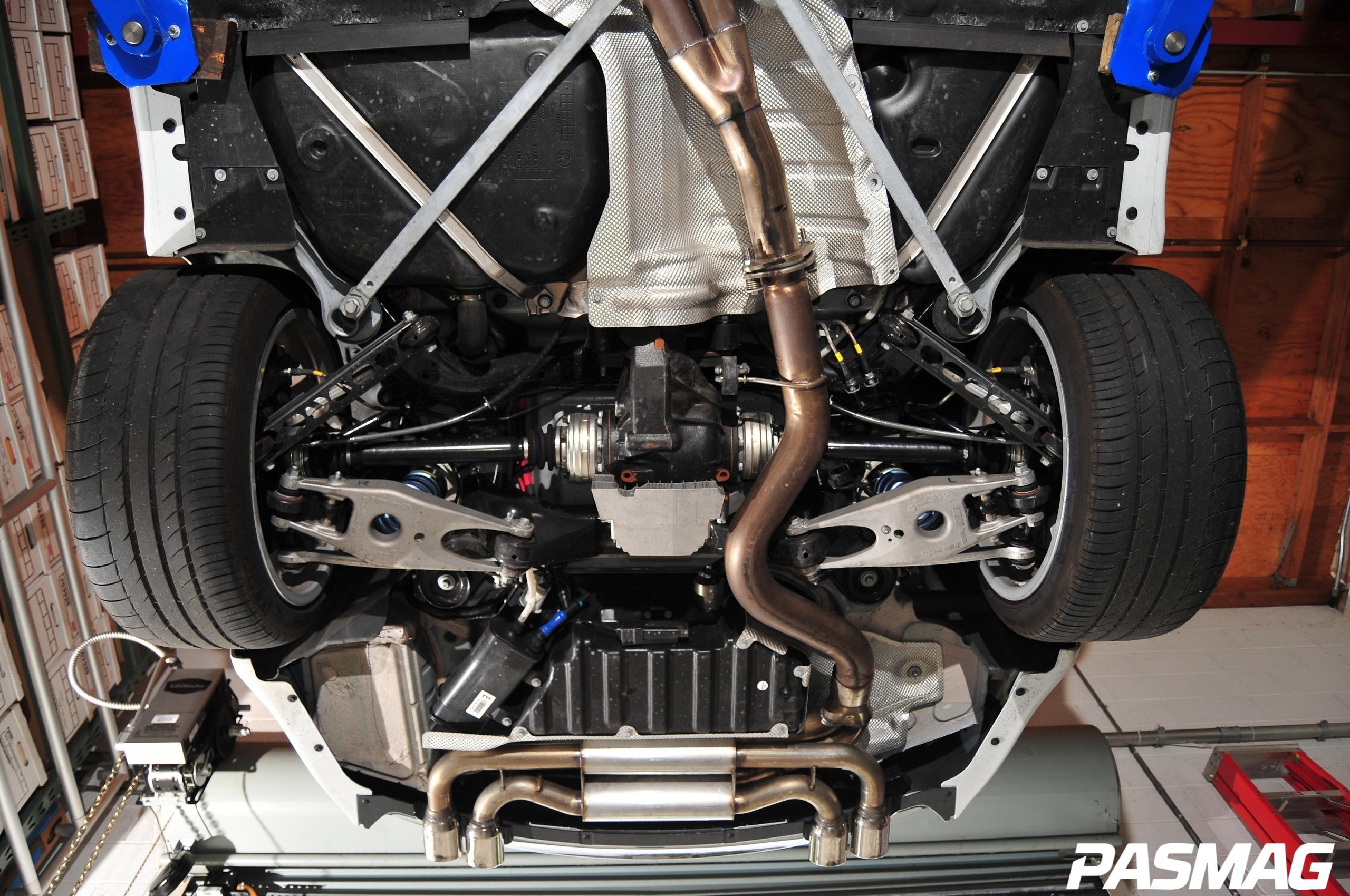 While the stock brakes were very capable units and matched to the grip of the OEM tires, Lin stepped up to a massive Stoptech Trophy Sport package. The forged aluminum STR calipers are lighter than stock, the two-piece full-floating AeroRotors are lighter and cool more efficiently, and each caliper's center bridge stiffener can quickly be removed for rapid pad changes if needed. They're designed to handle the weight of the full-size M3 and represent a fanatical level of overkill for the typical 1M. Bear with us though as we're about to establish why they are completely necessary on Lin's creation. A stock 1M busts out a very generous 340 horsepower at the flywheel from its twin-turbocharged N54 during the full-throttle overboost cleverly built into the ECU software. Aren't dual turbos and computer-controlled waste-gates grand? Lin's weapon of mass destruction spins the rollers at just over 390 at the sticky rear tires, which equates to about 440 at the flywheel. Significantly more than the V8 M3 can muster. Those bigger brakes are not for show.
| | |
| --- | --- |
| | |
In preparation for more boost, Lin upgraded the front-mount intercooler to one from Forge Motorsport, which combines a thicker, more efficient core with direct-fit couplers, creating a factory level of attachment security. Air inhalation is courtesy of an AFE Stage 2 intake with dual air scoops. The consumed gases exit through a Mad Dad mid-pipe and a Borla axle-back exhaust. The charge pipe comes from Evolution Raceworks and holds a TiAL blow-off valve in place of the basic unit from BMW. What makes the magic happen is a GIAC Stage 2 flash program for the ECU, with the Race Fuel Map option and a hand-held switcher. There's a solid one hundred ponies and eighty foot-pounds of torque waiting to be released from the N54 with these few engine tweaks. Adding larger turbos could boost it farther, but folks, we've got to assure you that this 1M is a rocket.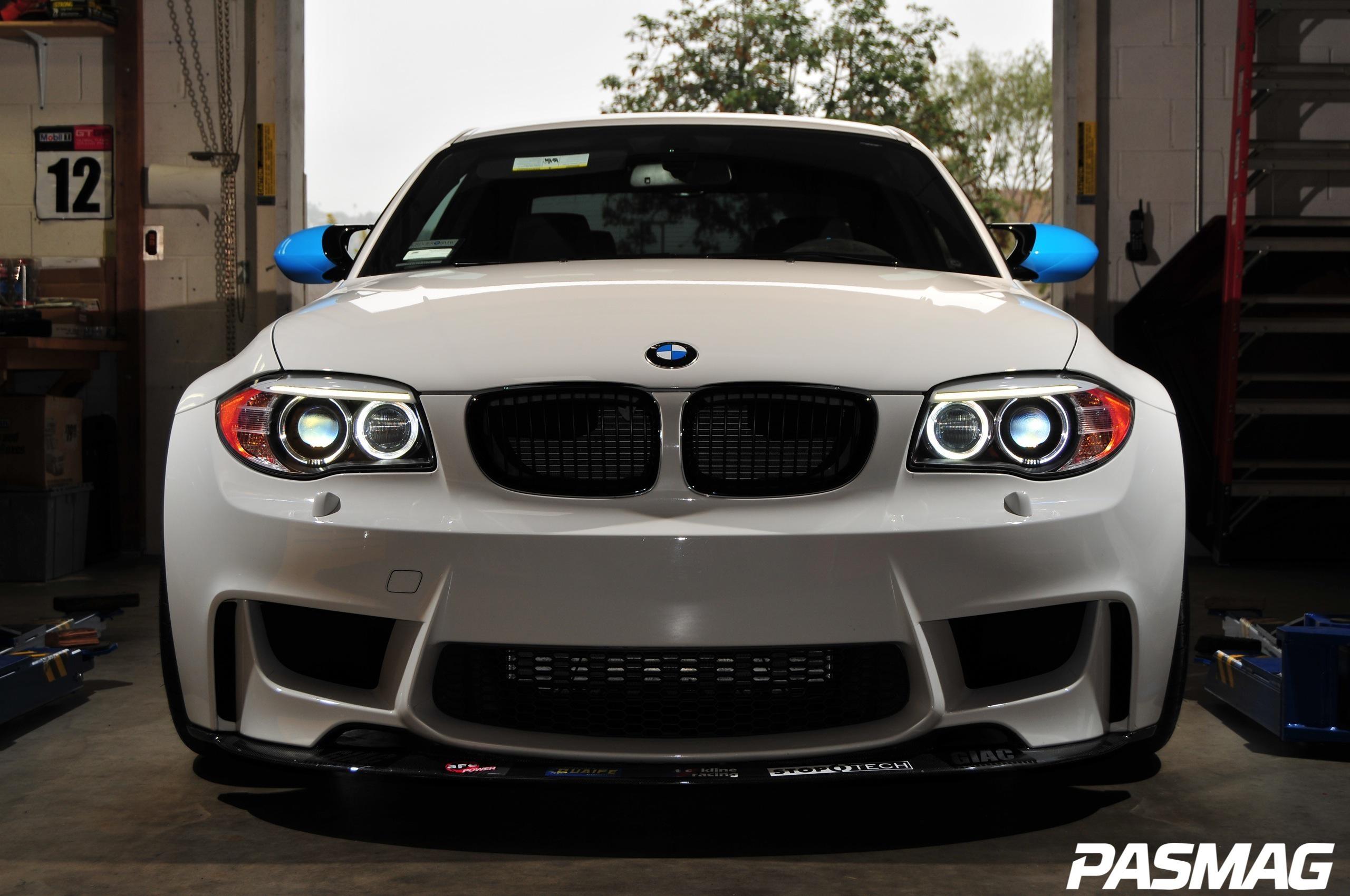 One of the points BMW got very right is the six-speed manual transmission. While their dual-sequential gearbox is very nice there's just one thing it does not do well; it won't coast. The sequential box always has a gear engaged, whether you're on the throttle or off of it, and that can affect the grip the rear tires have. The 135i only comes with the DSG transmission, and it makes the fastest corner-carving entry-level machine we've ever witnessed but, it cannot hold a candle to the 1M. Rowing the gears, sensing each gate snick into place in typical German fashion, and feeling the quicker M3 hydraulic clutch delay valve slam the disc against the flywheel should be a right of passage from boyhood to manhood. Fun is mandatory, tire smoking launches are optional. Mastering up and downshifts, feet dancing on the Ultimate Clutch Pedal Lin installed, whilst controlling super-precise steering and a hyperactive throttle is what makes driving a sport. If it wasn't difficult, then we'd all be the second coming of Juan Manuel Fangio, and clearly we're not. Lin's BMW Competition steering wheel entices you to throw down the cell phone, turn off the radio, grab it with both hands and wrest the most amazing experience you've ever had in a car out of it before the cops find you and arrest you for breaking every automotive statute on the books. Maybe it's a good thing BMW sold so few of these in the U.S. after all.
| | |
| --- | --- |
| | |
As stock as its white exterior appears, Lin did add some subtle touches, like the BMW Performance blacked-out grill. The rear trunk lid is topped by a BMW carbon fiber lip spoiler. He's also installed a SleK carbon fiber front splitter and a Borla rear diffuser, which is perhaps the biggest tell of all; high speed stability (anti-lift) aides should always be a warning to the uninitiated. Well, those and the monstrous brakes, and the sticky rubber...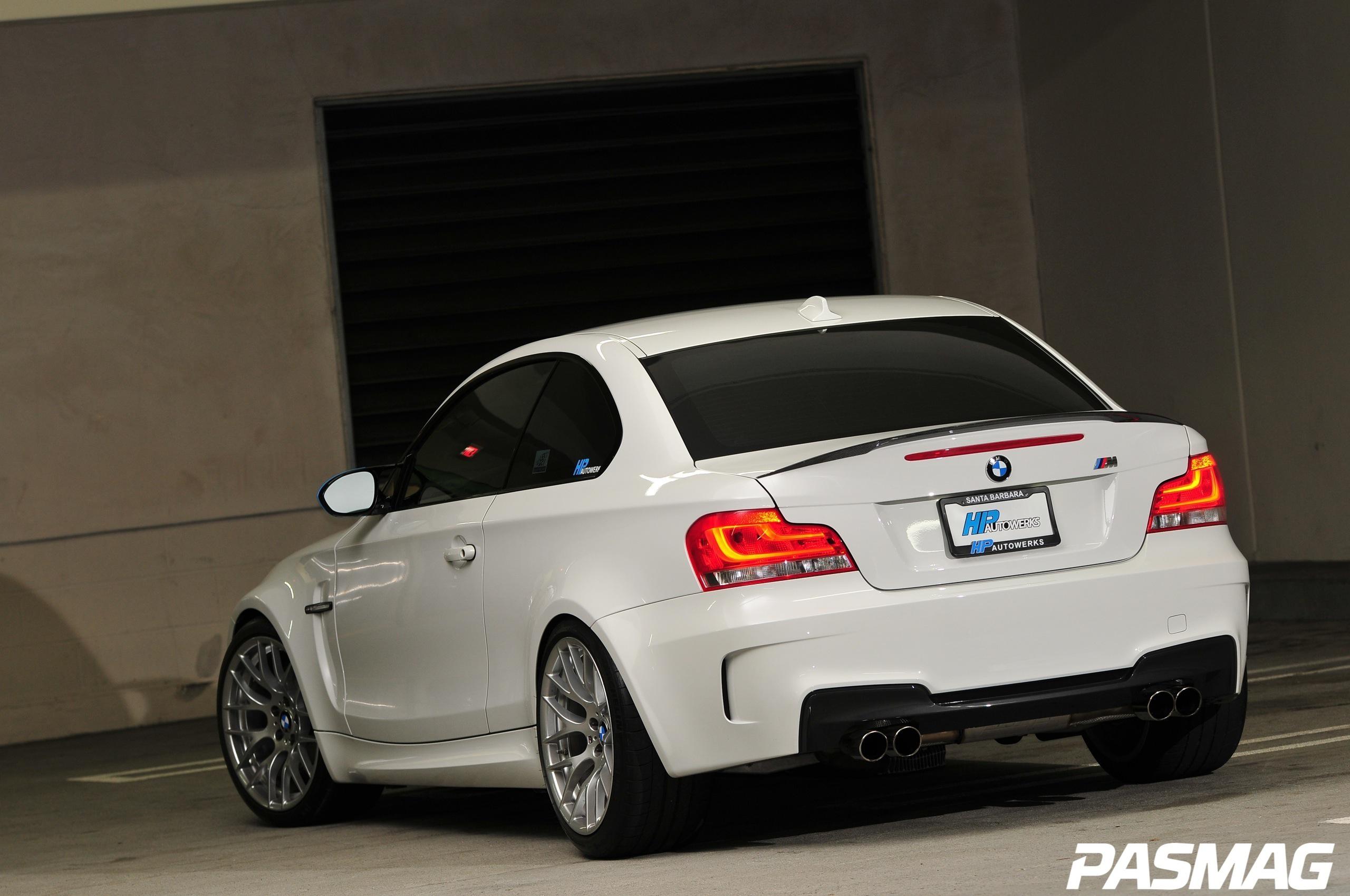 Let's just say this wolf in sheep's clothing has a few gaps in its camouflage; a few big teeth showing. And this is exactly what Lin intended. "The 1M has all the capabilities of the M3, but in a much lighter package. It will do everything the M3 can do, but it does it better!" This is the flagship for HP Autosport and as such, perfection is demanded. To that end, this platform is an ongoing experiment to find the ultimate mix of parts, and Lin never hesitates to change out any component he feels could stand for an improvement.

ESSENTIALS
Vehicle: 2011 BMW 1M
Build by: HP Autosport
Engine: N54 twin-turbo straight-six
Horsepower: 390 hp

ENGINE MODIFICATIONS
GIAC Stage 2 flash program with race fuel map and handheld switcher
AFE Stage 2 Intake with air scoops
Forge Motorsport front mount intercooler
Evolution Racework charge pipe with Tial blow-off valve
Mad Dad mid pipe
Borla axle back exhaust system
Ultimate Clutch Pedal

SUSPENSION
Ohlins Road & Track adjustable shocks with Swift springs
Vorshlag camber plates
HP Autosport rear quick change spring kit

WHEELS/ TIRES/ BRAKES
Stoptech Trophy Sport big brake kits, front and rear
M3 Clutch Delay Valve

EXTERIOR
BMW Performance Black Grille
BMW Performance Rear Deck Spoiler
SleK Front Splitter
Borla Rear Diffuser

INTERIOR
BMW Performance Alcantera Steering Wheel