It has often been said, "If you want something done right you've got to do it yourself." We've heard it so frequently in the modified car arena that it's become second nature, a truism which should have been carved in stone and handed down by God to Moses on Mount Sinai. Well, that's all fine and dandy, but most owners simply can't do it all themselves. Most people lack the necessary skills, temperament or even the time to thoroughly re-finish a Honda Civic from top to bottom. Some people are lucky if they manage to fix a cup of coffee without injuring themselves. If we are to judge a man by his Civic then Brian Camacho is not one of those people.
Camacho's 1992 Civic Si entered his possession almost by accident. He and a friend were on a parts run to pick up a carbon fiber hatch when he spotted this shell at the seller's house. It hadn't been listed yet and for only $500, Camacho towed it home the next day. Just one day later, he'd already stripped the shell bare and work on the custom cage began. There are only two items he did not build himself. The first is the eight-point roll cage made to fit the full interior, built by Jesse Hanna of JSFAB. This wasn't Camacho's first Honda product. His first EG coupe was stolen in 2009 and since then he's owned a succession of Civics and Integras, culminating with an Integra GSR with a self-built B20B engine he's been using in his rides for the past few years. Once the hatch came home, the GSR was the first casualty, with the shell sold to buy more gear for the EG.
After Hanna finished the cage, Camacho quickly reassembled the interior with Bride Gias Low Max seats and added some drag slicks and skinnies to all four corners. He also installed a big Precision Turbo 6262, TiAL wastegate and blow-off valve, and an appropriately large front-mounted intercooler under the hood. His goal was to track the Civic at Import Face-Off Las Vegas in May 2012, but an incorrect computer map kept him on the sidelines. Two weeks and a fun dyno session later, Camacho's timing map fix produced a whopping 507 horsepower and 370 pounds-feet of torque. One simply does not do such things on a stock B20B bottom end; the resulting thrown rod was inevitable. "I didn't care, I just wanted to make it to IFO."
It was at this point that the Civic began to look like the golden-hued gladiator pictured in these photos. For the second time, Camacho tore it all the way down to the bare shell and handed it back to JSFAB for A and B-pillar gusset plates. Extraneous holes in the engine bay were filled with sheet metal, shaved down, and smoothed out. "Next door was a body shop and I hated doing body work and wanted the exterior to come out clean so I handed [the shell over to them]." The problem was mostly solved except the primer in the engine bay refused to dry. Camacho stripped the engine bay, resprayed the primer himself and proceeded to prime the interior and cage too. Next up is the paint application: Lemon Quartz Gold Pearl.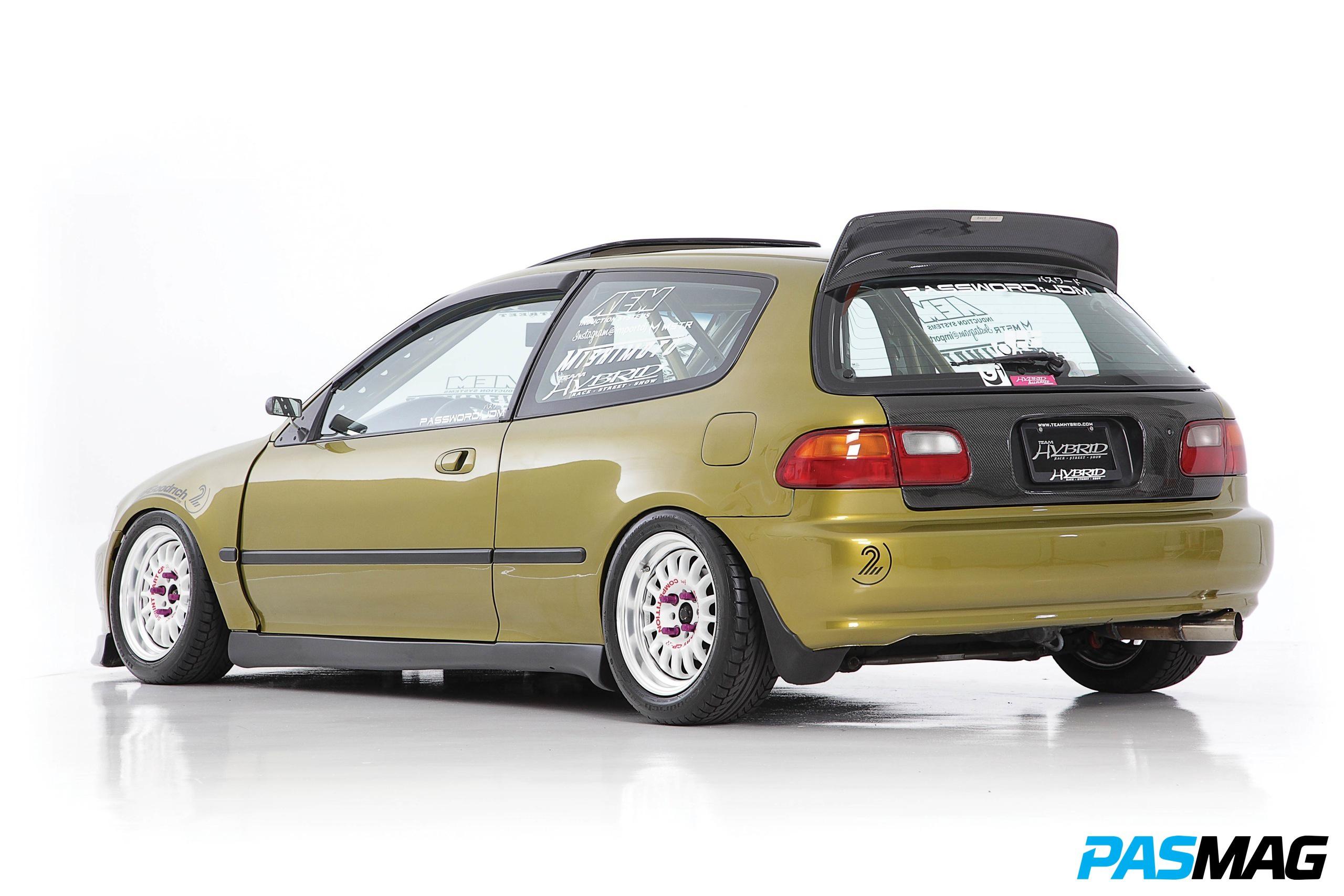 While waiting on the body work, Camacho purchased an Energy Suspension master bushing kit and proceeded to work his way through every bushing on the car, including the worn out urethane ones in his Blox rear lower control arms. With front and rear Skunk2 camber adjustable arms, a Skunk2 rear tie bar, a JDM SiR front sway bar, and a Ground Control coil-over sleeve system on Koni Yellow shocks, Camacho's Civic handles far better than the day it rolled off the showroom floor. He also sourced and installed front and rear '96 Integra Type-R spindles, calipers, rotors and braided stainless steel brake lines from Marissa's Hoses. Going to the 4x114mm pattern means new wheels. A beautiful set of Sprint Hart CP-Rs now fill the Civic's wheel wells. Though they're only 15x6.5-inch, the +10 offset gives his Civic a very wide stance without the use of spacers. The wheels are wrapped with BF Goodrich g-Force Sport COMP-2 tires which Camacho describes as being both comfortable and grippy.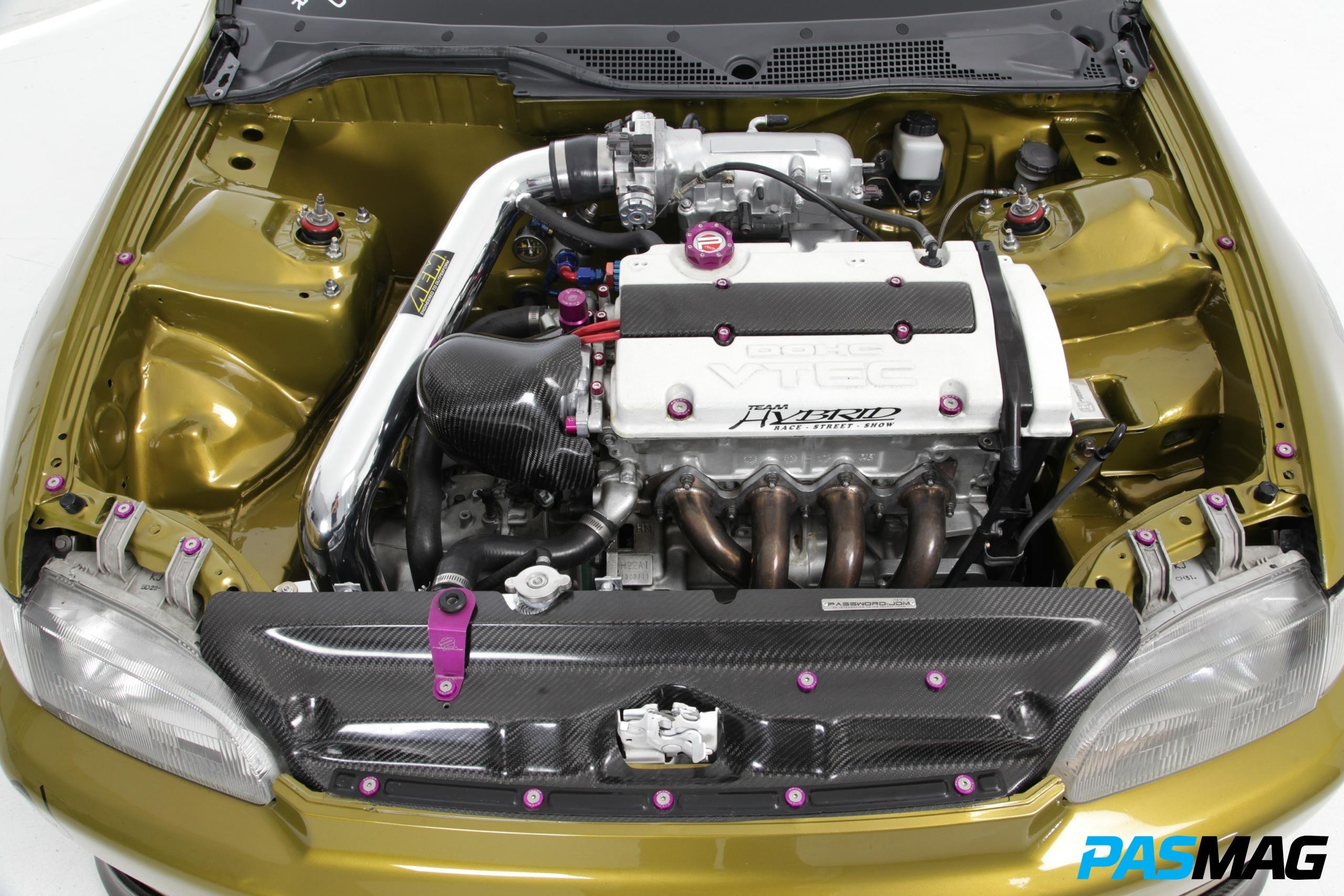 After the turbo-induced rod failure, he picked up a JDM H22A1 (Prelude) engine and went to town. He had Baker Cylinder Heads perform a stage three port and polish, adding half-millimeter oversized valves, springs, and Titanium retainers from Supertech under JDM Type-S cams. He cinched it to the stock bottom end with the ever-popular ARP head studs then added DSM Turbo 450cc injectors and a BDL Bronze fuel rail. A Walbro fuel pump capable of 255 liters per hour provides more than enough fuel to keep his mild build happy and he's using Hondata's ever-popular S200 P28 ECU to control the maps. A 3-inch AEM cold air intake mated to a Blox 70mm throttle body ensures sufficient airflow while a stainless steel 4-2-1 header blasts the hot gases back to a JSFAB 2.5 to 3-inch mandrel-bent exhaust system. Camacho even installed a Cherry Bomb 2.5-inch glass pack resonator to deepen the tone in lieu of the typical oversized muffler and rear tip. All of the wire and hose tucking in the engine bay was completed by Camacho, along with the assembly of the car, though he does admit his friends came by to help out from time to time. One unusual touch is the large Fluidampr harmonic balancer in place of the OEM crank pulley, which requires additional room on the driver's side frame rail for clearance.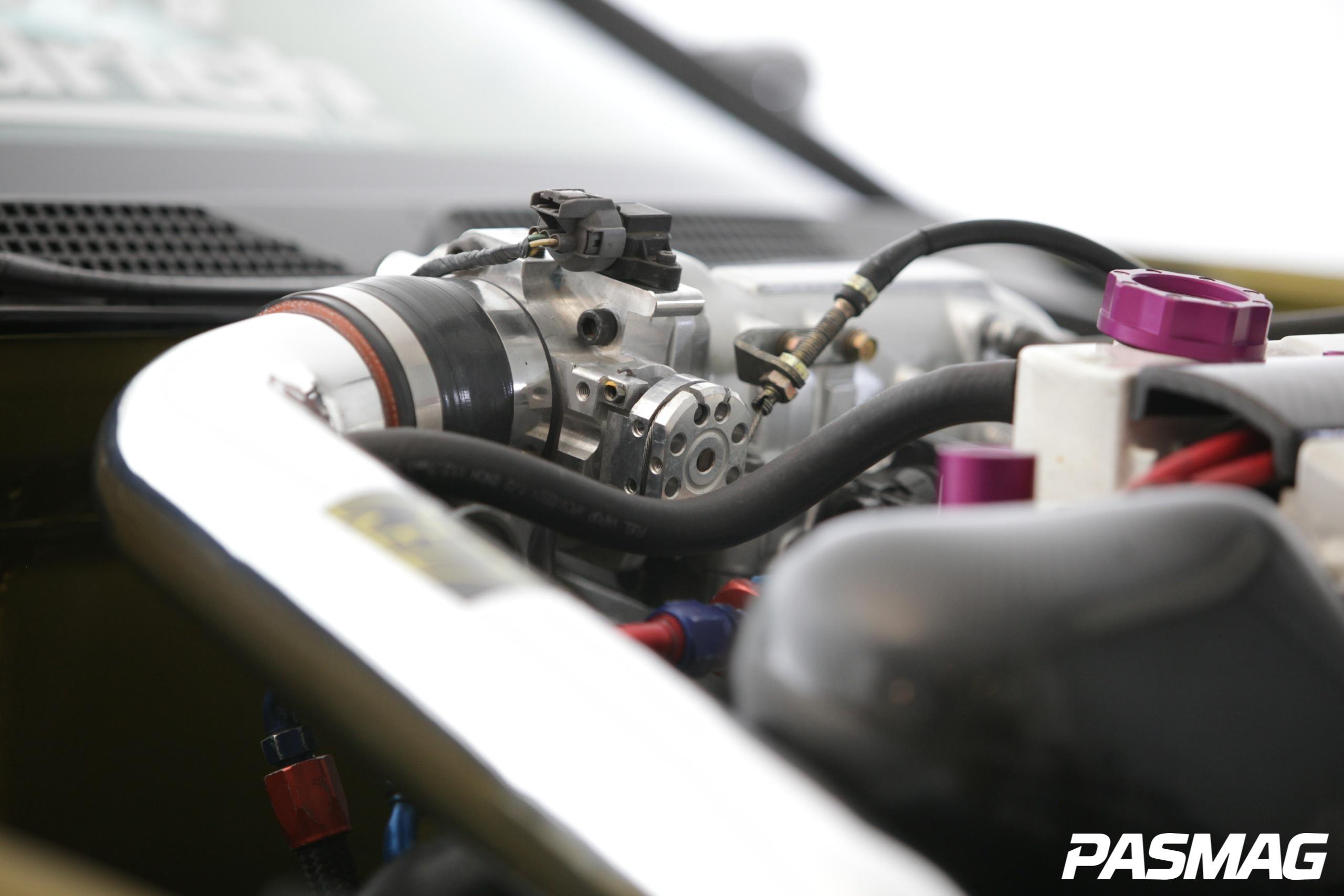 The adapter kit for the H2B swap is made by Quarter Sports Drag, and allows Camacho to run a B-series transmission for better gearing and acceleration. He's also using a Quarter Sports Drag's alternator relocation kit for a cleaner look that also adds a bit more room behind the engine. Since he converted to a manual steering rack, there is no need for a power steering pump or AC components, which were discarded long ago. This is a very back-to-basics machine built to simply put the power on the ground. He even eliminated the vacuum-powered brake booster with the Rywire-Wilwood delete kit. Please take note of the tucked brake lines. If you've taken your entire car apart twice, why not? The 5-speed transmission comes from an Integra GS-R and was augmented with GearSpeed carbon synchros and a Type-R limited slip differential. Shifting is actuated by a Skunk2 short shifter rowing a JDM Type R linkage. Spinning the B-series transmission is a Competition Clutch 12-pound flywheel and a Stage 4 six-puck clutch. After all of his effort and out-of-pocket expenses, Camacho finally obtained a few sponsorships from Mishimoto, AEM, Password:JDM, and is polishing his new paint with Meguiar's products.
Camacho credits much of his recent show success to being a member of Team Hybrid. "I joined Team Hybrid in April 2013 towards the Hybrid or alone at different events, with the help of Founder/ President of Hybrid, James Lin, has been a great and amazing experience. Everything I knew about going to shows and being a part of the car scene has stepped up for me since I joined Team Hybrid." Since its completion, Camacho's Civic has accumulated an impressive array of show hardware, capturing Best Honda at SPOCOM Anaheim, Best Civic at Extreme Autofest San Diego, Best Honda at EOS Las Vegas, Best of Show, Best Honda, and Best Engine Bay at the Freeway Series in Pasadena. In spite of that, he's immeasurably modest, and views himself as someone who's lucky to be able to overcome all of the construction challenges of the last four years and emerge on the other side with a properly finished machine. It goes to show that DIY doesn't have to mean duct tape and wire ties. Hard work and smart decisions can still pay big dividends. If that advice isn't golden, we don't know what is.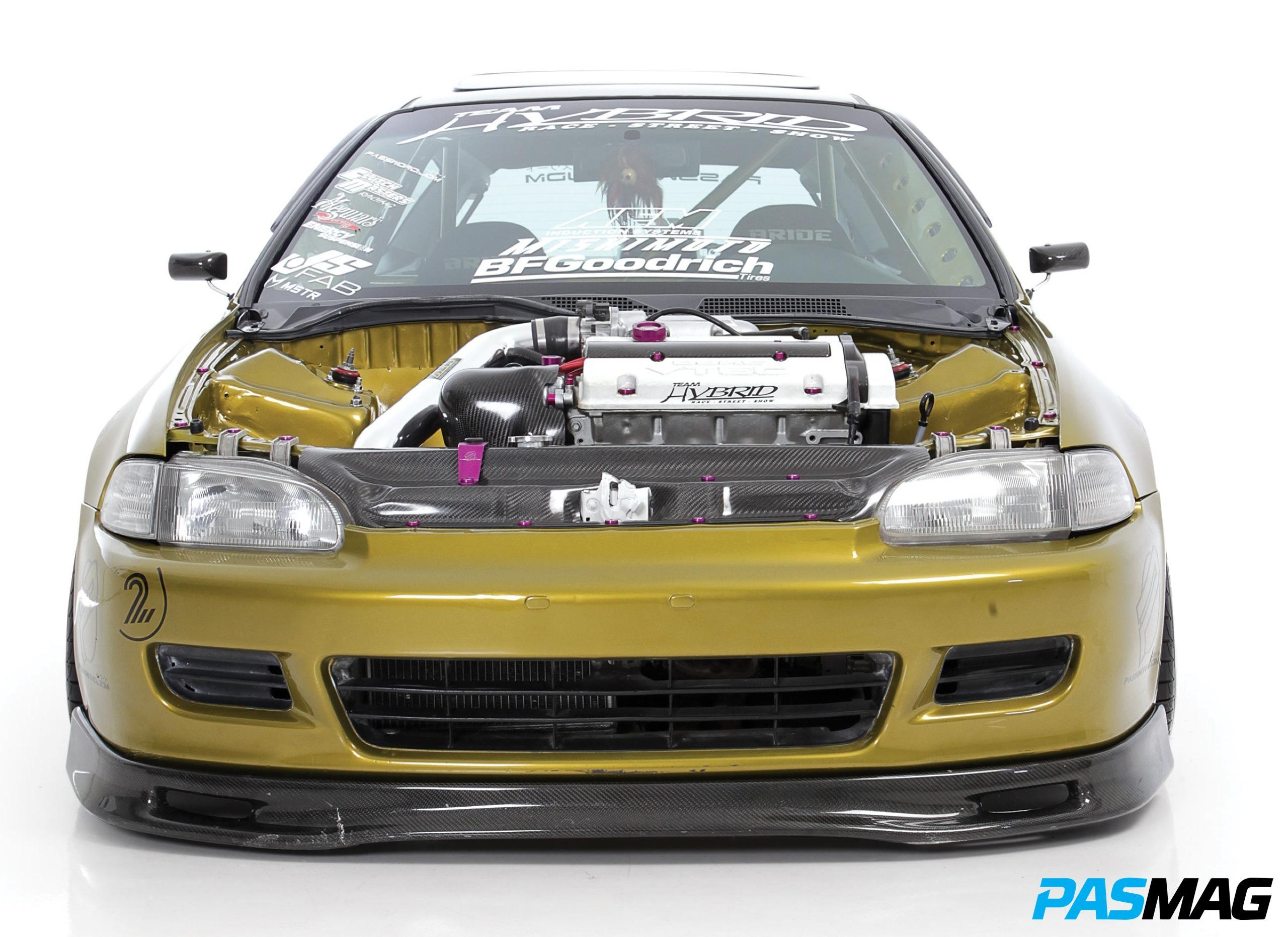 ---
ESSENTIALS
Vehicle: 1992 Honda Civic
Owner: Brian Camacho
Club Affiliation: Team Hybrid
Engine: Honda H22A1 2.2L
Horsepower: 220 hp
Torque: 170 lb-ft
ENGINE MODIFICATIONS // Stage 3 port and polish, Supertech (valve springs, titanium retainers, 0.5mm oversized valves), AEM 3" cold air intake, Blox 70mm throttle body, BDL (Bronze fuel rail, fuel pressure regulator), Walbro 255lph fuel pump, Honda JDM H22 Type-S camshaft, DSM Turbo 450cc Blue Top injectors, NGK BKR7E-11 spark plugs, MSD 8.5mm ignition wires, ARP head studs, Mishimoto fan shroud, Password: JDM (oil cap, carbon cooling plate, distribution cover, spark plug cover), Hondata S300 P28 ECU, Fluidampr harmonic balancer
EXHAUST // JSFAB custom 2.5" to 3" mandrel bent exhaust, Stainless steel 4-2-1 header, Cherry Bomb glass pack resonator
DRIVETRAIN // Competition Clutch (Stage 4 6 puck clutch, 12lb flywheel), Honda (Integra GSR 5-speed transmission, Integra Type-R LSD, Integra Type-R shift linkage), GearSpeed carbon synchro springs, Braided clutch lines, Skunk2 short shifter
CHASSIS/SUSPENSION // Koni Yellow shocks (f/r), Ground Control coilover system, Honda SIR front sway bar, Suspension Master bushings, Megan Racing rear control arms, Energy Suspension rear control arm bushings, Skunk2 (tie bar, camber kit), ETD Racing traction bar
WHEELS/TIRES/BRAKES // Sprint Hart CP-R wheels – 15x7 + 10 offset (F), 15x7 + 10 offset (R), BFGoodrich G-Force Sport COMP-2 tires – 195/50R15 (F), 195/50R15 (R), Marissa's Hoses steel braided brake lines, Rywire brake booster delete, Wilwood calipers, Honda (Integra Type-R '96 spec 4x114 front and rear spindle, rotor, caliper conversion)
EXTERIOR // Seibon Carbon (front lip, trunk lid), Wings West side skirts, Back Yard Special carbon fiber wing, Honda (JDM SIR headlights, rear mudguards, JDM thin side moldings), Clear Vision corner lights, APR carbon fiber side mirrors, Xenon HID kit
INTERIOR // assword: JDM shift knob, Honda (Integra Type-R steering wheel, red stitched shift boot, UKDM SIR cluster), AEM wideband gauge, Bride Gias Low Max seats, Takata harnesses, JSFAB full 8 point roll cage with custom gussets
SPONSORS // BFGoodrich, Meguiar's, Mishimoto, AEM Induction Systems, JSFAB, Password: JDM, Energy Suspension, MSTR Watches
PHOTO GALLERY