Shaun Graham picked the BMW E36 for two primary reasons – firstly, it's a classic and timeless platform and, secondly, it's become a much more affordable car to modify in recent years. A long-time admirer of the E36 dating back to his time as a high schooler, Shaun says that the platform really lends itself to interesting builds and that the number of modifications it can support are 'endless'.
Shaun chose this 325i over an M3 because his intent was to create a show car rather than a track demon and, with only 61,000 original miles on the odometer, he wanted something that would last. "We just wanted to enjoy the reliability of the car and build it into something that will stay a timeless classic throughout the years," he says.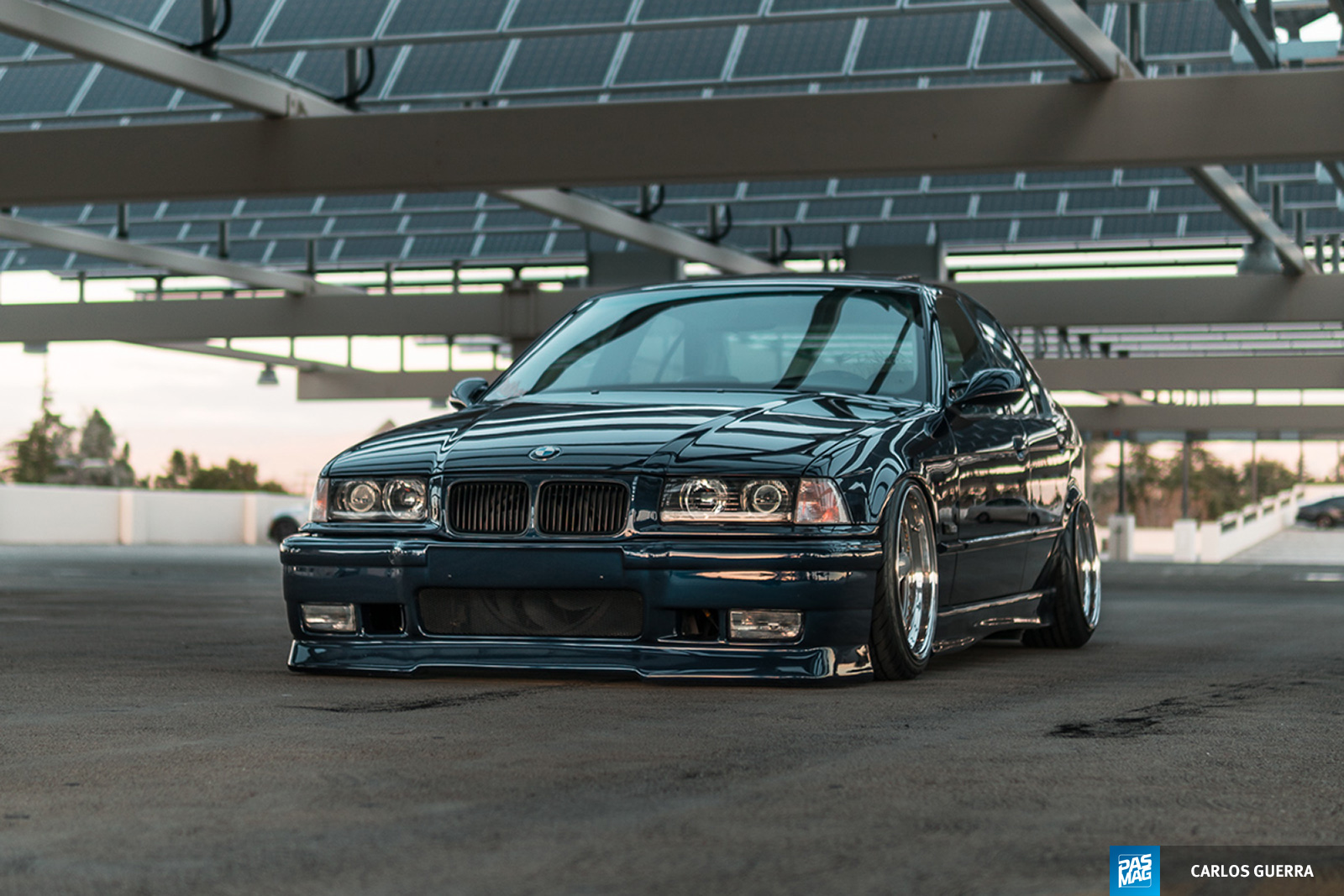 The son of an auto body and repair shop owner in the San Francisco Bay Area, Shaun and his brother literally grew up in the garage and were exposed to the automotive industry from a young age. Shaun gravitated towards show car builds, while his brother, now Pro Stock and NHRA driver, was more focused on performance. Shaun says his father instilled a sense of dedication to one's craft, and to make sure all work is of the highest quality with a shop to match those high standards.
He's carried that philosophy over to his own shop where he's created a number of builds including a 1966 Chevrolet Chevelle, multiple Ford Mustangs including a 1987 5.0L which was featured in 5.0 Mustang magazine, a 2002 Chevrolet Silverado which was shown at SEMA, a 1970 El Camino SS and numerous Honda Civic EFs, among many others.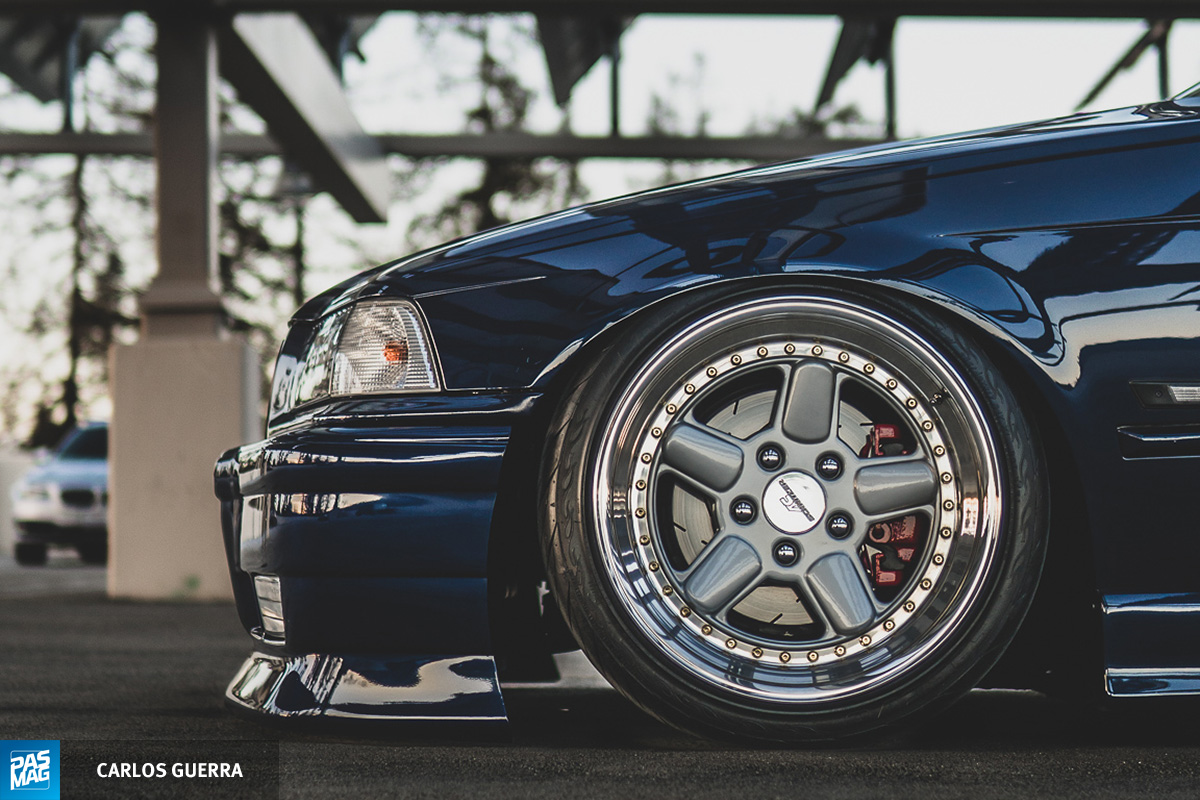 For this E36, Shaun was inspired by Chip Foose. "He pushes the envelop to build exceptional cars with never-before-seen details, all while keeping a timeless build style," he says. When it comes to brands, Shaun chose to work with those known for quality and performance, such as JL Audio and MB Quart, "because they are industry leaders in car audio. The performance and reliability are outstanding," he says. Plus, they were going to have to withstand not only heat, but another unusual variable: water.
The multimedia system in the E36 features a one-off waterfall feature which was installed around a hand-built fiberglass enclosure Shaun says, "took a great feat to construct." When asked, he says the waterfall was the most daunting aspect of the build. "The challenges all came from the waterfall, adjusting the pump, piping and spillway to create the length of projection and 'twist' of water to obtain the 'V' effect," he states.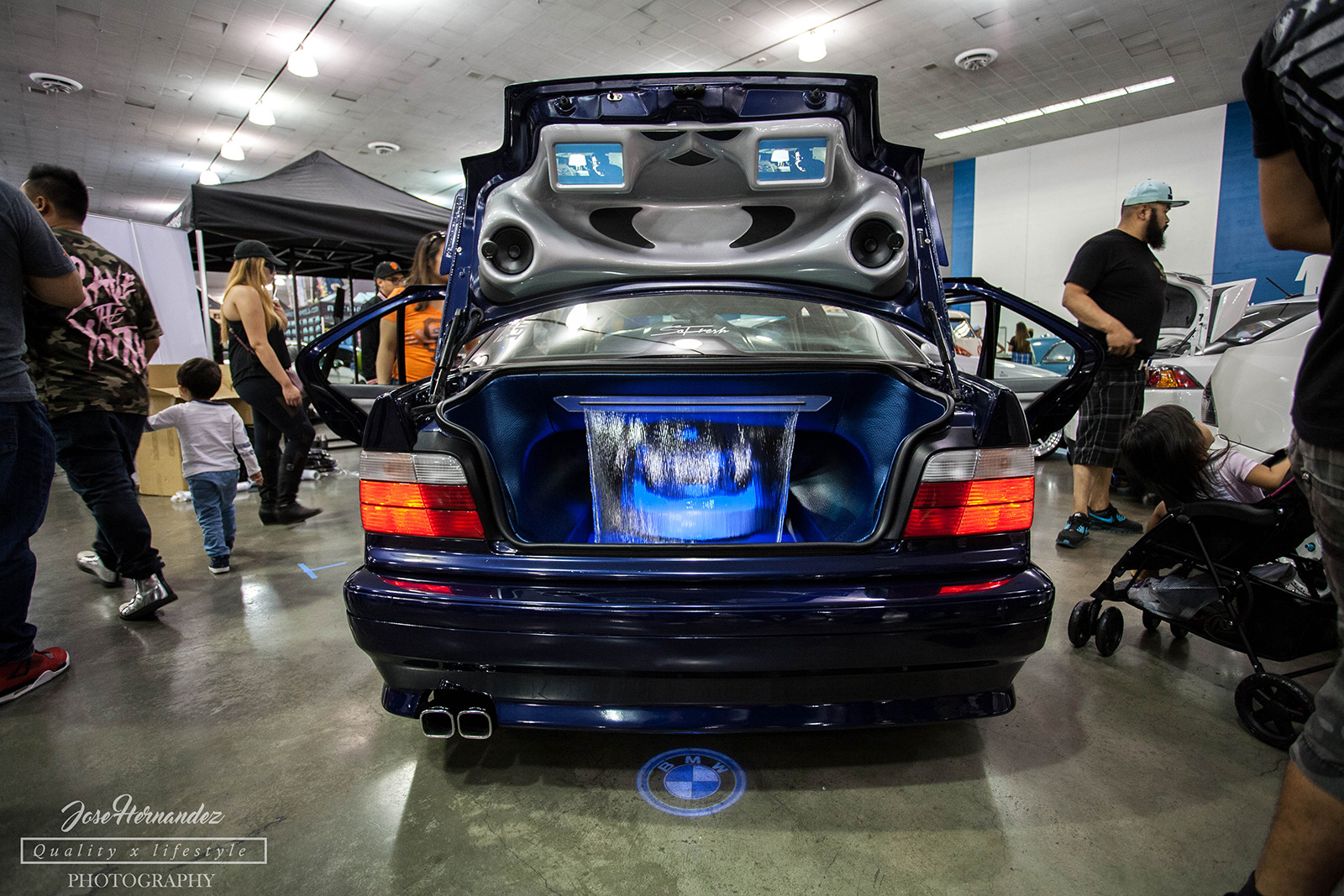 But perseverance paid off in the end and Shaun is quick to point out that the process of bringing builds like the E36 to life are as important as the result. The friendships and industry relationships that are forged along the way have proven to be incredibly satisfying.
"We are more building friendships than the actual car and relationships in the industry that can last a lifetime. Building something innovative and outside the box gives the industry something to look forward to and push builders to be forward thinking," he says.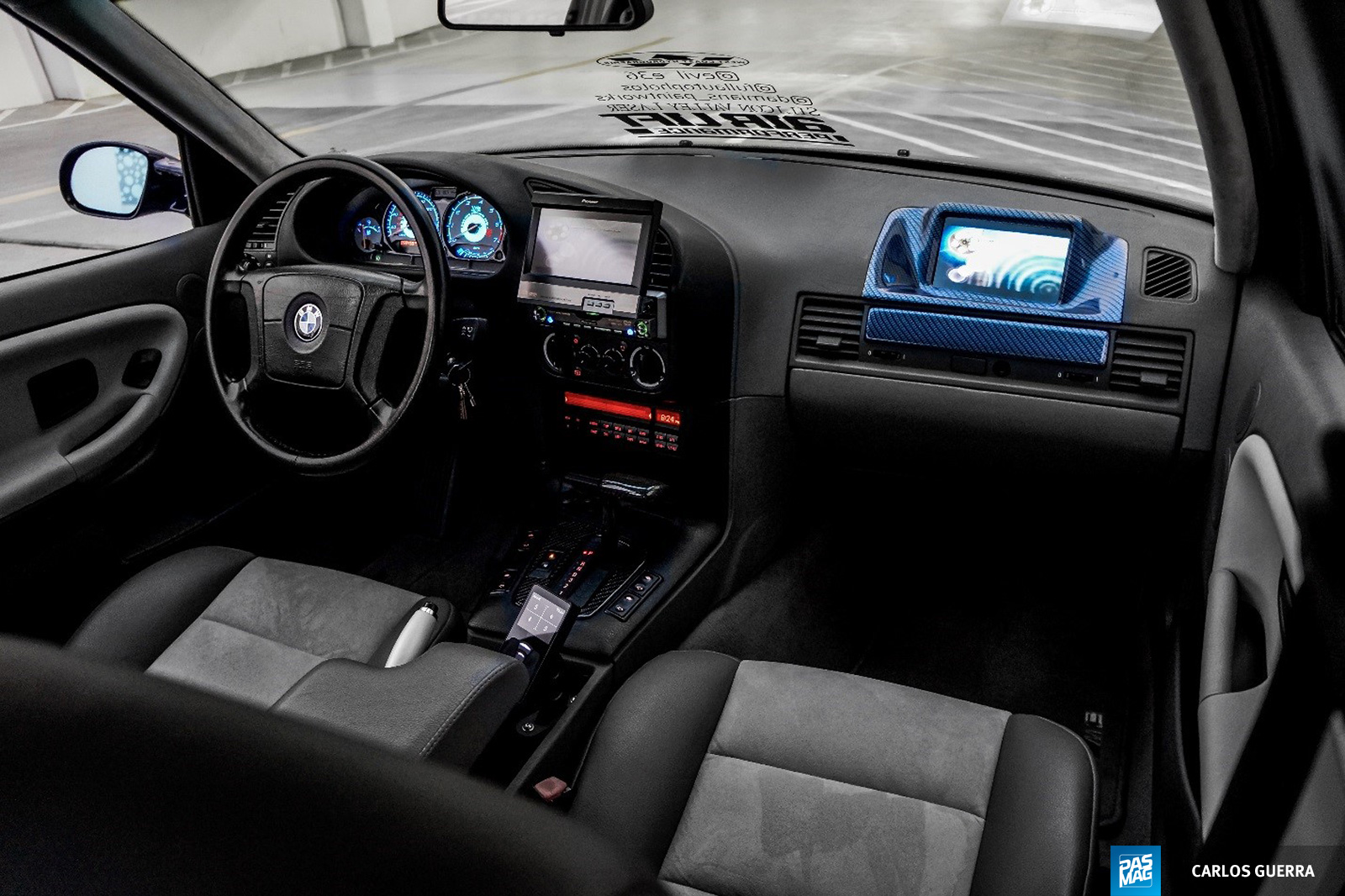 "If we all built the same thing it would be boring, the unique individuality of someone's build is what is exciting to see displayed and shared with the car community. By building these cars and showcasing them, networking and sharing the build stories online through forums and in person it helps keep our car community thriving for generations to come."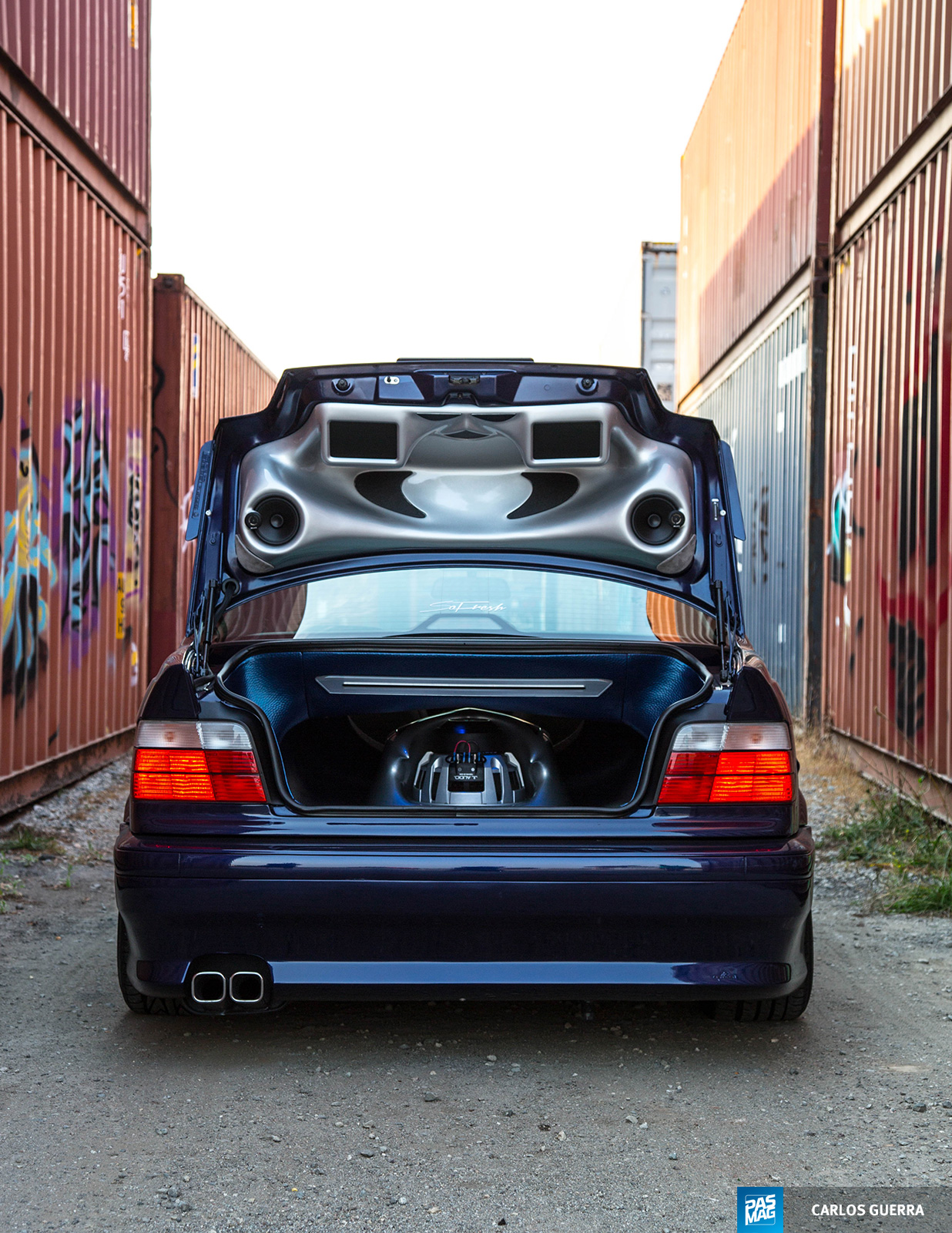 Photography by Carlos Guerra (@carlos.visuals), Jose Hernandez (@quality_lifestyle.tm)
---
ESSENTIALS
Owner: Shaun Graham
Location: San Jose, CA
Vehicle: 1995 BMW 325i
Horsepower: 200
Club: Endless Projects

SOCIAL
Facebook: /Shaun.P.Graham
Instagram: @evil_e36

ENGINE
Dinan CAI
Dinan Stage 1 chip
Dinan engine covers
EXHAUST
Remus performance catback exhaust
WHEELS / TIRES / BRAKES
AC Schnitzer Type 1 – 17" staggered
Toyo Proxes 4 Plus Tires
CHASSIS / SUSPENSION
Air Lift Performance air suspension with 3P management
Viair 444c dual compressors
ALP M3 end links
ALP front camber plates
Dinan strut bar
EXTERIOR
Imported from Germany
Front bumper Rieger Infinity
AC Schnitzer rear bumper
AC Schnitzer side skirts
OEM M3 side mirrors
OEM M3 spoiler
Matte black kidney grills
Complete vehicle repaint
All trim paint-matched
LIGHTING
Imported headlights from Austria
OEM ZKW Euro Ellipsoid Headlights
OEM Hella foglamps
OEM Euro Spec taillights
INTERIOR
Complete re-wrap interior
Front seats wrapped in two tone Alcantara suede/ leather
Alcantara headliner
Alcantara A and B pillars
Alcantara rear package tray
Carbon fiber shift knob
AC Schnitzer carbon fiber gauge overlay
Carbon fiber shift bezel
AC Schnitzer Ebrake handle
Renown leather wrapped steering wheel
White face gauge overlay
AUDIO / MOBILE ELECTRONICS
Pioneer AVH-6600 In-dash DVD flip out touchscreen head unit
Accelevision screen molded into the passenger side dash hydrodipped,
Accent trim panel underneath hydro dipped to match
MB Quart Component speakers Front stage
MB Quart Component speakers Rear stage
MB Quart Component speakers in trunk molded into lid,
Icom 12 volt DVD player x2 rear seat area enclosure
Accelevision audio video switchers x2
Accelevision 10.4 screens x2 molded into the rear seat area enclosure
Motorized one-off handmade subwoofer enclosure painted by Damian's paintworks
Custom one-off rear seat area enclosure hand formed and wrapped with material
JL Audio 12W6V2 sub-woofer inverted
JL Audio slash 300/4 amplifier – JL Audio slash 500/1
Laser-cut switch panel
engraved and wired with individual switches for components
Accelevision screen molded into top of subwoofer enclosure
Accelevision screen molded into plexiglass on ramp spillway
Entire trunk fabrication with 2500 GPH waterfall and plexiglass spillway backlight w/LEDs
Accelevision 10.4 screens x2 molded into side panels of the trunk
Accelevision screens x2 molded into trunk lid enclosure
BMW projector logo underneath rear bumper
SPONSORS
Air Lift Performance
Viair
Toyo Tires
Renown USA
Odyssey Battery
Adams Polishes
---
PHOTO GALLERY