How Andre Klebleyev's need for speed earned him the title of Tuner Battlegrounds Champion.
In the year 2000, BMW was struggling in the American Le Mans Series (ALMS) with their straight-six-engined E36 M3 GTRs - an excellent chassis, but their power levels weren't cutting it when it came down to chasing down Porsches. For 2001 though, BMW revealed the ace up their sleeve: the P60 4.0-liter V8 engine, built and tuned specifically for the E46 M3 GTR to dominate all competitors with an ALMS-capped 445 horsepower. It worked, seeing the new M3 GTR win 90 percent of the races in its class and securing the 2001 title.
Naturally, as BMW didn't offer a version of the V8 used in the M3 GTR, Porsche complained that the car was more of a prototype and went against the rules, so ALMS rolled out new stipulations for its racers: make a road-going version of the race car available to buy in two continents. In response, BMW made 10 M3 GTRs available to the public (only actually building six) that were detuned to 382 horsepower. The following year, ALMS went even more aggressive on the rules, stating that 100 cars and 1,000 engines would have to be made for sale in order for a team to not incur penalties. As a result, BMW chose to pull out of ALMS, but went on to win first and second place with two cars in the 24 Hours Nurburgring in 2004 and 2005.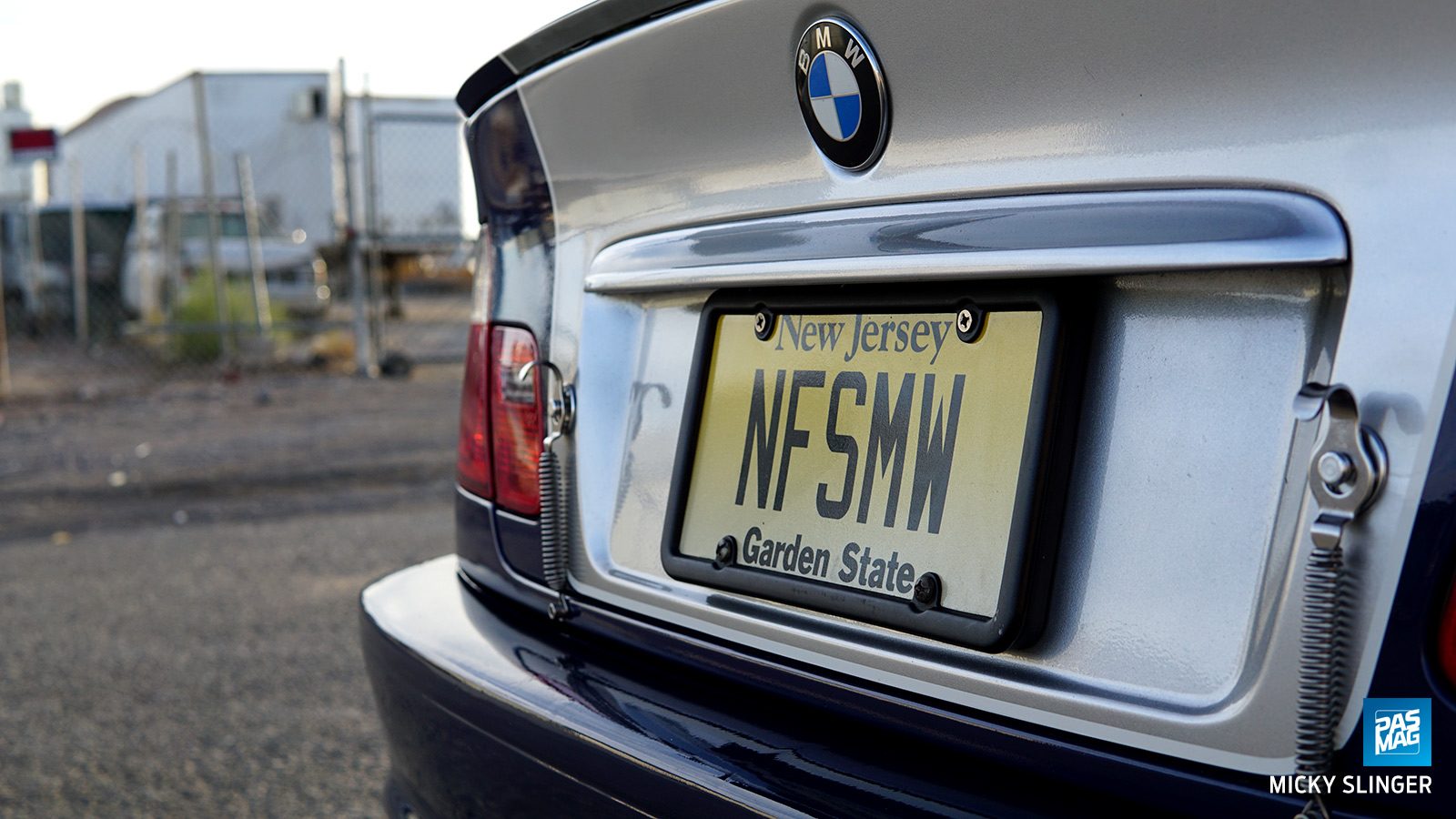 Also in 2005, the E46 M3 GTR made its appearance as a modified street car in the Need for Speed: Most Wanted video game, touting its silver and blue livery, and capturing the hearts of a whole generation of budding car enthusiasts - nine-year-old Andre Klebleyev included.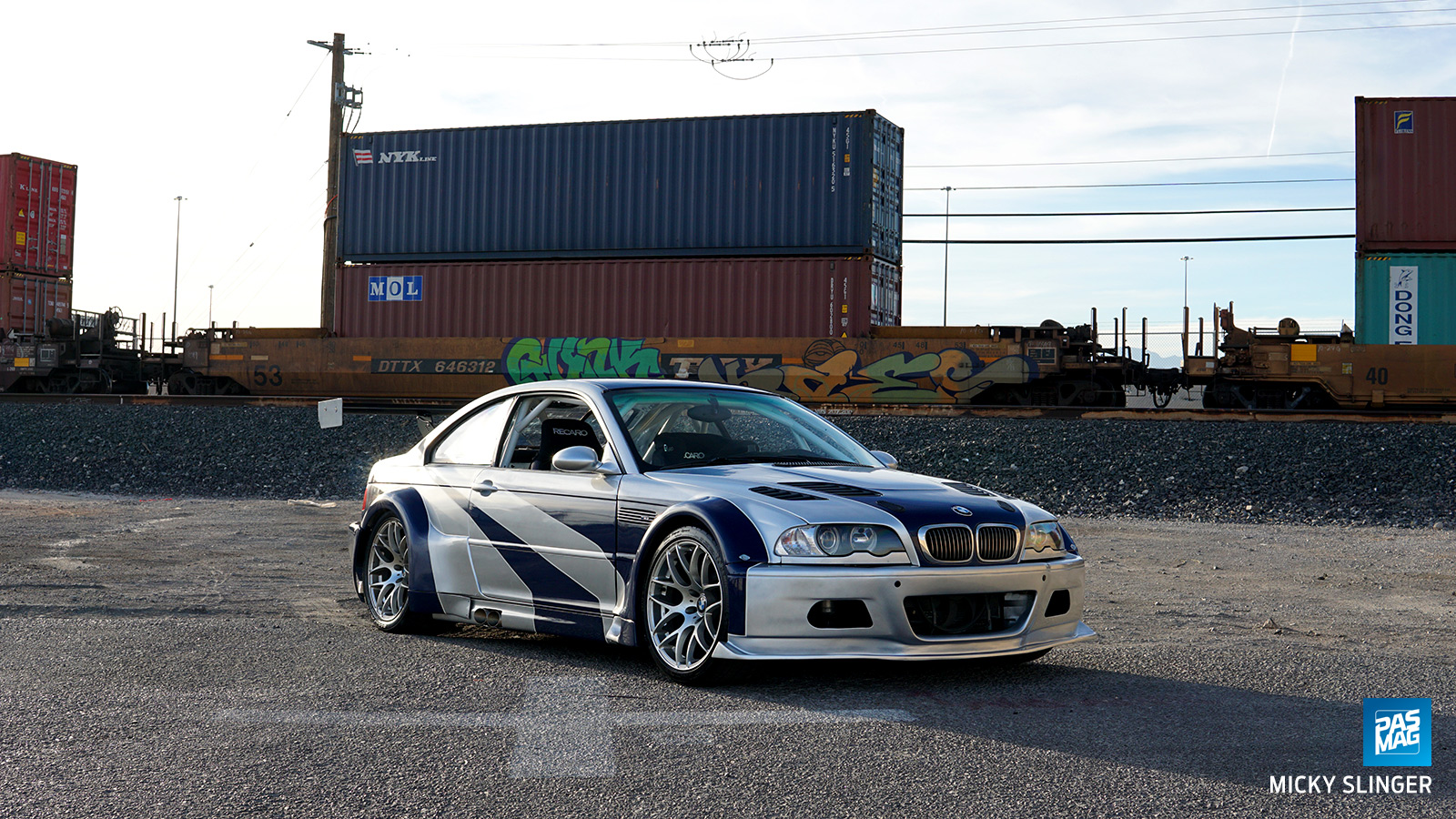 "I Googled the car the same day I saw it and found out it was an E46 M3 GTR, which made me want an E46 M3 ever since," he explains of his fascination. "Although I love JDM platforms and have had six JDM cars prior to getting the M3, I knew I'd get it eventually."
As you can imagine, owning an E46 M3 seemed like a dream, financially, to a young guy like Klebleyev. Opting to go for cheaper price tags and cost of maintenance, he's owned an assortment of Subarus and Nissan S-chassis along the way, with his last being a kouki- and RHD-converted 1995 240SX with an RB20 swap. After fooling around with the car in the show scene, and even dipping his toes in drifting, Klebleyev's bank account was draining with the strain of the problematic RB engine, so he sold it for cash and looked for his next project. As fate would have it, a clean, manual E46 M3 coupe priced for a quick sale had become available not too long after he'd said goodbye to the 240, and so Klebleyev pulled the trigger on making his childhood dreams a reality.
All along his life of owning modified cars, Klebeleyev has done anything and everything to them himself to save dough, so when it came time to own a high-maintenance M3 and turn it into the car he remembers from the video game he loved, it was only natural that it would come to fruition in his single-car garage.
"I've loved cars since I kid, but I've never had the money to pay people to do the work, so I was simply forced to learn to do it myself," Klebleyev says. "I fell in love with doing it all myself."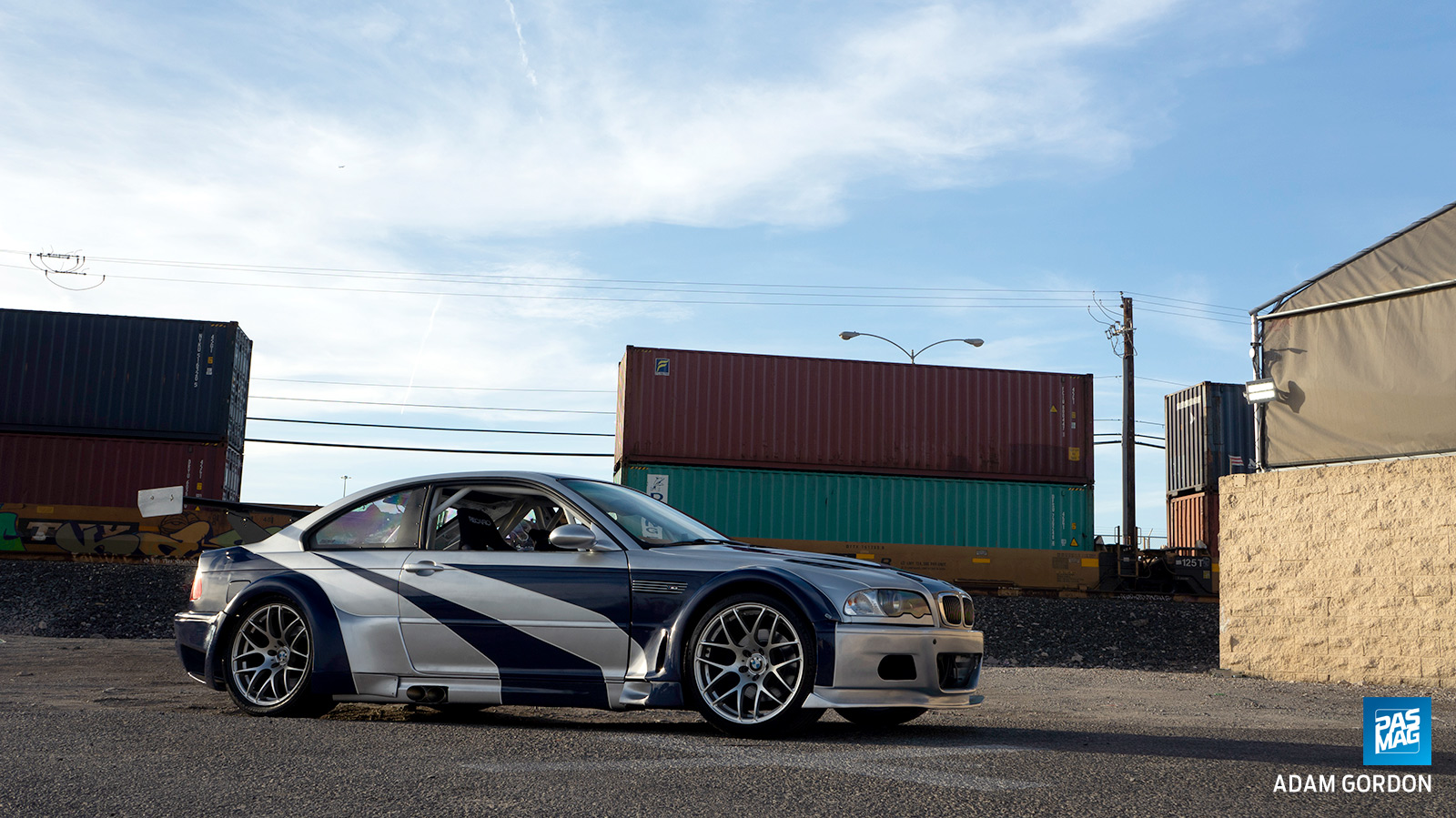 This attitude, plus a no-what-ifs thought process led to what Klebleyev calls "V1" of his tribute to the Most Wanted M3 GTR. The first version of the M3 was completely remodelled with DTM FiberWerkz's E46 GTR widebody kit, plus a carbon fiber roof and vented hood. Though it is labelled as a "GTR" kit, it's not totally accurate to the kit on the car from the video game and nowhere near wide enough, but being as it was one of the most accessible on the market at the time, Klebleyev installed it and painted it in the Need For Speed livery himself, then decided to pair it with an APR GT250 wing for a race-worthy look. Saving some cash on some used KW V1 coilovers and a previously enjoyed set of concave APEX EC-7 wheels, he was able to splurge on a pair of Recaro SPG seats for the front of the car to be even further accurate to the GTR. One more detail that Klebleyev was set on making true to the on-screen car was its side-exit exhaust, which he fabricated himself and even cut, welded, and tunnelled the floor to bring to life.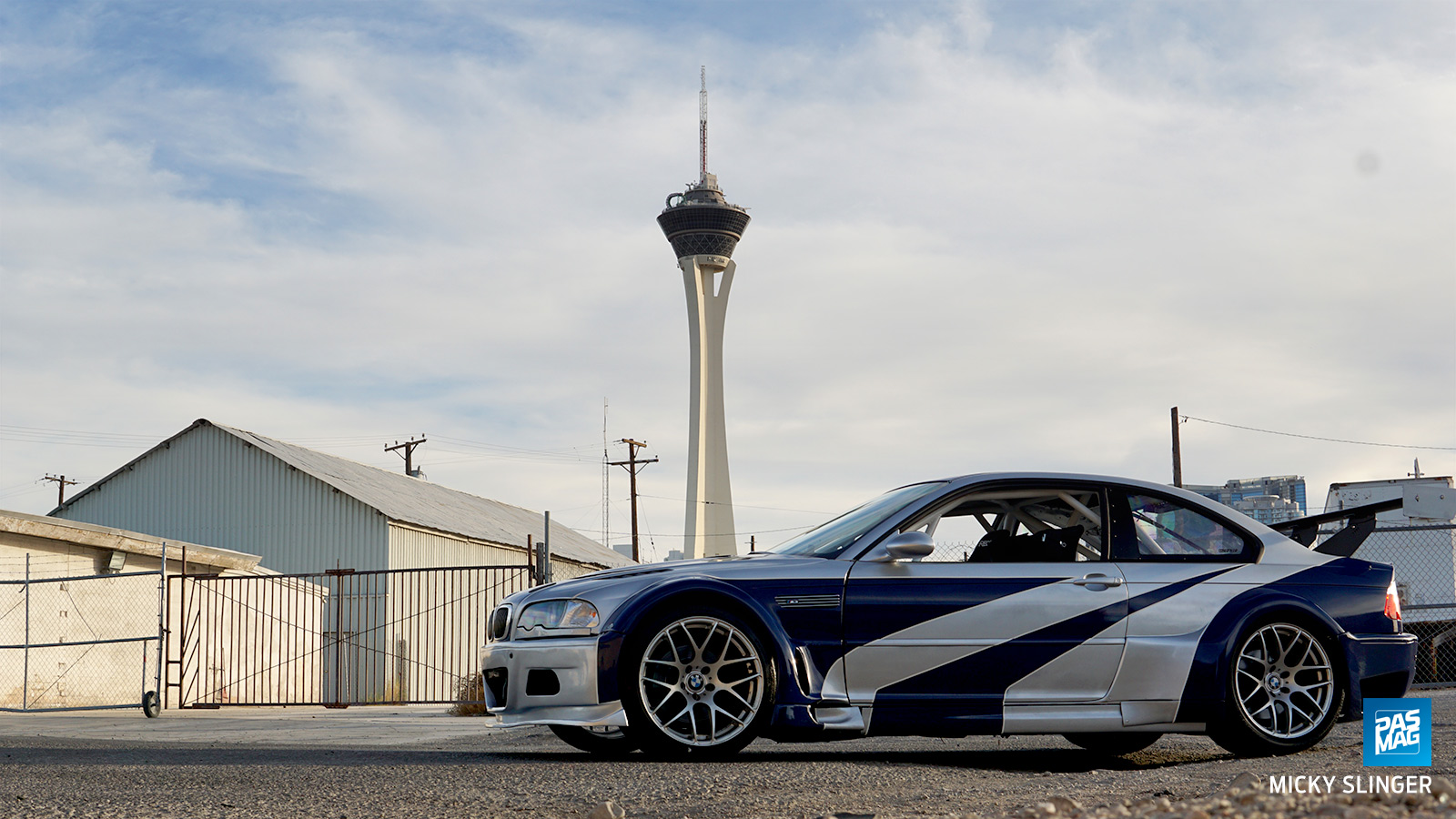 The whole process of turning a stock E46 M3 into a GTR replica took Klebleyev from about October of 2017 to March of 2018, which is great pace for one dude in his garage. Only a month later though, and the itch wasn't scratched. Klebleyev had ordered a custom widebody kit from a manufacturer in the UK that would be much closer to the Need for Speed GTR in looks and width, and while he waited, he had an FIA-spec eight-point roll cage fabricated, as well as some stiffer springs in the mail for his KW coils.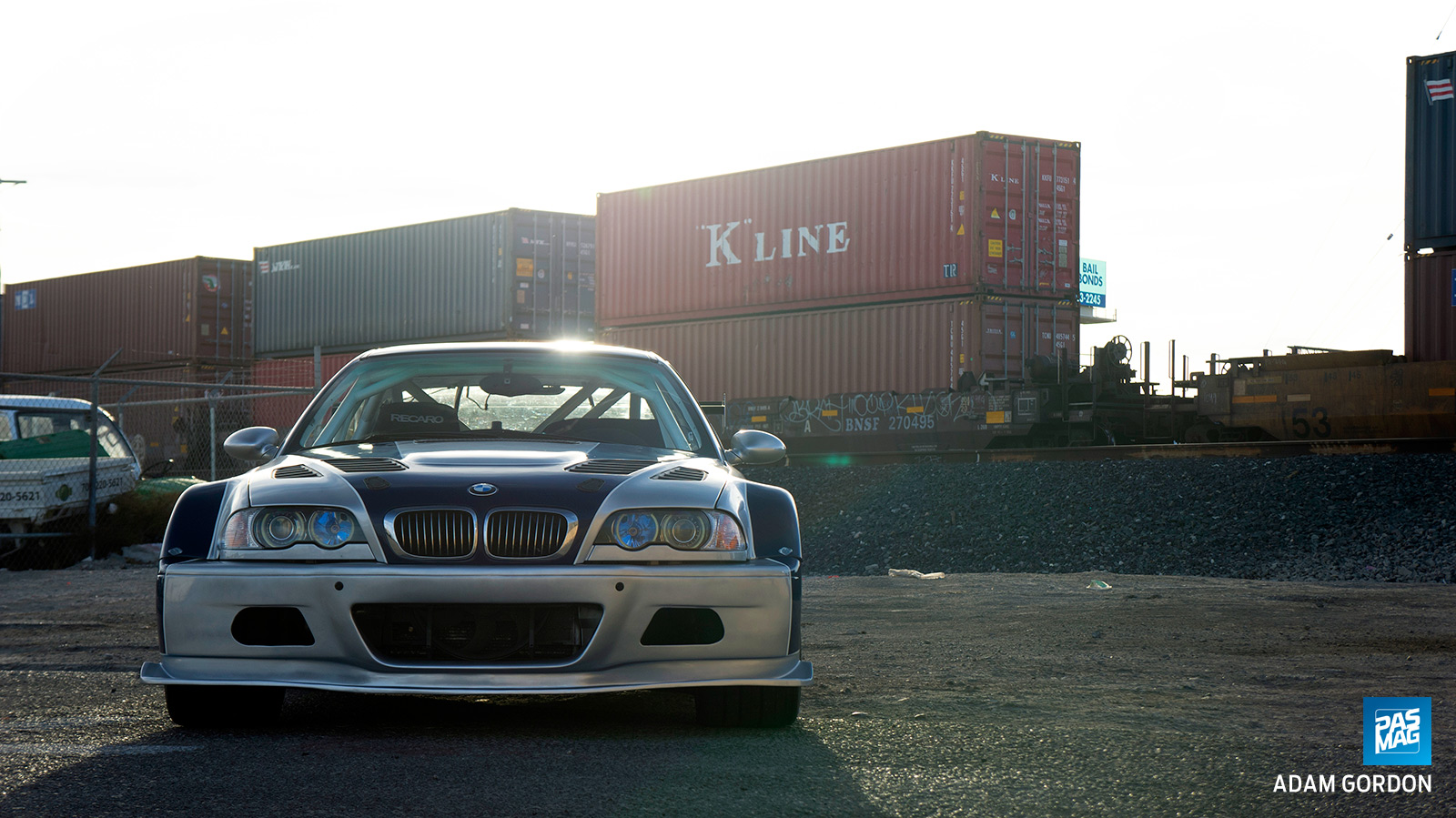 As the summer of 2018 turned to fall, the gears of PASMAG's Tuner Battlegrounds Championship started to spin again, and Klebleyev, still waiting for his kit to come from across the pond, chanced it and entered the playoffs with a car in pieces. In the Stage one elimination round of September, 2018, Klebleyev rallied his sizeable following on Instagram and YouTube to amass 1,799 votes - 793 more than the next closest competitor - a pace that he would keep for the rest of the competition. While it was humbling to see so much support on his end, the stress quickly piled on as he had less than two months, if he made it to SEMA, to finish the next iteration of his M3!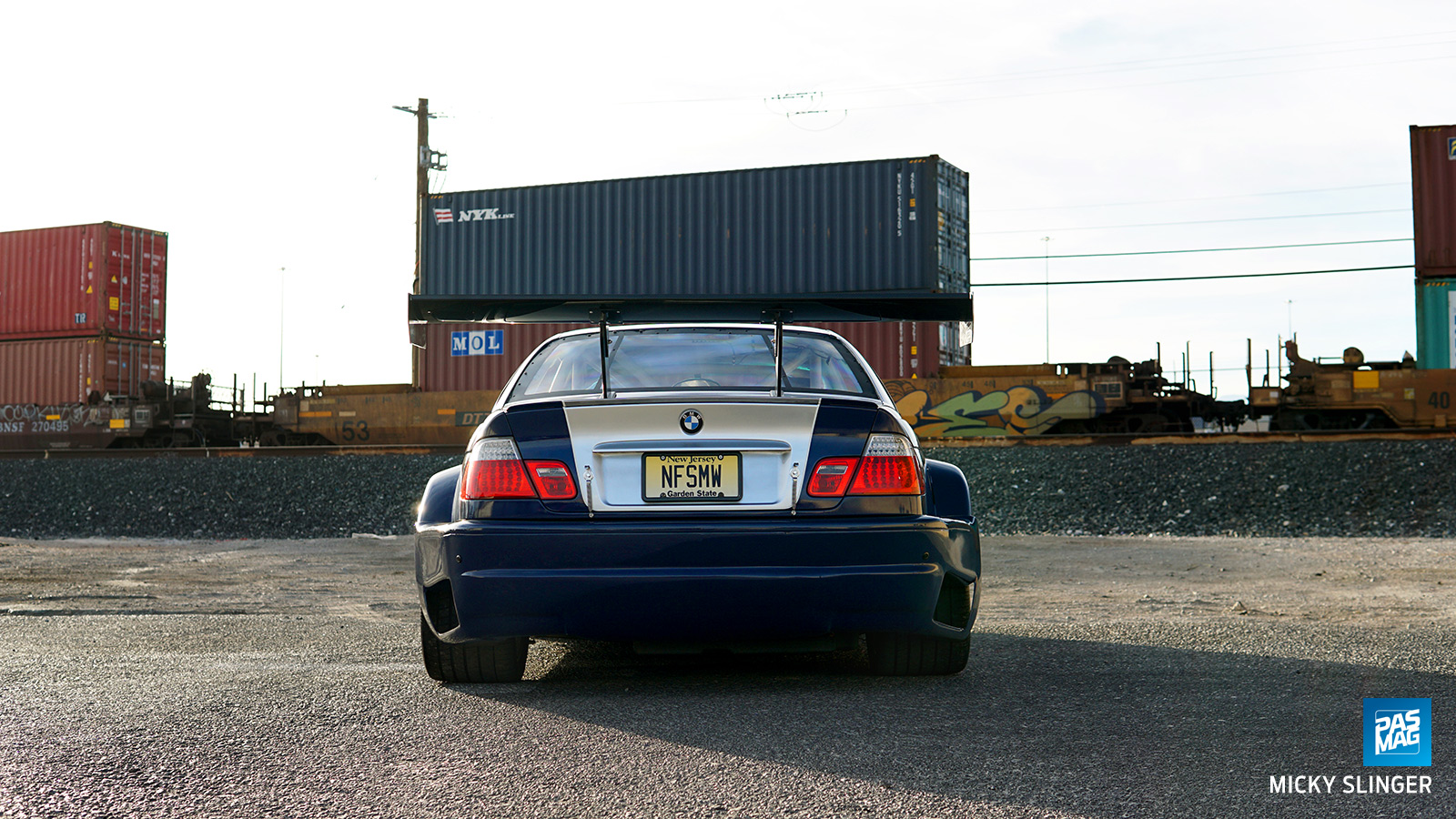 After three stages of TBG voting, leaving only three more before SEMA, the widebody finally arrived, though not exactly as Klebleyev imagined. Test fitting of the front and rear bumpers went poorly and the front fenders needed some working over as well to fit the rendering in his mind. With voting going so well and the reality of showing off the car at SEMA getting closer and closer, Klebleyev dove right in. He reshaped the front and rear bumpers for fitment, shaving the exhaust cutouts from the rear, while also cutting out spots for the M3 vents, as well as lower vents in the front fenders. Soon, the BMW was primed and painted, again, by Klebleyev in his single-car garage, just as he learned that he would be one of the finalists in the TBG Championship.
He picked away at final touches on the car all the way up until the moment it went on the Vegas-bound car hauler. The next time he saw his creation, it would be at SEMA.
"It was pretty surreal," Klebleyev recalls of learning he was in the top two. "The first thing that hit me was, 'Holy crap, I'm going to Vegas with my car!' SEMA itself was amazing and I loved seeing all sorts of builds with insane amounts of effort and thought put into them. I was drooling over all the purpose-built race cars there."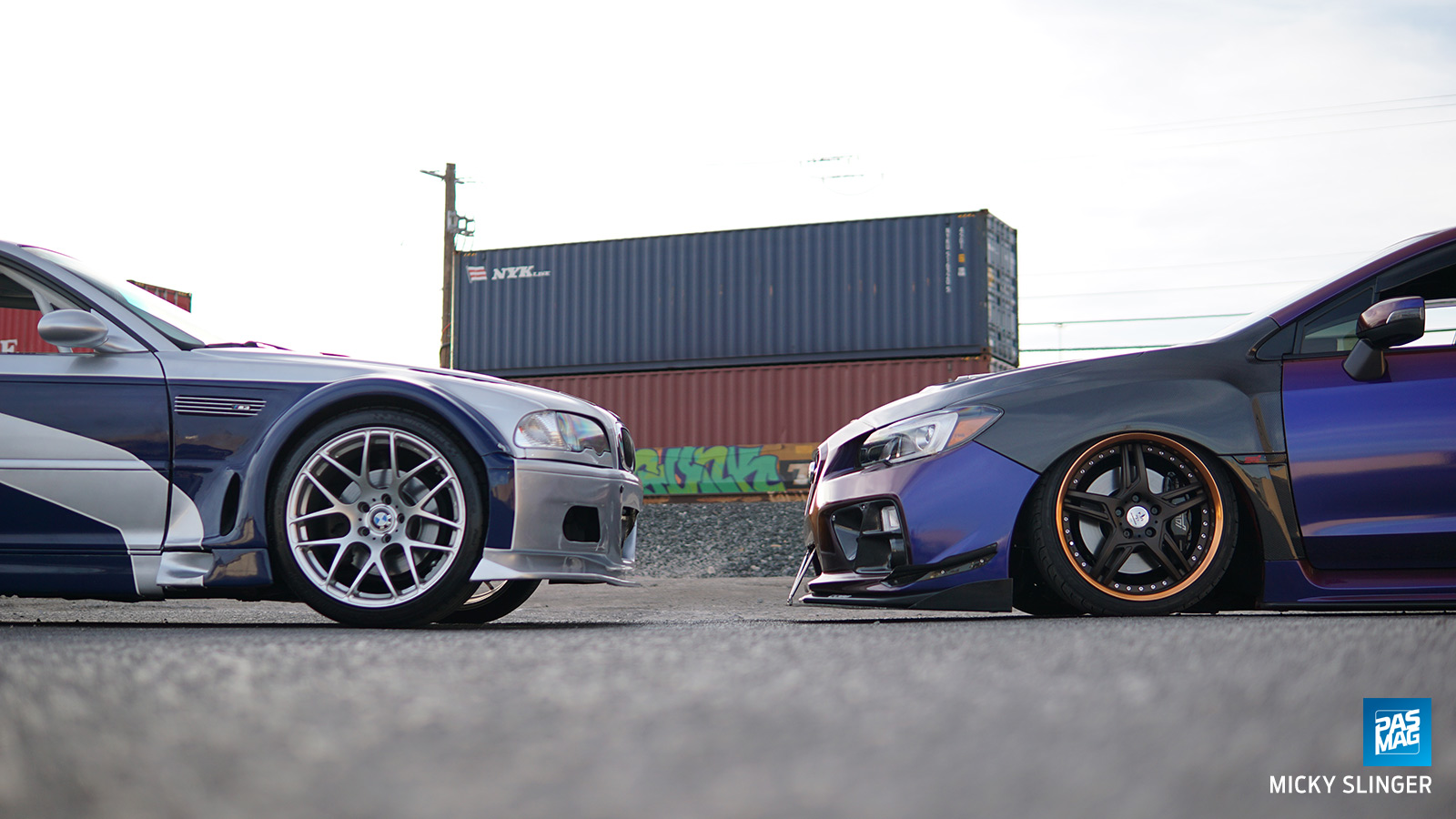 During the week of competition at SEMA, Klebleyev and his girlfriend, Rachel (a different Rachel, not our other finalist), hustled hard for votes online and completed many of the challenges we issued during the show. On the final day of competition, Klebleyev had earned 128 hashtag votes, 179 points from the Editor's Challenge, and 2,963 clicks of the gold star button on TunerBattlegrounds.com for a total of 3,270 votes, crowning him your Tuner Battlegrounds Champion of 2018.
Since winning, Klebleyev hasn't stopped for a second. He drove the M3 GTR all the way from New Jersey to Arizona to his new place and has already started plans for V3 of his creation. We know what this guy can do with a single-car garage, now imagine what he'll be capable of will all-year-round nice weather and a two-car garage.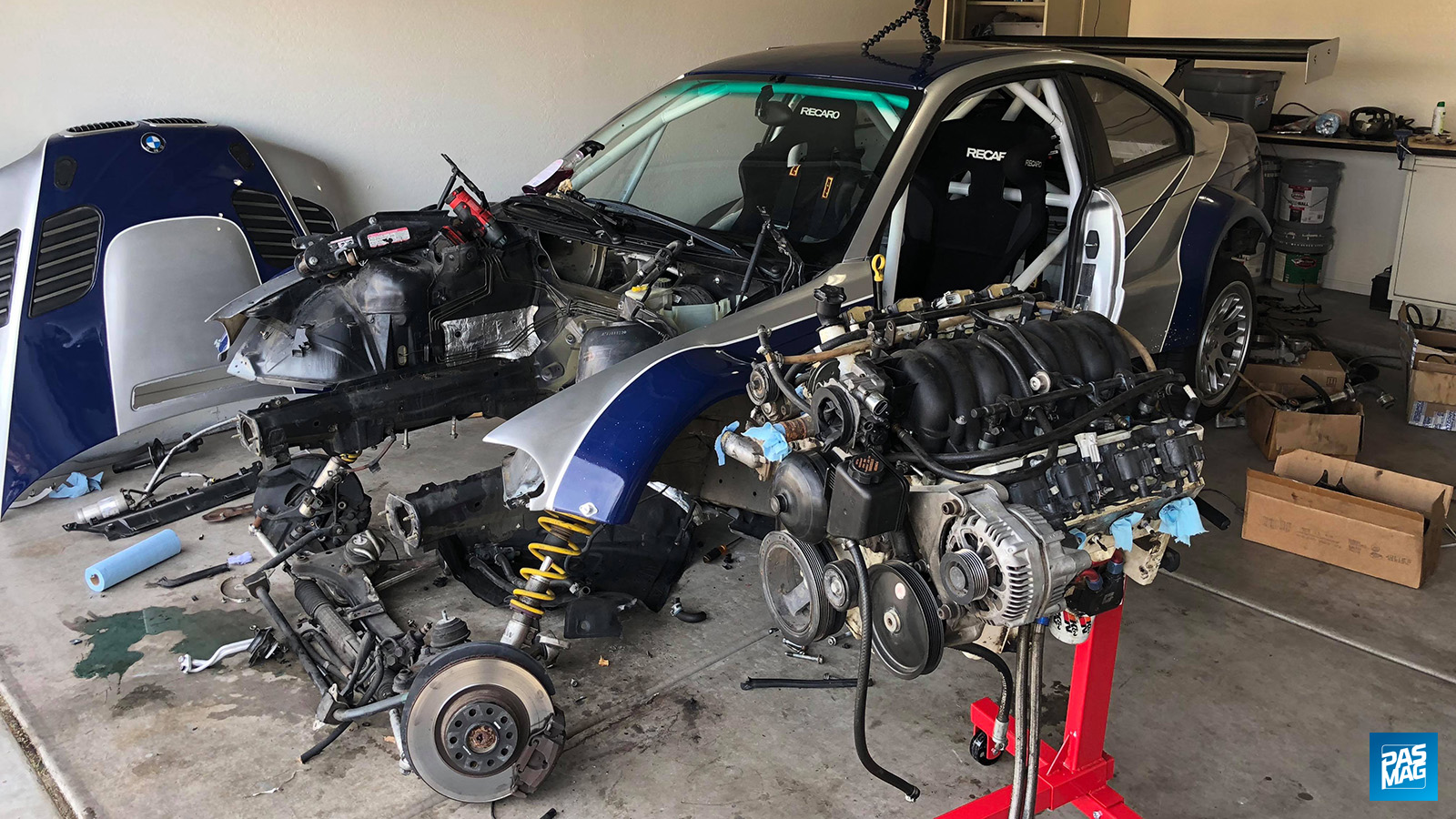 WHAT'S NEXT?
Swapping in a built 500-horsepower 383 LS V8
Cage extensions through the firewall for more rigidity
HVAC delete
Standalone harnesses for the engine and lighting to keep it "streetable"
Full solid bushing conversion
Differential swap to a 4.10 gear ratio
Playing with the idea of switching to a black and gold John Players Special livery with accenting gold parts on the car
Andre Klebleyev's 2001 BMW M3 is the cover feature of PASMAG #153. Click HERE to order.
Photography by Micky Slinger & Adam Gordon
---
ESSENTIALS
Vehicle: 2001 BMW M3
Owner: Andre Klebleyev
Location: San Tan Valley, AZ
Engine: BMW S54 3.2L I6
Horsepower: 300 whp
Torque: 280 lb-ft
Facebook: /JDM.Andre
Instagram: @m3babe_
YouTube: Andre Klebleyev
EXHAUST
Megan Racing catless headers
Custom side-exit exhaust
WHEELS / TIRES
Apex EC-7 wheels - 19x11 +13 (f/r)
Michelin Pilot Super Sport tires - 295/30 R19 (f)
Goodyear F1 tires - 325/30 R19 (r)
CHASSIS / SUSPENSION
KW V1 coilovers
VAC Motorsports bump steer kit
Upgraded sway bar bushings
Reinforced subframe mounts
Custom FIA-spec 8-point roll cage
EXTERIOR
Custom M3 GTR replica widebody kit,
DTM FiberWerkz carbon fiber (GTR hood, roof)
APR GT250 Spoiler
Eagle LED taillights
Polycarbonate windows (rear, quarters)
Custom painted Need for Speed: Most Wanted inspired livery
INTERIOR
Recaro (Hans Pro Racer drivers seat, SPG passenger seat)
Momo steering wheel
Rogue Engineering shift knob
Flocked dashboard
Gloss white paint job (interior, roll cage)
RCI 5-point race harnesses
Carbon fiber interior trim
---
PHOTO GALLERY