The first car Cody Schiedler bought as a teenager was an 2001 Audi A4. He fell in love with the Quattro AWD, "snowboarding trips made it a necessity," he mentions, "but I didn't dabble with modifications until I moved to Germany." A handful of years later, Schiedler bought a new 2015 Audi A4. Within less than a year, it was "full bolt-ons" and ripping on the Nürburgring. "A friend I was stationed with in Germany with a badass MK6 VW GTI introduced me to modding and tuning," he remembers, "and the addiction definitely started from there.' Schiedler left Germany and moved to Hawaii, and traded the A4 for a (same body style) S4. The power upgrade was what he was after. "I went from a turbo In-line 4 to a supercharged V6 and I absolutely loved it," he expresses. So naturally, Schiedler had it tuned at Honolulu Speed Shop and upgraded the supercharger pulley for more power.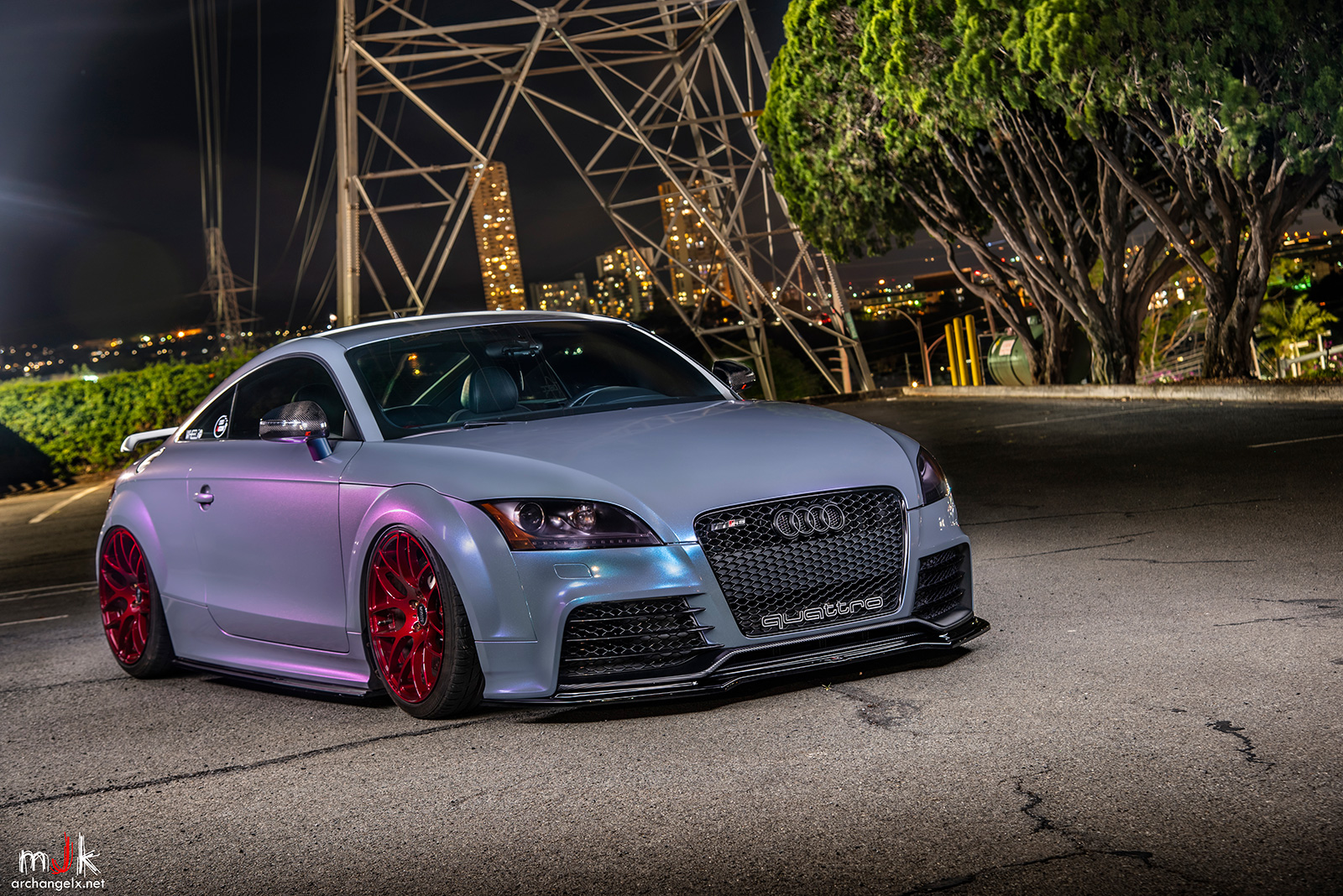 Schiedler had owned and modified a handful of European vehicles when his close friend put up a 2012 Audi TT RS for sale. "A good friend was selling it for a deal I simply couldn't pass up," he mentions. Having always loved Audi's 5-cylinder engine, he knew he had to pull the trigger, and sold his Audi S4 so he could pick up the TT RS. "The power is great but the sound of the 2.5L, 5 cylinder, is something else entirely," Schiedler states, "and I knew I had to have one!" When he got the car, it had already been minimally modified, so his challenge was to make it more of his own creation.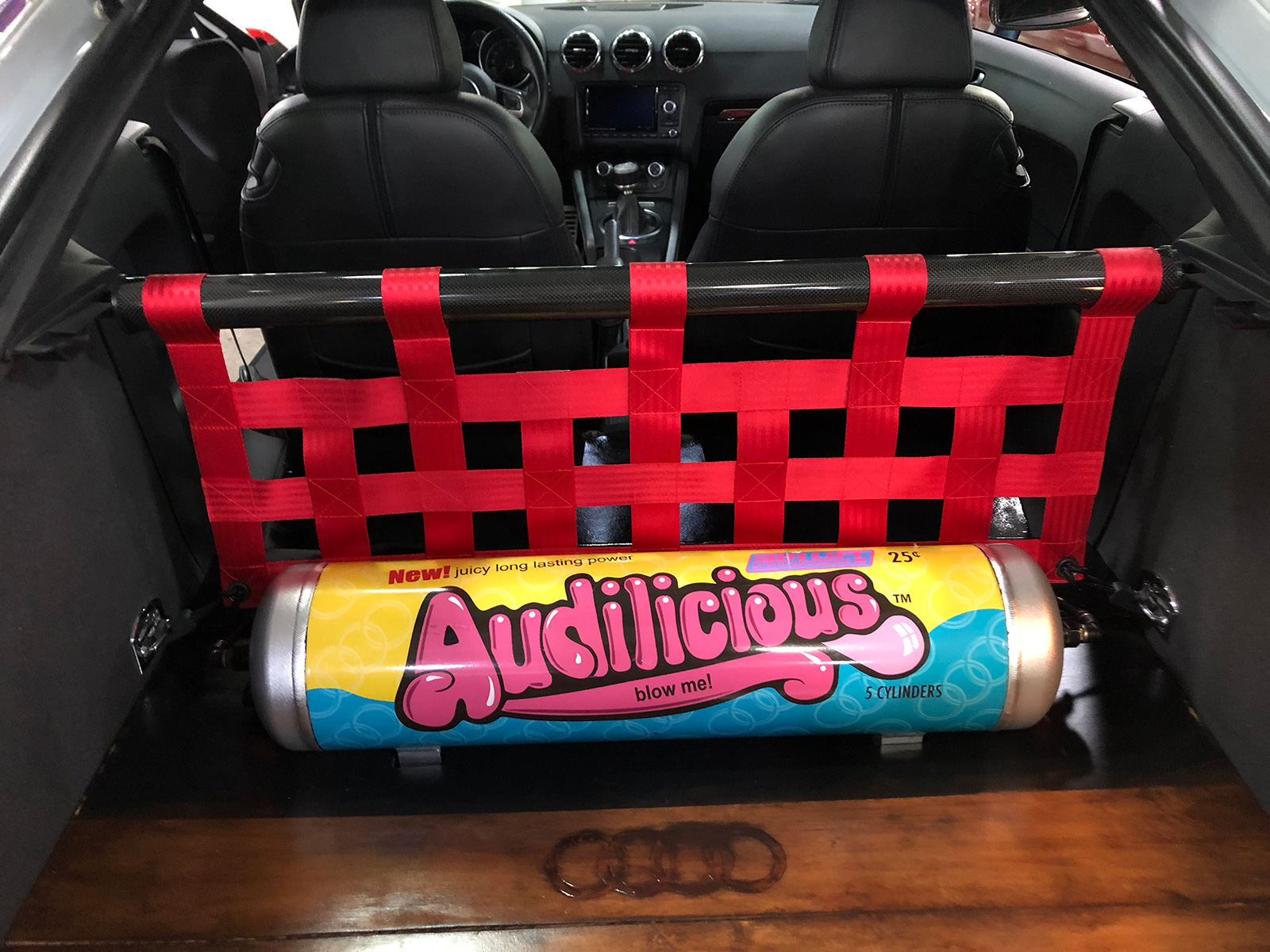 One of the first custom modifications made for the car was a rear seat delete panel, constructed by Schiedler and one of his good friends in the garage over a few weekends. "It started from a drawing on paper to an actual physical thing that we created from scratch," he remembers. They added some tweaks along the way as well. "The part that has a 90 degree angle up in the rear is now hinged so it can be pulled back for easier removal," Schiedler mentions, "as well as ease of access to the air suspension lines." All in all, what he and Eric accomplished didn't turn out bad for a couple of drunk guys with power tools and fiberglass!
Schiedler gets a lot of his inspiration from social media. "To be honest, I'm a part of some great communities on Facebook with people constantly updating everyone on their newest projects and ideas." He follows many people from these social communities on Instagram and loves to see progress and constantly pushing towards set goals, and eventually accomplishing them.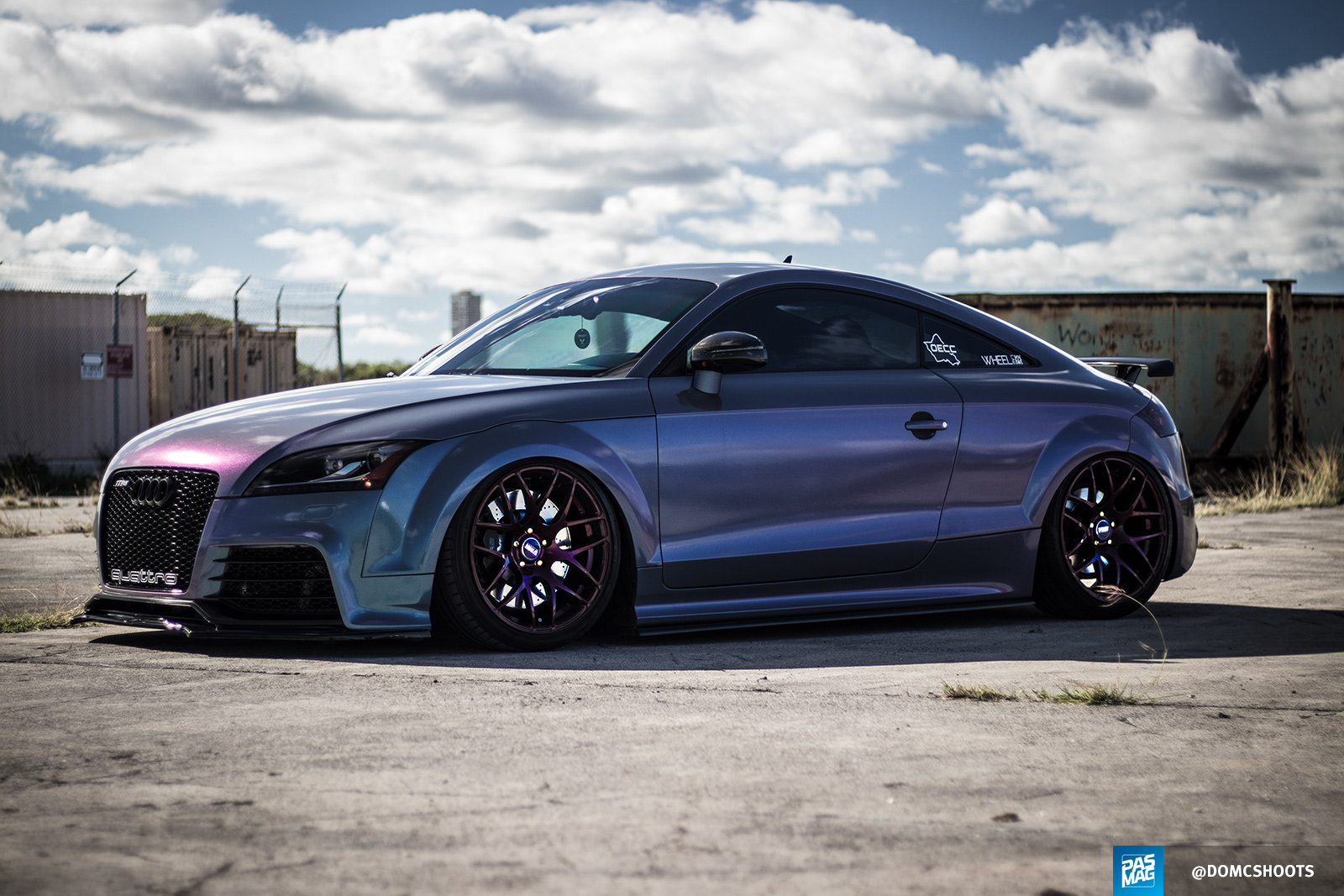 "I bought the TT RS knowing that they are track monsters," he mentions. Originally, he planned on staying with the show scene while in Hawaii since there is no track there (yet), but eventually the car will make its debut on the track. "I will be heading back to Germany in mid 2020,"Shiedler states, "so I still plan on seeing what the TT RS can truly do on a circuit." It will definitely be tested to the fullest on the infamous Nürburgring! "The hardest part about changing from a show car to a race car though is dialling it in properly and swapping out some of the 'pretty' stuff for more practical and track ready stuff," he mentions. "Likely, the bags will be swapped for coilovers, the splitters will be removed, and a decent set of track wheels/tires will be on standby."
One thing Shiedler has learned and would like to mention to other enthusiasts is, "whether you're building a show car or a race car, you have to be proud of what you have. Don't let haters get you down. Take pride in your community, and always encourage car enthusiasts to be better, but don't discourage them from doing what they love! Stay positive and help our ever growing car culture to be embraced everywhere!"
We look forward to seeing Shiedler's 2012 Audi TT RS on the track!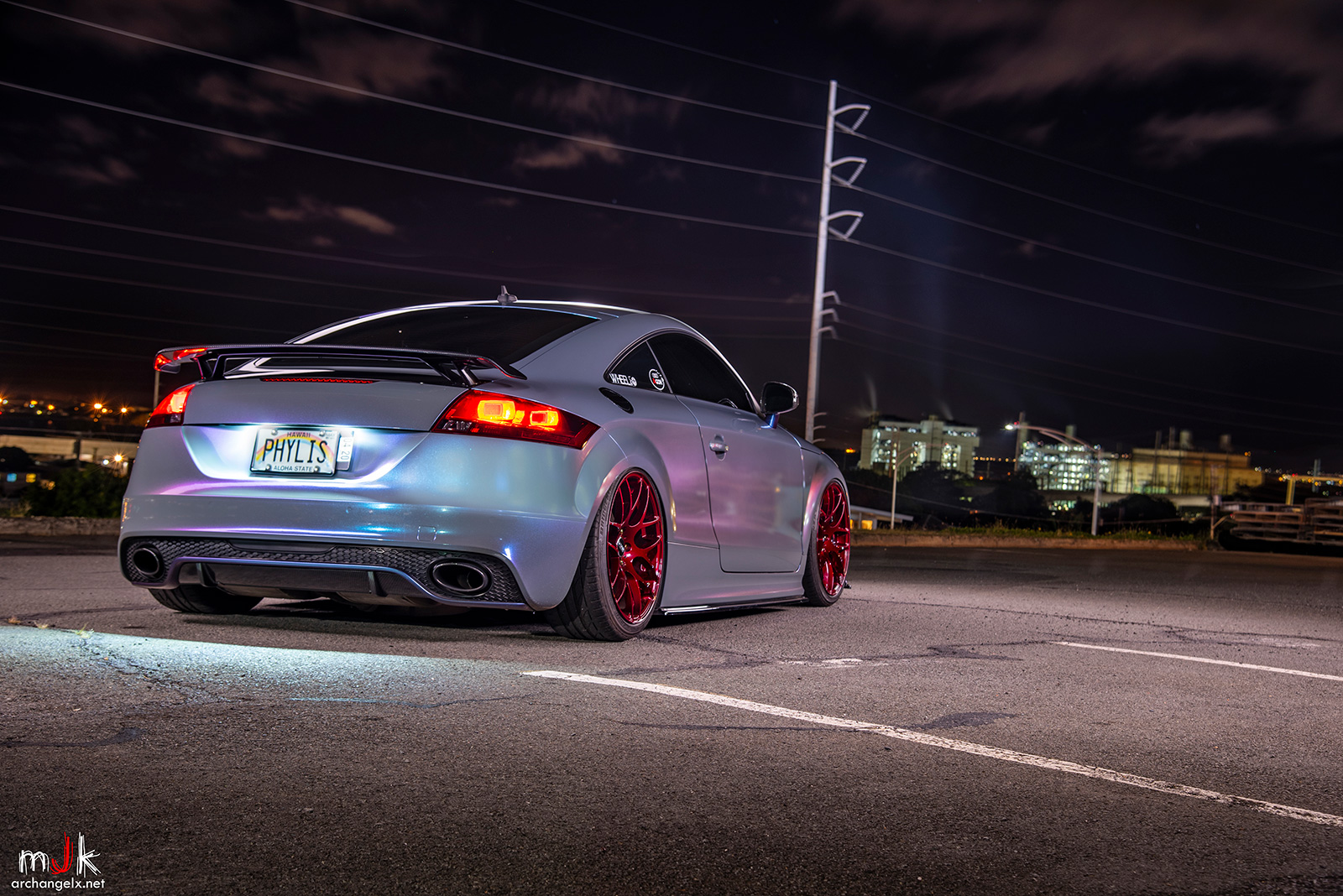 Photography by Michael Kitchens (@archangelxv1), Dom Chiavacci (@domcshoots), Doowerkz Productions (@doowerkz.productions)
---
ESSENTIALS
Owner: Cody Schiedler
Location: Pearl City, HI
Vehicle: 2012 Audi TTRS
Horsepower: 420hp/440tq
Club/Team: Audi Group of Hawaii
SOCIAL
Instagram: @oregunner
Event: Hot Import Nights
Location: Blaisdell Center. Honolulu, HI
Popular Vote: 58%
ENGINE / PERFORMANCE
APR Stage 2 ECU tune
BMC (Custom 1 of 1) carbon fiber intake
Forge Motorsports 500+ intercooler
EXHAUST
DRIVETRAIN
WHEELS / TIRES
VMR V710FF wheels, powdercoated red - 19x9.5
Bridgestone Potenza Pole Position tires - 245/35/19
CHASSIS / SUSPENSION
Air Lift Performance Series air suspension
Accuair E-Level
Custom "Audilicious" tank
EXTERIOR
Hexis Wrap – Gloss grey w/ purple and blue color shift
Maxton Design Front and side splitters
Carbon fiber mirror caps
Carbon fiber hydrodip rear diffuser
INTERIOR
Custom red alcantara & black leather seat covers
Red diamond stitch leather floor mats
Custom (garage built) fiberglass rear seat delete cover
Stern Performance carbon fiber trunk strut bar and net
Custom built and stained wood trunk flooring
M-tech custom machined shift knob
SHOPS / MECHANICS
Dayton's Customs
Honolulu Speed Shop
PHOTO GALLERY