It seems like a lifetime ago when Roadster Shop debuted their "Rampage" racecar at SEMA 2014, a car which has since become an instantly recognizable second-generation Camaro icon, and arguably one of the most impressive second-gens ever conceived. Upon the initial debut of Rampage, Roadster Shop was already one of the industry's most impressive builders, with more than 30 years of industry experience as of today. In the early 2000s, the shop transitioned to a larger location and began focusing on muscle car/pro touring chassis and suspension systems, and the production capabilities the shop has developed over the last 15 years were on full display in the race-ready culmination of all their efforts in the Rampage Camaro.
The Rampage Camaro was all business - a true, purpose-built, pure-bred, bonafide badass racecar. As awesome as it was, it lacked the ability to legally cruise the streets, which turned images of the Rampage Camaro into a pipe dream for most street enthusiasts with posters of the race-ready second-gen Camaro in their garages. Of course, it wasn't even a full day after the debut of the Rampage Camaro that people began asking what a road going version of the car would be like. Luckily for us, a mysterious client of Roadster Shop had the means to ask that question seriously, in the form of a real job for the Roadster Shop team.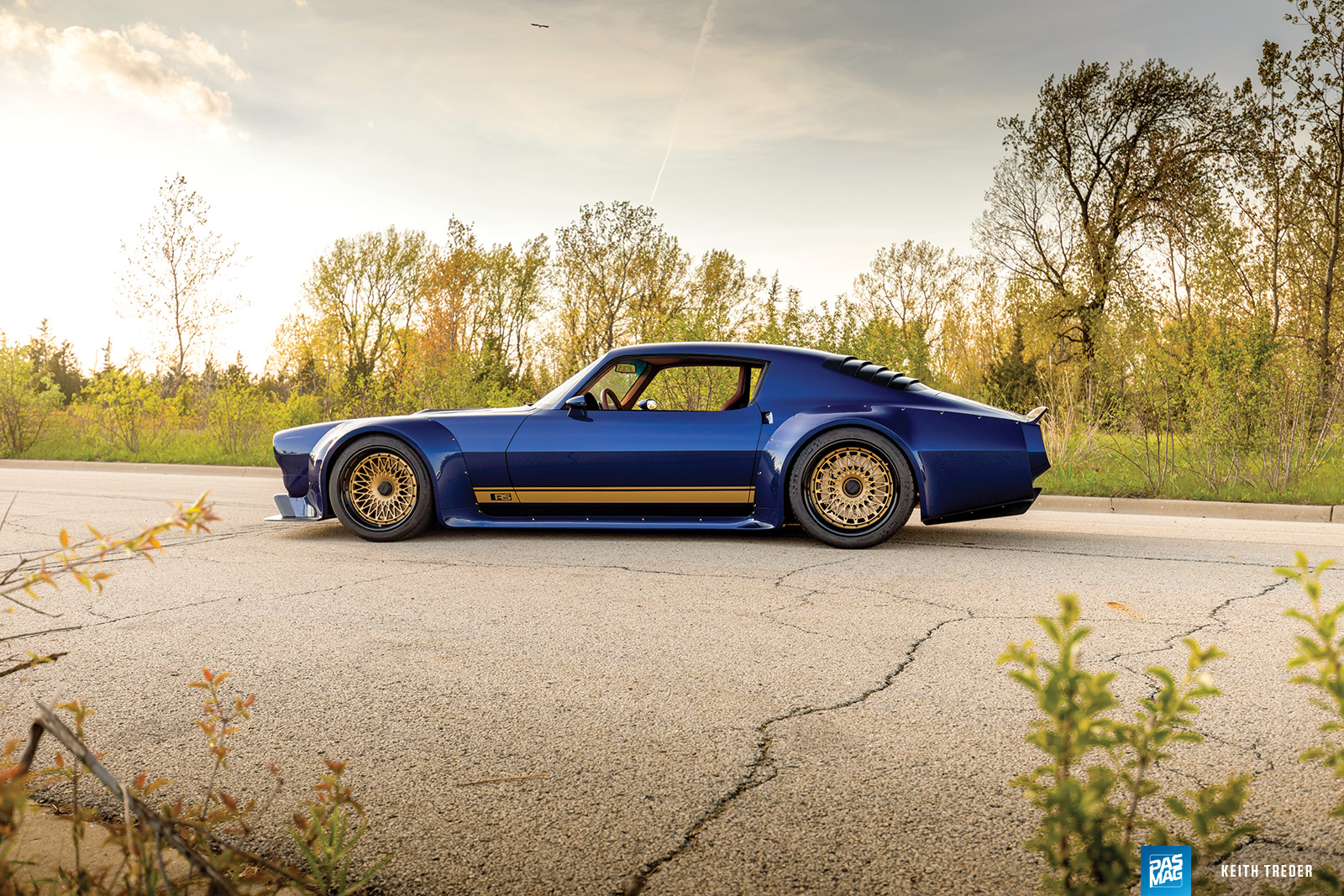 "Road Rage," as the project has been dubbed, is the answer to those questions regarding a road going version of Rampage. "Designed around a similar fender flare and diffuser package as the race car, Road Rage takes the visual impact of the original and adds Roadster Shop refinement, fit, finish, and road going manners that make for a truly unique GT car, at home on the track or the highway," the guys at Roadster Shop tell us. That refinement, fit, and finish is exactly what makes this car so special, and those aspects are what made this build so challenging.
"The biggest challenge was making sure Road Rage didn't just look or feel like a nicely painted Rampage," they said. "It had to have its own personality." That personality comes in spades, courtesy of bespoke parts and details that do an excellent job of setting the car apart from its racecar predecessor. "As with most highly custom builds, the biggest challenges are the unknowns," the crew remembers. "How do we build a thin, low profile rear window louver? How do we balance all the finishes together across so many parts and have it look cohesive? How do we maintain the impact of the concept sketch through to the final, physical object?"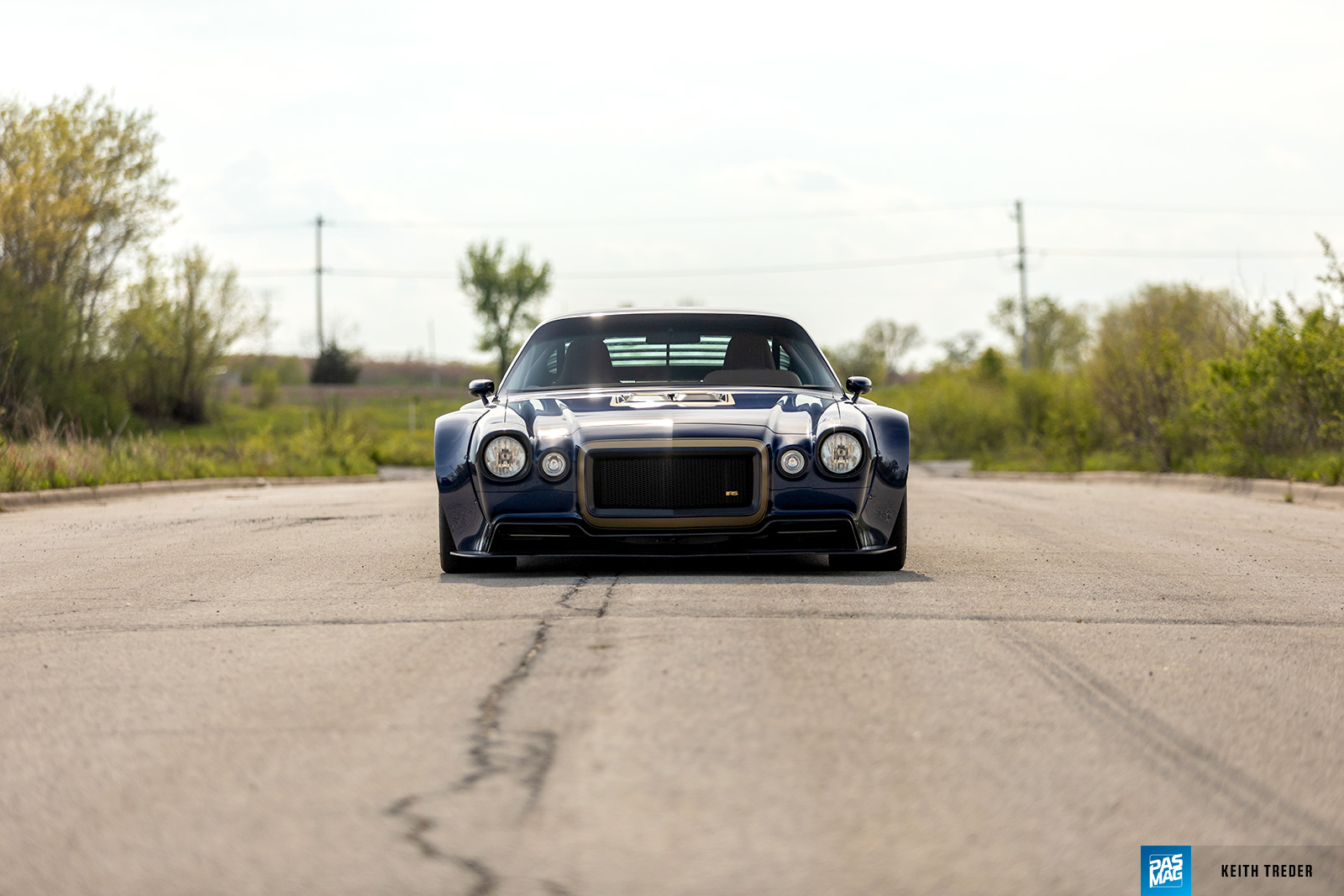 Thanks to an amazing team of fabricators, engineers, machinists, mechanics, paint and body guy, and their network of partners, they were able to check all the boxes. That thin, low profile rear window louver was created in-house as a one-off piece. The finishes and color scheme of the car comes together perfectly thanks to cohesive planning, and it goes without saying that the final product keeps the insane looks of the Rampage-derived concept drawings.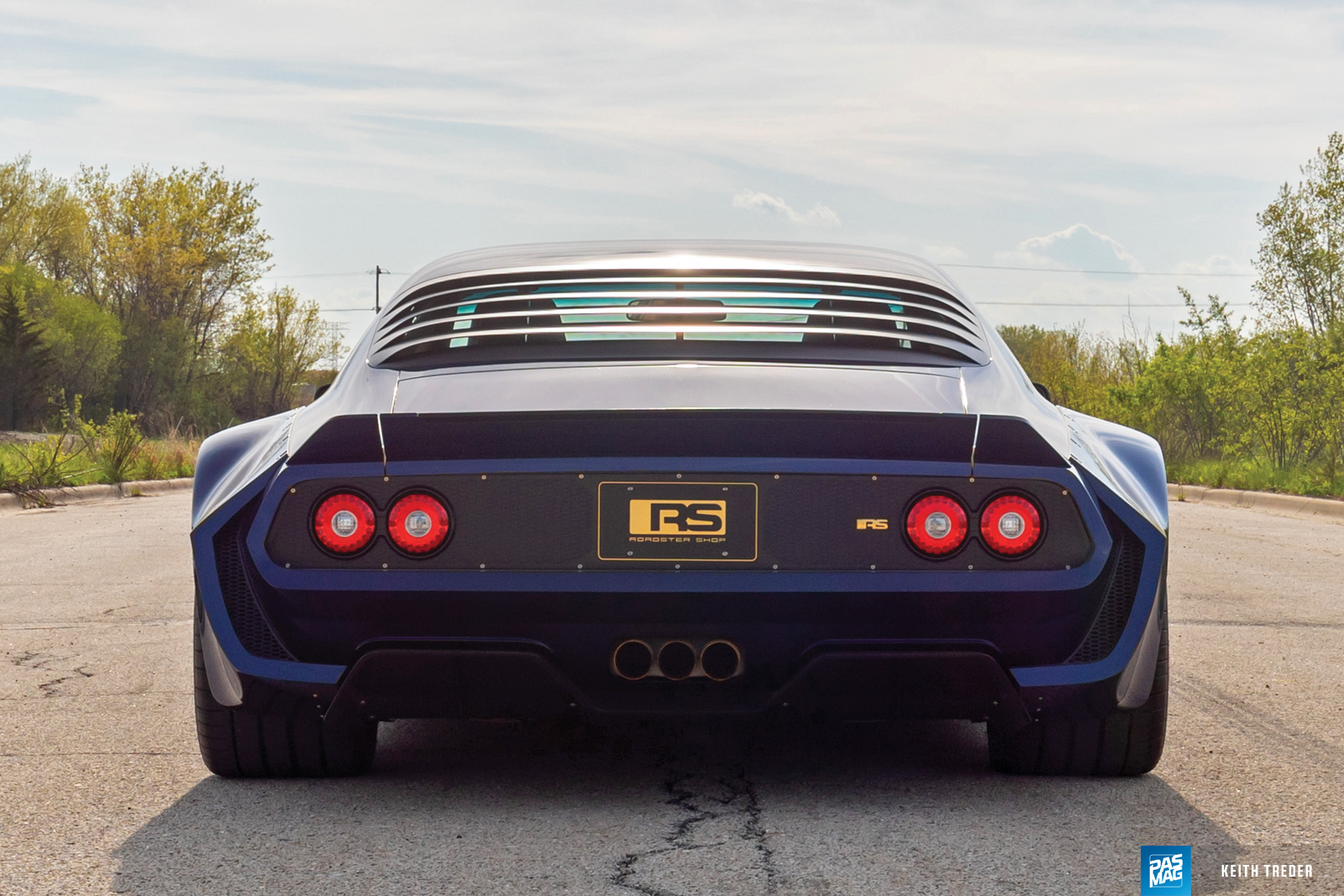 In addition to that impressive flush-mounted rear louver, Roadster Shop designed and produced the widebody flares and both front and rear carbon fiber diffusers similar to those on the Rampage Camaro, as well as the lower valance, rocker extensions, and the F40-inspired mesh tail panel designed to fit Lotus Elise tail lights. On that back end there is also an integrated rear bumper and a custom fabricated deck lid spoiler. Tying it all together, and solidifying its true street vehicle status, is a stunning coat of BASF's Glasurit paint, appropriately dubbed "Rage Blue," with tasteful gold accents in the form of a grille surround and side stripes featuring the RS logo.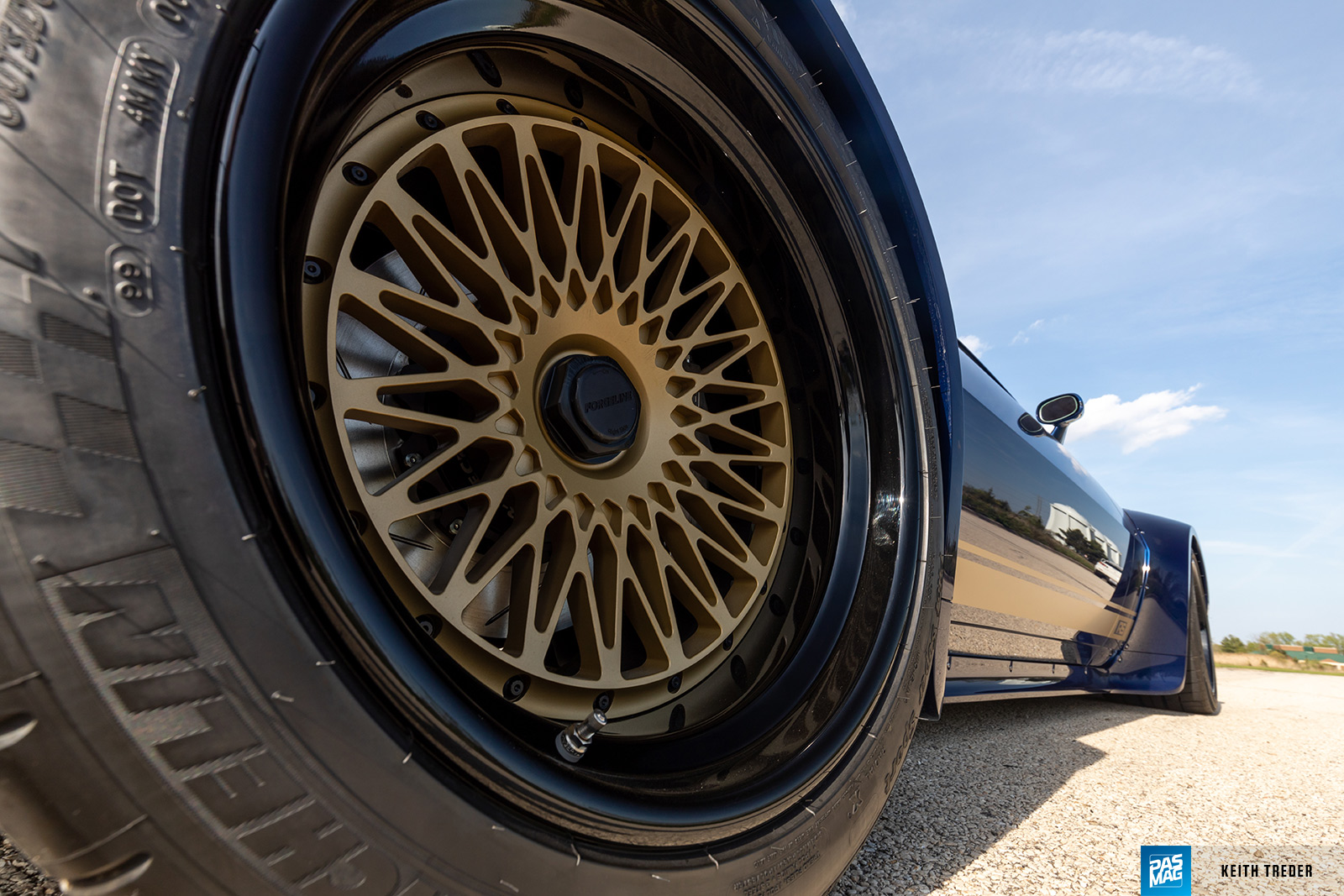 That color scheme continues at ground level thanks to Forgeline wheels, a long-time partner of Roadster Shop builds. Over the years, Forgline and Roadster Shop have worked in tandem to develop and bring to market all new wheel styles, one of which is the latest LS3C wheel you see here. With an 18-inch set in the front, and 19-inch set in the rear, the center-lock Satin Race Gold faced wheels are the perfect fit for some meaty Michelin Pilot Super Sport tires, coming in at 315/30 in the front and 345/30 in the rear, an ample amount of tire to keep the power down. What, you thought this was just a show car?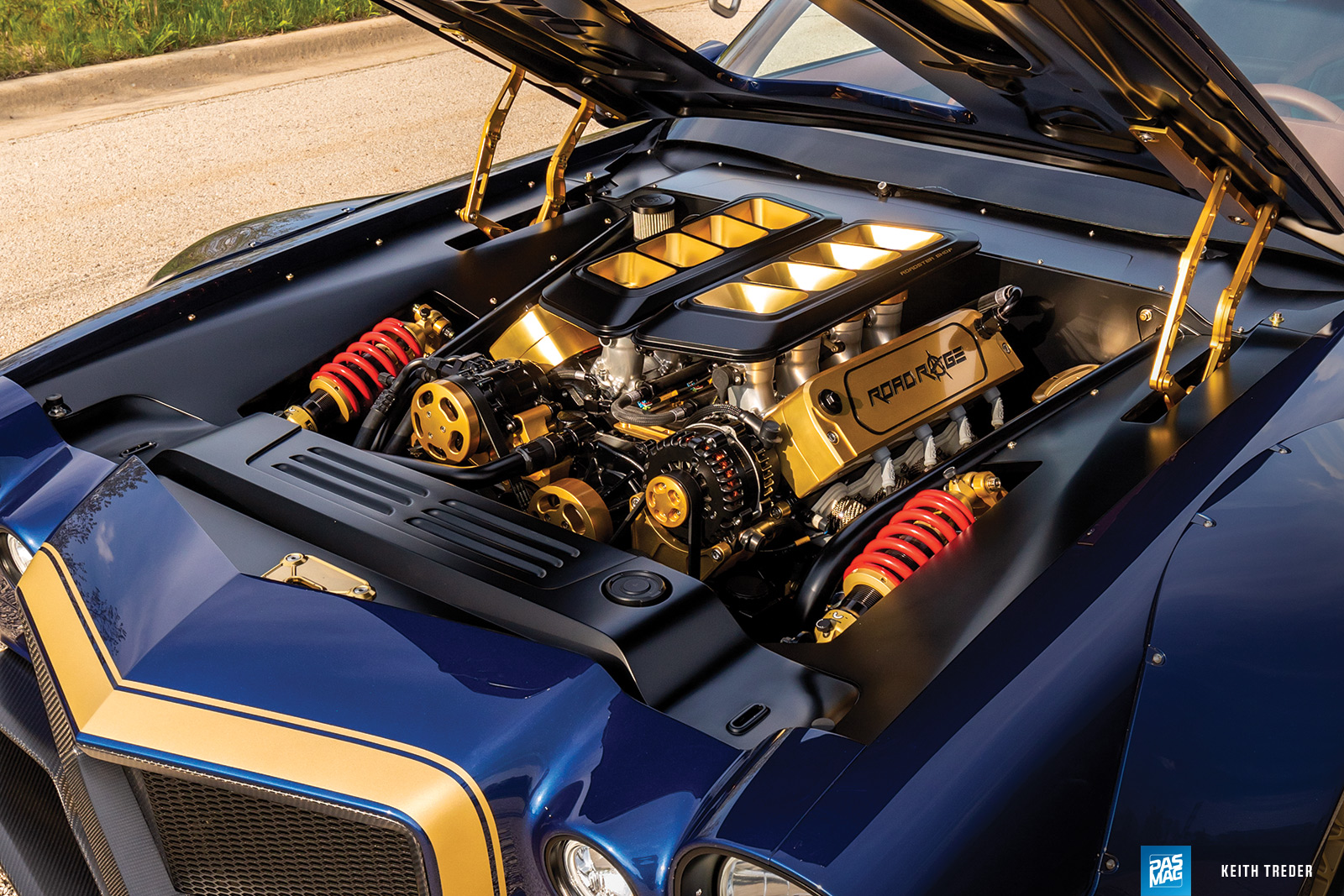 Roadster Shop takes immense pride in producing vehicles which are built to be driven hard, so it goes without saying that a road-ready version of their iconic Rampage Camaro would feature much of the same performance pedigree. Just like its predecessor, Road Rage boasts a Texas Speed and Performance custom LSX, a monster of a 7.4L V8 putting out a soul-churning 750 horsepower, fed by a Vaporworks fuel system. In addition to performing as needed, the engine certainly looks the part. Custom gold components throughout the LSX's top half include a Kinsler stack injection system and beautiful velocity stacks.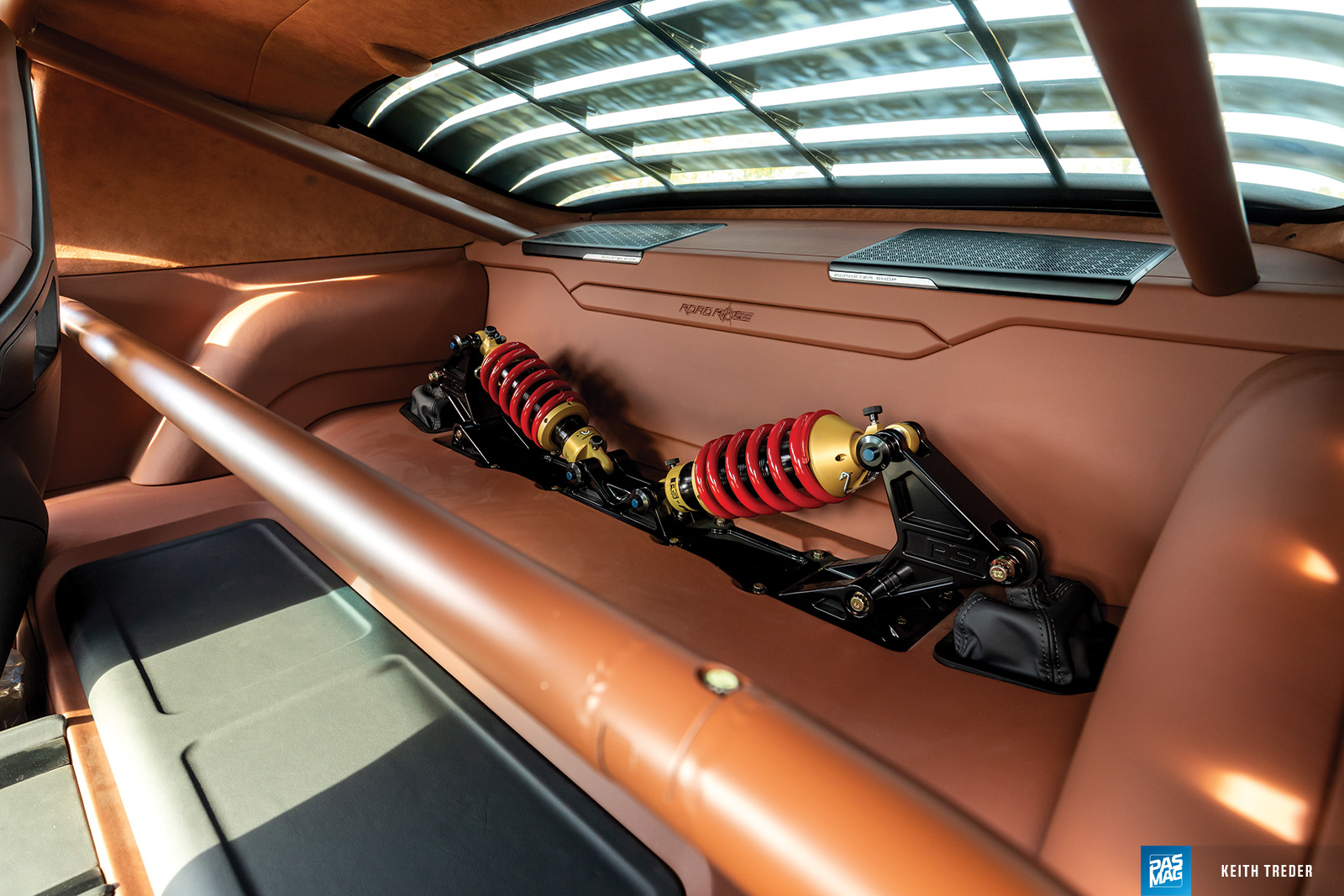 It's not a far cry to declare Road Rage's engine bay one of the most impeccable engine bays in SEMA's history - and that's part of the reason so many customers seek out Roadster Shop's team to build their wildest dreams. The attention to quality and style is second to none. Within that same engine bay you'll find Roadster Shop's Fast Track cantilever suspension system complete with inboard pushrod style suspension and Penske shocks. As if it weren't immediately clear this Camaro is ready to rock and roll, the same cantilevered and pushrod suspension system makes up an independent rear suspension system as well, located where a rear seat used to be.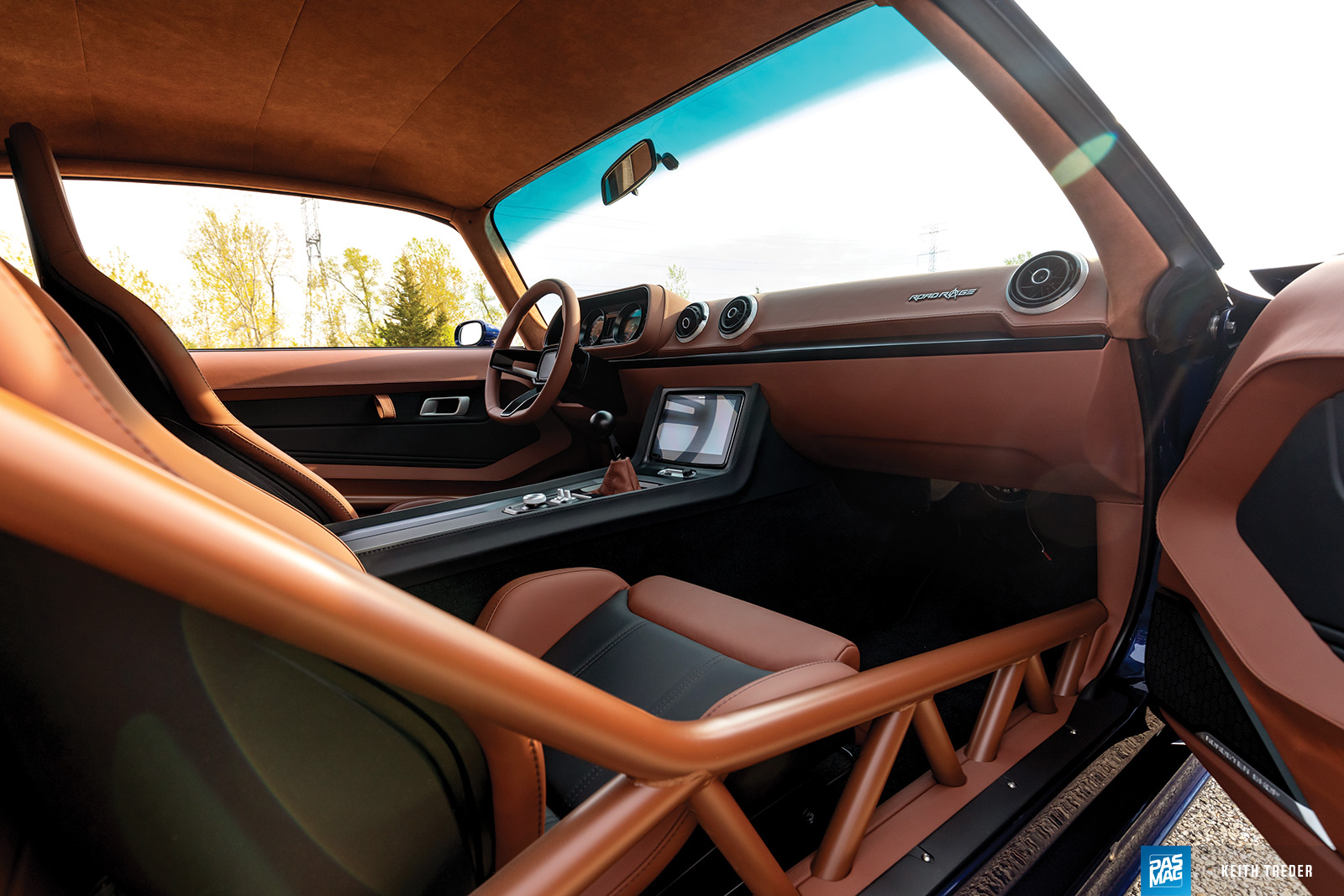 The lack of rear seat is only a minor compromise when you consider the rest of the interior. Not one to leave an aspect below par, Roadster Shop got some helping hands from Avant Garde Design to bring the heat inside the cabin as well. The beautifully reupholstered interior features peanut butter brown leather, as well as CNC construction for some of the bespoke components like the steering wheel and gauge pods. The custom center console features an Alpine Halo 9 head unit, paired to a JL audio system, and the whole thing is surrounded by the interior's pièce de résistance - a leather-wrapped roll cage, almost completely hidden from the outside.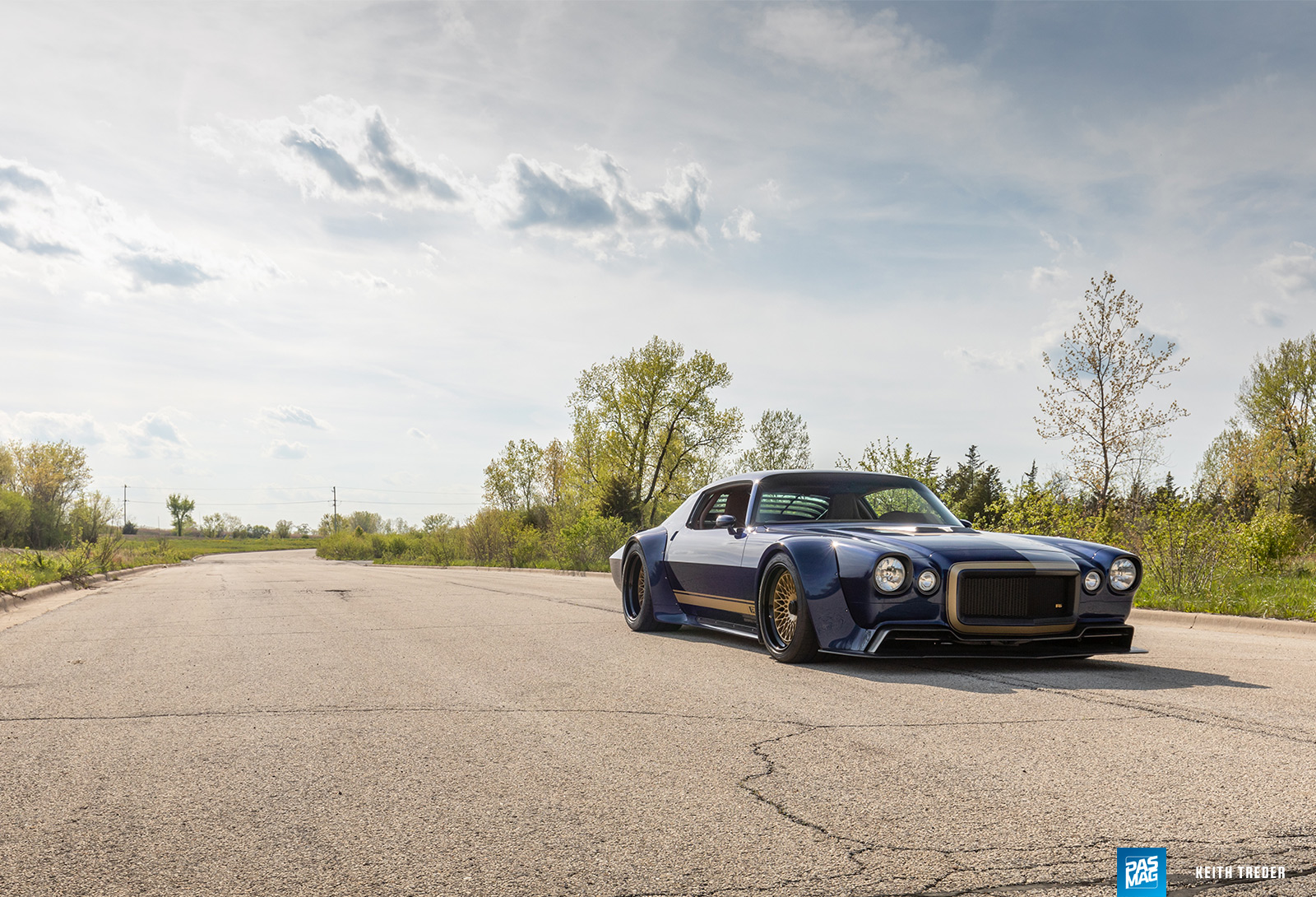 Just like its predecessor, Road Rage was built to have the wheels driven off it, so we expect that's just what the owner has gotten up to since the end of its show floor touring - and that's just what the guys at Roadster Shop wanted. "We don't just build pretty things destined for trailers and shows," the guys at Roadster Shop joke, reaffirming everything we already knew, "they are built to drive, and be driven hard." Needless to say, we'll be keeping our eyes on Roadster Shop as long as they're doing what they do best - building the world's coolest cars.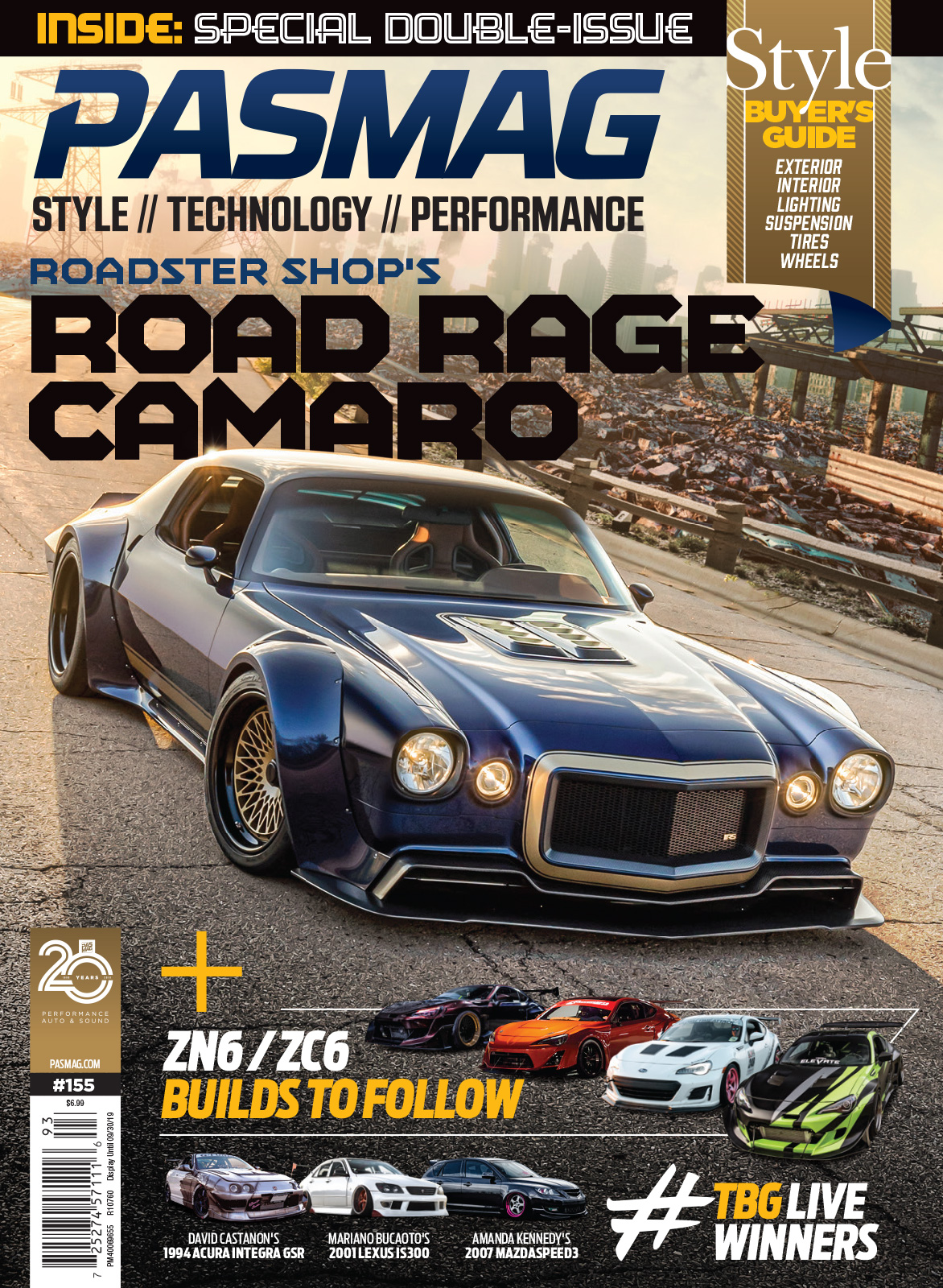 Roadster Shop's 1970 Chevrolet Camaro is the cover feature of PASMAG Issue #155 / Tuning Essentials: Style Book Vol. 6. Order your copy HERE.
Photography by Keith Treder (@keithtreder)
---
ESSENTIALS
Vehicle: 1970 Chevrolet Camaro
Built By: Roadster Shop, Texas Speed and Performance
Location: Mundelein, IL
Engine: Chevrolet LSX 454 7.4L V8
Horsepower: 750 whp
ENGINE
Custom LSX engine build by Texas Speed and Performance
Kinsler (stack injection system, individual throttle bodies)
Vaporworks fuel system
Custom intake velocity stacks
American Autowire harness
Emtron ECU
XSPower Battery
EXHAUST
Custom stainless steel headers
Borla mufflers
DRIVETRAIN
Bowler Performance built transmission
WHEELS / TIRES / BRAKES
Forgeline LS3C centerlock wheels - 18-inch (f), 19-inch (r)
Michelin Pilot Super Sport tires - 315/30/19 (f), 345/30/19 (r)
Baer 6-piston brake kit
CHASSIS / SUSPENSION
Roadster Shop custom Fast Track suspension kit w/ independent rear suspension
Front and rear cantilevered /inboard pushrod style syspension
Penske shocks
EXTERIOR
BASF Glasurit Rage Blue paint
Roadster Shop custom (3D-designed widebody flares, lower valance, rocker extensions, front and rear carbon fiber diffusers, nose trim, mesh tail panel, integrated rear bumper, decklid spoiler)
Custom one-off rear window louvers
Lotus Elise tail lights
INTERIOR
Full custom RS designed interior
Avant Garde Design interior construction and upholstery
Dakota Digital custom gauges
Recaro Sportster seats
Boom Mat sound deadening
Custom machined (steering wheel, gauge pod)
Custom wrapped roll cage
AUDIO / MOBILE ELECTRONICS
Alpine Halo 9 head unit
JL Audio (amplifier, subwoofer, speakers)